Full-Funnel Marketing: For many marketers, the webshop and its performance are the cornerstones of digital marketing. It's where customers add to cart and check out, so marketers will focus lots of their effort on optimizing the store for conversions.
Meanwhile, digital channels like search are immensely competitive. If marketers only focus heavily on optimizing bottom-of-the-funnel performance — but under-invest in top-of-the-funnel — they risk losing out on building a brand that customers know, value, and trust.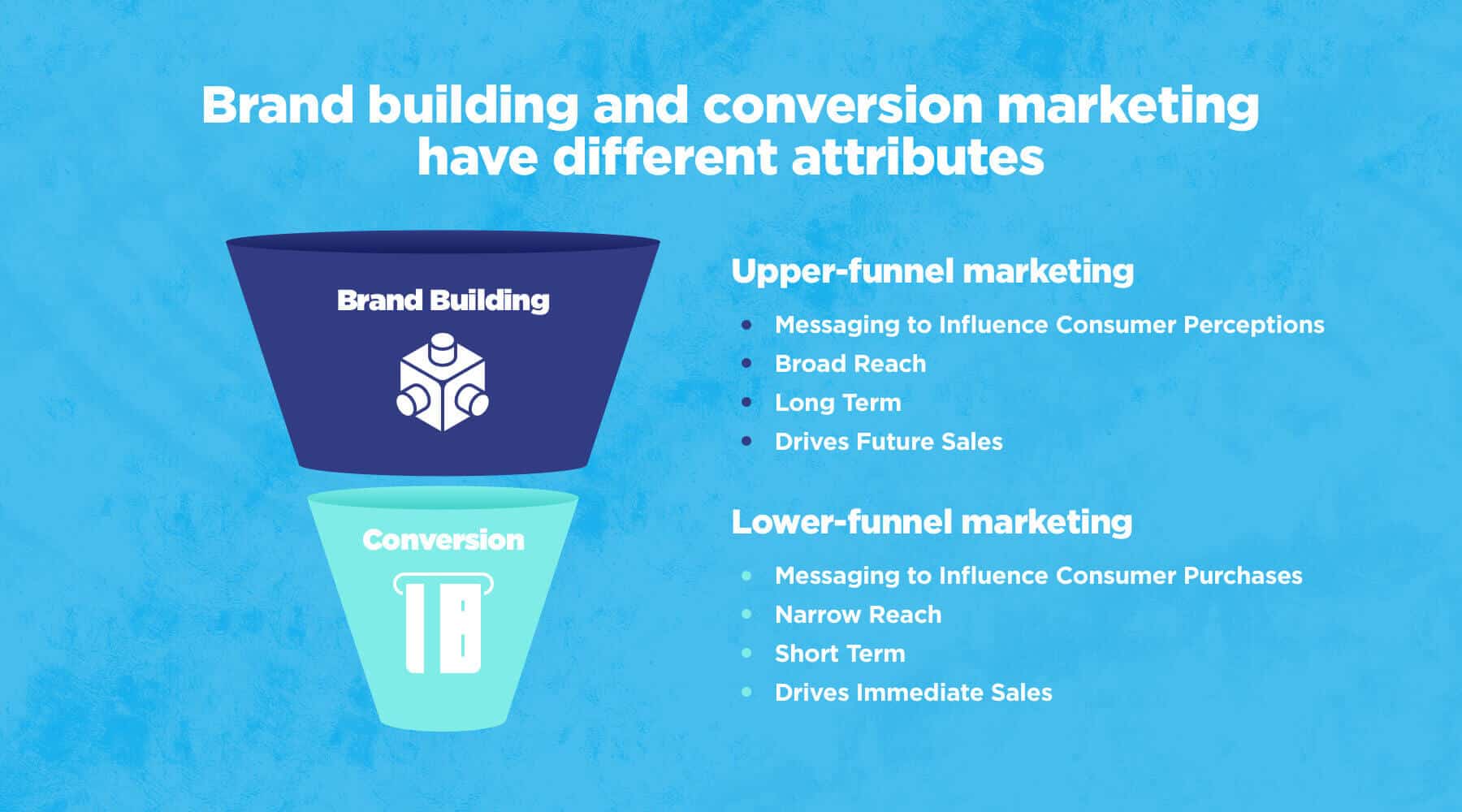 So, to remain competitive, it pays to build a brand with meaning and value, where demand and brand performance are measurable; and to have a robust online and offline presence, where customers know what to expect and can shop from wherever they are.
Separating the top and bottom of the funnel is no longer aligned with the modern shopper journey because most customer journeys aren't linear. Instead, it's mission-critical to adopt a full-funnel strategy that simultaneously drives awareness and demand across multiple channels.
This article outlines what full-funnel marketing means at the organizational, marketer, and customer levels and shows you some examples of how it looks and works in practice.
What is full-funnel marketing?
The traditional AIDA (awareness, interest, desire, and action) marketing funnel is what marketers use when formulating and executing their campaigns and strategies.
Each step or touchpoint guides the shopper along their journey toward the bottom of the funnel. However, in reality, no two customer journeys are the same, and few customer journeys will reflect a linear marketing funnel.
That's where full-funnel marketing comes in. It allows retailers and brands to simultaneously build awareness, interest, and desire while offering an easy call to action. Customers can seamlessly transition between stages, skip some, or be able to find engaging content that guides them toward the next step.
Shoppable content is one example where shoppers can discover a brand, find new products, and check out — all from within the same customer experience.
Full-funnel marketing is also about making almost every aspect of a strategy measurable, right from the top of the funnel, with brand-building and awareness — to digital performance marketing and the after-sales service.
This translates to an interdisciplinary approach: with teams, analytics, and KPIs working together in synergy to build a fuller and better marketing funnel.
With full-funnel marketing, you can deliver better omnichannel shopping experiences
Full-funnel marketing isn't anything new per se, but it's getting more attention due to a shift in the retail and eCommerce environment.
As eCommerce penetration grows, so does the popularity of related terms such as omnichannel, social commerce, and shoppable content. All of which help to understand why we emphasize full-funnel marketing.
In short, customers demand a more convenient shopping experience.
The wide availability of marketing automation tools has further led to the need for better and more holistic strategies that engage customers at each funnel stage.
When you adopt a full-funnel marketing approach, you're much better equipped to capture shoppers at whatever stage they're at and are better able to deliver good omnichannel shopping experiences.
The principles of AIDA are still very relevant. However, instead of compartmentalizing each stage, you'll want to make the journey through the funnel as short and seamless as possible.
How can shoppers who have seen your TV ad learn more about your product? What is the easiest way for shoppers to get to your product landing page? And how can people shop from there? If people want more information to finish a purchase, how can they find the answers they're looking for?
Full-funnel marketing is not just about allocating more resources to each funnel stage. It's about bringing together performance marketing, brand building, KPIs, and analytics so you can better understand how each step impacts the entire customer experience.
Four essentials of full-funnel marketing
Global management consulting firm, Mckinsey, cites that regardless of whether you're launching a new product, repositioning a brand, or trying to increase sales — there are four essential components of a full-funnel marketing strategy:
Brand-building measurement
A unified set of KPIs
An updated media mix model for integrated spending
A full-funnel operating model
Paramount to a full-funnel marketing strategy's success, analyzing the performance of otherwise difficult-to-measure campaigns, such as those which operate on internet TV or digital streaming services, is at the core of a full-funnel approach.
Mckinsey adds that retailers must prioritize collaboration between different teams, provide incentives, and build accountability measures to ensure success.
You can read the full report from Mckinsey here.
Full-funnel ad and content examples
Full-funnel ads and content, combined with eCommerce omnichannel customer experiences, allow customers to conveniently and seamlessly pass through a funnel without hopping across channels.
But what does this look like in practice?
For the remainder of this post, we show you some ad and content examples for inspiration:
Timeless ad content: television, catalogs, and billboards with QR codes
For many brands, traditional adverts on television have been (and still are) the foundation of a brand-building advertising campaign.
Marketers were often limited on what they could track, but as more consumers move towards internet TV and digital streaming services, tracking who has seen them and what happens after is made possible with analytics and attribution tools.
Likewise, tracking how customers interact with a paper-based catalog and knowing what they were interested in was nearly impossible. But now, with the advent of digital catalogs, filled with full-funnel shoppable content — it's possible to track and measure what shoppers do when browsing through a digital catalog.
Additionally, a billboard ad with a QR code can boost engagement and performance and better integrate these kinds of ads into your funnels.
Brands have been doing this for well over a decade now. In 2010 Calvin Klein Jeans replaced its usual racy ads with a giant red QR code and the copy "Get it Uncensored".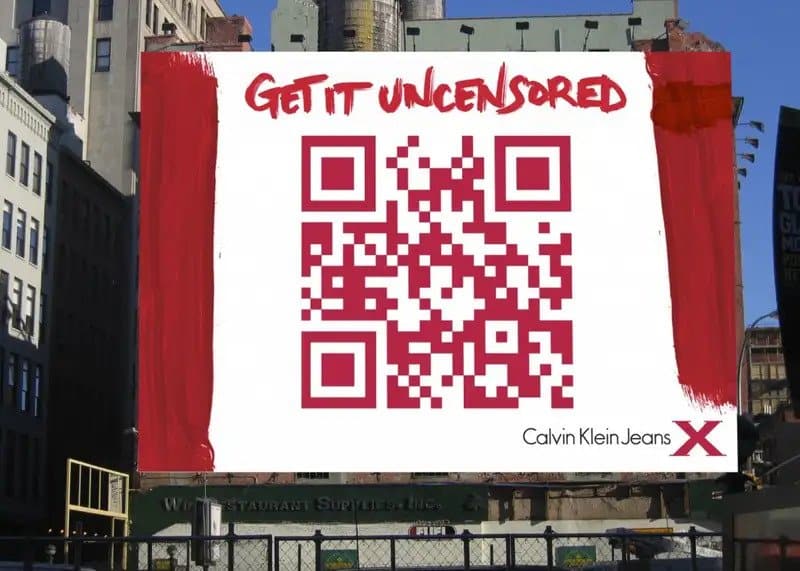 Calvin Klein already using QR codes on their billboards in 2010. Photo from
Forbes
.
Shoppable content
Shoppable content can come in a variety of forms:
Shoppable product posts on social media, such as "shop the look" and shoppable pins on Pinterest;
Blog posts, such as product comparison articles or reviews;
Online catalogs;
Shoppable videos.
The power of shoppable content lies within the ease at which browsers can discover and engage — such as saving a post, liking it, and checking out, all from the same discovery commerce experience.
Full-funnel marketing takeaways
As more consumers switch to digital channels to catch up on their favorite TV shows, shop or discover content, online retailers can more easily measure the performance of brand-building campaigns. Prompting the need to build funnels with more closely integrated stages and allow shoppers to transition between them seamlessly.
It's important not to forget the value of branding and keep in mind that it's not just the performance and optimization of bottom-of-the-funnel content that can influence conversion chances.
When retail marketers plan for and create content, they should keep the principles of full-funnel marketing in mind and publish content that builds awareness, consideration, and action — all from within the same experience.
In practice, this could mean publishing shoppable content, such as a "shop the look" post on social media, which seamlessly guides shoppers along the funnel, with minimal friction and towards making a purchase.
Interested in publishing shoppable online catalogs? Contact us, or sign up for our free 14-day trial here.