Broadly speaking, there are two kinds of shoppers: the ones who know what they want and the ones who don't; for the latter, thoughts about buying something might not even exist in their minds yet.
The shoppers who know what they want will research — almost always online first — select and then check out.
And for the ones who don't know what they want and perhaps aren't even thinking about buying something, leading brands are using discovery marketing techniques on various platforms and channels to inspire more browsers to want to buy their products.
Here we outline the key discovery marketing trends that brands have been exploiting. We show you how successful brands across different industries have built their brands and reinvented their funnels around this indispensable eCommerce marketing technique.
What is discovery marketing?
Online discovery marketing is a relative newcomer to the eCommerce marketing landscape, so you'd be hard-pressed to find a succinct and accurate definition just from a search of the term.
Discovery marketing, sometimes known as discovery commerce, is the content experience a brand creates for its audience so that instead of shoppers finding products, the products find them.
For online product vendors, it allows them to turn brand and product discovery into demand.
This short video from Facebook will give you an excellent introduction to the concept.
The driving force behind discovery marketing is that around 50% of online shoppers don't know what they want; the thought that they need that new juicer, watch, or bedside table hasn't even popped into their minds yet.
By showing content that's related in some way to the customer's lifestyle or personal interests, brands can spark an interest in their products and facilitate the movement of shoppers down their funnels with shoppable product tags.
Tools that use AI or machine-learning on various platforms can acquire lots of data and learn what content or product a browser might be interested in viewing — owing to the construction of the optimal browsing experience for the user.
Typically, brands might use a combination of social and visual commerce to encourage browsers to engage and explore a brand's products.
By focussing on top-of-the-funnel behavior, rather than just getting a conversion, brands stand to convert more shoppers than was ever possible.
Facebook's discovery commerce ad tools help brands "turn discovery into demand"
Facebook's discovery commerce tools, powered by AI, are turning marketing on its head by turning discovery into demand. In November last year, Facebook announced that discovery commerce will help retailers drive visibility and conversion and "take retail to the next level."
Discovery marketing on Facebook is focused on showing relevant products to a user, where, for example, they could be shown a product carousel that the platform's ad tools deem to be relevant because of that particular user's previous behavior on the platform.
Or, on Instagram, a user could be served a video reel that inspires a lifestyle choice that's based on their previous browsing habits and what content they engaged with. This content can also include shoppable tags for products to ensure instant sales.
Facebook says its discovery commerce tools "turn discovery into conversion and loyalty by removing friction from the purchase journey. Advertising and conversion tools on Facebook help you create seamless shopping experiences for your customers."
When the browser is in an online space that they already enjoy spending time in — what Stefano Pardi at Facebook describes as "driving demand through shopping serendipity" — brands can create their own digital storefront and more easily move them from discovery to purchase.
Powered by machine learning, Facebook's ad platform can acquire deep audience behavior insights to serve personalized content, create demand, and expand brand reach.
Facebook's discovery commerce tools also came at a similar time to Facebook Shops. Accelerated by the pandemic, last year, Facebook launched Facebook shops and Instagram Shop where browsers can order products from the eCommerce brand's shop on the platform or directly from the content itself in the form of shoppable content (more on this below).
Pinterest's goal of "making every pin shoppable" and "shop with your camera" visual search
For its 454 million monthly users, Pinterest has become the go-to platform for lifestyle inspiration, such as for fashion, home decor or beauty, and cosmetics.
Last year, during the pandemic, the image-sharing platform launched ads with measurable conversion insight features which allow brands to promote pins and "showcase ads where Pinners love to shop the most".
"People come to Pinterest in a shopping mindset open to discovering products, which creates a great connection between Pinners and businesses. Pinners are looking for inspiration, and brands help make that inspiration a reality." — Pinterest
Pinterest says that 97% of top searches on its platform are unbranded, which has paved the way for brands to publish stunning visual content that browsers want to look at before they've even thought about making a purchase.
What's more, Pinners can now "shop with their camera" with the platform's visual search tool, which will serve up Pins that brands have marked up and that are directly linked to a checkout page.
Discovery marketing trends and shoppable content examples
The most successful eCommerce brands exploited discovery marketing early on. They soon learned that by being creative with what content they publish and publishing content that customers want to look at — related to the product somehow — they can corner a market and become leading brands.
Here we show you some examples of brands with leading and successful discovery marketing strategies.
Social commerce enables users to shop from the same relatable browsing experience
Discovering and purchasing on social media has come a long way since the early days when Facebook Marketplace launched in 2007.
Along with the acquisition of Instagram in 2012, the explosion of influencer marketing, and the launch of Facebook and Instagram shops, social media channels have become the optimal online space for brand discovery.
The power of shopping from a social media post that includes tags for products lies within its convenience and authenticity. Leading Social media platforms allow users to shop directly from the content, and from the same browsing experience.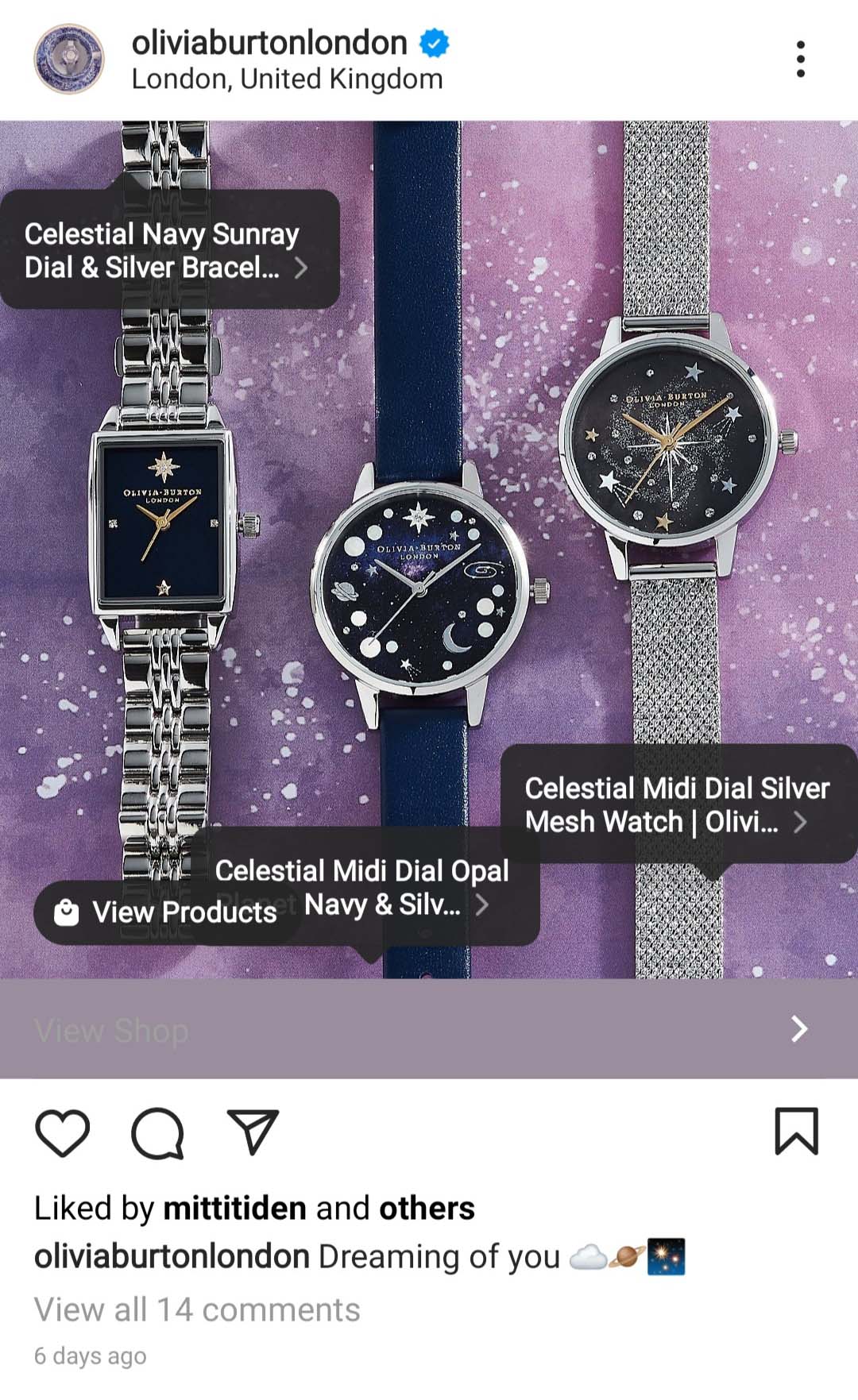 Olivia Burtons, an accessories brand, creates shoppable content for Instagram.
Influencer marketing provides limitless levels of reach
By partnering with influencers who have a significant following, or ones who have a high level of user engagement for a given niche, brands can reach potential customers in a more relatable and trustworthy fashion.
The story of how multi-million dollar athleisure brand Gymshark became the success that it is today, is an example of discovery influencer marketing at its finest.
Gymshark publishes or shares fitness-related content in the form of challenges, workout ideas, or educational content, which its audience already has an affiliation with, so its potential customers are already in the right place to shop the brand and its products.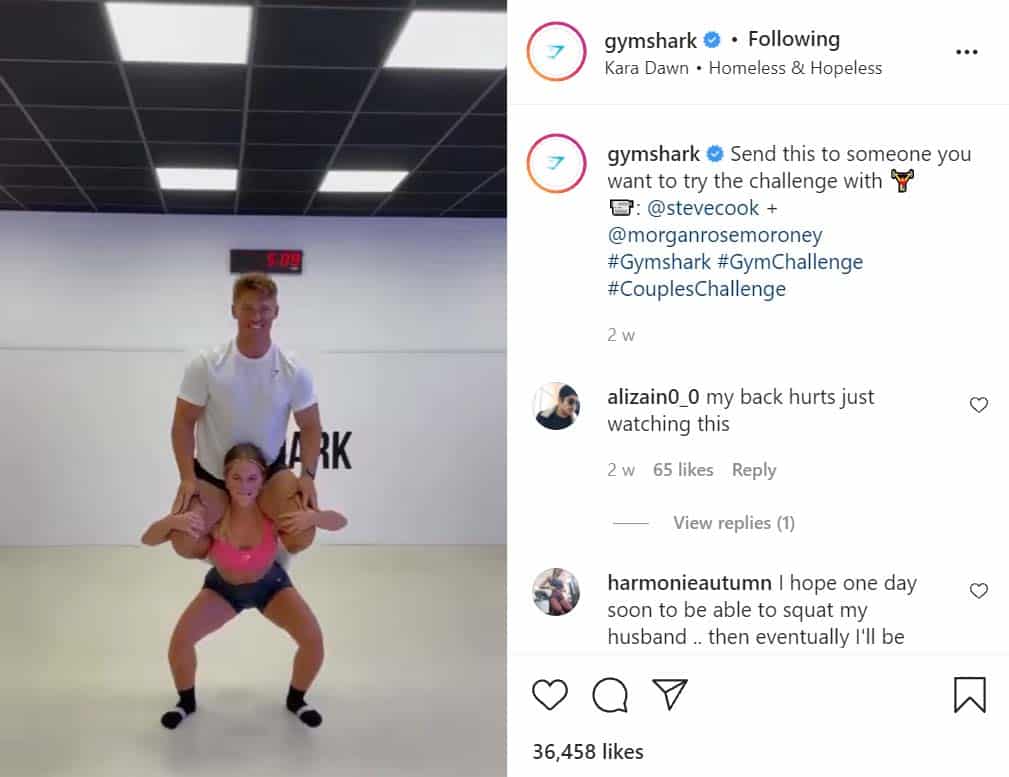 Gymshark partners with and shares the content of its fitness influencers, which creates ideal ground for the brand to promote its athleisure products.
Influencers are launching their own brands
Trending in the athleisure and fitness influencer space is influencers launching their own line of fashion collections or their own brand.
By posting content related to fitness, whether that's a workout video or tips related to health and fitness, influencers can promote their products alongside their content.
And this is exactly what fitness influencer Whitney Simmons does, who co-founded her own swimwear brand, which she promotes from within her content.
By sharing content related to her audience's interests and passions, Whitney is able to market athleisure brands or her own collections.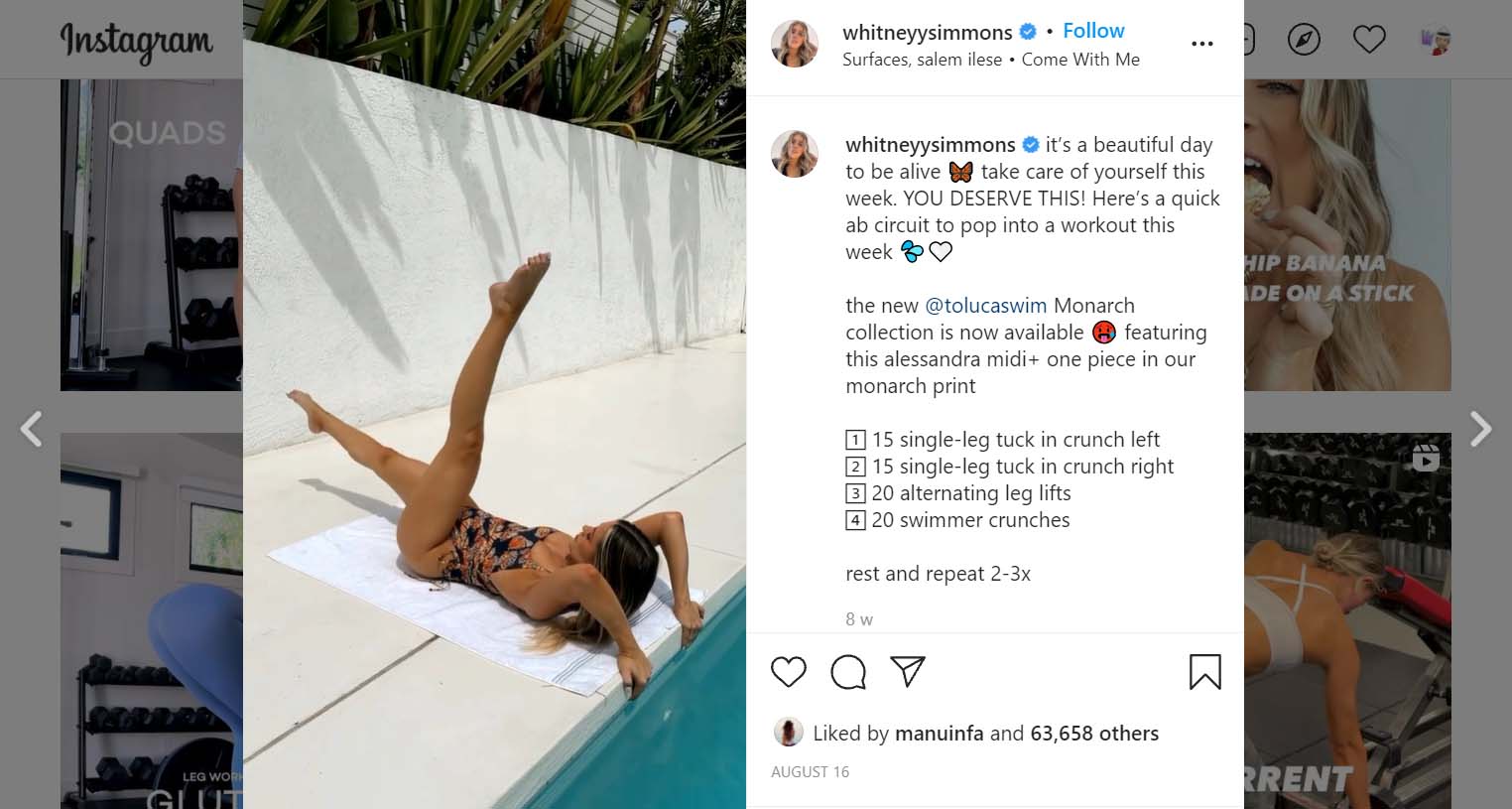 Whitney uses discovery marketing — in the form of workout videos — to upsell her swimwear brand Toluca Swim.
And while we're on the subject of influencers, Shopify recently partnered with TikTok, a move that Shopify says will "turn its stars and creators into brands and launch their businesses."
This partnership means that the social commerce space will be taken to new heights and empower creators to become merchants or businesses themselves while providing profitable partnership opportunities for brands.
Visual commerce and shoppable videos
Advances in technology have meant that brands can serve high-quality images, videos or offer augmented reality (AR) tools; these give the shopper an enhanced online shopping experience and build more trust and greater levels of brand loyalty.
Visual commerce discovery marketing is an excellent asset for the home furnishing industry, and throughout the pandemic, home furnishing retailers experienced record-breaking online sales volumes.
Whether browsing through visually stunning Pins on Pinterest or swiping through home decor sets with product tags on Insta, home furnishing brands can make their content shoppable. Shoppers can shop directly from the content that they find to be inspiring.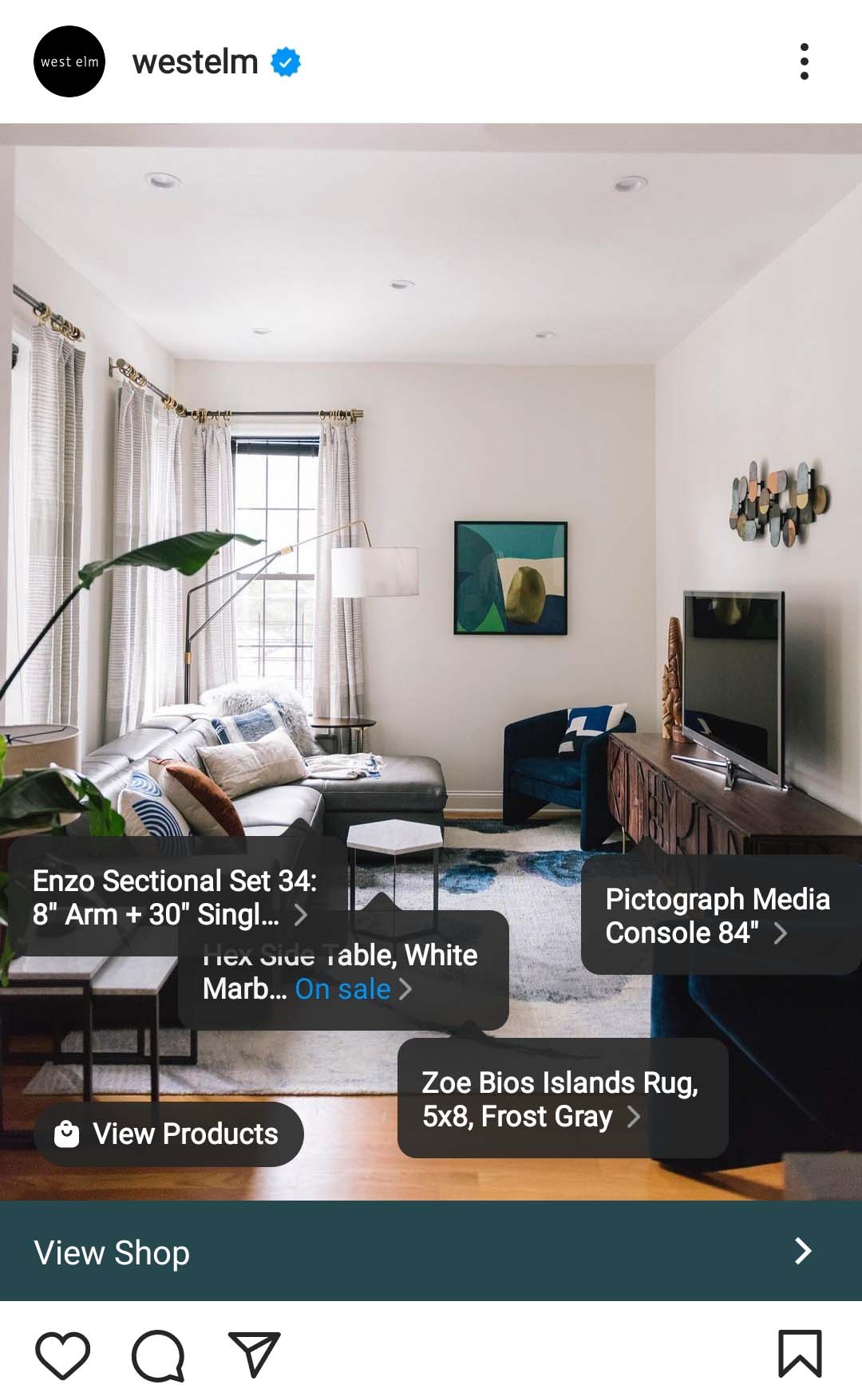 Home furnishing brand Westelm employs discovery marketing by posting visually stunning and inspirational home furniture ideas that contain shoppable tags for products.
Shoppable content, or "shop the look" is also particularly effective with online fashion brands. Many digitally native ones exploit it to offer a more convenient and seamless shopping experience, where relatable contextualized images or videos show the shopper how the product or brand fits into their lifestyle. These images and videos feature shoppable product tags to drive instant sales conversions.
Another excellent example of shoppable content in action is from the Italian menswear brand Boggi Milano, which published shoppable videos in its Fall 2021 online catalog.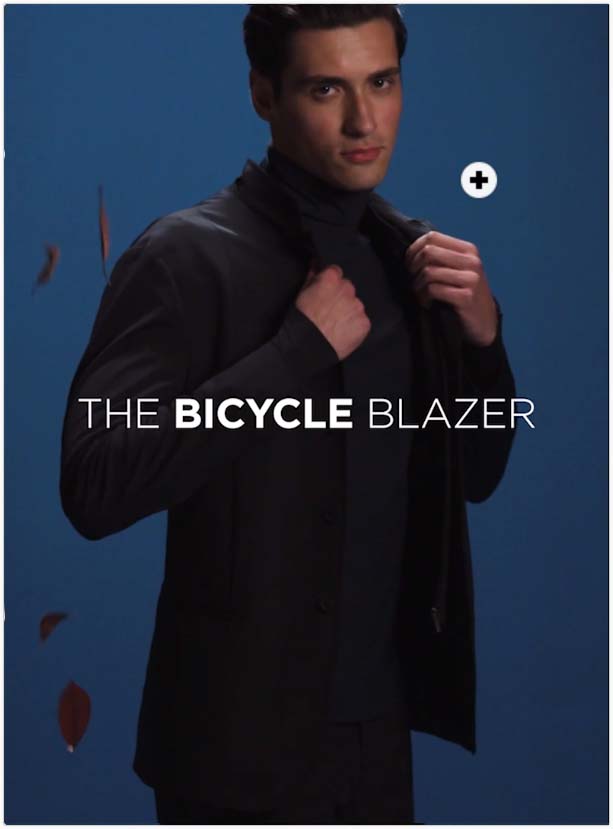 Boggi Milano's Fall 2021 online catalog features shoppable videos with product tags, where shoppers can tap or click to get more info or be taken to the brand's online shop.
Online catalogs
Which leads us on nicely to online catalogs. Print catalogs were once the epitome of product discovery at home. For many of us, one of our favorite pastime experiences was folding page corners over to mark products of interest to us.
Today, most product discovery and research takes place online first, and brands are under more pressure to be more eco-friendly and cost-efficient; this has prompted large brands to have shelved print catalogs and switch to online ones instead.
An online catalog that a browser can casually flick or tap through provides a convenient and familiar way for them to discover more about a brand's story and its products and where they can shop directly from the content.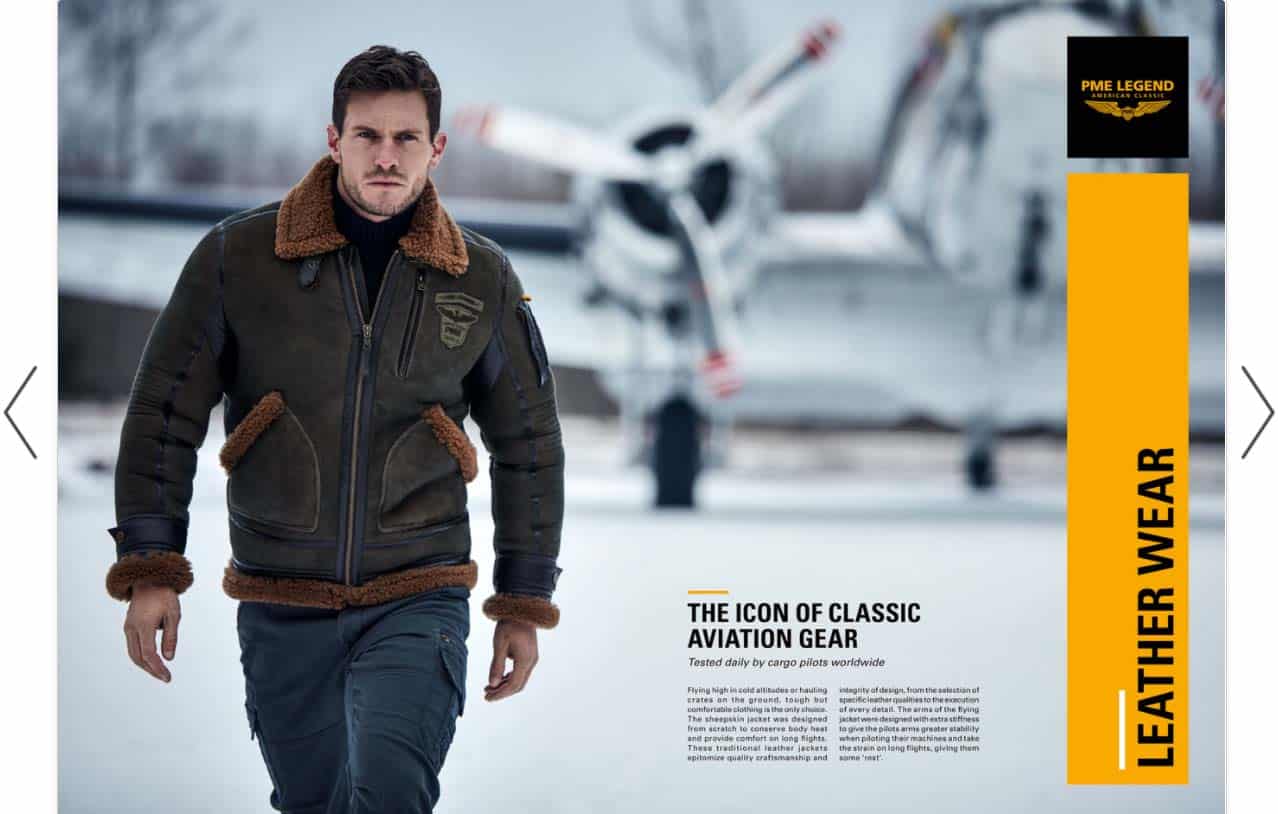 PME Legend uses its online catalog to portray its great brand story and showcase its products.
The grocery industry and discovery marketing
It's not just the fashion or home furnishing niches where discovery marketing is a boon. The grocery industry is another sector that in recent times has benefited from discovery marketing trends and techniques.
Browsers who enjoy engaging with content about cooking, baking, or healthy eating on social media are ideal candidates for discovery marketing content. Shoppable recipes, dietary advice, or UGC shared by the brand make for great discovery experiences.
You may not have realized, but the hugely successful food delivery app Uber Eats essentially works through discovery. Local restaurants and fast food outlets are all brought together in one place for users to discover, like a giant online food court.
Conclusion
Brands across different industries exploit discovery marketing by publishing content that their audience and potential customers are interested in. Instead of consumers looking for products, the products find them.
Discovery marketing is an effective tool for brands to reach top-of-the-funnel shoppers; customer data combined with AI enables them to reach these consumers on social media platforms like Facebook, Instagram, TikTok, or Pinterest.
With a combination of visual and social commerce, influencer marketing, shoppable content with tags for products, and how-to videos, eCommerce retailers can:
Improve engagement with their target audience;
Craft a more authentic brand image;
Build higher levels of customer loyalty.
— all leading to higher numbers of conversions and sales.
Are you interested in using your catalogs for discovery marketing?
Contact us, or sign up for our free 14-day trial here.