Understanding and mapping your customer's journey is invaluable as it helps you gain insights on why, when, where and how your customers interact with your brand and which touch-points help drive conversion. Each touch-point in the customer journey provides you with a unique opportunity to communicate what your brand stands for, and the shoppable catalog can be a valuable asset to help you do so. Read on as we explain how online shoppable catalogs fit in your customer's journey and how they can deliver tremendous value to your business.
Many retail and ecommerce brands understand the importance of content marketing. That's exactly how the online catalog provides most of its value as well; it is a collection of high quality content presented as a curated browsing experience. Your customers can sit back, experience your brand (and everything you have to offer), simply by clicking through to the next page.
Let's go through each step of the shopping journey as described in the new retail purchasing pathway to see how an online, shoppable catalog adds value.

Discovery phase: The online catalog inspires customers and helps you reach a broader audience
In the discovery phase, customers are looking for inspiration and are gathering ideas for a purchase. They are not browsing with a clear purchase intent. Rather, they are looking around to discover products they might like.
"This phase is characterized by how the customer becomes aware of or more familiar with a brand. Brand identity plays a big part here, especially if this is the first impression with the shopper."
In this phase, you can start building a connection with your customers so that you're more likely to be on their mind when they want to make a purchase later. The online catalog can help you do so in two ways:
1. Inspire your customers with engaging content
Many eCommerce platforms focus on the transactional aspect of making a purchase. While these platforms have been optimized for conversion, they leave a huge gap in the shopping journey for customers that are still in the discovery phase. The online catalog helps to reduce that gap as it offers a laid back and curated shopping experience. As Matt Faulk explains:
".. there are many ways to present products including but not limited to the typical catalog view, lookbook, interactive video and dedicated microsites that are able to tell a brand and product story through context.

Brands should leverage these means of presentation in a manner that expresses their brand and gives a more substantial reason for a consumer to consider engaging with them."
When used this way, the online catalog can make a strong first impression on shoppers through inspiring product images and stories, which will ultimately help them remember your brand when they transition to later phases of the shopping journey.
2. Reaching a broader audience
We've written about how catalogs increase your reach in the past. In short, by publishing your catalog online, you're not only making sure that it is mobile friendly but also that it is a shareable asset that you can easily use on many different channels. This allows you to reach a broader audience in the discovery phase of shopping.
The most common channels where your catalog can deliver value include:
Your site or blog to help inspire your online visitors;
Social media to reach your social following by sharing the catalog;
Catalog affiliate sites to reach a completely new audience with your catalog;
Your email newsletter so you can share rich and inspiring content with the customers in your mailing list;
Search engines so the contents of your catalog can be found and used as a SEO strategy.
Evaluation phase: High quality content in your catalog increases interest and trust
During the evaluation phase, shoppers are gathering more information about the products and brands they're interested in. They're comparing technical specifications and are seeking out opinions of others. Ultimately, they're deciding if they want to commit to a purchase.
According to Capital Retail Bank's second Major Purchase Shopper Study, 81% of shoppers conduct online research before heading out to a store. Many people enjoy this experience just as much as actually buying the product, so being available for those people when they're doing the research could greatly increase trust in your brand and interest in your products. The online catalog can deliver value during this process by delivering product context, while also allowing your customers to click-through for details or embedded content.
Delivering product context to help improve product experience
As Mark Hayes wrote in a blogpost on Shopify.com:
"Have you ever been to the mall, walked into a shoe store and purchased a pair of running shoes without trying them on? When shopping in a brick-and-mortar environment, customers can pick a product up, feel its weight, try it on, touch its edges and give it a squeeze. When shopping online, customers aren't able to touch whatever you're selling."
High quality photography is one way to help increase your customers' comfort to make an online purchase. Crystal clear and simple product images can help to show the details of a product, while using photography to show products in context can be a huge influential factor in helping your customer experience a product as if they're already using it.
The online catalog can combine the two types of photography in a seamless and elegant way. It allows you to present your products in context, while allowing a click-through for your customer to get the product details (e.g. product descriptions and product images) they require to further evaluate the product.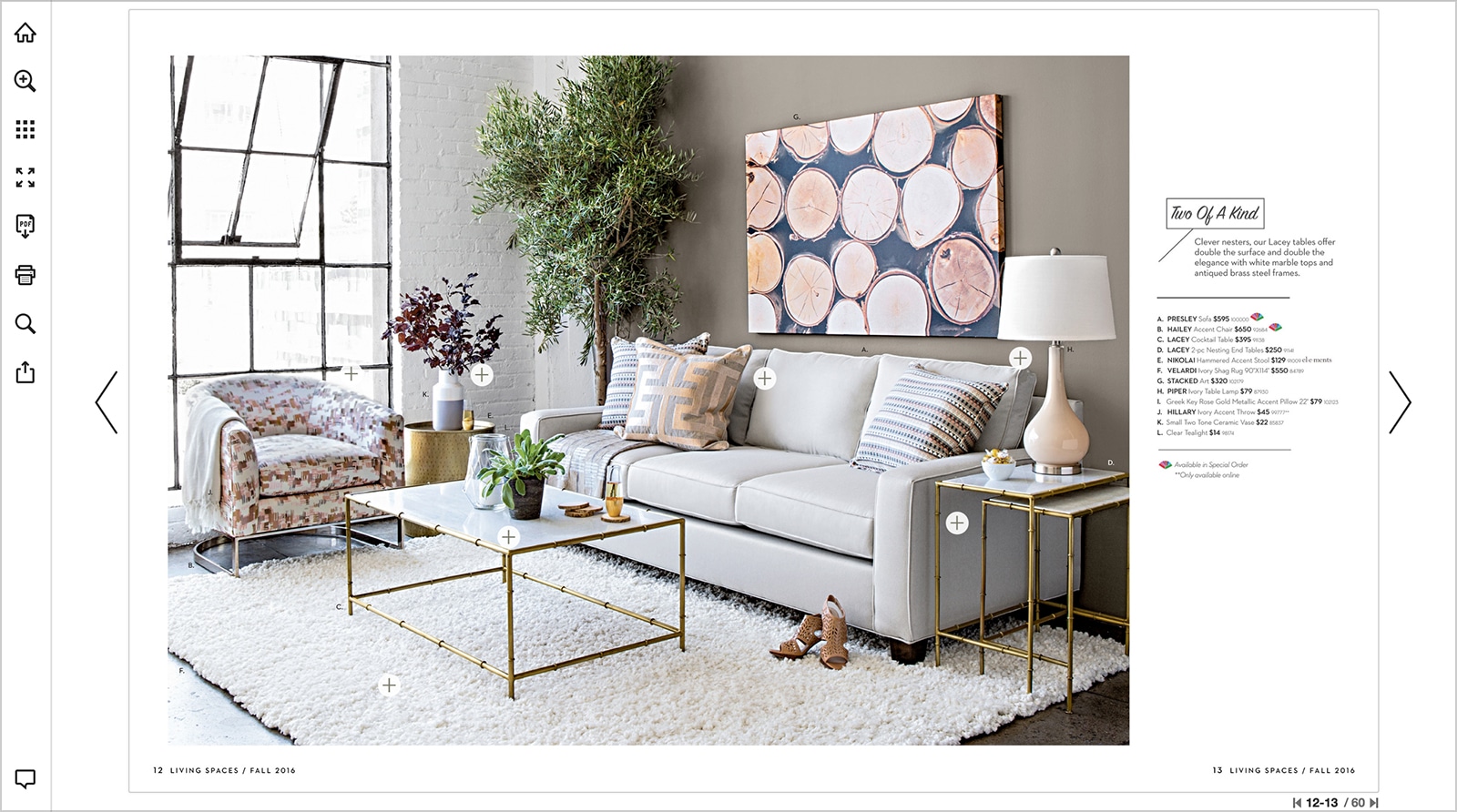 Living spaces catalog, showing a table in context of a living room.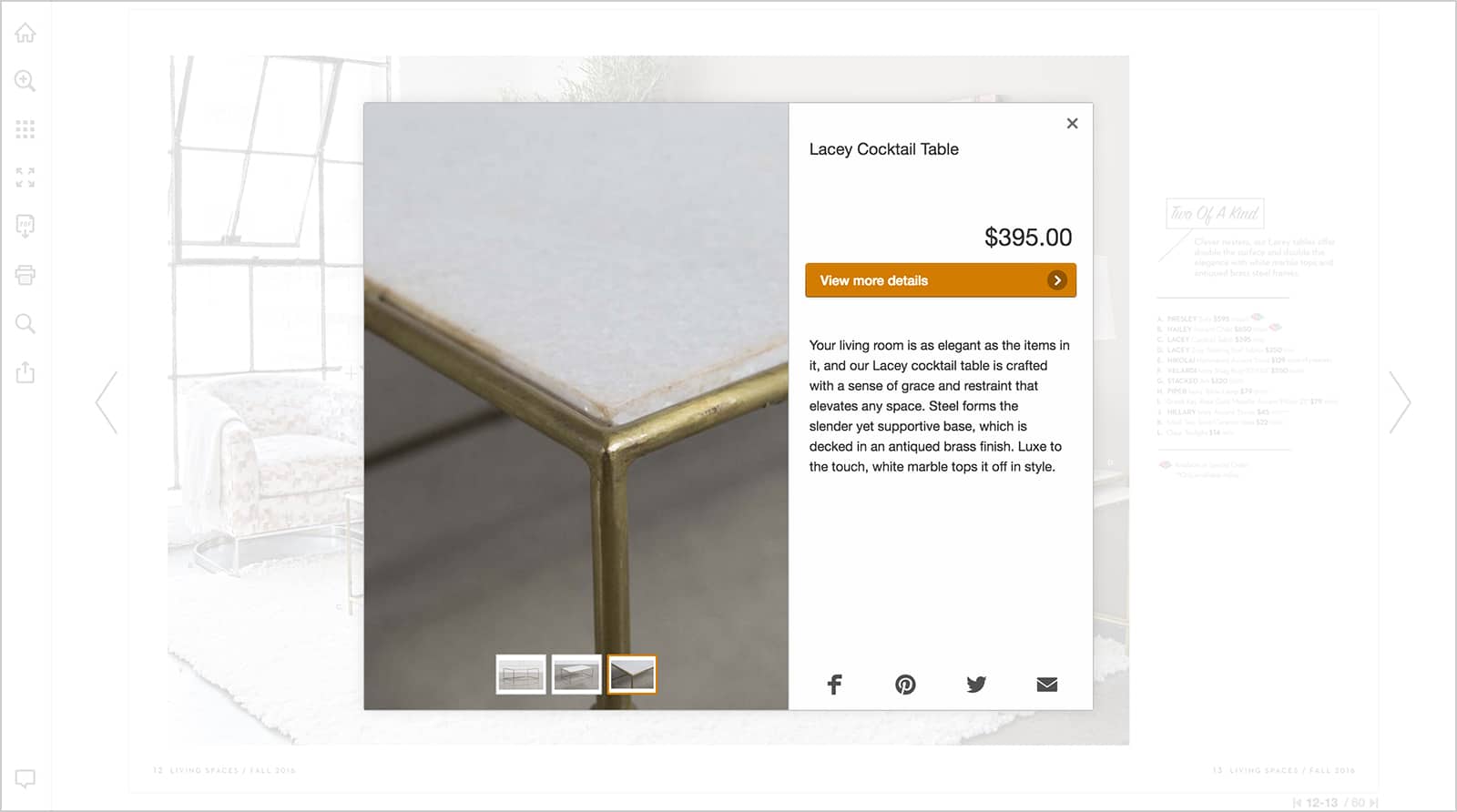 The product detail window opens after a click.
Finally, you can easily include different types of content in your catalog specifically aimed to help customers in the evaluation phase of shopping. Think about:
Comparison guides
Style guides
Buying guides
Testimonials
Product reviews
Check out this video in an online catalog from Alfresco Emporium to see what a style guide in a catalog could look like.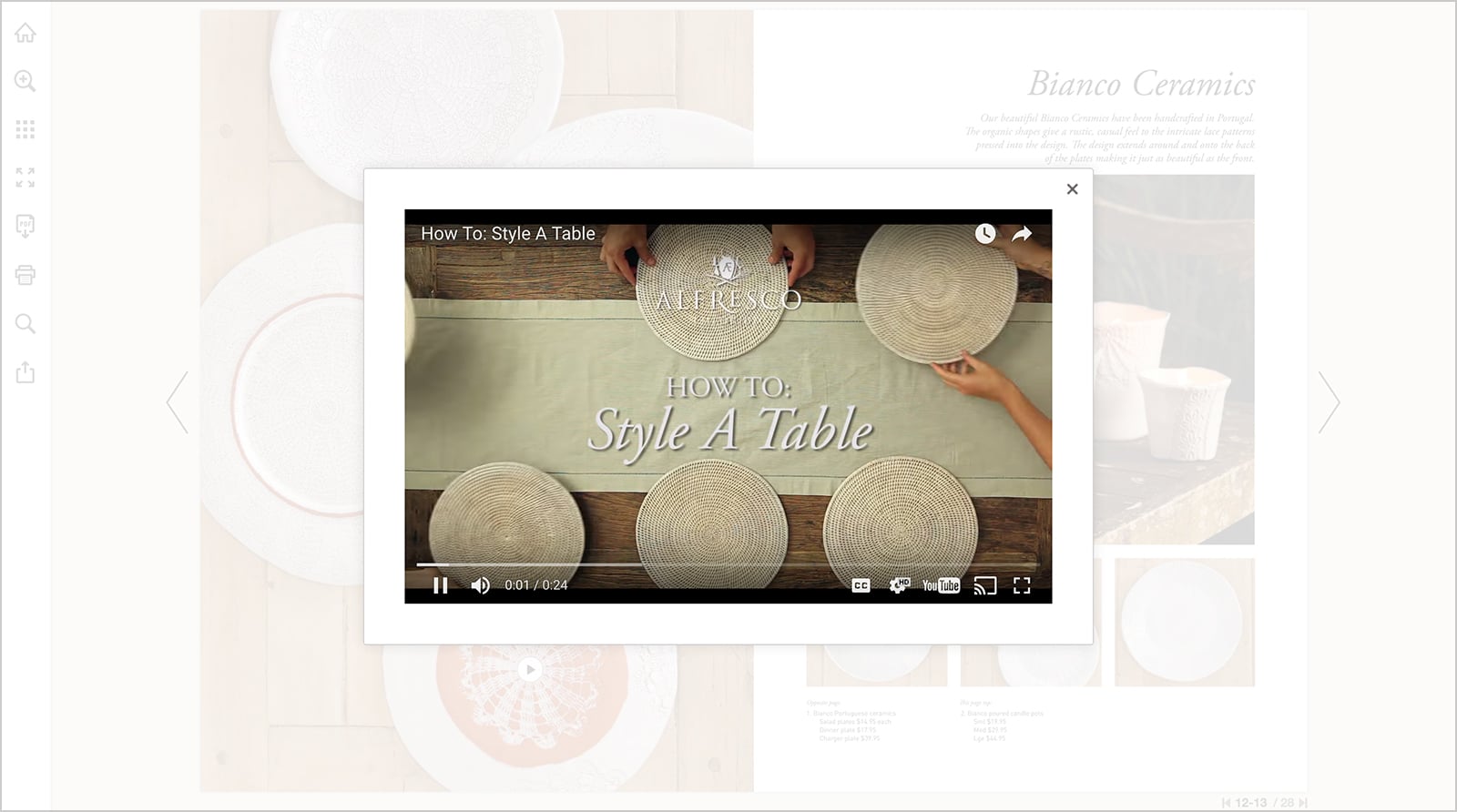 Style guide video in an online catalog.
Purchase phase: Deals, promotions and shoppable content increase conversion
In the purchase phase, shoppers are ready to buy. They know what they want and are now looking for the best deal, the easiest delivery method, stock availability or other specifics such as which size is right for them.
In this phase, you can provide value to your customers by facilitating the purchasing process. The easier it is for your customer to buy your products, the better. There are two ways that the online catalog can help you during this process:
1. Allow your customers to shop from your online catalog to increase conversion.
An important benefit of the online catalog is that they can be integrated with your online store to drive conversion. This essentially turns your catalog into Shoppable Content. Here's an excerpt from an article about the rise of shoppable content, which first appeared in Retail Week.
"Soon, we'll expect to be able to buy any image we click on – and be frustrated if we can't."
One thing that makes shoppable content so valuable is that it bridges the gap between inspiration, evaluation and purchase. Instead of inspiring your customer on one channel and then hoping they will find their way to your store later, you can give them a clear call to action that they can immediately follow to purchase the product from your online store. The less steps your customers have to take, the better.
2. Show latest deals and promotions to increase conversion
Another way that the catalog can help drive conversion is by showing the latest deals and promotions—a format that is commonly used here in the Netherlands. Have a look at this example from Albert Heijn who present the weekly ad to their customers in a nice and clean way, allowing people to purchase the latest deals by making them shoppable.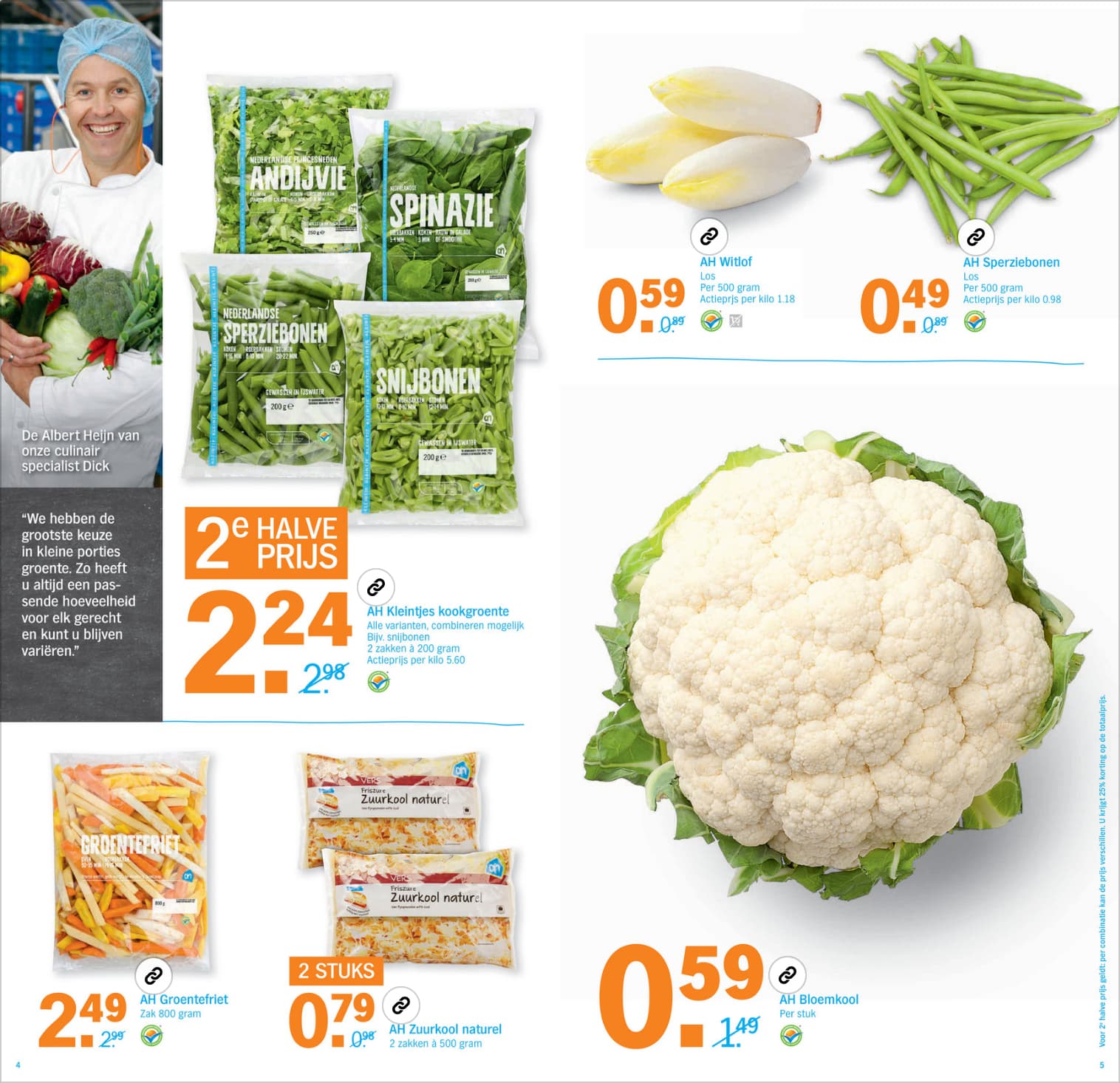 Albert Heijn catalog with shoppable deals.
Experience phase: Useful tips and how-to-guides to improve product satisfaction
The experience phase of shopping is all about how your customers experience the products that they've bought and the reviews that they will write about it. In a recent study by Webloyalty and Conlumino, it's made clear that 37% of online shoppers post their own recommendations and reviews to their friends and social networks.
If you can positively influence how the customer experiences the products you sell, this will greatly help your business, both by increasing positive reviews as well as retaining the customer for further purchases down the line.
While the online catalog delivers least of it's value in the experience phase of shopping, it can still serve to give people a better product experience. Think about simple products tips, how-to-guides or clever ways that a product can be used. Here's an example from Williams-Sonoma, who include recipes next to the Vitamix blenders in their catalog, so that the customer can start making some great tasting smoothies.
Loyalty Phase: Brand experience, excitement and inspiration secure customer loyalty
After a customer has bought and started using a product, they enter the loyalty phase of shopping. How likely are they to buy a product from the same brand or store again?
The Unfaithful Consumer, a study by Webloyalty and Conlumino, explains that consumers are less faithful than ever due to the increase of product offerings and the changes in our modern lifestyle. The study goes on to explain that customer experience has become more important than ever in securing customer loyalty. They recommend that shopping destinations, both online and physical, should be about experience, excitement and inspiration.
Matt Faulk adds to this in one of his blog posts:
"Much like the expectations of a brick-and-mortar experience—the consumer wants personalization, context, relatability, and they want to be engaged emotionally. To do this, brands must focus on transforming the mundane and uninspiring "transactional" model of ecommerce, into a compelling consumer experience that builds loyalty and speaks to their unique ambitions, desires, and needs."
When it comes to brand experience, excitement and inspiration, the catalog has always been a valuable asset. In almost every stage of the customer journey, the catalog can help to keep your customers engaged with your brand. The catalog can be filled with inspirational stories, luxurious photography and endorsements from influencers in your industry which all help to convey brand personality. Great lifestyle content can be included in the catalog to create an emotional connection with your customers. The catalog is not just about the products you're offering, but it can be a valuable part of becoming a brand worthy of loving.
For example, we spoke with Gary Penn, the Head of Digital and Global eCommerce at prAna and here's what he had to say about their catalogs:
"We have received extremely positive feedback on our printed catalogs and our sustainable and durable clothing and accessories for men and women. The catalogs highlight our Men's, Women's and Accessories product lines via the journeys of our prAna ambassadors. They feature gorgeous images from Iceland, Scotland, Sumatra and other adventure destinations."
You can have a look at their latest online catalog here:
The online catalog as a flexible and shoppable content marketing tool
While this post is by no means an extensive guide to using your catalogs online, we hope that it has given you valuable insights and examples on how the online catalog fits in the customer journey.
The main takeaway is that the online catalog is a flexible content marketing tool in which you can include various types of content that appeal to your customers at different stages of their journey. It gives you an opportunity to deliver a beautiful brand experience that guides your customers from discovery to loyalty. For your customers it's an ideal format, because the only thing they have to do is click or swipe through to the next page.