Looking for an Issuu alternative?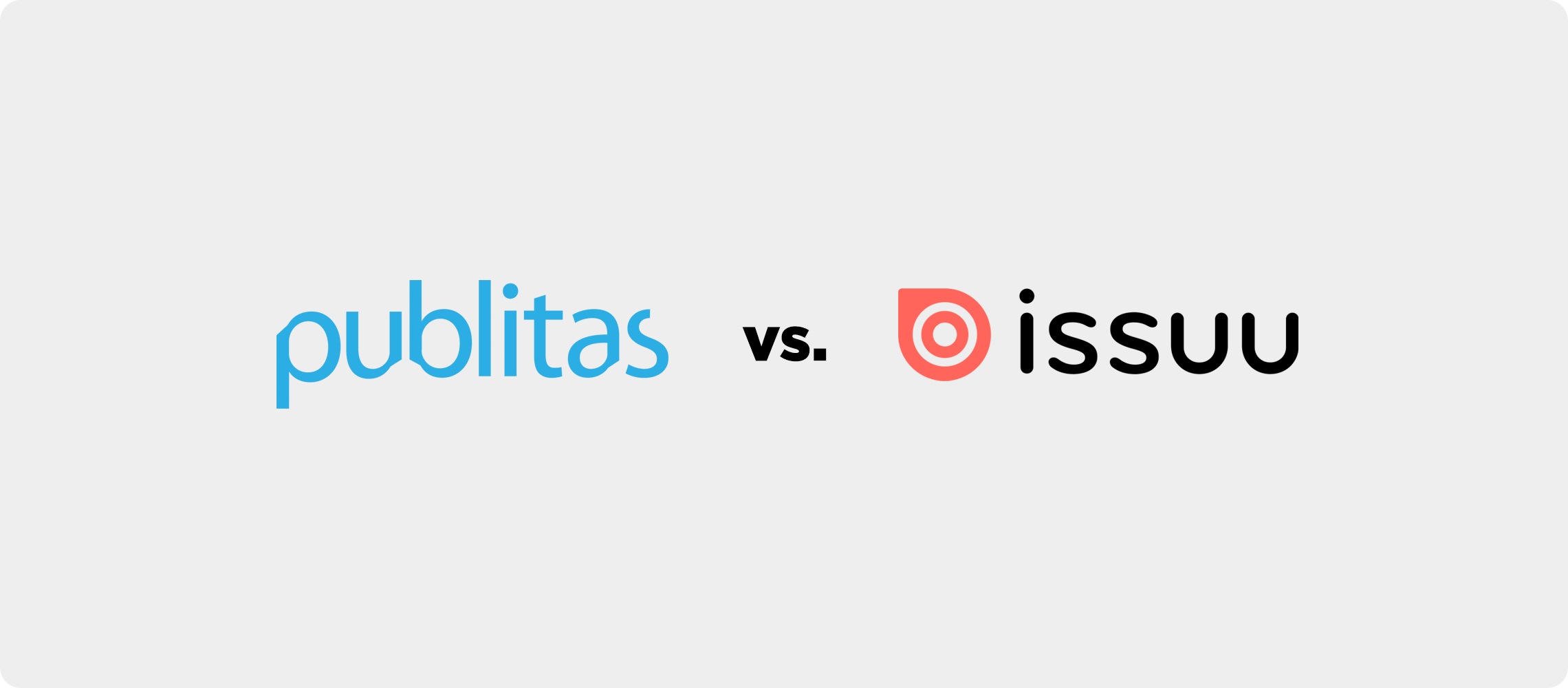 Publitas and Issuu are both leading SaaS platforms for digital publications. However, Publitas focuses on retail and wholesale, whereas Issuu has a broader target audience.
Furthermore, when choosing the right platform for your brand and product, it's essential to consider critical features and how they will benefit your bottom line. Things such as:
Digital-first dynamic content creation,
Interactive and rich media options,
E-commerce integration,
Mobile vertical scroll navigation,
Custom branding,
Wishlist items from publication,
Product personalization.
Publitas specializes in these advanced features while also being best-in-class for simple PDF upload and publishing.
Our platform empowers retailers with robust Discovery Commerce capabilities, driving increased digital catalog engagement, conversions, and revenue. Make an informed decision by comparing the features and benefits of Publitas versus Issuu, and choose the digital catalog solution that best aligns with your brand's unique requirements for online success.
Publitas was founded in 2006 and is a leading B2B SaaS platform enabling businesses to provide seamless shopping experiences through Discovery Commerce, Digital Catalogs, and Shoppable Media. The user-friendly platform reaches 60+ million shoppers monthly and enables brands to create interactive and engaging online shopping journeys that inspire visitors and drive sales.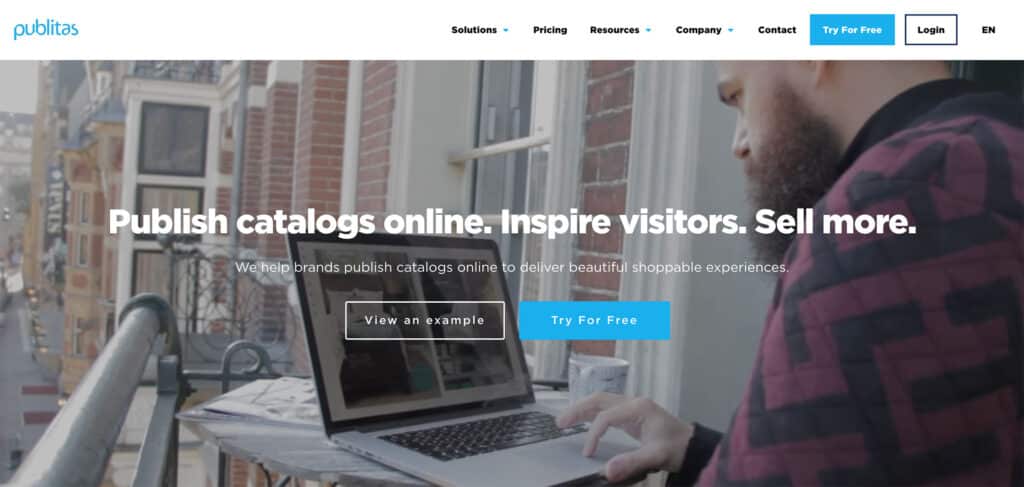 Founded in 2006, Issuu is where the world's most innovative and growth-oriented content creators publish digitally. As the industry's leading digital publishing platform, they give publishers the tools to deliver over 5 billion page views each month to the 80+ million readers who care most about their content. Issuu helps publishers find, understand, monetize and grow a massive global audience on any device — while helping readers all over the world discover, enjoy and share new content. Headquartered in Palo Alto, California, Issuu is backed by Sunstone Capital and KDDI.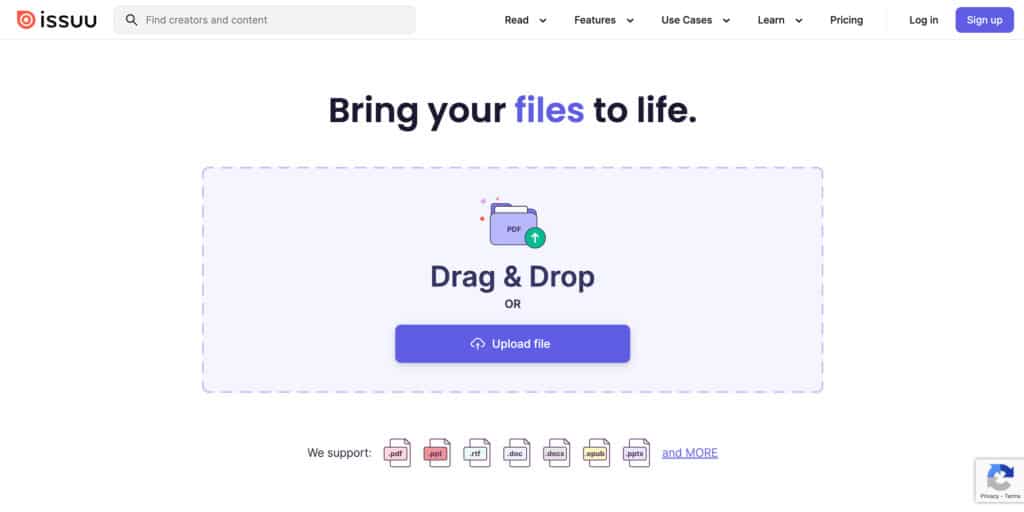 What Publitas offers as Issuu alternative
So how do Publitas and Issuu rank in a direct comparison? We have listed the main features below to compare both solutions on features and capabilities.
| | | |
| --- | --- | --- |
| Feature | Publitas | Issuu |
| External links | | |
| Video content (Youtube, MP4, Vimeo) | | |
| Image/GIF content | | |
| Custom branding | | |
| Multi-brand account structure | | |
| Advanced analytics solutions | | |
| API Access | | |
| Publication scheduling | | |
| Dedicated success manager | | |
| SEO optimization | | |
| Integration with GA4 | | |
| Custom domain with free SSL | | |
| Shoppable content via product overlays | | |
| Sync product info from online store | | |
| Auto-detect products based on SKU tags | | |
| Custom solutions | | |
| A/B testing | | |
| Shopping cart | | |
| Dynamic products, pricing, and availability | | |
| Personalization | | |
| Automated SKU tags | | |
| Shoppable video and images | | |
| 3rd party ads | | |
What people have to say after they have used both Publitas and Issuu
"I uploaded a document for clients, and on Issuu it looked terrible. It was super small and hard to read. Very clunky. I was thrilled when I uploaded it to Publitas - it looks fantastic. So thanks!"
"In my opinion, Publitas had by far the most minimalist and clean design. This was useful in my case, as I work in a design-related field and need PDFs to stand out on their own without all the visual pollution around them."
"I needed something to show off my brochure that was like Issuu, but just about my brochure and not other publications. I also prefer how yours looks! Way more intuitive and prettier!"
How to choose the best solution for creating and publishing digital retail catalogs?
Choosing the best platform for digital retail catalogs can be difficult. Many possibilities, tools, and platforms are available — each offering different solutions.
Whatever platform you choose, it'll have to offer the features and solutions that support you in meeting your revenue goals and digital catalog creation needs.
Let's examine some essential requirements and helpful questions for evaluating your options.
Essential features for digital retail catalogs
At a minimum, a digital retail catalog requires the following features:
Optimized for mobile devices
Flip & slide effect
Easy to navigate
Create your catalog from PDF, product feed, or Excel sheet
Add hotspots (product, video, link, etc.)
Add interactive and shoppable images and videos
Connection with GA4 (or other analytics platforms)
eCommerce integration
Reliable hosting
Accessibility (ADA compliant)
ISO27001 certification
Search engine optimized
Knowledge base and support team
Questions for choosing a digital retail catalog platform
Why organizations choose Publitas
Try our fast & reliable platform for 14 days.