Omnichannel Retailing: Today's consumers have high expectations of customer service. They expect experiences to be seamless across all channels, and they don't want to lift a finger.
In short, consumers want an omnichannel experience.
If this buzzword is entirely new to you, or if you're looking for a refresher on the topic in 2023, this post is definitely for you. We'll shed some light on what an omnichannel customer experience is, why your brand must provide it, and how online retailers have leveraged it to grow their revenues.
Have you ever ordered something online that wasn't what you expected it to be when it arrived?
Not only is this a disappointing experience, but you have to go through the hassle of returning the item.
How might you do that? Let's say you start a conversation over the store's live chat. You haven't got a shipping label, so you're asking them how you can return your order.
Unexpectedly, your internet cuts out, and instead of waiting for it to reconnect, you decide to call the store instead. But you have to explain the problem with your order all over again to a new rep.
For an online shopper, this experience would be both frustrating and inconvenient. And it's your brand with whom they've had that negative experience.
Suppose the rep has a record of the conversation you had via the store's live chat. You could save yourself the headache of repeating yourself — that would be an example of good omnichannel customer service.
Omnichannel Retailing customer experience definition
The prefix "omni-" is Latin for "all". And if you know that, you should be able to put two and two together to hazard a guess at what this buzzword that everyone's talking about means.
But omnichannel marketing is a whole lot more than just marketing your brand on all the channels you might find your customers on.
It encompasses both the offline and online retail experience — from your inventory management or customer success department to an in-store kiosk or chat-bot experience.
Different industries and solution providers each have their own unique perspective of what an omnichannel customer experience is.
Hubspot's definition is:
"Omnichannel experience is a multichannel approach to marketing, selling, and serving customers in a way that creates an integrated and cohesive customer experience no matter how or where a customer reaches out."
So, omnichannel is all about making the customer journey as seamless as possible and across all channels. The brand message needs to be consistent wherever the customer goes — online or offline — and on any device.
The difference between omnichannel marketing and multichannel marketing
To borrow from Hubspot again, "all omnichannel experiences will use multichannels, but not all multichannel experiences are omnichannel".
What that means is that with a multichannel marketing strategy, the shopper could be interacting with your brand across different channels. But there might be little to no connectivity or integration between them.
Whereas, in an omnichannel experience, it will always involve the user seamlessly navigating between channels, where the experience and brand message are consistent.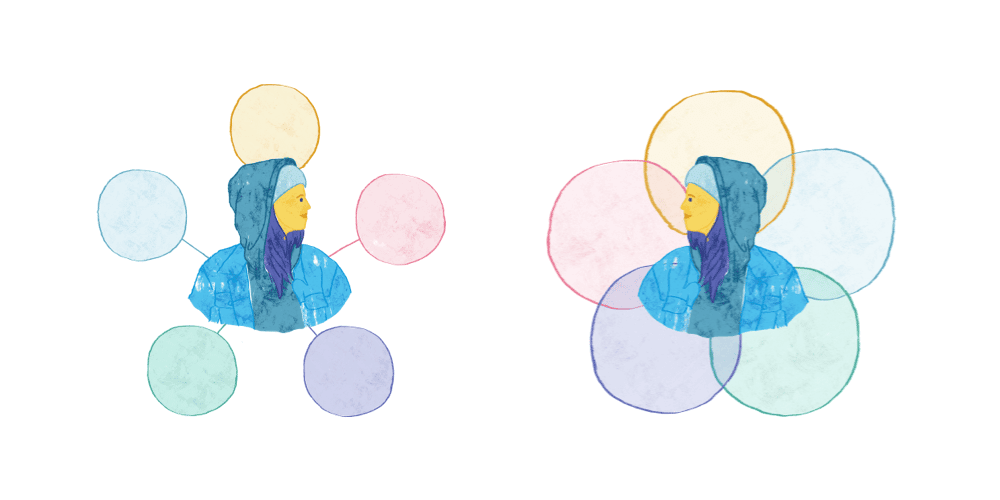 On the left: Multichannel experience. On the right: Omnichannel experience.
With omnichannel marketing, the shopper is at the center of the experience as opposed to multichannel marketing, where the brand is.
And that's important because if the focus starts with the brand, the message sent out to users across different channels might not always be consistent.
But with an omnichannel experience, each user's interaction should be reflected in their next — regardless of where that might be.
For example, if a shopper constantly searches for the same t-shirt or pants size at the same online store, the retailer could remember their personal preference and show in-stock items of the same size the next time they visit.
The above example might have seemed ambitious five years ago. But now, with advanced Martech, it's possible — and it's exactly what luxury multi-brand retailer Neiman Marcus does for its shoppers.
Neiman Marcus also uses shopper geolocation data to show the shopper their nearest brick-and-mortar store that has the items they were looking at in their size. They also use the same customer data for retargeting shoppers with their email and direct mail campaigns.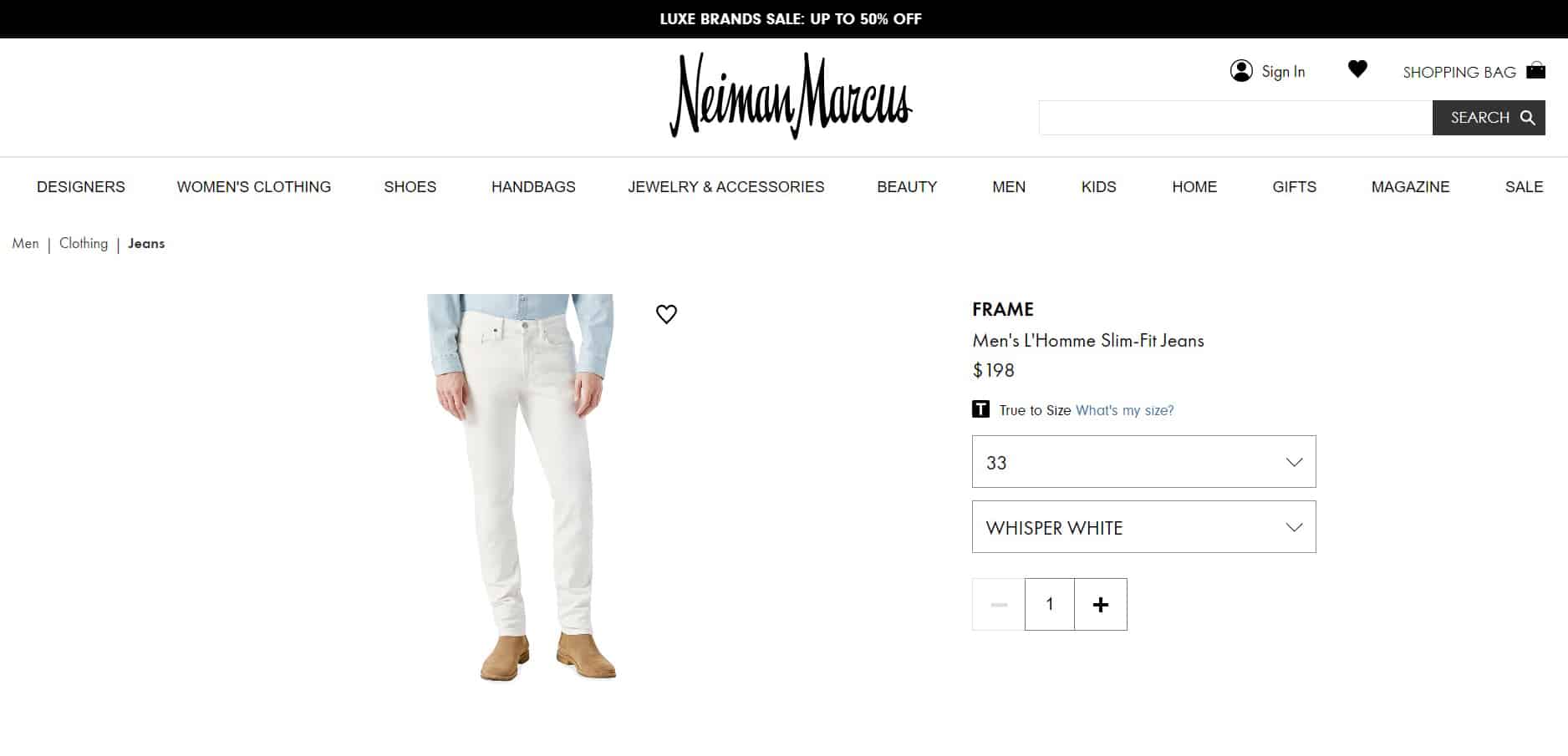 Neiman Marcus' omnichannel marketing strategy works to "remember" its customers' sizes and show them stores nearest to them with items of their size in stock.
Is "omnichannel" not just another buzzword?
No, and here's why brands and retailers need to get on board with it.
Personalized omnichannel customer experiences are what consumers want and expect
At the core of omnichannel experiences is providing shoppers with a seamless and convenient customer journey. Consumers want a unified and personalized shopping experience whenever and wherever they're shopping.
A study by Accenture found that most consumers (91%) are "more likely to shop with brands who recognize, remember, and provide relevant offers and recommendations."
What's more, Retail Customer Experience reports that "63% of consumers expect personalization as a standard of service and believe they are recognized as an individual when sent special offers."
Shoppers also expect the shopping cart experience to be a convenient and seamless experience across all channels. One study found that 56% of shoppers "are likely to shop at a retailer that offers a shared cart across channels."
Omnichannel experiences boost online retailer revenues
Shopper lifetime value, average order value (AOV), and higher in-store purchase values all help towards bigger ROIs. A report by Harvard Business Review published in 2017 found that the more channels browsers used online, the more money they spent in-store.
Consumers now have different buying habits and expectations
Shopify reports that the COVID-19 pandemic has catalyzed the way consumers shop forever, and in efforts to capitalize on it, nearly 100,000 brands started using curbside pickup for the first time between March and June 2020.
The variety of ways shoppers can buy online, or the ease at which they can pick up in-store, led to brands' click-and-collect sales more than doubling in the US in 2020.
Shopify expects the growth in these new ways of shopping to continue into 2024, further strengthening the case for creating omnichannel shopping experiences.
Shopify adds, "Omnichannel experiences allow your customers to buy, try, and return products on their own terms. If you don't let them have that, someone else will."
BigCommerce echos Shopify's take on omnichannel and how the COVID-19 outbreak has changed how consumers and businesses think about shopping:
"That acceleration due to COVID-19 'has forced everyone to operate at a much higher level of digital maturity,' said Sharon Gee, General Manager, Omnichannel at BigCommerce. 'To succeed today, retailers need to put a stake in the ground and define a unified channel strategy from a digital and physical perspective.'"
Omnichannel customer experience best practices
For an omnichannel marketing strategy to succeed, you need to ensure that key departments and stakeholders implement your plan and have access to the same central database of user data.
Bigcommerce refers to this as the "four-pillar approach to omnichannel commerce" and includes sales channels, marketing and advertising, and shipping and fulfillment.
Additionally, your Customer Success department needs access to your user data to keep the conversation consistent. Marketing will need to know what message to send to shoppers at each stage of your customers' personalized customer journey, and your sales department needs to understand your audiences' pain points and needs.
You should also:
Use your customer data to learn who your customers are, how they shop, and map out your customer journey. You can then experiment with different ads and learn even more about them.
Regularly test different content marketing strategies across all channels to acquire more data and optimize your campaigns.
Leverage shoppable content on social media, your online store, and your email campaigns to create the most convenient shopping experience.
Provide the best omnichannel customer service possible, and make sure any conversation a customer has had — online or offline — is visible and accessible to everybody.
Implement consistent branding and messaging across all channels; this applies to everything, from your tone-of-voice and graphics to your content style guide and typography.
Also, consider updating your inventory in real-time as orders come in — whether offline in a brick-and-mortar or through online channels.
Online catalogs which showcase your products are one way you can easily provide a great omnichannel eCommerce experience.
With Publitas, online catalogs synchronize with your online store, keeping prices and products in your catalog up-to-date. Within a few seconds of publishing your catalog online, you have a brand new omnichannel experience for your shoppers to discover — one which they're familiar with offline.
Publitas online catalogs are also made omnichannel by:
Being shareable across channels, so you can more easily create a seamless shopping experience, where shoppers can shop directly from your content.
Collecting data about its readers with every page flip, enhancing the user profile. This data can be used to deliver personalized content and product recommendations.
Having an optimized shopping experience for mobile, desktop, and tablet, so your customers can shop from your catalog almost anywhere and at any time.
A case study of Boohoo's omnichannel customer experience
Boohoo is a fashion retailer, which over the last year has taken the fashion eCommerce space by storm, shipping worldwide and garnering billions of dollars in revenue — owing to its omnichannel marketing strategy.
Boohoo fuses its presence on social media channels, such as Instagram and Facebook — with its website and mobile app.
Wherever shoppers are, and whichever channel they're on, Boohoo is there to offer exclusive offers and trends to their customers — facilitating a seamless and convenient shopping experience at their fingertips.
The brand's omnichannel customer experience combines shoppable social media content with visual commerce, where browsers can use visual search to find similar styles to Boohoo's products.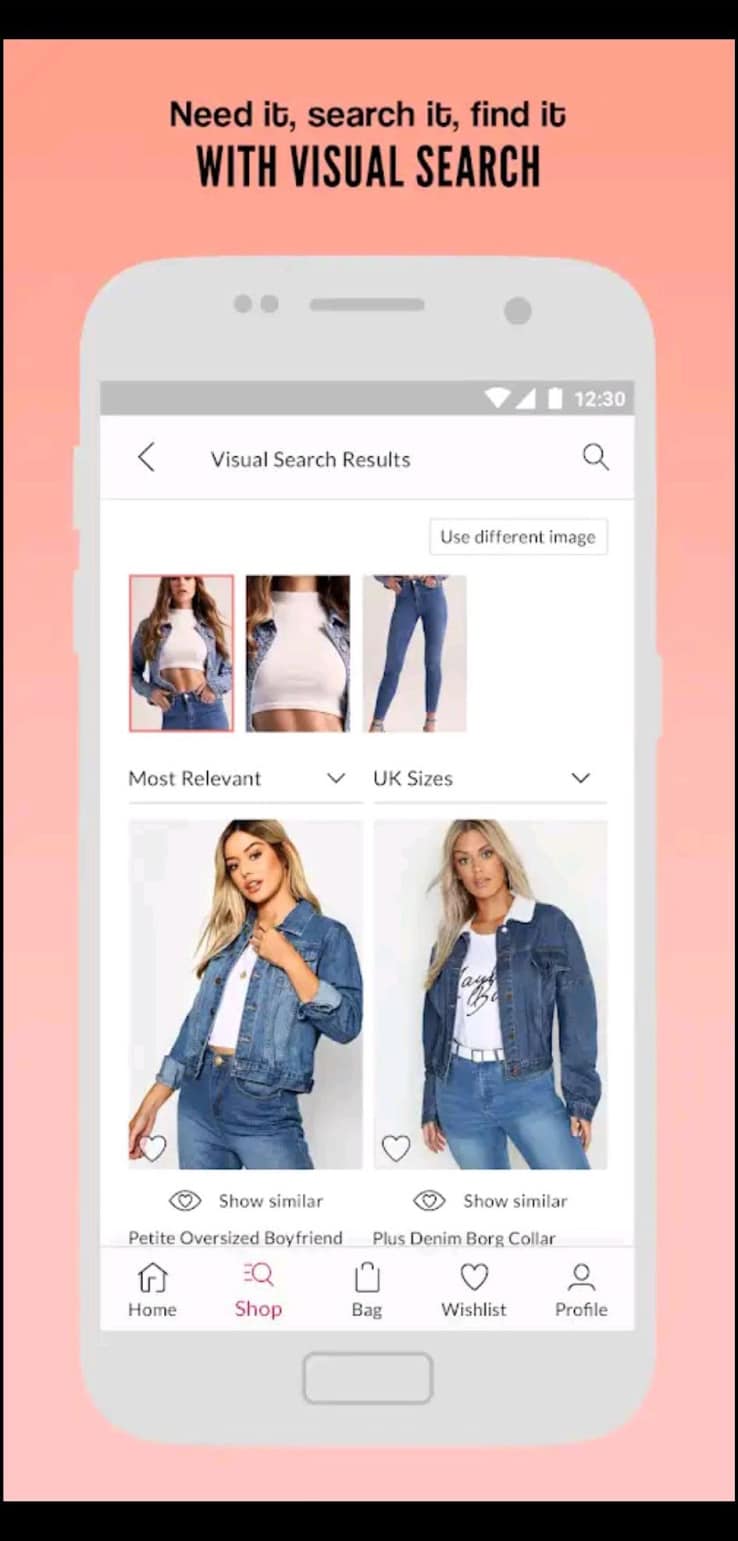 Shoppers can use their own snaps or images from other channels to visually search for similar styles.
Boohoo's omnichannel customer experience is enhanced by integrated customer service across all of its channels — whether that's on Whatsapp, Facebook, Twitter, or via email — customers can reach out to them almost anywhere.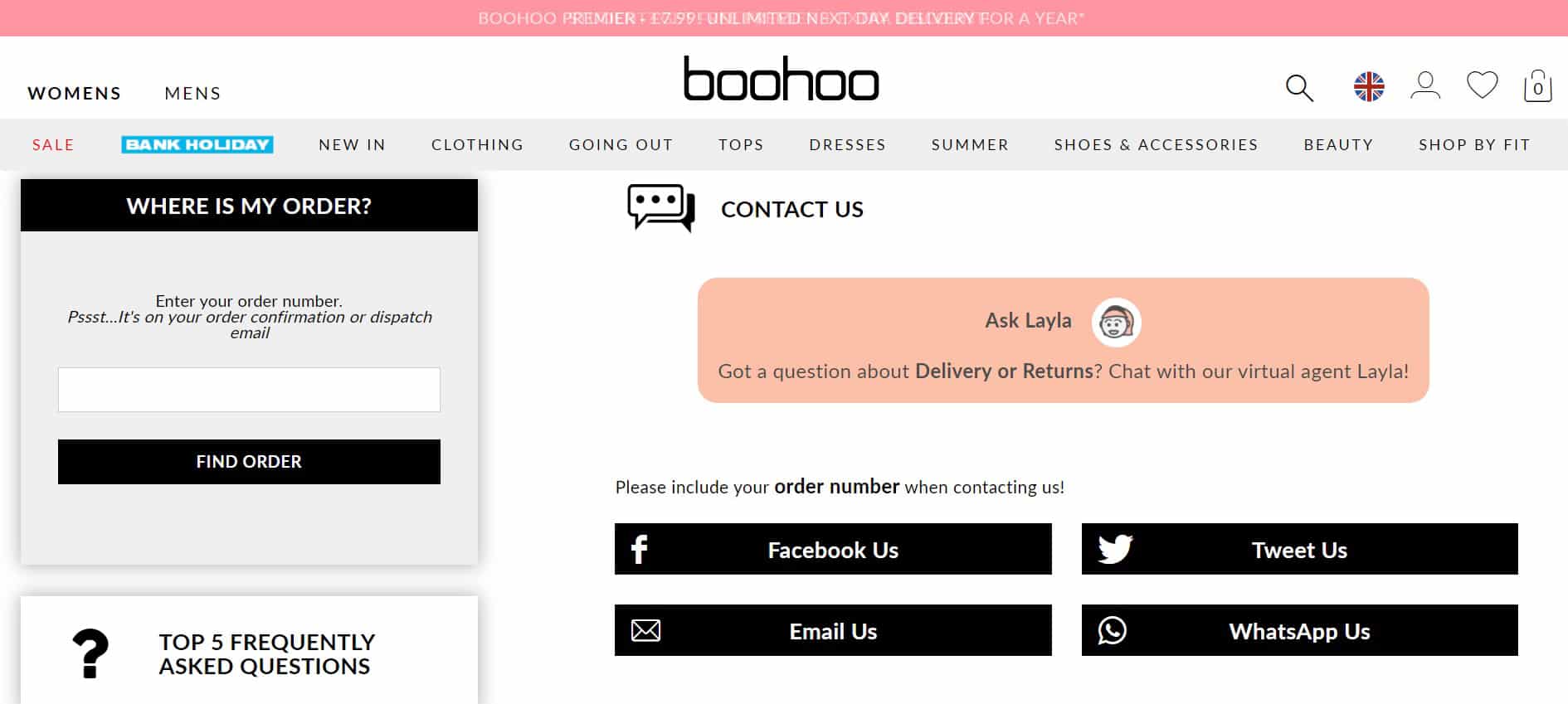 If a Boohoo customer has a question or has a problem with their order, they can talk to the retailer across all the main channels.
Tying it all together
An omnichannel strategy is powered by the data you have about each of your customers, which you use to maintain a consistent and cohesive brand experience. It tells you who your customers are, where your customer journey starts and ends, and what conversations they're having.
Ultimately, omnichannel retailing is about providing a seamless and convenient shopping experience for your customers, which bridges together the silos and touchpoints of your unique and branded customer journey.
It doesn't just stop with how your shoppers behave online. It forms part of an integrated online and offline brand strategy that must tie each stakeholder in your organization together at the departmental level.
Interested in finding out how an online catalog can contribute to your omnichannel experience? Contact us, or sign up for our free 14-day trial here.