Guest post by Raúl Galera, Chief Advocate at ReferralCandy.
Recall the last time you heard about a new brand or discovered a cool online catalog.
Though we occasionally use a variety of online channels to discover new things, it's also likely that you heard about them through word-of-mouth conversations with friends and family.
Because we trust them the most, we listen to their referrals and recommendations.
But how can brands amplify their word-of-mouth marketing? In this post, we'll look at how an online catalog can help and six tips to further boost the word-of-mouth effect.
Before we discuss the nitty-gritty details, let's make sure we're all on the same page.
What is word-of-mouth marketing?
Word-of-mouth marketing takes place when customers discuss a businesses' products and services with their family and friends. Think about the last time you raved about dining in a new restaurant or going to a hotel—that's word-of-mouth marketing in a nutshell.
In fact, ReferralCandy found that word-of-mouth marketing is trusted by 86% of consumers, making it the most trusted form of marketing. Not surprisingly, people trust their network more than sponsored ads.
How a digital catalog can bolster word of mouth marketing
Naturally, word-of-mouth occurs organically. Imagine browsing through a toy book with your kids or sharing ideas from IKEA catalog with your partner. Digital catalogs can stimulate conversations and bolster interest in your products and services.
Here are a few reasons why digital catalogs can amplify your word-of-mouth marketing.
1. Make your products shareable
Sure, people can talk about your products but is that enough? In the age of digital media, people want visuals and interactive content to be compelled to buy a product.
That said, an online catalog lets brand advocates refer in a much more effective way. They can share the link via text, social media, or email. Meanwhile, their referred friends can get an overview of the product and necessary details (i.e. image, price, features). Digital shareability makes it a lot easier for customers to recommend your products and get people on board.
2. Cost-effective
Unlike traditional catalogs, an online version will eliminate print and distribution costs.
There's no need to charge customers a shipping fee or fret about the logistics involved. You won't also need to allot extra time for printing.
All you have to do is to send it via email or post a link on social media. Not long after, your customers will read the content and likely recommend a few products to their family.
3. Accessible on mobile device
Online catalogs are easily accessible on mobile devices, making it easier to start a conversation about products in it.
You can easily view the page and recommend the product during a family dinner, get-together with friends, or while meeting up with colleagues.
No need to actually search for the printed catalog in a cluttered desk or shelf.
4. Can be integrated with your eCommerce store
Word-of-mouth traditionally has no direct path to purchase. A friend can tell you about an amazing product, but you still have to search for it and find a way to purchase it.
To solve this dilemma, you can combine your online catalog with your eCommerce solution. That way, customers can shop within the catalog, add products to their cart and make a purchase while browsing through the pages.
Likewise, when customers refer their friends via the online catalog, their referred friends can make the purchase in an instant. Because the process is very efficient, word-of-mouth referrals have more chances of turning into a conversion.
By removing friction, there is a seamless experience.
6 Ways To Use Your Online Catalog for Word-of-Mouth
Using online catalogs to your advantage is easy once you know the right strategies. In the following section, we'll guide you through this process.
1. Make your products and services referrable
Before digging into catalogs, the one thing that's most important to get referrals going is to ensure your business is referable.
How do you know if your business is referable? Begin by browsing through customer reviews and evaluating your customer life cycle. Take note of the complaints and negative comments by dissatisfied customers.
At Publitas, we also like to use the Net Promoter Score (NPS) survey to gauge the likelihood for consumers to recommend our products and services.
Once you've identified recurring complaints or similar issues, brainstorm solutions with your team. You can also get in touch with customer support agents to learn more about obstacles that would discourage people from referring to your business.
2. Create a captivating online catalog
We're drawn to pretty and attractive visuals; many brands rely on visual commerce to attract shoppers and eliminate their doubts about purchasing a product or service.
Much like how an eCommerce shop can lure customers with beautiful product photos, online catalogs or lookbooks with images, videos, and stories have a similar effect. They let shoppers imagine themselves using the product, "shop the look" directly from the page, and share their experience with others.
A good catalog usually has the following elements:
Cohesive design: There are plenty of ways you can design your online catalog. You can try daring and vibrant colors to make the products seemingly pop-up from the page.In terms of product photography, you can also arrange a group of products in a "modern still life" way to add variety, especially if you're utilizing plain grids often.Rather than a plain white background, you can also use 'Nouveaux' flat to make products more intriguing and give each page a fresh look.
Mobile-first design: Having mobile-optimized online catalogs which can load within three seconds and offer a fast, user-friendly experience is a must. Otherwise, you could inconvenience users due to additional steps or lack of readability.
Professional images: Readers develop their first impression based on your product images, so use high-quality product photos. The image must be clear and crisp so readers can imagine themselves using the product. If you have a large catalog, it may make sense to store your images in photo management software to keep track of them.
CTA and pricing: List down the product prices and have clear CTAs. Publitas offers an immersive content experience, allowing customers to be guided from the discovery to purchase phase. Shoppers can interact with a product and buy within the catalog itself.
Storytelling: Just like a real-life magazine, online catalogs should have a cohesive message or story. Talk about your brand's story or the inspiration behind the items featured on the catalog. This will make your message a lot more memorable.
Activewear brand So iLL has immersive product catalog pages that inspire people to learn more about their brand and products.
3. Build a referral program
While word-of-mouth marketing can occur organically, businesses can also bolster the process by launching a referral program.
For starters, a referral program incentivizes customers to promote products or services with their network. These rewards may be in the form of discounts, freebies, and coupons.
Soko Glam – an online eCommerce store – launched a referral program that encourages customers to promote the online store to their friends in exchange for $10 off their next order. Meanwhile, referred friends can also get $10 off their first purchase.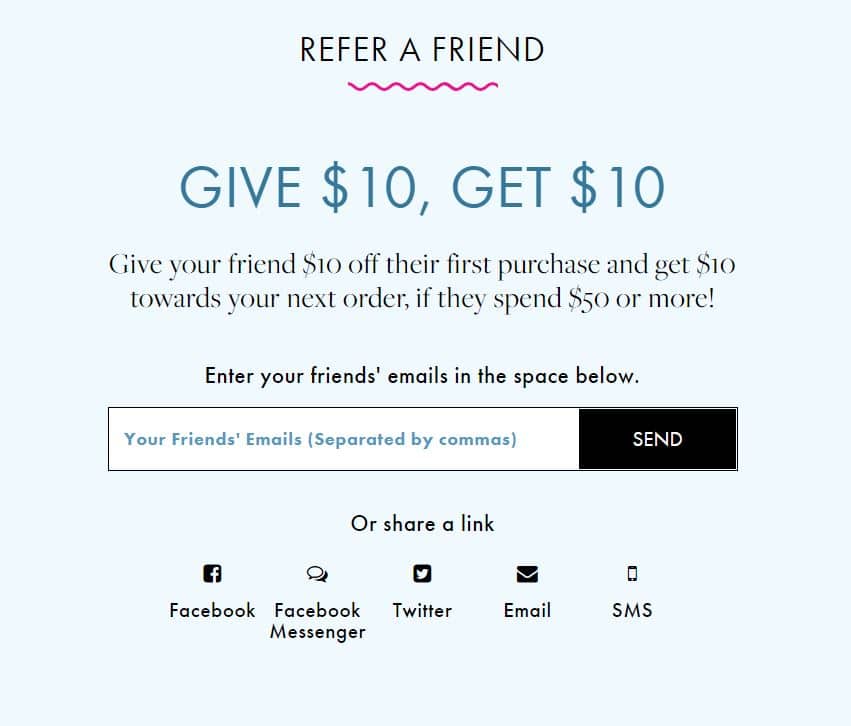 With this process, you can get a new customer with minimum effort. It's a win-win-win situation.
You can advertise your referral program in an online catalog so readers can jump on the bandwagon and refer their friends.
4. Share customer testimonials or reviews in the catalog
Much like referrals from friends, reviews are also a form of word-of-mouth marketing.
In fact, 38% of consumers state that online reviews are a crucial factor when deciding their purchase. In addition, consumers trust businesses after reading four to six reviews.
Placing a few testimonials and reviews in your online catalog can foster trust, especially among referred friends who are encountering your business for the first time. To get more customer testimonials, you can ask your customers who reach out to your customer support via a cloud phone for service and offer bonuses in return for their testimonials.
5. Offer incentives
Referral program success depends on the incentives and rewards that you can offer.
Most referral programs offer coupons, discounts, freebies, and a free subscription month. Regardless of the product or service that you offer, make sure that you highlight these incentives in your catalog.
For example, FabFitFun's referral program lets customers get a free starter box. Their referral program graphic further entices customers with a picture of the items that friends can get in their free starter box.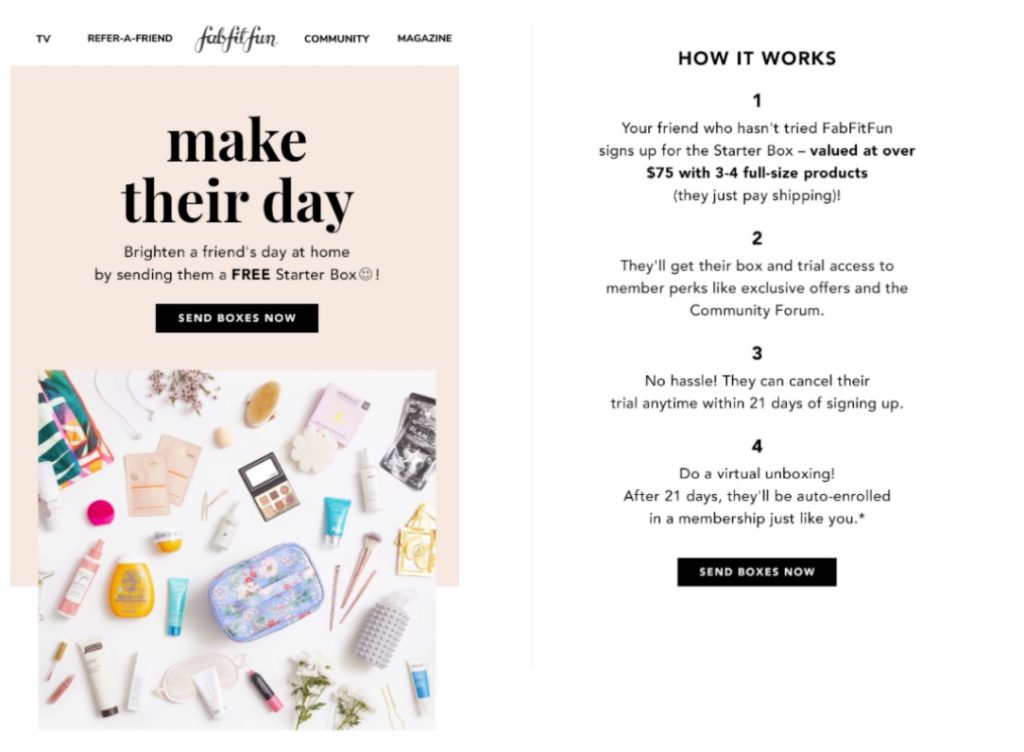 6. Promote online catalog in social media
To bolster word-of-mouth conversations online, promote your online catalog on social media.
A social media post can bolster brand-related conversations about your catalog and its contents. In addition, you should also encourage customers to tag their friends in the comments section because that's also a subtle way they can refer friends.
Use online catalogs to boost referrals
Having an online catalog will make it easier for brand advocates to refer your business and recommend their friends. If you have a referral program, you should also advertise it within the catalog to boost awareness.
About the author
Raúl Galera is the Chief Advocate at ReferralCandy, an app that allows eCommerce brands to set up and run customer referral programs.
ReferralCandy is the leading platform in terms of referral marketing for eCommerce brands. Founded over 10 years ago, ReferralCandy has helped over 30,000 brands leverage the power of word-of-mouth and turn their customer base into their marketing team.
Raúl has been leading ReferralCandy's partnership efforts for the past five years, working alongside marketing agencies, media, and tech companies.