Would you buy a brand new car without trying it? What about a dress? Or a three-piece suite?
You'd have no idea how that dress would look on you or if that three-piece suite would go with your wallpaper — let alone fit into your living room.
There are many items that consumers typically try before buying. And ordering these online is something they're not used to — or hesitate to do.
So, online retailers need a more sophisticated approach to visuals than just a handful of small product images.
Online shoppers are attracted by enhanced visuals. Visuals inspire them, drive brand engagement, and show them how a product fits into their lifestyle.
With advanced technology, the social media craze, and the "look at me" hysteria, "visual" in the context of eCommerce, has taken on an entirely new meaning.
In this post, we elaborate on what visual commerce is, why you can't sell online without it, and show you how some of the world's leading online retailers leverage it to drive brand engagement, boost conversions and grow their revenue.
What is visual commerce?
Visual commerce has now taken on numerous mediums, trends, and technological capabilities. A search for what visual commerce is will return you lots of websites, each with its own take on the topic.
Most definitions highlight the importance of using a visual content strategy to address the doubts a shopper might have about making a purchase and as a means for shoppers to be able to identify with the brand or product.
Depending on the industry a brand operates in, an online retailer could achieve this with:
High-resolution images, GIFs, videos, and augmented reality (AR) technology to display a product from a variety of angles and close-up shots;
User-generated content (UGC) — such as social media posts, product snaps, reviews, and YouTube videos which demonstrate a brand's authenticity;
Immersive, shoppable content experiences, which make it easier, more enjoyable, and above all else — more convenient — for a browser to shop directly from the content they're viewing.
Think of visual commerce as a comprehensive and technological solution to selling your products and overcoming all the limitations that an online shopping experience might have.
In a brick-and-mortar store, the shopper can see, smell, or touch the products they're interested in; naturally, the online shopping experience can cast doubt in shoppers' minds and leaves them with questions that need answering.
With visual commerce, online retailers can build trust and loyalty; educate and inspire visitors, which helps alleviate any doubts the shopper might have.
Visual commerce also creates the opportunity for brands to increase average order value (AOV) by showcasing their products in a contextualized way, paving the way for cross-selling and upselling their looks and inspirations.
Why do retailers need visual commerce?
When shopping online, 59% of consumers think visual information is more important than text. You couldn't sell fashion, automotives, or jewelry with just text.
There are three main reasons why consumers and brands need visual commerce, and these are:
1. Visual commerce delivers product information
Online shoppers looking at your content need information in the form of visuals which words alone can't deliver on, nor can words effectively quell shoppers' doubts.
Videos that show a customer how to use a product, photos on social media that show how it enhances their lifestyle, or AR technology showing how they can customize a product, educates shoppers while building trust.
2. Better visual experiences drive brand engagement
Retailers can share branded visual content on social media, influencers can post UGC to their followers, and brands can attract more potential customers by encouraging them to interact with their content.
With AR, shoppers can see a product from different angles and even try it on for themselves.
For example, US jewelry retailer, James Allen, lets visitors design their own engagement ring and then try it on virtually by uploading a picture of their hand:

Steps on James Allen's online store to design a custom engagement ring.
In James Allen's jewelry store, shoppers can try rings on virtually as part of their unique customer journey.
3. Visual commerce empowers shoppers
When a buyer has had the chance to visualize a product with 360° display technology or see how customizations might look, they are empowered to make better purchase decisions, are more informed, and can feel more confident about their decision to purchase.
Visual commerce takes the guesswork out of online shopping and reduces the chance of a product return.
Examples of visual commerce content and technology
To be competitive and provide the best possible user experience, a visual commerce marketing strategy should be unique to the brand and effectively quell typical shopper doubts specific to that industry.
By choosing the right visual commerce tools and strategies, brands can make their products more discoverable and boost their conversion rates and sales revenue.
Here are some of the most common visual commerce tools and mediums:
Visual product configurators
Products with customizable features can be visualized with a 2D or 3D product configurator to create a customized item that's unique to the shopper's specifications and tastes.
For example, some luxury watch brands feature a 2D configurator, where browsers can swap out different features and personalize their purchase.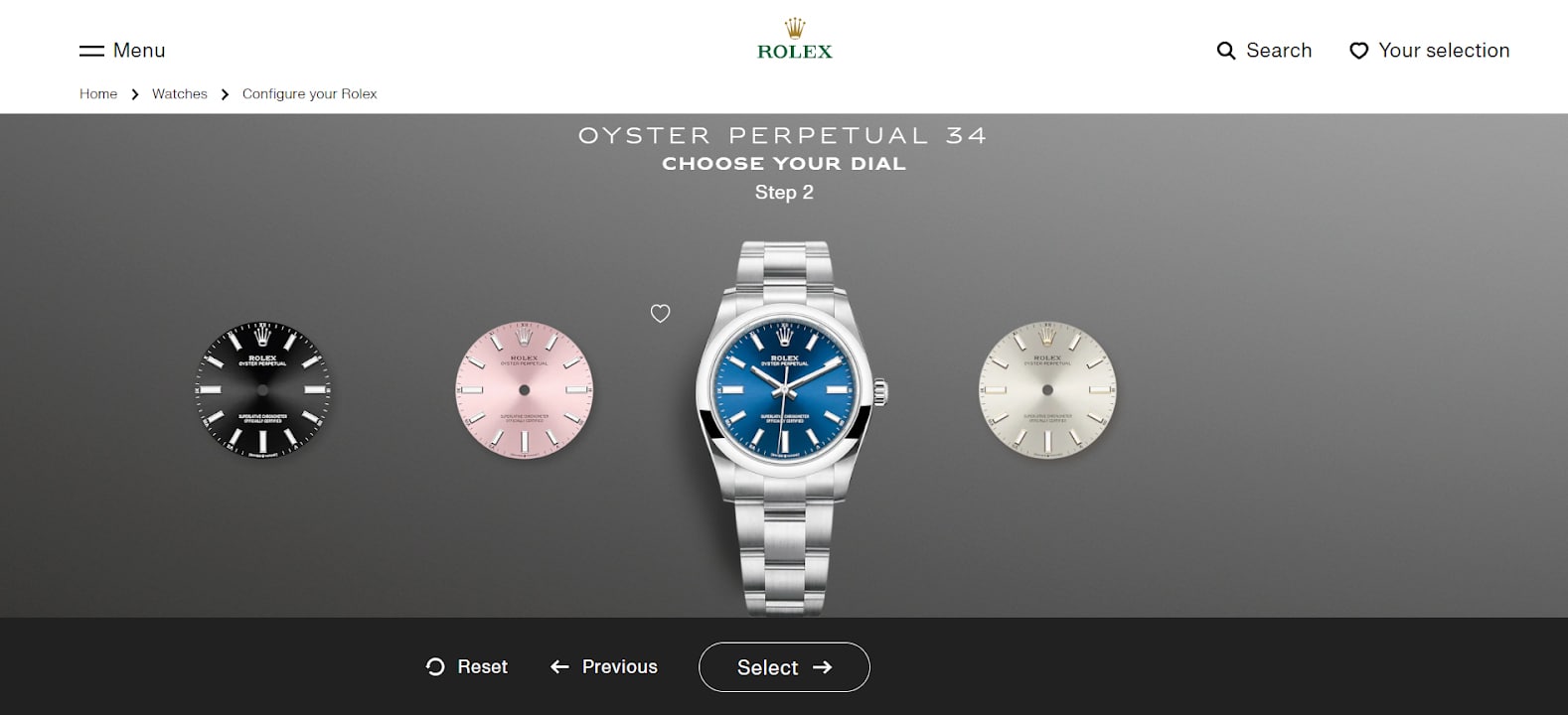 Rolex's watch configurator allows shoppers to choose different styles, dials, and materials.
When a browser is empowered with the ability to choose how they want their product to look, they gain a sense of ownership — making it less likely that they'll be disappointed and return it.
Online catalogs
Similar to how a print catalog showcases a brand's product inventory, online catalogs or lookbooks can use images, videos, and stories to enable shoppers to "shop the look" directly from the page they're viewing.
Particularly for "lifestyle" products, such as cosmetics, furniture, or fashion — it's imperative to inspire your visitors with engaging content experiences so that they can shop the look.
Marketing with its branded online catalog, The Museum of Modern Art was able to increase its conversion rates by up to 308% compared to other channels, owing to higher levels of engagement, the ability to merchandise, and show product videos inside the catalog.
"With online catalogs, we have seen record-high customer engagement and sales, and we're reaching a wider audience who otherwise wouldn't receive our catalog." – Ursula Milan, CEO of MoMA.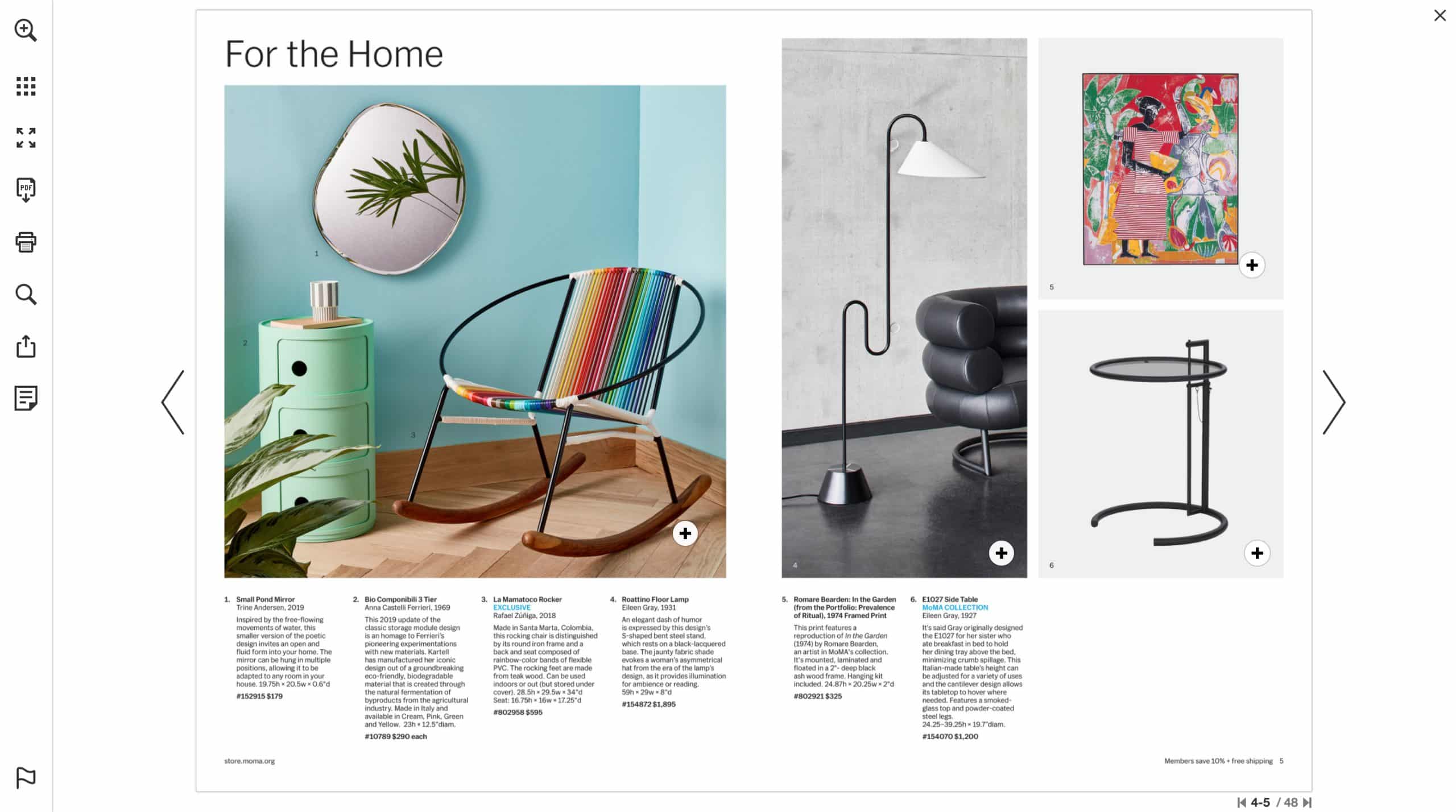 The Museum of Modern Art (MoMA) leveraged its digital catalog to drive engagement and increase its conversion rate by 308% compared to other channels.
Visual search
Sometimes, shoppers know what they want but don't know the name of the product.
AI-powered image recognition can now read an image and return search results that reflect the image's content.
By snapping a photo, consumers can search the internet, and within just a few seconds, find out where to buy what they've seen.
Shoppable content
By letting your fans and visitors shop directly from the content they're engaging with, you bring the shop right to their fingertips and provide a far more engaging and convenient shopping experience.
Shoppable content isn't just found on a store's website. It could take the form of shoppable social media posts, buying from a Facebook shop, videos, articles and blog posts, or online catalogs.
Video tutorials
Faster internet speeds and more advanced camera technology paved the way for video to become the most commonly used format in content marketing.
Overtaking blogs and infographics, 80% of marketers claim that video has directly increased sales for their brand (Hubspot).
The power of video lies within its ability to educate and inspire shoppers while adding tremendous amounts of brand value.
How brands benefit from visual commerce
If a retailer or brand effectively implements a visual commerce strategy, they can leverage consumer behavior to drive conversion and sales.
How can visual commerce benefit your brand?
Visual commerce that complements your social media strategy helps build up a targeted, loyal fanbase of followers. You can tap into this to market your products and your brand story;
Positive product reviews with visuals of past customers using your products provide social proof — or word of mouth — so shoppers can trust your brand and its products;
A comprehensive visual commerce strategy builds more trust and shortens the sales cycle because shoppers have more confidence in their purchase decision and the potential for repeat orders is increased;
Enhanced visual content experiences drive user engagement and improve product and brand discovery. Shoppers are empowered with greater levels of immersion and can visualize themselves with the product;
Shoppable content experiences make it easier for brands to sell their products to browsers on different channels and increase their conversion rates.
Examples and trends of visual commerce
Social media has changed how online marketplaces function forever; users enjoy posting content of themselves to their audience. In fact, 88% of customers seek out visual content submitted by past customers before deciding to make a purchase.
Here are two brands that dominated their social media and visual commerce strategy:
Gymshark
There is no finer example of a brand that leveraged visual UGC on social media to garner "the power of community" and grow from nothing to a multinational, billion-dollar company.
Gymshark — valued at over £1 billion — is a fitness and apparel brand that began in company founder Ben Francis' garage. It's grown into one of the most recognizable fitness brands online today, in part because of its visual commerce and social media strategies.
With almost 10 million Instagram followers spread across three different accounts to appeal to different market segments, Gymshark encourages its fitness fanatic followers to tag Gymshark or use Gymshark hashtags in their posts.
Whether it's posting a selfie wearing the brand or showing off a workout routine, fans of Gymshark prove the value of its products; this fosters tremendous brand loyalty and creates a strong brand image.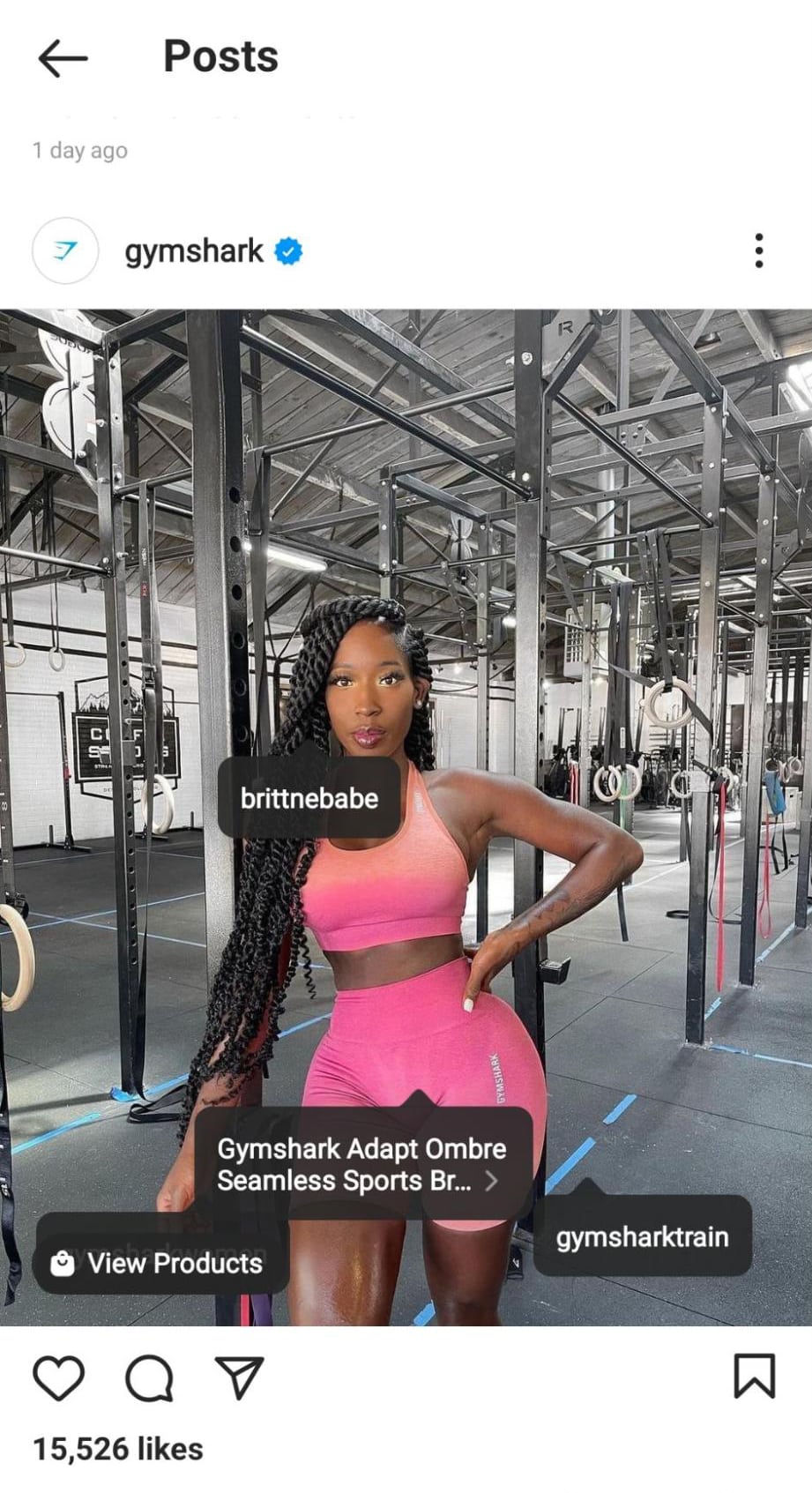 Followers and brand ambassadors of Gymshark who post visual UGC have skyrocketed brand engagement and enabled the brand to achieve an astronomical level of reach worldwide.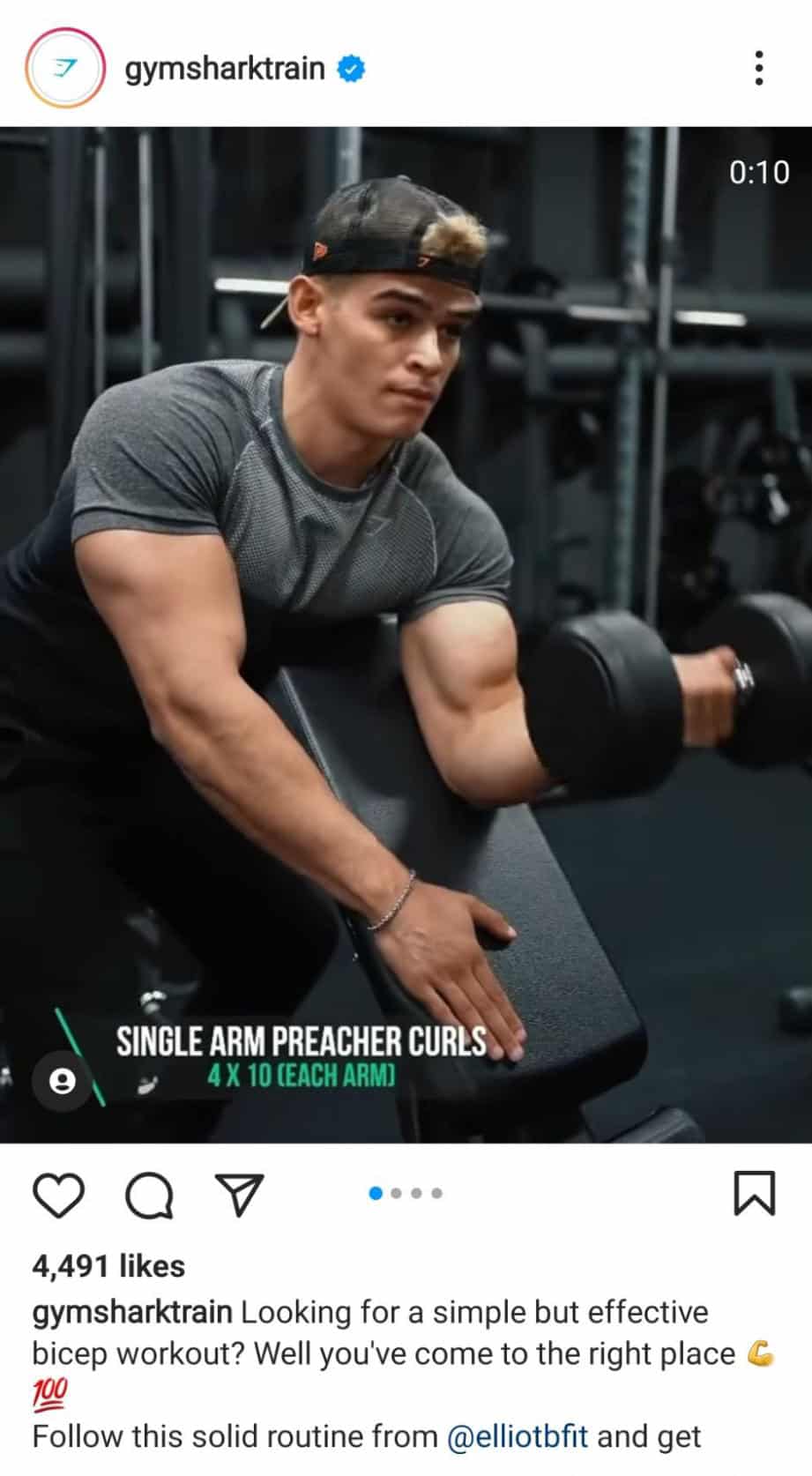 @gymsharktrain has evolved to become an inspirational catalog of workout routines and programs, which defines a big part of the brand while attracting millions of viewers.
Glossier
Like fashion and apparel, beauty and cosmetics are another industry where visuals are paramount to selling the brand. Makeup is an aspirational industry, which creates lots of opportunities for great visual content, particularly in the form of video.
Glossier, a skincare and beauty retailer, marketed its first liquid eyeliner by working in collaboration with influencers or "brand reps" who posted how-to video tutorials on YouTube of themselves using the product.
Glossier also posted its video tutorials on Instagram to its millions of followers, earning 800,000 views in 3 days. This is another example of how a brand leverages UGC to drive brand engagement and market its products to its target audience.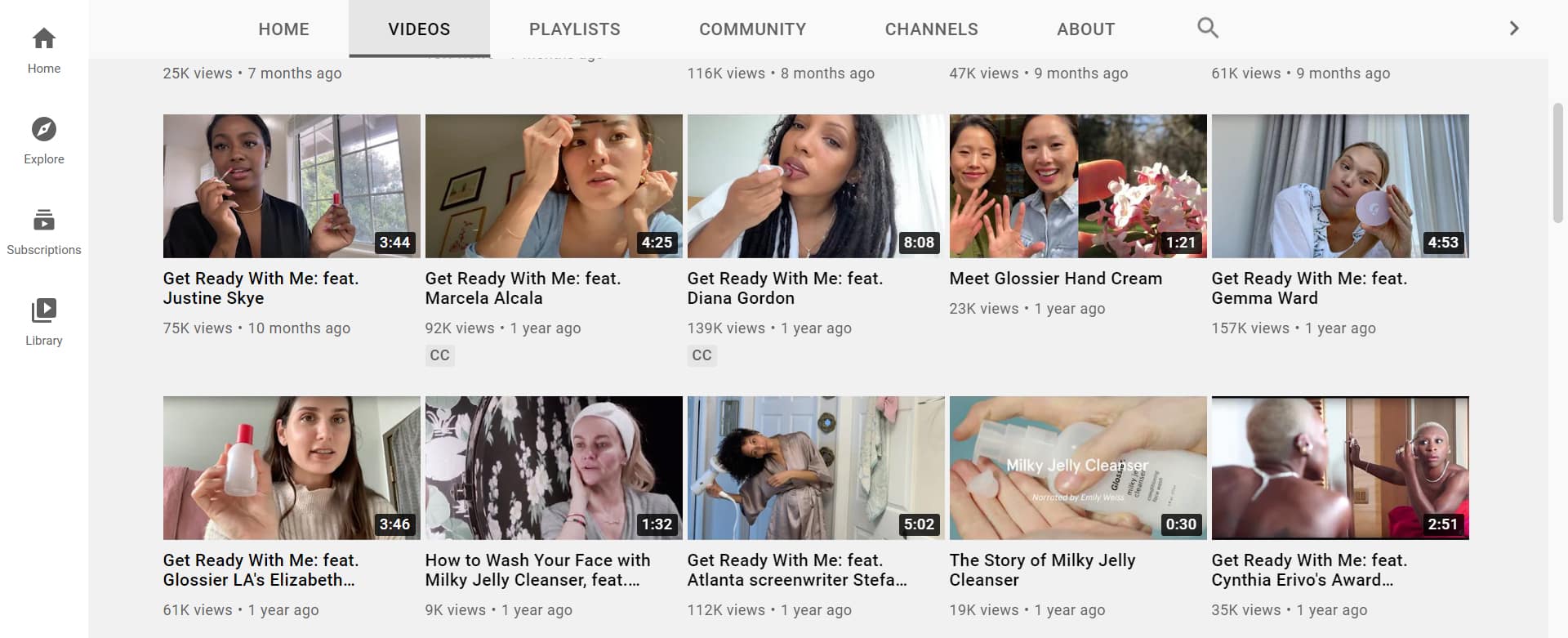 Glossier takes advantage of user-generated content from YouTube micro-influencers under the "Get Ready With Me feat." title, who advocate the brand's products.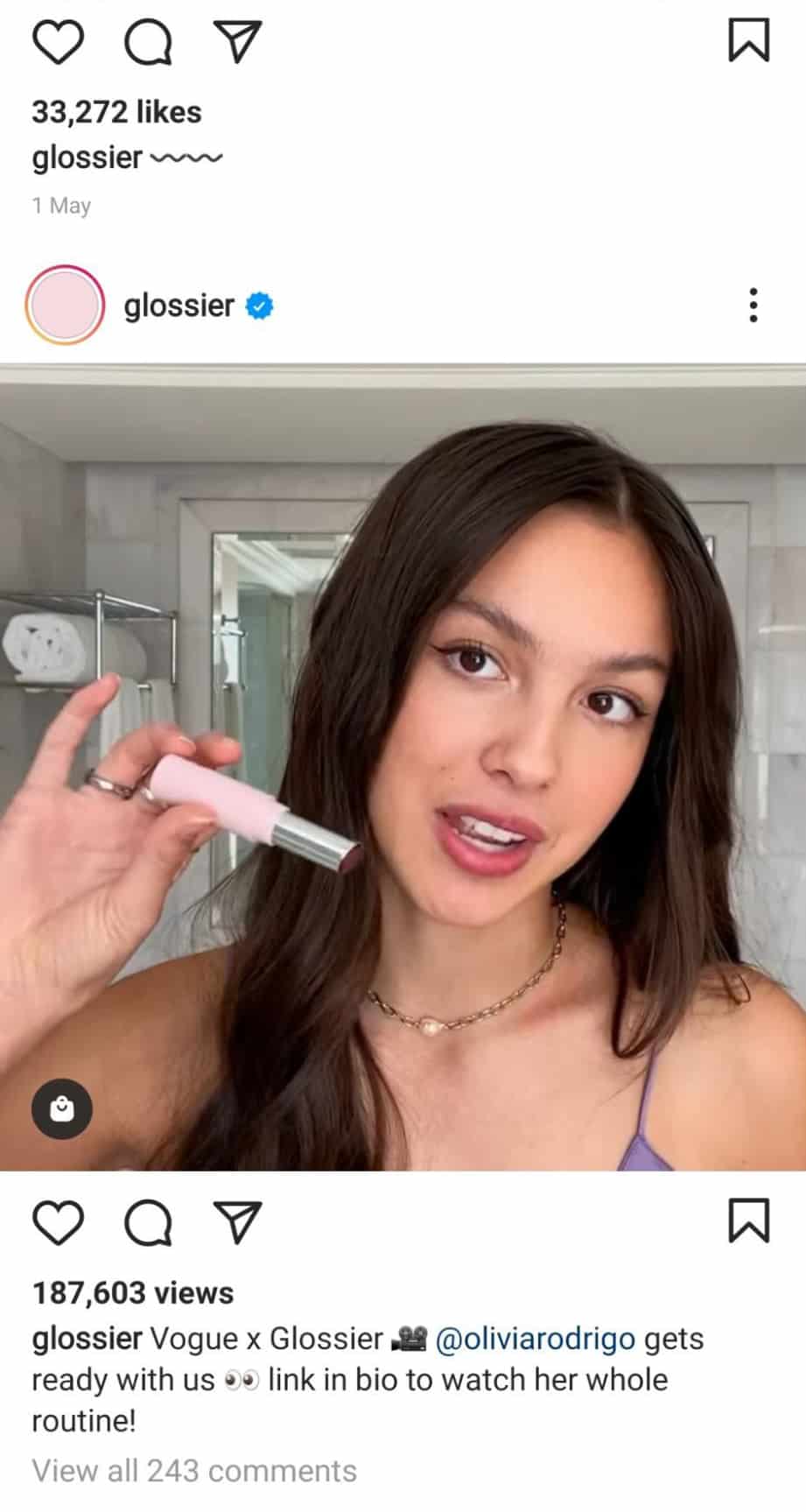 Glossier regularly features loyal "brand-reps" who post short video tutorials of them using their products.
Are you leveraging visual commerce enough?
A sound visual commerce strategy that creates an immersive and seamless online shopping experience must form an essential component of your overall eCommerce marketing strategy.
Whether through product configurators, shoppable content, or video, brands must identify and leverage the right visual commerce tools that can best drive user engagement and build up brand loyalty.
Are you interested in setting up a shoppable and visual content experience for your customers? Contact us, or sign up for our free 14-day trial here.