For over a decade, email has proven to be one of the most effective tools available to marketers in terms of ROI and we believe this trend will continue in 2017. One way to empower or start a new email campaign is by featuring your catalog in your email. For your inspiration, we dug through dozens of our customers' newsletters, so we could find and share some of the best examples. Make sure to read on as these examples could give you valuable insights on using your catalog in your email newsletters.
As we were plowing through newsletters, we discovered four common methods used by our customers to highlight their catalogs. We've described each method below, each accompanied by two examples. Let's dive in.
1. Introduce your brand to new shoppers by featuring your catalog in your welcome email
When shoppers first sign up for your newsletter, it can be very hard to target them with relevant content or offers. You might not yet understand their preferences and have not yet had the chance to build a profile of their particular interests. Any form of mail you send out is essentially a shot in the dark.
In this case, the catalog can provide shoppers with a beautiful and extensive overview of your latest deals and promotions. The catalog essentially serves as a warm welcome that introduces your brand in a user friendly and inspiring way.
Here are two great examples:
1. Williams Sonoma
Mail subject: It's Official! Your Thank You Gift Is Waiting + You're First in Line for Our New Arrivals & Seasonal Essentials

A huge image in Williams Sonoma's welcome email is dedicated to sign up for their paper catalog. From there, you can also view their online catalog. Lower in their mail, they highlight their latest e-catalog directly.
2. Living Spaces
Mail subject: Welcome to Living Spaces

Living spaces highlighting their catalog in their welcome email for ideas and inspiration.
2. Connect to your online audience by sharing new catalogs through email
Many brands physically mail new catalogs or weekly ads right to their customers' doormats to increase sales. And while it might seem obvious to also share your new catalog through email, many brands still aren't doing so.
The catalog provides a great opportunity to periodically connect with your online audience and show them your latest deals, products and promotions. In this case, the online catalog has the same purpose as the physical catalog; it serves as a reminder that can help keep shoppers loyal to your brand and ultimately increases sales.
Here are two great examples of newsletters sent out by our customers mainly to highlight a new catalog or weekly ad:
1. Paul Stuart
Mail subject: Our Spring Catalog has arrived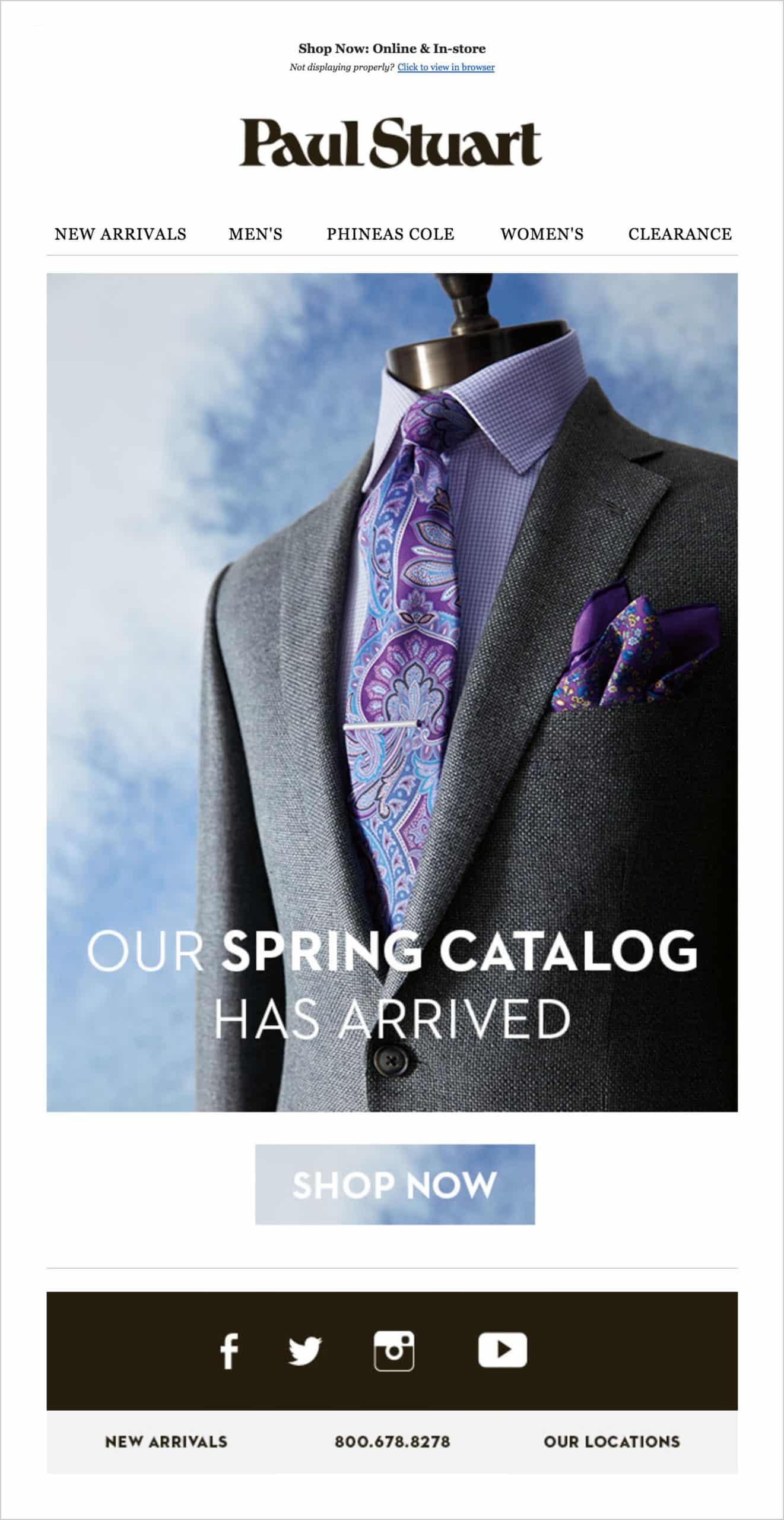 Mail sent out by Paul Stuart specifically to highlight their spring catalog.
2. Kruidvat
Mail subject (translated): View the new weekly ad | Nivea face care 1+1
As this example is from one of our Dutch customers, I'll briefly explain what to look for. This format of Kruidvat's newsletter is mailed out every Sunday to feature the upcoming week's weekly ad (light blue section), as well as a last chance reminder for current week's deals. The weekly ad used in a newsletter this way, gives shoppers a chance to have a peek at the deals and promotions before they are available in the stores.

A mail sent out by Kruidvat, highlighting their upcoming week's weekly ad (light blue section).
3. Inspire shoppers by using your catalog as secondary call to action in your email
In many cases, you don't want the focus of your newsletter to be on your catalog. For example, your catalog might be less relevant as it becomes outdated, or you're sending out a themed newsletter that has much more to offer than the catalog alone. It can still be extremely valuable to include your catalog as secondary call to action, as it gives shoppers a relevant choice when the main offer of your mail does not entice them.
Here are two great examples where the catalog is highlighted amongst other content:
1. Cali and York
Mail subject: Discover the Details in the Clemente Crinkle Shirt Now $9.99

Cali and York uses their catalog as a secondary call to action in their newsletter. If the main offer does not entice, you can still get inspired by browsing through their catalog.
2. PrAna
Mail subject: New Organic Cotton Looks To Feel Good About This Spring

PrAna includes various styles centred around organic cotton in their spring newsletter. A sneak preview of their catalog is featured to serve shoppers that are looking for more inspiration.
4. Help shoppers find your latest catalog by including a link in the header or footer of your email template
There are cases where you don't want to highlight the catalog as part of your email's content. For example, if you don't want anything to distract from the primary purpose of your email, or if your brand has a high email frequency, including the catalog in every mail might quickly have diminishing returns and become redundant.
A good way to make sure shoppers can still easily find their way to your catalog when and if they want to, is by adding a link to the catalog in the header or footer of your mail template.
Here are two great examples of mails that do not highlight the catalog, but include it as link in the template instead:
1. Toad&Co
Mail subject: Designed With the Earth In Mind

Shoppers who want to shop Toad&Co's catalog can reliably find the link at the bottom of Toad&Co's newsletter.
2. Media Markt
Mail subject (translated): Lead a U.S. Elite Special-operation against drug gangs in Ghost Recon: Wildlands!
In The Netherlands, a weekly ad is commonly called a "folder". In the image below, you can see that Media Markt links to their folder from the grey menu bar of their newsletters.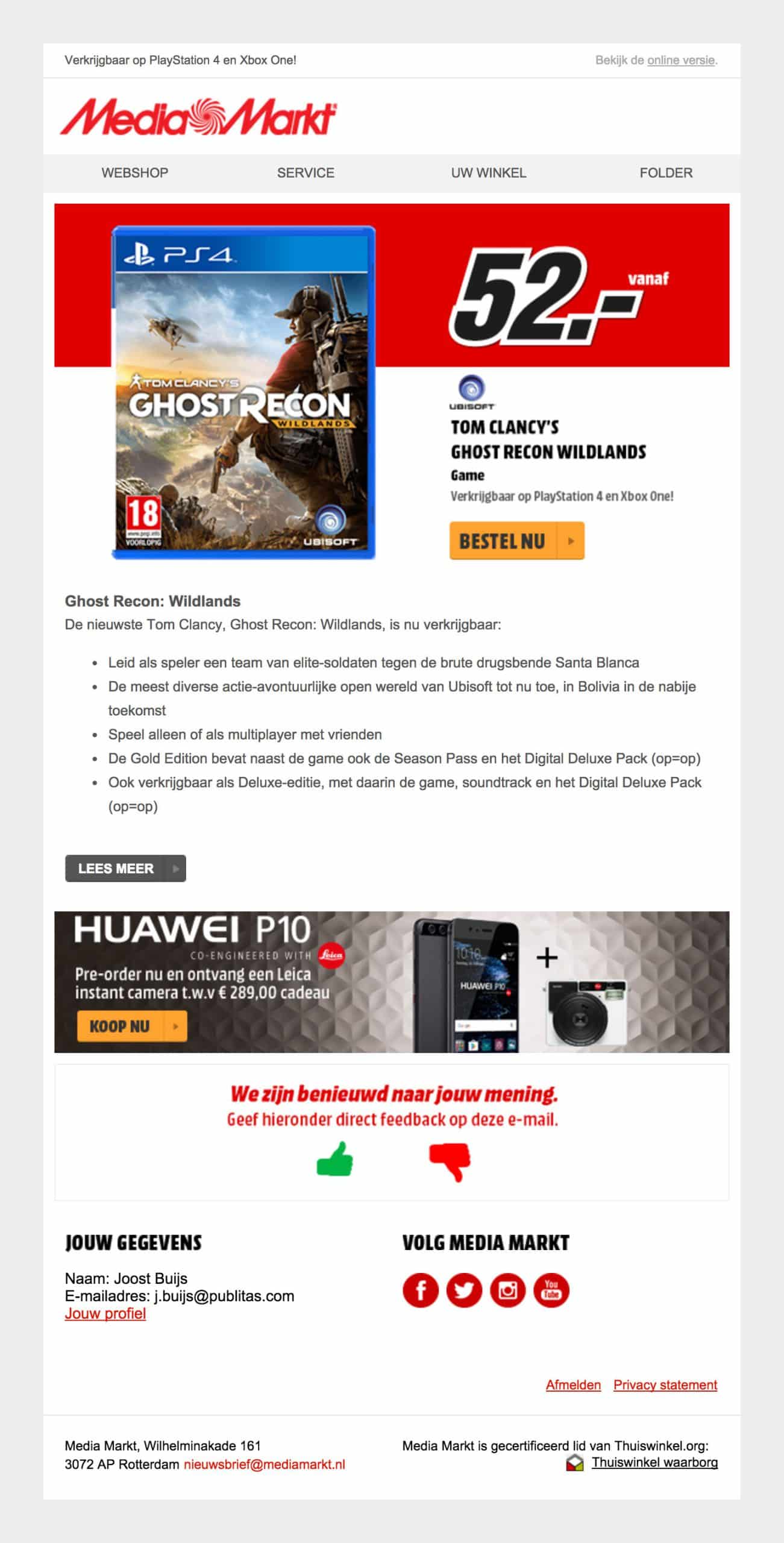 The word "folder" in the header of Media Markt's newsletter leads directly to the latest weekly ad embedded in their website.
We hope these examples help to illustrate how you can use a catalog to improve the relevance of your newsletter as well as giving you a periodical reason to reconnect with your audience. Here are two other posts that might be interesting to read in relation to this topic: