Cars are super handy in getting us from A to B, and they come in all forms and with different price tags. They can be fast, beautiful, comfortable, efficient, cheap, expensive—you get the point. Here's the thing though: you're not going anywhere without fuel. It's pretty much the same with your digital catalogs.
E-catalogs are great for boosting your conversion rates, but they're useless if no one can visit them. To really get the most out of your digital catalogs, you'll need to drive traffic to them. We know that traffic generation can be tricky, so we decided to write a series on our blog about how you can distribute your digital catalogs to increase your pageviews.
The way we see it, the most important channels retailers use to distribute their digital catalogs or magazines are:
The email newsletter
Social networks
The mobile app
The homepage
Affiliate networks
We'll go over each of these channels in the upcoming posts of this series, but today we'll be looking at how the email newsletter can help you drive traffic to your digital catalogs.
Why email?
There's no doubt about how important email marketing is for retailers in successfully selling their products online.
According to recent research and surveys:
Email has an ROI of around 2,600%. (source)
78% of people say they receive daily deals, retail newsletters, and other marketing-related emails alongside their personal emails.
88% of people make use of coupons or discounts they learn about through marketing emails.
58% of people say that receiving discounts and special offers is the #1 reason they subscribe to emails from businesses. (source)
62% of smartphone conversions come from an email, compared to 21% that come from a link to the site. (source)
Clearly, email newsletters work when it comes to creating top-of-mind awareness amongst your customers while also inviting them back to your online store. But how do email newsletters help when it comes to digital catalogs?
To find out how many people view a digital catalog through an email newsletter, we analyzed 371,196 catalog visits across 30 different publications that were linked to from a newsletter in the last 30 days.
| Source | Visits | Percentage of total visits |
| --- | --- | --- |
| Website | 195,073 | 52.55% |
| Direct | 72,944 | 19.65% |
| Email | 70,059 | 18.87% |
| Affiliate | 25,063 | 6.75% |
| Miscellaneous | 5,260 | 1.42% |
| Search | 1,700 | 0.46% |
| Social | 1,097 | 0.30% |
| Total | 371,196 | 100.00% |
Table 1 – Number of visits per source category (Dec 22, 2013 – Jan 21, 2014)
Based on this data, email newsletters are the third most popular traffic driver for the catalog after the retailer's own website and direct traffic. Roughly one-fifth (about 19%) of visits to digital catalogs come from email newsletters, which is a large chunk of your catalog's visits.
This means that if you aren't linking to your digital publications in your newsletter, you're missing out on a lot of traffic to your catalog. So that's something to keep in mind for your next newsletter. 🙂
Some inspiration for your next email newsletter
In the same way you'd link to your online store, you can link to your digital publications through email newsletters. Take a look at these examples from some of our customers in the Netherlands to see how these businesses link to their digital catalogs: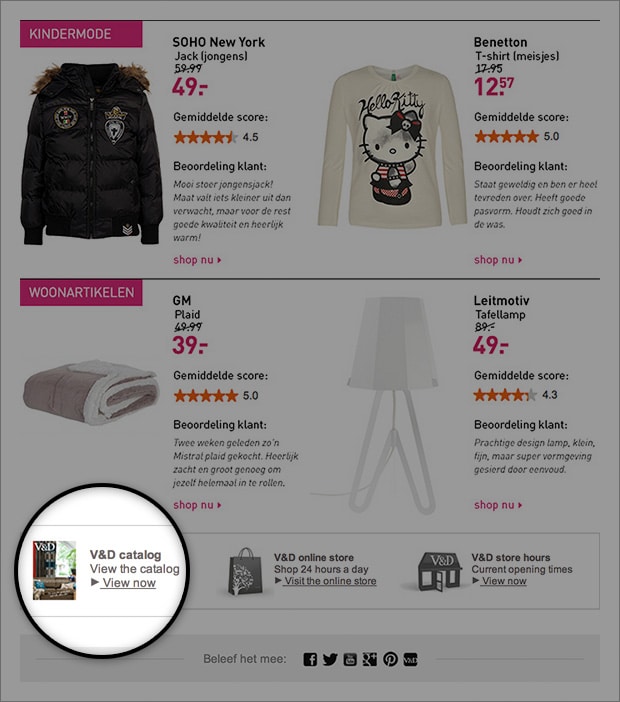 V&D newsletter with a link to their digital catalog.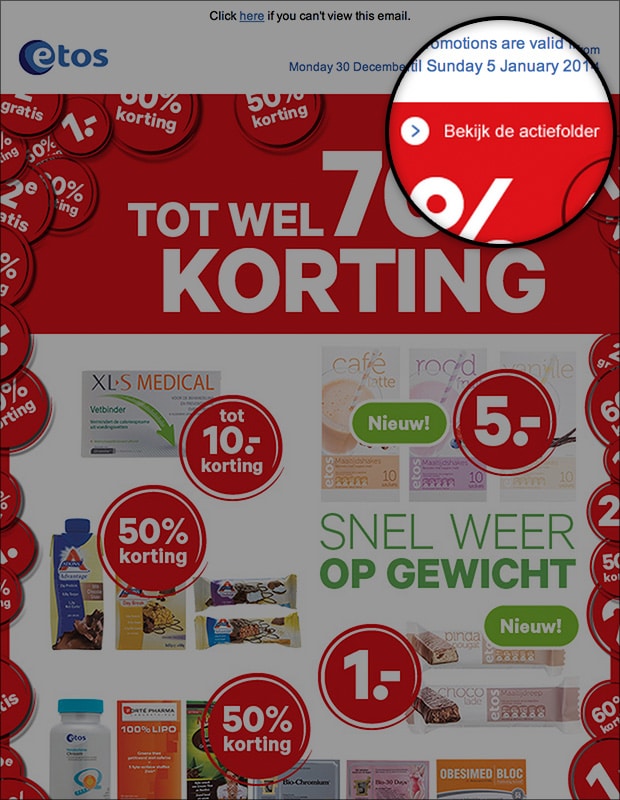 Etos newsletter with a link to their digital catalog.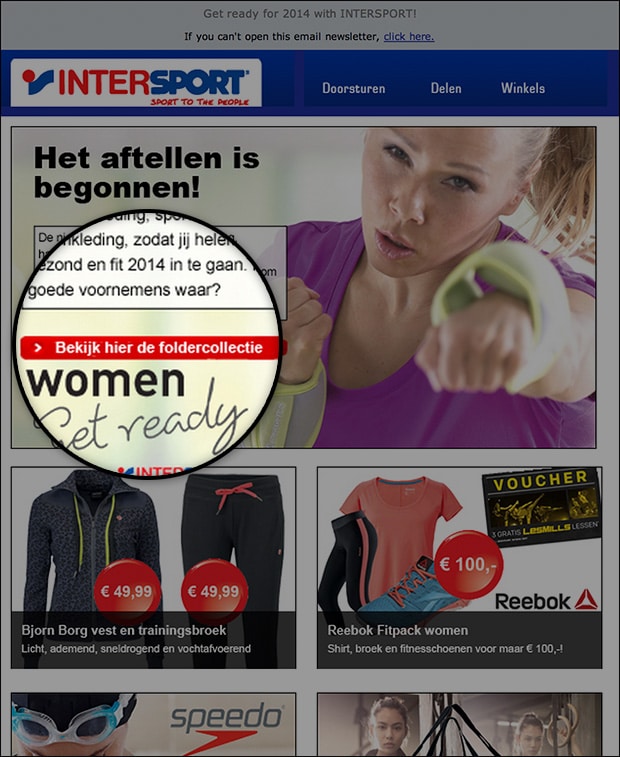 Intersport newsletter with a link to their digital catalog.
We hope this post was insightful for you, especially if you weren't linking to your digital catalogs through email newsletters before.