Upgrading from Silver to Gold: If you're a brand or retailer looking to improve the shopping journey in your publications, perhaps it's time for you to upgrade to our Gold Plan.
In short, with our Gold Plan, you can effortlessly tag items or areas inside your publications with product hotspots.
When clicked, product hotspots bring up a product layer that can give extra product details or show more images and videos while keeping the shopper inside the publication.

Clicking a product hotspot (left) will open a product overlay (right).
Furthermore, you can import your product inventory with your product data feed, saving you lots of time and effort in product tagging, and ultimately giving your customers a much better shopping experience.
Here's an overview of why you might want to upgrade to our Gold Plan, and we explore how its main features will improve the discovery shopping experience and overall customer journey.
Gold Plan key features
Let's look at the main features in a little more detail:
Provide seamless product discovery experiences with an interactive product layer
With the Silver plan, you can only add links to your products, which take the customer away from your publications; this doesn't always make for a good user experience.
With the Gold Plan, you can add product hotspots, which, when clicked, bring up an inspirational product layer page. The product layer can offer more product information, pricing options, images, video, etc.; this way, the user is kept inside the publication, with no need to search or open an extra browser tab, which provides a better discovery shopping experience.
There are several ways you might want to implement product hotspots in your publication, such as by adding overlapping hotspots, icons, or entire clickable areas. You could use them to upsell complementary products or cross-sell related items.
Additionally, you can add images or video carousels and encourage shoppers to shop the entire look.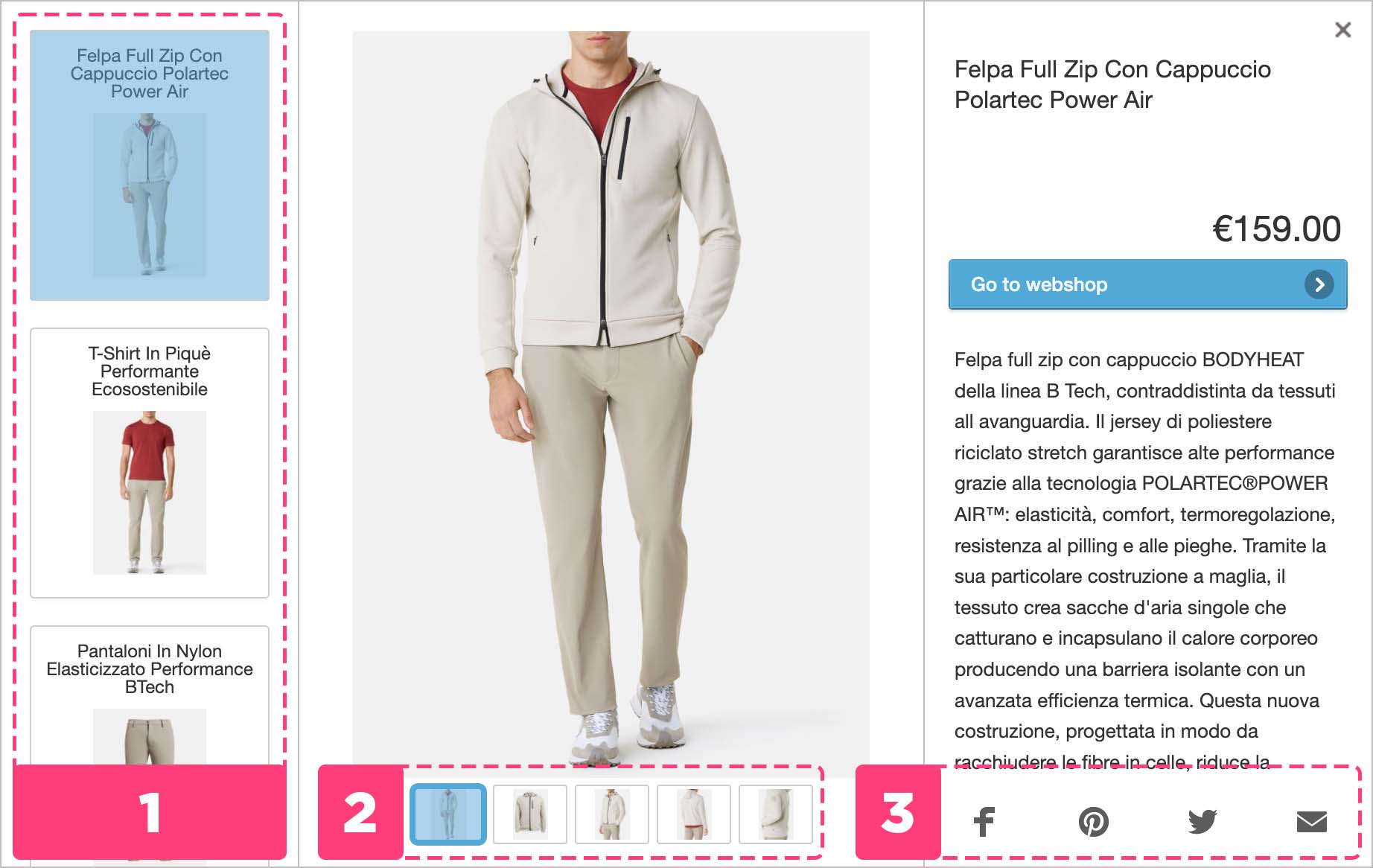 (1) Cross-sell and shop-the-look functionality. (2) Image & video carousel. (3) Product sharing.
We have a dedicated post detailing several ways you might want to add hotspots to your digital catalogs or brochures, with lots of tips on optimizing your hotspots to maximize performance.
Save time and automatically keep product details up to date with product data feed integration
Instead of manually adding product data to your product hotspots, you can import your inventory and all relevant product data for each item directly from your product feed.
Once you've imported your product inventory, you only need to look up and select the appropriate product to add to your hotspot areas.
We have a couple of easy-to-follow guides for setting up your product feed tool and integrating your product feed. The great thing about this is that the product inventory from your online store remains synced with your digital publications.
With a Gold Plan, Publitas will automatically scan the pages of your publications for product IDs, such as SKUs, which match the IDs and data you have stored in your product data feed. From here, you can click and drag each detected product onto a page to create a hotspot.
Note: only with the enterprise plan will the system automatically draw the hotspots for you.
Publish on autopilot with scheduling and automatically show the latest publications across all channels
Once you upgrade, you'll be empowered with the capability to automate the publication of your discovery marketing content with the scheduling feature, which lets you set a future date and time for when your catalogs will go online.
Or, you might want to make a publication available for a limited time only, perhaps while a particular shopping season lasts.
For a quick tutorial on scheduling publications to automatically switch from offline to public, visit this post here.
Allow more shoppers to discover and buy your products with 500 GB of data traffic per month
Upgrading from Silver to Gold gives you an additional 250 GB of data traffic per month (from 250 GB to 500 GB).
Consumers 'generate' data traffic whenever they visit or interact with an online publication. For example, when somebody clicks a hotspot or any other form of engagement such as:
Opening a publication;
Zooming in or out of a page;
Downloading a PDF;
Adjusting the screen resolution.
Traffic limits for each plan are set high enough, so you generally won't have to worry about going over them. We also won't make a big deal out of it if you exceed your monthly traffic allowance once or twice.
Account administrators can see an overview of generated traffic each month.
If you regularly exceed your traffic limits, we'll contact you to discuss the option of upgrading you to a plan that better suits your data traffic needs.
Go here to learn more about what generates data traffic.
Get in touch
If there's anything else you'd like to know about upgrading from Silver to Gold, or if you're looking to upgrade, contact our support team here.