Gift Guides: Last year was the first time that eCommerce sales for the November holiday season in the US reached $100 billion (including Black Friday and Cyber Monday).
In 2020, online retailers promoted holiday season gifts and deals earlier than ever; to avoid crowded stores during the heat of the pandemic, many American consumers started their holiday shopping as early as October.
And as we reported last year, we still expect shoppers to start their holiday season shopping early this year and for this to continue for the foreseeable future.
So, this holiday season, how can you convert the waves of shoppers that will very soon be flooding online channels with their search terms?
The answer is: with a great gift guide!
Read on if you're looking for gift guide inspiration and want to know why gift guides are valuable.
Why are gift guides so valuable?
The reality for most shoppers is that gift shopping takes up a lot of their precious time. It can be exhausting. And they don't like to be sent down an eCommerce store rabbit hole, where after what could be hours of browsing, they leave your store with nothing.
So, if you make it easy for them to find and buy gifts, you stand a much better chance of making a conversion.
When looking for a gift, shoppers not only want to save time, but they may also be looking for inspiration and discounts. They want to save money. And it helps if the gift guide they're browsing is carved up into categories to suit different recipients, personalities, and budgets.
Last year, we saw that one-day, offline frenzied shopping was out, and multi-week online shopping from the comfort of your couch was in. This holiday season, in 2021, is unlikely to be that much different, which is also why as an eCommerce brand, it's better to publish your holiday season catalog as early as possible.
Publishing your holiday gift guides early can pique shopper interest in time for the holiday season. And if you're there first, before your competitors, you stand a better chance of converting eager holiday gift shoppers.
Gift guides are also of tremendous value to your store because:
Online gift guides that are easy to share (not PDFs) inspire new purchases within each of your customer's networks and boost brand awareness.
A curated collection of products makes it quicker and easier for your customers to find the ideal gift.
They can significantly help to drive a big chunk of your sales revenue for the year.
Of course, holiday season catalogs can only do all of this when optimized for convenience, and you get the right gift guide out to the right customer.
What makes a great gift catalog? And what do successful gift guides look like?
How to make a unique gift guide for your eCommerce brand
Let's start exploring some best practices when it comes to creating a gift guide.
A good gift guide must:
Appeal to a specific target audience — this means you need to dive deep into your customer profiles, demographic (age, gender, location, etc.), and psychographic data (beliefs, interests, values, etc.) to determine who you're going to target.
Contain the right products for the right audience. Look at your sales data to determine your customers' buying trends, the most popular purchases, and unique audience segments. You could use surveys, polls, and quizzes on social media to determine what your customers like to buy.
Have potent headlines and copy that speak to your target customers and evoke their emotions.
Be full of high-quality, contextualized product images that grab shoppers' attention, encourage sharing, and make it easy for them to scan your guide.
Have seasonal gift promotions and sections to help guide shoppers — e.g. 'Gifts under $50', 'Gifts for him', 'Gifts for her' etc.
Finally, you'll need to decide on a suitable format for your gift guides. Your choice depends on how visitors to your online channels behave, what content they look at (blog post, social media posts or videos, etc.), and who your target audience is.
Regardless of format, the central pillars of your gift guide marketing strategy should be UX, convenience, and targeting.
Here at Publitas, when it comes to gift guides, we use the online catalog format for brands worldwide. We'll share some benefits of using the catalog as a format and show some examples of gift guides.
An online catalog can sync with your product inventory, leverage user data, and update in real-time to bring the gifts your shoppers are hunting for this holiday season.
With traditional paper gift guides, when products go out of stock or you want to make last-minute changes, you might have to go back to your agency or go back to your desktop publishing process (DTP).
All of that can be cumbersome and a headache for both you and the shopper if the gift they want is no longer in stock.
With an online catalog that updates in real-time, you can connect your inventory to your online catalog and keep the prices in your catalog synced to those in your webshop. You can also easily replace out-of-stock products with similar gifts that you still have in stock.
Discount-hunting is much easier when the user sees a personalized shopping catalog. You can show deals and promotions to individual readers based on their customer profiles.
And compared to your regular online store's format, a catalog is much more focused on giving your shoppers a laid-back discovery experience as opposed to an experience intended for search.
Gift guide examples
Now, let's dive into some examples of successful holiday gift guides as well as some of our customers' beautiful online gift guides published with Publitas last year.
Gifts by price – Argos
A holiday season guide of gifts for different budgets is a great way to appeal to price-conscious shoppers. Often, browsers will have a specific budget in mind, and by getting your gift guides out early with your promotional offers, you can capture those who are already thinking about gift ideas for their friends and family.
In addition to various curated guides, this is exactly what Argos is doing this year for Christmas. From their Christmas Gifts & Ideas page, shoppers can navigate to 'Gifts Under £10, £20 or £50'.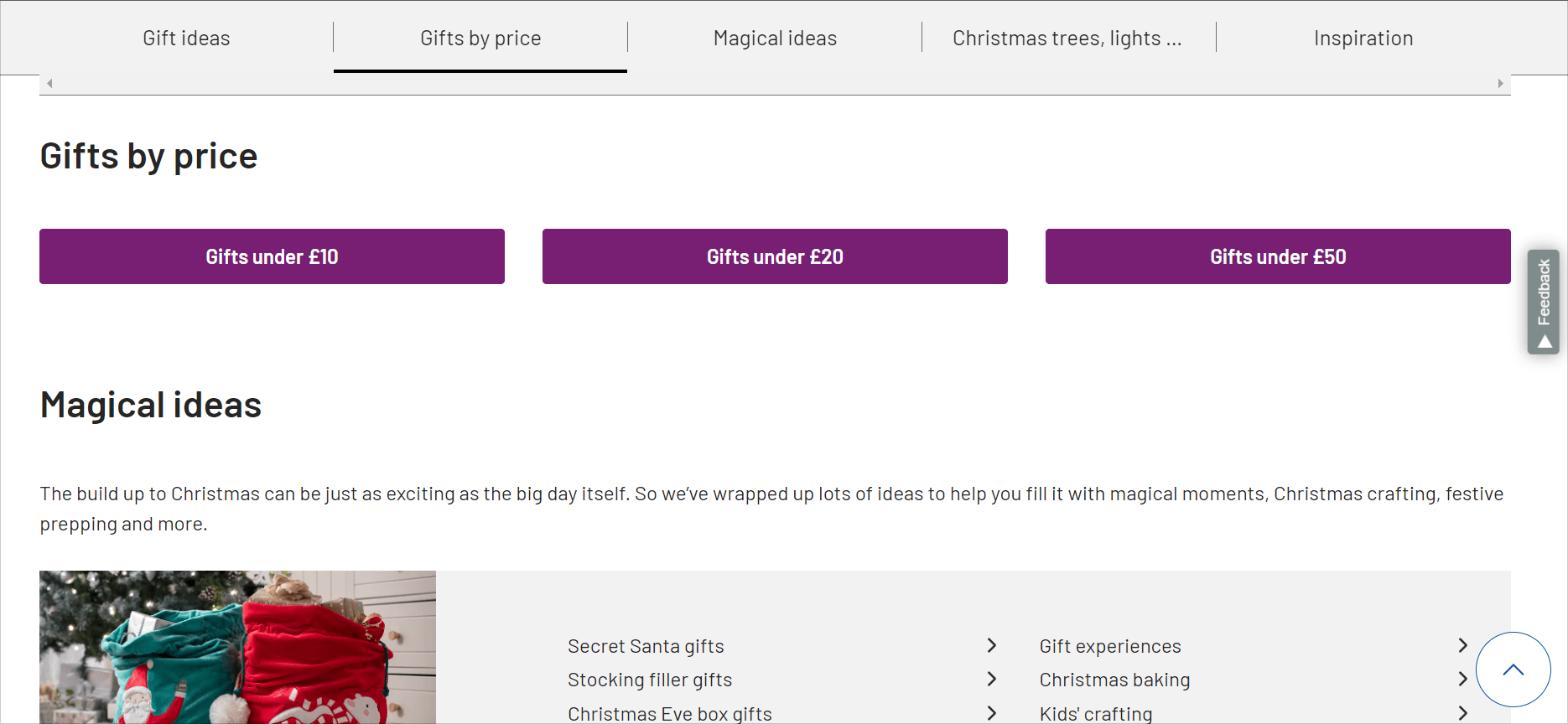 Visitors to Argos' Christmas gift page can browse gifts by price or see different ideas for inspiration.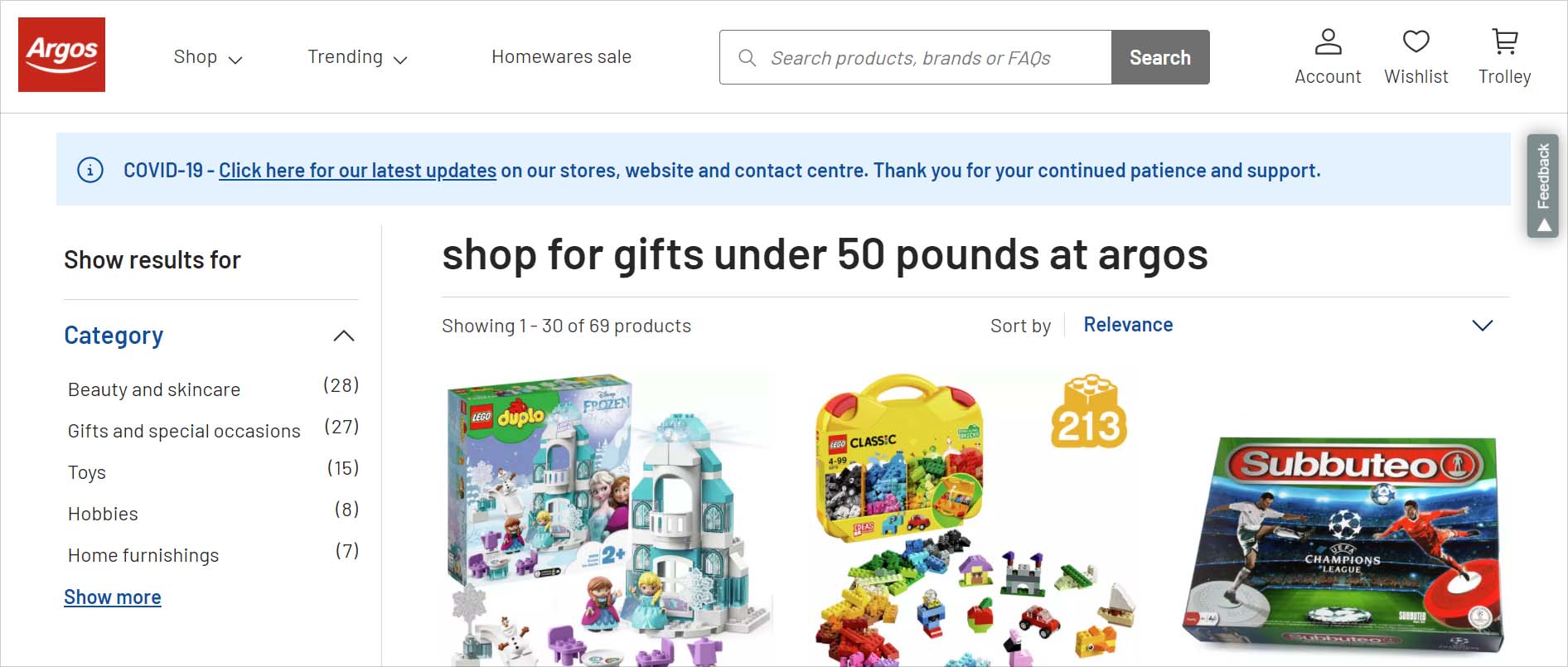 After clicking on 'Gifts for under £50′ on Argos' Christmas gift landing page, shoppers are directed to a curated list of gifts for that price range, where shoppers can filter by category or other price ranges.
Gifts by personality – Crate&Kids
When consumers buy gifts for their loved ones, it's only natural to think about their personality and interests. That's why Crate&Kids, a division of the Crate and Barrel home furniture and Decor brand, organizes its gifts around children's personalities in their online catalog.
From gifts for science and nature lovers, animals lovers, to mini-foodies and tiny travelers — there's something for every type of interest. Crate&Kids goes even further and includes inspirational gift ideas for babies and toddlers for those parents who are in need of ideas.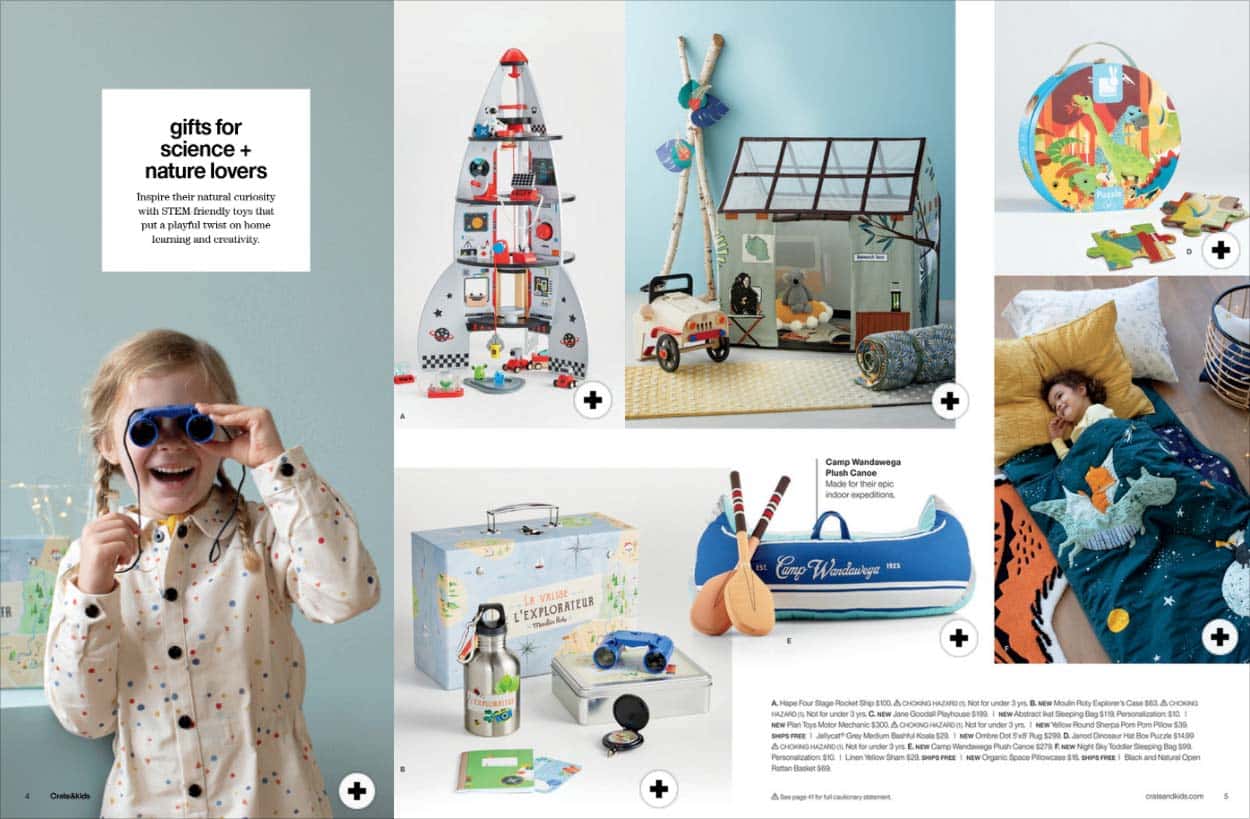 Crate&Kids 2020 gift guide with product ideas for kids who are science and nature lovers.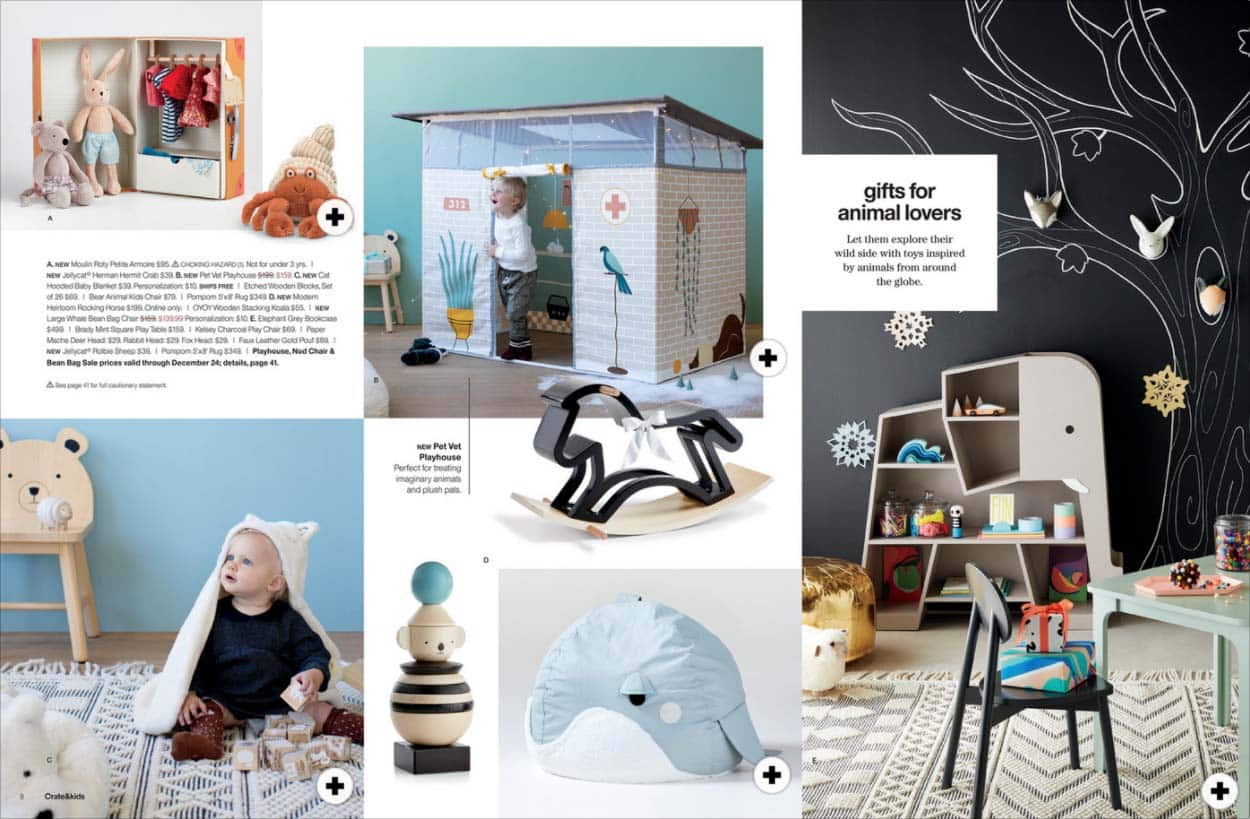 Gifts for kids who are animal lovers. Browsers can shop and checkout directly from the online catalog.
Curated gift guides – Mark & Graham
By curating gift ideas together, such as by recipients, personality, or tastes, you can provide a convenient way for your shoppers to go gift shopping online.
Last year, Mark & Graham, a luxury gift and bag brand, released its 2020 holiday season gift guide with a curated collection of gift ideas, such as 'Gifts for her', 'The Perfect gifts', or 'Gifts for the traveler'.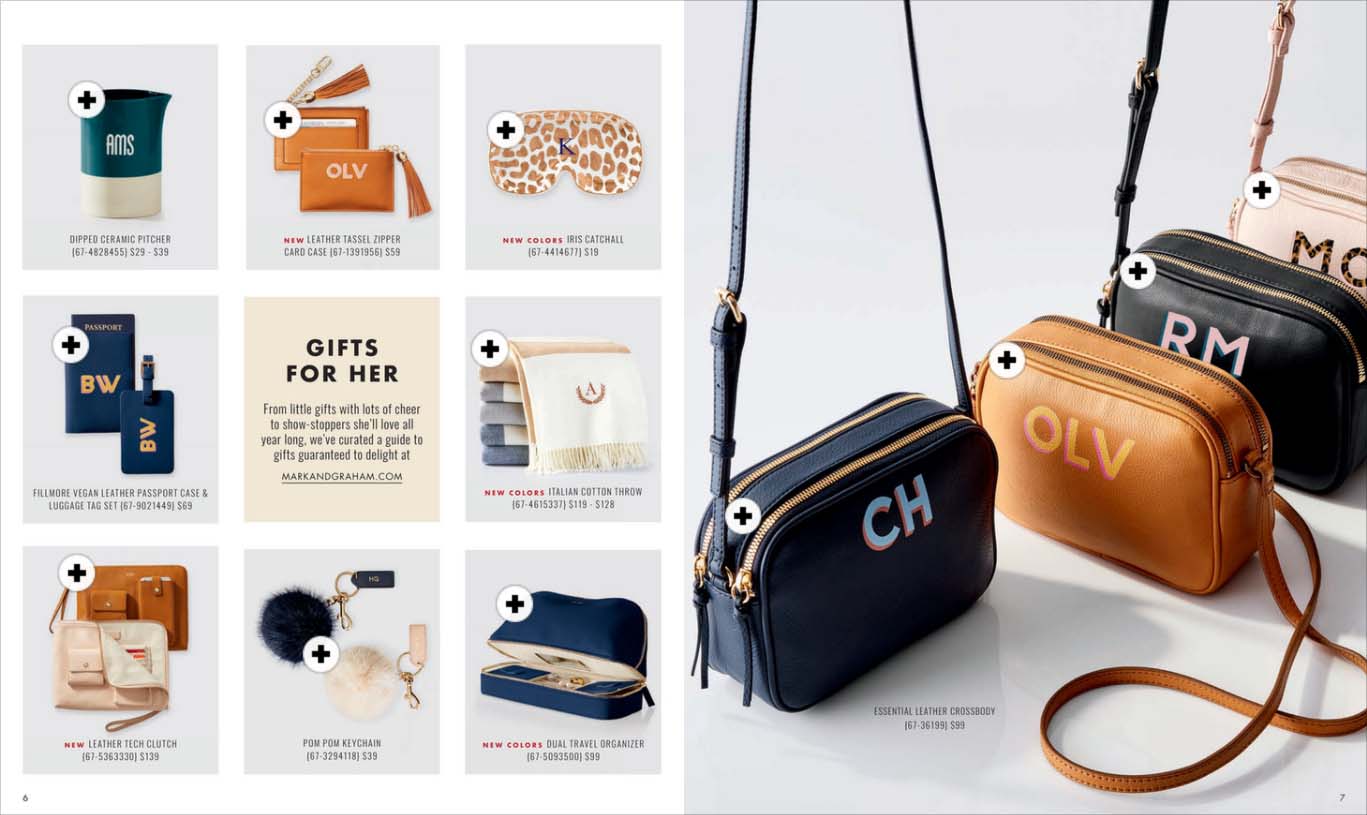 Mark & Graham's 'Gifts for Her' product suggestions for the 2020 holiday season.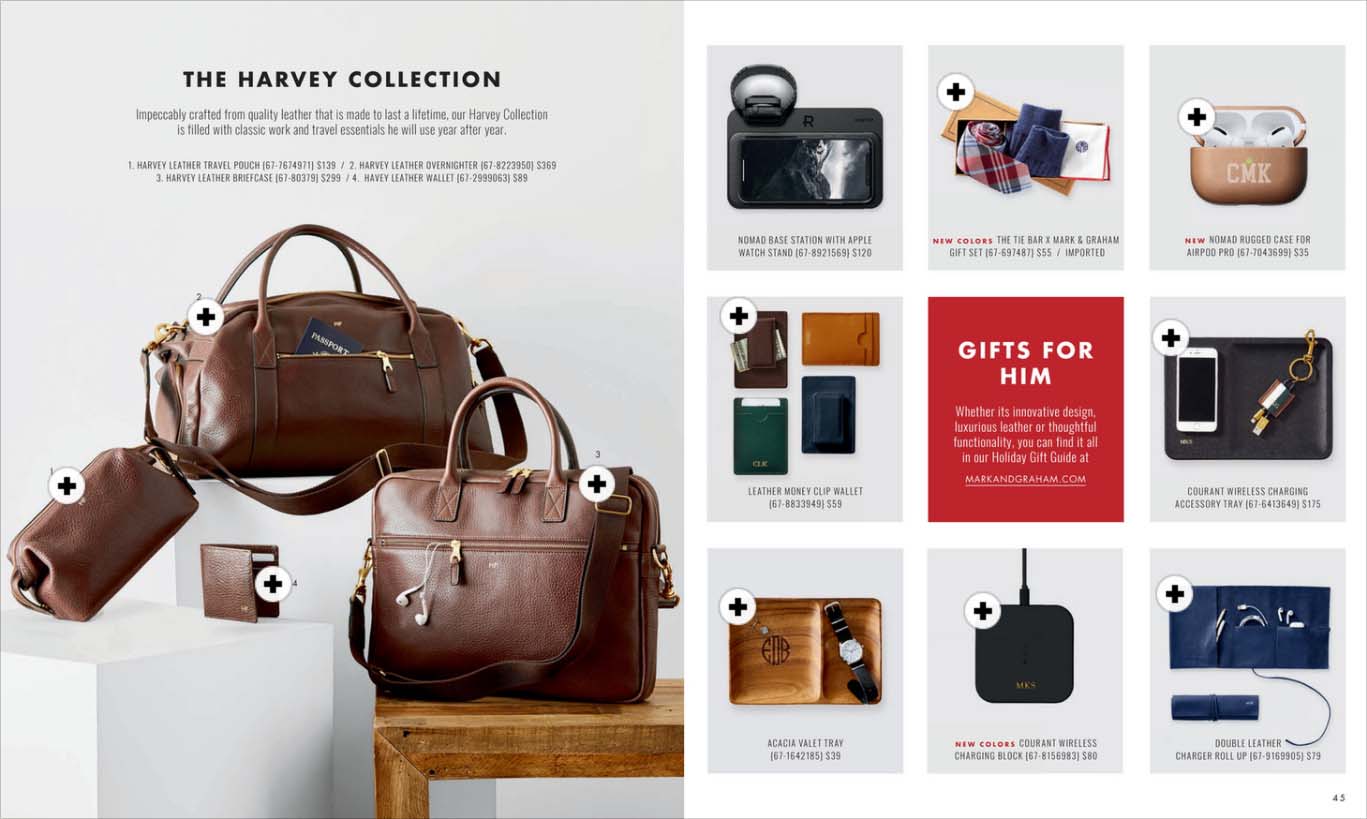 Mark & Graham's Harvey collection, featuring 'Gifts for Him'.
Be the early bird who catches the worm — it's never too early to get your holiday gift guides out
As the saying goes, the early bird catches the worm. With brands like Argos, Victoria's Secret, and Boohoo already publishing their holiday gift idea pages (we're not even out of August yet at the time of writing), it's clearly never too early to be the brand who's there first, ready to capture this year's wave of holiday shoppers who very soon will be going online and searching for ideas.
A gift guide should never be merely a disorganized selection of your products and promotions; it needs to be specific to your customers' personalities and appeal to the different types of gift shoppers that visit your online channels or brick and mortar stores.
If you liked this post, you might also be interested in:
Interested in publishing your catalogs and gift guides online? Contact us, or sign up for our free 14-day trial here.