Holiday Season Shopping: For retailers, the battle for shoppers' attention, and ultimately their wallet, is on yet again. This year though, things are a bit different. We're seeing two big trends that change the game for retailers. And three solutions help retailers maximize shopper engagement this year and beyond.
Clearly, the holiday season is huge for many retailers. Around 30% of yearly revenue is achieved between Black Friday and Christmas. That amounts to 1,387 USD per household. For retailers, the battle for a piece of that pie is on.
Due to Covid-19 though, this shopping season will be different from any other. We suspect that these changes will stick around for a while. And the numbers are there to back it up. 89% of companies are now saying their new, pandemic proof go-to-market approaches are likely to stick around for more than a year. The current exceptional shopping conditions might very well set the tone for decades to come.
Over the years, we've become used to standing in line for hours, trying to score a deal. During the pandemic though, retailers are trying their best to keep people separated. In the UK, 91% of people will voluntarily avoid physical stores on Black Friday. Large American retailers like Kohl's and indeed Walmart bit the bullet and decided to even keep their doors closed during Thanksgiving this year. Forget the infamous Walmart stampede. We're 'sad' to see it go.
Amidst all the chaos and exceptions of 2020, two new multi-year trends are becoming visible: the move from offline to online shopping, and longer period discounts.
Here's what these trends are exactly, and three things you can do with online catalogs to meet these trends, to keep your customers engaged for years to come.
Two Holiday Season Shopping Trends
Trend 1: From Offline to Online
Holiday season sales have been going up by around 4% per year, over the past decade. For this year though, that trend will likely be broken. Deloitte expects just 1% holiday sales growth this year. Notable, but nothing unexpected.
The thing is, while total retail sales are staying relatively stable, the platforms where people are shopping are changing rapidly. As it turns out: offline retail is moving online. And that's a big change.
Holiday seasons sales at physical stores were down 6.2% from 2018 to 2019. For this year, Forrester expects that offline sales will decline by 6.6%.
With offline retail sales going down, and general sales going up (slightly) it's easy to guess where the growth is coming from: e-commerce sales. The numbers are pretty staggering.
Forrester predicts an 18.5% increase in online sales this year. For holiday season e-commerce shopping specifically, Deloitte expects a 25% to 35% growth this year.
Trend 2: Longer Discount Periods
Black Friday and Cyber Monday are of course famous for massive discounts. Depending on what category of product you're after, you can save between 6% and 32%. As a company, you'd be crazy not to join the party and offer your shoppers exceptional deals. Lately, though, a new trend has developed.
Statistics show that the popularity of single-day discount bonanzas has faded over the past couple of years. 64% of customers are growing less inclined to shop on Black Friday over the past years, and 60% reportedly lost interest in Cyber Monday.
Walmart's Black Friday deals won't be limited to a single day, while other large retailers are offering discounts all through November. Home Depot claimed to "reinvent" Black Friday this year, extending their discount period to two months. Amazon's Black Friday deals have moved forward, starting in October.
The two big, multi-year shopping trends for the holiday season are becoming very clear. And Covid-19 only accelerated these trends. One-day offline frenzied shopping is out. Multi-week online shopping from the comfort of your couch is in.
With those two trends in mind, we looked at how online catalogs can help retailers to meet these trends. And what do you know? We found three ways online catalogs can contribute to your success this holiday season.
Three Holiday Shopping Solutions
Online catalogs have proven to keep visitors engaged during the holidays. But this year is special. As you now know, retail is moving from offline to online, and discount periods will span much longer. Retailers will have to find new ways to keep customers delighted and eager to buy.
Here are three things you can do with online catalogs to improve the shopper experience and maximize your store's revenue.
Publish a Gift Guide flyer
Personalize catalog content
Offer custom pricing or discounts
1. Gift Guides
We expect increased leverage from Gift Guides this season. The numbers on our platform show that Gift Guides have engaged shoppers for the past years, but with the two mentioned trends in mind, we expect Gift Guides to become even more relevant this year.
Many of our platform users have already published their gift guides well in time for the holiday season. And for good reason.
Gift guides are great to get shoppers interested a bit earlier on in the year. So they know what to buy once the real holiday discounts start rolling in.
For shoppers that want to minimize their time browsing and just want to get on with the job, having a list of last-minute items lined up in a Gift Guide is perfect.
For those shoppers that are a bit indecisive, Gift Guides help shoppers to filter options and to make a choice quicker.
Stats show that eCommerce shoppers don't always know what brand they want to buy from, or what product they're after. Most likely, less than half of your store's visitors know exactly what they want from which brand.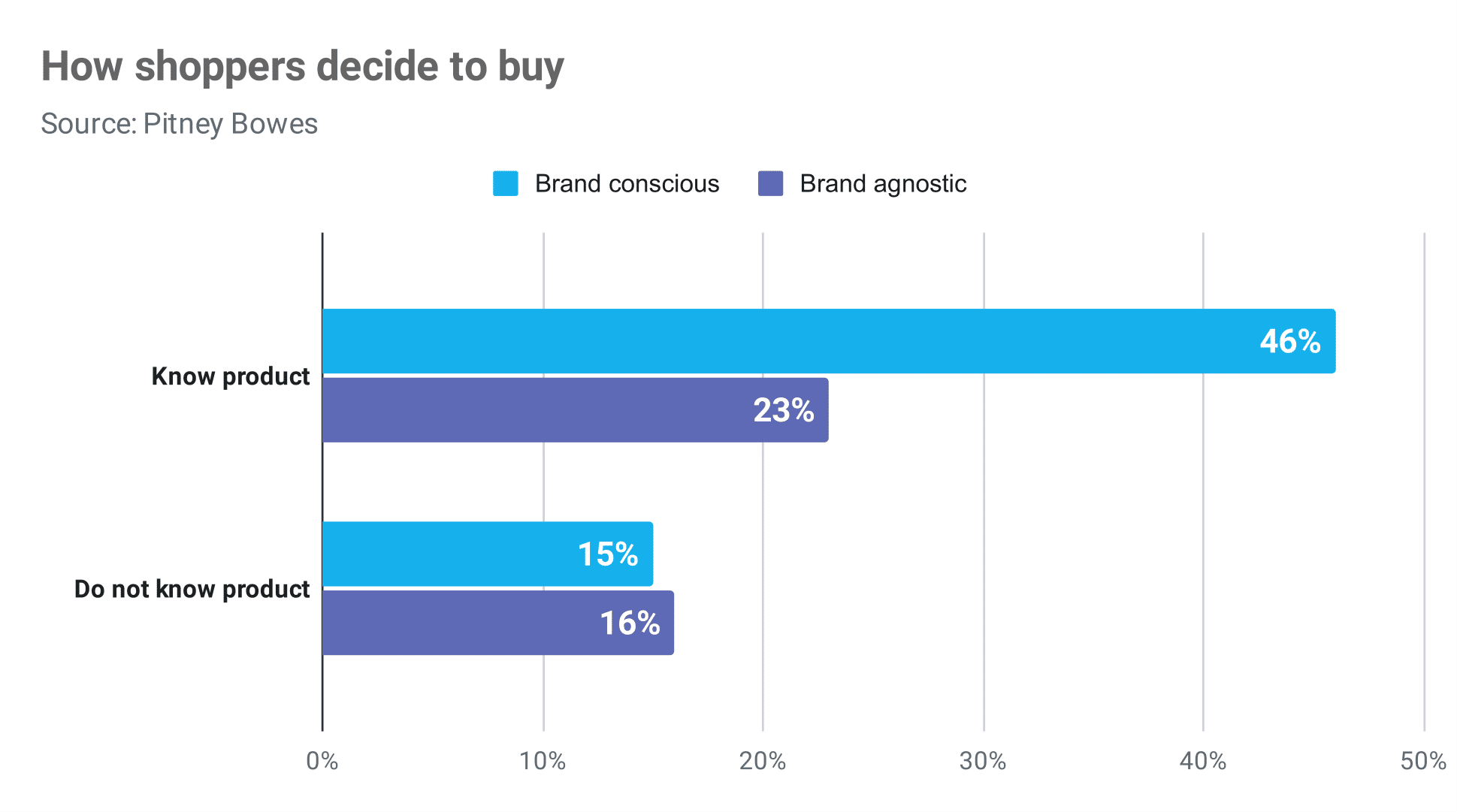 Here's a quick view of Gift Guides our platform users already published:
Mark & Graham Holiday Catalog 2020.
Pottery Barn Holiday Catalog 2020.
With the right Gift Guides, you can keep online shoppers more engaged, much longer, throughout this year's extended holiday shopping season.
2. Personalized catalog content
At Publitas, we know how powerful shopping personalization and suggestions can be. And for this season, it's likely to become even more powerful.
It's possible to continuously monitor an individual reader's behavior, collecting data, and building a personal profile as they go. With this year's extended discount periods, there is more time to collect data, and to get to know readers. Consequently, the personalized content that algorithms can serve readers will be even more relevant to them than in the years before.
A reader bought an 8K TV during Black Friday? That all adds to the profile. Let's populate the catalog with beautiful images of the PlayStation 5 for the upcoming Christmas shopping period a month later. It keeps online shoppers engaged throughout the holiday season.
Recently published stats by Adobe, Avianos, and others show exactly where today's shoppers still expect improvements while shopping.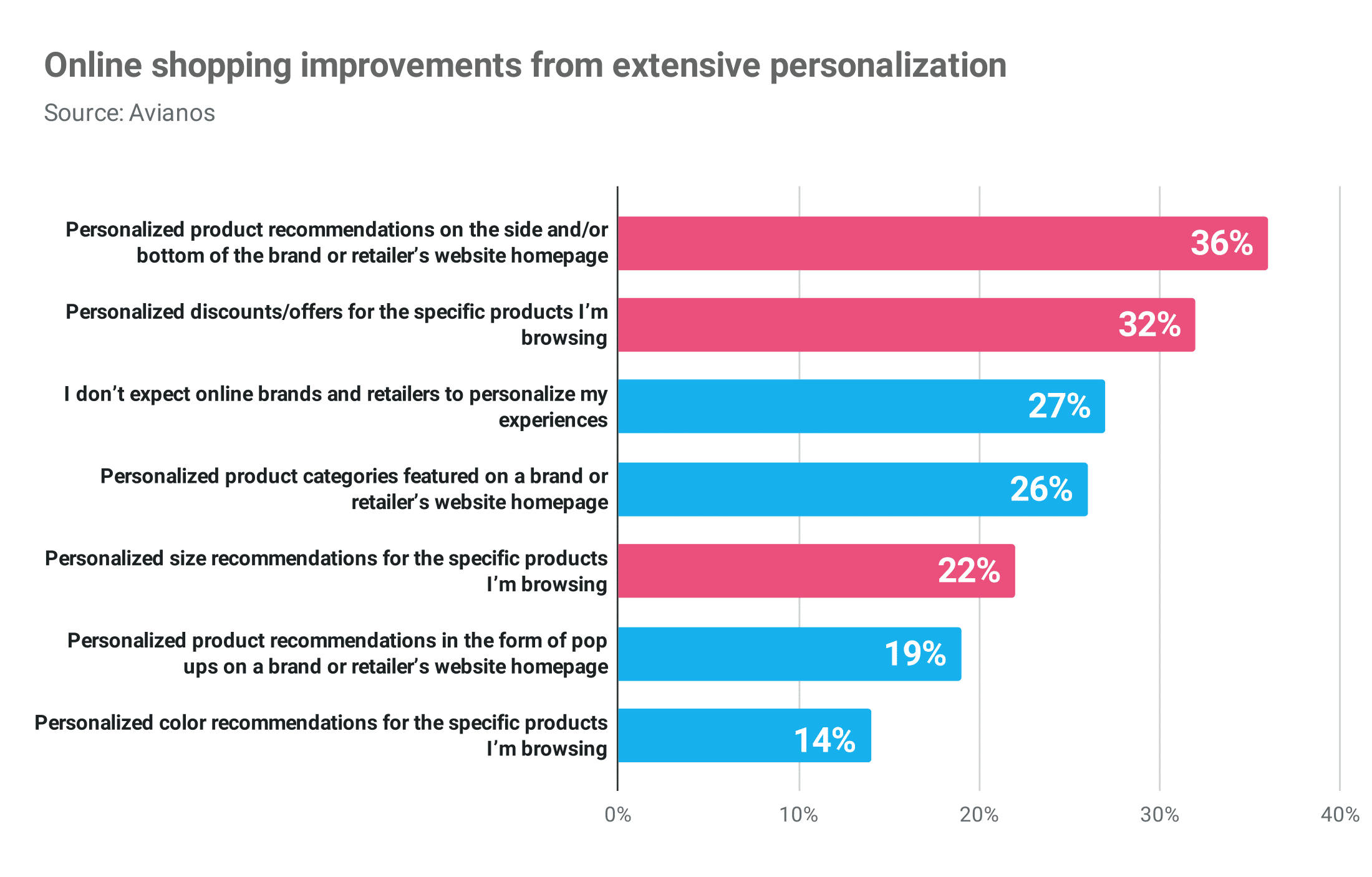 According to around half of the companies Adobe interviewed, the right shopping personalization efforts can improve customer retention, loyalty, and revenue.
3. Custom pricing and discounts
Marketers that have worked with more traditional catalogs know that populating it can be tedious and stressful. Content changes need to go through an extensive agency or DTP process. This means it's hard to react to the unexpected demands of the holiday season.
Products get out of stock, pricing can fluctuate, and especially with this year's longer discount period, your catalog will most likely need several updates this season.
As a consumer, we've all been excited to visit a physical store for an alluring discounted product, only to find the product is either more expensive than expected or already sold out. Not a good brand encounter.
Retailers should avoid such disappointments at all cost, and improve discount-hunting for their customers, as the stats below show. According to research by the National Retail Federation: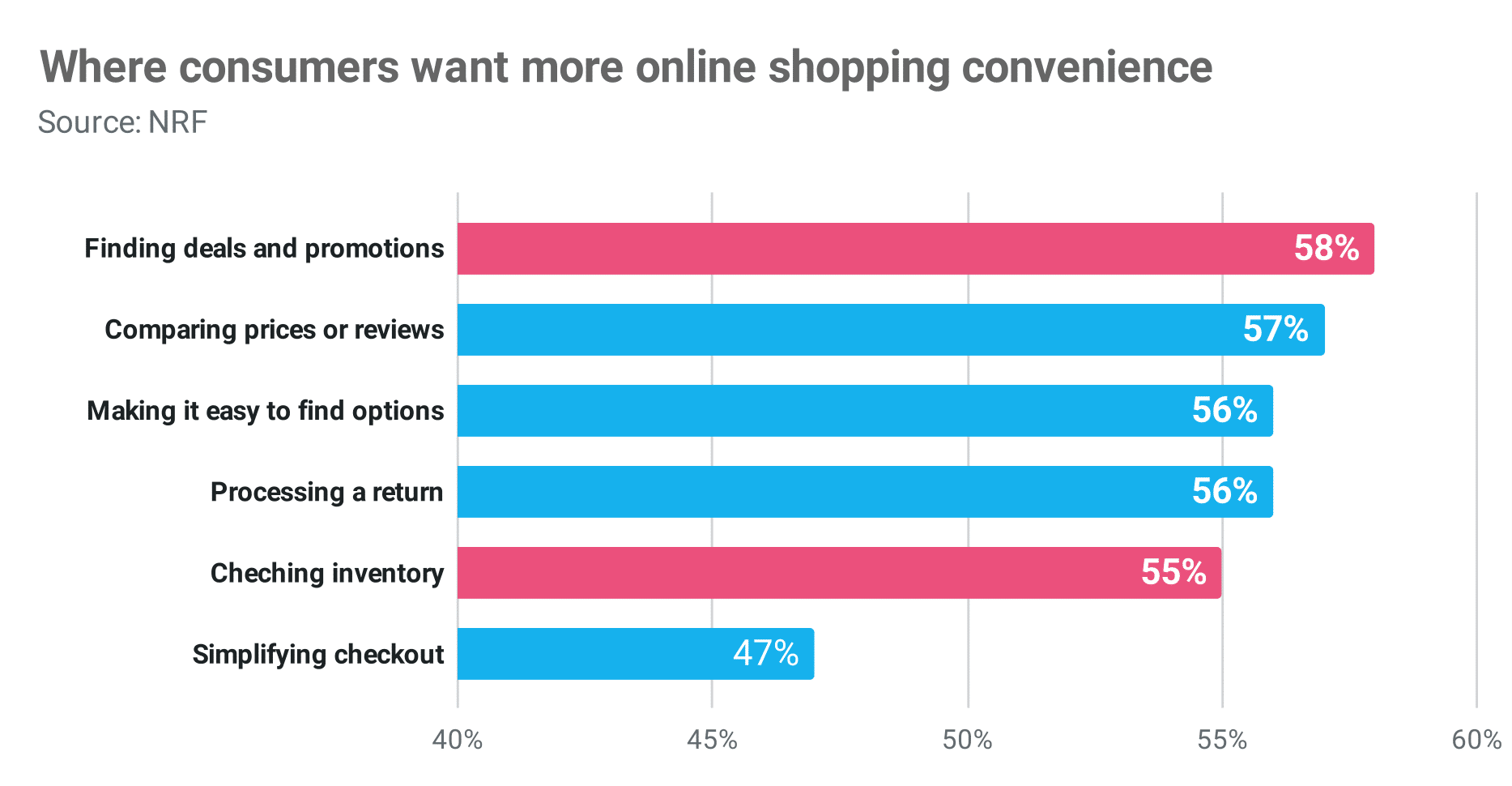 Online catalogs can make discount-hunting much easier. With online catalogs, you can present discounts to individual readers based on their demographics, or based on the time of day, or year. To create that next bit of urgency, you can create one of those discount countdown timers.
When you connect your inventory to your online catalog, you can keep the prices in your catalog synced to those in your webshop. The unexpected higher prices you could get with offline catalogs are a thing of the past.
When your discounted products are seeing unexpectedly high demand, out of stock products can be replaced with similar products that you still have in stock.
This dynamic, real-time aspect of the catalog keeps it up-to-date, year round. It really takes the stress out of holiday shopping discounts, for both retailers and shoppers, for weeks on end.
Get started with Gift Guides, Content Personalization, and Dynamic Discounts
As you now know, this holiday shopping season will be different from any before it. Yet, it could set the tone for many shopping seasons to come. Retail is making a big shift from offline to online, and discount periods will be stretched longer than ever before.
Retailers can meet the challenges by publishing product catalogs online, to keep viewers engaged and excited throughout the extended holiday season.
Gift Guides are great to build anticipation early, they make choosing products easier, and cater for last-minute buys.
Personalized Catalog Content tailors the product discovery experience to the preferences of individual readers, building superior engagement.
Dynamic Discounts help retailers avoid empty shelves, and give catalog readers the push they need to purchase immediately.
Can't wait to improve your customers' online shopping experience, to keep them engaged throughout the extended holiday shopping season?
Great! What better way to start than with an online catalog! Here's a 14-day free trial. And of course, if you have any questions, feel free to reach out.