Ecommerce Trends: When it comes to shopping fashion, online or offline, shoppers are buying looks. And they could see a branded look anywhere — walking past a retailer on the high street, the back of a bus, on Instagram, or in an online catalog.
By nature, eCommerce stores have always been transactional, and for fashion eCommerce, this hasn't been the best way for them to get their looks and image across to their audience online. They also haven't always been designed to give an optimal branded discovery experience.
The explosion of eCommerce over the last year or so, catalyzed by the pandemic, has whipped fashion retailers into bringing the high street shopping experience to shoppers' fingertips.
Fashion eCommerce is fiercely competitive; brands have needed to either do what they do better than their competitors or do something they're not doing — and do it well.
What's more, many eCommerce stores are designed to convert shoppers who know what they want, but a significant chunk of them don't know and are in the discovery phase.
This has left HUGE gaps in the market for fashion eCommerce retailers to exploit and provide the optimal online discovery experience — with stunning visuals, beautiful backgrounds, and compelling stories that all work in synergy to sell the brand.
More importantly, AI, Martech, and omnichannel experiences are ways online fashion retailers reel in online shoppers and reap the rewards.
In this post, we show you some of the most effective fashion eCommerce strategies and how brands are leveraging them to significantly increase their conversion rates and drive their sales revenues.
Ecommerce fashion industry trends and the discovery experience
A big slice of the pie for online retailers to get their teeth into is the significant number of shoppers who are "just browsing" and who are looking for inspiration.
So, it's no surprise that many of the fashion eCommerce marketing trends have come about to exploit this gap in the market — and are built to provide the optimal brand discovery experience with inspirational content.
Let's see these trends in action and examine how fashion retailers and brands have recreated the online shopping experience.
Hyper-personalization
A more personalized shopping experience that adds value to the customer experience by offering them custom product recommendations and complements their primary purchase has been an effective way for brands to build higher levels of brand loyalty.
Research shows that 90% of companies benefit from their efforts to personalize their shopping experiences. Benefits include increased revenues and higher rates of customer retention.
Fashion retailers have achieved this by exploiting the data they have about their customers and shoppers, which they acquire from their multichannel, or omnichannel, brand strategy.
And the more channels brands have to collect data from, the better. More data equals more scope for information about customers, a better picture of who their customers are, and the ability to provide even more personalized product recommendations.
A relatively new channel for fashion brands is the online catalog, which brands like Brighton Collectibles have used to capture top-of-the-funnel shoppers who are "just-looking".
Fashion and apparel retailers can obtain a tonne of data about their top-of-the-funnel shoppers' browsing behavior with every page turn and exploit these customer insights to craft personalized content or product suggestions at other points in their unique customer journey.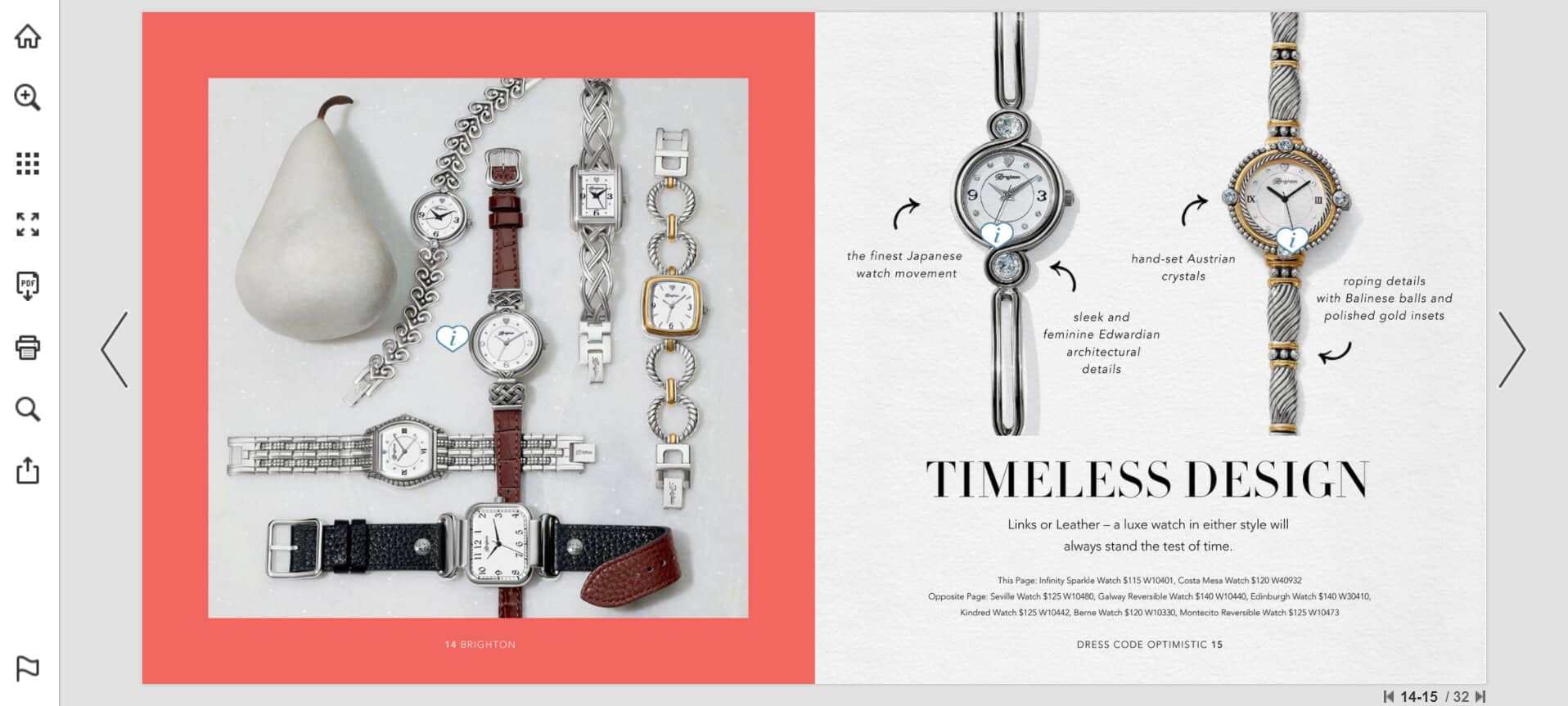 Online catalogs serve as both a brand discovery shopping experience and channel to extract data from.
Fashion brands also personalize the customer shopping experience on their websites, combined with Shop the Look and upsell or cross-sell technology to suggest complementary items to the browser's primary purchase.
They also retarget shoppers with email when they've visited their store online. The email can have a personalized suggestion based on their previous browsing experience.
For example, Tommy Hilfiger sends browse abandonment emails to shoppers who have been on their site but have not added a product to cart. They also retarget them on social media platforms, such as Facebook, and show them the clothes they were looking at or similar items.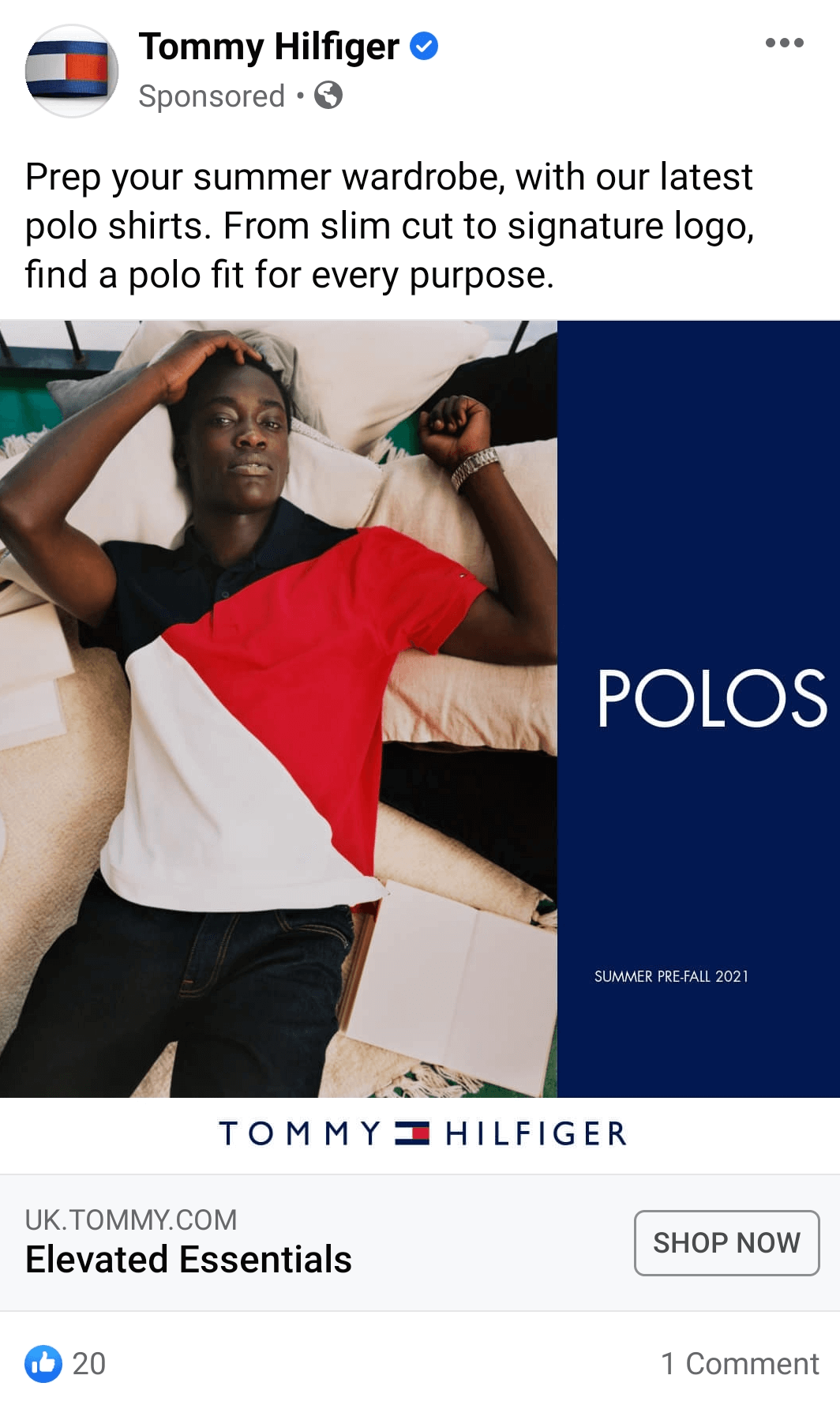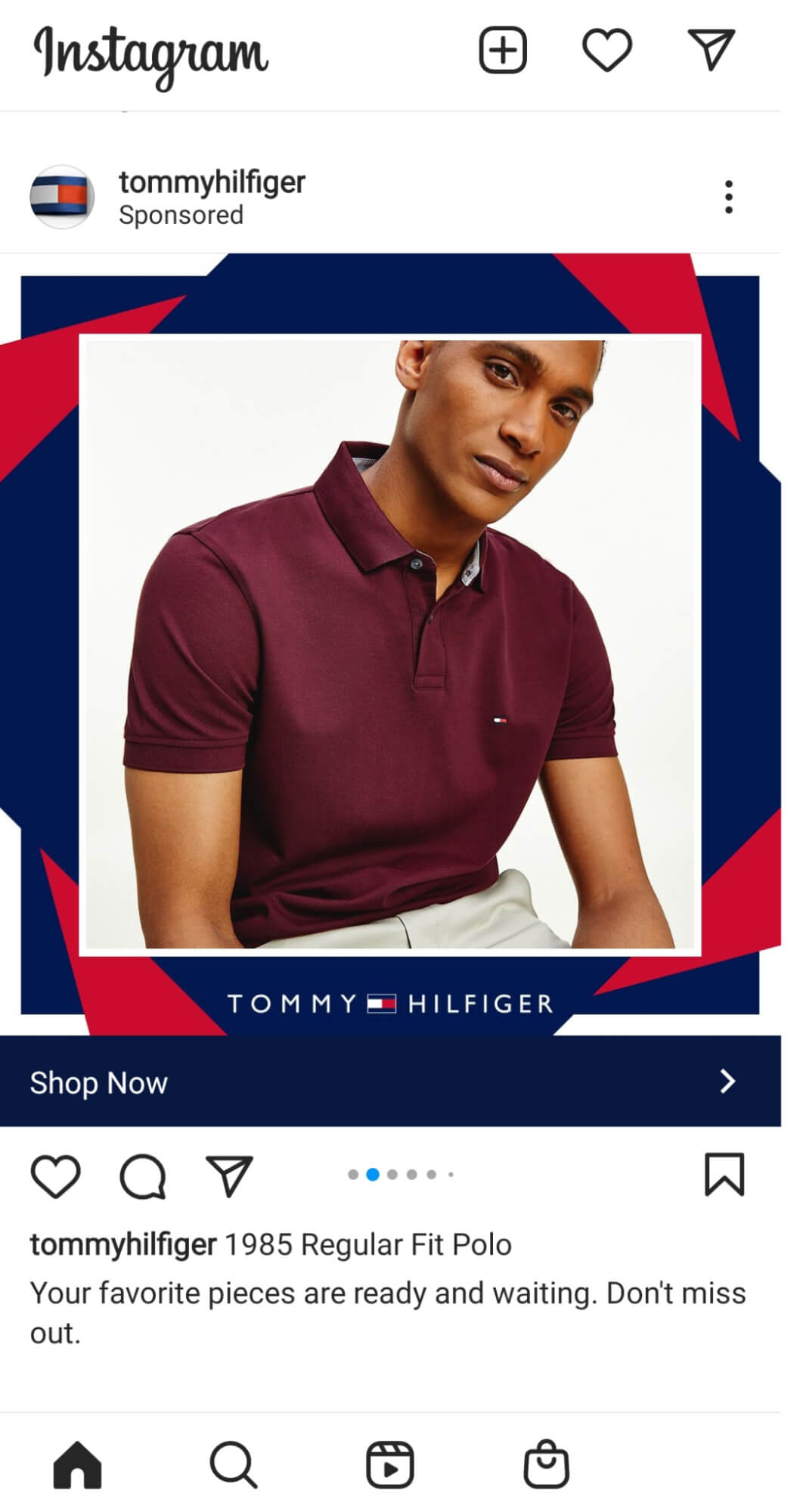 Tommy Hilfiger retargets browsers by serving them personalized suggestions on Facebook and Instagram based on their previous browsing history.
Leading fashion retailers and brands leverage visual commerce, shoppable content, and social media to provide the optimal brand discovery experience
Consumers love to buy branded fashion. They love the feeling of purchasing apparel that they can identify with, and for brands to sell that experience online, they've needed to provide the optimal brand discovery experience.
Arguably, there is no better place for users to discover a fashion label's branded looks than on social media platforms like Instagram, and where users can engage with the content by liking or sharing it and following the brand for more regular content updates.
And now mobile is the dominant device by which people browse online, shoppers want to shop from anywhere and anytime.
Online fashion retailers have found that by partnering with influencers on social media to sell their product lines, they can extend their reach exponentially, build more valuable brand experiences, and drive sales revenues through the roof.
Gymshark, a fitness apparel and accessories brand from the UK, is the perfect example of a brand that started from founder Ben Francis' garage and wielded the power of social media, user-generated visual commerce, and shoppable content to become a worldwide multi-billion dollar company.
Gymshark partners with fitness influencers, or "brand ambassadors", and encourages them to share this user-generated content (UGC) to their audience — exponentially building the brand's reach across the globe.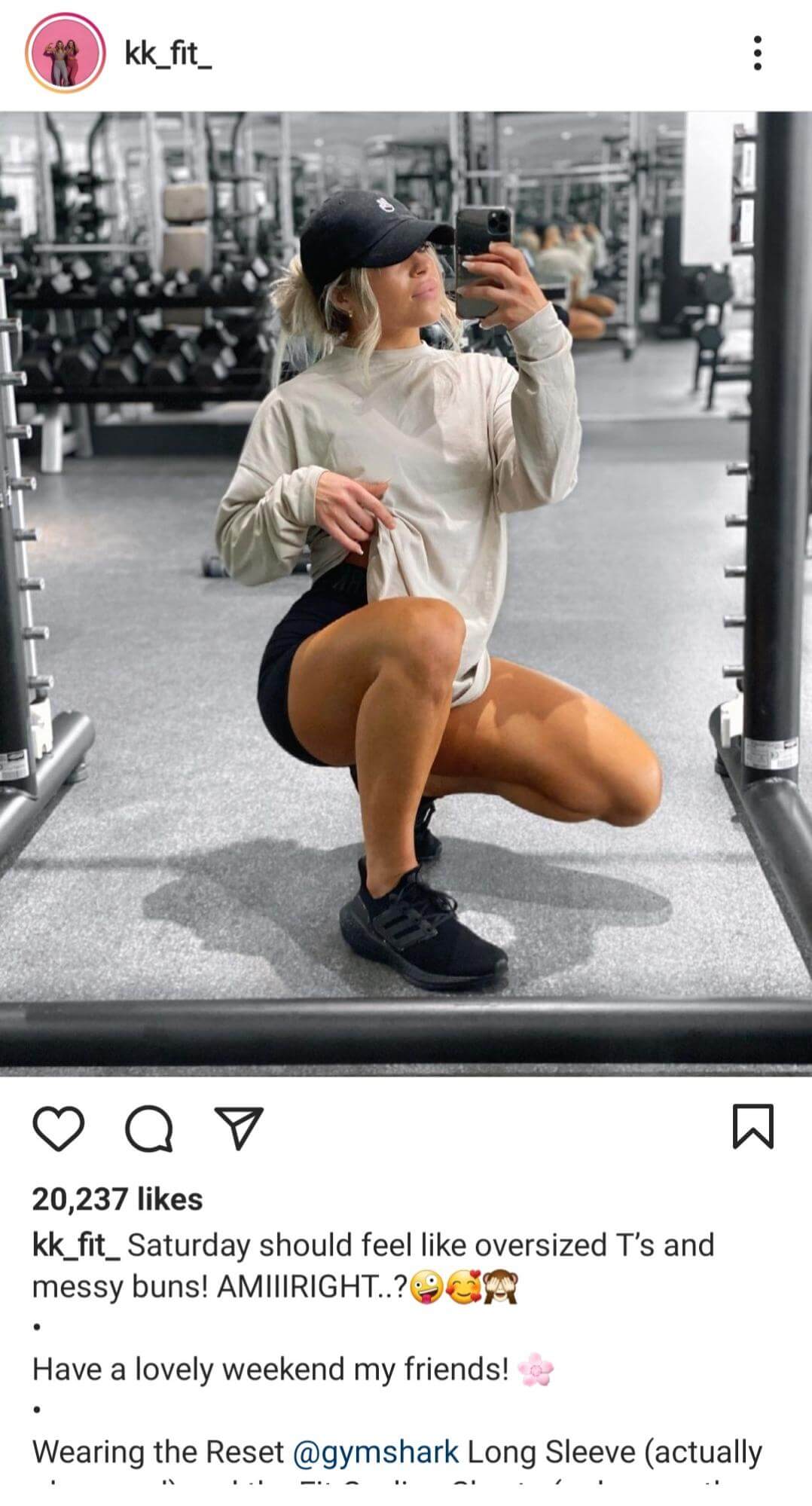 Brand ambassadors of Gymshark love to share images and tag the brand, exponentially increasing reach.
Browsers can also shop directly from the content (shoppable content) and buy the brand's fitness clothing within the same browser experience via the Instagram catalog (US only) or Facebook Shop — providing shoppers with a convenient and seamless omnichannel customer experience.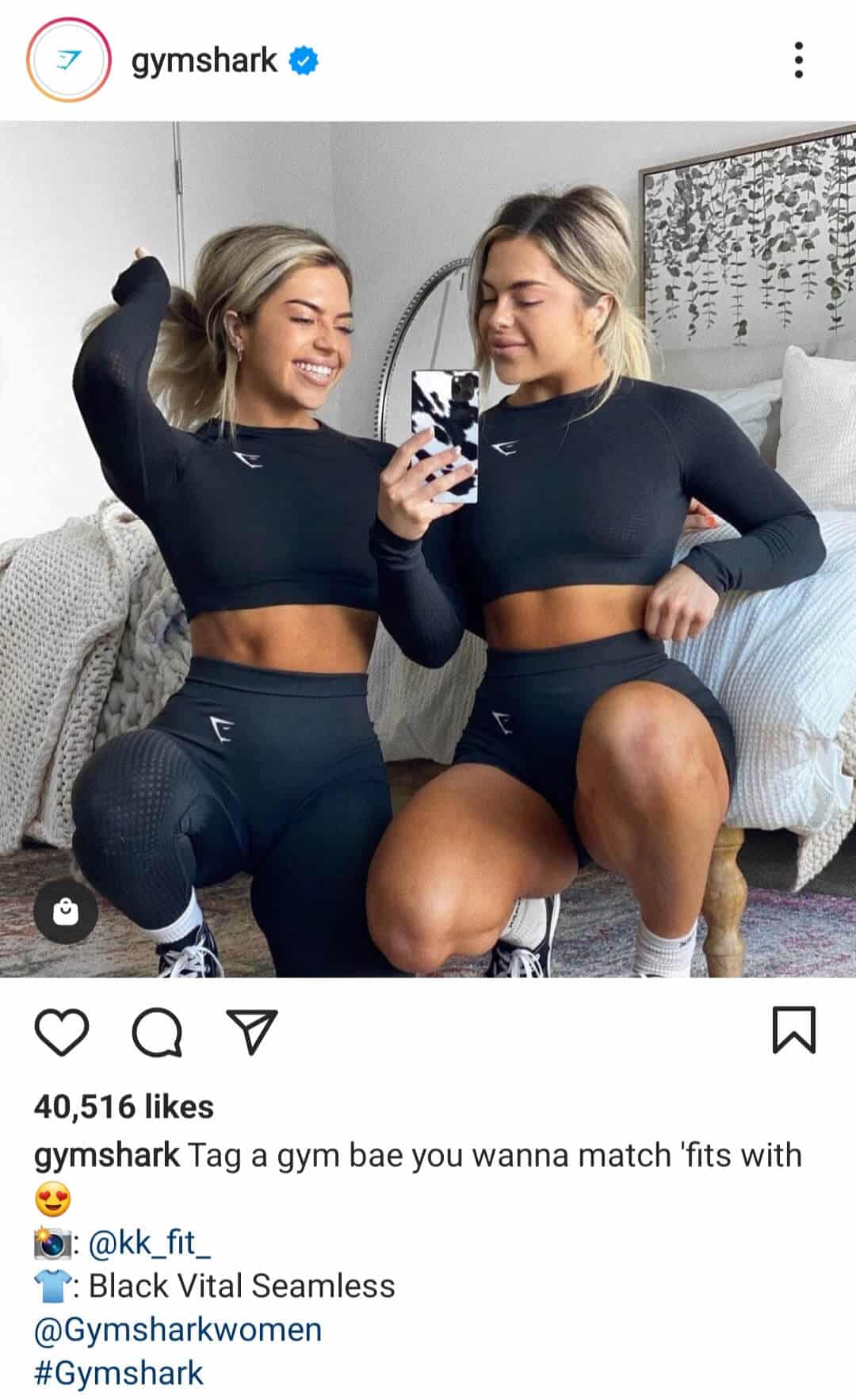 Gymshark's Shoppable social media content makes for both an enjoyable and convenient shopping experience.
Gymshark isn't the only apparel and accessories brand harnessing the power of the social proof user-generated-content (UGC) provides to extend reach. UGC is 5 times more likely to convert browsers into customers than professional product shots, as brands like Glossier, TIJN and Burberry have found.
The rise of digitally native vertical Brands (DNVB)
As you will know, the COVID-19 pandemic crushed brick-and-mortars, but for some fashion DNVBs, it was a blessing in disguise — and provided many struggling direct-to-consumer (DTC) brands with a much-needed boost.
Almost 40% of the DNVB in 2PM Inc's power list are apparel and accessories brands. Some of the brands in the top 20 include StickFix, Happy Socks, and Fashion Nova.
Interestingly, despite the fact that up until 2020, many digital DTC brands had been struggling to become profitable or expand, consumers still wanted to shop fashion — and the only way they could do that for most of 2020 was to bring the retail shopping experience to them online.
Another example of a rising star DNVB is British fashion retailer, Boohoo, whose sales grew 40% over lockdown in 2020 and who acquired several of UK Arcadia group's failed brands — Doroty Perkins, Burton, and Wallis.
Although the future of what "new normal" shopper behaviors might look like is uncertain, it seems likely that consumers won't change how they research or discover new products and brands online. And the trend of unique and inspirational DNVB for fashion will continue as shoppers become more comfortable buying apparel online.
Complete or shop the look technology
Fashion brands and retailers haven't shied away from the other, more engaging capabilities of eCommerce tech. For example, by showing models wearing a complete outfit, shoppers can click on each item and add it to cart if they wish or read more product information.
Powered by stunning visuals, clever styling algorithms, and sometimes input from human stylists, fashion retailers have built tremendous amounts of brand loyalty and have provided brilliant brand discovery experiences that engage users and increase average order value (AOV).
Personalized content or product recommendations, powered by shop the look technology, can be shown almost everywhere — across social media channels, the brand's website, emails, and within online catalogs.
Flashes and drops
Instead of fashion retailers using sales events to unload last season's stock, flash sales and drops have become a trend that shoppers have grown to look forward to and can still take part in online.
Flash sales and drops generate hype and create a sense of urgency, which drives the FOMO factor among shoppers (fear of missing out). The result? Brands can drive impulse purchases and boost immediate sales from the second the flash or drop launches.
Retailers can use drops to launch a new product, either in a brick-and-mortar or online, and generate FOMO by only stocking a limited quantity or put it on sale only for a limited amount of time.
Sneaker drop sales have been a highly effective way for footwear brands to generate hype around exclusive or limited-edition sneakers and only sell them in a small number of stores.
The tremendous amount of hype generated by brands has spawned websites dedicated solely to showing when branded drop dates are and which online retailers will stock the products. Thedropdate.com is a well-known website among eager sneaker fans who are keen to get their hands on the latest editions of sneakers sold by their favorite brands: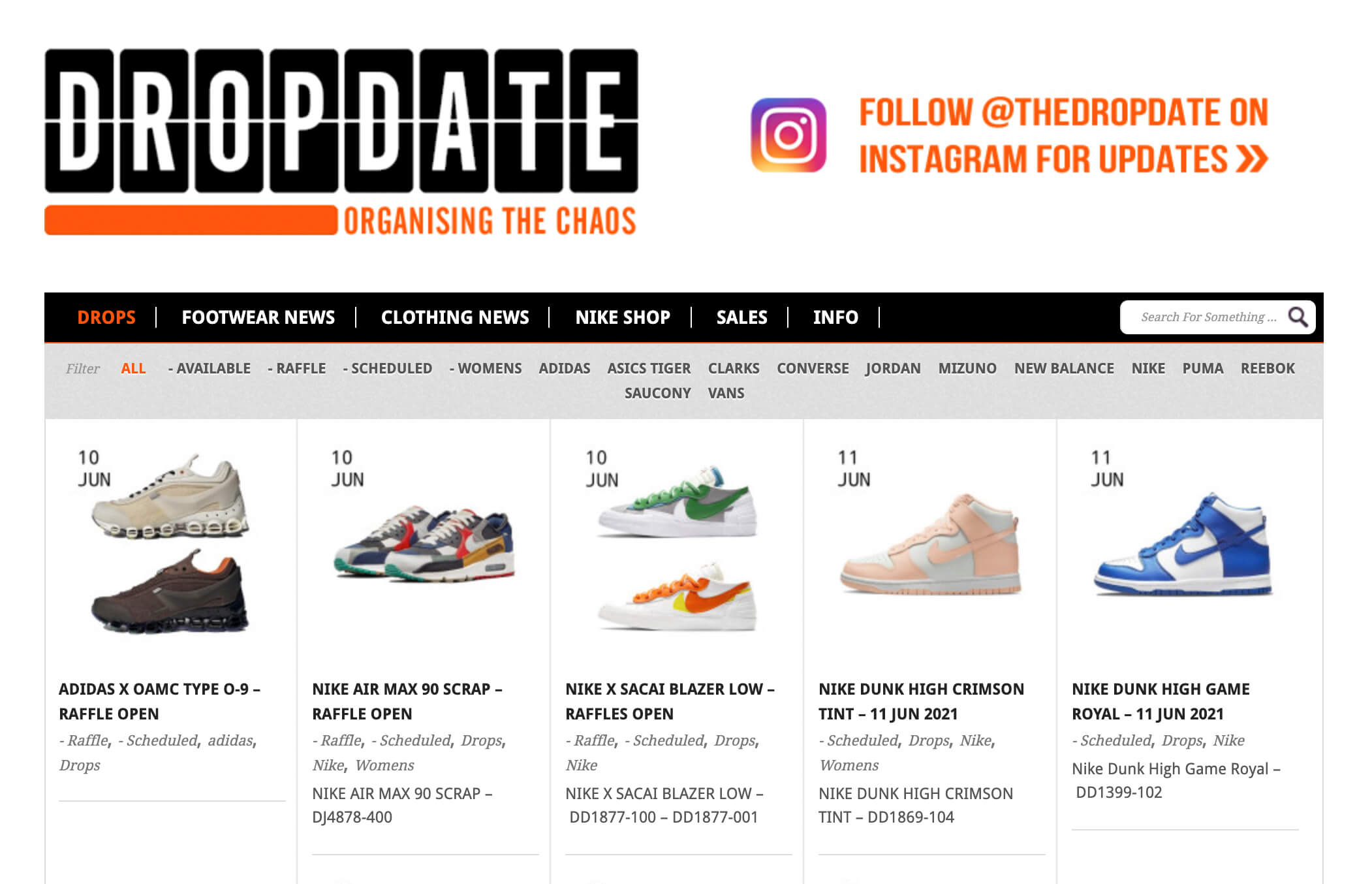 Thedropdate.com showing when the latest editions of sneakers will be released.
Ecommerce fashion stores now use flash sales to kick-start big sales events or special projects.
This year, Nordstrom, a luxury department store chain, recently had a half-yearly sale and offered up to 50% discount on selected items.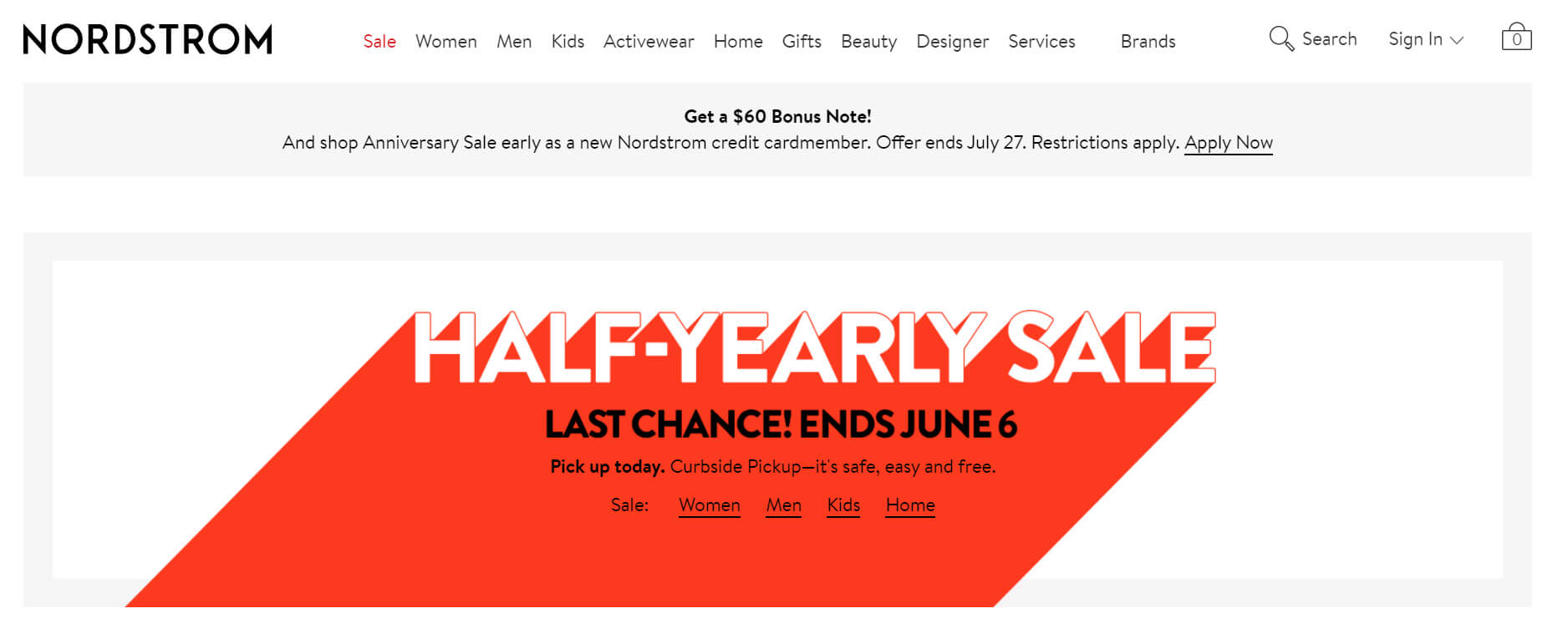 Nordstorm's half-yearly sale announcement.
Nordstrom's half-yearly sale made headlines on news platforms across the world, with headlines such as "this weekend is your last chance to shop Nordstrom's half-yearly sale – here's where to buy."
Better customer service allows fashion retailers to compete on a global scale
Ecommerce has opened up the market for retailers to customers around the globe, and fashion eCommerce is no stranger to the global marketplace.
With fierce competition, not only are western brands and retailers competing for clicks, likes, and shares, but the rise of China has paved the way for it to be the world's largest eCommerce market. Valued at a whopping $672 bn — almost double the US eCommerce market size of $340 bn.
In efforts to stand out and cut through the noise, fashion retailers have bolstered the level of customer service they offer.
Free shipping or returns and the ability to contact retailers on any channel are effective ways of building brand loyalty and keep customers coming back for more.
Fashion eCommerce trends technology has changed the way we shop fashion forever
Fashion shoppers were used to visiting a physical store, which has prompted brands to evolve and recreate the fashion shopping experience online.
Trends such as shoppable content, visual commerce, and omnichannel experiences have pulled eCommerce fashion brands away from traditional eCommerce stores' transactional nature and towards providing personalized, branded discovery experiences, which immerse the browser in the content.
Brands such as Gymshark, which utilize the social proof of UGC, fashion labels are discovering new and powerful marketing techniques for browsers to discover and engage with their content and shop the look from the same browsing experience.
Having easy access to visual content and being able to shop any image or video has become the new, trendier way for fashion brands to engage with their audience, build brand loyalty and expand their reach across the globe.
Interested in setting up a product discovery channel? Contact us, or sign up for our free 14-day trial here.