The holiday season can be a real tug of war as retailers are battling for shopper attention. And it's easy to see why: shoppers are willing to spend $608.06 on gifts for their friends and family this holiday season. According to the same report, almost two-thirds of holiday shopping will be done online.
One way to remain competitive in this environment is by publishing an online gift guide. Make sure to read on as we describe four ways how an online gift guide can help boost your holiday sales.
1. Use a gift guide to engage with shoppers early in the holiday season
Finding a holiday gift for your friends and family can be difficult and time consuming. Especially when juggling other seasonal activities, such as planning a Christmas dinner or attending holiday parties.
With that in mind, it makes sense that 54% of shoppers start researching gift ideas in October or earlier. And when asked why, answers varied from "avoiding last minute rush" to "making sure items are in stock". Another notable answer was "to have more choice, selection or inspiration when shopping".
An online gift guide can help you engage with these shoppers, by providing them with gift ideas early in the season. When shoppers are ready to make a purchase, you're more likely to be on their mind, ultimately increasing sales:
"A gift guide is one of the most powerful tools you can have during the holidays. It allows you to showcase your products, inspire shoppers, and stay top of mind throughout the season."

– Francesca Nicasio, Retail Expert and Content Strategist at Vend
2. Increase conversion by helping shoppers make a choice
Many holiday shoppers are pressed for time and are typically looking for a good enough gift to round up their holiday shopping. You might know the feeling—you don't want to purchase a gift without putting any thought into it, but you don't have weeks to spend on researching the perfect gift either.
For these shoppers, a gift guide can be the perfect tool. Nearly two-thirds of holiday shoppers would like a curated list to help with their gift purchases. It gives shoppers great gift ideas at different price ranges for various categories and suggested audiences (eg. for kids, for men, or for women). The gift guide inspires and narrows down choice and thus helps the shopper find a good enough gift faster.
"Holiday gift guides are a great way to introduce new trends or highlight best-selling products. These visual collections of products facilitate the holiday gift-buying process for shoppers by aggregating everything in one place."

– Stephanie Wharton, marketer and writer
The gift guide helps shoppers make a choice, which for retailers can help boost conversion. Here's what the National Retail Federation had to say about it:
"For consumers looking to create efficiency in the shopping process, adding an easy resource reduces friction and increases the likelihood of a conversion."
3. Publish a gift guide to cater to last-minute shoppers
Many shoppers intent to shop early, but fact remains that 40% of holiday shopping happens in the last 10 days before Christmas.
Some of these shoppers are intentionally waiting for better deals to show up, but many are considered "holiday shopping procrastinators". The shopping procrastinators can greatly benefit from the guidance that a gift guide provides:
"The solution for procrastinators whose delays are the result of perfectionism or feeling overwhelmed is to come clean about how difficult gift shopping is and admit you need some help. Don't stall, and don't go at it alone. Instead, ask for suggestions, expectations, and guidance… or check out gift suggestions from a special-interest publication or blog."

– Kit Yarrow, consumer psychologist
When it comes to targeting last-minute shoppers with a gift guide, you're still looking to inspire and narrow down choice. So, the guide itself doesn't change much. However, last-minute shoppers do deserve a mention on their own. Why?
With Christmas coming closer every day, the likelihood of a quick conversion increases. And with many people (shopping procrastinators) still looking for gifts, there is a huge opportunity for a gift guide to shine—even when only used during the last two weeks of holiday shopping.
Here's a great example of a gift guide published by one of our customers: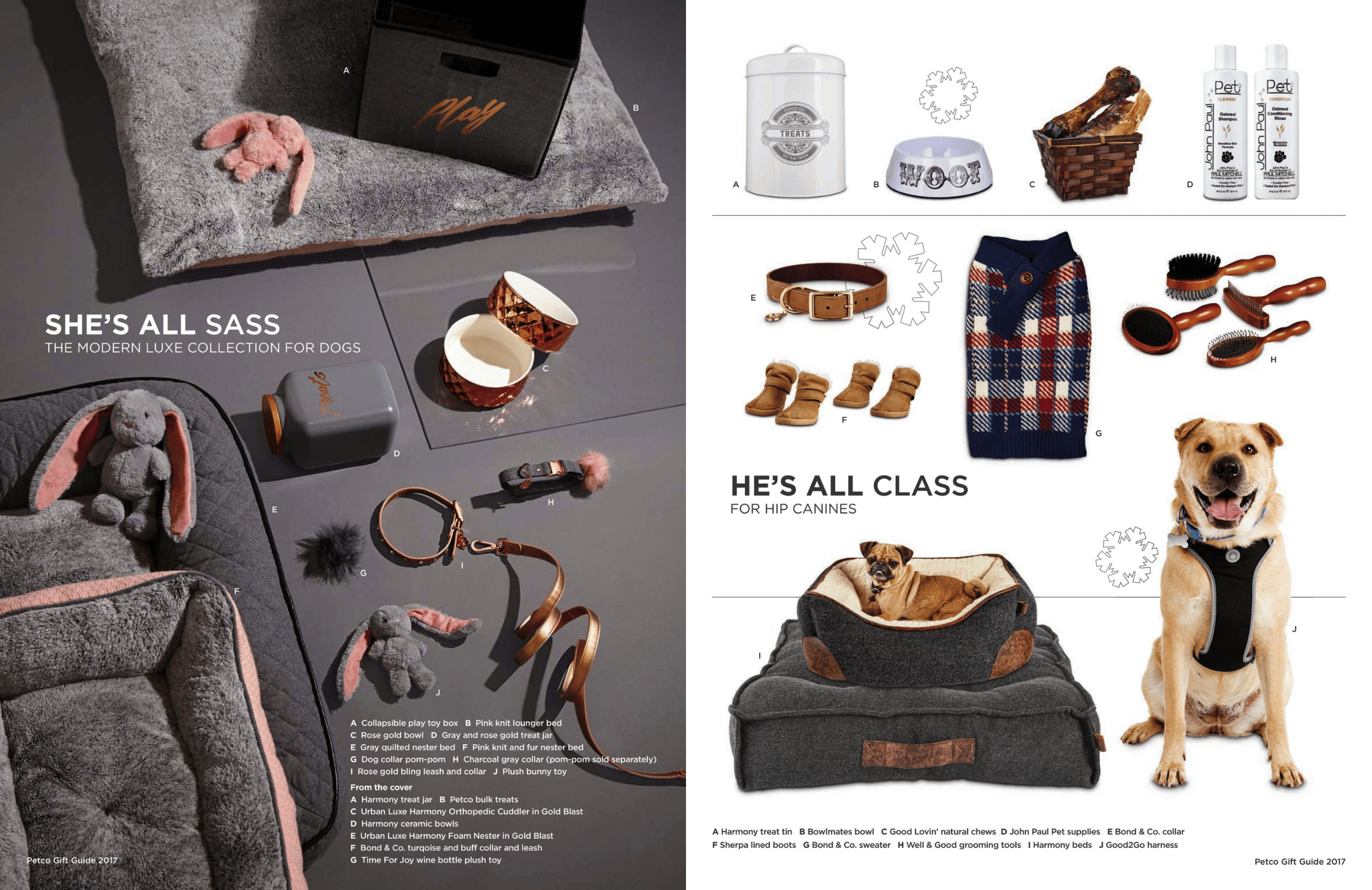 Petco, Gift Guide 2017.
4. Improve your promotional mailings by featuring your gift guide
We've written about improving your newsletter with catalogs before, and much of what is written in that post applies to the gift guide as well. So, for this post we'll keep it simple and focus on one clear statistic:
Emails featuring gift guides generated a 48% higher transaction rate when compared to other promotional mailings.
While that measurement was done almost five years ago, we believe that sending the gift guide through email is still a very powerful way to engage with holiday shoppers. The gift guide allows you to connect with your audience by providing them with direct value; you're helping them find the right gifts for their friends and family.
Many of our leading retail customers also see value in sending out promotional emails featuring gift guides. Here's an example: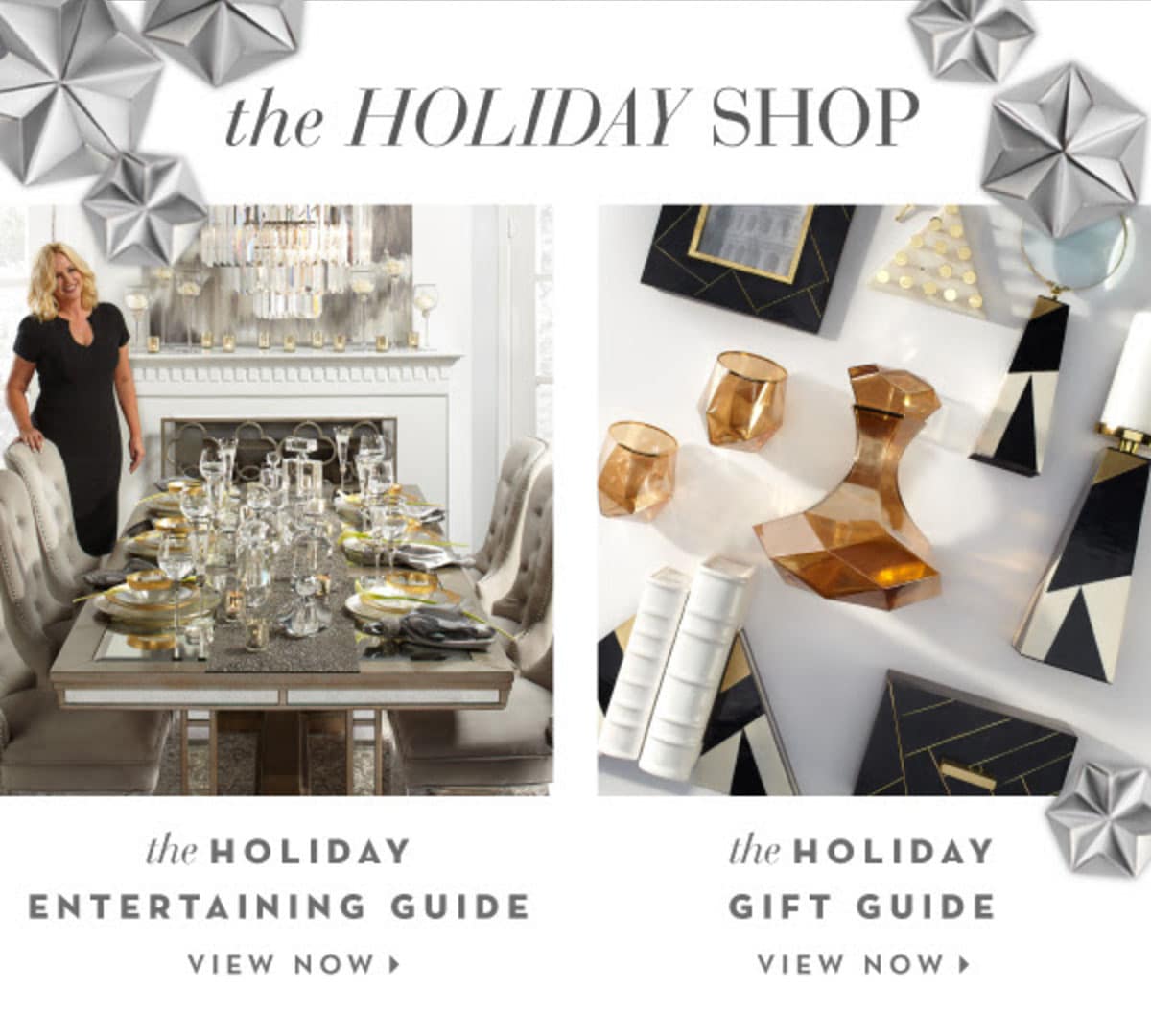 Z Gallerie featuring their holiday gift guide in their newsletter.
The gift of guidance is relevant the entire holiday season
Be it early-season shoppers looking for more inspiration, time-pressed shoppers quickly looking for a good enough gift, or last-minute shoppers in doubt of what to give—all of them can benefit from the guidance provided by a gift guide. From start-to-end of the holiday season, the gift guide is valuable to your shoppers and can help boost conversion and sales.
If you're looking to publish a gift guide this season, or maybe you're thinking about looking into it next year, here are some interesting reads: