Black Friday Sales: The holiday season — it's busy, it's messy, it's competitive, but it's also when great marketing opportunities arise.
Looking at 2022, we've had a year of economic uncertainty, supply chain issues, rising acquisition costs, and post-covid digital shopping habits. How is Black Friday Sales impacted? And how can online publications help you gain a competitive edge during this year's holiday season?
In this post, we'll look at some of last year's shopping data and share best practices for using online publications during Black Friday Sales and the holiday season.
Start Black Friday and holiday promotions early
Over the last few years, we've shifted from short shopping frenzies to longer-running holiday promotions. Should you do the same this year?
The short answer is yes, but let's dive deeper.
First, customer acquisition through digital channels is 13% higher during Black Friday week than at other times of the year. So, instead of capturing shoppers strictly during the Black Friday week, it makes sense to start earlier — at a lower cost.
Secondly, supply chain issues — which generally aren't a consumer concern — have become a serious consideration for consumers and retailers alike. Consumers purchase early to ensure timely delivery, while retailers spread shopping promotions to avoid peak pressure.
So, spreading your promotions over an extended period benefits you and your customers.
When should you start promoting your Black Friday and Holiday discounts?
While we have Black Friday Sales marked as the 25th of November in our calendars, we expect to see promotions starting in early October.
Last year we saw Walmart drop promotions six weeks before the event, and Amazon stretched Black Friday into a two-month holiday event.
Furthermore, if we look at Google Trends data, we see searches starting in early October and heavily ramping up as we enter November. This brings us to our next point:
Use online catalogs, flyers, and gift guides to catch search traffic
With online gift guides or thematic specials, you can compete in search for your niche and get traffic from shoppers specifically searching for gift ideas and promotions.
For example, if you publish a publication and optimize it for keywords such as "black friday flyer", "black friday gifts", or "holiday gift guide," you're more likely to be found in search results.
You can dig into last year's Google search trends to get an idea of what popular search terms you can cover with your publications and when to start.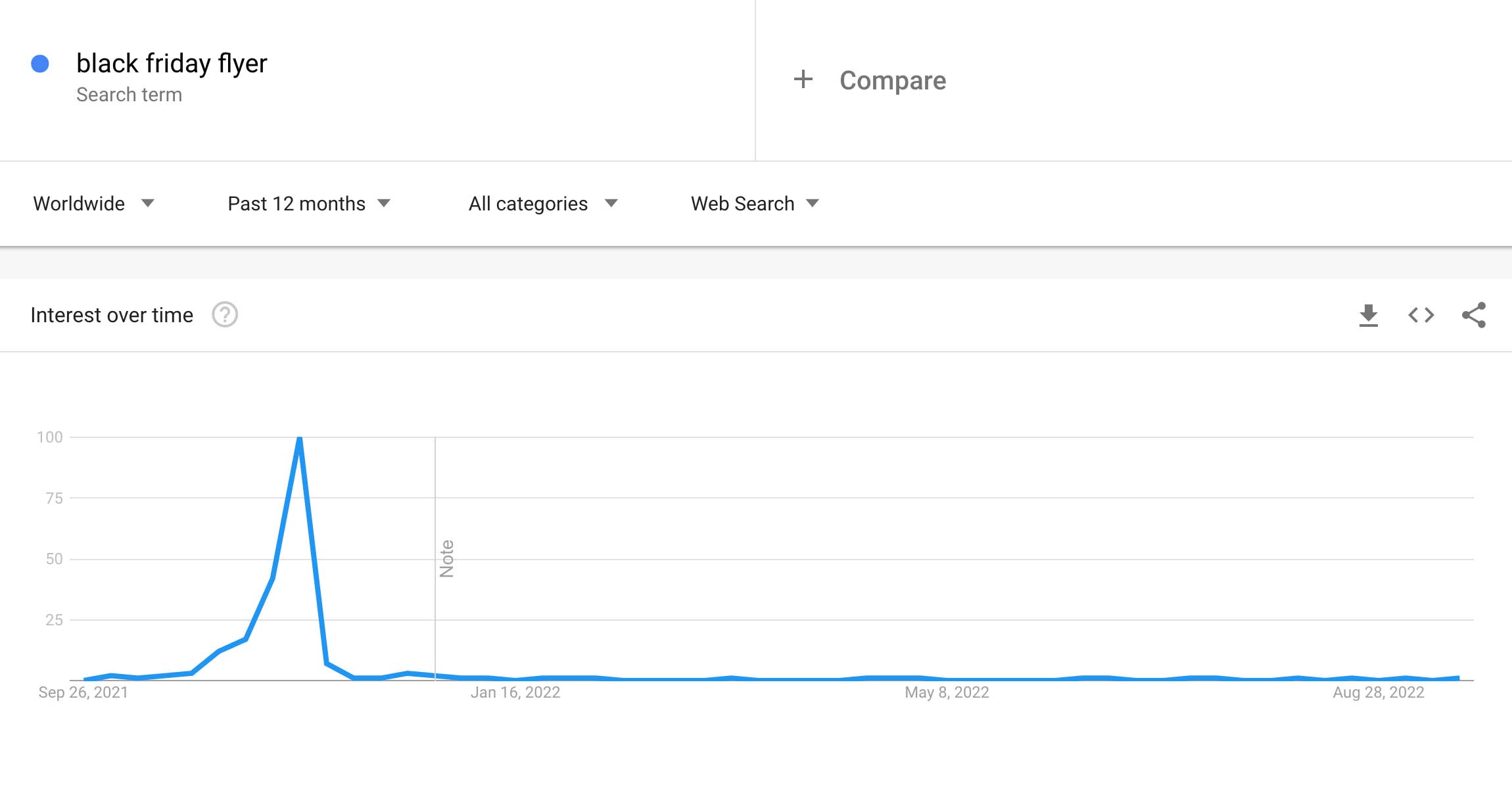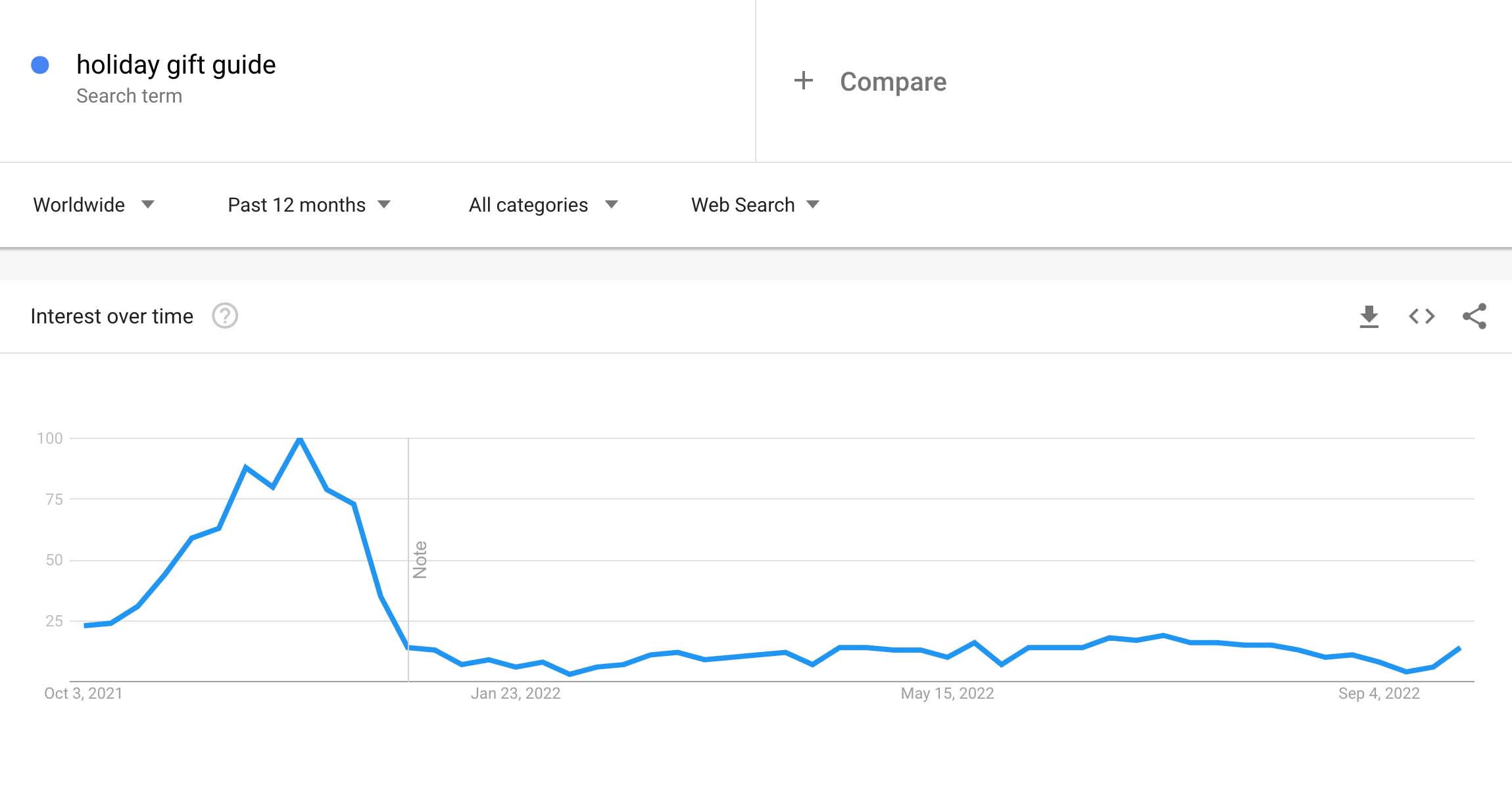 From the above reports, it's clear that online traffic for 'holiday gift guide' and 'black friday flyer' begins to build in early October. So, by publishing your Black Friday flyers early, you'll be ready to capture shoppers on the hunt for holiday deals and discounts.
Gift guides are not just an excellent way to capture search traffic. You can also use them to …
Help shoppers find inspiration through gift guides
Finding a best Black Friday Sales, deal, or holiday gift for your friends and family can be difficult and time-consuming. Especially when juggling other seasonal activities, such as planning a Christmas dinner or attending holiday parties.
Many shoppers don't have the time to spend several days browsing, hoping to find the right gift.
That's why shoppers enjoy a bit of guidance and inspiration:
Over 63% of global shoppers said they enjoyed discovering items they weren't actively looking for;
65% say they often or sometimes shop or browse online when they're not looking for anything in particular;
Over 34% of consumers browsed for ideas or inspiration for the holidays.
Gift guides can provide the shopping experience that shoppers need, while helping retailers stay top-of-mind the entire season.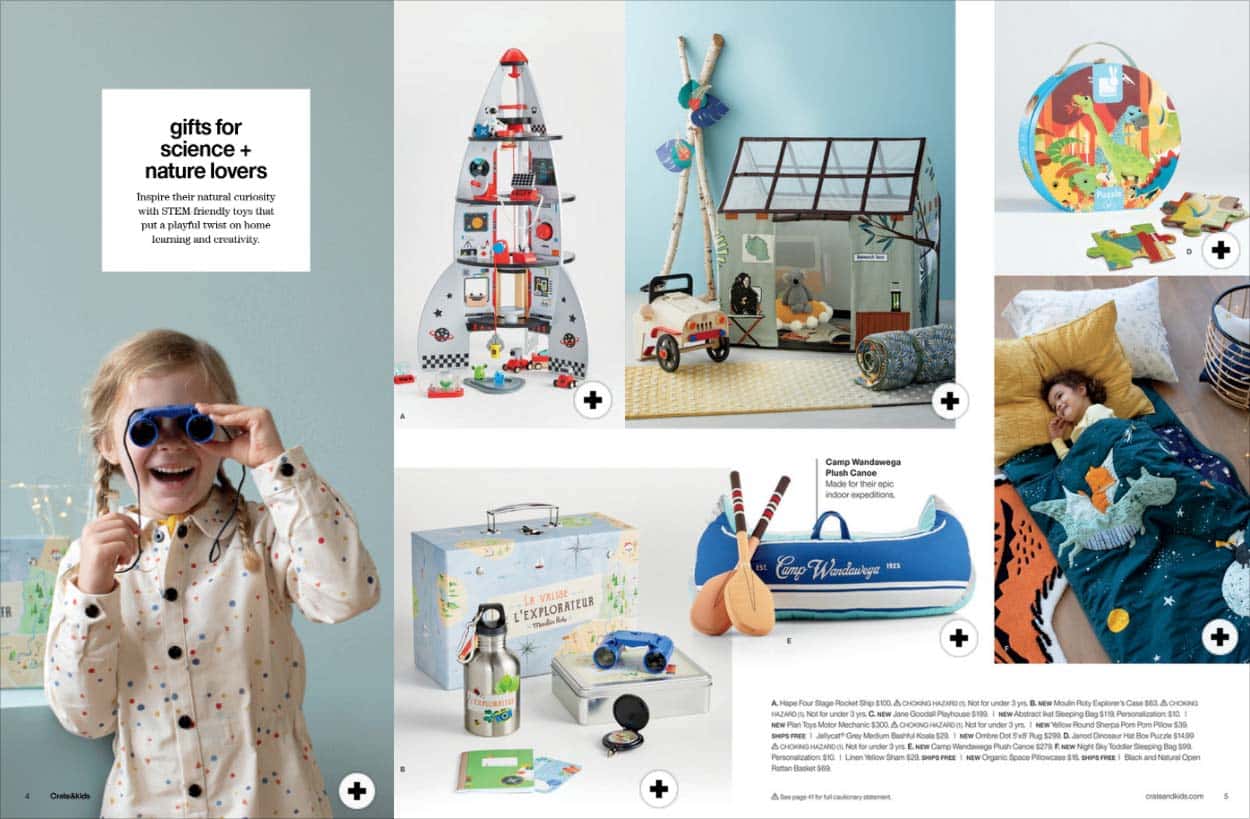 Crate & Kids 2020 gift guide with product ideas for kids who are science and nature lovers.
In short, the benefits of posting a gift guide can be summed up as follows:
Engage with shoppers early in the holiday season;
Increase conversion by helping shoppers make a choice;
Cater to last-minute shoppers;
Improve your promotional mailings by featuring your gift guide. For example:

Send Black Friday gift guides to your subscribers;
Use publications in cart abandonment or checkout abandonment flows.
If you want to know more about gift guides, we've written some excellent posts about them:
Another great way to increase sales from your content or publications is to ensure you can guide your shoppers from discovery to conversion. In other words:
Offer a seamless path to purchase
Campaigns are often time-sensitive, and competition is fierce. So, for best results, you want to make it easy for buyers to act on impulse before they lose interest or become distracted.
To close the gap between your publication and purchase/conversion, you want to ensure shoppers can directly add products to cart and checkout. In other words, make your content shoppable.

Want to upload your own catalogs and make them shoppable?
Use Publitas to turn your gift guides into a shopping experience.
To further enhance how shoppers read your online publications, you can …
Ensure your publications are mobile optimized
According to Adobe Digital Insights, last year, almost 43% of Black Friday sales happened through mobile phones. And on Shopify, we're talking about 70% of purchases made on mobile phones.
We've spoken about mobile-friendly catalogs before. But with every year that passes, mobile becomes more important.
If your gift guides and catalogs are only available in PDF format, or if you're offering a simple 1-on-1 conversion, you might give your shoppers a sub-optimal mobile shopping experience.
A mobile-optimized gift guide ensures that you can convert time-conscious gift hunters who want an easy online shopping experience.
You can read about optimizing your catalog for mobile here.
In short, you want to optimize your design for mobile by doing the following:
Design a grid specifically for mobile devices;
Focus on content and less on graphic embellishment;
Improve readability and make it easy to scan the pages;
Reduce content per page;
Avoid small copy;
Create space for online embedded content (videos, image slides, GIFs, etc.);
Provide extra information and a seamless shopping journey through product overlays.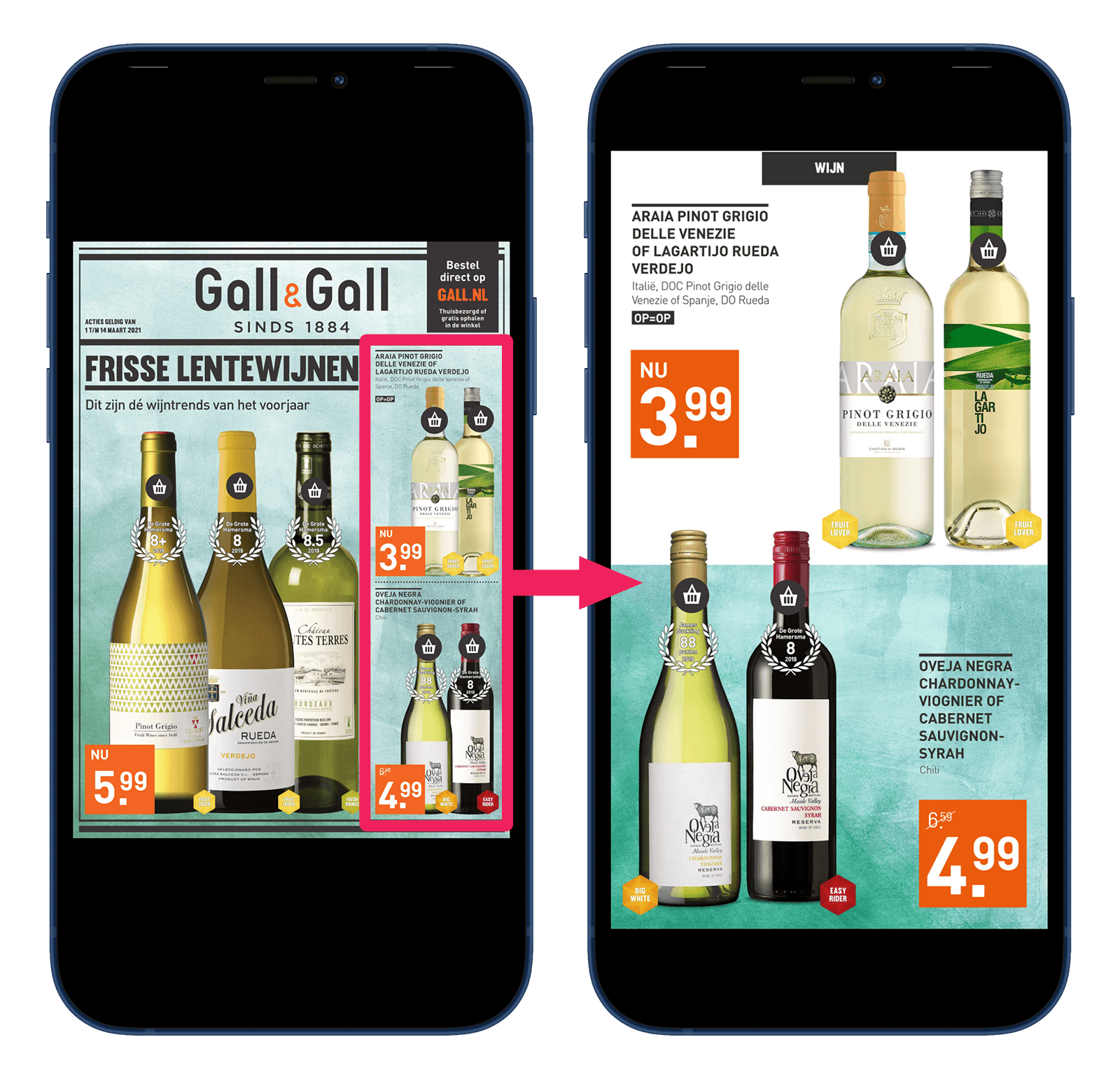 Left: Original PDF. Right: Mobile-optimized.
Here is a post with more examples of mobile-optimized catalogs.
Another thing to consider is using vertical scroll navigation. While on desktops, it can be nice to imitate the analog 'feel' of catalogs, on mobile, it's much more efficient to use the vertical scrolling navigation that mobile users are accustomed to.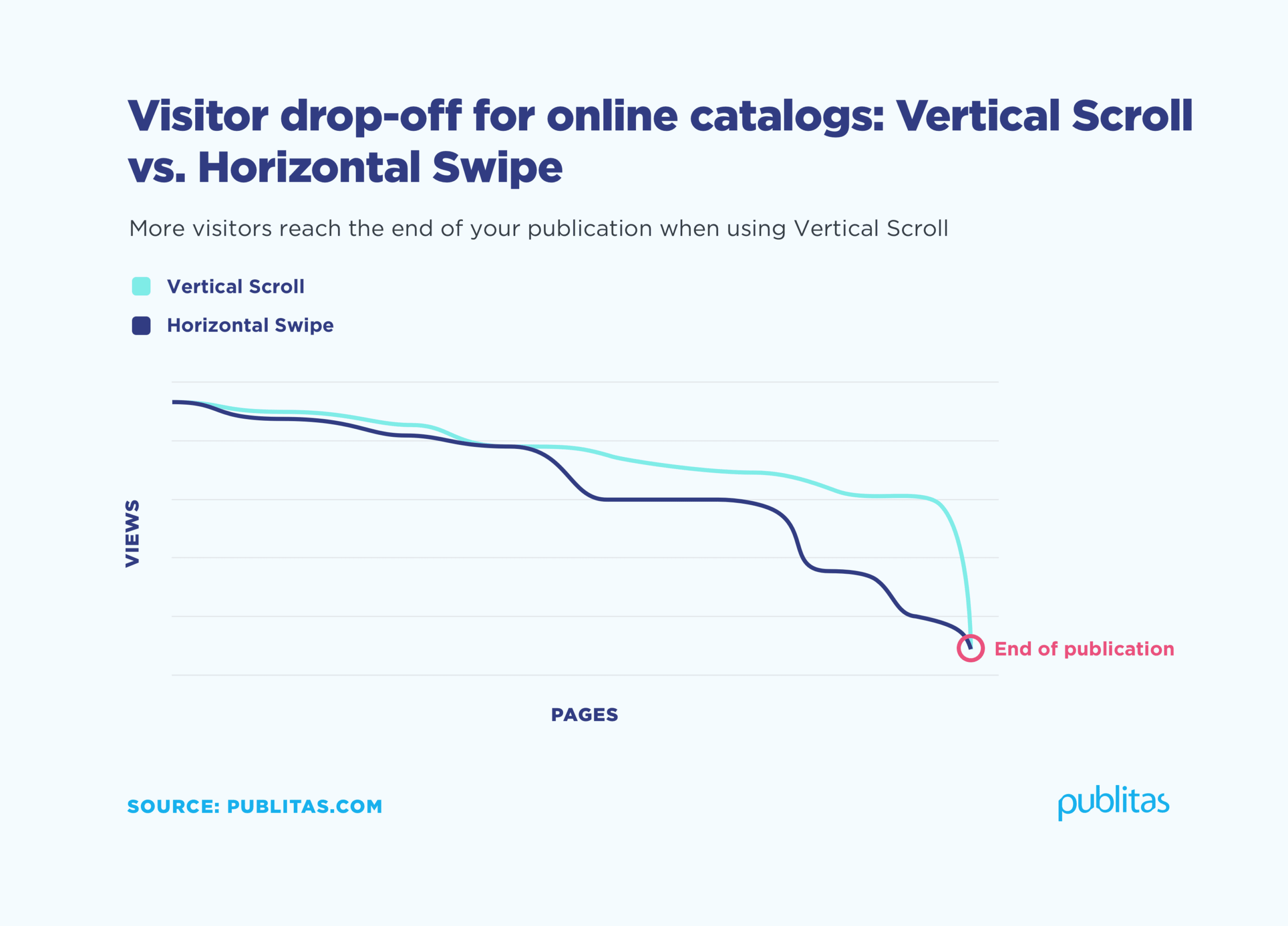 Moving on from the shopping experience, there are several other ways to beneficially apply online publications during busy Black Friday and holiday periods.
Keep prices up-to-date and ensure out-of-stock products are automatically replaced
Marketers that have worked with paper catalogs know how tedious and stressful it can be to manage its contents during holiday periods. Content changes often go through an agency or DTP process, meaning it's hard to react to the unexpected demands of the holiday season.
Products go out of stock, prices fluctuate, and — especially with extended discount periods — your catalog will likely need several updates this season.
As consumers, we've all been excited to visit a physical store for an alluring discounted product, only to find the product is either more expensive than expected or already sold out.
Retailers can avoid these disappointments and improve discount-hunting for their customers.
When you connect your online store's product inventory to your online catalog, you can keep the prices in your catalog synced to those in your online store.
And when your discounted products are seeing unexpectedly high demand, out-of-stock products can be replaced with similar products that you still have in stock.
This dynamic, real-time aspect of the online catalog keeps it up-to-date year-round. Taking some of the stress out of holiday shopping discounts for retailers and shoppers.
Dynamic catalogs can also be practical in a different way:
Use personalization to make more relevant offers to your customers
At Publitas, we know how powerful shopping personalization can be. And for this holiday season, it's likely to become even more powerful.
The beauty of a gift guide or catalog is that you can gather loads of data about its readers with each page flip and product they click. And as the catalog sits top-of-funnel, this data arms you to make personalized recommendations later down your funnel and on other marketing channels.
With extended discount periods, there is more time to collect data and to get to know readers. Consequently, the personalized content algorithms that serve readers will be even more relevant.
A reader bought an 8K TV during Black Friday? We can now populate the catalog with beautiful images of the PlayStation 5 for the upcoming Christmas shopping period a month later. It keeps online shoppers engaged throughout the holiday season.
You can also use this data and personalization in many other ways. Here are a few to consider:
Automatically generate a mini-catalog based on shopper preferences to use in cart-abandonment activation emails.
Use your catalog to identify popular products and make personalized recommendations for these products in your remarketing efforts.
Interested in using personalization and dynamic features of Publitas? Feel free to contact us.
Takeaways:
From start till end of the holiday shopping season, gift guides and online publications can help you increase reach, boost shopper engagement, get higher average order values, and boost personalization with top-of-funnel data. In short:
Start your Black Friday Sales and holiday promotions in early October;
Use gift guides and publications to help inspire shoppers throughout the holiday shopping season;
Ensure optimizing your publications and content with keywords relevant to the Black Friday and holiday season;
Offer a seamless path to purchase with shoppable content;
Double down on mobile optimization for your content and catalogs;
Use dynamic pricing and automatic stock replacement to keep your promotions relevant;
Use your publications as a top-of-funnel data gold mine that boosts personalization across the entire marketing funnel.