How a Digital Catalog Can Skyrocket: When visitors are in the discovery phase of the customer journey, this is your opportunity to engage with them and inspire them with your latest looks or prestigious range of collections.
What's the best way to go about doing this? And how can you better engage them with relatable stories and curated content experiences about your brand that will resonate with their tastes and make them want to buy your look?
You could build a magazine into your store, showing your latest looks with videos and images, or create different minisites for new clothing lines. But what are the costs, time required, and human resources needed to build all that? Are you able to react quickly enough to changing tastes and trends?
A solution to these challenges and problems for your online fashion store could be using an online-only catalog, especially when online catalog readers outperform the website average when it comes to conversion.
How does an online catalog better inspire your visitors than those other options and allow you to sell more? In this post, we walk you through how it achieves this and how it could skyrocket your online fashion store's sales.
What's an online catalog?
Principally, an online catalog provides your visitors with an immersive brand experience where they can discover your brand with a familiar and inspiring shopping experience.
Just have a look at this example:
The beauty of an online catalog is that it can gain all the superpowers you'd expect from an online content experience. Ranging from sharing and embedding options to AI-powered product recommendations and real-time updates.
Let's look at what we mean by all of this and how you could make an excellent online catalog.
Combine photography, video, and other multimedia content to create more dimensional storytelling for your audience
As a fashion retailer, you'll know that many high-end brands use stories, videos, and images to sell the look they want people to identify with. Many go about this by serving up curated and shoppable content experiences to their audience.
With the online catalog, you can combine all these forms of content into one shareable & embeddable bundle.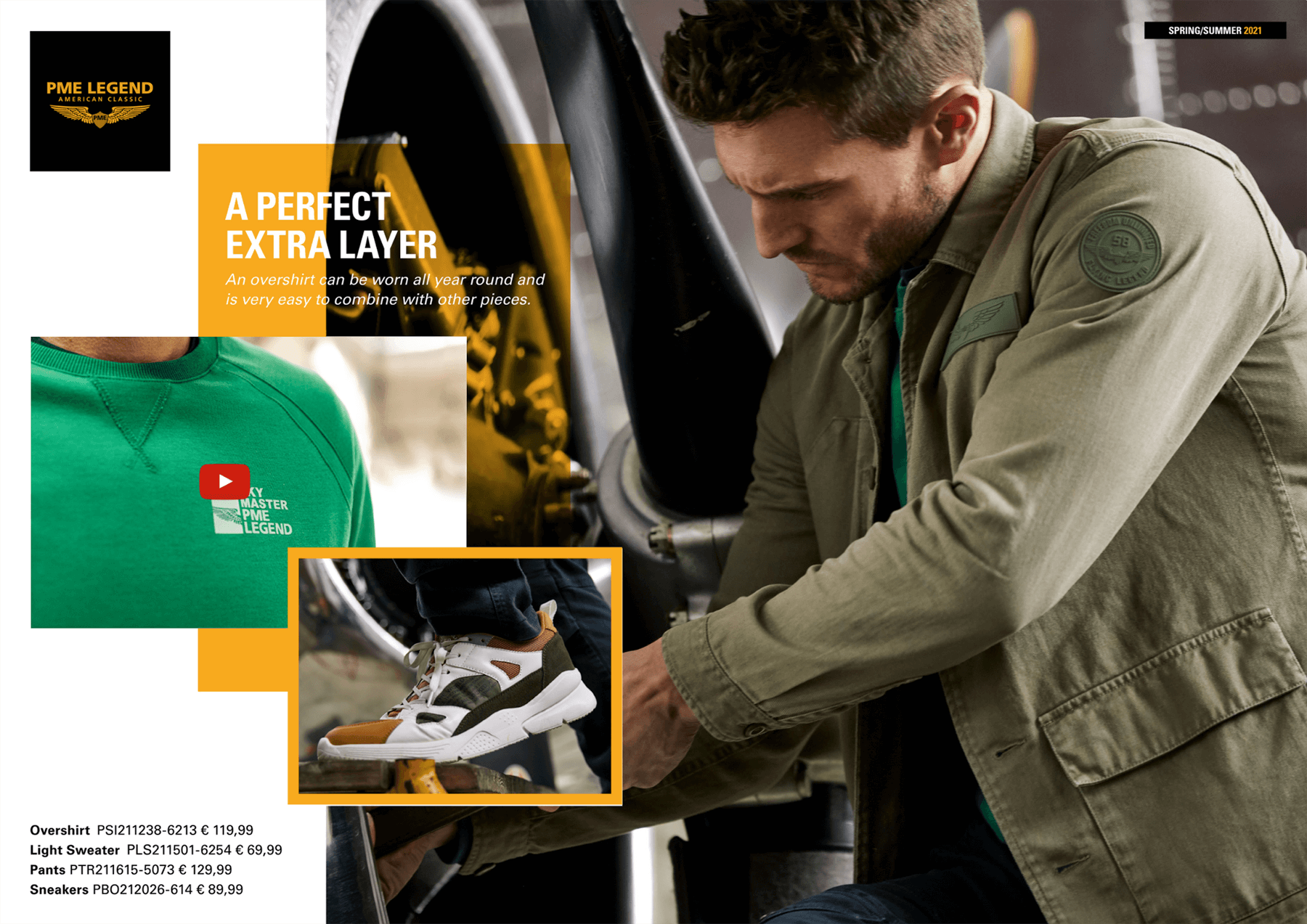 Example catalog content by Just Brands, combining photography with video and copy.
Let shoppers buy what they see
With online catalogs, you can tag items or models in your catalog with 'hotspots'—making your content shoppable. Visitors can click on the products the model's wearing to get more information, like product descriptions, prices, images, and videos. It also allows your customers to share or purchase these products directly from the catalog and in fewer numbers of steps to purchase.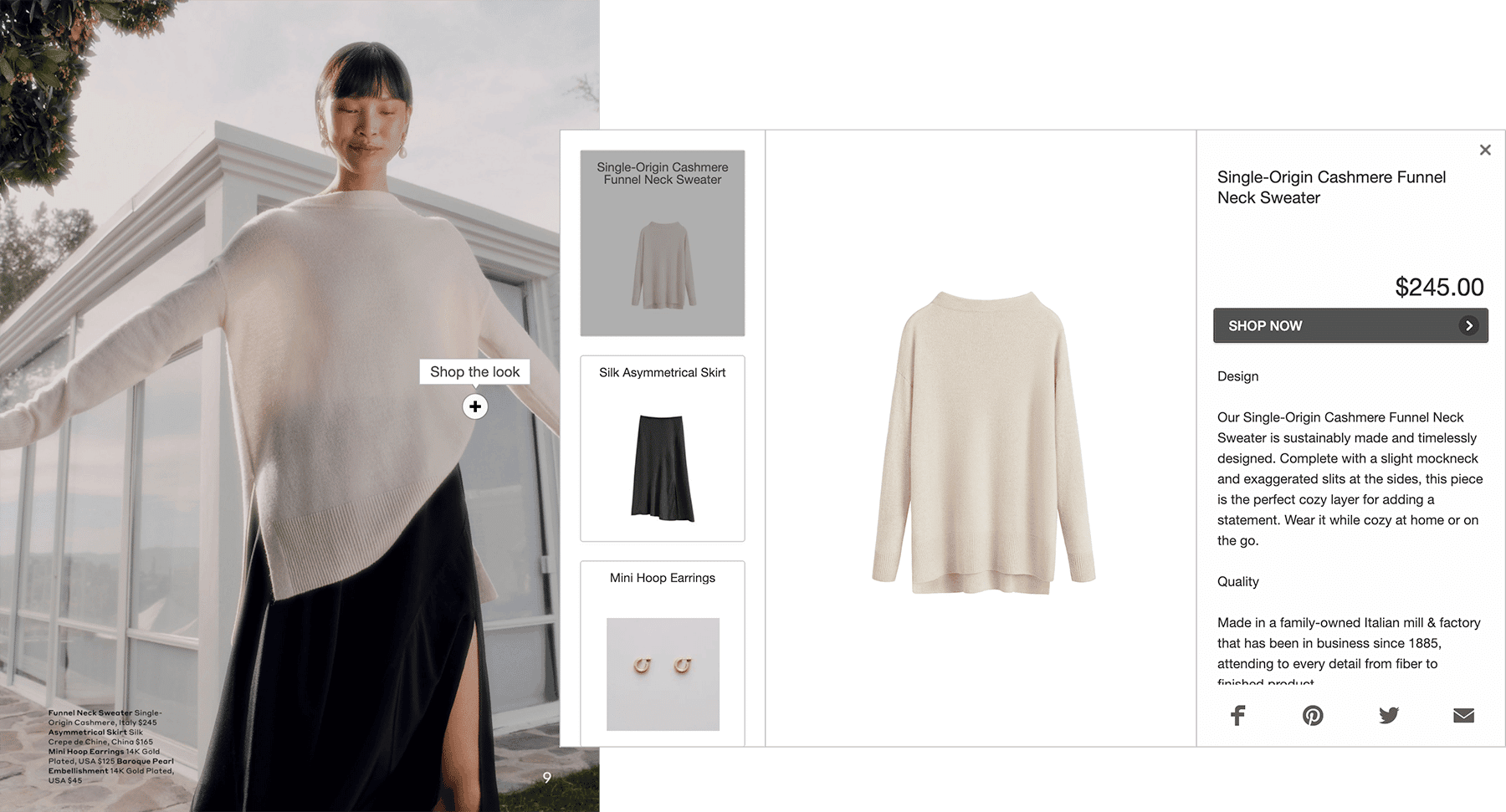 Shop-the-look image in a catalog. After clicking, a product view pops up with all items the model is wearing.
Make sure your content is mobile-optimized
If your catalog isn't mobile-optimized, you will lose out on converting more visitors and sell fewer products.
Good online discovery experiences are mobile-optimized, and will perfectly display your curated content on whatever device the user is browsing.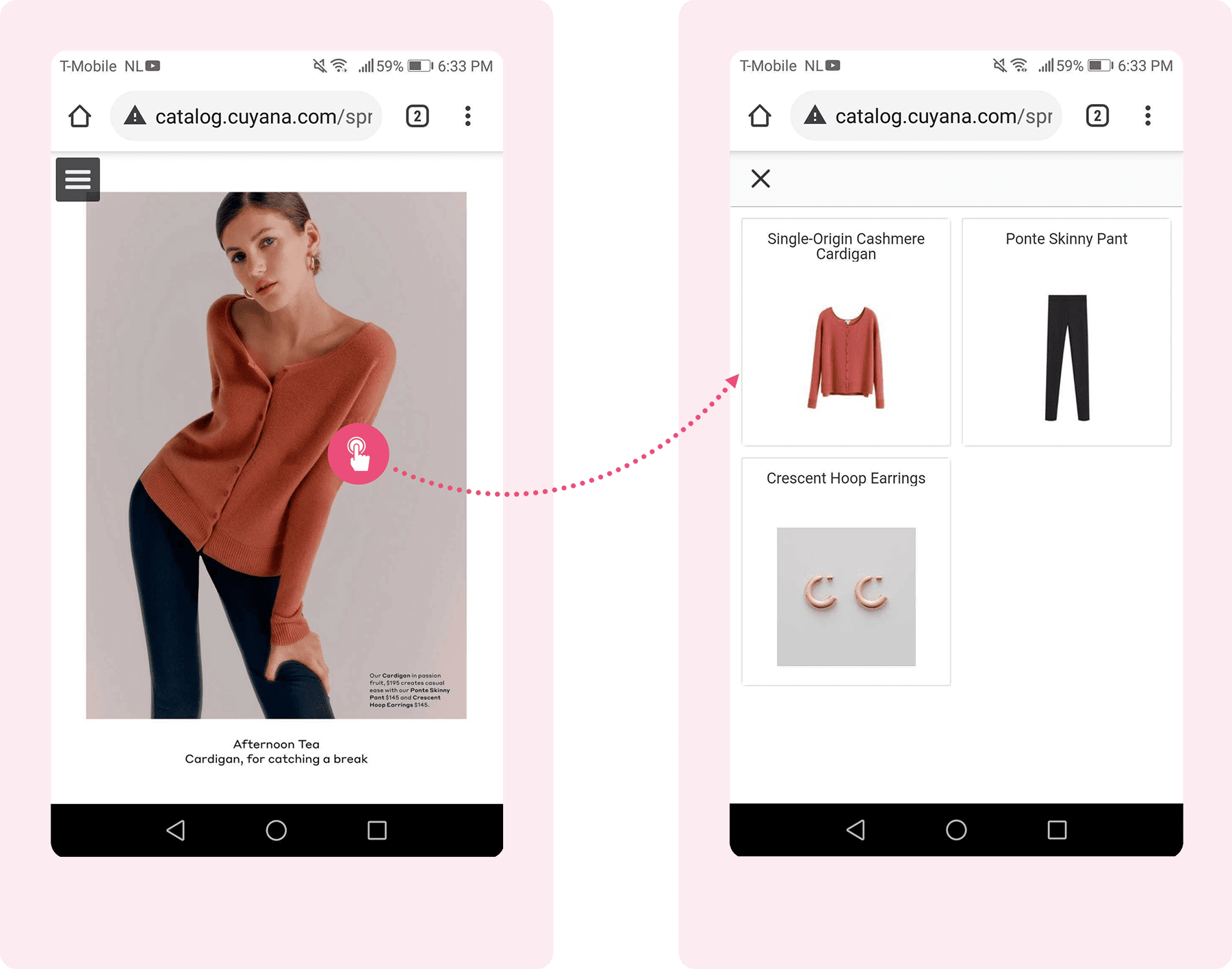 A mobile catalog experience with less content per page, making extra information accessible through clicking or swiping.
Use personalization to create a more relevant experience
Online personalization has gotten all the hype, but what we often forget is that personalization goes back decades, with local store owners attending to their customers individually. This is the experience we want to try and recreate online. The big difference is that now, you'll have to personalize at scale.
Think about avoiding out-of-stock products by suggesting personalized recommendations. Or offer entirely personalized pages and categories within your online catalog. The goal is to ensure that your catalog shows the products that the current shopper is most interested in.
If you take the step of integrating your catalog with your data management platform and your shopping feed, these things become easy. Online catalogs are made of dynamically loaded content grids so that products can be replaced by AI-powered recommendation engines.
A shareable shopping experience
What better way to showcase an exquisite collection of your products by embedding it into your email outreach campaigns or on Facebook?
Online catalogs act as a bundle of content. They are easily shared on any of your channels, allowing users immediate access to a shoppable experience.
You could use your newsletter to showcase your catalog or lookbook, giving you a valuable reason to reconnect with your audience.
With social, your online catalog is within easy reach of your fans. Allowing you to inspire them there, in the moment, and without them having to jump through hoops.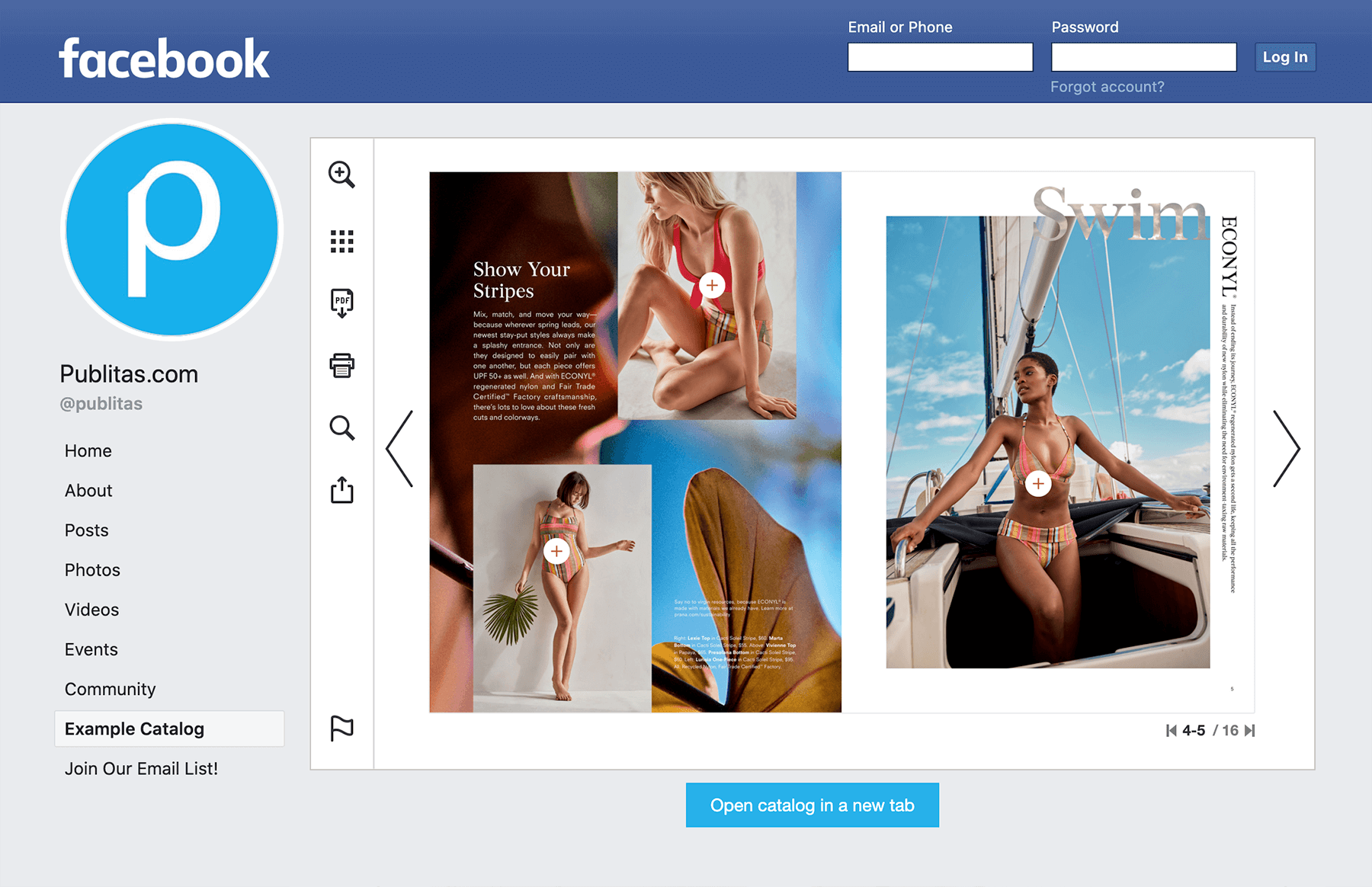 An example of a catalog embedded on Facebook.
Your online catalog can become a new channel and timeless discovery experience
While microsites are usually more short-lived, an online catalog can effectively become a new and longer-term channel for you to engage with your fans.
Here at Publitas, when we look at our customers' catalogs, they're often in the top five visited pages of the online store.
And as a fashion retailer, you can release catalogs on a seasonal basis, so your customers get into the habit of going through your latest digital offers, eagerly waiting for the next catalog to be released.
Eventually, your online catalog can become a default section on your eCommerce store. You can turn the catalog into a channel with long-term growth and value—where your audience goes to see your latest clothing lines or be taken to if they've subscribed.
Guide shoppers from discovery to purchase with a Publitas online catalog
Ultimately, an online catalog will allow you to inspire your target audience and sell more by engaging them with curated content experiences and stories, where they can easily buy the look from the model wearing your clothing line on their screens.
At Publitas, we've done everything possible to create the perfect experience that supplements your online store and warms your leads up for purchase—creating the perfect channel to showcase your unique style and drive conversion.
Shoppers who arrive at your online catalog won't even have to think. You can take them by their hands to show them what you've got on offer, and in just a single click or swipe, your visitors will effortlessly be able to learn about your brand.
We've got all the tools available to help you build a discovery experience that's shoppable, dynamic, personalized, and available anywhere & anytime. No need to hassle with code or waste time on the technical aspect. Just get straight into good discovery and inspiration marketing for your audience.
Interested? Contact us, or sign up for our free 14-day trial here.