Around eight years ago, when we wrote this post, being mobile-friendly was something most people were aware of but didn't always prioritize.
Back then, you could easily get away with a digital catalog that shrinks down to a smaller display of its content. Users had lower expectations from a mobile experience. Dragging their fingers apart on the screen to zoom in on your catalog's content was perfectly fine.
Since then, we've come a long way. Designers make websites to be mobile-first, and in the context of digital catalogs, mobile-optimization can be a great next step to improving your catalogs' online experience.
No matter how awesome your products are, inevitably, you'll lose sales if your digital catalog isn't mobile-optimized.
So, in this post, we outline why you need a mobile-optimized catalog and show some of the first steps to consider when optimizing your catalog for mobile.
What's a mobile-optimized digital catalog?
When we help our customers publish their catalogs online, most of them start out by simply uploading the PDF of their paper catalog on Publitas—a great first step.
However, it's easy to see that paper catalogs don't always translate well to smaller screens such as mobile. And, the catalogs' contents haven't been designed with online possibilities in mind.
That's where mobile optimization comes in; we want to deliver a great product discovery experience that makes full use of mobile devices and online technology.
In essence, a mobile-optimized digital catalog should be one which:
Loads quickly—and in less than 3 seconds;
Has a friendly user experience (e.g., enhanced readability & improved content for mobile);
Online-only, so it can make full use of online technology (e.g., videos, animations, stock-check, shopping basket, etc.);
Succinctly communicates your marketing message and resonates with your visitors so that they convert.
But what does all of this mean in practice for your visitors and ultimately your customers?
Mobile-optimized catalogs make the discovery and shopping experience easy
When it comes to online shopping, anything that removes friction has a significant impact on visit duration and conversion.
Compare the image on the left with the image on the right, for example.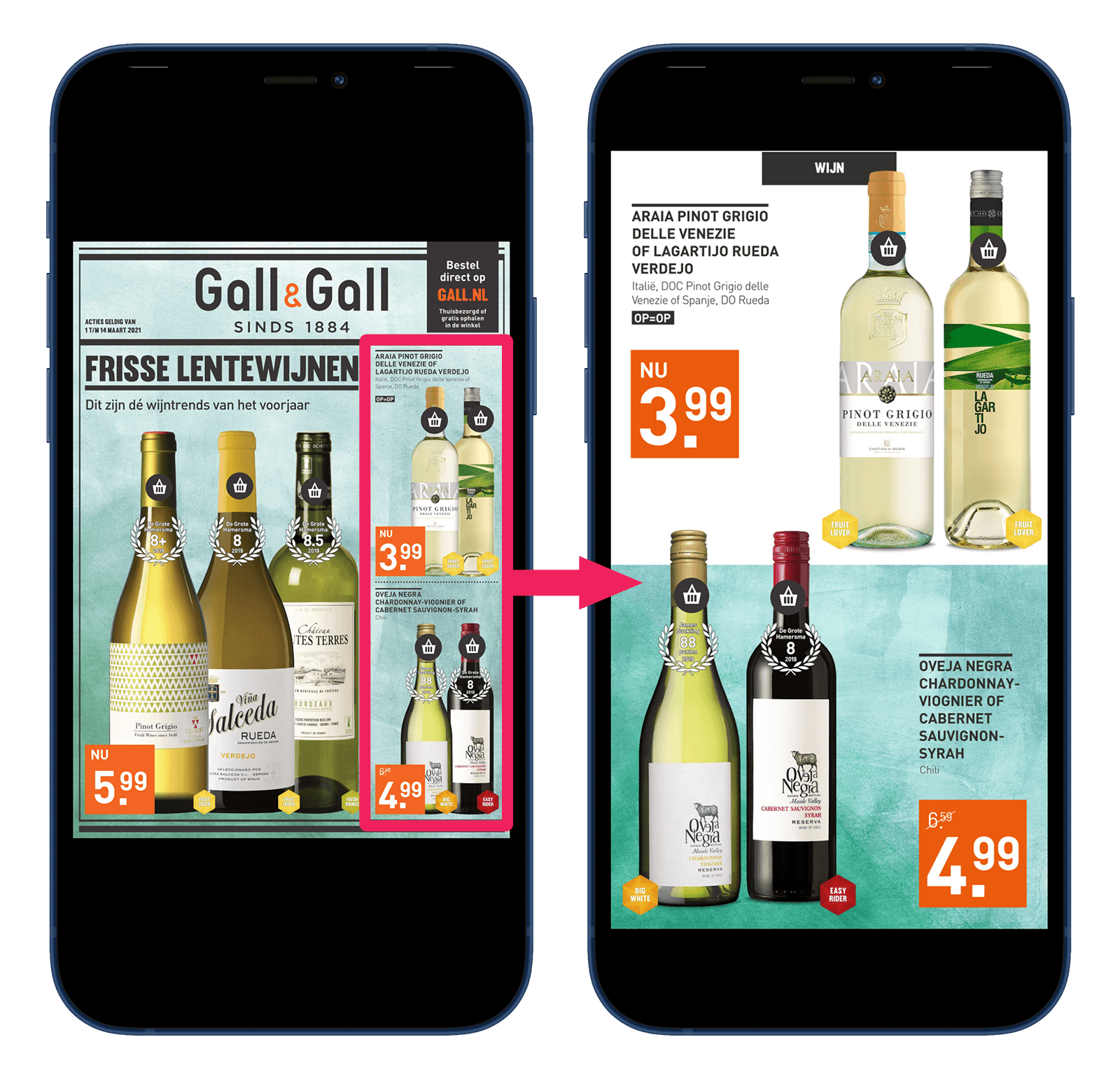 Left: Original PDF. Right: Mobile-optimized.
There are a few simple differences that help to improve the mobile experience:
Split-up content over multiple pages;
Less content per page allows for bigger images and copy;
Adding the split white & green background makes the page more interesting for mobile.
On top of that, with a mobile-optimized digital catalog, the path to purchase is streamlined and cuts out the extra, inconvenient steps that could limit your catalog's potential conversion rate.
Product overlay with the possibility to purchase in a mobile-optimized catalog.
Where does Publitas fit in this picture?
You may have created your own digital catalogs, or you're using a tool to do so. Or perhaps you're already one of our customers but haven't yet started a mobile-optimization project.
In any case, it can be challenging to optimize your catalogs for mobile devices.
So, we can help you make the first steps and look at mobile optimization in two phases:
Hybrid publications
Dynamic publications
1. Hybrid publications
The in-between step. With a hybrid publication, we'll help you design a separate PDF specifically for your mobile experience.
There is no need to go all-out immediately. Instead, you can use familiar DTP processes, but through design improvements deliver a more optimized mobile experience. Here's our advice:
Design a grid specifically for mobile devices;
Focus on content, and less on graphic embellishment;
Improve readability and make it easy to scan the pages;
Reduce content per page;
Avoid small copy;
Create space for online embedded content (videos, image slides, GIFs, etc.);
Provide extra information and a seamless shopping journey through product overlays.
2. Dynamic publications
With Publitas' dynamic catalogs, we take care of many problems out-of-the-box. This is where you step away from using your printed catalog and instead design your catalog entirely online.
Generate your catalog grid from your product feed;
Use filters to create categories and sections in your catalog;
Add custom content and multimedia to your catalog with our editor;
Keep your catalog up-to-date and in-sync with your online store;
Offer personalized promotions to your customers.

You, too, can create mobile-optimized catalogs. Want to know more? Contact us, or sign up for our free 14-day trial here and upload your PDF to see the results for yourself.