Do you love your customers because they pay you money or because you want to serve them? As Seth Godin pointed out earlier this week, these are two completely different answers to the same question, and they offer some food for thought. In an era where marketing is becoming increasingly more expensive and organizations are judged by their focus on service, how effectively are retailers using the available channels to care for their customers? In this post, we'll be looking at how retailers with omnichannel strategies compare to those without, and what you can do to improve your customer service across multiple channels.
Customer service is more important than ever.
"Rather than viewing customer service as a cost centre, it is more helpful to see it as a means of keeping your customers coming back for more, and also of bringing in new business," says Richard Branson in one of his blog posts. "In most sectors, it is the key factor that will set a company apart from its competitors."
He's not the only one who considers excellence in customer service as an important part of the business, though. According to the Quarterly Digital Intelligence Briefing: 2014 Digital Trends by Econsultancy and Adobe, a fifth (20%) of marketers say that customer experience is the single most exciting opportunity for 2014, ahead of mobile (18%) and content marketing (15%).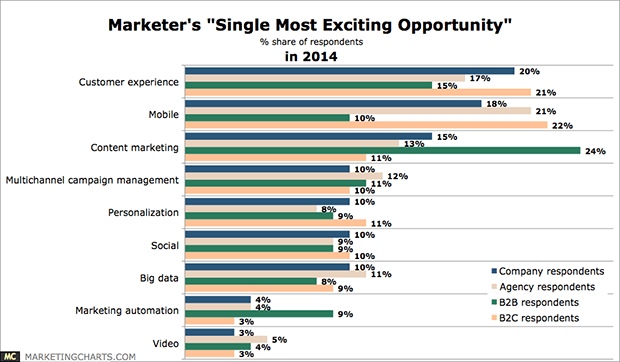 Graph 1 – Marketer's single most exciting opportunity in 2014 (source)
What is 'omnichannel retailing' and why does it matter?
The term omnichannel retailing describes "a seamless approach to the consumer experience through all available shopping channels." These channels include mobile devices, computers, bricks-and-mortar, television, radio, direct mail, (digital) catalogs—you get the point. A few omnichannel examples from retail include:
Online shopping in-store
An in-store experience online
An in-store ebook service
An in-store digital kiosk
A click and collect service
According to a recent report by Aberdeen Group Inc., it pays to consistently engage customers across web, mobile, social media, and in-store. The study is based on a survey of 305 companies, and Aberdeen identified 20% of the respondents as "top responders", or those with omnichannel strategies. This is how their performance metrics compared to the other 80% of the respondents:
| | Companies with omnichannel strategy | Companies without omnichannel strategy |
| --- | --- | --- |
| Average customer retention rate | 89% | 33% |
| Average year-over-year increase in annual revenue | 9.5% | 3.4% |
| Average year-over-year decrease in cost per customer contact | 7.5% | 0.2% |
Table 1 – Performance metrics for companies with and without omnichannel customer care strategies
Based on these results, companies that excel in communicating with customers across multiple channels outperform companies without effective cross-channel customer care strategies.
Today we see that people are becoming more and more comfortable engaging with brands across a growing number of channels such as email, phone, in store, online chat, and social media. This explains why consumers want a seamless and consistent experience across all those channels when it comes to customer service. Unfortunately, not all retailers are doing equally well when it comes to omnichannel customer service, as most consumers agree that there's lots of room for improvement. According to The Omnichannel Customer Service Gap report by Zendesk and Loudhouse, and recent data by Sprout Social:
Only 7% are extremely satisfied with brands that provide a seamless, integrated, and consistent customer service experience across channels.
87% say brands must work harder to create a seamless experience for customers.
80% of customer inquiries on social media go unanswered.

Omnichannel Survey Infographic
(source)
Three things customers appreciate the most.
It turns out that customers consider three aspects of customer service more important than others, regardless of which channel(s) you are using.
Quick responses: Focus on improving your response times (i.e. the time it takes until you get back to a customer), as 89% of consumers hold response speeds in the highest regard for customer service.
Speedy resolutions: This is also a top priority for consumers, as 89% considers it an important part of their experience.
Friendly representatives: Speed of response and resolution are followed by friendliness of the company's representative, as 82% of consumers say that this plays a key role in their customer service experience.
"Make dedication to service part of the corporate culture."
While these three areas are important criteria used by consumers to evaluate their experience with your business, working to improve these metrics alone won't be enough to stand out from the crowd and make a difference. Doing this requires a massive effort on each front from the entire organization. As Richard Branson said, "you need to make dedication to service part of the corporate culture." In everything your business does, look for ways to improve the customer experience. Read as many complaint letters as you can. Take action. Be proactive. Give your staff the freedom to come up with new ways to improve the customer experience, and reward them frequently.
I'd like to end this post with an excerpt from one of Mark Cuban's posts, the owner of the Dallas Mavericks and an investor on the TV series Shark Tank, which I found particularly inspiring:
"[T]he Mavs are a business. I want to make a profit. But unlike every other business, making the most money possible is not a driving motivation…
[I want] to make sure that every Mavs game is about far more than basketball. I want to make sure that every time any fan walks into the American Airlines Center, they know that they will feel special. They will have a special experience. They will have an emotional connection. They will feel an energy and excitement they can not get anywhere else. They will be able to see a look of joy in their family members. They will know that we respect the financial, emotional, and time investment they have made in our Mavs. In a year's time, they won't remember the score or even a single play from the game, but they will remember who they were with and how they felt during the game.
It is a special trust that is incumbent on me and all Mavs employees to live up to. It is expensive to deliver on this goal. But it is worth every penny. No matter what it costs."