(You can read the Dutch version here)
As the festive season of Sinterklaas approaches, excitement and joy are growing daily, and retailers are planning their strategies. Sinterklaas is a traditional Dutch and Belgian festival celebrated on December 5th, honoring Saint Nicholas, the patron saint of children. It involves giving gifts and sweets, often with surprises hidden inside. The figure of Sinterklaas is distinguished by his red bishop's attire, miter, and white beard.
In this digital era, the traditional ways of selecting and buying presents have evolved, offering us innovative and convenient options. Digital catalogs, an emerging trend in the world of eCommerce, have become a game-changer for holiday shopping.
This blog delves into five inspiring examples of how implementing a Sinterklaas Digital Catalog can enhance your seasonal retail strategy, making your brand more memorable. From personalized gift selections to interactive shopping experiences, we will explore how the digital catalog format can add a touch of magic to your strategy. Let's explore the different options you could create in time for Sinterklaas. 
1. Club Brugge Sintboek
Club Brugge has masterfully transformed their Sinterklaas digital catalog into a unique promotional adventure tailored specifically for the festive season.
They've ingeniously incorporated interactive elements designed for children, enriching the catalog with more than just product listings. Parents are encouraged to download and print the PDF version, which offers an engaging twist: children can craft their own wishlists by cutting out their favorite products. Additionally, the catalog includes a creative coloring page, making it a delightful and interactive experience for the whole family. This innovative approach showcases Club Brugge's products, fosters family bonding, and ignites children's imagination during the joyous Sinterklaas celebrations.

What we love:
Enchanting Cover Design: The catalog features a beautifully crafted cover that effortlessly blends a sense of magic and wonder, further enhanced by a strategically positioned 20% off offer, capturing attention and sparking interest.
User-Friendly Product Layout: It boasts clean and well-organized product grids, making it easy for viewers to browse and select products, enhancing the overall shopping experience.
Realistic Product Displays: The catalog excels in showcasing products in real-life settings, providing inspiration and helping viewers envision how the items could enhance their own lives, whether worn or placed in their homes.
Engaging Activities for Kids: It uniquely bridges the gap between digital and physical realms by including interactive activities for children, such as wishlist creation and coloring pages, making the brand more memorable and engaging for the entire family.
2. Lidl Sinterklaas Digital Catalog
Lidl's Sinterklaas digital catalog is a testament to their commitment to variety and accessibility. Spanning an impressive 72 pages, the catalog encompasses a broad array of products, catering to diverse preferences during the festive season.
They have cleverly used search functionality and a scavenger hunt to ensure potential customers notice their products.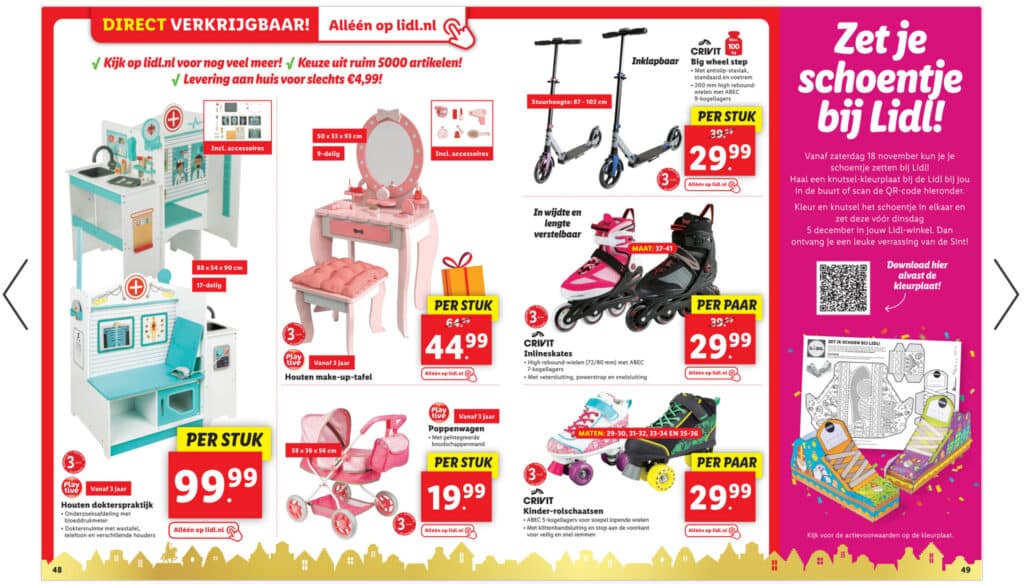 Lidl Sinterklaas Digital Catalog
What we love:
Engaging Scavenger Hunt: The catalog cleverly opens with a scavenger hunt, encouraging users to spot all the present images throughout the pages. The lure of winning cool toys adds excitement and ensures thorough engagement with every catalog page.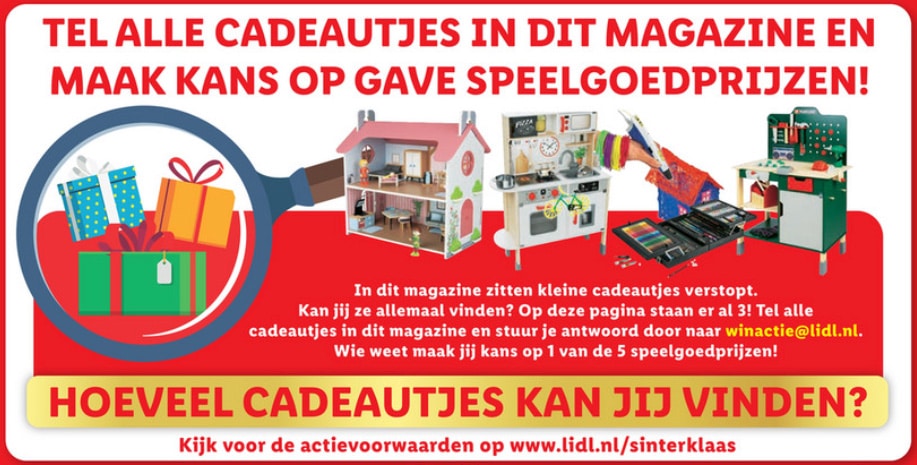 Traditional Activity with a Modern Twist: It features a QR code for a downloadable coloring activity that can be crafted into clogs, a significant symbol in Sinterklaas tradition. This creative addition enhances brand recall by intertwining traditional elements with interactive fun. Once you have colored it in, you can bring it to the brick-and-mortar store, and they'll give you a gift – this is a smart way to tie your digital presence to your store.
Prominent Promotional Pricing: Each product is marked with promotional prices directly linked to the Lidl website. This straightforward approach facilitates a hassle-free shopping experience, allowing customers to access more information or make purchases easily.
Comprehensive Toy Set Displays: The catalog efficiently showcases entire toy sets within its product grids. This presentation style allows for quick and easy visualization of what is included in each set, making it simple for customers to understand the value and contents of their potential purchases.
3. Spar Digital Catalog: Play the Sinterklaas Memory Game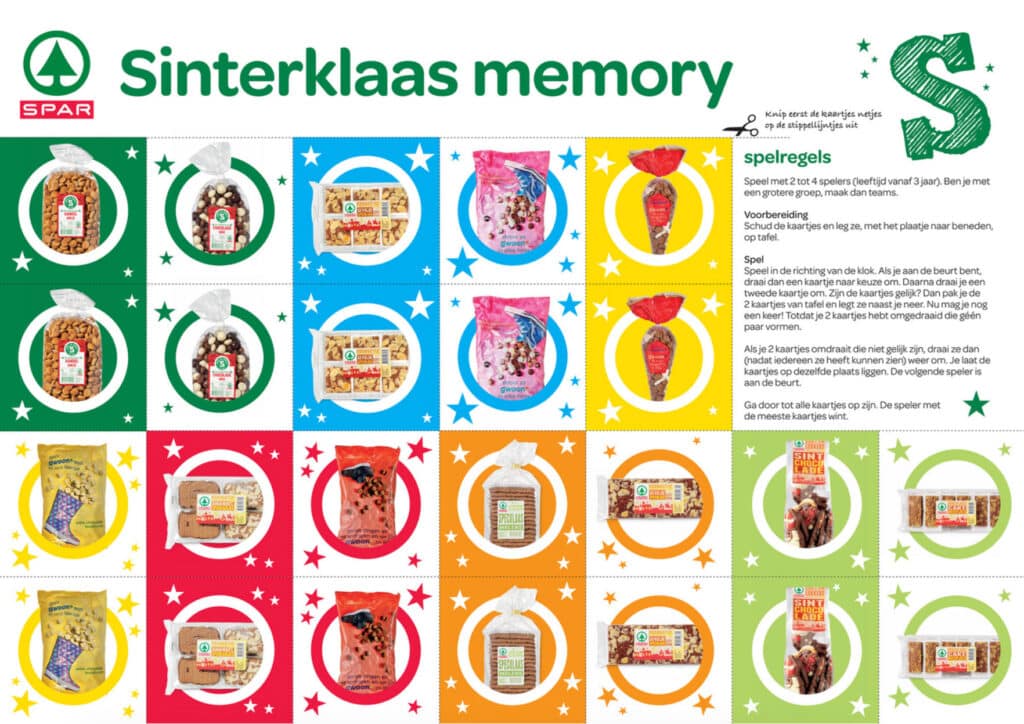 Downloadable Spar Memory Game for Sinterklaas
What we love:
Spar has ingeniously embraced the festive spirit of Sinterklaas by incorporating a unique interactive feature into their digital catalog.
Recognizing the opportunity to engage families during this joyous season, they have introduced a downloadable Sinterklaas Memory Game. The brilliance of this game lies in its design, where Spar's own range of typical Sinterklaas-related products are featured as memory cards. This creative approach not only adds an element of fun and engagement for the whole family but subtly showcases Spar's diverse product line.
As children and adults play the memory game, they become more familiar with the brand's offerings, creating a memorable shopping experience. This digital initiative is a testament to Spar's commitment to combining interactive entertainment with effective product promotion, enhancing brand connection and customer experience during the festive Sinterklaas period.
4. The Bax Music Sinterklaas Dice Game
Bax Music, a music store in the Netherlands, has cleverly crafted a festive twist to Sinterklaas celebrations with their downloadable dice game.
By infusing traditional gift-giving with the excitement of chance and play, they've created an experience that families and friends can enjoy together. Each roll of the dice promises a new surprise, from exchanging gifts to moving seats, ensuring laughter and joy. This ingenious game amplifies the holiday cheer and reinforces Bax's brand in the memories of those who partake in the fun. It's a delightful way to engage customers beyond the transaction, embedding the Bax name in the warmth of holiday traditions.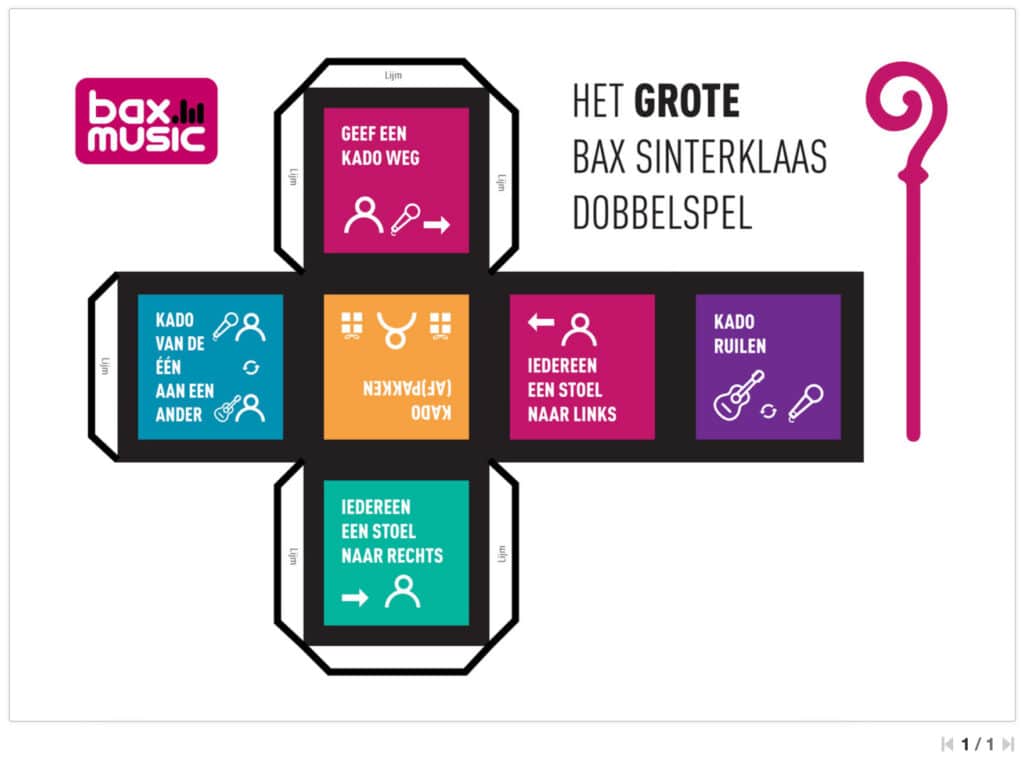 Bax Music Dice Game Digital Catalog
5. Sinterklaas Songs By Jingo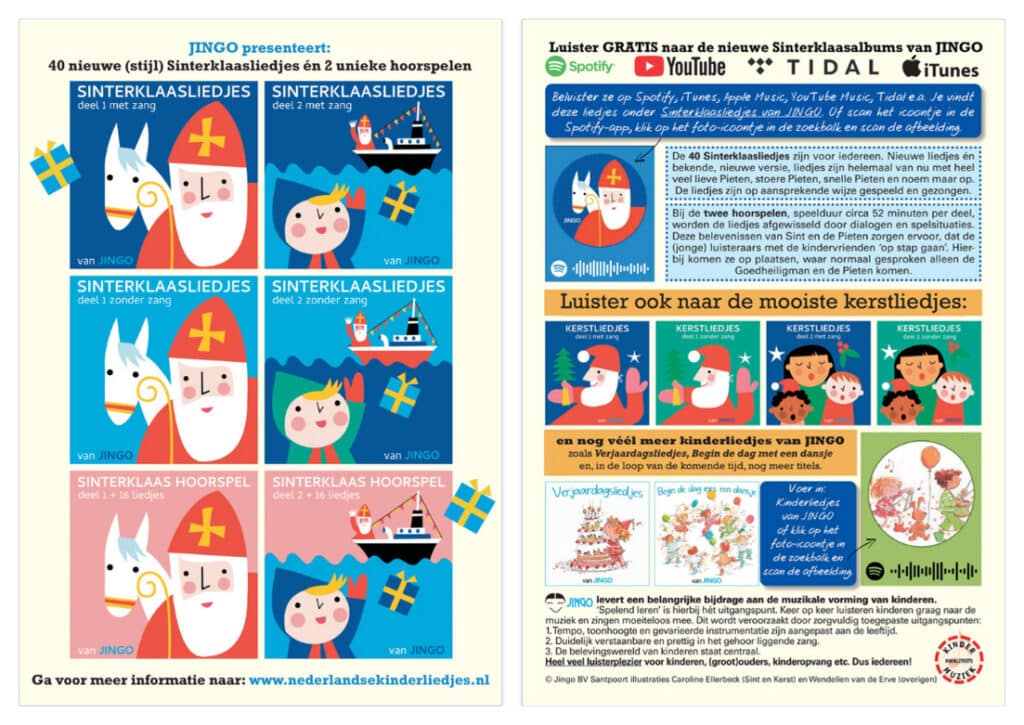 Jingo's Sinterklaas Digital Catalog
Why we love this Sinterklaas Digital Catalog idea:
Festive and Engaging Content: The catalog includes 40 cheerful Sinterklaas songs and two unique audio plays that perfectly capture the holiday spirit, offering a delightful mix of new and traditional tunes.
Interactive and Accessible: With the innovative use of QR codes and links, the content is readily accessible across popular streaming platforms like Spotify and YouTube, ensuring a seamless and interactive experience for the user.
Culturally Rich: The audio plays, which combine songs with storytelling, provide an immersive way for children to learn about and connect with the Sinterklaas tradition, enhancing their cultural understanding.
Value-Added Offering: Jingo adds exceptional value for customers by providing these festive songs for free, making the holiday season more accessible and enjoyable for everyone.
Broad Appeal: The design of the digital catalog is visually appealing to both kids and adults, with colorful illustrations and clear, attractive layouts that make navigation simple and enjoyable.
And that's a wrap on our round-up of inspiring Sinterklaas Digital Catalogs for this year. The best part about these is that you can reuse any of these ideas for other seasonal holidays, such as Black Friday, Diwali, Christmas, Valentine's Day, and more.
We love that Club Brugge, Lidl, Spar, and Bax Music have each tailored their digital offerings to showcase their products and foster a deeper connection with their customers through interactive games, educational activities, and festive content.
These catalogs don't just represent a modern way to celebrate an age-old tradition; they are a testament to the ingenuity of retailers in enriching the holiday spirit. Wishing everyone a Happy Sinterklaas!
If you'd like to use Digital Catalogs in your retail strategy and try one of the inspirational ideas above, sign up for a free trial.