Turning Readers: One of the most defining features of Publitas is that people can shop directly from your publications. It is an improvement of its analog equivalent: your users no longer have to remember (or tear out) a relevant offer from your weekly ads. They can just put it in their basket and checkout after they have finished browsing.
We thought this would be a good time to run through a few scenarios with the e-commerce options we have, because we get a fair amount of questions about it.
Scenario 1: You Don't Have a Webshop (Yet)
Maybe you like things simple and don't have a webshop on your website. We still see this from time to time with small shop owners or people who sell one or two products from a magazine.
If you fall inside this category, we have you covered on two areas. First, our e-commerce tool allows your users to add products from your publication to their shopping cart. Secondly, once they're done adding products and decide to place the order, we feed all the data from their basket to a specified URL. From here you can use a real checkout process with a credit card or people can send you an email so you can handle the ordering manually.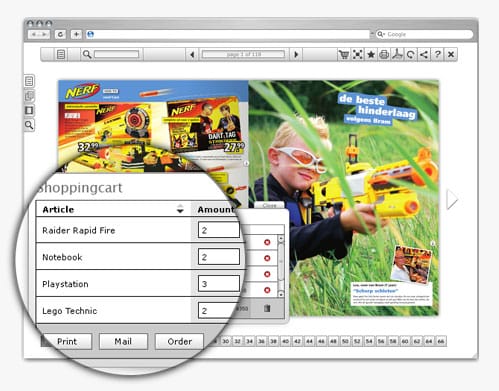 Standalone webshop inside a Publitas.com publication
Scenario 2: You Have a Webshop and Just Want to Link Your Products
If you already have a full-fledged webshop, you can just link your digital publications' products to the products in your webshop. Your users will open the product page in your webshop in another window, from where it is easy to buy the product. Your publication will then stay put for your users to return to.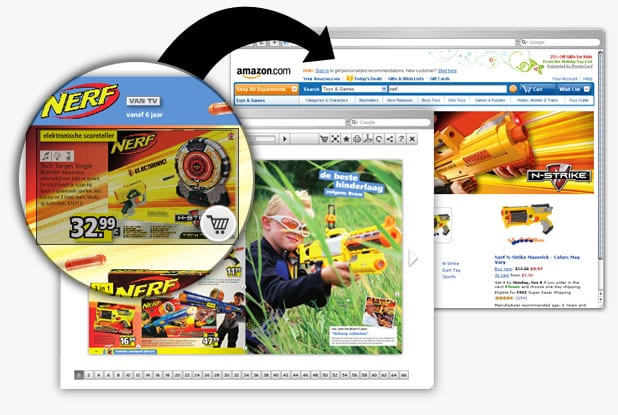 Linked webshop inside a Publitas.com publication
A slight drawback of this method is that you lose your users' focus on your publication. The next scenario deals with a more advanced way to integrate e-commerce options in your publication.
Scenario 3: You Want Two Shops and One Basket
If you want to integrate your webshop and digital publications more tightly, you can use the complete e-commerce module. This syncs the shopping basket from your shop with a shopping basket inside your publications. This way, users don't have to lose focus and are taken to your checkout page after they are done browsing.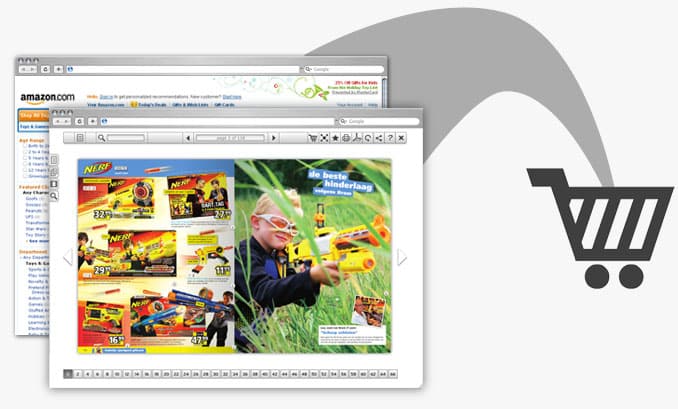 The e-commerce module inside a Publitas.com publication (two shops, one basket)
Scenario 4: You Just Want to Give People the Option to Remember Stuff
Even if you don't want a webshop option at all, our e-commerce options can be helpful for letting your users remember things. Just like clipping a page from a paper catalog, our wishlist option lets your users create a collection of interesting products. When they are done, they can email, share, or print the wishlist.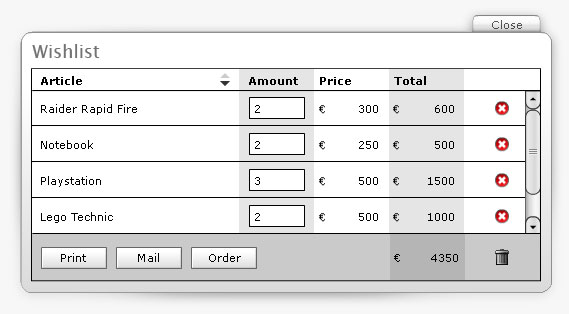 The wishlist inside a Publitas.com publication
More about Turning Readers Into Buyers

We hope these scenarios can help you! Please reach out if you want to know more, we're always happy to help.