Shoppable Content: In industries such as fashion, where visuals, displays, and looks are paramount to inspiring shoppers, a big challenge for online retailers is narrowing the gap between engagement, purchase intent, and selling their products.
In practice, that might be going from the content source (an image, video, or social media post) to adding a product to cart, before paying for it and completing the transaction.
With more online content than ever, brands have looked at how they can make that experience as seamless and convenient as possible.
So, what's a great way to make your online shopping experience convenient? By making your content shoppable.
But what does shoppable content mean? And how does it work in practice?
In this post, we answer those questions while showing you beautiful examples of shoppable content in action, and how brands leverage it to drive conversions and sales.
What is shoppable content?
If you've ever shopped for clothes online and clicked on each of the different items the model was wearing — to add them to cart, or find out more details — that would be an example of shoppable content.
Perhaps you were looking at a coat and liked the trousers the model had on, and you wanted to see them in other colors, before adding your chosen product to cart.
Or, you were browsing through your favorite fashion label's latest trends on Instagram and bought something from their product catalog.
Shoppable content is now everywhere, and it's not just used in the fashion industry. It could be used in homeware, cosmetics, or electronics industries for example.
Consumers' insatiable hunger for inspirational content, and desire to be able to scroll, tap and buy almost anything they see, with minimal effort, is what's driving brands towards making their content shoppable.
A google search for "shoppable content definition" will return you many articles, each with similar definitions of what shoppable content is.
Hubspot defines it as:
"Shoppable content is a form of visual commerce in which marketers use compelling imagery (often formulated in a storytelling format) with actionable purchase points or product recommendations, streamlining the conversion path from browsing to purchase." — Hubspot
While the above definition, as you might expect, is a good one — it was written almost 4 years ago — and a lot has changed since then.
Now, it's not just images on a website that can be shoppable. Videos can be too. So can blog posts or articles — all of which have paved the way for shareable and multi-channel content marketing strategies.
Not only that, but the covid19 pandemic and pressure on businesses to achieve greater levels of sustainability has brought about the need for print catalogs to become digital — facilitating the creation of an entirely new online channel for brands to market on.
Prana's online catalog is a perfect example of compelling, shoppable stories about their sustainable fashion brand that are superimposed onto stunning imagery and displays of some of the most desirable locations on the planet.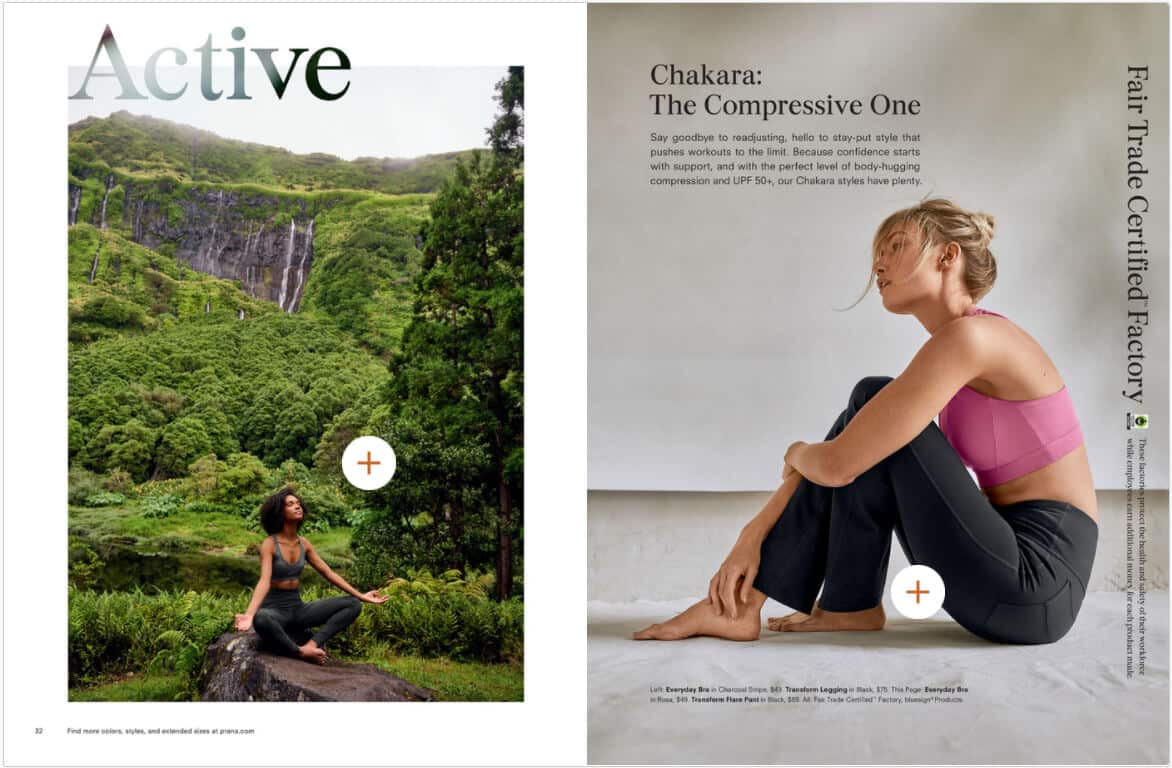 Browsers can click on the crosses to be directed to the product pages of what the models are wearing.
Social media posts are now more shoppable than ever — providing brands in some industries with arguably the most powerful marketing strategy while allowing their fans to buy their products directly from the content.
Shoppable content can also be any branded or user-generated content (on Pinterest, for example) with product tags for shoppers to be able to make purchases, or easily discover more about the item.
In January 2021, Pinterest had 459 million global active users, and brands have been using it to mark up and "pin" their products for visitors to be able to shop the content.
At the heart of a shoppable content experience are emotion, convenience, and value. Online shoppers can click, or tap a product in a video, lookbook, or digital catalog — all within the same browsing experience.
Making it easy for browsers to engage with content, discover more products, or buy an item instantly — increases the chance of conversion while adding value to the online shopping experience for the customer.
Why is shoppable content valuable?
Shoppable content provides a win-win opportunity for both brands and the shopper. Essentially, the shopper has far more opportunities to get inspired and have a much more convenient online shopping experience, which brands benefit from by increased conversions and sales.
This means the number of steps the shopper needs to make before being able to make a purchase, or get more product details, is reduced, while being immersed in a much more valuable online shopping experience.
Additionally, for brands, shoppable content can super-charge their online marketing efforts by:
Employing all components of the marketing mix – when customers are looking at shoppable content, you have the opportunity to promote and show them your products all from within the same content experience.
Creating a seamless customer experience – fewer steps or pages required to make a purchase is a simplified and easier shopping experience that's closer to providing an immediate purchase option.
Optimizing campaigns more easily — online retailers can more effectively use data and analytics to measure click-throughs on their shoppable content, and better attribute conversions to specific actions within their content. This allows for easier optimization and the potential for higher ROIs on campaigns.

Common channels and mediums for shoppable content
Today, shoppable content can be found on social media, YouTube videos, blogs, digital catalogs, websites, and more.
Facebook shops
Facebook is still king of social media platforms when it comes to the number of active users. As of the second quarter of 2020, Facebook had over 2.7 billion active monthly users, rendering the potential audience reach to be almost limitless.
In May 2020, Facebook launched its own eCommerce platform — Facebook Shops, where businesses can list their products in their own Facebook or Instagram product catalog (managed through Facebook only), or post shoppable videos, stories, and product collections.
To make shopping convenient, shoppers on Facebook can visit a retailer's Facebook shop on both Instagram and Facebook, where in the US, browsers can purchase directly from the app.
Shoppable videos
Video content on social media or on YouTube has taken the internet by storm, and with advanced MarTech, it's possible for marketers to embed links to products from within videos themselves (and not just the description) — making it easier for the watcher to go from inspiration, or discovery, to purchase.
Shoppable articles and blog posts
Blog content that's information-rich is still the cornerstone of any online business, where retailers can reach their loyal subscribers with monthly or weekly blog updates sent straight to their inbox.
Blogs about products can include links within the content itself, or in product images and videos — where readers can shop directly from the content, or be taken to a product page.
Not only can businesses reach top-of-the-funnel shopper behavior with SEO or PPC, but emailing articles or blogs to customers allows brands to target their audience with the right content, and where they can shop directly from the email.
Shoppable online catalogs
There's no better way to showcase a brand's story than with an online catalog, where everything inside it — from images to videos — is shoppable.
Online catalogs like the ones we make here at Publitas provide an optimal content experience, where browsers are guided along their customer journey with branded content that takes them from discovery to purchase.
Instead of having to download and open up a PDF catalog before being able to click on a product link, where the user is then taken to another browsing window — shoppers can shop directly from the online digital catalog itself.
Shoppable content in action
Here are some examples of how different online retailers have used shoppable content to convert more users and sell more products.
Cuyana
Cuyana is a women's luxury fashion label from the US, which the likes of Meghan Markle have been spotted wearing. Each piece of designer wear is unique and made by skilled craftsmen around the world.
The brand's slogan, "fewer better things", pays tribute to the company's philosophy of loving and valuing the items in your wardrobe more, rather than having too many garments or accessories that you don't value.
Cuyana's shoppable content employs an array of stunning visuals on its Instagram profile page, and its own shoppable online catalog, to emulate its brand values and story.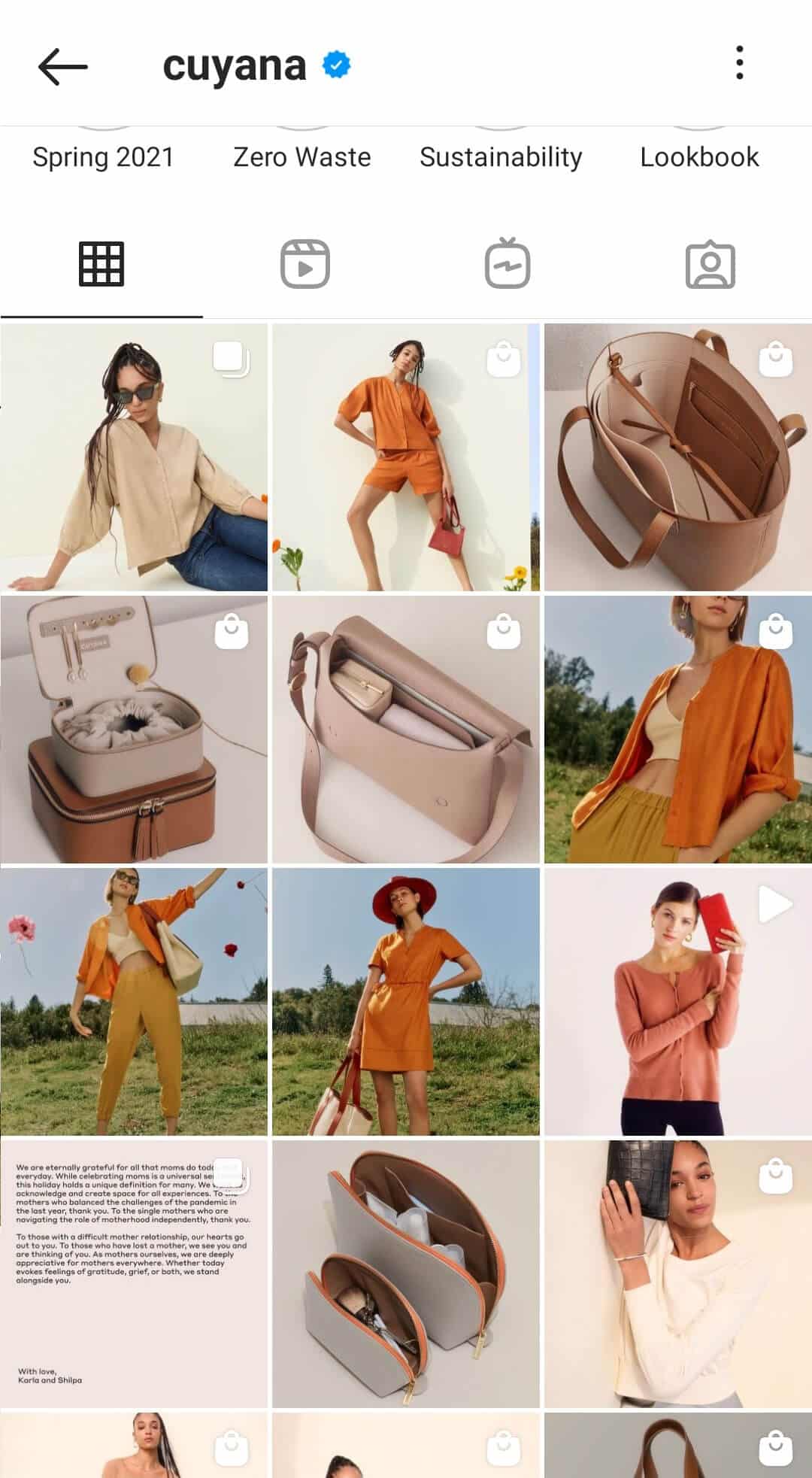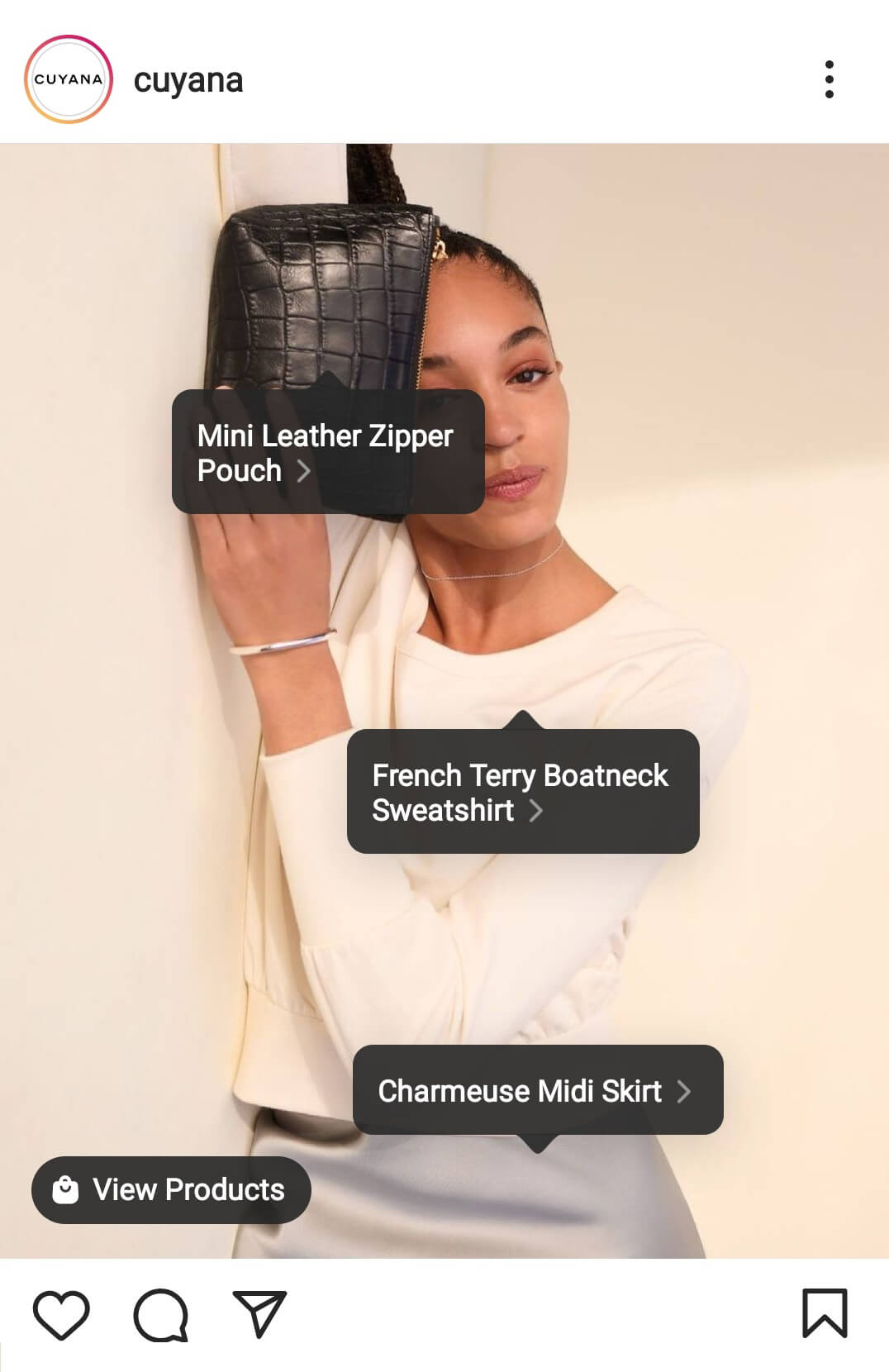 Cuyana's shoppable Instagram profile and a model tagged with product action points.
ASOS
ASOS plc, a British online fashion and cosmetic retailer, leveraged Hashtags and user-generated content (UGC) on social media to launch a shoppable photo campaign called "AsSeenOnMe".
The #AsSeenOnMe campaign encouraged customers of ASOS to upload pictures of themselves wearing the products they'd bought from the online store to social media.
ASOS then displayed this UGC on their website, where browsers could "Shop the Look", and buy the products the customers were wearing directly from the photos.
Boohoo
Boohoo, another leading online fashion retailer from the UK, which specializes in its own branded clothing lines, markets its label to 16-30 year olds.
A lot of Boohoo's success, in part, is because of the brand's marketing genius and online prowess; it uses shoppable social media posts to power its sales and conversions. Boohoo also has its own online fashion magazine — "The Fix" — featuring articles such as "What to wear to prom 2021" and "What to wear to a wedding in 2021", with links to the products featured in the articles.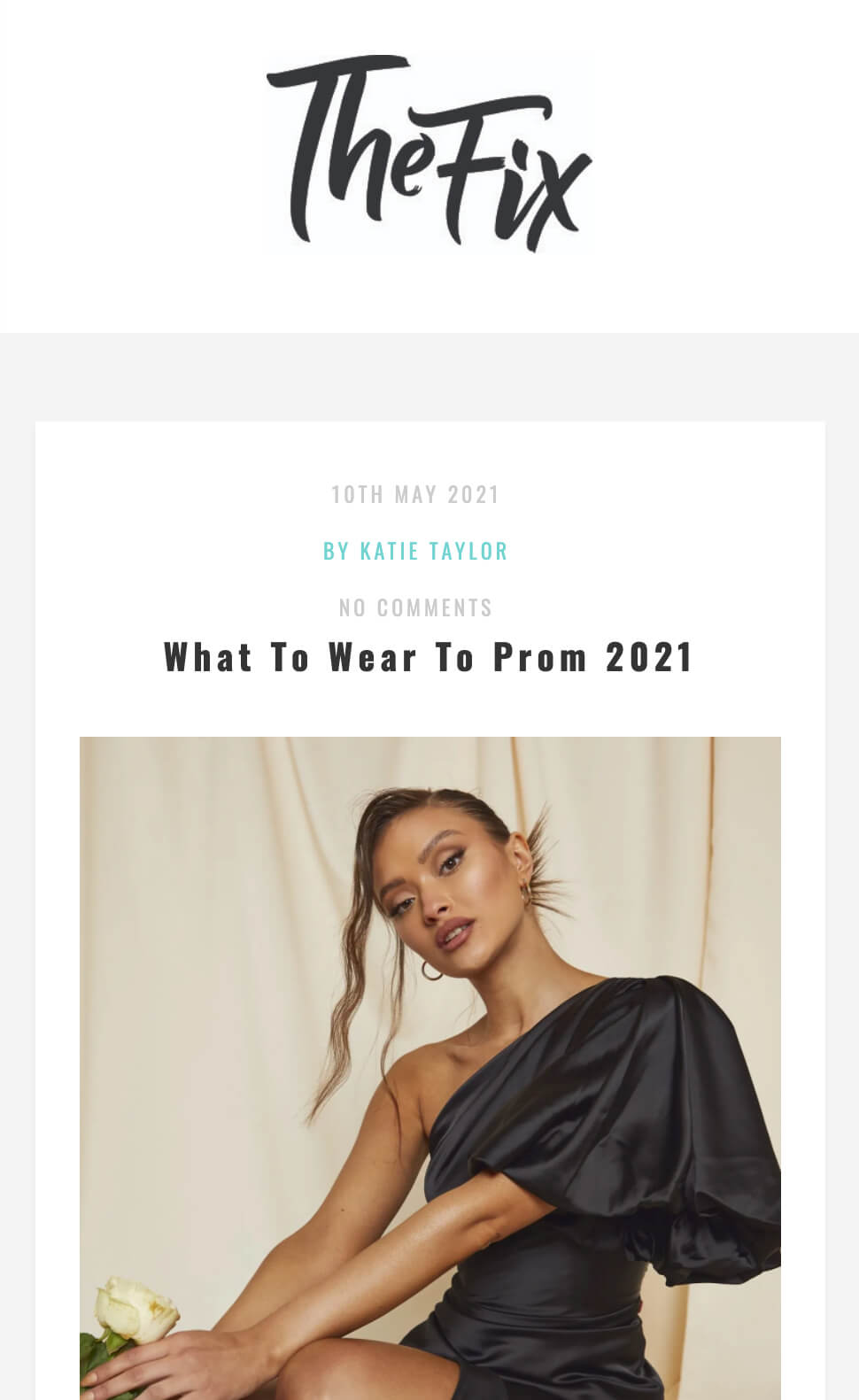 Boohoo's fashion magazine featuring articles that resonate with their target audience and include shoppable product links.
Boohoo's Instagram profile has over 7.6 million followers, from which the brand tags influencers who model their clothing lines — and from where followers can shop the look.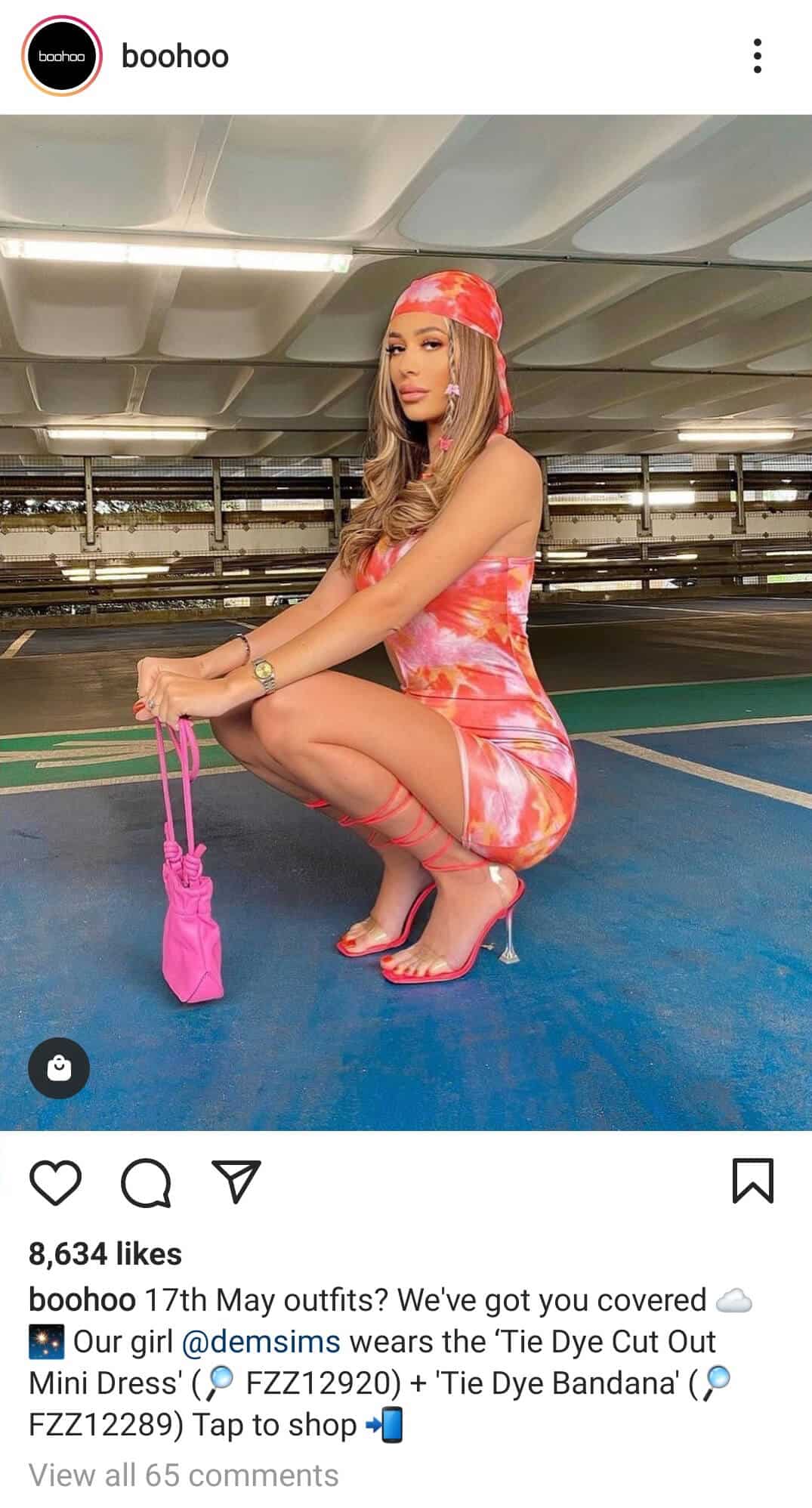 Boohoo's partner influencers with shoppable images and tags.
Habitat
Habitat, an online furniture and homeware store, shows its website visitors inspirational trends within a collection of home furniture looks on its inspiration page.
From "mid-century" to "luxe", and "Artisan" to "modern country", browsers can shop the look of each style, and click on product links from each look to be directed to the product pages.
Shoppable content is convenient and brings the shop to where your audience is
Shoppable content has revolutionized the way people shop online. Online marketplaces are ferociously competitive, and customers' patience and time are more limited than ever. They're frustrated if they can't click and buy instantly, so your content must be shoppable if you're to cater to their behavior and shopping habits.
Showing your customers, fans, or viewers content that isn't shoppable can only result in missed opportunities to add value to the customer experience and drive your conversions.
If you're interested in creating a shoppable content experience, contact us, or sign up for our free 14-day trial here.