Visual Storytelling: With the rise of social media and ecommerce, the retail market has become increasingly competitive. These days, shoppers can browse and purchase products from retailers at the other end of the world in just a few clicks, making it much harder to maintain a strong customer relationship. One way to secure customer loyalty in this environment, is through visual storytelling and the catalog is a great tool to help you do so.
Read on as we explain why and share some great examples of catalogs that tell a beautiful brand story.
Part of what makes us human, is the instinctual desire to express ourselves visually. Earliest examples of visual communication date back as far as 40800 B.C where our ancestors made hand stencils in caves by blowing pigment on their hand held to the wall.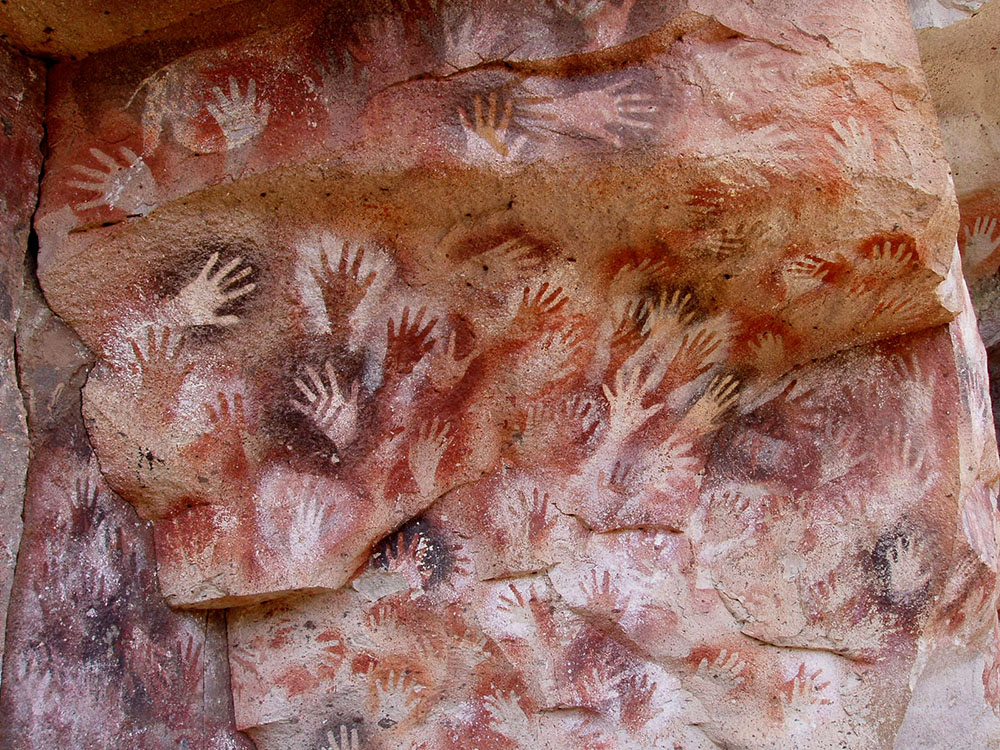 Hands at the Cuevas de las Manos upon Río Pinturas, near the town of Perito Moreno in Santa Cruz Province, Argentina. Picture taken by Mariano Cecowski.
More recently, brands like NASA, GoPro and Airbnb have all embraced the power of visual storytelling to win over their audience and Airbnb's recent product launch presentation is a phenomenal example of that. Here's how Brian Chesky, CEO of Airbnb starts out:
"I want you to think back to your earliest memories. Maybe the first trip you ever took. I remember the first big trip I ever took. … [It] was to Saint Louis. Now, to get from Niskayuna to Saint Louis you've got to fly. It was the first time I was in an airplane. It was totally magical."
Brian manages to capture the audience with a very authentic opening story—showing images from his childhood—before transitioning into the rest of the product presentation.
It's this shift towards visual storytelling that has also been responsible for the resurgence of brand catalogs in the last three years. Felix Carbullido, executive vice president and chief marketing officer for Williams-Sonoma said they are still committed to catalogs, but that their view of them has changed:
"Years ago it was a selling tool, and now it's become an inspirational source."
Furthermore, Bruce Cohen, a retail private equity strategist at Kurt Salmon stated that sometimes the only way to realize how important the catalog is, is to take it away. He mentions Lands' End as an example, who experienced a $100 million drop in sales after reducing the number of catalogs they sent to consumers. Later, they added a pop-up survey to their website and discovered that 75% of their converting customers first browsed their catalog.
Even online only retailers like Bonobos have adopted the brand catalog. Elizabeth Holmes, a reporter for the Wall Street Journal explained:
"It's a full brand expression. Even if you're just flipping through it, … you're suddenly understanding the brand in a different way. It's meant to inspire you and remind you that it's time to shop."
With this in mind, we looked through hundreds of catalogs recently published by our customers and took some of the best examples that use visual storytelling as a strategy to inspire shoppers.
Billabong
What we love:
Their tagline "a bikini kinda life", which refers to the beach, the summer and the surf lifestyle that their brand is about.
Thoughtful copy paired with beautiful images capture the emotions that go with their products. For example, the image on page 6—a woman taking a dive accompanied by copy that spells "the rest of the world becomes a distant memory".
While there is a heavy focus on beautiful images and inspiration, Billabong has made sure shoppers can easily buy products when they want to. Links in the catalog make it easy to transition from the catalog to the matching product in Billabong's online store.
Rivièra Maison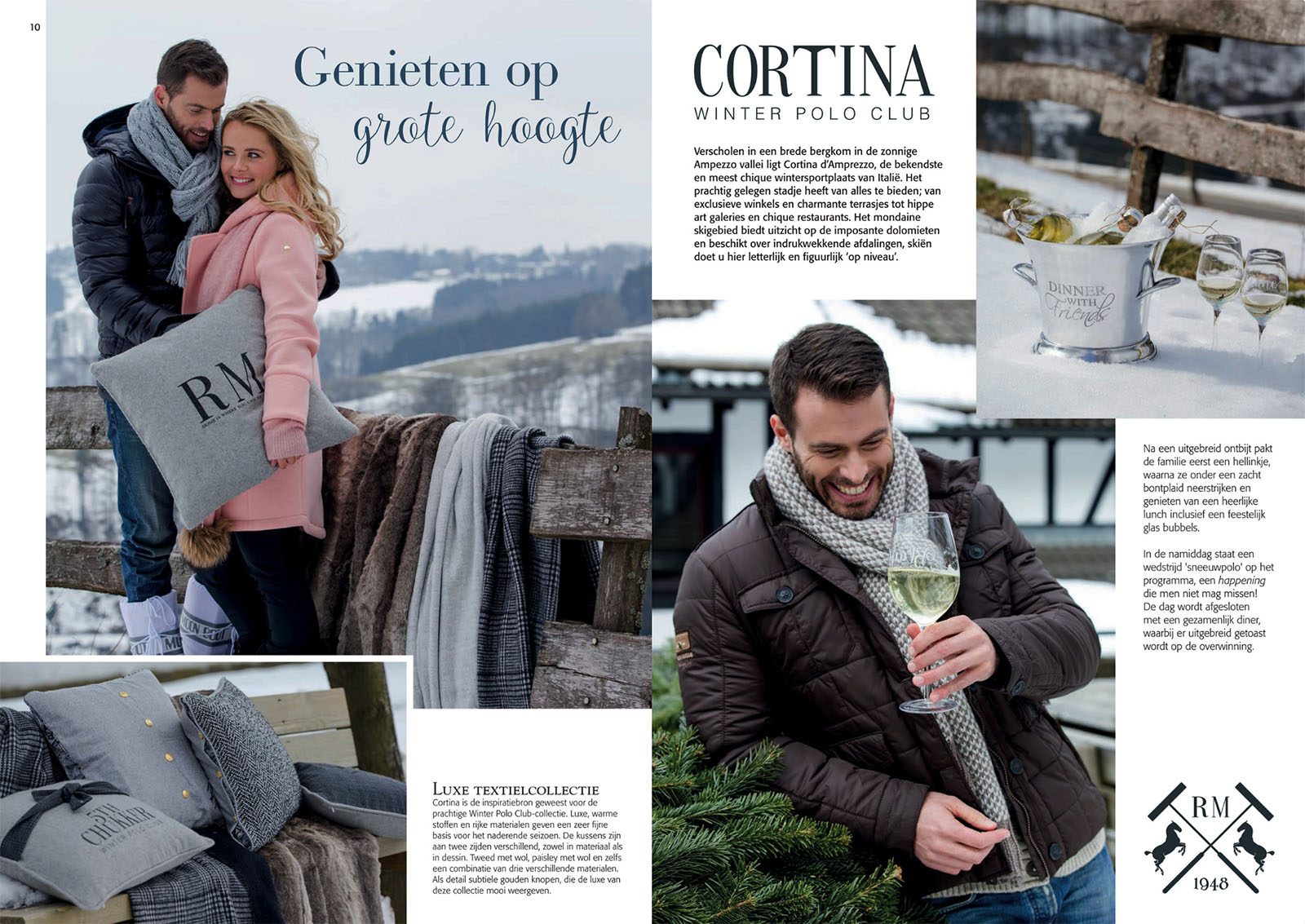 What we love:
The catalog is introduced by a personal letter from Henk Teunissen, founder of Rivièra Maison. With his letter he centralises their collection around family and being "happy together". A nice personal touch that can help to connect with shoppers.
Besides showcasing their collection, the catalog is full of content that can be valuable to shoppers during different stages of their shopping journey. A few examples that stand out are: a story on the art of glassblowing, Sandra's favorite recipes for the autumn months and a city guide of awesome places to visit nearby their own flagship store.
They've gone at great lengths to find places and homes where they can best showcase their products and they briefly explain their intention with the interior they designed. This further cements their brand story and can help to guide and inspire the shopper when they're looking to discover new products.
Bonobos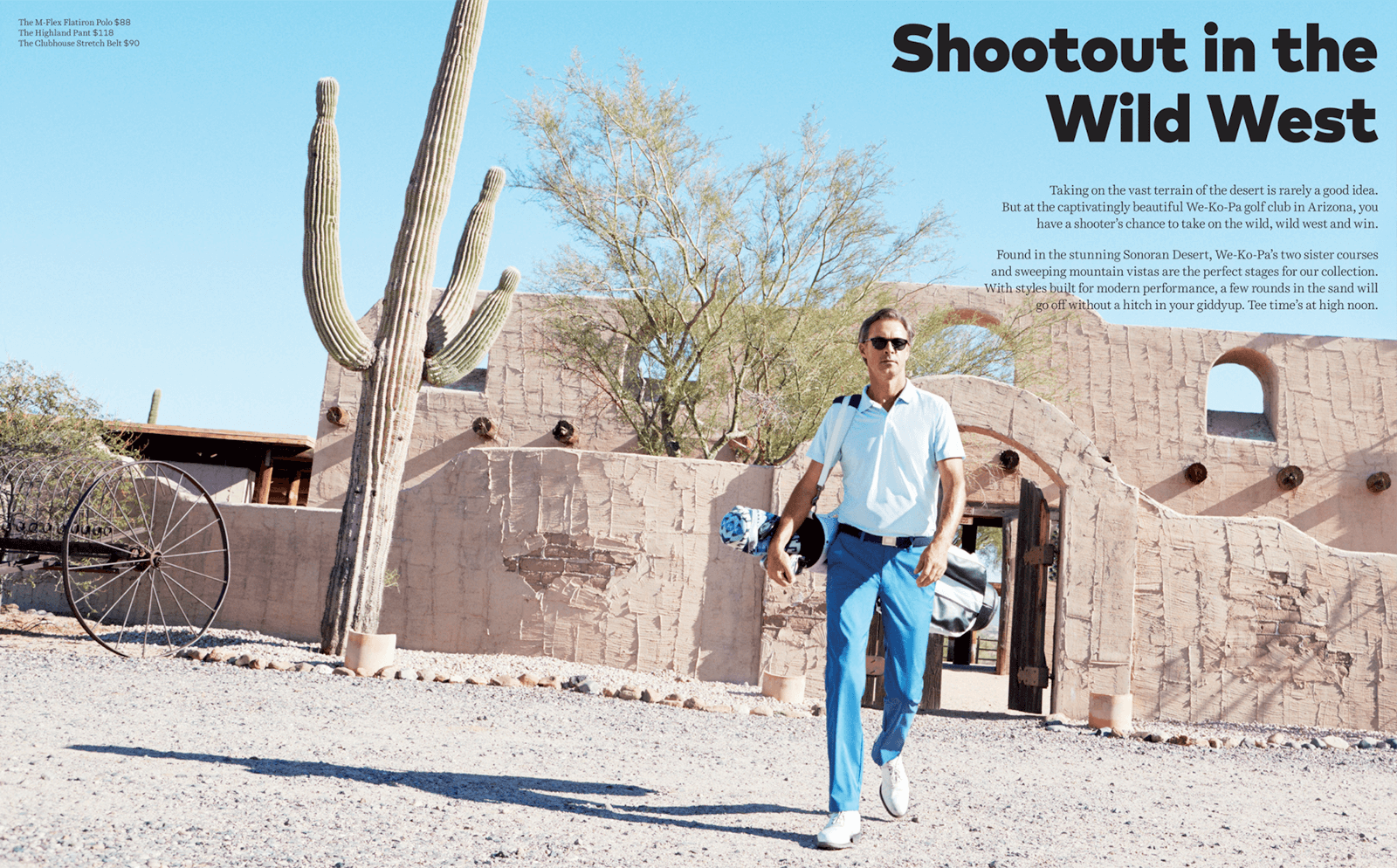 What we love:
A catalog dedicated to one style of clothing: Golf. Shoppers will have a much easier time to decide if they're on the right place or not.
Bonobos expresses the design philosophy of their golf clothing on page 2, linking it to the golf heritage. Throughout the catalog they're using the link between golf and their clothing to create clever copy that can put shoppers in the right state of mind.
By shooting the photos at an actual golf club—the We-Ko-Pa golf club in Arizona—and by making sure that many of the images display active golf swings, a context is created that could make it much easier for shoppers to imagine wearing those clothes.
Annie Selke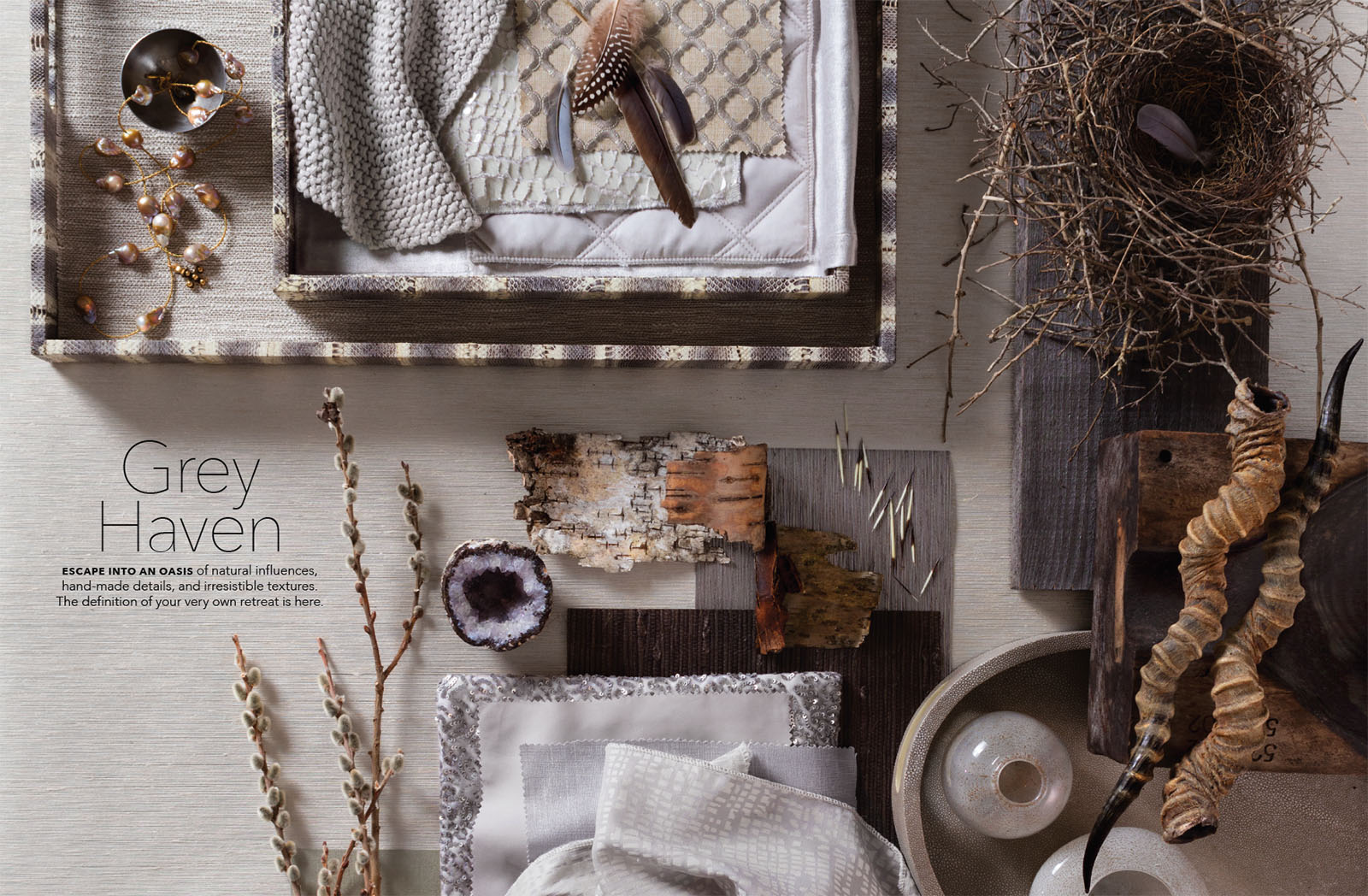 What we love:
In the introduction of their catalog, Annie Selke explains the philosophy behind their new collection: "[The] profound beauty of organic, natural elements that surround us."
Sections like "Grey Haven" or "Pink Differently" are introduced through beautiful photography and—in line with their core philosophy—are inspired by different natural influences, which gives shoppers a sense of structure while also providing a beautiful frame of reference.
Their catalog mostly contains beautiful images that serve to inspire, however, when clicking on a product in those images, further product details are presented in a product overlay. This way, shoppers can easily purchase the product when they are interested.
So iLL
What we love:
On the second page of their catalog, So iLL introduces the term "active wear" and they briefly explain what it means to them. This way, So iLL immediately establishes what you can expect from their catalog.
The combination of large product photos with simple descriptions as well as photos that show climbers in action, create context to get a better understanding of what their brand is about.
By mentioning their kickstarter and inviting shoppers to their flagship gym, they create a sense of community that might make a shopper feel more connected to their brand. The final words of their catalog "our lifestyle, our flagship gym, our environment" further enhance that feeling.
West Elm
What we love:
In the opening words of the catalog, West elm makes a bold claim about the new "vision of modern". This can help shoppers identify with their brand and puts their collection in perspective.
The design of their catalog is styled to match their "vision of modern" and combined with their photography this greatly helps to convey their brand message.
On many of the pages, they've added an explanation for their interior design choices instead of focusing on product descriptions. They've also included notes from their creative director Johanna Uurasjarvi, to further communicate their story. This makes the catalog more authentic and helps to further connect with shoppers.
Bever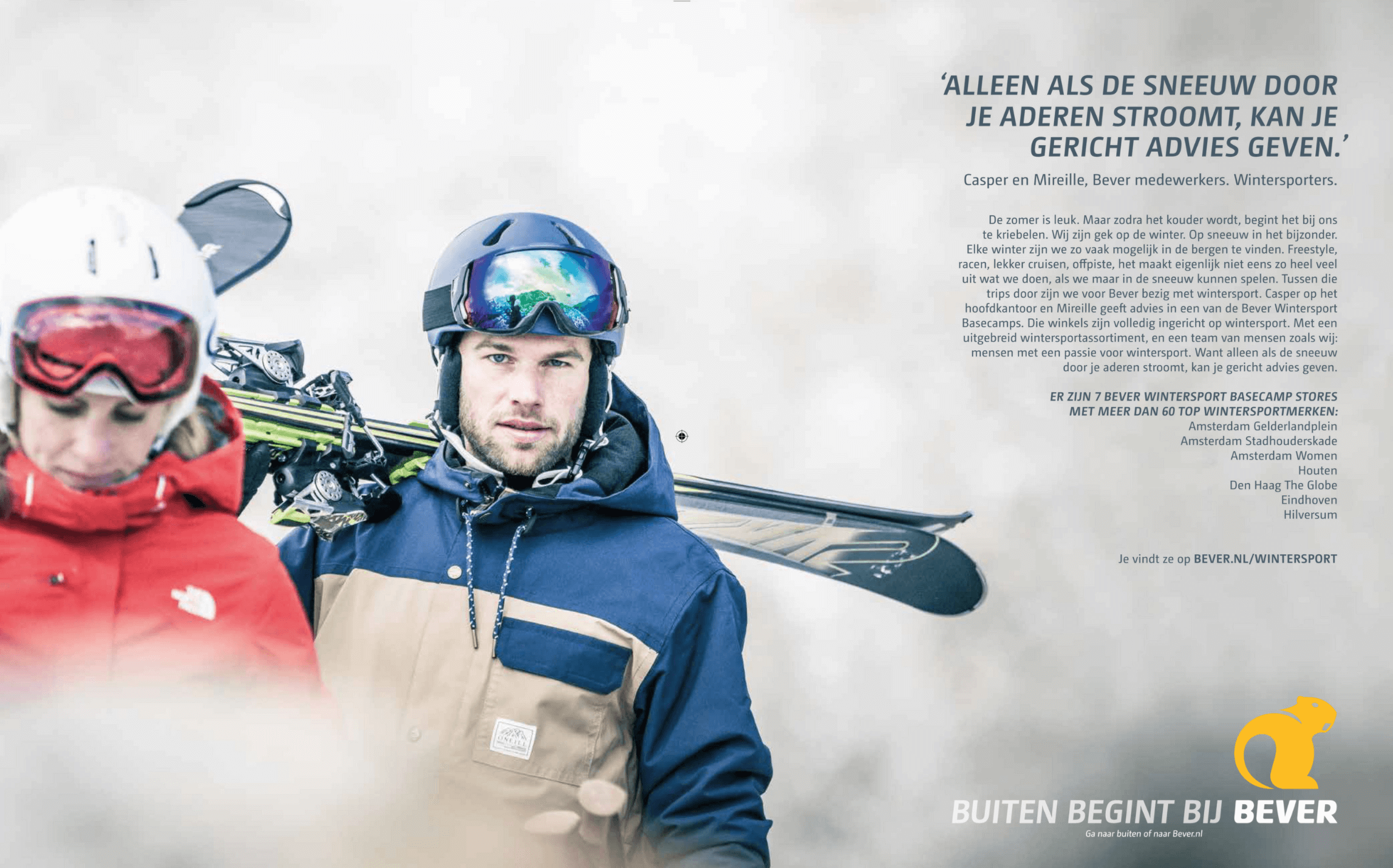 What we love:
An introduction by Bever employees who are truly passionate about winter sports. Adding this personal and authentic touch can help to create a connection with their audience.
The main focus is on stories and adventures of people that journey into the wild, accompanied by beautiful images. They're selling the experience of "icecold challenges", which creates the context wherein their products add value.
Many of the products in their catalog are introduced through guides, user reviews or other useful content. For example a guide on how to choose the right skis can help a customer in doubt to make the right choice.
We hope this handful of examples has shown how a catalog can focus on telling a brand's story to entice, inspire and connect to an audience, building a stronger relationship that ultimately leads to an increase in sales.
Final Thought about Visual Storytelling
For further understanding of using your catalogs online, feel free to have a look at these two posts: