Holiday Inspiration: The holiday season is here! During these two months, your holiday sales can account for as much as 20-40% of your annual sales. Having said that, it's easy to understand why making your brand stand out during this season will significantly affect your bottom line. One way to do so is by using a gift guide or Christmas catalog to inspire gift-seeking shoppers and help them decide on the right gift(s) to purchase. We've collected some of the best gift guides and Christmas catalogs we've seen published with Publitas so far and shared them in this post for your inspiration.
1. Williams-Sonoma: Holiday 2016 Great Gifts
What we love:
Beautiful design and the prevalent use of red capture the holiday spirit. This can help to set the right mood for gift shopping.
Great selection of products in various price ranges, making sure that most shoppers can find a suitable gift within their budget.
Gifts are relevant to the Christmas celebration, while also useful throughout the year.
Assorted products for different audiences and purposes, such as "for kids", "top-rated kitchen gifts" or "gifts that bring the party alive". These sections help guide the shopper.
The products are shoppable from the gift guide, allowing a gift-seeking shopper to easily transition from inspiration to purchase.
2. Merry & Brighton Holiday 2016 Gift Guide
What we love:
Light-hearted design that feels fresh while still true to the holiday feeling.
A small introduction to the gift guide on page 2 helps set the intention and leads the shopper into the rest of the guide.
Divided in sections that help the shopper make a choice, for example: "gifts for faithful friends" or "give colorfully".
Sections for gifts under $30 and $50 to appeal to shoppers on a budget.
Beautiful assemblages of products are clickable as a whole, and each product is then highlighted separately in the product overview. This way they keep the catalog clean while still providing details after a clickthrough.
3. Rituals: Winter Magazine 2016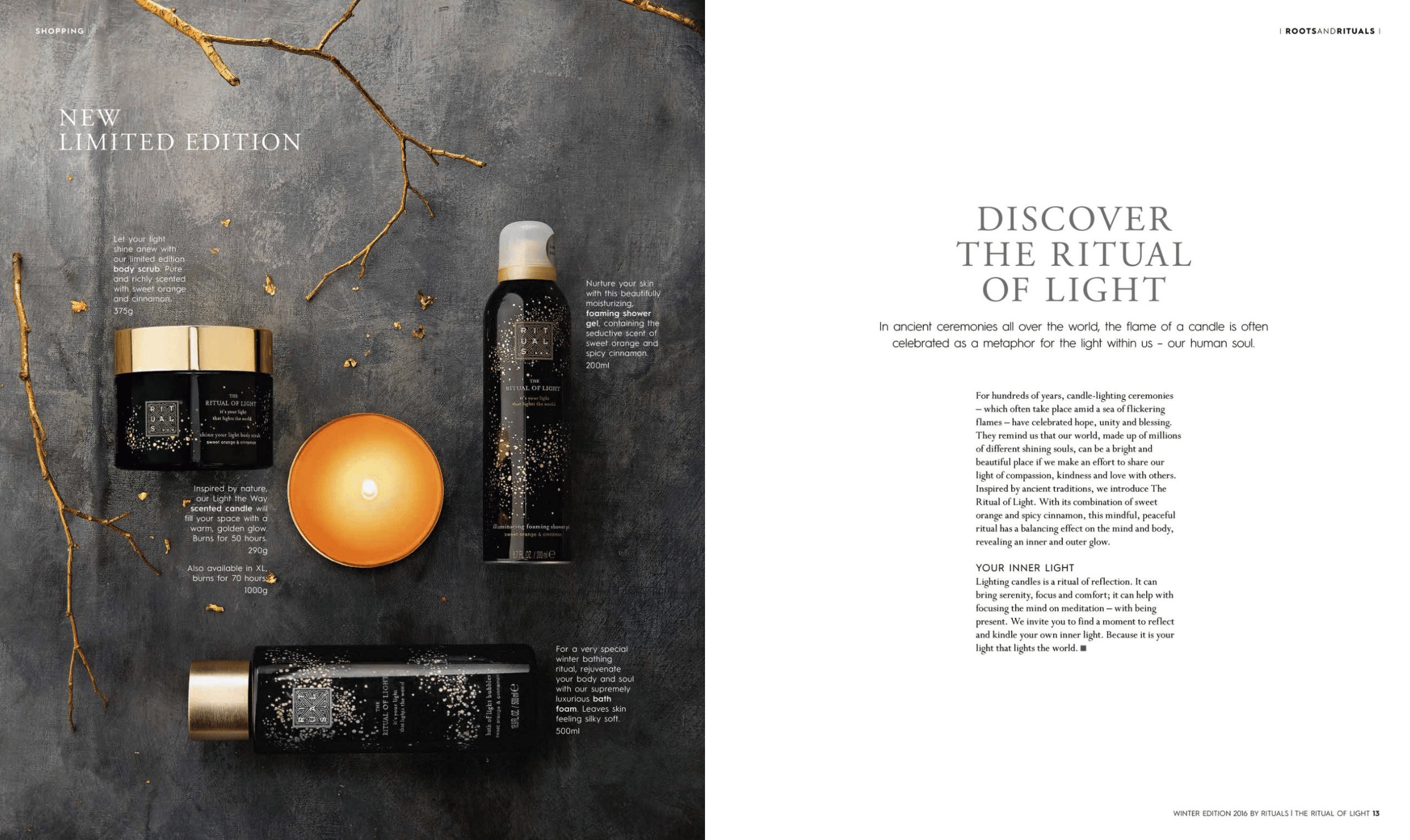 What we love:
The main theme of the magazine is "The ritual of light". In the Netherlands we welcome the new year with an explosive blast of fireworks, and across the globe, different cultures use light or fire to welcome the new year in similar ways. Rituals has included some interesting examples to convey this main theme in their magazine.
All products and articles in the magazine closely fit to the main theme, giving the shopper a consistent experience while also connecting products to a lifestyle concept.
A few beautiful spreads capture the nature of celebrating, giving and sharing: "Only by giving do we receive more than we already have". This helps set the mood for the holiday season.
Multiple sections promote their seasonal and holiday favorite products to guide the shopper when looking for a gift.
4. Art.com: Holiday 2016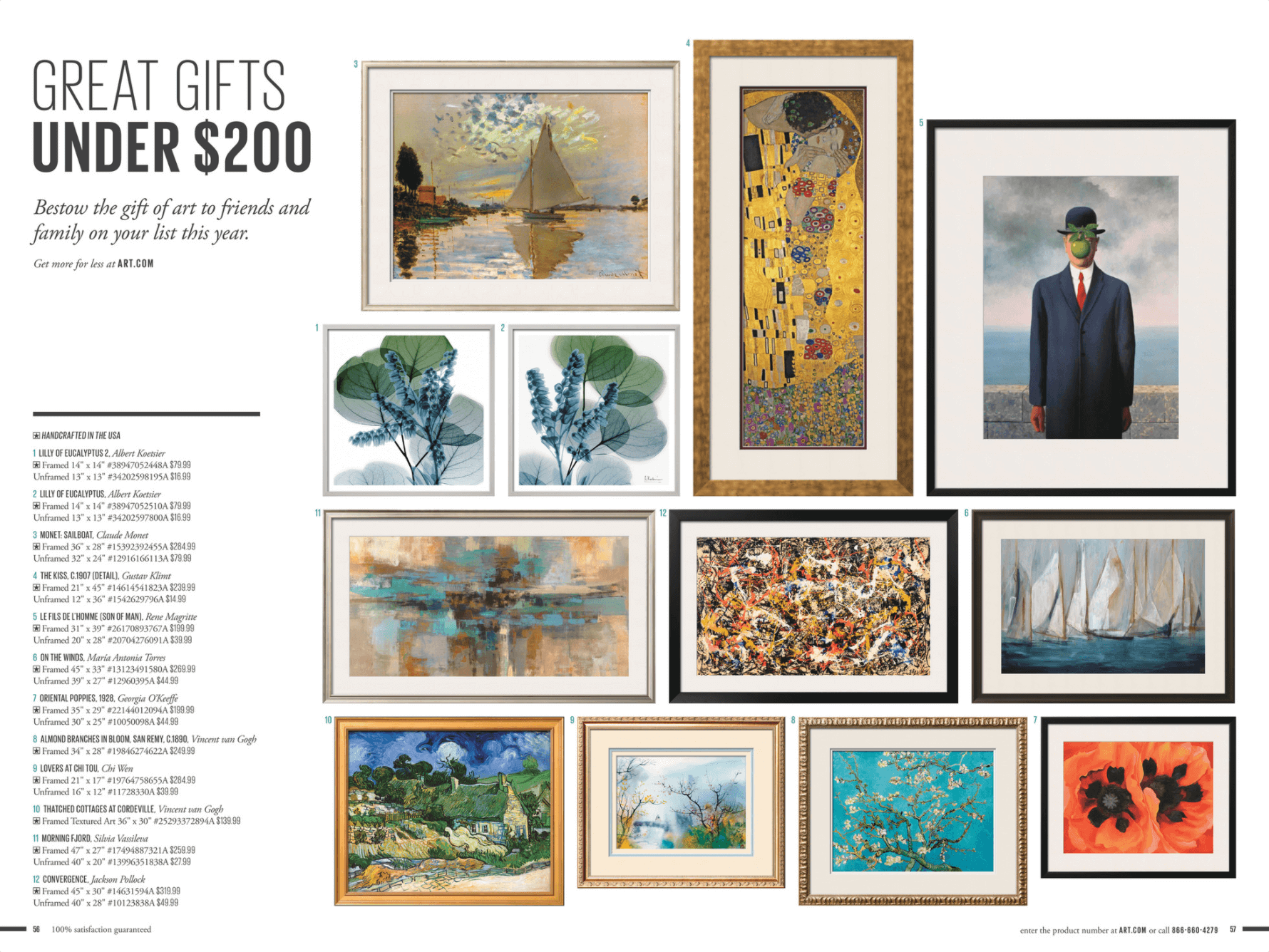 What we love:
All products in the catalog are curated to fit the winter and holiday seasons, which helps to set a warm mood.
They've added a spread dedicated to great décor for the holiday season, including a call to action to check out the entire collection. This way, they give an incentive for shoppers to continue shopping on their online store.
Two spreads with great gifts under $200 conclude their catalog to help gift-seeking shoppers "bestow the gift of art to friends and family".
5. CB2: Gift Guide Catalog 2016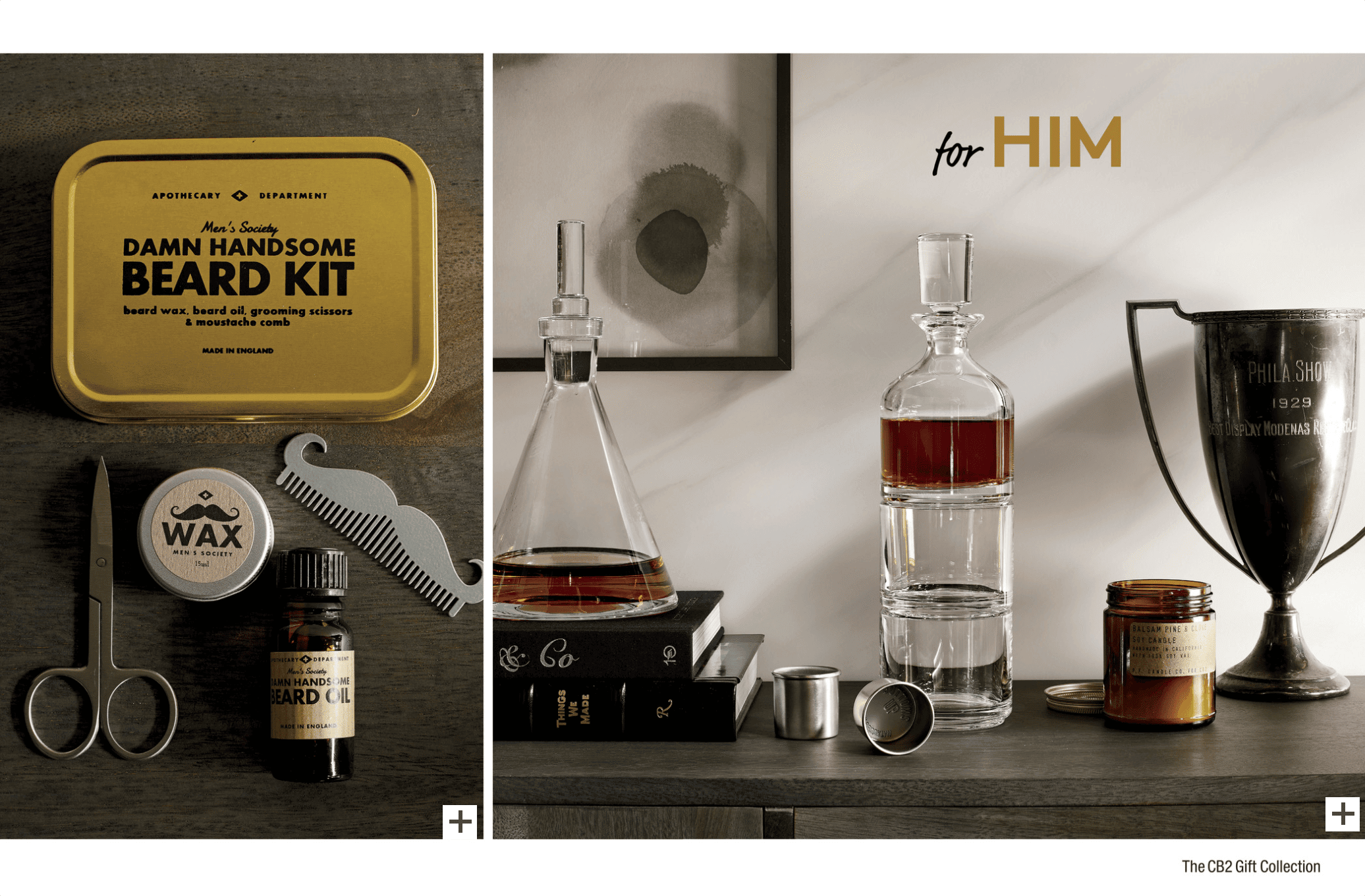 What we love:
The guide is fully dedicated to practical and affordable gifts, making sure most shoppers can find what they need.
Divided in practical sections such as "for him", "for her" or "for the office". This makes it easy to find the right gift for the right person.
While the focus is on useful gifts, they've still managed to present the gifts in a seasonally relevant way by using a good combination of colors, mostly gold, white and green as well as including holiday decorations.
They've added under $20 and $50 sections for budget-minded shoppers.
Minimal usage of copy keeps focus on the products and entices shoppers to click on the images for more details.
All products are shoppable from the guide, allowing shoppers to easily purchase an item when they see what they like.
6. Banana Republic: Holiday Catalog 2016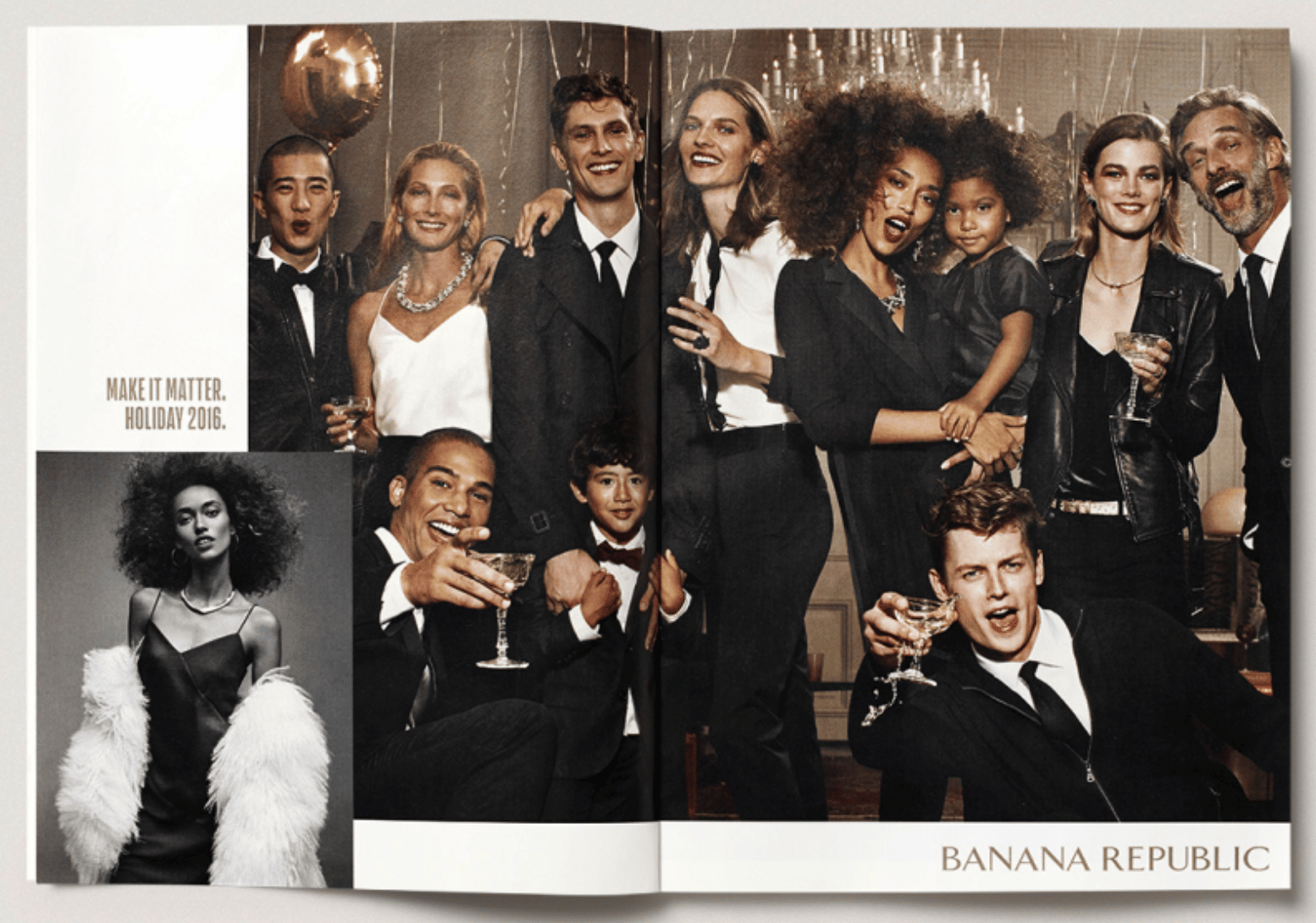 What we love:
Beautiful photography that conveys the holiday season in an elegant way.
Olivia Palermo as style ambassador and her "holiday top ten" to help inspire shoppers while also increasing brand authority and trust.
A wonderful selection of festive clothes that will help you "dress the part" during Christmas celebrations.
Each product in the catalog is linked to the product page on their online store. This is another great way to help shoppers easily purchase an item whenever they're interested.
A great call out to their social media campaign (#BRHoliday) is included in the catalog, giving shoppers other means to interact with their brand. They also announce their "30 gifts in 30 days" campaign, which gives good reason for shoppers to check out their online store daily.
The shopping peak is still to come
The first signs of the holiday season started roughly two weeks ago and we're expecting many more seasonal catalogs to be published, as the largest shopping peak is still to come. Starting off with Black Friday on the 25th of November, and for many countries, the 12th of December will be another significant peak.
Even though time is pressing, we hope the catalogs that we've selected serve as an incentive to publish your own holiday gift guide and have given you enough inspiration to get started.