Videos: A big part of our goal to be the best platform for online catalogs and publications is giving our users the tools and creative freedom to create a great user experience (UX). Transitioning paper media to electronic devices well means keeping the best parts of the offline experience while making clever use of all the extra possibilities. We see our clients do great things in this regard and learn a lot by giving support as well. This is why we want to share our thoughts on the user experience of online catalogs and publications more often. To start, we would like to look into multiple ways videos can enhance your catalogs.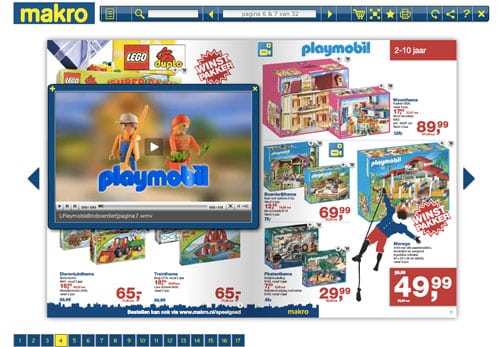 A promotional Playmobil video in a previous Makro catalog.
The most straightforward way to enhance your online catalogs with video is including promotional product videos from manufacturers, as shown above. They are easy to obtain, and you can upload them with Publitas in seconds.
Promotional movies provide a lot more information than a simple product description. They are especially great for multimedia products like television series or games. Your users can get a glimpse of the product without leaving the browser. The conversion boost you will receive from including these videos will almost always be worth the extra work.
Note that the videos don't get in the way of browsing the magazine normally. There is no penalty; users who are not interested in watching a video simply continue reading.
Some of our clients go the extra mile and produce their own videos. ASOS.com is the UK's largest online-only fashion store and publishes a monthly magazine with a readership of 400,000 (primarily young females). The online version of the magazine is enriched by great behind-the-scenes videos. They feel like mini-documentaries.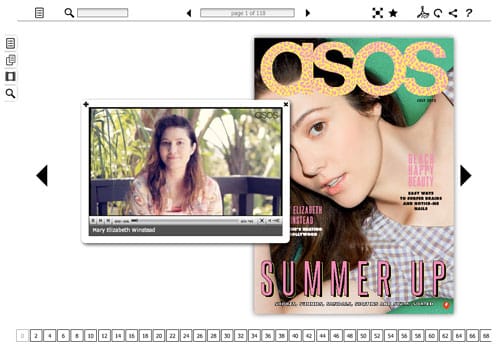 The first thing you see when viewing the magazine.
When you open the magazine, ASOS immediately seizes the opportunity to present a video interview with the actress Marie Elizabeth Winsted, who is featured on the cover.
The first seconds of the video alone add a lot of meaning to the magazine. It becomes instantly clear that Marie Elizabeth is an actress, how she talks, and the subjects she will discuss. This creates a feeling of intimacy for the user.
By showing an interview and how that interview was created behind the scenes at the same time, ASOS is creating a lot of value for their users. The sum is greater than its parts. Users are drawn in your publication, which ultimately increases their likelihood to spend more time browsing.
More about Why You Should Use Videos More Often

Video is a great addition to your online publication. Your budget might not allow for sophisticated behind-the-scenes documentaries, but adding relevant product videos is a valid option for many content creators.