No matter how awesome your products are or how beautifully you showcase them online, you are going to lose sales if your digital catalog is not mobile-friendly. Mobile is no longer something you can ignore – there are actually more mobile phone subscriptions than toothbrushes sold!
It's scary, but it's true. In this post, we're going to look at industry-wide statistics for mobile device usage, plus a way to prove to yourself, your boss, and your clients why you need a mobile-friendly digital catalog.
Mobile Usage Statistics for Ecommerce
First off, let's look at six reasons why you need to be mobile-friendly with some mobile usage statistics that affect ecommerce retailers across any industry, including yours.
Over half of the U.S. population – 181.4 million people – uses a smartphone. This is projected to jump up to 222.4 million in 2017. In the "EU5" – the top-five markets of Germany, France, Italy, Spain and the UK – this number is equally impressive, as mobile users are now up to 241 million, with 57% of them using smartphones. In other words, there's a good chance that your target demographic probably owns and uses a smartphone. (source EU5)
Global smartphone usage is projected to hit 2 billion users by 2015. This makes one out of seven people a smartphone owner worldwide. (source)
70% of people visit Facebook on their mobile phones. This means that if you post links to your digital catalogs on your Facebook Page, people could be clicking through to them on their mobile phones.
42% of emails are opened on mobile devices. This means that if you are promoting your digital catalogs via email newsletter, people could be opening those catalogs on their mobile devices. (source)
77% of mobile searches happen at work or home where desktop computers are likely to be available. Despite this, these people are still more inclined to choose a smartphone or tablet to shop.
Website traffic from smartphone and tablet users has almost doubled, from 5.42% and 5.95% in 2012 to 10.44% and 10.58% in 2013. While that doesn't sound like a lot, if you're receiving a million visits per month, that's a difference of 50k – 100k potential customers.
To further understand how big mobile really is, checkout this real-time overview of mobile usage.
What you can conclude from this data is that no matter how you are promoting your catalogs online, you're likely to attract mobile visitors. This goes for anyone promoting his or her catalogs through email, search, and social media marketing.
So what happens if your catalogs aren't optimized for mobile? Mobile users will be confronted with a horrible experience and probably won't use your catalogs again. That could be 70% of your Facebook traffic and 42% of your email traffic that you're missing out on. People are opening more emails, performing more searches, and browsing more newsfeeds than ever before on mobile devices. So make sure you have mobile-friendly digital catalogs that everyone can use.
The Thing That Frustrates Mobile Users
The biggest thing that will frustrate a mobile user coming to your digital catalog – and potentially cost you a sale – is load time. 74% of mobile visitors will leave if a website hasn't responded in 5 seconds. This is another reason that optimizing your digital catalog performance is key, because the last thing you would want is for your potential customer to go shop from the competition because their digital catalog loaded faster.
Your Business's Mobile Traffic
If you're not into industry-wide statistics, that's all right. We have a test for you to find out your own business's mobile statistics. This should be the main reason why you choose to optimize your digital catalogs for mobile. All you need is Google Analytics. Start by logging in to your Google Analytics account and selecting your digital catalog. Then look under the Audience section for Mobile Devices. Here, you will see a breakdown of the mobile devices that visitors used to view your digital catalog.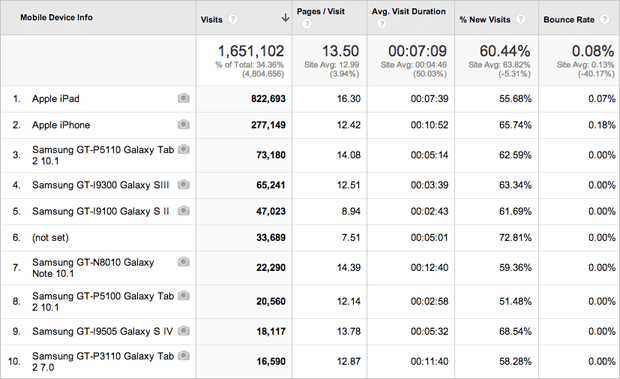 The top 10 mobile devices used to view digital catalogs.
As you can see in this example, 34.36% of visitors to the digital catalog came from mobile devices. Popular devices include the Apple iPad and iPhone.
If you're not too familiar with what this means in terms of your visitor's experience on your digital catalog, you can look under the Audience section for Technology > Browser OS. When you click Screen Resolution, you'll see the size of the screen people are using.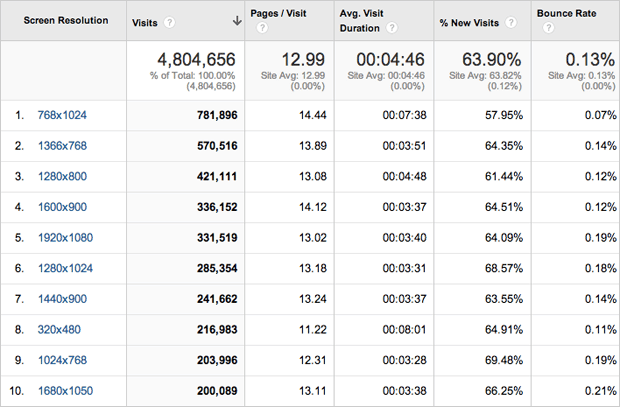 The top 10 browser resolutions used to view digital catalogs.
While only a small percent is viewing at the smallest screen size (320×480), it still accounts for 216k visitors, which is a significant amount.
You can also find out if mobile visits are increasing or decreasing on your digital catalog by using the Google Analytics comparison feature. Simply click on the date dropdown and use the 'Compare to' checkbox to compare your most recent 30 days worth of traffic to the previous month or year.

Comparison feature in Google Analytics.
This will show you the change in visits for mobile device users or users at a particular screen resolution.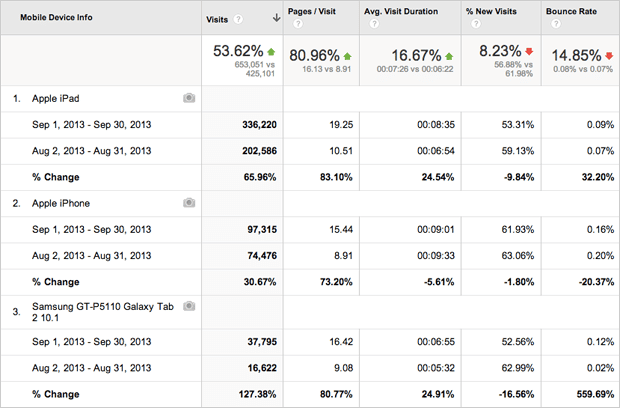 Mobile usage changes compared to the previous month.
Note that as a general rule, you want your bounce rate to decrease as this means more people are interacting with your digital catalog (e.g. clicking on a product, zooming in, or browsing to the next page). If your bounce rate increases, it means more people are leaving your digital catalog without interacting with it.
Testing Your Mobile Compatibility
Is your digital catalog mobile-friendly? Find out in the following ways.
Test your digital catalog on as many mobile devices as possible. Start with the most popular as based on your Google Analytics or by the most popular platforms on average: Android (51.8 %) and Apple (40.4%) according to comScore.
Test your digital catalog in areas with great signal coverage and without. This will help you see the experience your potential customers will have when they are not in 3G/4G territory.
When you are testing, put yourself in your customer's shoes and go through the process you want them to take, from browsing your digital catalog to making a purchase. Better yet, hand someone who is not familiar with your business a mobile phone and ask them to browse your digital catalog like they wanted to make a purchase and report their findings. Be sure to work out any trouble points as quickly as possible to satisfy your potential customers coming through on mobile.
Where Does Publitas Fit in This Picture?
You may have created your own digital catalogs, or you're using a tool to do so. In either case, it can be difficult or even impossible to optimize your catalogs for mobile devices. No worries though, because our digital catalog software is built with mobile in mind. But what does this really mean?
When you upload your PDF in Publitas, we'll automatically convert it to an HTML5 version. Your catalog will not only be available on desktops and laptops, but also on the most popular mobile devices (we currently support iOS and Android).
As we mentioned earlier, loading times are critical to the user experience. This is why we've made sure the loading times of our digital catalogs are blazing fast and have smooth interactions.
Responsive design makes sure our catalogs look great on any screen size. So whether people are using an iPad Mini or an HTC One, your digital catalogs will always deliver a great experience.
We're continuously A/B testing different versions of our viewers to make sure your catalogs are user-friendly.
Unlike some of the other available digital catalog tools, we make sure Publitas is always up-to-date with the latest changes in the mobile landscape. We do this by supporting new popular mobile devices or addressing software updates in mobile browsers.
To find out how you can improve your digital catalogs, it's important to understand how people are using them on mobile devices. For this reason, we've added the option to connect your Publitas account to Google Analytics. To find out how to do this, have a look at point #3 in our blog post on boosting your conversion rates with digital catalogs.
You too can easily create mobile-friendly catalogs, and it'll only take you two minutes. Sign up for our free 14-day trial here and upload your PDF to see the results for yourself.