When you think about design and e-commerce, emotion might not be the first thing you think about. But we think you should. To get visitors to buy your product, appealing to their emotions is too powerful a strategy to ignore.
Happy users are not only more willing to buy, but they are also more persistent in getting around your site. They will be more forgiving of your mistakes and more likely to recommend you to others.

Aarron Walter has written an insightful book called Designing for Emotion in which he explains how to delight users through great design. Walter offers some practical tips to make your design more pleasurable for your users, and this can easily be applied to design for e-commerce.
Most of the book revolves around the necessity of human centered design. Good design has personality and communicates like a human being on an emotional level. This may sound as a given, but surprisingly few e-commerce sites show enough real personality. They may appeal to the principles of persuasion, but fail in showing that there is a team of real people behind the site.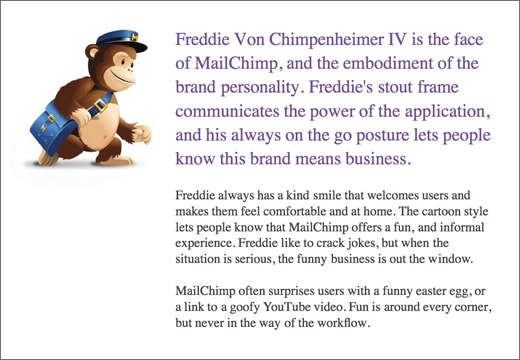 MailChimp design persona
To grasp this personality, Aarron provides a method to create a design persona template,
available for free on his site
. You can use it to determine the characteristics of your website, as if it were a person. Amongst others, this means creating an image of a character that embodies the traits you wish to include in your brand. How would you describe the personality of your brand? What is the kind of thing your design user persona would say in real life?
More about Design Persona
Thinking about your site in this way allows you to make every piece of communication more consistent with who you are. This goes for copywriting just as much as it goes for your visual design.

We hope you will find this exercise and Aarron's book just as valuable as we did. Improving your design to communicate on an emotional level will not only boost your conversion ratios, but it will also make your website feel more authentic.