As the e-commerce industry shifts towards a focus on discovery and enabling products to find consumers, it is crucial that you create exposure for your brand and give your audience a chance to explore and find the merchandise they may not even know they need.
WhatsApp has established itself as the preferred choice for communicating with loved ones, friends, and coworkers. As of February 2023, Whatsapp has surpassed 2 billion users worldwide.
Utilize this highly engaged platform by having the right approach to enhance the customer experience. You can achieve this by using WhatsApp for retail for updates on order status and confirmation, sending personalized promotions and discounts, providing product recommendations, and promoting cross-selling and upselling opportunities.
Customer Engagement for Retailers
n these uncertain economic times, promotions and discounts hold even greater significance. Consider bundling products and offering a percentage discount or creating enticing promotions such as a 'Dinner and Dessert' package at a budget-friendly price.
Other benefits of promotions are:
Discounts can also encourage customers to make impulsive purchases, leading to an increase in sales.
Boosting average order value
Offering discounts on multiple items or as part of a package deal can also increase the average order value, leading to higher sales.
To ensure your customers are aware of and take advantage of your promotions, use WhatsApp as an awareness and conversion tool. By sending a weekly WhatsApp message that includes a digital brochure of your current promotions, you can effectively increase visibility and provide your customers with valuable information on what offers would be of most benefit to them each week.
ALDI SÜD executes this approach exceptionally well. Their process is straightforward – simply scan a QR code, follow the link, enter your zip code, and upon clicking start, you'll receive regular notifications and digital brochures on new product launches and promotional offers.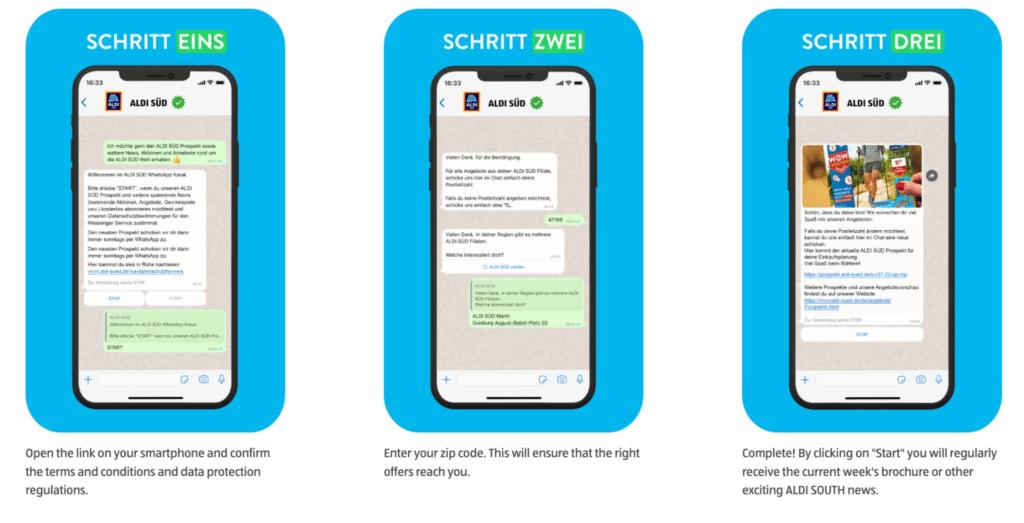 Source: ALDI SÜD
To ensure that there is a clear next step for shoppers, Whatsapp has made the integration between digital brochures and WhatsApp business accounts really simple by allowing visitors to check out directly right from within the digital brochure.
Connect digital publications to your WhatsApp business account and enable shoppers to send their shopping cart contents to your business via a templated or custom WhatsApp message. If a shopper has any questions about a product, they can tap on the "Message Business" button to ask. Once the cart is ready, all the shopper needs to do is tap on "Place Order" to send their order. The shopper can view their order details by tapping on the "View Sent Cart" button in their chat window with the business.
WhatsApp for Retail: Drive Sales through AI and WhatsApp checkout
Meta has made great progress in developing an all-in-one shopping experience within WhatsApp. Their collaboration with JioMart, linked below, produced a noteworthy case study worth exploring.
The ability to complete the entire shopping process within WhatsApp offers an exceptional customer experience, removing all barriers between browsing and buying, resulting in a significant boost in overall sales.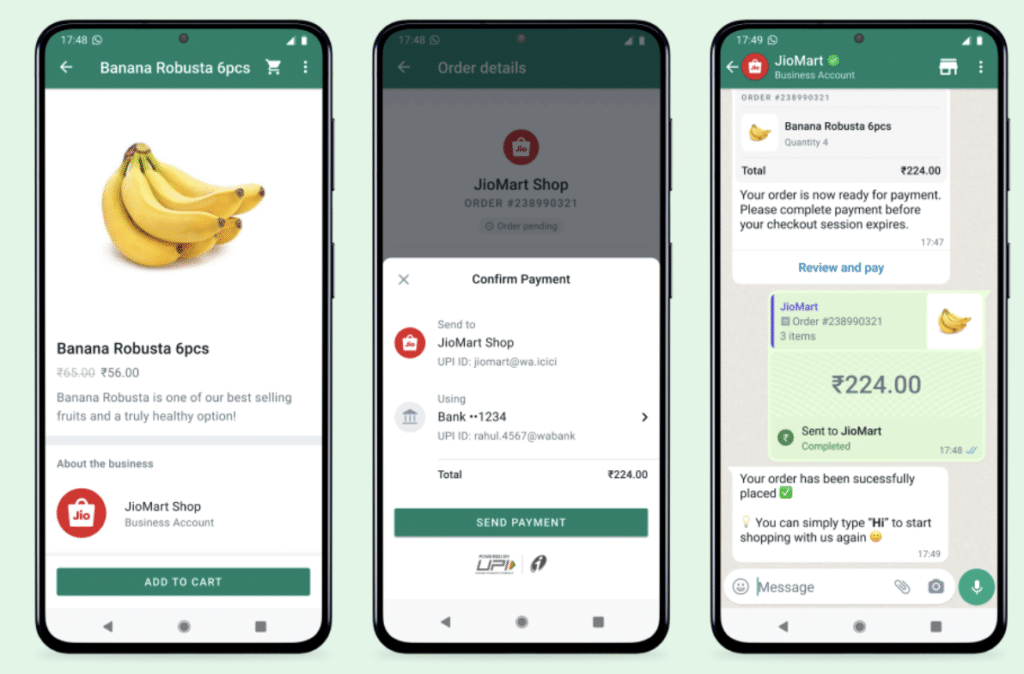 Source – fb.com
WhatsApp has embraced AI technology and introduced several new features to streamline customer interactions. One of these features let's you set up pre-scripted conversations that respond to frequently asked questions you receive.
For example, if a shopper is searching for a birthday present, such as handmade pottery, the AI can suggest and provide a link to the perfect product. This seamless experience not only simplifies the gift-finding process but also encourages faster purchases, as shoppers don't have to spend hours searching for the right item. Furthermore, the addition of WhatsApp checkout allows customers to purchase their desired product directly within the app, making the overall experience even more convenient.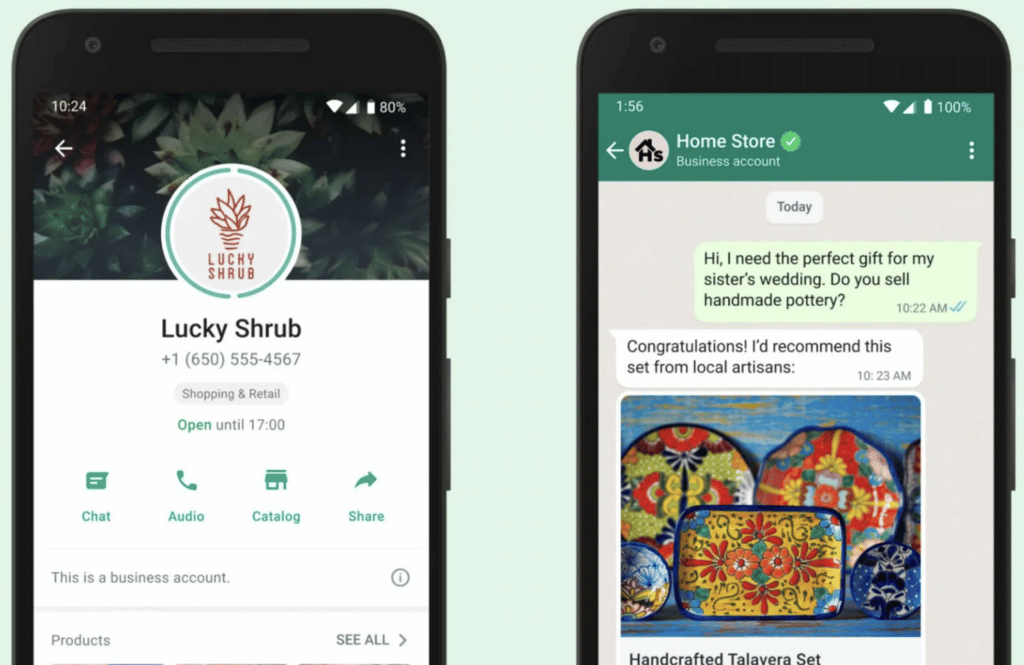 Source: prestigeonline.com

Using WhatsApp to increase reach and engagement
Maximize the reach of your promotions and the likelihood of a sale by making sure that your website, social media pages, and digital catalogs enable your customers to share their product wishlists and promotions on WhatsApp. The ability to share in real-time can amplify the impact of your promotions tenfold.
If you are using a digital brochure to promote your e-commerce products, ensure you have connected it to WhatsApp and allow your customers to share their whole wishlist directly from the catalog.
Lastly, ensure that each product has a WhatsApp share button so that shoppers can circulate individual promotions with friends and family and increase your reach organically.
The easier and quicker you make the process, the more likely your promotions will gain traction.
In conclusion, incorporating WhatsApp into your retail strategy can greatly enhance your customer experience and ultimately drive sales. From simplifying the shopping process to providing an easy platform for promotions and discounts, WhatsApp provides numerous opportunities to increase customer engagement and reach.
By utilizing features such as the Message Business button, Add to Cart, and easy order tracking, you can streamline your sales process and provide a seamless experience for your customers. With its widespread use and ease of accessibility, implementing WhatsApp for Retail is a step toward success for any business.
If you are interested in using WhatsApp to promote your digital brochures and increase your reach, book a demo directly with our experts.