You'd be surprised to find out how many people are using their smartphones in-store, and even more so what they use them for. According to the latest eCustomerServiceIndex (eCSI) results from IMRG and eDigitalResearch, the number of people using their smartphones in-store is increasing. More than two thirds of consumers (70%) are walking into stores and bringing their mobile devices with them. To help you serve these customers better, we've described four ways you can optimize the in-store experience for mobile users.
First off, let's have a look at why and when consumers use their smartphones in-store, based on the latest eCSI report and Google's 'Mobile in the Purchase Journey' tool:
47% are using their devices to 'showroom' and browse for an item whilst out shopping.
47% are using their smartphone to read reviews.
39% are comparing prices with other retailers' websites on their smartphone.
29% are using their device to order items that are out of stock in store.
18% are claiming to have purchased a product via their mobile if they deemed the queue times in store to be too long.
31% are using their smartphone to research or purchase products in a store.
28% begin researching a retail product on their smartphone a moment before the purchase.
What these statistics tell us is that there is growing relationship between the store and mobile usage. More and more people are using their smartphones to improve their in-store experience. It's no longer enough to think of mobile as just another useful sales channel—it's now a key part of the entire customer journey. Derek Eccleston, Commercial Director at eDigitalResearch, sums it up best:
"[C]onsumers increasingly want to, and expect to be able to, use their mobile when out shopping, and not just to purchase from competitors."
You now know that the ability to use mobile devices in-store is a key factor for consumers, so it's important to make sure their in-store experience is also mobile optimized. There are several ways to do this, some perhaps simpler than others.
1. Offer free WiFi.
Sounds obvious, but many retailers aren't doing this. It's a great way to help out your customers as they don't have to rely on their 3G connection (which is not always great in-store), and it allows you to capture their details and target them with offers. According to an OnDeviceResearch survey, 74% of consumers said they'd be happy if a retailer sent them a text or email with promotions while they're using in-store WiFi. For more information and tips about offering in-store WiFi, check out this article by eConsultancy.
The percentage of consumers claiming to have used WiFi in-store and claiming to use it if the service was available.
2. Add iPads to your stores.
Having iPads in your stores is a great way to bring online shopping to your stores and to help customers skip the queue, as it gives them the option to browse, pay, and place orders online.
Two examples of retailers that have placed iPads throughout their stores are Oasis and Nordstrom. Here are four ways this strategy can enhance the in-store experience for your customers:
Offer a self-checkout system. By placing iPads that can handle transactions throughout your stores, you can eliminate lengthy queues and give customers the option to pay for items without any assistance.
Display your latest offerings. Online lookbooks and magazines are a great way to show off your latest promotions and inspire customers with new looks. By using iPads you can allow customers to flick through your digital publications wherever they are in the store. If you haven't published your lookbook, magazine, or catalog online yet, you should give Publitas a try.
Improve product search. The tablets enable customers to browse for product variations (e.g. a different color or size) to see if they're available at their current store or in nearby locations, as well as to find out whether an item can be ordered online.
Offer personalized deals. By installing tablets in fitting rooms, you can offer your customers personalized recommendations based on items they previously purchased or tried on in-store, and inform them whether they are available online or at a store nearby.
3. Equip your staff with iPads.
In the UK, Oasis and Marks & Spencer have equipped their staff with iPads to help customers check sizes, colors, and styles that are out of stock in the store, as well as to order these items online. While this concept certainly isn't new (Oasis launched in 2011, M&S in 2012), only a handful of retailers are offering sales assistance via the the iPad today. By equipping your sales team with iPads, you can enable them to:
Engage the customer at the point of decision.
Give customers background information on products.
Take orders for out of stock items.
Suggest products from your online offering to customers.
In turn, this will help you to:
Serve the customer better.
Decrease queue times.
Make ordering easier.
Increase sales.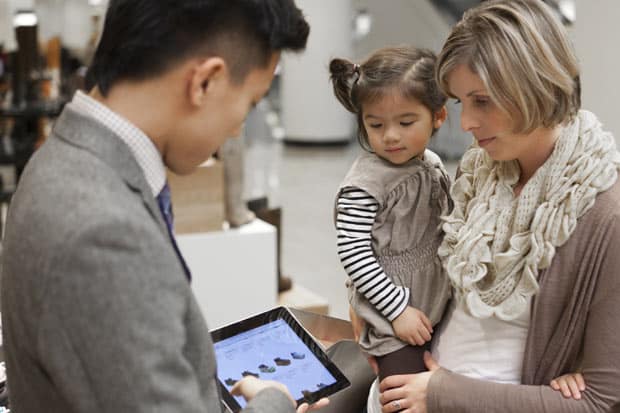 A Nordstrom salesperson shows a customer an online selection of shoes in-store (image credit NPR.org)
Using Shopify to power your online store? You're in luck, because with Shopify POS you won't have to build your own iPad ordering system. In short, it's an iPad app that lets you sell your online store's products in a physical, retail setting.
4. Build a mobile app.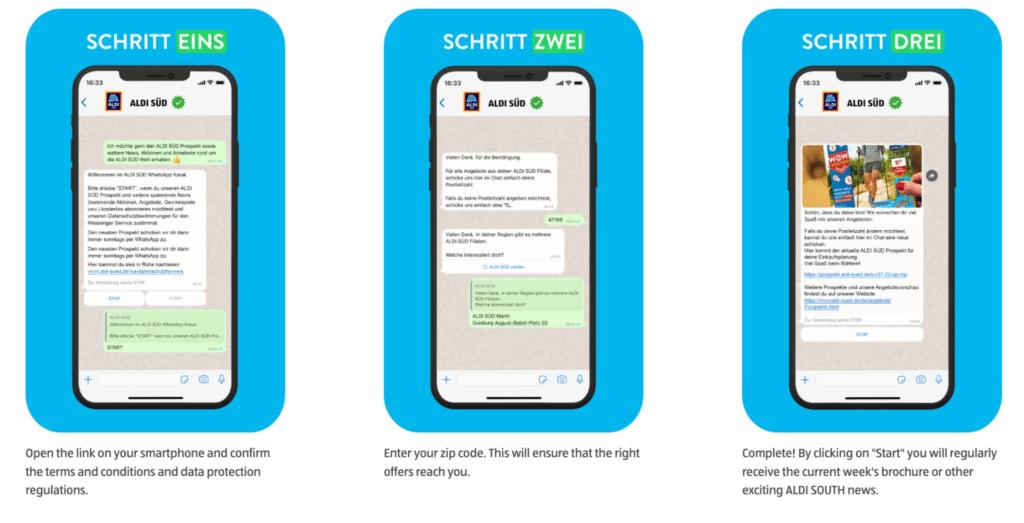 It's no secret that many retailers have a mobile app or site today. In fact, it turns out that 47% of top retailers have both. Whether every retailer needs one is certainly up for debate, as Ben Davis from eConsultancy will point out to you. However, when it comes to using mobile apps as a gateway to improve the in-store experience, one example stands out to me in particular.
Walmart needs no introduction, but its mobile app does. It features a shopping list and 'Store Mode', which not only notifies customers about offers and prices of specific items, but also guides customers directly to the products in its stores via GPS. Walmart is also testing a feature called 'Scan & Go' that lets customers skip the checkout line. As they're shopping, customers can use the app to scan products with their mobile devices. Once they're done, they can checkout and pay with a single scan at a self-checkout lane.
The results of the retail giant's mobile efforts speak for themselves. Thanks to the app they've been able to:
Reduce in-store wait times.
Improve the shopping experience.
Boost revenues.
But that's not all. According to Gibu Thomas, Head of Mobile Strategy at Walmart, customers who use the Walmart app make twice the shopping trips per month and spend 40% more than non-app users.
"10% of our online sales through our apps happen when the customer is in store and using Store Mode," Thomas says. "Customers love this idea of seamless access, anytime, anywhere, that is not channel-centric but customer-centric."
Clearly, Walmart's efforts in using mobile to improve its business are delivering results, and they could work for you too.
Learn. Improve. Iterate.
The main takeaway here? Learn from your customers so you can facilitate their in-store experience. That means observing what they do in your stores, listening to what they have to say about you on social media, and talking with them to find out how you can help.
If people are using their smartphones to read reviews, enable them to read reviews in-store.
If people are comparing your prices on their phone, compare prices for them. (Or better yet, make sure you're providing the most value and not just competing on price, because that's a race to the bottom.)
If people are using their mobile devices to order out of stock items or because the queue is too long, make sure they can easily do this in-store.
It's not rocket science. But you do need to put in the work to make it happen.

We'd love to hear what other ways you believe mobile can improve the in-store shopping experience. We managed to come up with four, but maybe you have a few ideas too, so let us know! And if you liked this post, remember to sign up for our monthly newsletter to receive useful articles and guides directly in your mailbox.