Publitas Wishlist Feature: Recently, we launched a wishlist feature that allows you to implement favorite lists into your digital publications — and it's both quick and easy to set up.
Remember, shoppers who're just browsing might not be ready to make a purchase, but after they've added products of interest to their list, they can purchase them later when they're ready to.
This post outlines the benefits of having the wishlist feature in your publications. We'll look at how the wishlist can improve the product discovery experience and generate more sales.
Benefits of having a wishlist
With the wishlist feature activated, shoppers can add products to a favorites list or "wishlist" that they can access from the menu of the catalog.
From there, shoppers can email the wishlist or share it via WhatsApp.
This simple yet powerful addition for your Publitas publications enhances both product discovery and the shopping experience you provide for your customers, giving you several significant benefits:
Offering a wishlist can improve the discovery-to-purchase flow by allowing top-of-the-funnel shoppers to save products for later without feeling pressured to check out just yet.
Shopper wishlists can become part of data gathering, which can be used for ad retargeting or making more personalized offers in future marketing efforts.
Brands can provide better Discover Online Purchase Offline experiences when customers save or take their wishlist to a physical store or refer to it later.
Publitas wishlists can easily be shared via Email or WhatsApp, making it easy and convenient to share gift ideas.
And for brands operating within B2B markets (which may not always offer prices in publications), the favorites list can be used as a quote request form to help your catalog generate more leads. Shoppers can compile a list of products to send to a sales representative, who can then give them a price quote (more on this below).
Publitas Wishlist Feature in action
With the wishlist feature enabled, browsers will have the option to save products of interest they discover while browsing through your publication.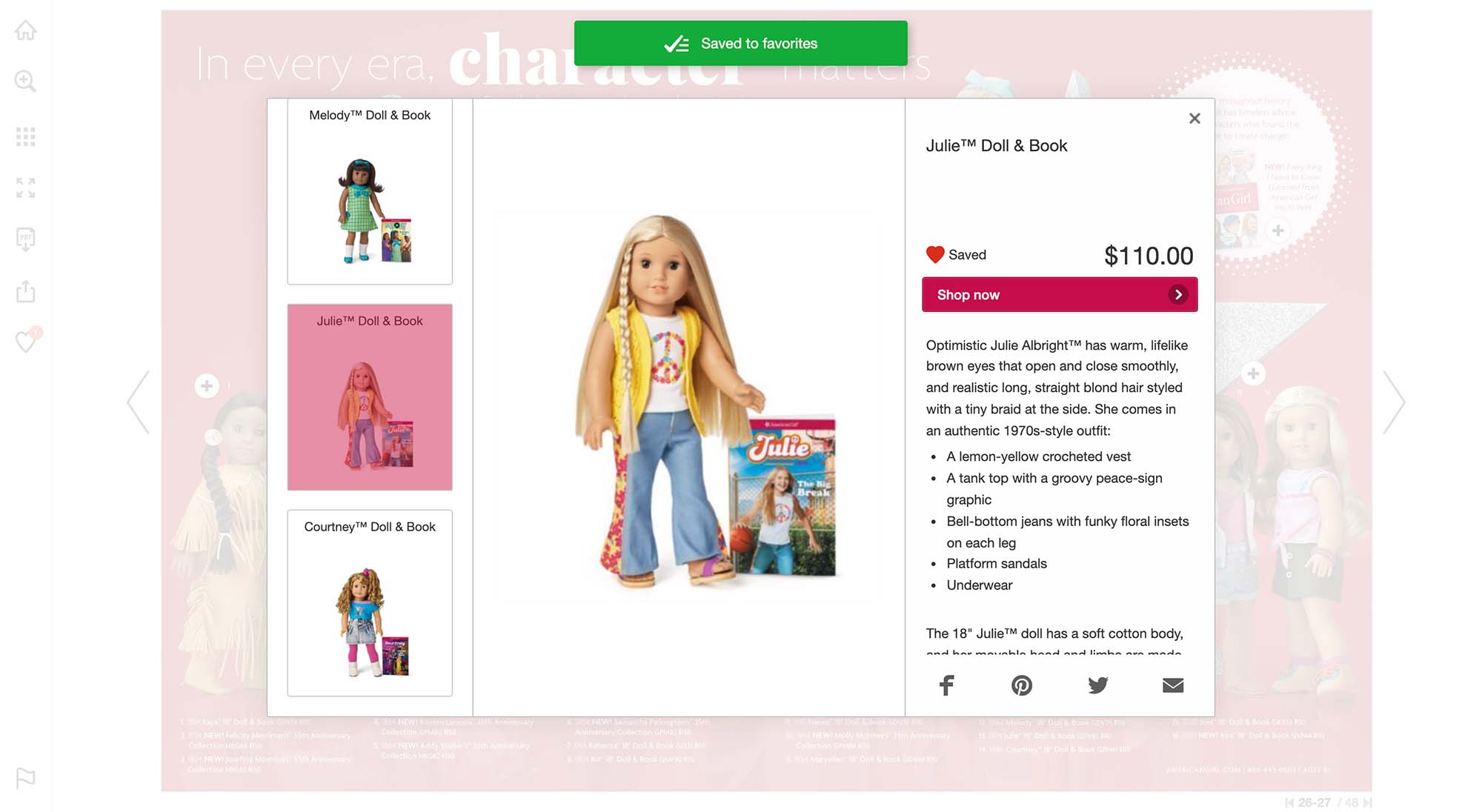 Browsers can click the save button to add items to their list.
Items in the wishlist accumulate, and shoppers can access the list from the Reader menu inside the publication. From here, shoppers can change order quantities and share their list via Email or WhatsApp.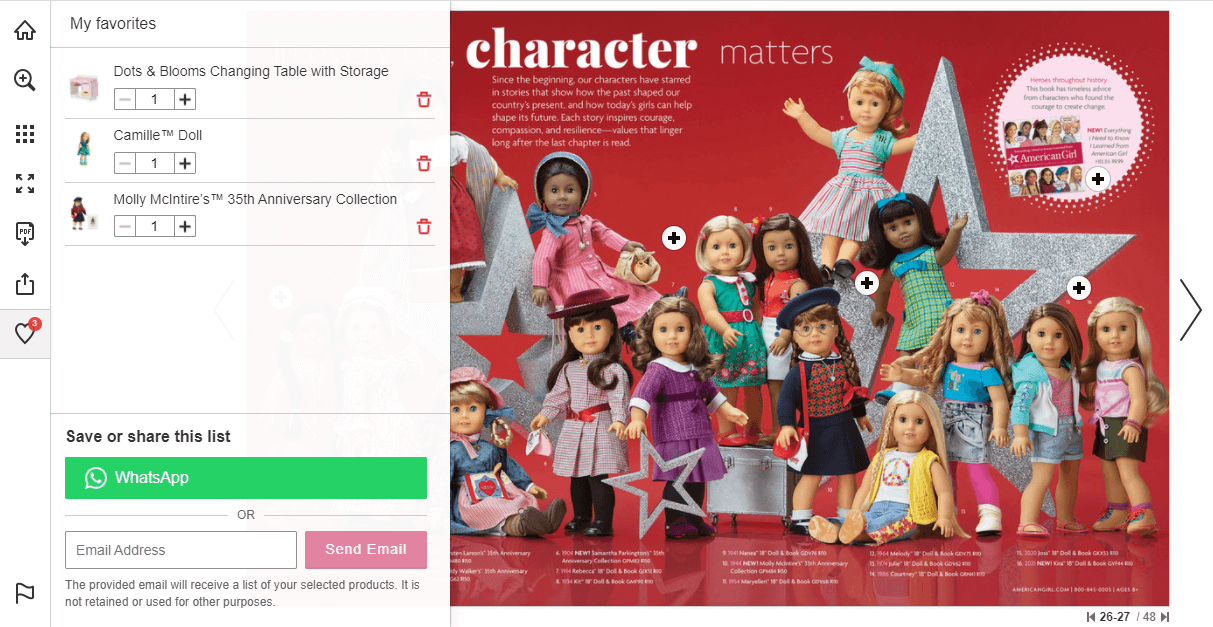 Wishlists within Publitas publications are easy to share and access.
Once a shopper has entered an email address and hit Send Email, the recipient will receive the list shortly after, with product titles, prices, quantities, and a link to the product details section. There are also links at the top and bottom of the Email which take you back to the publication.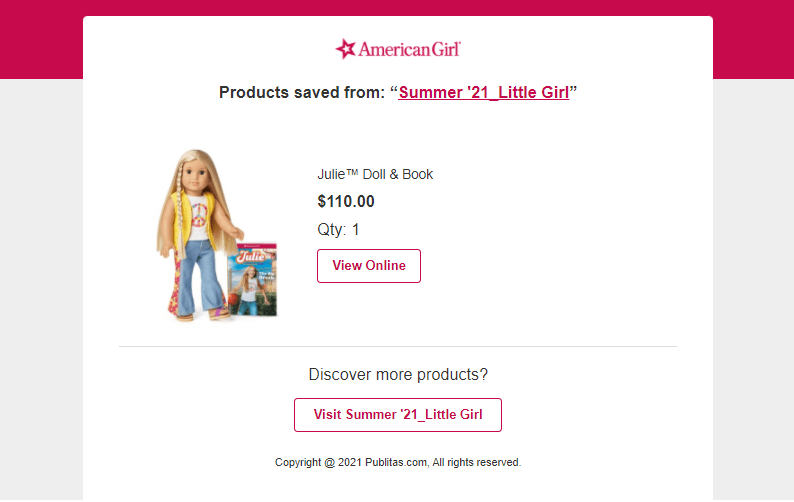 Wishlist recipients will receive a branded email with products and links to the webshop product pages.
Take a look at American Girl's catalog with the wishlist feature activated:
And for B2B brands, once a lead has made a request, the email address you've entered into the Reader settings will receive the quote request.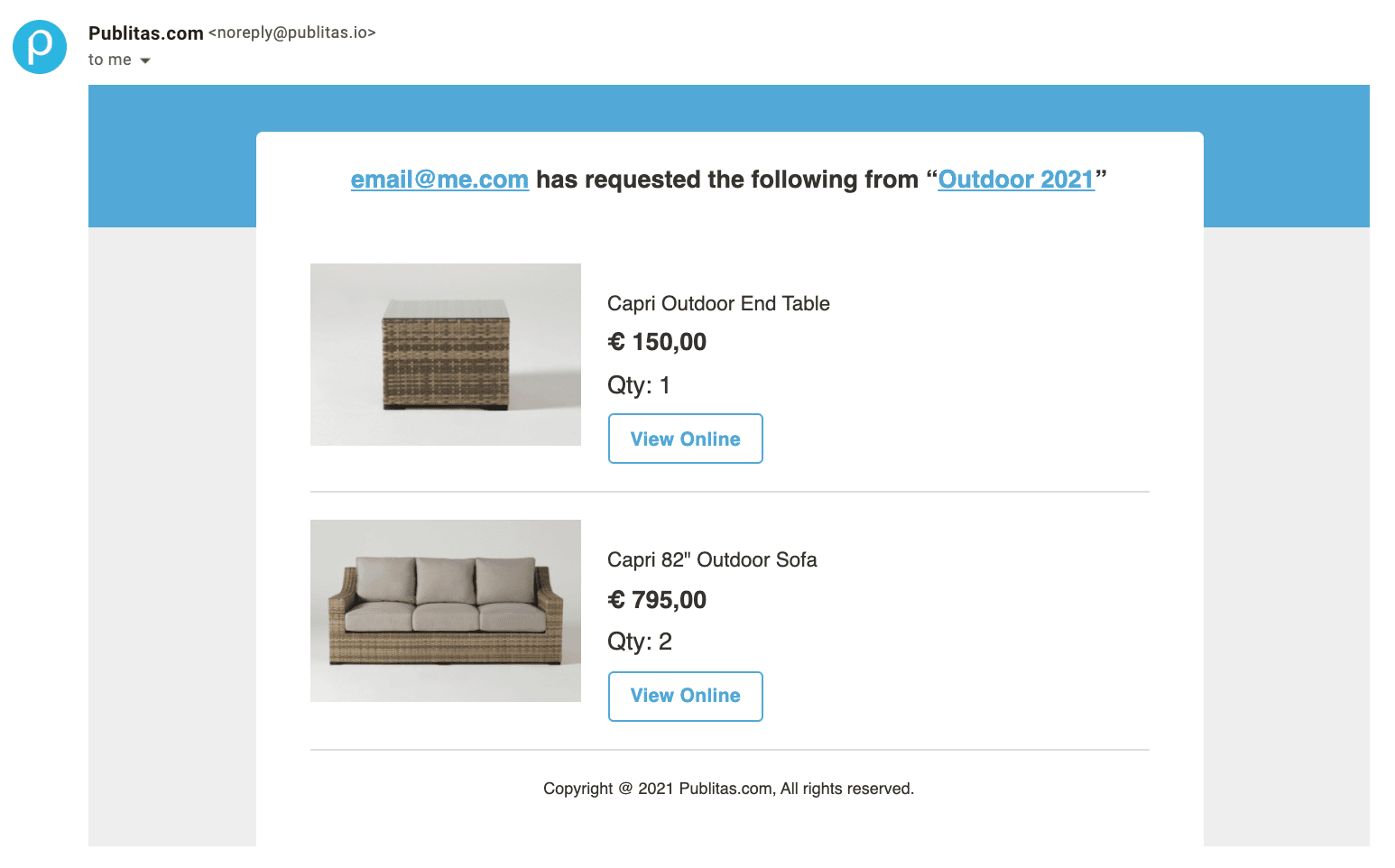 After a lead has made a request, you'll receive their email address and a list of items they've requested.
The lead will also receive an email that mirrors the items they've added earlier.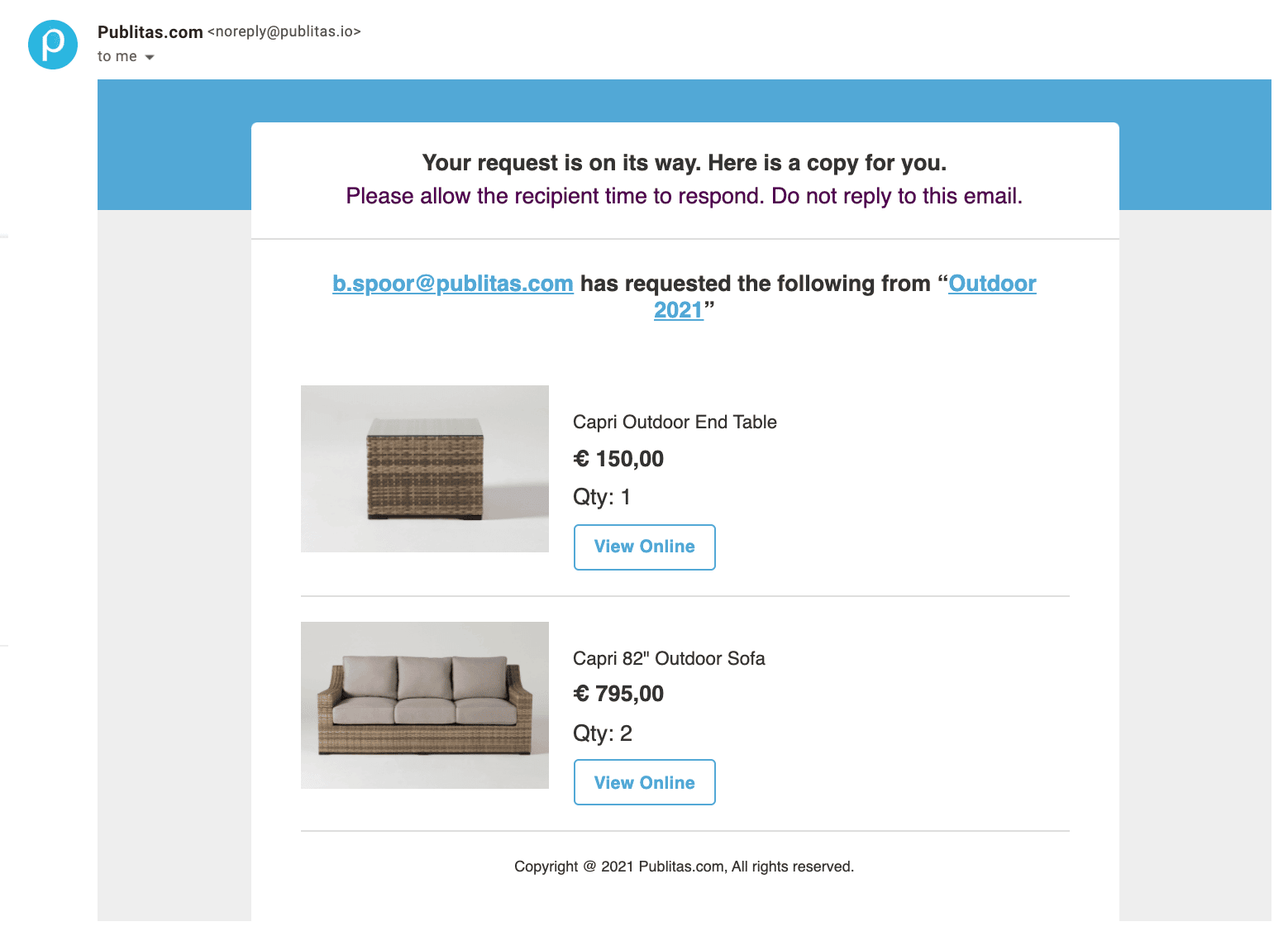 Email sent to lead after they make a quote request.
How to enable: Publitas Wishlist Feature
You can enable the wishlist from the Menu Items tab within the Publitas Reader settings; from here, you can configure the wishlist icons and activate the sales request form (B2B).
For a short tutorial on how to add a wishlist, visit our knowledge-base posts below:
Enable favorites for B2C
Enable quote request for B2B
Interested in publishing a catalog with wishlist? Contact us, or sign up for our free 14-day trial here.