Future of Retail: The role of brick-and-mortar retail stores is changing; they're no longer the front door to your customer shopping experience. In a post-covid world, what does this look like? Digitally-influenced sales have become the driving factor behind a retailer's bottom line.
If there's one thing we can be sure of about post-covid retail, it's that the future outlook will remain uncertain for several years to come. Some industries have and will thrive over the coming years, while others will feel the sting of the pandemic. They will need to shift their marketing strategies to align with changes in consumer behavior.
Dubbed "the quickening" by Mckinsey, in Q2 of last year, e-commerce experienced 10 years of growth within 3 months. Some retailers, who hadn't already been investing in digital, went into liquidation. In contrast, others rode the tsunami of consumers who went shopping online and made record levels of profit.
Sporting goods, DIY, and grocery stores were clear winners during the heat of the pandemic, while petrol stations, clothing retailers, and traditional department stores suffered. But it wasn't as clear-cut as this for everyone. Clothing retailers like Boohoo saw record levels of profit.
Despite high levels of uncertainty and muddied insights, it looks like e-commerce growth will remain steady over the next few years, but not like the tidal wave of growth some retailers experienced in Q2 of 2020.
Despite the variability of predictions about post-covid retail, one thing that most industry leaders agree on is that consumer behavior has changed forever. In combination with new consumer sentiments, digitally-influenced sales will be the driving force behind the winners of post-covid retail.
Future of Retail: What are digitally-influenced sales?
As an isolated metric, the number of e-commerce sales for a given period tells you very little about how they came about. A better metric is the number of sales that are digitally influenced. That is, the number of shoppers who used online channels before making their purchase at a physical store.
Digitally-influenced sales could include shoppers who read product reviews online, watched a video, looked at an online catalog, etc. They make their purchase in-store, but the sale was heavily influenced by digital touchpoints before it happened.
As a retailer, the significance of this is that counting e-commerce and store sales separately becomes less relevant, because now, customers are giving preference to retailers who can seamlessly blend channels — and provide great omnichannel experiences.
And as Jason "Retailgeek" Goldberg put it, the front door to your shopping experience is no longer your flagship store. It's the mobile phone in the pockets of billions of consumers around the world.
Pre-covid, 49% of sales were digitally influenced. Now that number has jumped to 62% (Forrester).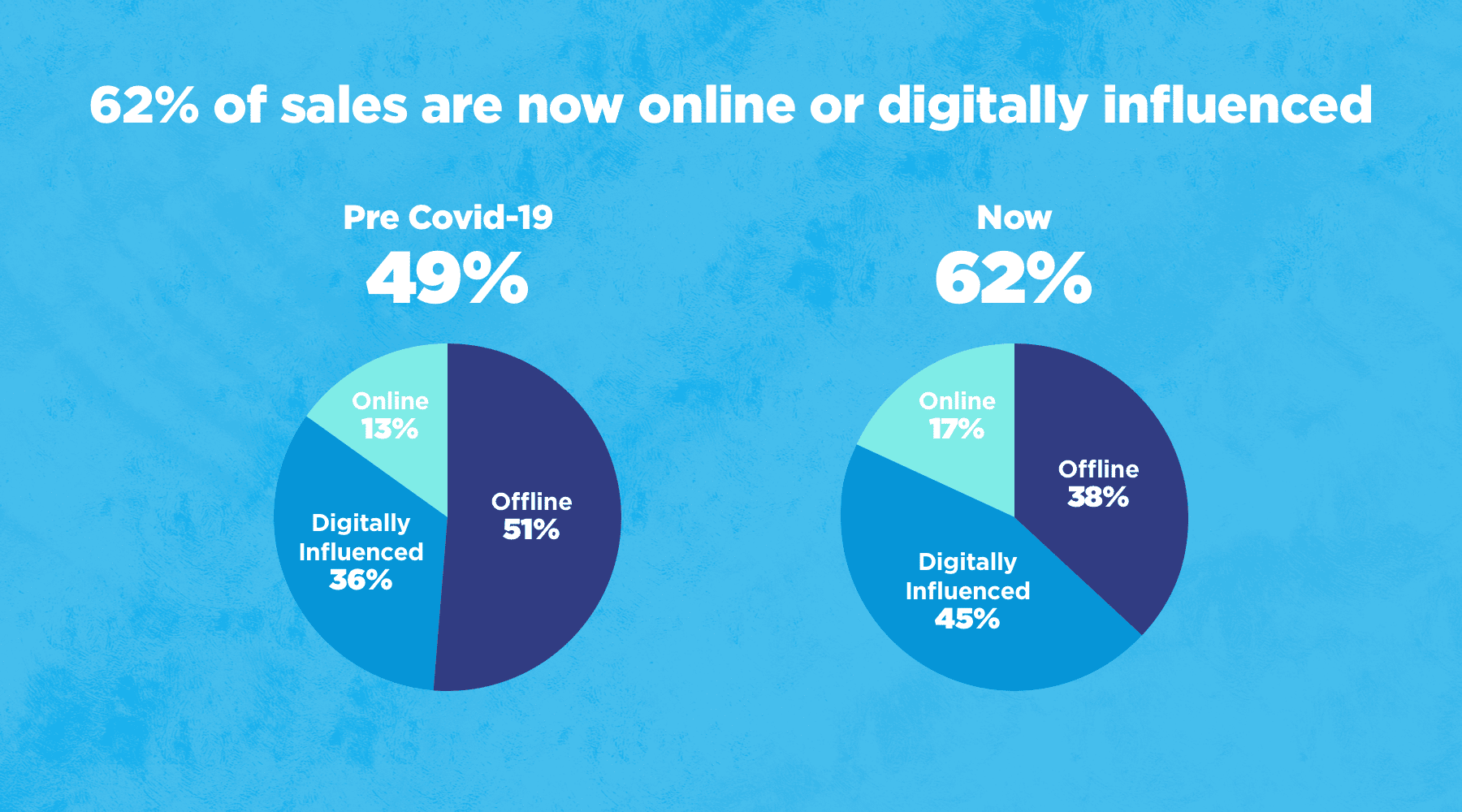 Before covid, less than half of retail sales were digitally influenced. Now, that number is getting close to two-thirds' worth.
Consumer sentiment post-covid
The rise in digitally-influenced sales is underpinned by consumer sentiment post-covid. Mckinsey reports that "consumers intend to continue with many digital behaviors even after covid-19 subsides."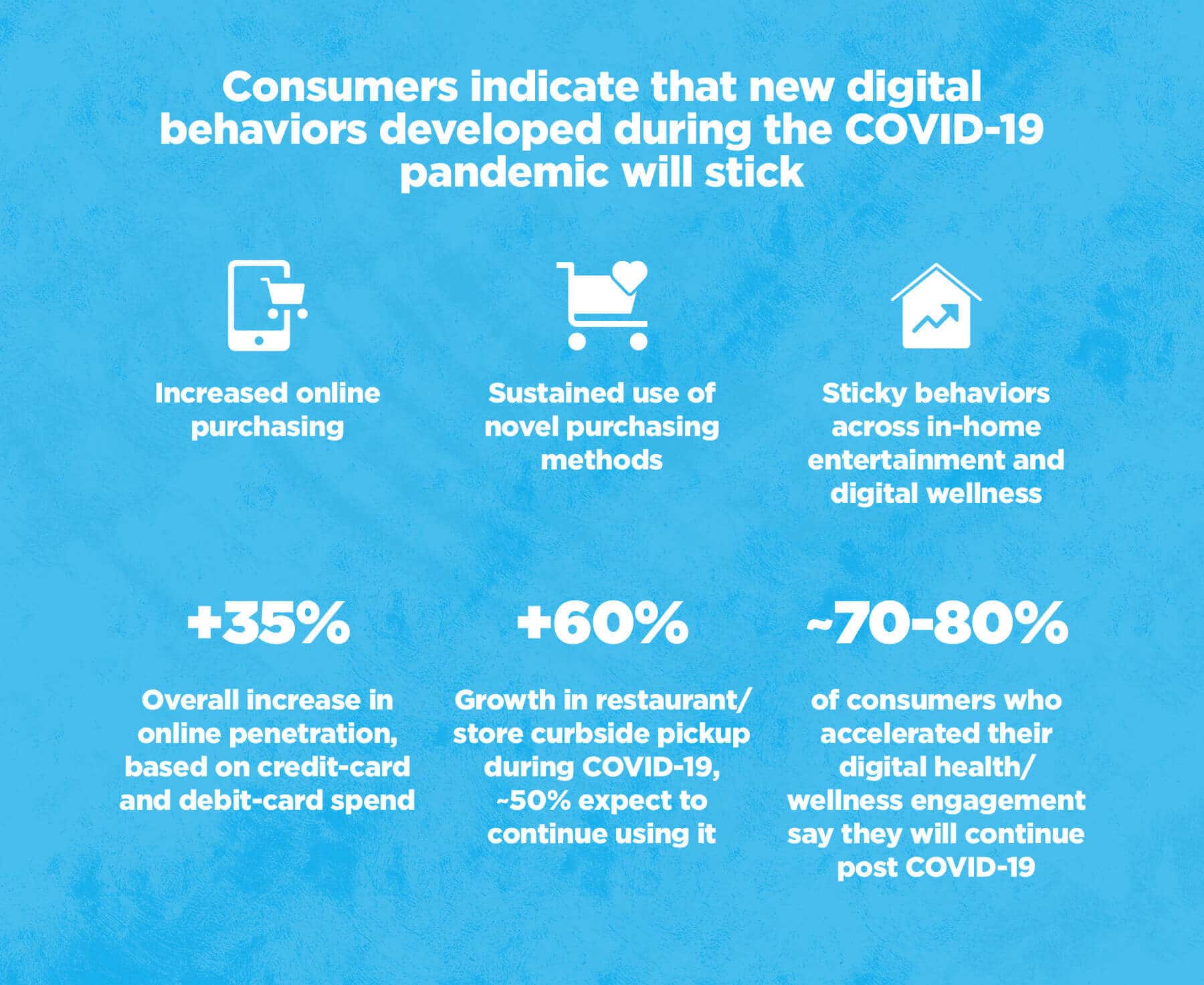 Consumer sentiment report post-covid on digital behaviors, data from
McKinsey
.
Furthermore, consumers have made substantial investments in their home life, which they want to continue. Even after the pandemic subsides, consumers will continue to expand their sampling of new brands and new digital shopping methods, adds Mckinsey.
Mckinsey's US consumer sentiment report also highlights signs of a spending recovery, with 51% of consumers planning to splurge after covid subsides or treat themselves immediately.
Interestingly, consumer plans to go on spending sprees — now or in the future — have made for some unusual post-covid purchase options. From milk bottles to shoes, Shopify has compiled a top-10 list of what people plan to buy post-pandemic:
Baby clothes and accessories
Virtual classes and experiences
Exercise equipment
Household cleaning products
Beauty products (e.g., skincare, haircare, etc.)
Personal care products (e.g., toothpaste, soap, etc.)
Groceries
Athleisure clothing
Clothing accessories (e.g., shoes, hats, etc.)
Pet supplies
Even with the levels of uncertainty that retailers are operating with, there is still substantial demand for some products. As a retailer, you must pivot to meet the needs of consumers and how they feel about shopping post-covid.
Digital and the beginning of the customer journey
With all of this in mind, we can see that digital is the start of the customer journey, where around 50% of shoppers who interact with your brand are "just browsing" and don't know what they want.
If retailers are to capture these top-of-the-funnel shoppers, they'll need to focus on storytelling, visual commerce, and publishing engaging content that builds brand loyalty.
In this way, you warm and prime shoppers for converting as they move down your funnel, increasing the chance of conversion later on.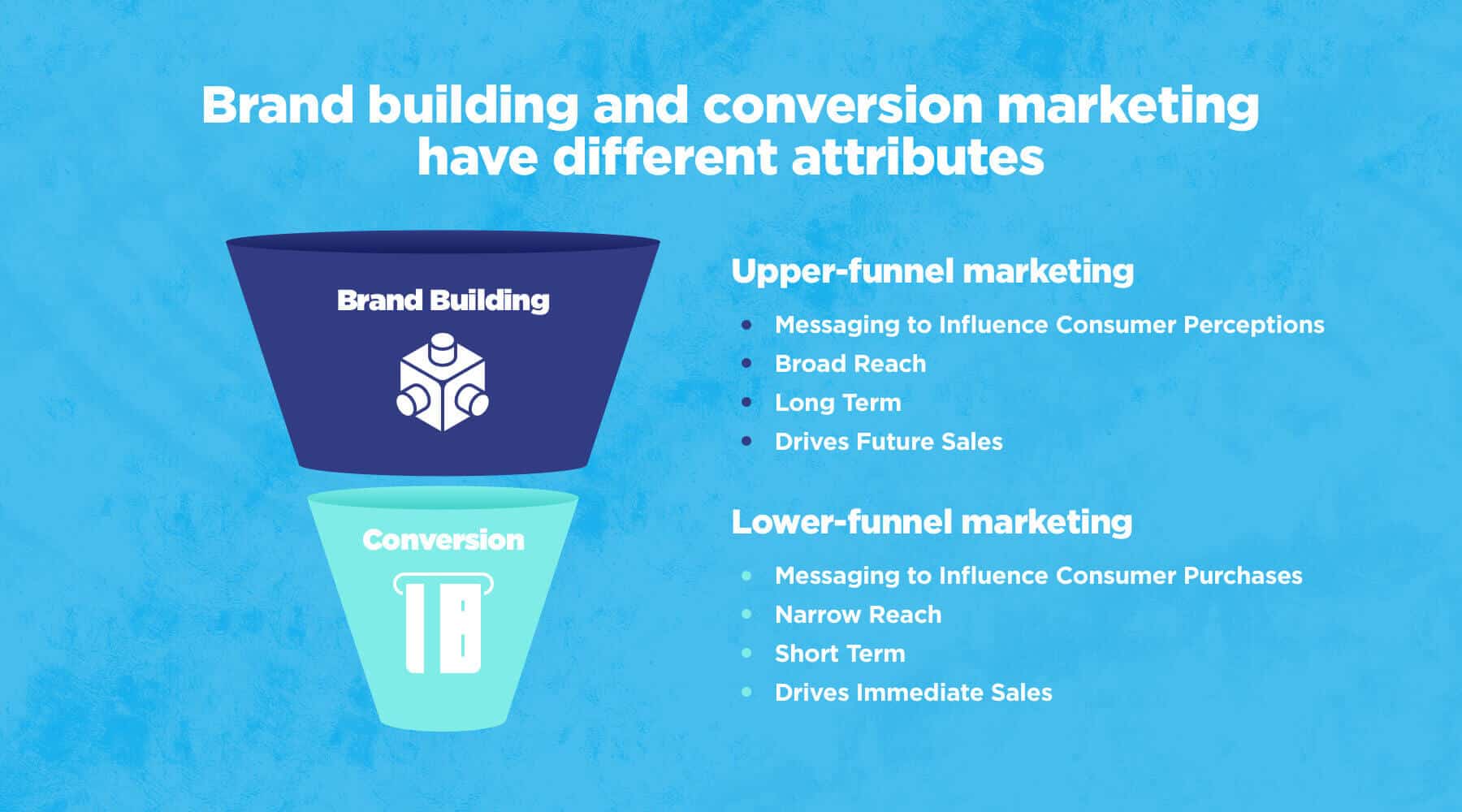 There are lots of strategies and techniques that retailers use to capture upper-funnel browsers. Below are links to our other content, where we detail what successful retailers are using to power their bottom line.
Now, it's not enough to just have your eCommerce store with its shopping cart and checkout options. You've got to engage with your audience, build a community on social media, and deliver inspirational content experiences.
We help retailers to engage with browsing shoppers online. Interested in learning more? Contact us, or sign up for our free 14-day trial here.