How many times in the last month have you been scrolling through your social media feed and seen an advert or post with something you want to buy? Yes, of course, you may see lots of useless stuff too; you don't really want or need that Justin Bieber-themed coffee maker, but you will see things you want and that are relevant to you too.
What you have experienced is called social shopping (or social commerce), a part of the larger eCommerce market. While still a relatively small part of overall eCommerce, it is a market that is growing quickly. It's expected that by 2025 the United States will have about 108 million social buyers and that the retail social commerce earnings will reach nearly $80 billion.
An important factor to consider is the age demographics of those using social shopping. These are your primary consumers and main wage earners, and you will see more under-44s using social commerce than older buyers (though these groups should not be ignored). So, just what is social shopping, and how do you integrate it into your current business model?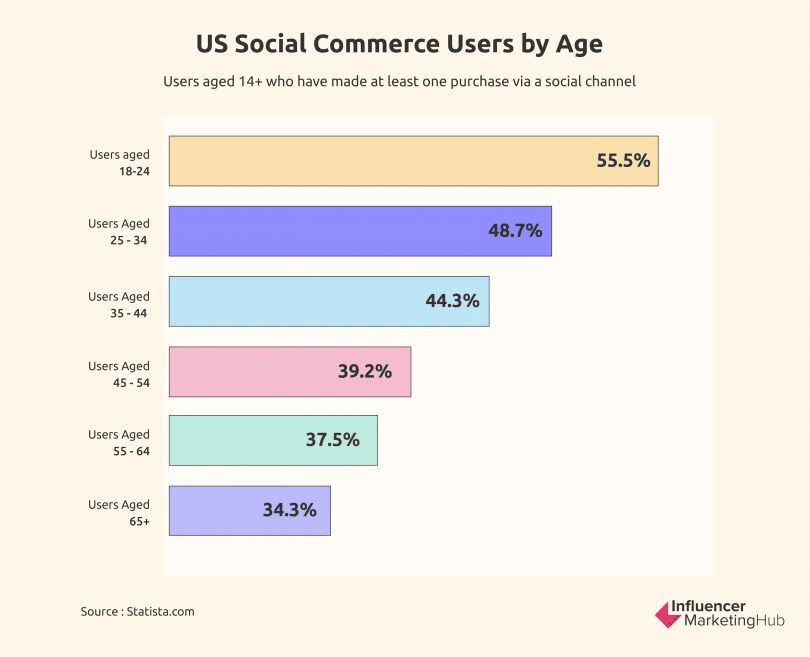 US Social commerce users by age.
What is social shopping?
While you can view it as a 'subgenre' of eCommerce, the main difference is that eCommerce relies on a website or dedicated app to sell goods, and social shopping does the whole process via the social media platforms such as Instagram or Facebook. Consumers can buy your goods directly from their social media feeds. It is also worth noting that social shopping can be an excellent tactic for small eCommerce businesses.
Considering that people spend an average of 147 minutes on social media every day, this represents a great opportunity to reach out to your target audiences with little effort. However, it's not just about selling (though that is the ultimate goal); it's about increasing brand awareness, having people share and talk about your products, and finding new ways to expand your eCommerce business.
9 ways to unlock social shopping success
It's all very well knowing what social commerce is, but how do you look at implementing a successful social commerce strategy? These 9 tips will hopefully get you on your way.
1. Choose your platform(s) carefully
You will already know your demographic groups. Your goods may be aimed at all ages, or you may have products that appeal to certain age groups only. So your first step is to identify which platforms are used by which age groups. You can consider the following statistics for the main platforms:
Facebook: 2.91 billion active users every month. Main age group: 25-34 (31.5%)
Instagram: 2 billion active users every month. Main age group: 25-34 (31.2%)
TikTok: 1 billion active users every month. Main age group: 10-19 (25%)
Twitter: 211 million active users every day. Main age group: 18-29 (42%)
LinkedIn: 810 million active users every month. Main age group: 25-34 (58.4%)
Pinterest: 431 million active users every month. Main age group: 50-64 (38%)
A fantastic example of a brand that takes full advantage of the right social media platform is Spanish sunglass brand Hawkers. They know where their customers are and successfully sell their products using social media. Take a look at their Facebook page below.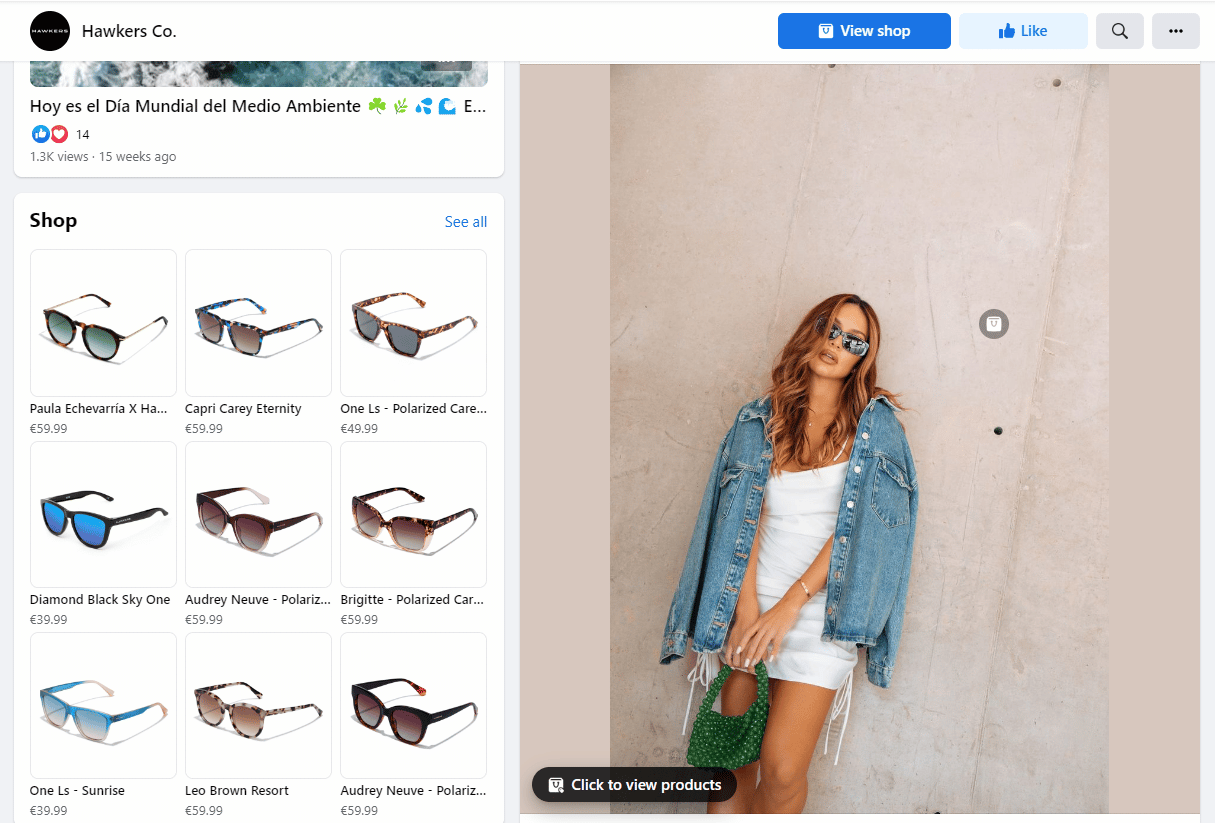 Hawkers shoppable image on Facebook.
2. Know your audience
Having a good idea of where your audience will most likely see your posts is one part of the battle, but you also need to know your audience more intimately than just a platform. For example, if you promote a business voicemail service, then posts on LinkedIn are more likely to be seen by potential customers than posts on a platform such as Pinterest.
Don't expect great results at the start of any social shopping marketing campaign; use your analytics to tweak campaigns and messages to get things just right. And remember, what works on your website may not always work on social media platforms. Copying and pasting the same old messages may not produce the results you want.
3. Be creative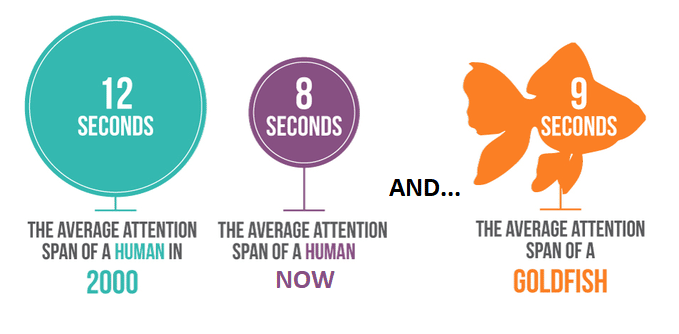 Believe it or not, it's safe to say that grabbing shopper attention has become harder.
This post seems interesting… oh look, a cat meme! It's a sad fact — perhaps due to how much information (and inane cat memes) are thrown at us every day — that attention spans are declining. That means you must be creative with your social media page and any posts you make. The last thing you want halfway through someone reading your post is…oh look, a cat meme!
If you had a physical store, you wouldn't leave the window displays bare or boring. The same goes for your social media storefront. Make it stand out so that people will look at it, and do the same with any posts; have attractive visuals backed up with pertinent information that makes people want to stop scrolling and read or to click on your link.
Take outdoor brand Patagonia for example. They continually post new content across their social media that is creative and insightful but remains true to their brand.

Content from Patagonia's Instagram.
4. Stick to schedules
On the whole, people like consistency. Do some research on the platforms you are using as to when there are patterns of high numbers of users, and fit any promotional and marketing strategy around that data.
Choose the days and times you will make promotional posts and stick to those schedules as closely as possible. For example, research shows that the best day to post on Instagram and Facebook is a Saturday, whereas the best day to post on Twitter is a Friday.
The time of day is also important when scheduling your posts. You want your post to be viewed by as many potential customers as possible, so there's no point in posting when everyone is asleep. The best time to post across social media tends to be between 6-9 pm, but remember to factor in time differences if you're targeting a global audience.
Think of your posting as a (good) bus service. People will get used to those posts arriving around a specific time. If you have engaging content and quality products, then you want to aim for some expectancy for your target customers.
5. Maintain good contact
People are going to have questions, so you need to ensure that they can not only contact you but that they receive replies in a timely manner. As you are working on social media, your primary point of contact should be any messaging service on that platform, such as Facebook Messenger.
However, in this omnichannel era, people often want to choose what messaging channel best suits them. That can include options such as WhatsApp, email, or even a phone number if you operate a call center or have a dedicated customer support team. Display the different contact options very clearly on your storefront.
Hershey's very clearly does this on their Facebook page. They provide customers with options to visit their website, send a message, or call them directly.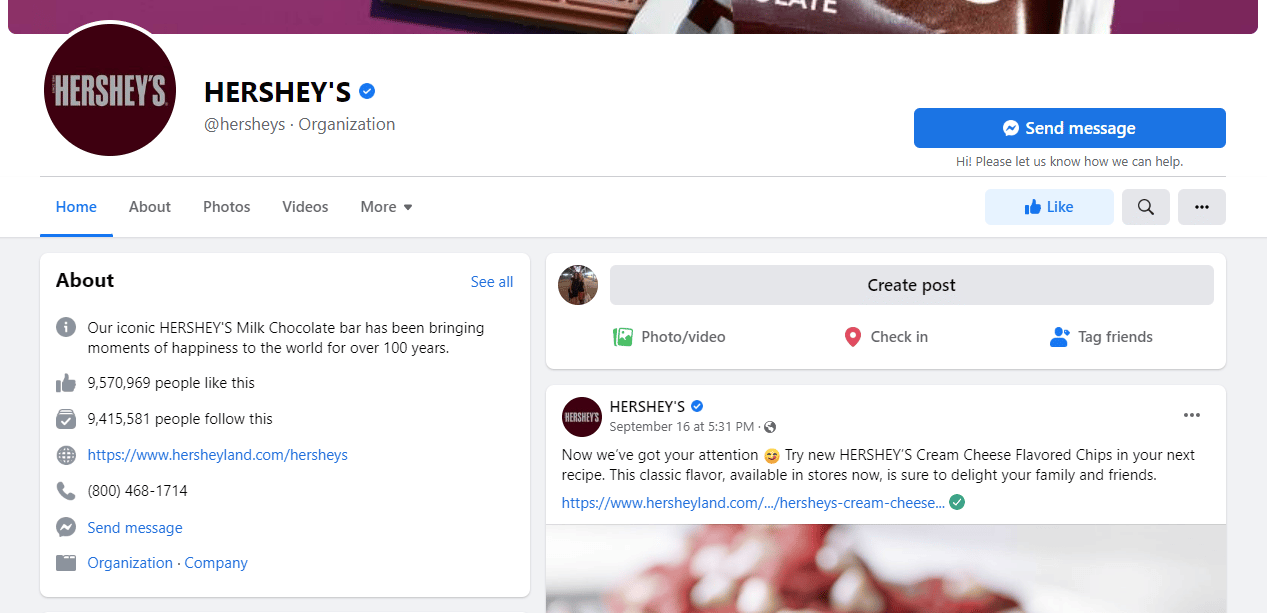 Contact options on Hershey's Facebook page.
6. Data, data, data!
Social shopping relies on data as much as any other aspect of eCommerce. Good analytics will tell you what is working and what's not. If you are new to social commerce, analytics will be your guide over the first 6 months or even a year.
If you are new to this, you may want your marketing team to regularly study your data to see if you are doing things right or even half-right. While there are many parallels with your existing eCommerce marketing, you need to customize how you post to suit the 'quick fix' audiences found on social media.
Some key metrics to pay attention to are:
Follower count – How many people follow your social media accounts?
Impressions – How many times has a post appeared in someone's feed?
Reach – How many people have viewed your post since it was uploaded?
Likes – The number of people who interact positively with a post.
Conversion rate – The number of people who complete the action you wanted them to do, e.g., make a purchase or sign up to your email list.
Click-through rate – How many people followed the CTA included in your post.
By analyzing this data, you will quickly understand what's working and what's not, helping you make the most of your social media presence.
7. Create great content
As with other aspects of your marketing strategies, the content remains king. And, with the declining attention span aspect, you may need to make that extra effort to ensure your content captures the attention of your target audiences. Grabbing that attention is your initial goal, and then making the consumer want to know more, whether by reading the post in its entirety or watching a short video.
This is also an area where UGC (user-generated content) can be of great help. Customers posting reviews or recommendations of your products represents a major marketing tool that can include videos of them using your products. Your social commerce reach should extend far beyond your own page and posts. You want to see brand loyalty through the sharing of those posts.
8. Collaborate
You want people to talk about your brand and your products. One great way to get those conversations flowing is to collaborate with social influencers. While we often see amusing stories about some influencers, the fact remains that this is a massive market, projected to reach a massive $16.4 billion in 2022.
Of course, you need to choose your influencers carefully. There is little point in establishing a relationship with an influencer who works in a different sector than you. Nor is there much point in targeting an influencer with minimal reach. Look at which influencers work with brands and products similar to yours and see if they are interested in working with you.
Beauty retailer Sephora is an excellent example of how to do this well. They created their Sephora Squad, which enables them to extend their reach, engage with more potential customers, and make more sales.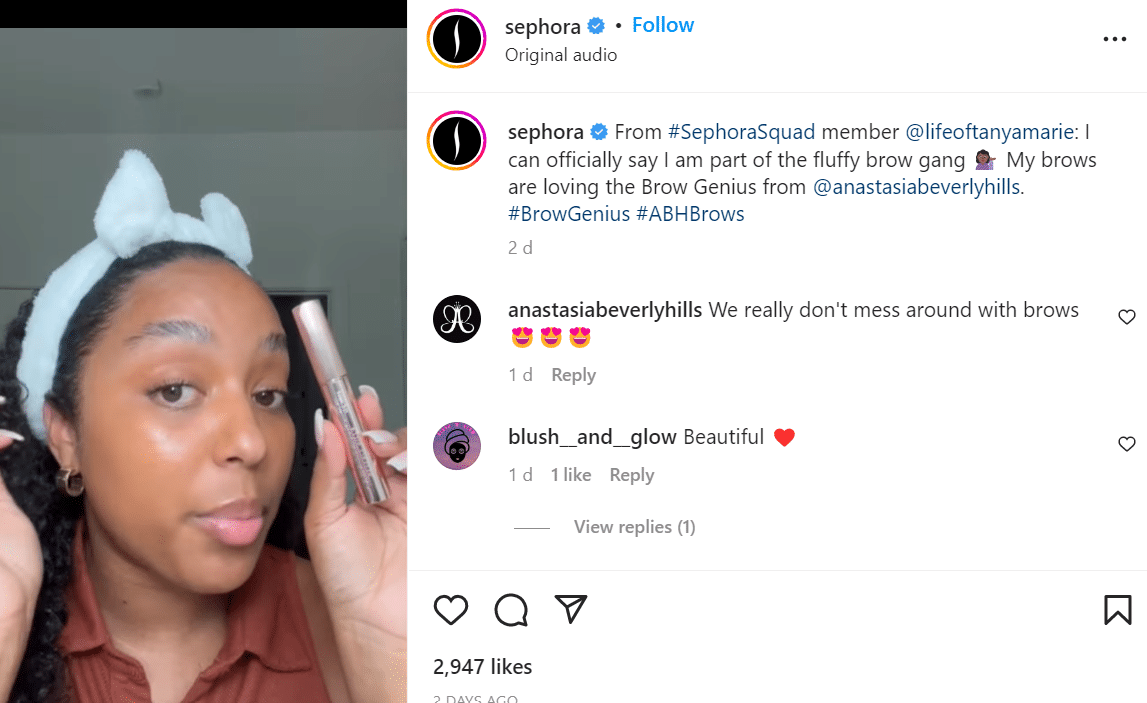 Sephora Squad member shared on Sephora's Instagram.
9. Paid promotions
While organic reach is fantastic, especially from the perspective of negligible costs, the reality is that paid promotions will attract more attention. Organic promotions are only shown to people already following your brand or page. In contrast, paid promotions use algorithms to show your posts to people to whom your posts are relevant.
That doesn't mean you should forget organic reach altogether. The best social commerce strategy is a hybrid one where you use a combination of both. Depending on your budget, you could restrict paid promotions to special offers, seasonal themes, or launching a new product and keep your 'everyday' posts organic. Paid promotions can increase your reach, increase your followers, and improve your SEO.
The takeaway
Given the continuing growth of social commerce, it is an area that you should not neglect. With forecasts of growth in both numbers of people using social media and those doing social shopping, now is the best time to start a social commerce strategy. Online customer engagement is more critical than ever, as is getting that engagement right.
Social shopping can be a great strategy for any eCommerce business, big or small. You can use it as part of your tactics when you start affiliate networks or have it as a standalone tactic. However you choose to approach it, social shopping offers you the potential to grow both reach and revenue.
Written by:
Jessica Day – Senior Director, Marketing Strategy, Dialpad
Jessica Day is the Senior Director for Marketing Strategy at Dialpad, a modern SaaS contact center platform that takes every kind of conversation to the next level—turning conversations into opportunities. Jessica is an expert in collaborating with multifunctional teams to execute and optimize marketing efforts, for both company and client campaigns. Jessica Day also published articles for domains such as Recruitee and VirtualSpeech. Here is her LinkedIn.