Are you ready to learn the 10 ways to increase the scope of your eCommerce product videos? This comprehensive guide shows you how.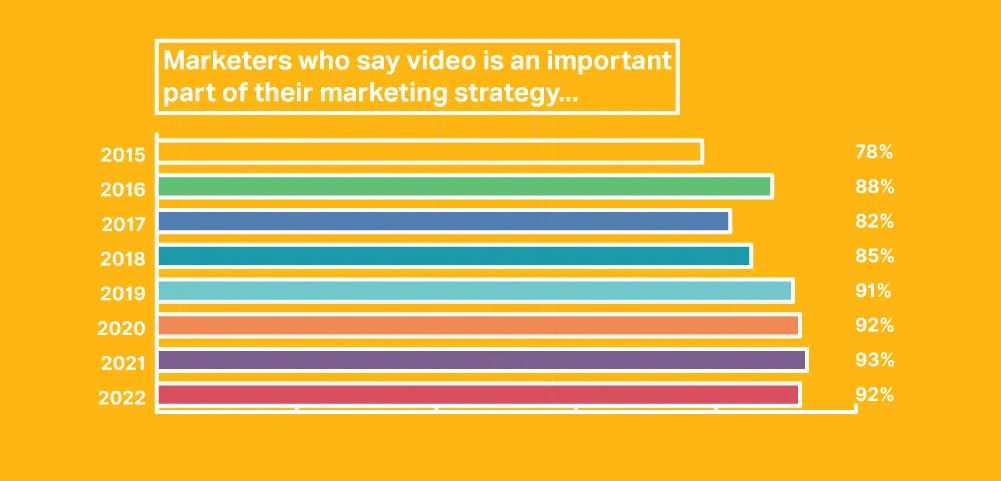 How marketeers see the importance of video.
Ecommerce is a massive market that just continues to grow and grow. In 2020 alone, eCommerce sales represented 21.3% of US retail sales, spending more than $861 billion online. Worldwide, it is estimated that by 2023, eCommerce will total around $6.5 trillion in sales, or 22% of the total global retail sales figures.
The importance and growth of eCommerce are undeniable, as is the increasing competitiveness of the market. Estimates vary, but there are anywhere from 12 to 24 million eCommerce sites currently operating. Some are behemoths like Amazon. Others are small and often niche sites.
That competitiveness means that marketers need to have bigger toolboxes than ever before and must utilize whatever tools it takes to see improvements to their various KPIs and metrics. One tool seeing increasing popularity is the product video — just one of the many video marketing options available. How do you best use product videos to improve your performance and that all-important bottom line?
What is an eCommerce product video?
In a physical store, you can look at a product from every angle. In the case of furniture and household goods, you can envisage how it might fit in its designated space and even have the sales assistant demonstrate features. With something like clothes, it is a simple process to take an item to the changing rooms and try it on.
Whatever the type of item, the same philosophy applies: in a brick and mortar store, you can see various aspects of that item. All of that is lost in an eCommerce store. Or is it? An eCommerce product video seeks to address that imbalance by displaying your product, showing it in action, and demonstrating the main features and benefits that may make you decide to purchase.
10 Considerations when it comes to eCommerce product videos
1. Customers want to learn more
Your customers choose online shopping for many reasons, from distance to the closest physical stockists to sheer convenience. However, that decision to buy from an eCommerce store doesn't mean that they will buy blindly. Simple pictures and written explanations no longer meet most people's needs, so this is where videos fill the gap.
88% of people have said they made a purchasing decision after watching a company's video on that product or service. That's a significant number and demonstrates that you should make product videos and that you need to ensure that they contain the information required to trigger a purchasing decision.
2. Better engagement
Marketers say video is the most important type of content for social.
You want people to engage better with your site or social media platform, and video content certainly achieves higher levels of engagement across the board. Consider the following statistics:
Tweets with a video attached get 10 times more engagement than those without.
62% of consumers have more interest in a product if they watch a related video on Facebook.
91% of Instagram users watch videos weekly.
69% of consumers believe that a product demonstration video helps them make a final decision. So, including product videos on your website or social media platform(s) is an easy decision to make. A customer may want to know what a softphone is and how it will help their business. A video can demonstrate the advantages of such a system.
3. Build credibility and confidence
Let's imagine for a minute that you're an eCommerce startup. Your brand is not yet well known, and you have no real history to speak of. One of your primary goals will be to establish confidence and credibility among your target demographics. Product videos are a great way to do that. Of course, strengthening that credibility can apply to established companies too.
52% of marketers believe that using video helps build trust with their customers. Using product videos can demonstrate that a company is not only invested in its products but in its customers as well. A customer is more likely to buy from a business that has spent time and money developing product videos than one that sticks with the 'old-fashioned' method of images and text.
4. Keep your brand modern and bring it up to date
You live in a digital era where it sometimes seems that every week brings new innovations or improvements to existing tech and methods. If your eCommerce business is still using only images and written descriptions, then customers are more likely to vote with their mouse and move to organizations that have embraced the digital era.
In 2020 alone, 96% of consumers increased the number of videos they watched, with 90% saying they wanted to see more videos from eCommerce companies. If businesses don't recognize increasing demand and adopt product videos as part of their overall marketing strategy, they will be quickly left behind the pack.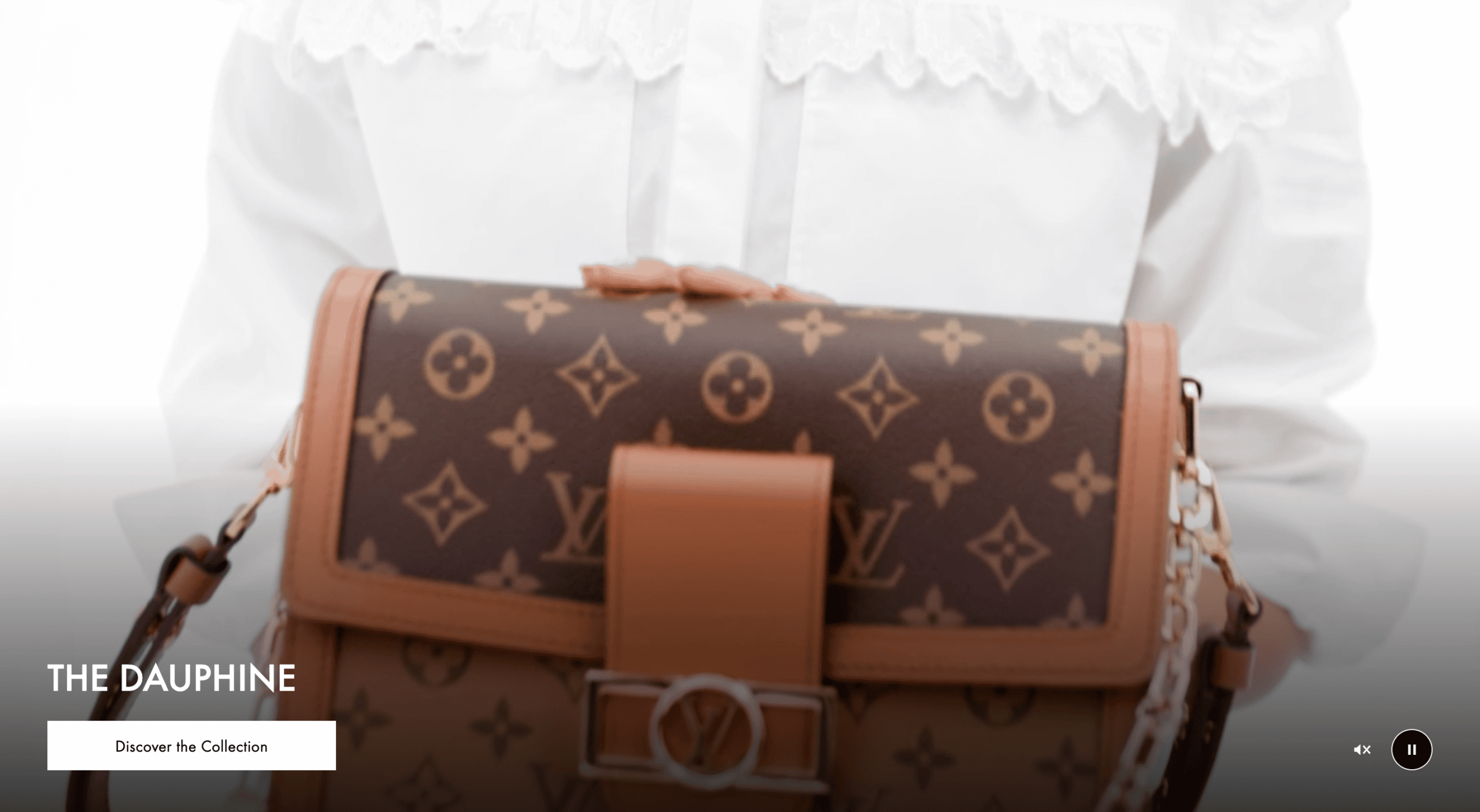 Full screen videos on Louis Vuitton's website.
5. Better customer experience
49% of customers leave a brand due to poor customer experience. That customer experience doesn't just cover support and service but how good the customer journey is. People have busy lives, and it is easier to watch a video description of a product than it is to pore through lengthy written descriptions or user manuals.
A video can condense and summarize the most important details into an easily-accessible and digestible format. It doesn't matter what platform you present your video on; the simple fact is that video offers more information in a shorter time, thus enhancing the customer journey and improving the overall customer experience.
6. Boost SERPs rankings and SEO
In most cases, people will find your site via a search engine. That means you want to rank high in results and to be recognized by Google and other search engines as an 'authority' in your sector. Google uses its internal algorithms to measure how 'good' a page/site is, and video content can significantly contribute to that measurement.
It's not just about the videos on your site. You can increase your site's visibility by starting a YouTube channel or having videos on YouTube. Videos on your eCommerce site can also help you gain more backlinks with little to no effort, meaning that your SERPs and SEO efforts gain yet another boost.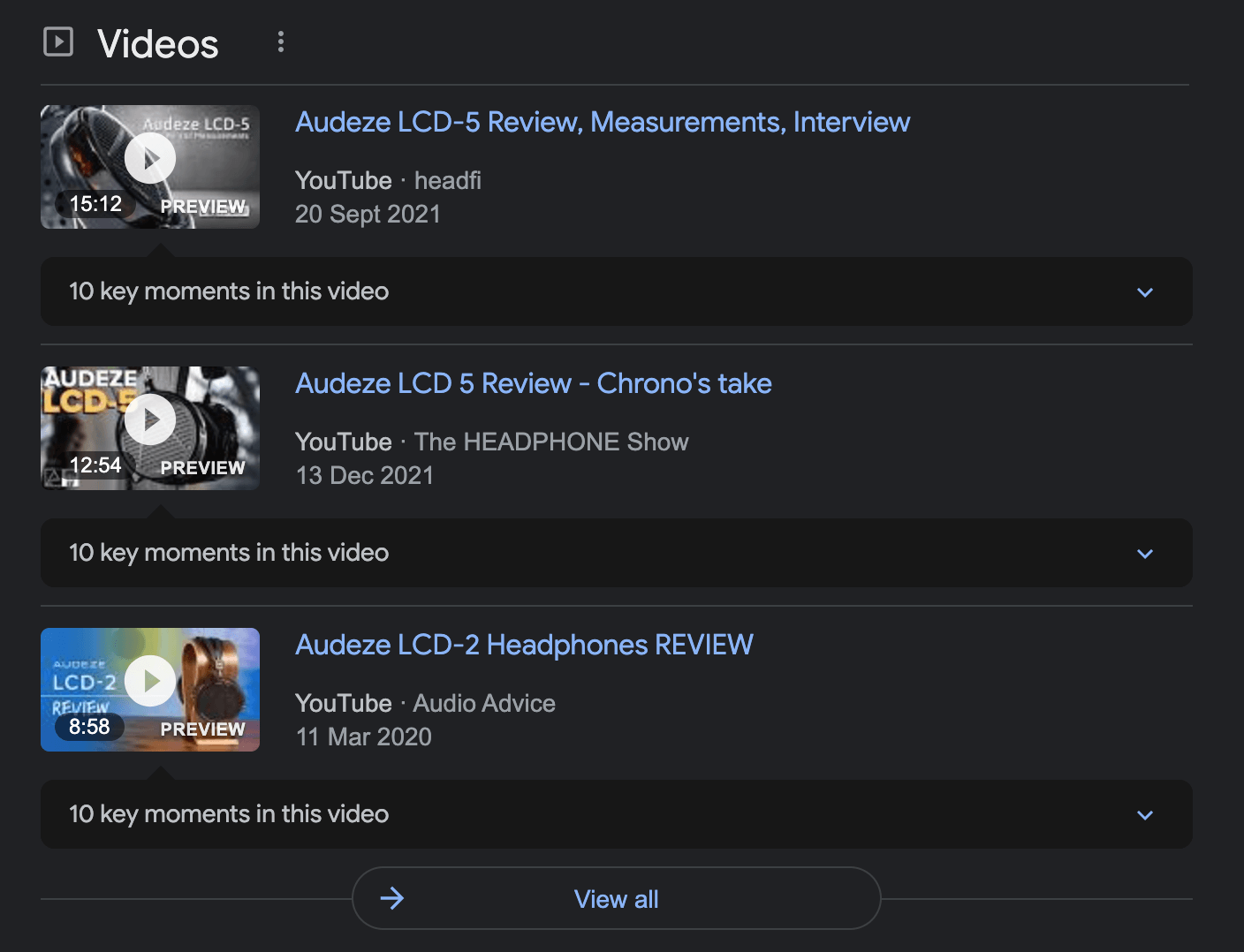 Videos making an appearance in Google search results.
7. Increases sales and conversion rates
At the end of the day, your ultimate aim is to see higher sales and better conversion rates across your eCommerce business. Using product videos increases trust in your brand and products, which means customers are more likely to buy from you. The fact that so many major corporations have videos at the center of campaigns shows how effective it can be.
In fact, in some cases, videos have been shown to increase sales by as much as 76%. So, including product videos in your marketing means increasing sales and conversion rates.
8. Increase your average order value (AOV)
As well as boosting your sales and conversions, you can also increase your AOV. This can happen because you can highlight complimentary products from your catalog that go or work well together. These products do not have to rely on each other; they may just be suggestions.
For example, let's assume you sell cloud communication services, household goods, and furniture. Your video may be showing off the latest audio-video conferencing system, but it could include high-quality headsets to use with that system. A customer may decide to buy both simultaneously, thus seeing an increase in their AOV than if they had bought only the audio-video conferencing system.
9. Reduce amount of returns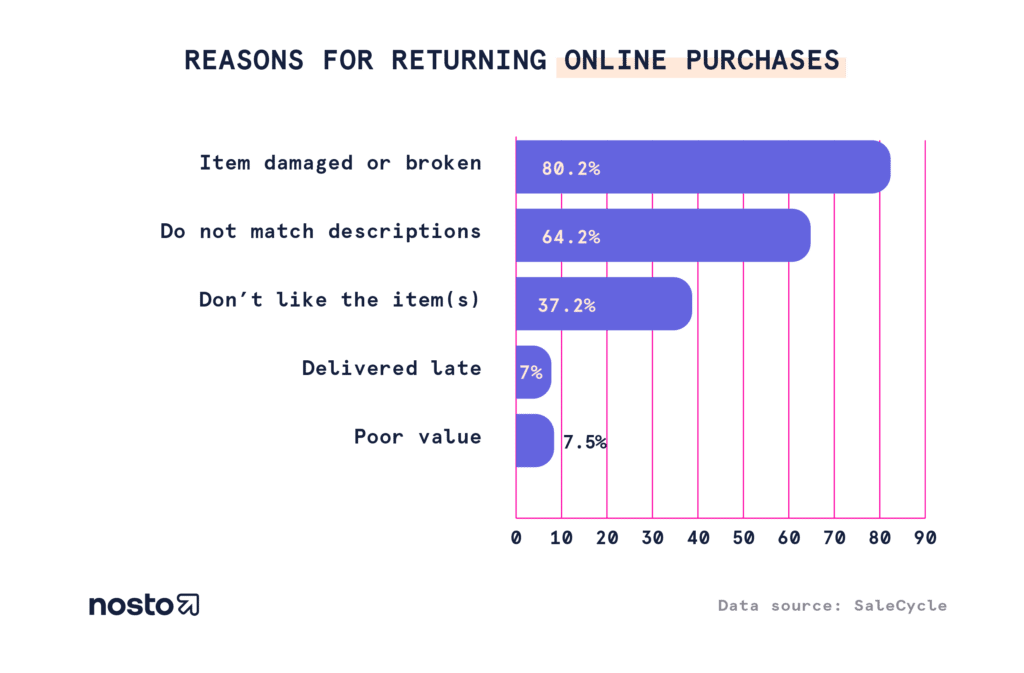 Why online purchases are returned.
The problem with buying things 'blindly' is that they often fall short of your expectations when they are delivered. Products can look different from the images, they can fit poorly, or they may not work as you expected them to. All those factors can lead to high rates of goods returned.
Having an uncomplicated returns and exchanges process is a vital cornerstone of good customer service. However, in an ideal world, you want to minimize the number of items returned to you. While there may be no way of eliminating returns altogether — especially when it comes to clothing —product videos may contribute to dramatically reducing them.
10. Complement other campaigns and strategies
It's not just a case of creating a product video and embedding it on your eCommerce website. You can use that video in other campaigns and on any other platforms you use. You could also include videos in any email marketing or newsletters you send out to give customers additional info.
For example, let's say your company provides testing services for software and apps. You made a video illustrating the different types of test cases in software testing and put it on your website. You could use the same video within a blog or send it to potential customers to show your services.
The takeaway
Videos can work well no matter the product or service you are trying to sell. Whether you have digital product ideas or are marketing goods such as clothing or furniture, a well-made video can communicate your product's functions and abilities.
Of course, you may choose not to produce videos for all the products you stock. There is little point in making a video for simple and low-value items. Start focusing on your most popular products and those high-value items where customers need more info before buying. You also don't need to be Martin Scorsese; simple but well-made videos are the way to go to have a successful product video strategy.
If you'd like to display product videos in your catalogs contact us, or sign up for our free 14-day trial here.
Bio:
Grace Lau – Director of Growth Content, Dialpad
Grace Lau is the Director of Growth Content at Dialpad, an AI-powered VoIP phone service for small business for better and easier team collaboration. She has over 10 years of experience in content writing and strategy. Currently, she is responsible for leading branded and editorial content strategies, partnering with SEO and Ops teams to build and nurture content. Grace Lau also published articles for domains such as Emerging EdTech and Virtual Vocations. Here is her LinkedIn.
Headshot: Image