If you run an e-commerce store, you need to read this guide! Why? Because it's all about product descriptions—what they are, why they are so important, and how you can craft descriptions that do justice to your incredible products.
Are you ready to sell more than ever? Let's jump right in!
Product Descriptions: Definition and Importance
Defining a product description might sound easy enough, but there is so much more to product descriptions than a mere definition of what your product is and what it does. A powerful, compelling, sales-driven product description, in fact, should attract, inform, and inspire your potential customers – all while being catchy, concise, and captivating.
An unimpressive product description could cost you potential customers, who might not even bother browsing your online store after a first glance. It's honestly a disservice to your business and them.
One of the best things about product description as a successful business communication tool is you can use the exact tone of voice that best matches your brand. You can – and should – be as imaginative and stimulating as possible.
By doing so, you will be able to unlock some crucial benefits, as we are about to reveal.
The Top Three Benefits of Captivating Product Descriptions
Masterfully crafted product descriptions can generate a wealth of benefits – here, we will focus on the three main ones.
1. Sell More – and Better
Forget about writing a dull, uninspired, and incredibly long list of technical features such as size, dimensions, colors, and other qualities. Focus on why your audience needs that product in their life right now.
Of course, you'll want to include some vital information regarding the product itself, but try to prioritize content that tells a story. What story? The story of how your customer can improve their life by buying your product.
Only by doing so will your description succeed at highlighting the benefits of your product as opposed to its mere, objective features. The bottom line? More clicks, more customers, and more sales.
2. Decrease Your Bounce Rate
Another reason why product descriptions are so important is because they are proven to slash your bounce rate significantly. How can this happen? Well, as you probably know, it only takes a bunch of seconds for an online shopper to decide whether or not the store they are viewing is worth checking out further.
The secret to keeping their attention and leading them to discover what you have to offer is through crafting beautiful product descriptions. In turn, this decreases your bounce rate and can help you increase your conversions, as we are about to discuss in our next section.
3. Generate More Conversions
High conversion rates are what every online store owner wants. So investing time and money in crafting polished, professional, and persuasive product descriptions can help you achieve that.
Imagine that you are sitting at a table with a potential customer and that you are trying to sell them your product. Make sure that your description uses natural, easy-to-understand language and that it targets the exact type of person you have in front of you.
These product descriptions help your customers better understand the value of your products and how your products can truly make a difference in their life. When this magic connection happens, you will see your conversion rates skyrocket.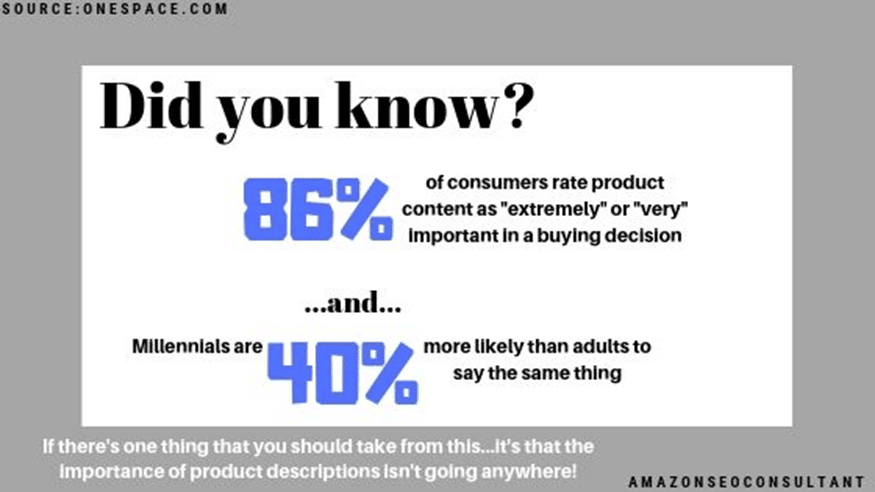 How to Craft Successful Product Descriptions
Now, it's time to get down to business. Read on to discover seven tricks that can help you create product descriptions that attract, persuade, and sell.
1. Always Keep It Different (and Interesting)
Yes, you might be selling lots of different variations of the same product. However, don't be tempted to use the exact same description for each one of them.
Not only will your customers notice that quickly (and instantly label you as a lazy business owner), but Google won't be your friend, either. The world's number one search engine, in fact, despises duplicate content, and it will punish you by lowering your ranking in its SERPs.
So, roll up your sleeves and put your thinking cap on—it's time to think up some riveting and convincing ways to write different descriptions for your products, as similar as their features may be.
Take a look at the example below from Wool and the Gang. Each description is unique and really provides value.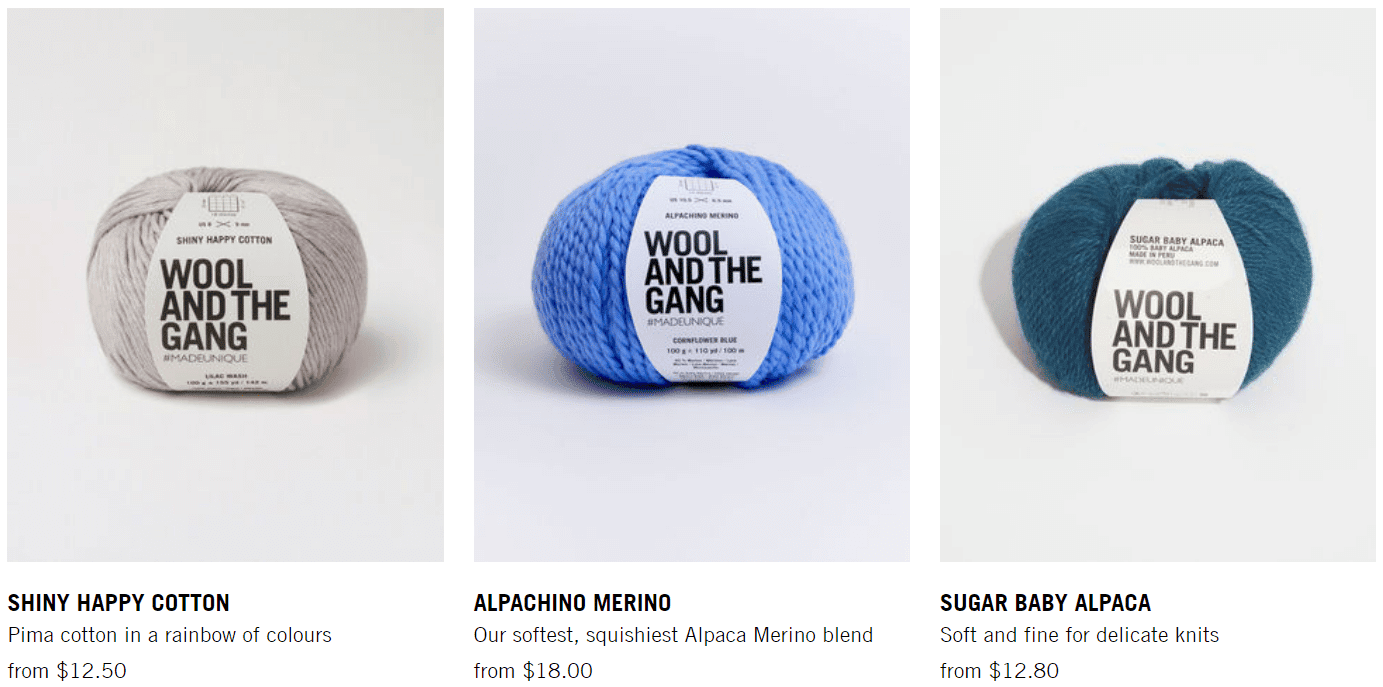 2. Curate the Copy
Ensuring that the content you write to describe your product is error-free, easy to understand, and flows naturally is paramount. You can write a great copy by following the simple tips below.
Include bullet points: these are very useful to highlight the product's features and details in a clear, straightforward way.
Choose action-driven words: don't just "describe" your product, but make it come to life by showcasing how your customers can use it to improve their lives.
Keep talking about the benefits: remember that your customers are not interested in the product itself but in how it can help them overcome specific challenges or live a better life.
Ban the fluff: less is more when it comes to creating product descriptions that convert, so cut out anything that you feel is unnecessary, repetitive, or simply boring.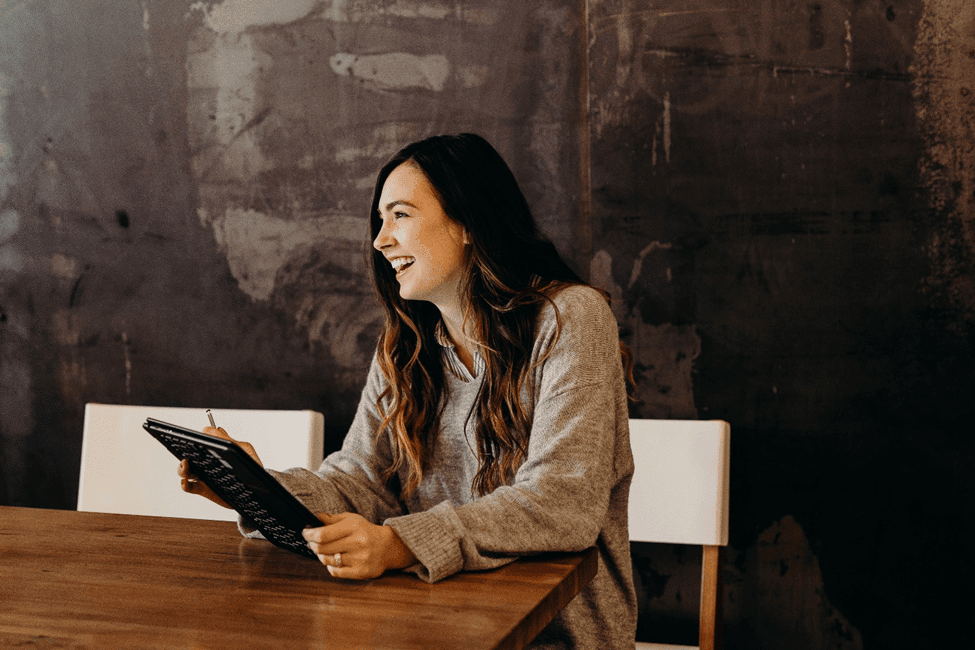 3. Highlight the Value for Your Customers
We have said this a few times already, but it's worth dedicating a separate section to this topic: when writing a product description, always keep in mind the value of your product. How is your product going to help them feel happier, healthier, or solve a specific issue? It's not just a descriptive essay, but a sales pitch.
Why is your product better than your competitors'? Why should your customers trust that your product will do exactly as you say in your description? Try to answer all these questions in your product description, possibly through engaging storytelling, and you'll significantly increase your chances to sell more of that item.
4. Incorporate High-Quality Visuals
Interestingly, when we talk about product descriptions, we rarely focus on visuals. And while written content is indeed the star of the show, incorporating beautiful visuals can have a huge, positive impact on those descriptions.
For example, you could include photos of your product in action to show your customers how it works. Or, why not include a video, too? It can be a super-fun and engaging way to explain your product's features better and could lead more people to buy it.
Sport helmet company Kask, for example, provides a 3D simulation of all their helmets and images that can be rotated 360 degrees. The customer has access to a more detailed view of the product that complements the product description.
5. Remember to Be Concise and Informative
Writing product descriptions that are punchy and to the point is fundamental. As complex as your product might be, try to keep your product descriptions short and sweet, include only the most essential details and information, and always focus on showcasing the benefits rather than simply describing the item.
Check out the screenshot from skincare brand Aesop. Their product description is brief and to the point, delivering all essential information in an easily digestible way.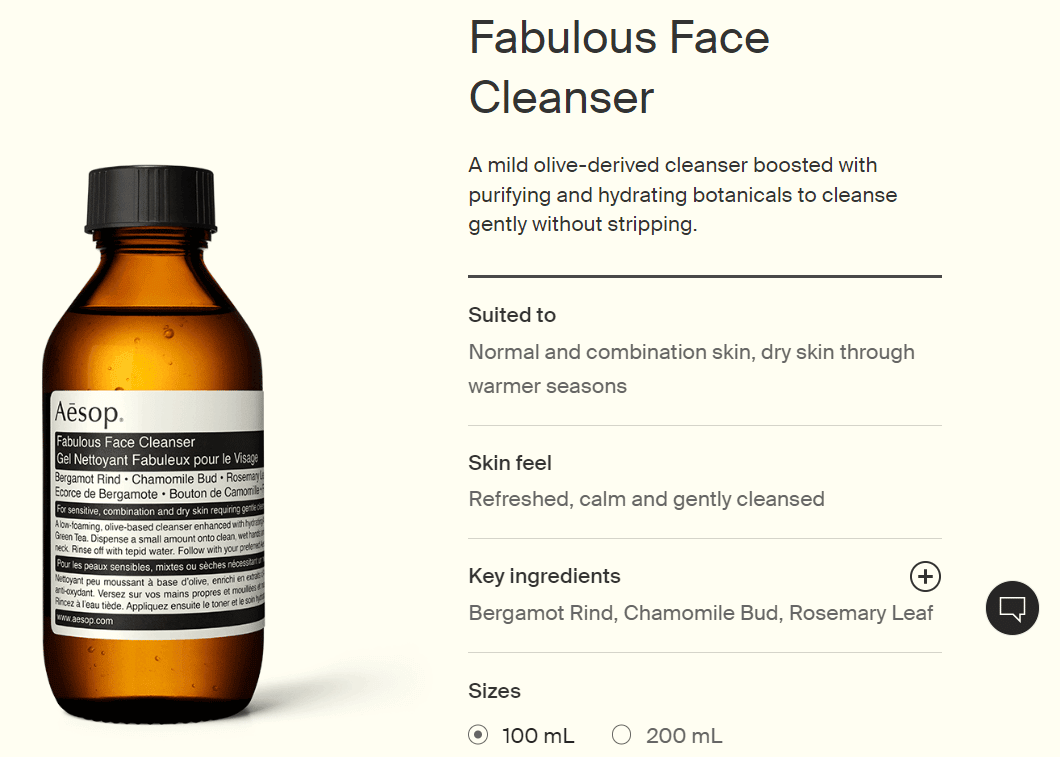 6.Put Yourself in Your Customers' Shoes
One of the most crucial aspects to consider when writing product reviews is understanding precisely who your target audience is, and how they like to communicate. For example, if your brand caters primarily to very young consumers, you'll want product descriptions to be as fun, punchy, and vibrant as possible.
On the other hand, older generations might feel that lengthy and more in-depth product descriptions are more appealing to their needs. Once you have worked out the exact language and communication style that you want to use, make sure that you keep it consistent for all your product descriptions—otherwise, you'll come across as sloppy and unfocused.
7. Include Social Proofs
If you run an online business, you know the importance of managing app store ratings and reviews. It is because social proofs are, often, what can make or break a product – and, ultimately, a brand. So, why not include these in your product descriptions, too?
Alongside the product's features, its benefits, and its storytelling aspect, it can be helpful to include a few raving reviews of some of your happy customers. Even better – add a customer image to the quote to enhance credibility.
Want to go the extra mile? Start responding to your buyers' reviews – both the great and the not-so-great ones – and you will essentially transform your product descriptions into something similar to a customer support platform.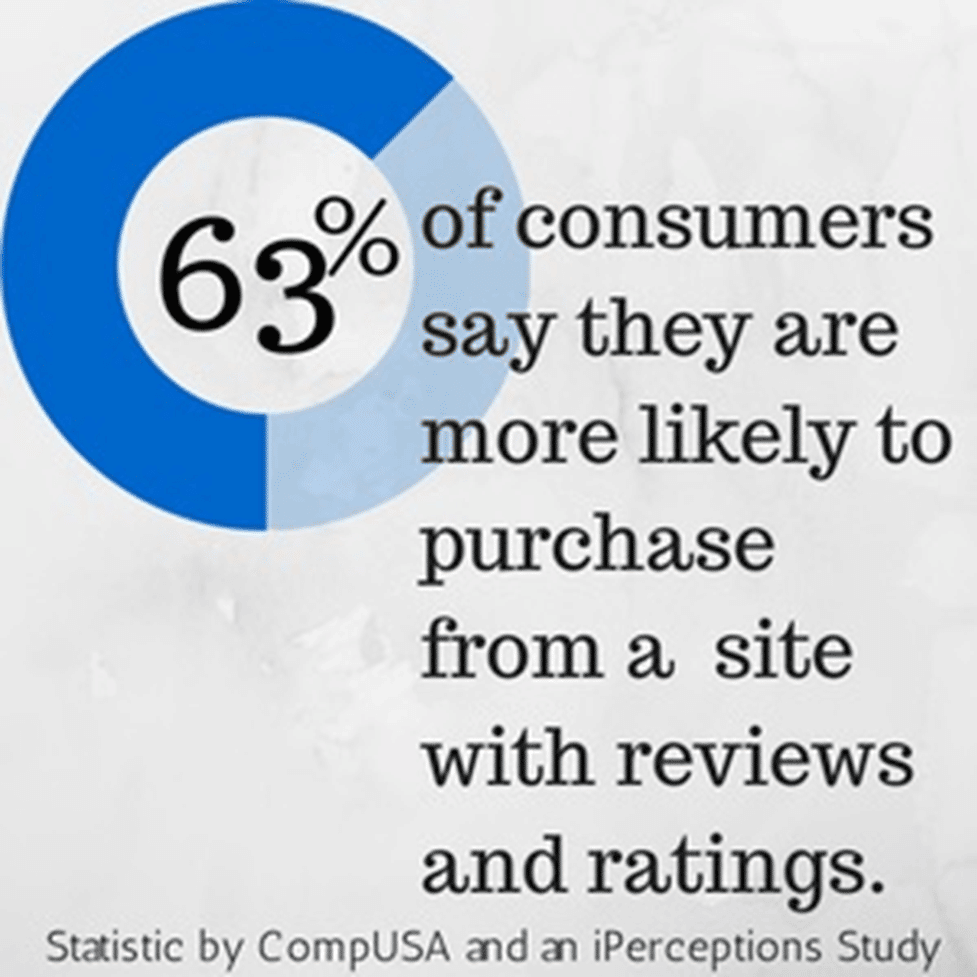 Product Descriptions: The Bottom Line
Making sure you describe your products in creative, engaging, and informative ways is essential if you want to sell more of them. In this guide, we have discussed what a compelling product description looks like, what results you can achieve with outstanding product descriptions, and how you can create yours.
Get ready to close more sales than ever by unlocking the potential of impressive product descriptions.
Written by:
Grace Lau – Director of Growth Content, Dialpad
Grace Lau is the Director of Growth Content at Dialpad, an AI-powered cloud communication platform that features Dialpad phone system for better and easier team collaboration. She has over 10 years of experience in content writing and strategy. Currently, she is responsible for leading branded and editorial content strategies, partnering with SEO and Ops teams to build and nurture content. Grace has also written good articles for sites such as Mirasee and Taplytics. Here is her LinkedIn.