Catalog Content: A great benefit of making your publications available online is that they can easily be found. We already wrote about how we make sure your publications are optimized for search engines. In this post, we want to show you quick wins that can get you a better ranking in search engines.
The stakes are high: Google alone gets 1 billion unique visitors per month. Because search engines became the main way for people to find and navigate content, making sure your content can be found on them is critical. Note that search engines' robots are limited and don't see the same webpage as we do. Most importantly, images and other embedded media aren't indexed unless the text inside is extracted and separately embedded in the page. This is the part that Publitas already takes care of by extracting and optimizing the text in your publications.
The practice of making your content friendly for humans and for robots is called Search Engine Optimization (SEO). This sounds harder than it is: all you need to do is to keep some of the following basics in the back of your mind while creating your next online publication.
The Absolute SEO Basics: Keywords
Now that you're sure the robots can actually read your content, it's time to optimize your content itself. Google stores its information around keywords and phrases. You will get the most bang for your buck by giving a great deal of attention to the way you use keywords in your text.
Let's see how this works in practice. Say you sell camping gear on your site. You want to attract people searching for things like tents, airbeds, backpacks, and any other item you have on your shelf. You want to optimize the content of your website and digital publications (think of your converted weekly ads or magazines) to achieve this.
Because you are not the only one offering these goods, just trying to score on keywords such as 'tents' won't do the job. To get more traffic, you need to pick more specific keywords or phrases that have less competition on them. Think about it: ranking high for '4 person all weather tent' is doable, and the people who are searching for that term already know what they want. You will get less traffic than ranking high for 'tent', but it will be of higher quality.
Digitized versions of your weekly ads or catalog are great for SEO, because every page gives you another opportunity to choose a clever keyword or keyphrase. This way you can strike the right balance between popularity and relevancy for each product you offer. Going back to our example, the text on your '4 person all weather tent' page in your catalog will look something like the ad you see below (note that the emphasis on the keywords is for the sake of the example. You don't have to do that for your live content).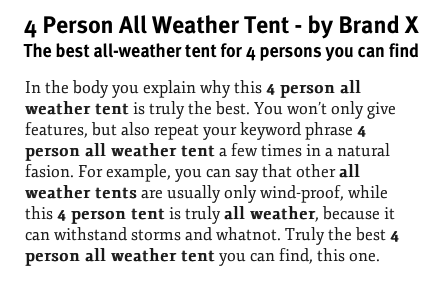 Note that it's also important to include your phrase in parts of your page that are not visible. This means the HTML <title> tag, the img alt tags, and your URL (e.g. http://campingsite.com/weeklyads-23/4-person-all-weather-tent).
Do this for all of your pages, and you will be able to attract people who are searching for the exact things you can offer them. Don't go overboard though: Google will penalize you for stuffing your page full of keywords by giving you a lower ranking.
For more information, we highly recommend the Beginners Guide To SEO by SEOmoz. The YouTube videos by GoogleWebmaster are also very good. This video in particular deals with the question of how many keywords your copy should have:
More Basics: Smart Ways to Link Your Content
Search engines not only rank on keywords, but also count how many links are pointing to a page to see how popular it is. They analyze the anchor text of the links, and also look at the popularity of the site that provides the link. The result is a complex and fair way to determine the popularity of a page. Hopefully, this popularity means relevancy.
This means that it's great to have links pointing to your pages on other sites. When you convert your catalog or weekly ads with Publitas, you have the option to have us host the resulting online publication. When that publication contains a lot of relevant links to your homepage and other pages on your site, your ranking in search engines will increase. Conversely, links from your website to your online publications will also increase their rankings.
Increasing your popularity and the clever use of links is another big topic, and we'll gladly point to SEOmoz again, whose beginner's guide has an excellent chapter on links as well.
Takeaways
This concludes our basic primer on Search Engine Optimization. If you haven't looked into the state of the keywords and links in your digital publications, now might be a good time to do so. By going over the text of your publications and incorporating some clever keywords and backlinks, you can greatly improve your search engine ranking.
More about Catalog Content

If you have any questions regarding these SEO basics and how to implement them in Publitas, please feel free to ask.