As a furniture retailer or brand, what's the best way to define and showcase your unique furniture collections online?
You might have a great webshop, and your presence across relevant social media channels like Pinterest is starting to pay off. You might even have your own app with AR, and your email marketing efforts are driving results.
You could consider these the essential components of a winning marketing strategy.
However, there's one piece missing: an online catalog.
How does a digital catalog enhance the shopping experience for home furniture brands and get more conversions?
Read on as we'll show you five home furniture brands that have published beautiful online catalogs to provide a richer brand discovery experience that other channels can't always provide. We also show how their digital catalog facilitates the conversion of more customers.
Why do furniture brands and retailers need an online catalog?
Home furniture shoppers often search for home decor inspiration on Pinterest, where they can save products of interest (pins) to their personal board. They scroll and swipe through images on Instagram. And they browse your stores' websites for that ideal piece to complement their space of interest.
These channels are all powerful tools that help more shoppers discover your brand.
A dynamic online catalog serves a similar purpose, but features instantly shoppable content, real-time product inventory updates, and rich media — rendering it to be a high-converting, inspirational channel for your customers to engage with.
Particularly if you're a luxury furniture retailer, your customers expect value from the very beginning of their shopping journey. They want to see something that defines and qualifies your furniture brand as stylish, authentic, and exclusive.
They also want to learn about your designers and artists; and how they channel their flair for creativity into crafting truly stunning and inspirational furniture pieces and collections.
With an online catalog that supports rich media content, such as high-quality images and videos, you can beautifully portray your furniture brand's story. The catalog helps you present your products in a familiar and convenient format for your customers to discover — all of which helps to convert more browsers into customers as they move through your marketing funnel.
Let's have a look at five examples of home furniture brands that publish online catalogs.
The Rug Company
The Rug Company produces and sources some of the finest hand-knotted luxury rugs in the world, with some made-to-order rugs taking up to six months to craft.
Their customers aren't just looking for any rug. They want something truly authentic, rich, and of ultra-high quality.
A webshop in combination with some social media presence simply wouldn't cut it when it comes to telling inspirational designer stories about where their worldly creative flair for crafting hand-knotted rugs comes from. You can engage customers with something more detailed and vivid.
With life-like visuals, beautifully displayed collections, and captivating designer stories, an online catalog helps The Rug Company to cater to their audience's expectations, tastes, and desire for a truly unique and high-quality brand experience.
Shoppers can browse through different collections and designers and shop directly from the content within the catalog. Or, for something even more exclusive and high-quality, they can learn about the brand's bespoke design service: a journey for shoppers to create their own rug.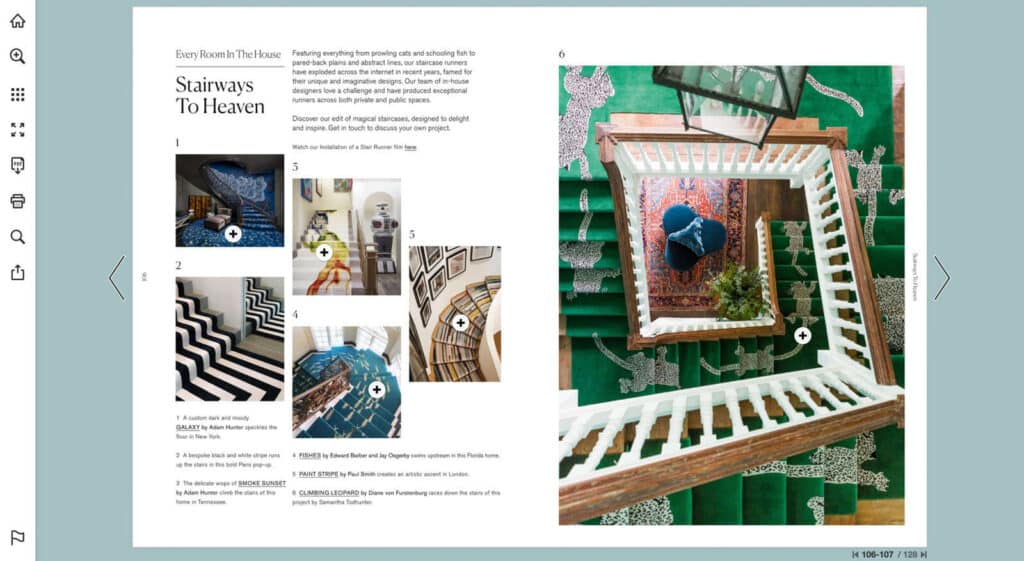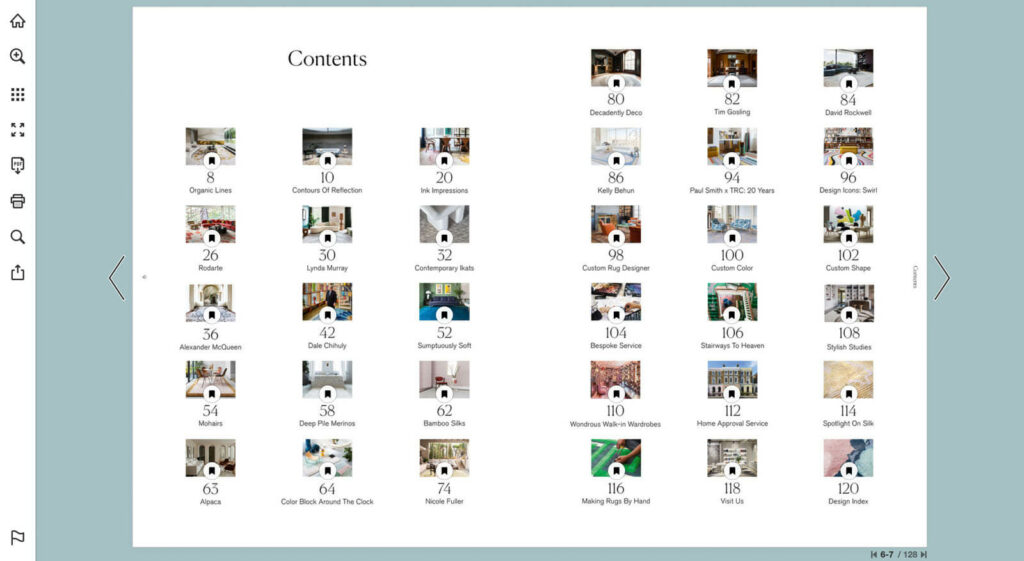 Williams-Sonoma
For luxury home furniture brands, customers often expect to see quality and style when they shop chic and contemporary furniture. They need to be delighted and WOWED with beautiful shots of a brand's finest collections — so what better way to achieve this than with a high-quality online shopping catalog?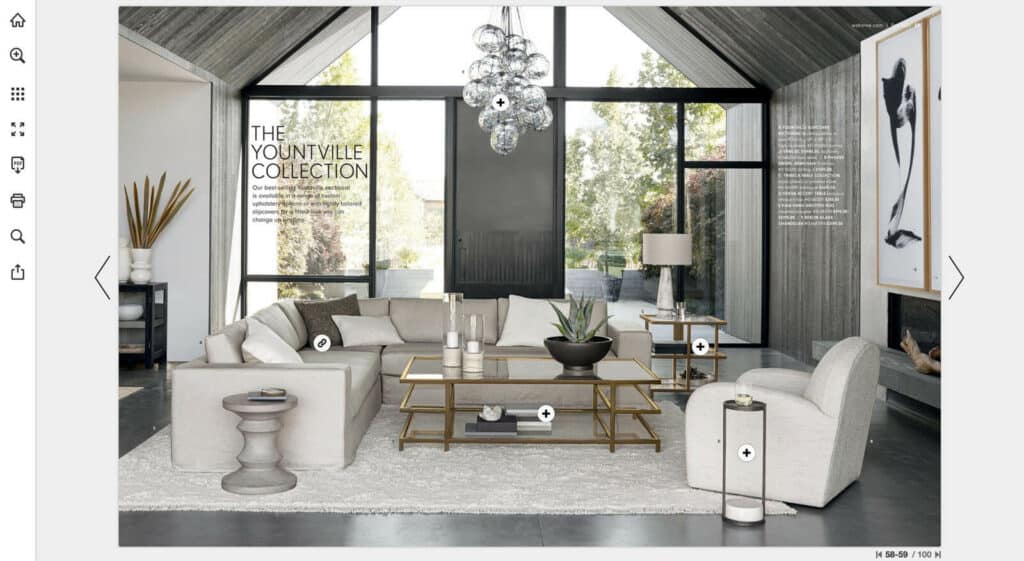 The deluxe home furniture brand's shoppable content provides extra product information, shows product variations or customizations, and conveniently allows shoppers to buy from the brand's online webshop.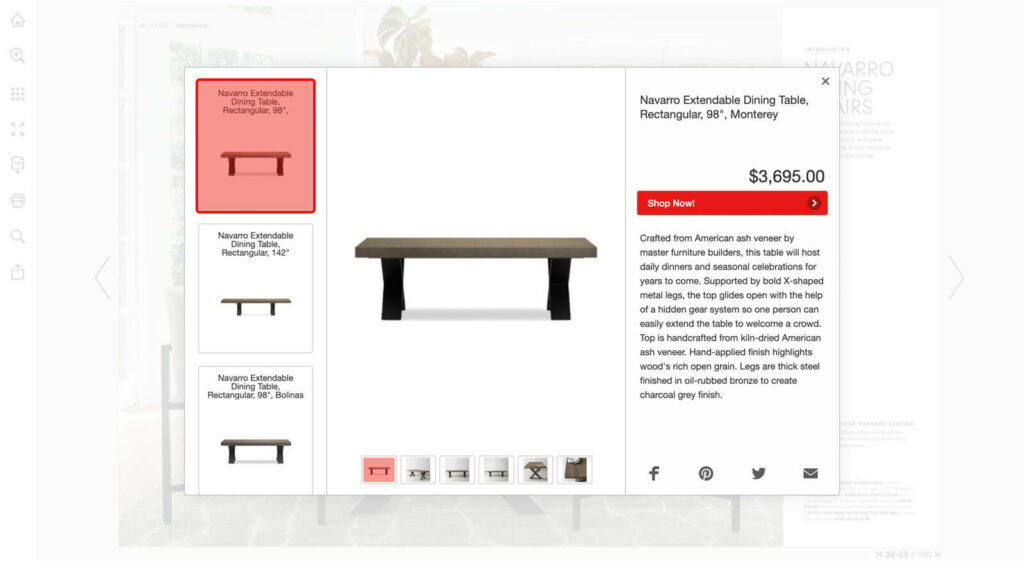 Linen Chest
Online catalogs can also be used as a holiday shopping gift guide to highlight the urgency of your sales and inform your customers about which discounts and promotions you're running over the Black Friday / Cyber Monday shopping season.
And this year, Linen Chest has made a gift guide out of its winter catalog to capture the hordes of online shoppers who will soon be on the hunt for home furniture deals and promotions.
On the first page of Linen Chest's catalog, browsers are alerted of the brand's pre Black Friday sale, which offers shoppers up to 70% off. All the browser needs to do is click on the link to see which items are on sale.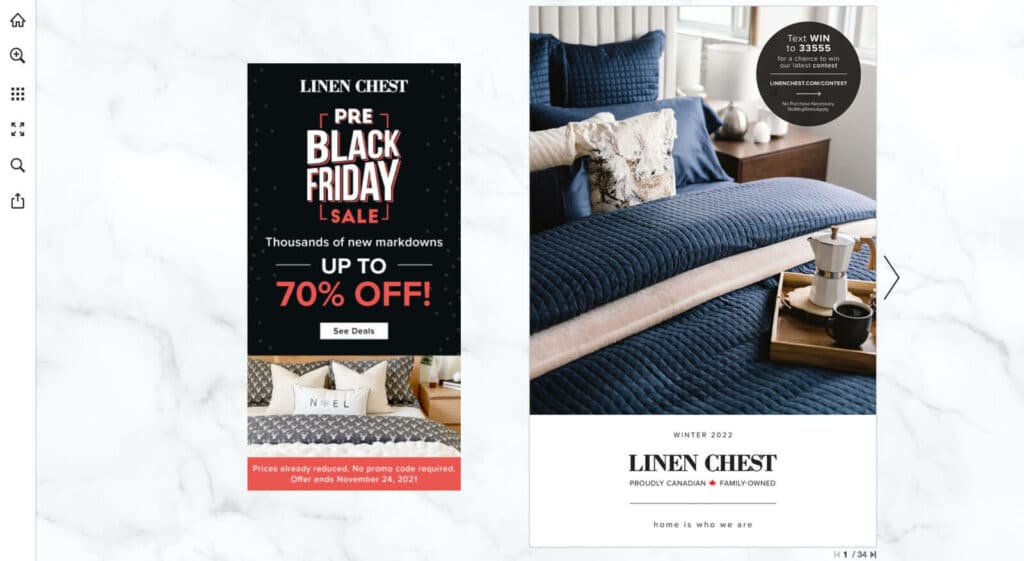 In spirit of the holiday shopping season, the family-owned homeware retailer has filled its online catalog with promotions, competitions, and incentives for shoppers to spend more.
If that wasn't enough, the brand also offers free shipping and flexibility on its order fulfillment with options such as curbside pick-up and BOPIS.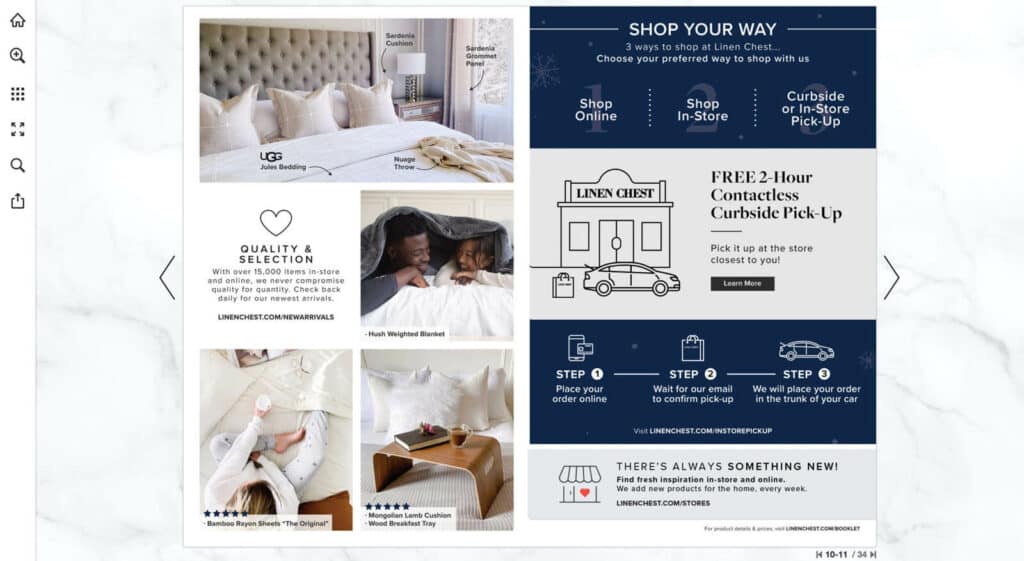 SSF Home
Buying furniture online doesn't come without its challenges, apprehensions, and doubts about size and space. Shoppers want to see how well a piece fits into a room and how it might look alongside their other furniture.
SSF Home's online catalog addresses these customer needs by taking full advantage of everything a Publitas online catalog can offer. The retailer includes videos of different rooms to show products in their natural context and to show browsers their extensive range of collections.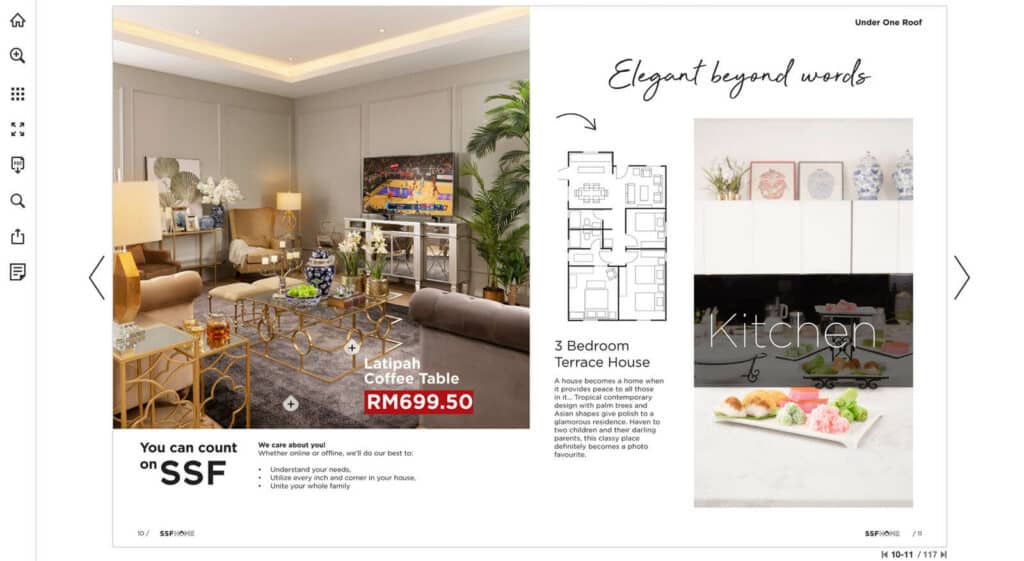 With stunning and rich visuals of living rooms, kitchens, or bedrooms, in combination with videos and music, you almost feel like you've walked into a virtual showroom of modern and stylish furniture.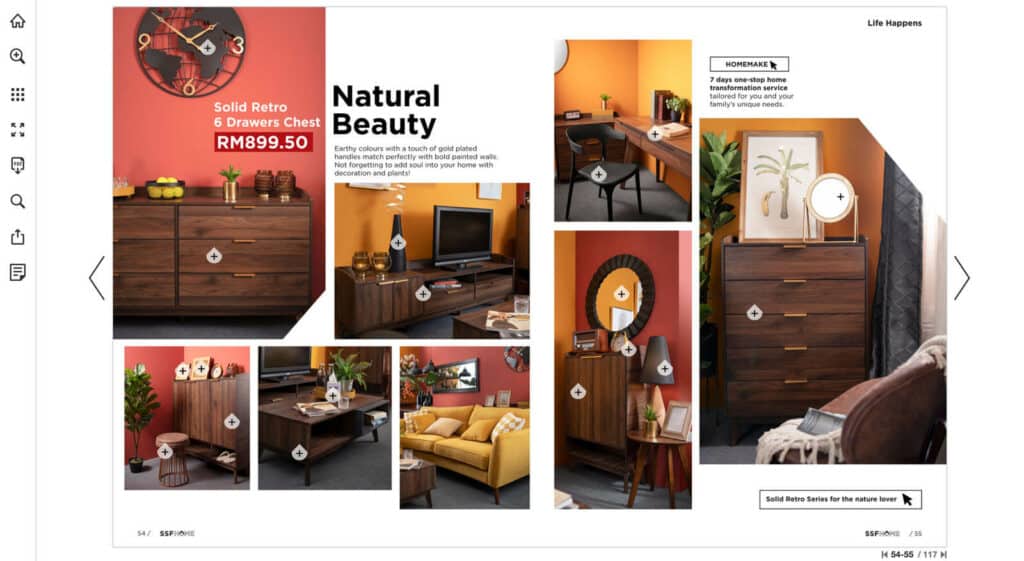 Living Spaces Small Space Furniture
Living spaces small space furniture catalog is another fine example of a brand that utilizes an online catalog to cater to a niche audience.
From cover to cover, its curated online catalog is full of shoppable image displays and tips on how to make a small space look, feel, and seem bigger.
It lures browsers in from the first two pages with wide-angle shots of a contemporary and deluxe living area, inspiring you to discover more.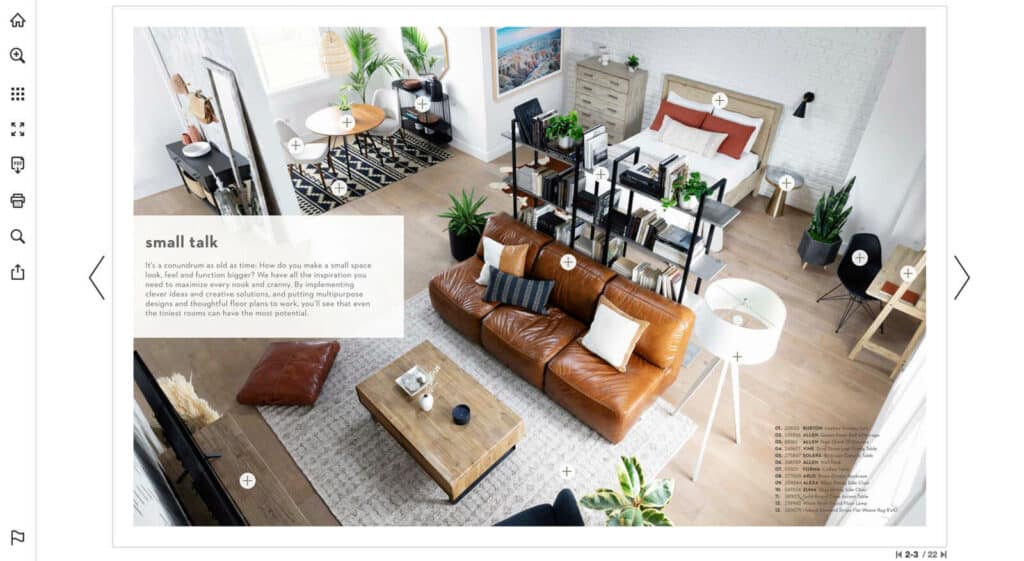 Tips, advice, and ideas of how the right furniture set can bring a smaller space to life is cleverly executed with its online catalog for this niche audience and which a clunkier webshop would struggle to deliver on.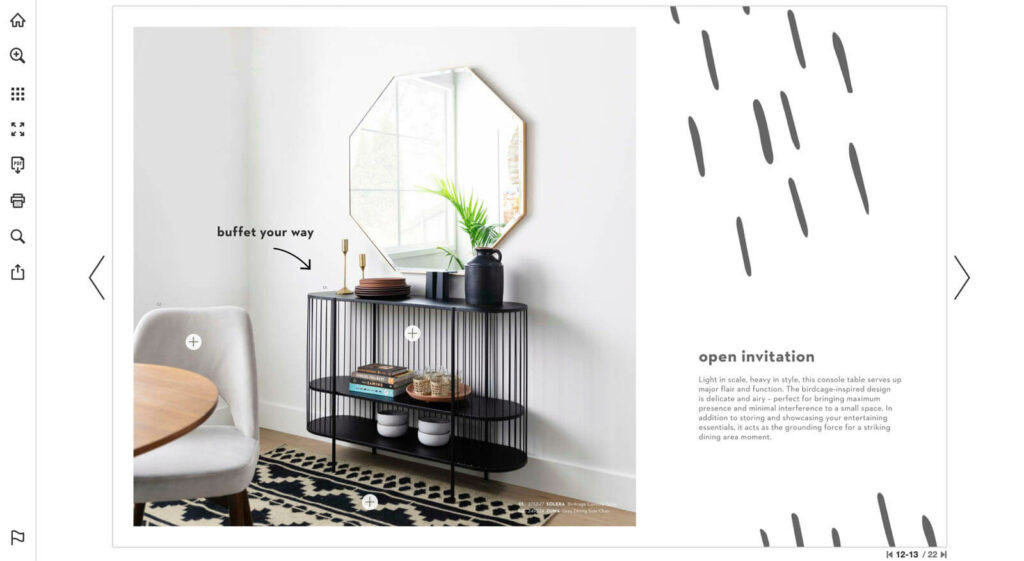 An online catalog is a must-have for a home furniture brand
Whether you're a low- or mid-range retailer, a high-end luxury one, or a brand offering made-to-order furniture pieces — an online catalog significantly enhances the unique online brand discovery experience for your customers.
As we've seen from the above examples, home furniture brands can exploit online catalogs to:
Display entire collections and sets online and in their natural context; this helps customers visualize a complete space in their home and increase AOVs.
Inspire and delight browsers with stunning imagery that draws shoppers in and adds more value to the beginning of the shopper journey.
Make it easy for customers to go from discovery to purchase with shoppable content.
Tell a story that defines their unique furniture product offerings and cater to niche audiences.
Alert shoppers to running sales, such as Black Friday, and highlight ways orders can be fulfilled.
If you're interested in creating a shoppable content experience, contact us, or sign up for our free 14-day trial here.