Social Media Success: Measuring the success of your digital publications begins with looking at the most important visitor statistics. Knowing how to correctly analyze and interpret your statistics helps you understand your visitors. In turn, this allows you to make informed decisions regarding future design and content strategy. Social media metrics are different than 'normal' visitor statistics because they try to measure the spread of social media interactions. You'll need to fiddle around a little bit to measure them properly, as they are not easily measured with Google Analytics. But don't let that put you off, because it'll be worth your time.
The person to thank for making it fairly easy to gain insights into your social media metrics is Google's digital marketing evangelist Avinash Kaushik. In an already classic post, he presents four metrics that help you truly measure social media:
Conversation rate
Amplification rate
Applause rate
Economic value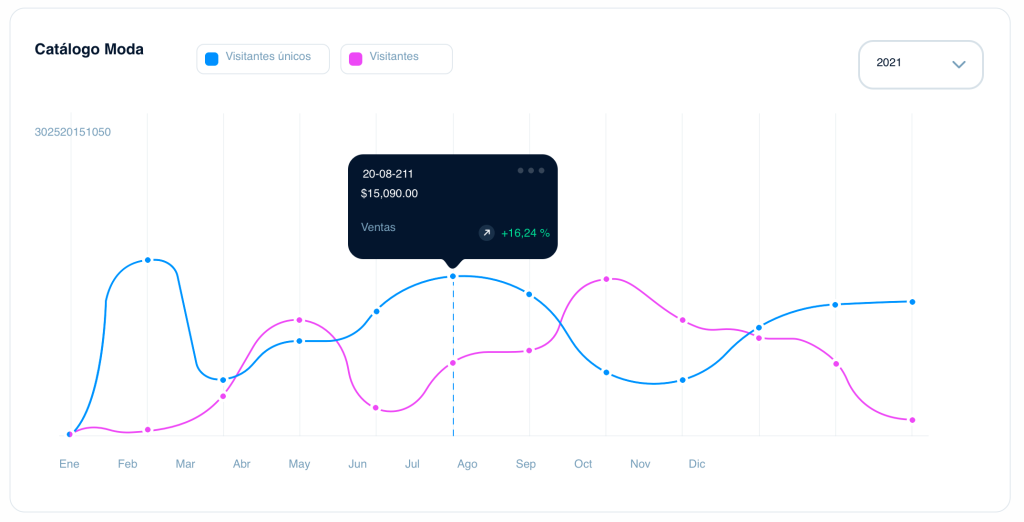 There are other great posts about measuring success on social media (like this one from Kissmetrics), but we find that Avinash provides the most extensive method.
A word of warning before we go over these metrics: this will only make sense if you really participate in social media. You will need an acceptable number of followers and a high level of activity before these numbers start to make sense. But don't let this keep you from having a look at these numbers if you're just starting out with social media. We just want you to know that they will become more significant over time.
Also note that while these metrics are easy to understand, digging them up and collecting them can be quite time consuming. There are a lot of social networks out there, and collecting the metrics by hand would be a time sink, especially if your social activity is high. Luckily, a fan of Avinash created a tool, which we will discuss in our conclusion. For fully understanding each metric, we still advise you to do it by hand the first time though.
Conversation Rate
Arguably, the simplest to determine from all the metrics, the conversation rate is the total number of audience comments or replies per original share of an item. This item can be a blog post, a shared product from your catalog, or any other piece of content coming from your brand.
By measuring this for every item and post, you will get a better idea of the buzz for each item. After you've found that baseline, try to explain the success or failure of spikes and dips. Notice that for some controversial topics or products, a higher conversation rate is to be expected, but that might be less valuable than 'normal' items. The real value lies in stimulating the conversation with content that lies close to your brand.
Amplification Rate
The amplification rate shines a light on the long road a post on a social network can travel. With no limit to the times your content can be shared, viral growth is possible.
Your amplification rate is the number of times people share a post. This means a retweet on Twitter, a share on Facebook, or any sharing mechanism on the other networks.
Figuring out what increases your amplification rate is both a science and an art. E-commerce sites rely on their content being shared by users, making some of these variables hard to control. But when you post something yourself, the time that you post something and your timezone matters, the timing of your reaction to a recent event matters, the perceived value of your post matters, your likeability matters. Above all, you want to create valuable and extraordinary content. There is nothing that can beat that.
Applause Rate
Besides the all-powerful share, you also want to measure the number of likes, favorites, and other acts of 'one-click affection'. Seeing how many people are willing to openly endorse your content for each post gives you insight in the likeability of your content.
To measure your applause rate, simply count all favorite clicks, likes, +1s, and other acts of one-click affection per post.
There will probably be some correlation between your applause rate and amplification rate. This is because likeable content is often valuable, and when you share something it's because you generally appreciate it. Also note that the line between a solid share and 'like' is starting to fade. Especially on Facebook, the act of 'liking' something also shares that content to the user's followers through the 'Ticker' on the right-hand side of the News Feed.
Economic Value
Although this is the most difficult to measure, you simply can't go without measuring the economic value of your social media efforts. You can only make valid choices regarding your marketing strategy by having a clear view on your return on investment of different media. Some people will want to do business with you after they read your social media content. More indirectly, you can shorten the sales funnel because people will already have heard from you through social media by the time you receive your first sales call.
To calculate the economic value of your social media efforts, you will have to dive in Google Analytics and assign a dollar value to the goals you have set up there. Work your way up from your macro goals (e.g. completing a purchase nets you 20 dollars on average), to your micro goals (e.g. a user browsing more than five pages in an online catalog means an average value of three dollars). See Kaushik's post on macro and micro conversions and on website goal values for more information.
The resulting metric shows the dollar value for each visitor to your content from each social network. This is amazing: you can immediately see how valuable your presence on each network is, allowing you to know where to direct your attention. There are so many networks out there that you can't be on all of them, and the way you perceive their effectiveness can be deceiving. Take some time to set up this metric, and be informed by cold, hard numbers. Totally worth it.
Measuring These Metrics With TrueSocialMetrics
We already mentioned that it's a good idea to measure this stuff by hand for the first few times. This is time consuming, but luckily there is a tool that automates data collection for those metrics. It's called TrueSocialMetrics and does all of its magic by connecting your social media accounts, blog, and Google Analytics (where you should already have economic values connected to your goals).
The result looks like this: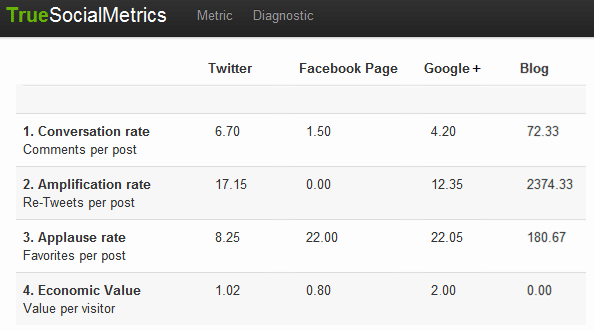 Credit Avinash Kaushik, kaushik.net
More about Social Media Success

And that's it for now on this topic. We hope these tips will turn out to be valuable knowledge in improving your social media efforts. If they do (or don't), feel free to let us know on our Facebook or Twitter pages.