Personalization is a huge topic right now, and we dare to agree it's the heartbeat of modern marketing. That's why we teamed up with Nextail to help Blokker Holding pilot their first dynamic, personalized flyers. To share this story and its learnings, we've interviewed Peter Scholtes, Director Online Marketing at Blokker Holding & Nextail.
Read on to find out why Blokker Holding decided to publish dynamic flyers, how dynamic flyers contribute to their business and how Publitas & Nextail made this possible.
Before we dive into the interview, we'll shortly introduce Blokker Holding and Nextail.
Blokker Holding is a Dutch retail company with five brands in the household and residential sectors. The company has more than 1,450 stores and approximately 14,000 employees in eight countries. Brands include: Blokker, Xenos, Maxi Toys, Marskramer and Big Bazar.
Nextail houses all e-commerce and omnichannel activities of Blokker Holding, including most of their online stores such as Cook & Co. The services they provide include web development, content and digital marketing—all fully data-driven. This contributes to the visibility, searchability and conversion of the online stores and their growing product range.
Nextail consists of about 100 young professionals, all experts in their field. Nextail has had many online successes since its foundation in 2014. They've been nominated in multiple categories for Twinkle's Shopping Awards, they won Bloovi's "Most Performing Data Award 2016" in the Belgian market and they've entered the Twinkle E-commerce Top 10 in both 2016 and 2017.
Now that we have some clarity on Nextail and Blokker Holding, let's move on to the interview.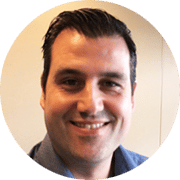 Interview with Peter Scholtes
Director Online Marketing at Blokker Holding & Nextail
Why did Blokker Holding decide to publish dynamic flyers?
"The world is increasingly shaped by new technologies. As a result, shoppers develop new wishes and expectations. They want their shopping experience to be faster, more personal, and more relevant than ever before.

The real-time flyer allows us to deliver just that. It enables direct one-to-one flyer communication between retailers and customers. The innovative dynamic aspect makes the online flyer even more personal and relevant. It reduces unwanted spam and contributes to a better online shopping experience.

The design-side resources are significantly reduced and the data-driven aspect with the ability to quickly adjust to commercial demands makes the dynamic flyer an even more valuable touchpoint within our customer journey.

This is dynamic content—the future of online retailing."
Which problems did Nextail solve by using dynamic flyers?
"I'd prefer to call them challenges, but most importantly, the flyer traditionally requires many hours of desktop publishing work. This means speed and relevance are often not achieved.

With dynamic flyers we can generate the flyer automatically from our product inventory. And because the flyers are fully data-driven, we can publish flyers that are updated in real-time on our websites as well as third party sites. The flyers are always up-to-date, always relevant and allow us to quickly play into commercial opportunities. Due to the relatively efficient way of production, it is also a cheaper alternative that allows us to easily publish flyers more often."
Which benefits do dynamic flyers deliver?
"We can play into specific customer segments, for example with a tailor made special just for a specific audience. And the dynamic pricing & products allow us to quickly adapt to competitors or other commercial opportunities. This allows us to reach a wider audience with higher relevance. Customers expect a personalized flyer wherein they can easily find the products they've shown interest in before and they want to get inspiration that fits their search interests. This is where personalized flyers deliver.

Nextail tracks the online movement of the shoppers on its online stores and links this behaviour to the customer history. For example, when a customer buys an airfryer on Blokker.nl, we can show that customer all the airfryer accessories in the online flyer. This makes it extremely easy to play into commercial opportunities regarding up & cross sell within this 'new' marketing channel."
Which challenges did Nextail face while implementing dynamic flyers?
"There weren't many challenges on a technical level and the traditional flyer is not threatened. However, in many retail organisations, the physical flyers are created by a marketing communication team. They don't occupy themselves with online marketing. This 'Chinese wall' should be leveled. The fear that dynamic online flyers might replace the traditional flyer should be addressed. The dynamic flyer is not a replacement, but an addition; a relevant translation of the physical flyer."
How did Publitas contribute to this project?
"I've known Publitas for years now and we've worked together through several companies. There's never a doubt in my mind that Publitas is the best partner in the field of digital publishing. An agile company like Publitas is key to always stay ahead of the competition. Both in the field of digital publishing and for us as a data driven retail innovator.

With Publitas we can quickly adapt to market changes, driven by facts & figures that we work on daily. Publitas is key in identifying our needs and they have a clear and agile roadmap that we can cooperate on. Publitas is fast-moving and flexible, with rapid response to unexpected obstacles we might bump into down the road. They always lead the changes we want to make, but stay in touch with us as a partner. Their flat organizational structure also helps for quick communication.

Without Publitas, the things on our wish list would have been a huge deal and not an 'easy' task at all."
How did Publitas & Nextail cooperate to face these challenges?
"Publitas & Nextail have a very strong cooperation, which has been a blessing for this project. The cooperation between me and Guillermo (CEO of Publitas) goes way back. We've already had these ideas for a long time and early 2016 we decided to just go for it.

This resulted in developing the missing link to give the old-fashioned paper flyer a more valuable role in the digitised marketing mix we know today."
Taking the challenge of personalization back to you
There's no doubt that personalization in your marketing efforts is a huge challenge. However, having dynamic flyers or catalogs that are always relevant to your audience is a great first step. Being able to show the right products to the right customers at the right time can build customer relationships that last and ultimately can help to increase sales.
We hope this interview with Peter Scholtes clarified some of the benefits of personalized flyers, which are available in our Enterprise plan. If you're interested, feel free to contact us.