Upgrading from Gold to Enterprise: If you're a big brand or retailer that wants to stay competitive online and require automation to publish digital catalogs at scale, you can consider upgrading to our Enterprise Plan.
This post outlines the main benefits of upgrading and explores how Enterprise empowers you to provide personalized catalog shopping experiences for your customers.
The main benefits of upgrading to our Enterprise Plan
There are five main benefits of upgrading to the Enterprise Plan:
Let's look at each of the above benefits and explore them in detail.
Upgrading from Gold to Enterprise: Convert even more shoppers with a seamless discovery-to-purchase shopping experience
With our Enterprise Plan, the product overlay feature is even more seamless; your digital catalogs can integrate with the shopping cart on your webshop so that catalog shoppers can add products to their cart directly from the online catalog. This way, shoppers can explore your content and fill their shopping cart without interruption.
The online catalog inherits all relevant shopping functionality, like stock status, product configuration (size, color, etc.), sharing, and other recommendations by re-using your website's product detail pages or quick views.
2. Stay one step ahead of the game and access Publitas' latest developments
When you upgrade to the Enterprise plan, you gain access to our BETA program; this way, the latest digital catalog technology is always at your command.
Here are some recent additions to the catalog feature set that will be yours to implement when you upgrade to Enterprise:
Stay relevant with dynamic and personalized content
It can be challenging to keep up with commercial pressure and shopper expectations when working with paper flyers that need to go through design cycles to update.
Dynamic catalogs and personalization can be perfect if you need to publish faster and want to have relevant content that automatically stays up-to-date.
Use a quickly adaptable publication template or grid that you can populate directly from your product feed.
Your catalogs will update automatically in real-time. For example, automatically replace out-of-stock products or automate price changes.
Keep your content relevant with personalized recommendations by connecting your publications to your Data Management Platform (or DMP) and showing the right products to the right shoppers at the right time.
Save vast amounts of time while keeping costs low.
Go here for more details on adding dynamic content to your publications.
Increase engagement with vertical scroll
Most mobile shoppers scroll through the content of channels they're browsing. You might want your shoppers to do the same with your online catalogs: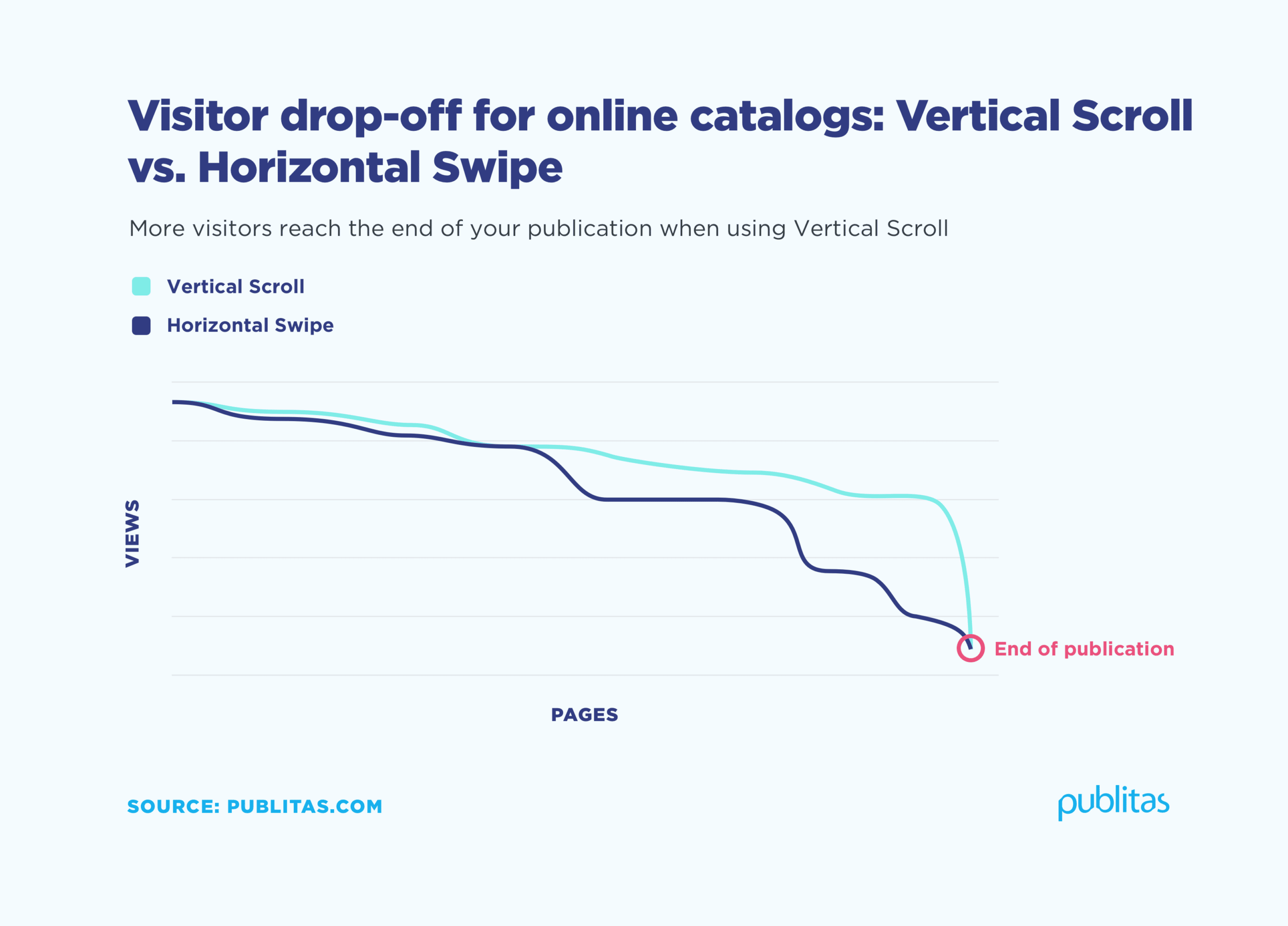 More people reach the end of a publication with vertical scroll.
When you become an Enterprise customer, you can enable mobile vertical scrolling. For more information, visit this page.
Create more engaging publications with additional rich media features
You can further promote engagement through rich media features available in the Enterprise plan. Here are some examples:
Show external content in your publications — Load your product detail pages, newsletter sign-up page, contact form, or other widgets such as SoundCloud directly inside the publication using External Content Hotspots. When a shopper clicks the hotspot, a lightbox with the external content opens over the publication.
Slideshows — With the Slideshow hotspot, you no longer have to decide which image best represents your product. Show all the details of your product by cycling through multiple photos in your catalog.
Leverage the favorites feature to handle quote requests and allow shoppers to share a wishlist
Customers can save products as their personal favorites, which they can then access from the catalog menu. From there, they can share favorites via email or Whatsapp.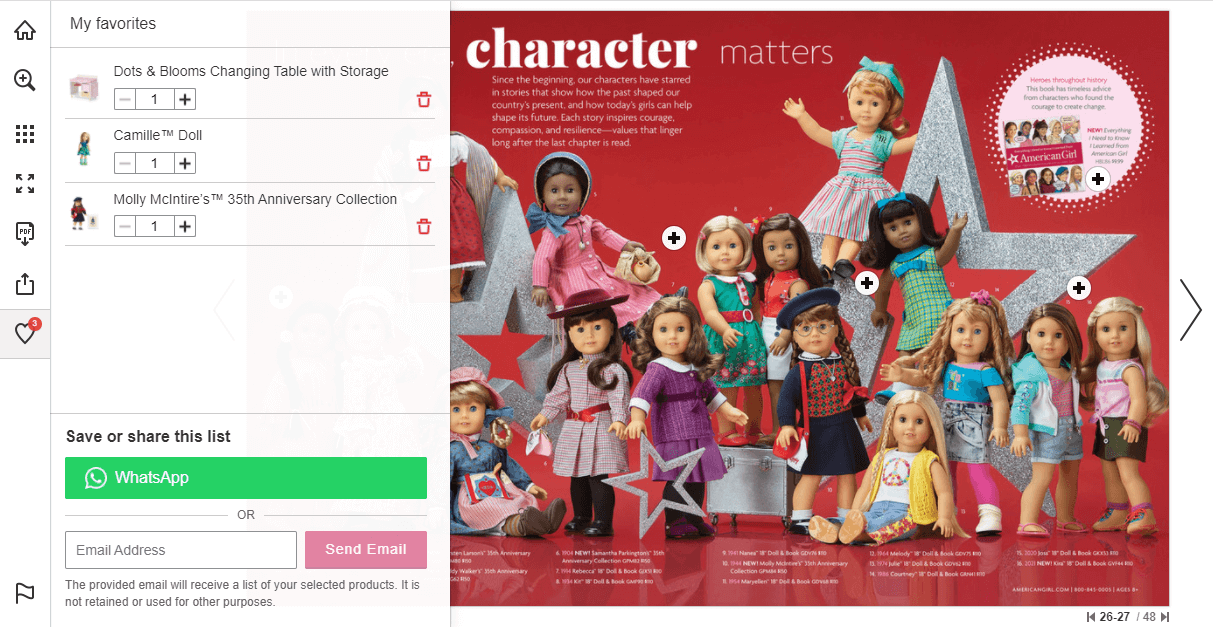 Wishlists within Publitas publications are easy to share and access.
Favorites are a simple yet powerful addition that can improve the discovery-to-purchase flow by allowing shoppers to save products of interest for later.
You can also use favorites as a quote request tool. Visitors can compile a list of products they are interested in, which they can send to the sales representative to provide them with a quote.
Furthermore, wishlists can be a vital part of data gathering for ad retargeting or sending personalized offers.
Look at this post for more details about the Publitas wishlist and learn how it can help you generate more sales.
Capture leads through your catalogs with promotional banners
There is often unused space next to the front- and back cover presenting the opportunity to add a promotional banner.
Here are some examples of how you could use the banner:
Highlight and link to a promotion in the publication.
Add a promotion linking to a landing page on your site.
Generate leads by promoting your newsletter.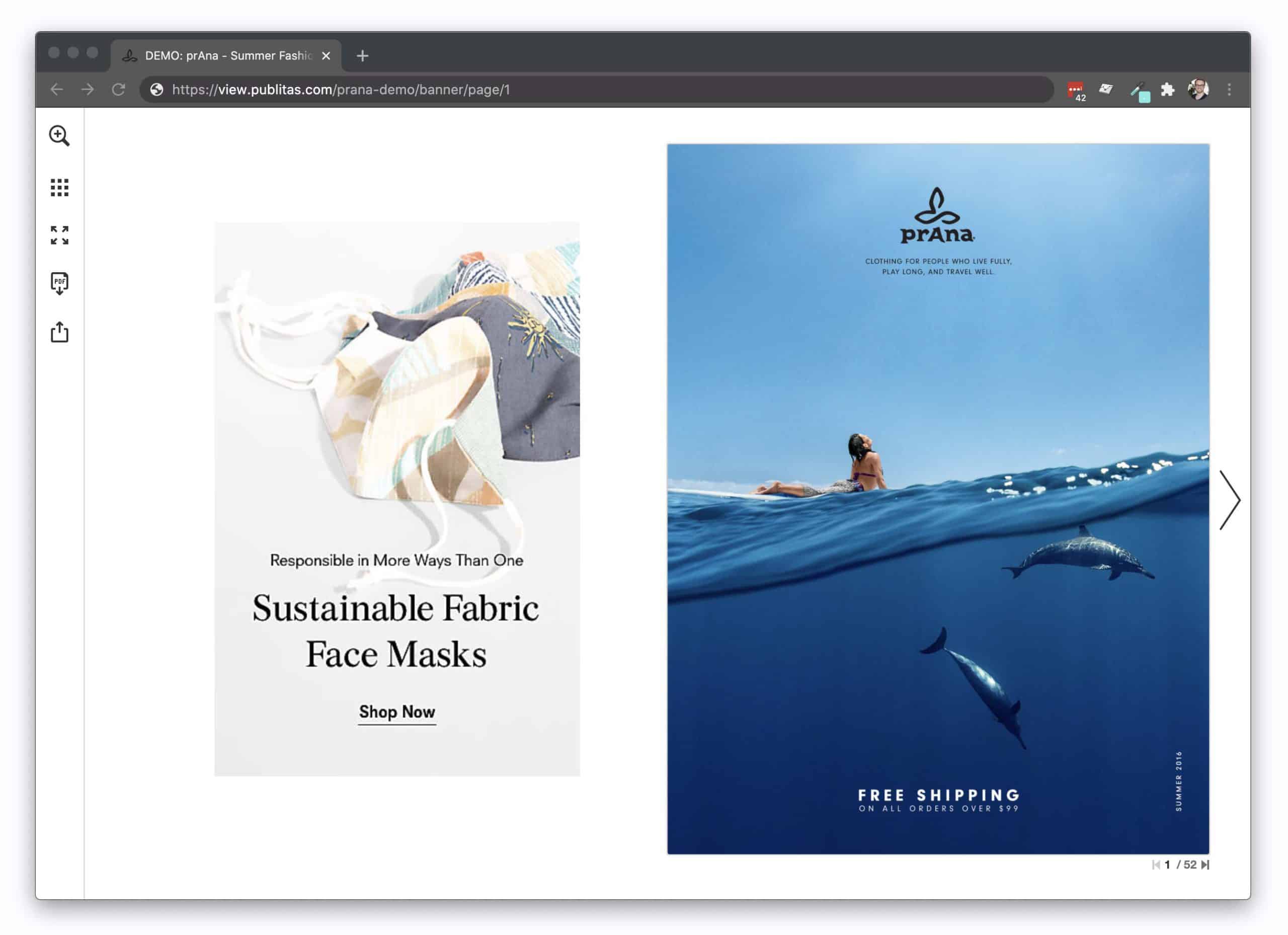 Promotional banner next to the catalog cover.
3. Manage your publications and teams at an enterprise scale
We've designed our Enterprise Plan for large retailers that might operate several brands and need the technological capability to manage numerous publications, products, and users at scale:
Multiple brands and users
With our Gold plan and below, you have a single group for your publications, where all of your digital catalogs share the same settings, product feed, Google Analytics data, domain, etc.
When you become an Enterprise customer, you can create and manage multiple groups. Each group has individual settings; this allows you to manage all the different brands, languages, or countries you have from one account.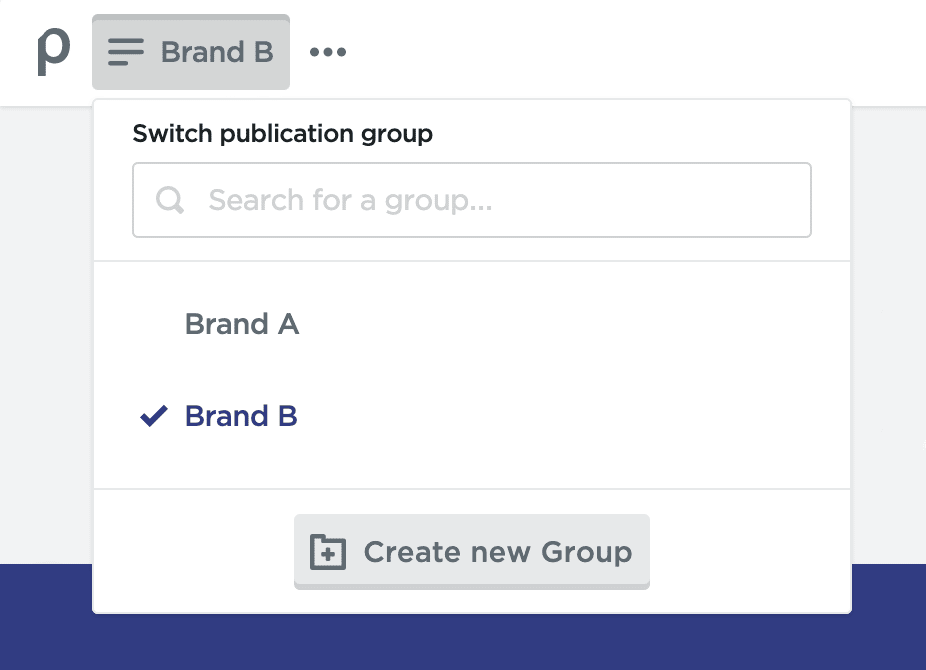 Switching groups in Publitas.
Additionally, you can add multiple users to your Publitas account, so your account won't be dependent on one person (or risk security breaches by sharing credentials with multiple people). You'll be able to assign different roles to different users and manage who has access to which group.
There are several other benefits you'll get when you upgrade, helping you to operate at scale:
Copy all hotspots from one variant of a catalog to another;
Be able to duplicate publications;
Flexible catalog management: add, remove, reorder or replace pages with ease, and no need to recreate links. (Page manager)
4. Save on production time with automation and integration features.
We understand the importance of fitting Publitas into your existing infrastructure. That's why the Enterprise plan opens up two advanced integration features:
Gain access to the Publitas API for any custom automation or integrations you might want to make;
Use code injection for custom CSS and JavaScript adaptations to our publication viewer.
Save time with automated SKU tagging
While our Gold Plan can automatically detect your catalogs' products and suggest them in the editor, the Enterprise Plan can automatically tag the detected products for you.
Automated hotspot tagging helps save you lots of time in the production and maintenance process.
Use Publitas with third-party tools
As an Enterprise-level customer, you'll be able to integrate third-party tools within your publications, such as Google Tag Manager and Adobe Analytics.
5. Benefit from a strategic partnership via a dedicated customer success manager
We've been working in the retail industry for over ten years, and when you become a Publitas Enterprise customer, we'll give you a lot more than just email and phone support.
You'll get a dedicated success manager for your organization who will help you optimize ROI and suggest improvements based on best-use cases from other retailers.
You'll also receive our client onboarding service, where we help you set up your digital publications to ensure success from the moment you sign.
Bonus
Contact us
Our Enterprise Plan offers you a state-of-the-art online discovery shopping platform that will empower your brand with a technological edge to manage your digital publications at scale and convert more browsers into customers.
If you'd like to upgrade or learn more about our Enterprise Plan, contact our Enterprise sales team.