As a retailer, you want your brand name, products, and services to be at the top of consumers' minds, but it's not always easy. The retail marketing space is competitive, crowded, and extremely dynamic, with shifts and changes happening nearly every day.
Fortunately, there is a content marketing strategy that not only puts your brand right in front of your target audience but improves your entire customer journey and generates more leads at the same time. It's a tried-and-tested strategy that retailers have used for years with a modern twist: digital brochures.
Digital brochures are highly affordable, easy to make, and infinitely customizable. Because they are digitized, you can condense an incredible amount of information in a small space, which plays neatly into your discovery commerce strategy.
What is a Digital Brochure?
A digital brochure is a marketing tool used to promote a product or service. It is a digital version of a traditional brochure that can be viewed on a computer, tablet, or smartphone. Digital brochures can be interactive and include videos, animations, and other multimedia content. They can be linked to websites, social media pages, and other online resources for wider distribution.
Digital brochures can be published as live documents or content downloads and used by B2B and B2C brands alike.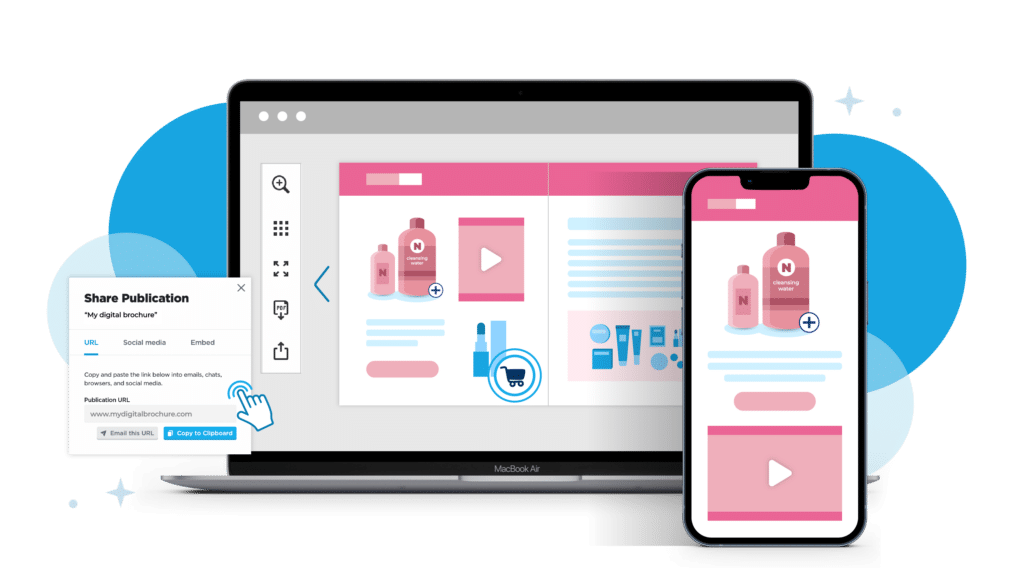 Why Create a Digital Brochure for Your Brand?
Digital brochures offer several advantages over traditional print brochures. They are more portable, and can be accessed from anywhere, by anyone with an internet connection. It's an extremely affordable and environmentally friendly way to distribute your content to a large audience.
However, that's not the only reason to switch to digital brochures. By using digital brochure software built for discoverability, your brochures will come with a host of other benefits, including:
Dynamic Content
As a retail marketer, you already know how important dynamic content is. Dynamic content provides a far better user experience and generates more engagement because the content can change based on user interactions or environmental context. With a digital brochure, you can quickly update your content according to breaking news stories, holidays, or even weather events like heat waves or rainy days. You can change your prices, remove outdated products, shuffle the order of products around, or tweak the appearance of your digital brochure template at any time without incurring additional costs or requiring major redesigns or involvement from your tech team.

Personalization
When a potential customer lands on your digital brochure, you've got to grab their attention right away. With the right digital brochure tools, you can add personalized recommendations with pop-ups and banners or create smart content that adapts to your shoppers in real-time. This doesn't just increase your odds of making a sale. It helps you gather important insights about customer preferences that you can use on- or offline in your other campaigns, including the ability to track open rates, shares, and clicks.
Immersive Shopping Experience
A print brochure is extremely limited. Usually, you have limited pages to promote your products or services, which can be very restrictive. An interactive digital brochure allows users to dive deep into the content they view. You can blend static and interactive media to include how-to guides, videos, music, recipes, and product guides that make it easier for shoppers to make a buying decision.
Improved User Experience
Digital brochures are easy – and fun! – to navigate and explore. With minimal effort, you can create an experience that is truly memorable. They automatically adapt to different devices, give users the ability to learn more about products when they want to, and adjust viewing angles or zoom ratios according to their preferences. Did we mention they are far better for the environment, too? Environmentally conscious shoppers will take a digital brochure over a printed one any day of the week.
Omnichannel Marketing Capabilities
Digital brochures can be distributed far and wide through a number of channels. You can embed yours in your website, put a QR code on your outdoor media or in a TV commercial, send it to your audience via WhatsApp or email, or share it via social media to maximize your reach.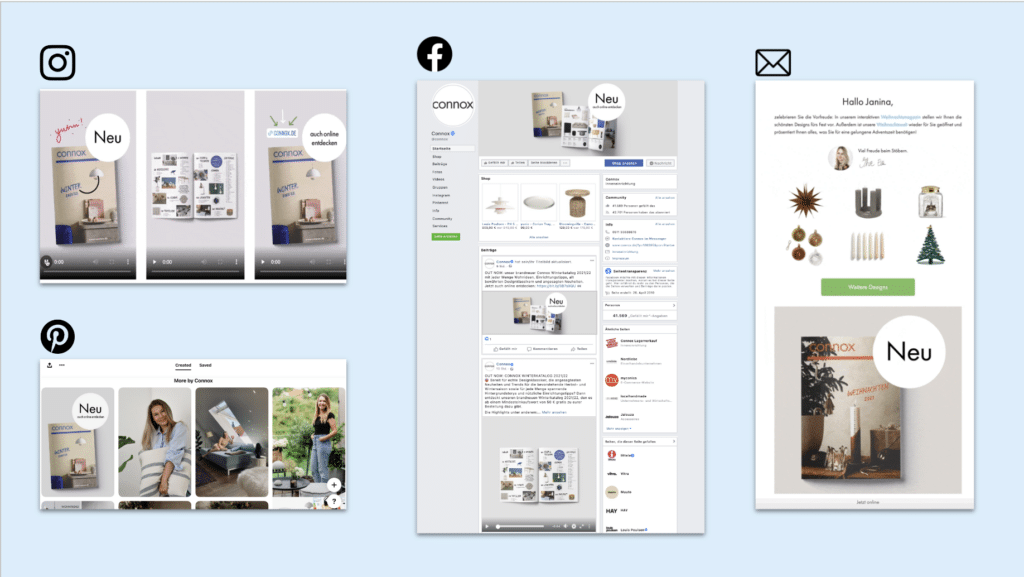 How to Make a Digital Brochure
There are several digital brochure makers online, but they are often limited to creating static content (like PDF flipbooks). There's nothing wrong with static content, but a mix of interactive and fixed content delivers far better results.
You can convert existing content or build a new brochure from scratch, which is the preferred option. Whatever content you add should enhance your messaging and engage your target audience. Take the entire consumer journey into account. Every element should push your shopper to take action, whether it's signing up for a newsletter or adding an item to their cart.
You can include features like:
Test content with internal links or the option to click to reveal more information while customers are researching products;
Animations and videos from your latest campaign, how-to-guides, or promotions;
Interactive content, like games, calculators, videos, checklists, quizzes, and style guides;
Embedded audio.
Digital Brochure Examples
Need some inspiration? Have a look at these brands that have successfully moved from print to digital brochures.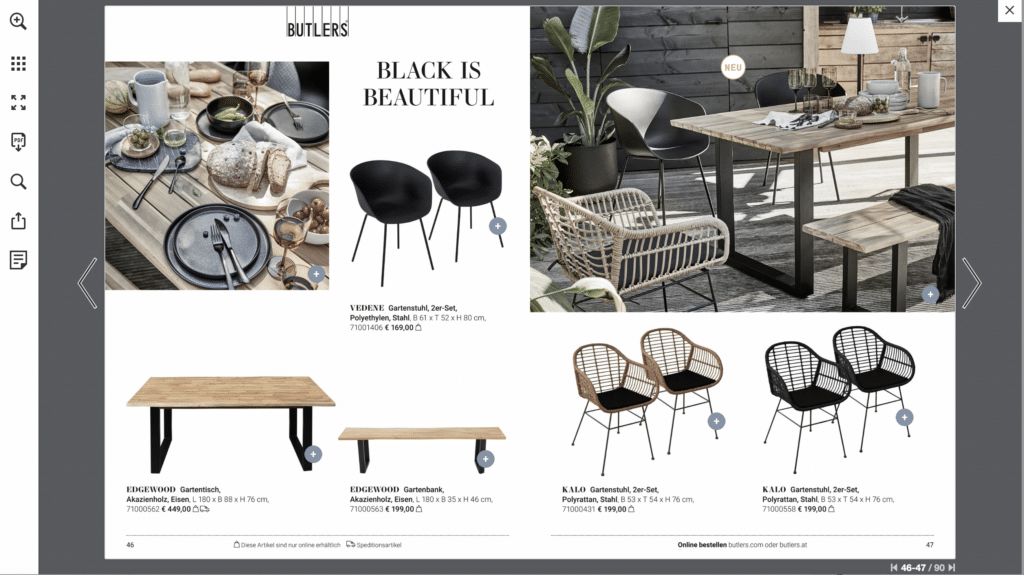 European furniture and homeware brand Butlers have used digital brochure software to create dynamic and exciting online catalogs that change as often as homeware trends do. Shoppers can click on pieces of crockery to view the entire range, add items to their carts, or hone in on an entire collection that caught their eye. While their brochures are beautifully designed and condensed, they are packed with useful information primed to drive conversions.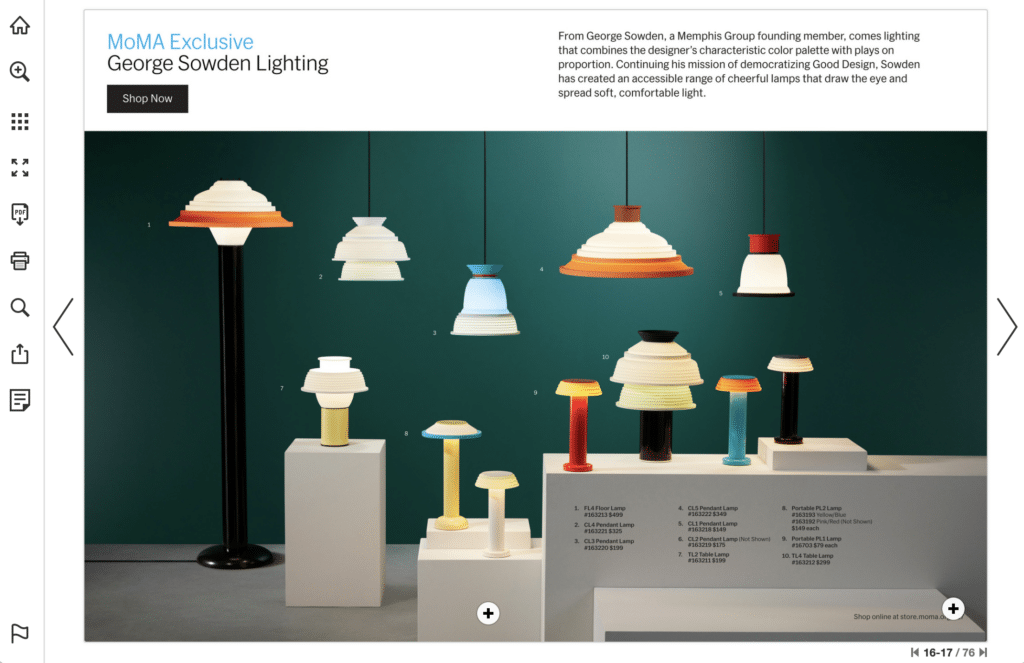 MoMA Design Store is all about catching the eye – and the imagination. With such visually impactful pieces, they are most interested in getting their images out there and telling a compelling, quirky story that resonates with their shoppers.
Thanks to their digital brochure, customers can easily click on the furniture or art that catches their eye for more information. The brochure space is fully optimized to showcase its visuals while giving customers the opportunity to learn more when they want to. Best of all, once a shopper has interacted with a specific product, they can easily share it to social media channels like Instagram or Pinterest, exponentially increasing their reach.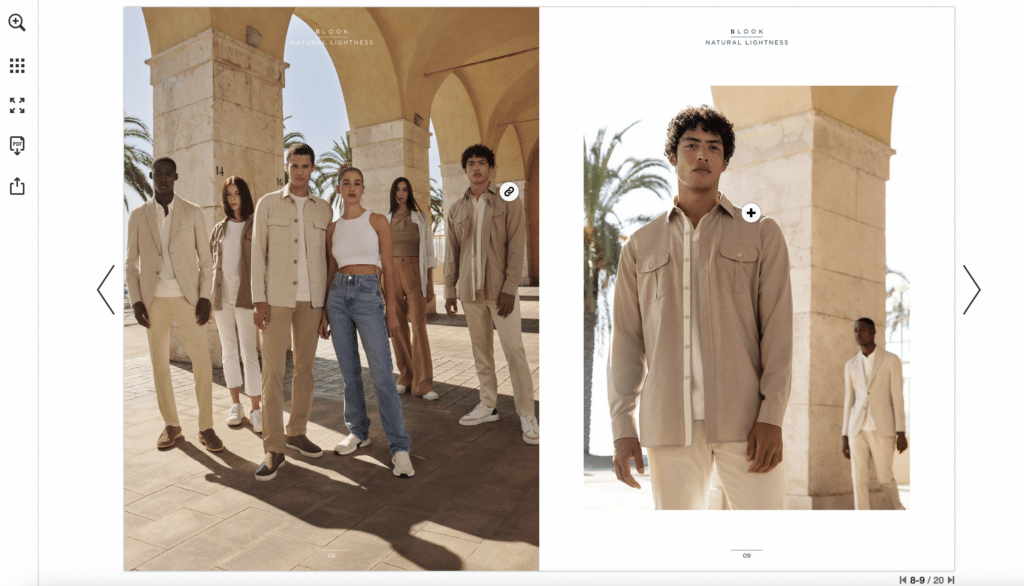 Boggi Milano uses a digital brochure with quick links to their website and products to inspire their customers to shop and combine the season's hottest new looks. By simply clicking on items in the catalog, browsers can open a window to the product, select their preferred color and size, and add it to cart before returning to the brochure. It's never been easier to shop and curate seasonal looks.
Go digital with Publitas
Digital brochures are the best way to reach and engage the broadest possible audience for your retail business. With digital brochures, your content and pricing are always up-to-date, engaging, and accessible.
Don't waste your time with limited and expensive online brochure makers and templates. Publitas offers digitization software that makes it easy for anyone in the marketing department to create beautiful, immersive digital brochures that stand out from the crowd and drive conversions.
Try it for free, or get in touch with one of our friendly team members to launch your new digital marketing strategy today.