Since the outbreak of the pandemic, the nature by which we experience events and how we communicate has changed forever. Many businesses now host a mix of in-person, virtual, and hybrid events.
But what is a hybrid event? How did other businesses and organizations run events during the COVID-19 outbreak? And what can we learn from the pandemic about how to run events now and in the future?
Those questions and more are answered in this post.
The impact of 2020 on events and business communications
When the COVID-19 outbreak became a pandemic in 2020, society and the daily routines of our lives changed significantly:
Businesses had to shift activity and ways of communicating online;
Schools and universities had to close, with classes taking place virtually;
Some companies had to close completely;
And many events were canceled, postponed, or took place online.
In a matter of weeks, modern communications technology was put to the test, and it became crucial to saving, maintaining, and growing business relationships.
But even before the coronavirus pandemic started, many businesses had already begun to embrace the new way events could be held, such as by holding them virtually or shifting to a mix of virtual and in-person — or hybrid-type events.
And in case you were wondering, you'd be right to assume that an in-person event with a live video stream could be called a hybrid event, but is that adequate, and would it deliver on participants' expectations?
Firstly, let's define what we mean by a virtual event.
What is a virtual event?
A virtual event is where participants experience the event and its content online rather than physically present. According to a report from Grand View Research, the virtual events market size was valued at $114.12 billion US dollars and is expected to grow at an annual compound growth rate of (CAGR) of 21.4% from 2022 to 2030.
Virtual events, such as a webinar, can enhance your events program, and they often fulfill a specific content, business, sales, or marketing need.
Cvent, a Saas event, meetings, and hospitality management company, split virtual events into four main types:
Webinars.
Virtual conferences.
Internal hybrid events (for company employees).
External hybrid events (for anybody outside of an organization).
Hybrid events have come to the forefront of how brands hold events, meetings, and conferences and have paved the way for how we will experience them now and in the future.
What is a hybrid or 2.0 event?
Hybrid or 2.0 events aren't the same as virtual or online events.
Freeman, a leading global event agency, defines a hybrid event as "one that uses a combination of in-person and digital elements, tailored to each audience for optimal experiences."
A hybrid event could include any of the following digital elements:
Live video or audio streams of keynote speakers, workshops, or presentations.
360-degree video streams.
Real-time polls and surveys for offline and online audience members to participate in.
Live chat or forums.
Social media integration and live broadcasting.
Inclusivity aspects, such as showing automatically-generated subtitles or materials in digital form.
Live commentary or transcripts of the event activities.
Synchronized slides alongside a live stream or replays of a video.
The degree to which an event engages both offline and online audience members with the above digital elements could make or break the experience of that event, which calls for event organizers to take measures to ensure that all participants receive an optimal hybrid event experience.
Hybrid events need to be integrated
Research on hybrid events shows that to deliver on both offline and online audience member expectations and experiences, they need to go beyond just an in-person event with live video streams.
For an event to deliver on audience expectations, it needs to be integrated. Theoretically, it's neither physical nor virtual but becomes an immersive zone where audience members can move seamlessly between optimized online and offline worlds while sharing the same unified event experience.
To further illustrate the need for integrated events, it helps if we explore what event organizers learned from the COVID-19 pandemic and what the limitations of online-only events are.
What did the pandemic teach us about online events?
During the pandemic and lockdowns, the challenge for many businesses was trying to replicate an in-person event online.
But as many event organizers discovered, digitalization can't replace the value of in-person events in the long term.
A study carried out by Markletic, a Martech firm, found that 39% of virtual attendees of hybrid events didn't feel included.
Furthermore, there are several limitations of online-only events:
It's almost impossible for event organizers to replace the enjoyable, social experience of physically being present at an event, which discourages regular attendees from inviting others.
Virtual events experienced through webinars and video calls can result in video-call fatigue or 'Zoom fatigue,' rendering the entire experience unappealing.
Trade shows are a multibillion-dollar industry, and organizers lose out on making revenue from sponsorships and exhibitors.
These findings suggest that brands and retailers should strive to hold integrated events where the true venue is neither physical nor virtual. All participants should get an optimal event experience in whichever way they choose to attend.
You'd be forgiven for thinking that an integrated event (or let's call it 'an integrated hybrid event') sounds idealized, and perhaps it is. But for hybrid events to deliver on expectations, they need to fully exploit the characteristics of the event's offline and online aspects.
Conversely, and in the face of changing consumer browsing and shopping habits online, there is a tremendous amount of reach that brands and retailers can get from holding virtual events, which, in some cases, can be significantly more profitable than physical ones.
How can virtual events be more profitable than offline ones?
Organizing a physical event is often far more costly than a virtual one. There are expenses that organizers incur for marketing, venue costs, and logistics.
There are considerably fewer aspects to organize with a virtual event, making it much cheaper to launch and run. People also reduce their carbon footprint when they don't travel to another city, country, or continent.
And instead of businesses only being able to sell to a limited number of in-person attendees at a physical event, they can sell to anybody who's watching. A great example of this is livestream selling, which is immensely popular in China and a market that is predicted to reach $35 billion in the US by 2024.
Livestream selling is perhaps the best example of how a virtual event can be more profitable than, say, somebody selling products at a local market stall.
The profitability of virtual events may not always be as high; however, virtual events can still serve an essential business purpose or as valuable content in a marketing funnel.
Examples of great virtual and hybrid events
Before we end this post, here are some examples of great virtual and hybrid events that happened over the pandemic and examples of events leading high street retailers are running now.
Online events hosted by retailers
Some of the UK's leading high street retailers have built out their web stores and made a dedicated section for live virtual and livestream shopping events. Browsers can tune in, find inspiration, and buy products directly from the store.
High-end department store chain John Lewis regularly hosts a range of paid and free online and offline events for different retail categories, such as cooking, fashion, or home: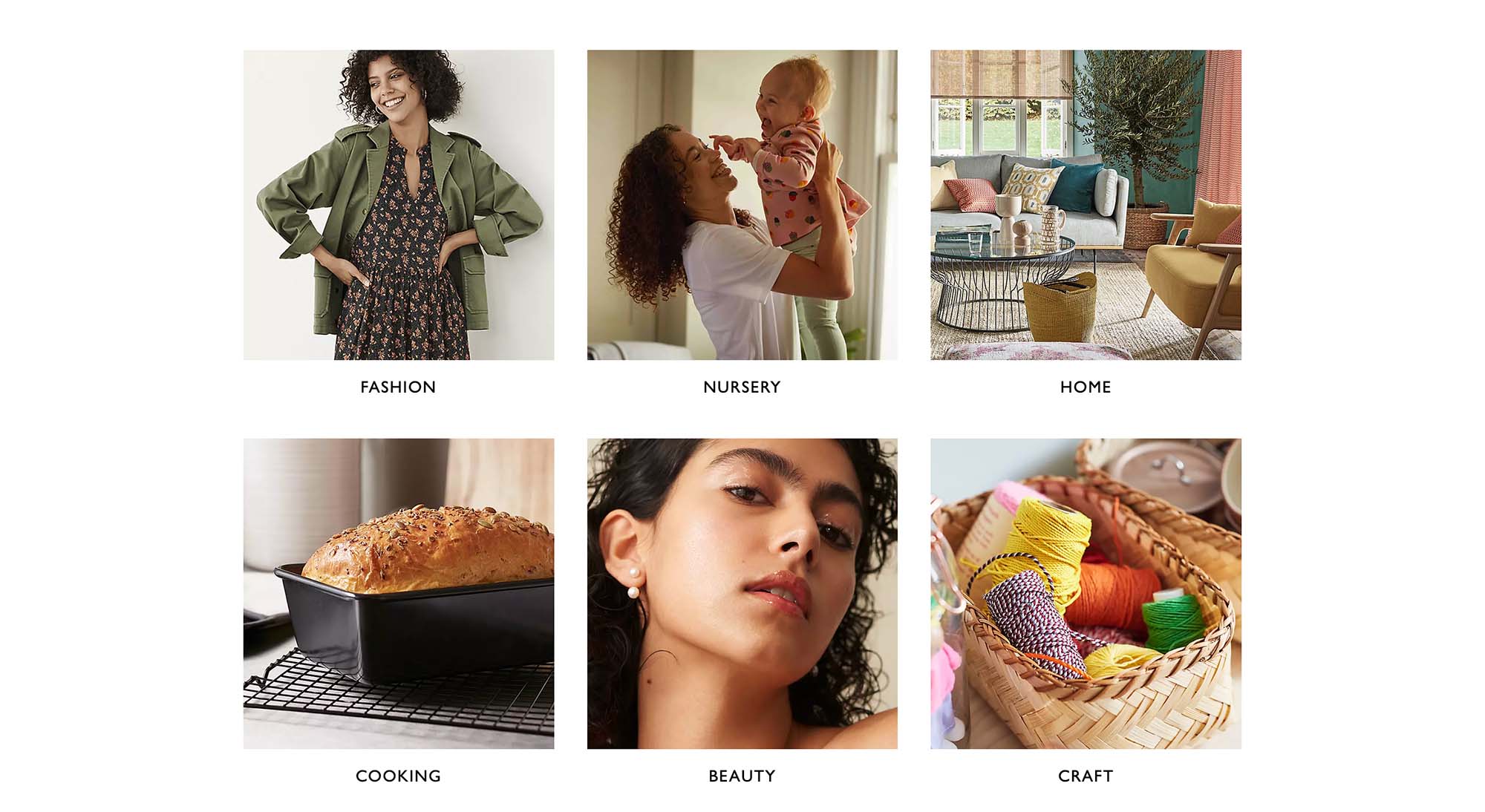 John Lewis' Online Experiences
Waterstones, the UK's leading specialist book retailer, regularly runs in-person events, like book signings, talks, and book launches.
Waterstones now has a dedicated section on its web store, 'Events,' where book shoppers can search or browse for online events: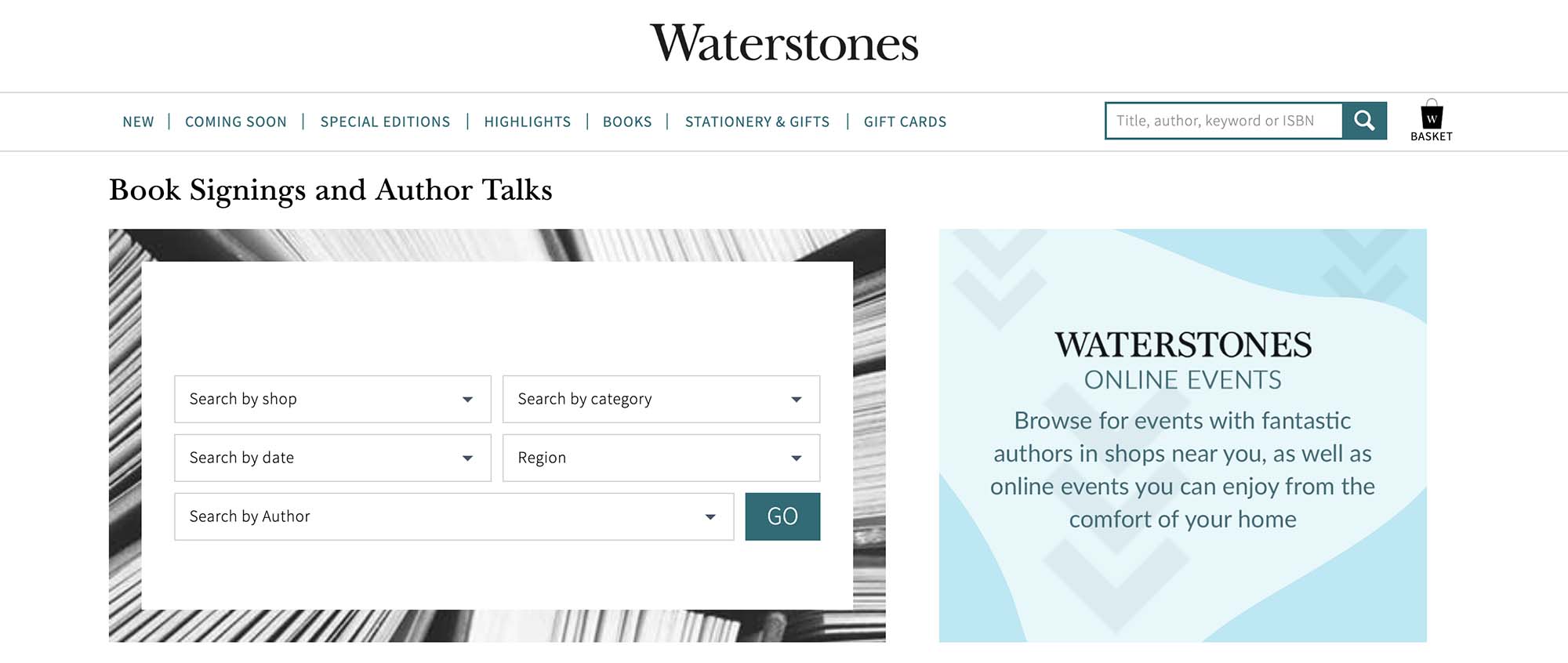 The NBA's virtual audience participation
During the COVID-19 outbreak, the NBA used a new app for fans to watch the games in real-time on their smartphones, and where the players could see the online audience on 17ft video screens. Online participants could 'tap to cheer' and interact with each other over the app's cross-functionality with Microsoft Team's 'together' mode.
DigiMarCon West
The 2020 DigiMarCon West conference was a great example of a successful hybrid event. It provided an immersive experience for both offline and online participants, and where they could watch and listen to expert speakers offering insight into best practices for digital marketing.
Apple's Special Events
Apple had been live-streaming its Special Events before 2020 when it launched its latest products or showed off a new gadget for both in-person and online attendees to watch. For example, in 2019, an audience of around 1000 in-person attendees and two million online viewers tuned in to watch Tim Cook reveal the iPhone 11, the latest iPad, and a new Apple Watch.
Brands and retailers will need virtual and hybrid events to thrive in the post-pandemic world
How events happen has changed forever. For brands and retailers to become more resilient and versatile in the face of a changing world and meet all business stakeholders' needs, they'll need to add a mix of hybrid and virtual events to their event program.

Enterprises should learn from what the COVID-19 pandemic taught us about the limitations of holding online-only events while recognizing their value and application and strive to deliver integrated hybrid events that give an optimal experience, regardless of how attendees choose to participate.