Over the last 20 months or so, more consumers than ever have been shopping online for fast-moving consumer goods (FMCG). But using search boxes, filters, and trawling through categories on webshops can be points of friction for shoppers who want to have a quick look.
Instead, you can make it easier for these shoppers and publish beautiful and inspirational content they can effortlessly swipe through.
Supermarkets, hypermarkets, and vendors of FMCG are engaging with online browsers by publishing digital flyers, brochures, or leaflets on a weekly or regular basis while highlighting their latest deals and offers for shoppers to discover.
What do these digital flyers and brochures published by retailers look like? And how do they make it easy and convenient for shoppers to go from discovery to purchase within just a few clicks?
In this post, we show you six examples of multinational FMCG retailers which have published their flyers online.
Alcampo
Alcampo, one of the biggest hypermarket chains in Spain, regularly publishes online flyers or leaflets to target different consumer segments. This December, they have a selection of brochures for deals, meal ideas, gifts, and locally-sourced produce.
For example, "The Alcampo kitchen" flyer contains quick and healthy meal ideas, with the recipe on one side and the in-store ingredients opposite — a convenient way for health-conscious grocery shoppers to find both meal-time inspiration and items for their shopping list, and all from one digital space.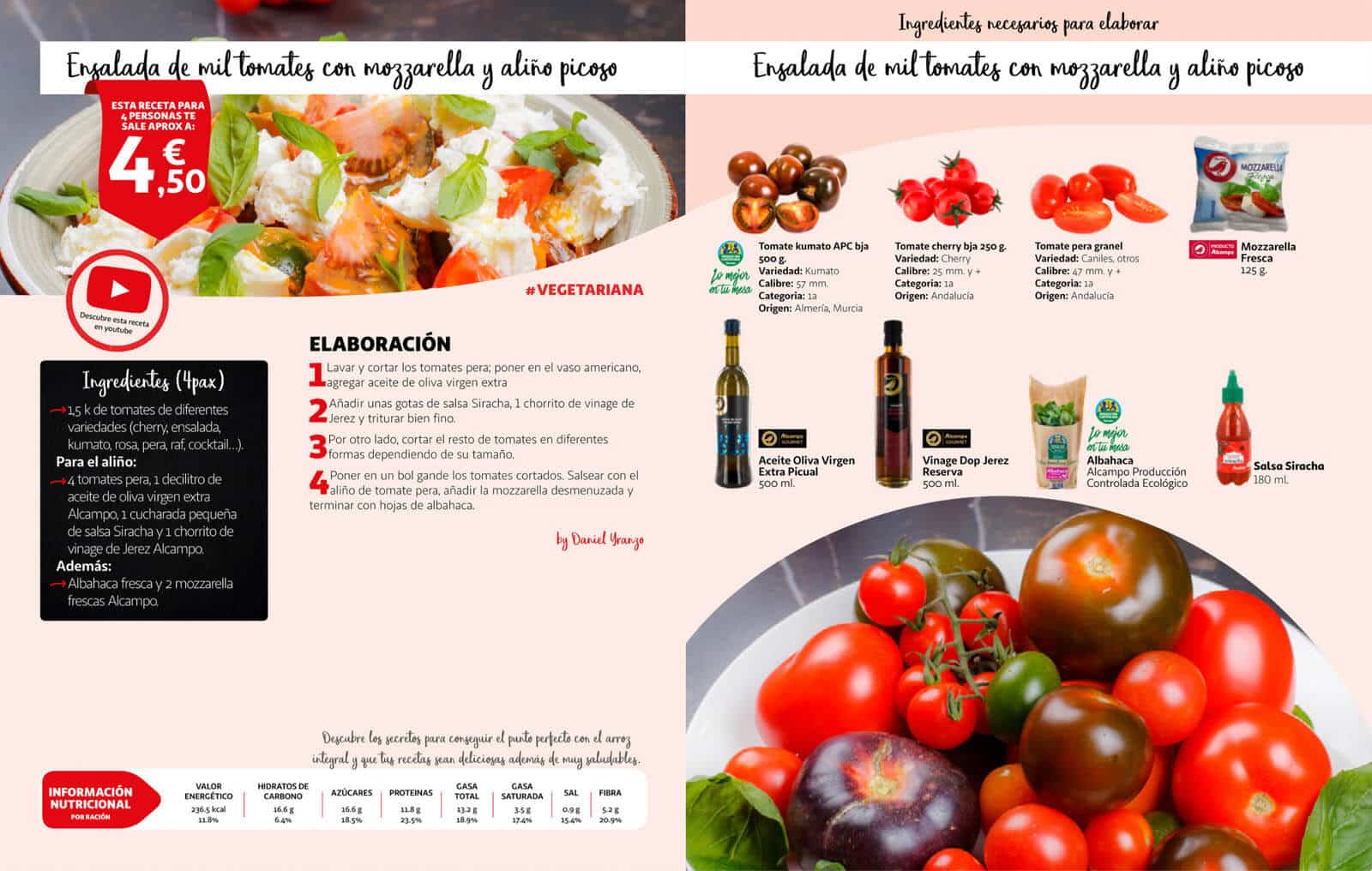 Alcampo's recipe brochure gives shoppers meal-prep instructions and a list of ingredients for dishes that they can find in-store or buy online.
For Alcampo's customers looking for deals or discounts this holiday season, the brand's New Year flyer highlights its holiday promotions, where browsers can add items to cart or find out more product information.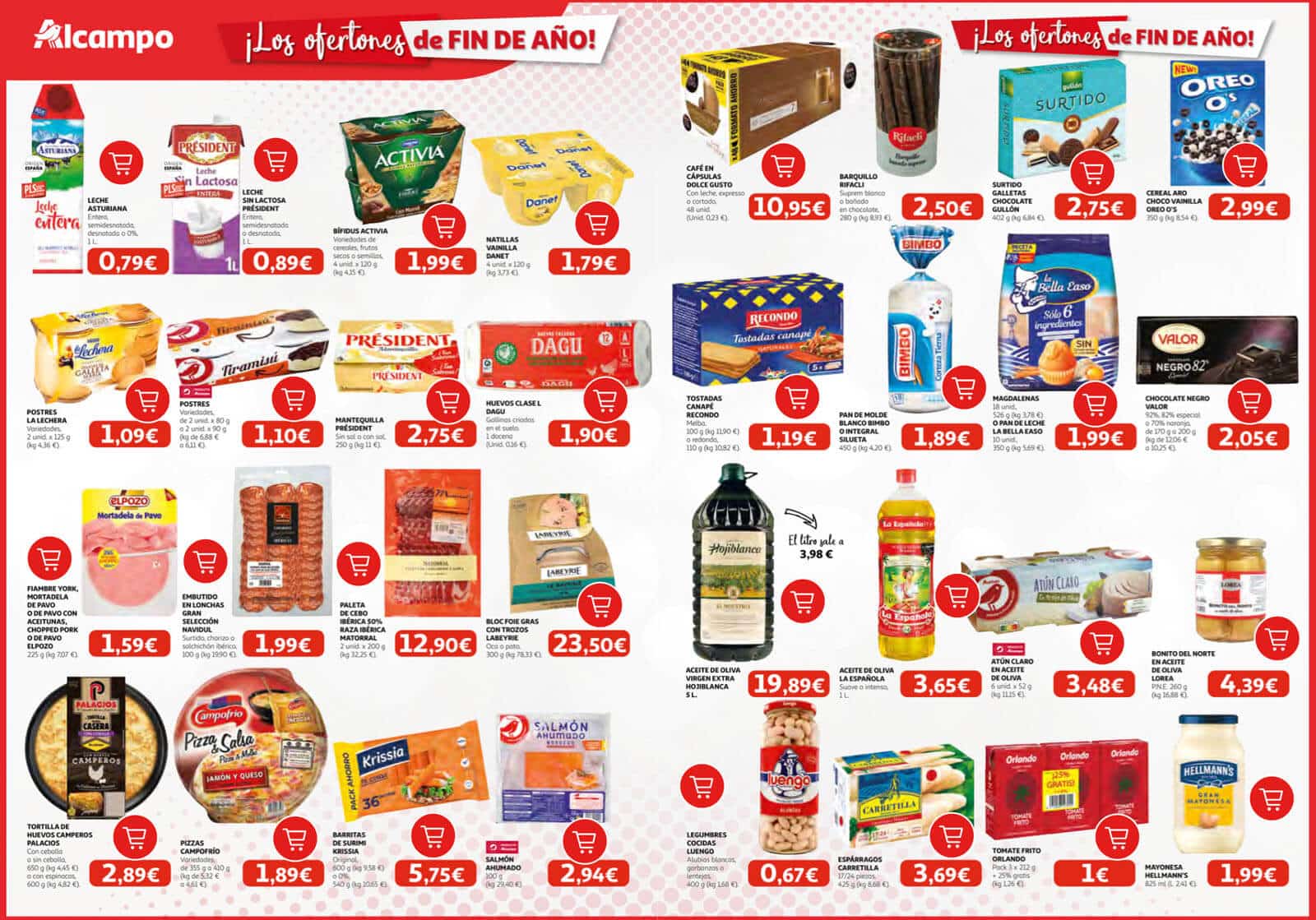 Shoppers with an appetite for deals and discounts across different product ranges can find them from Alcampo's selection of brochures that are updated and published regularly.
Aldi
Aldi publishes brochures and leaflets to cater to different seasons, occasions, and holiday periods throughout the year. There's a dedicated section for its digital and inspirational publications in Aldi's German webshop.
Shoppers can find online weekly deals flyers, Christmas guides, wine brochures, or even its holiday destination brochures — providing an almost limitless library of Aldi inspiration.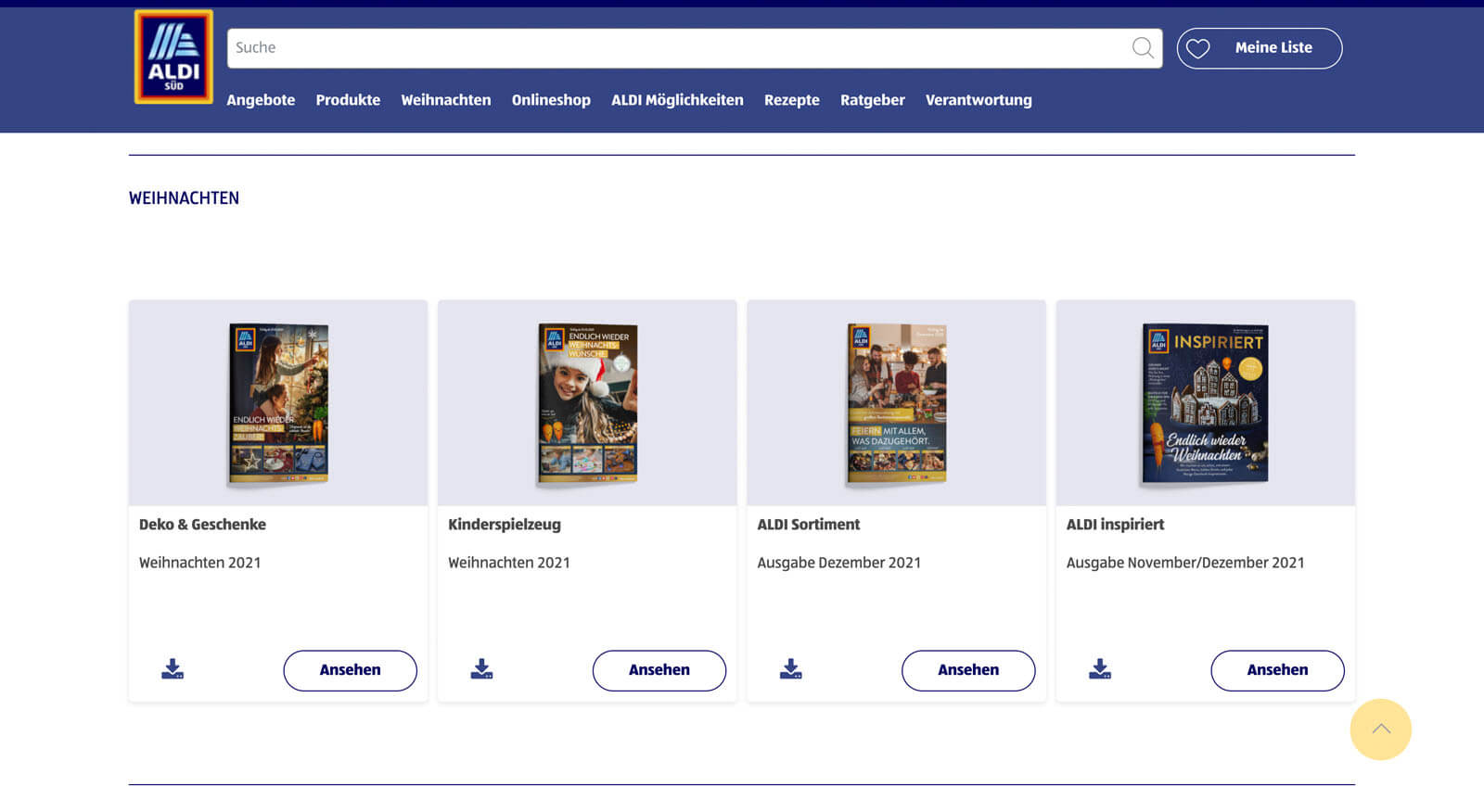 On Aldi's website, browsers can find a selection of online Christmas flyers for gifts, toys, and cuisine.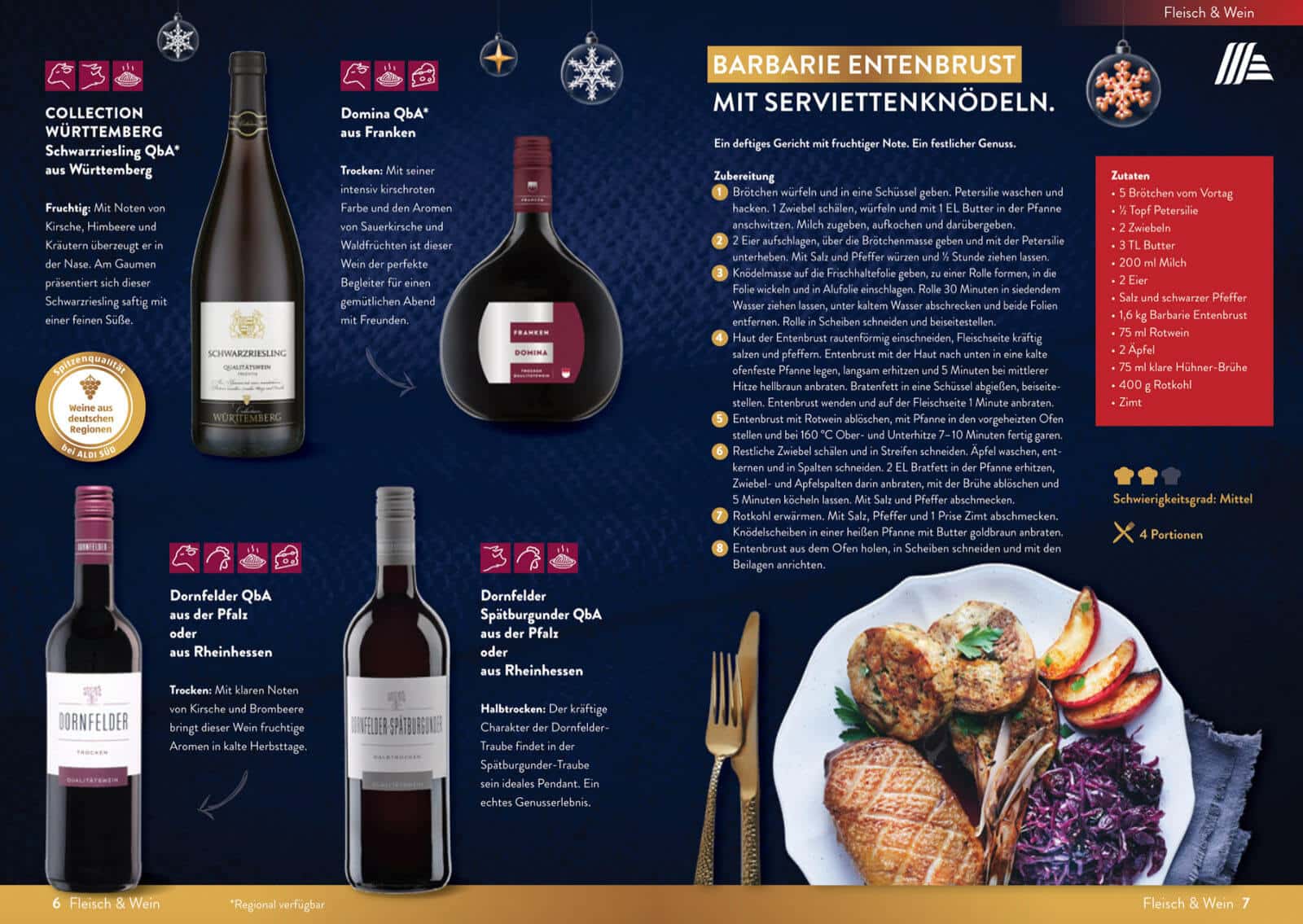 Wine enthusiasts can browse through Aldi's wine guide and find a curated selection of products and inspirational content.
Delhaize
Belgian supermarket chain Delhaize has a dedicated section on its website to find weekly offers and deal flyers.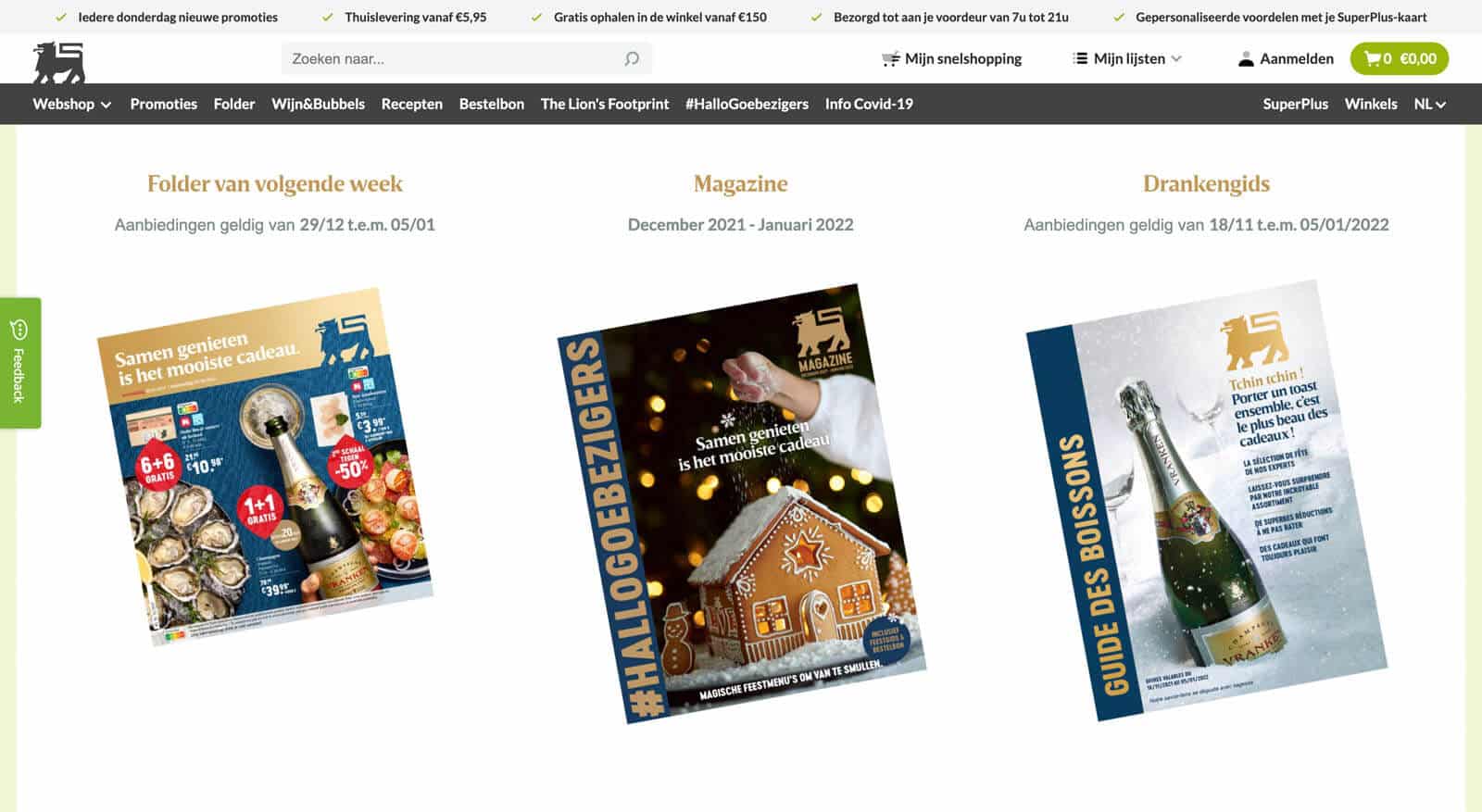 Shoppers on Delhaize's website can find digital leaflets containing limited-time-only offers and deals.
Delhaize's shoppable deals content
Delhaize's latest weekly deals flyers take advantage of product hotspots and product feed tools, making it easy for browsers to shop directly from the content and where they can find more product details or add items to cart.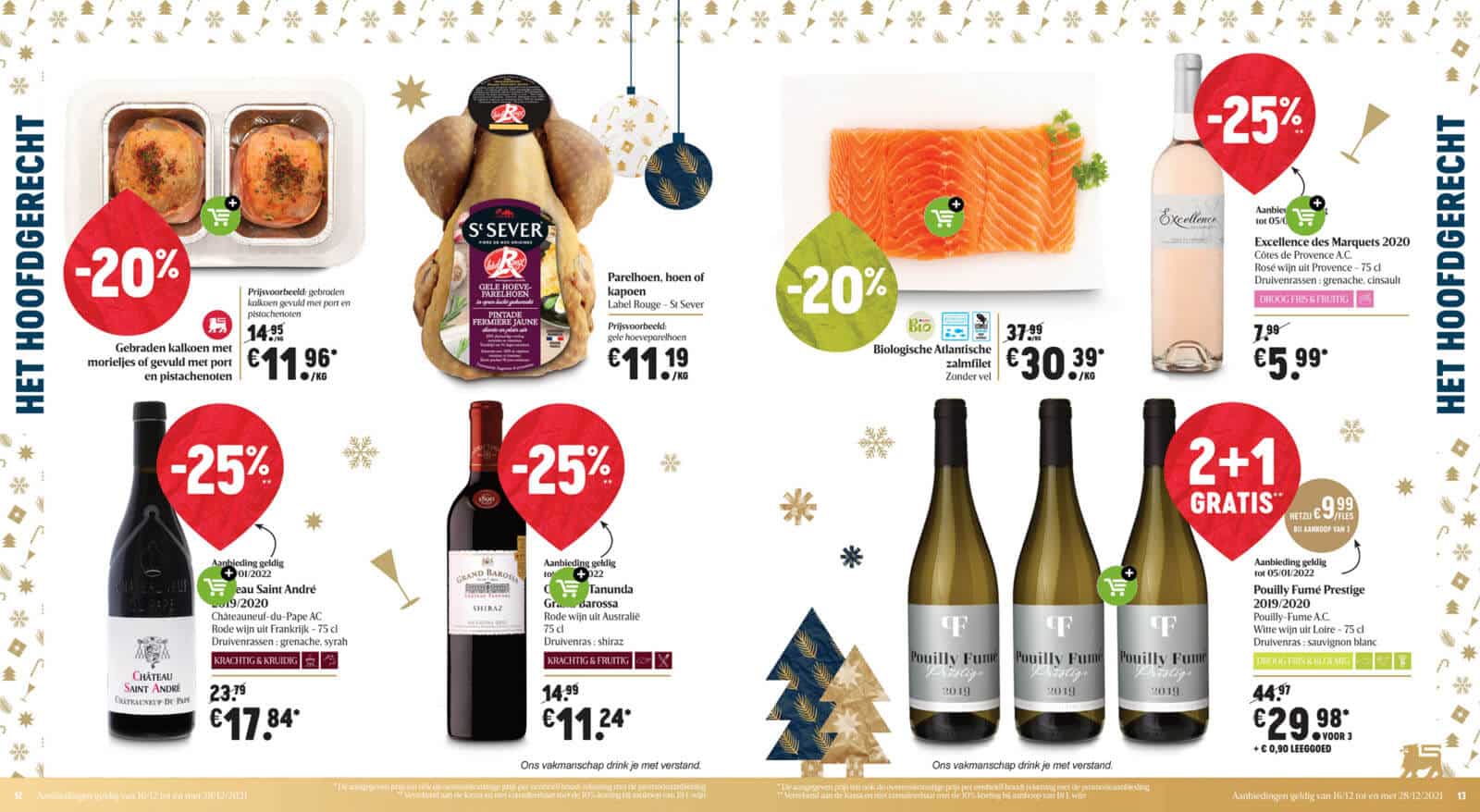 Shoppable product content makes shopping for deals with Delhaize both quick and convenient.
ALPHAMEGA supermarkets
Elsewhere in continental Europe, ALPHAMEGA supermarkets, a popular chain of supermarkets in Cyprus, has a dedicated offers section, where browsers can find regularly-published and updated flyers and brochures, such as "fresh", "home care" or "Cava".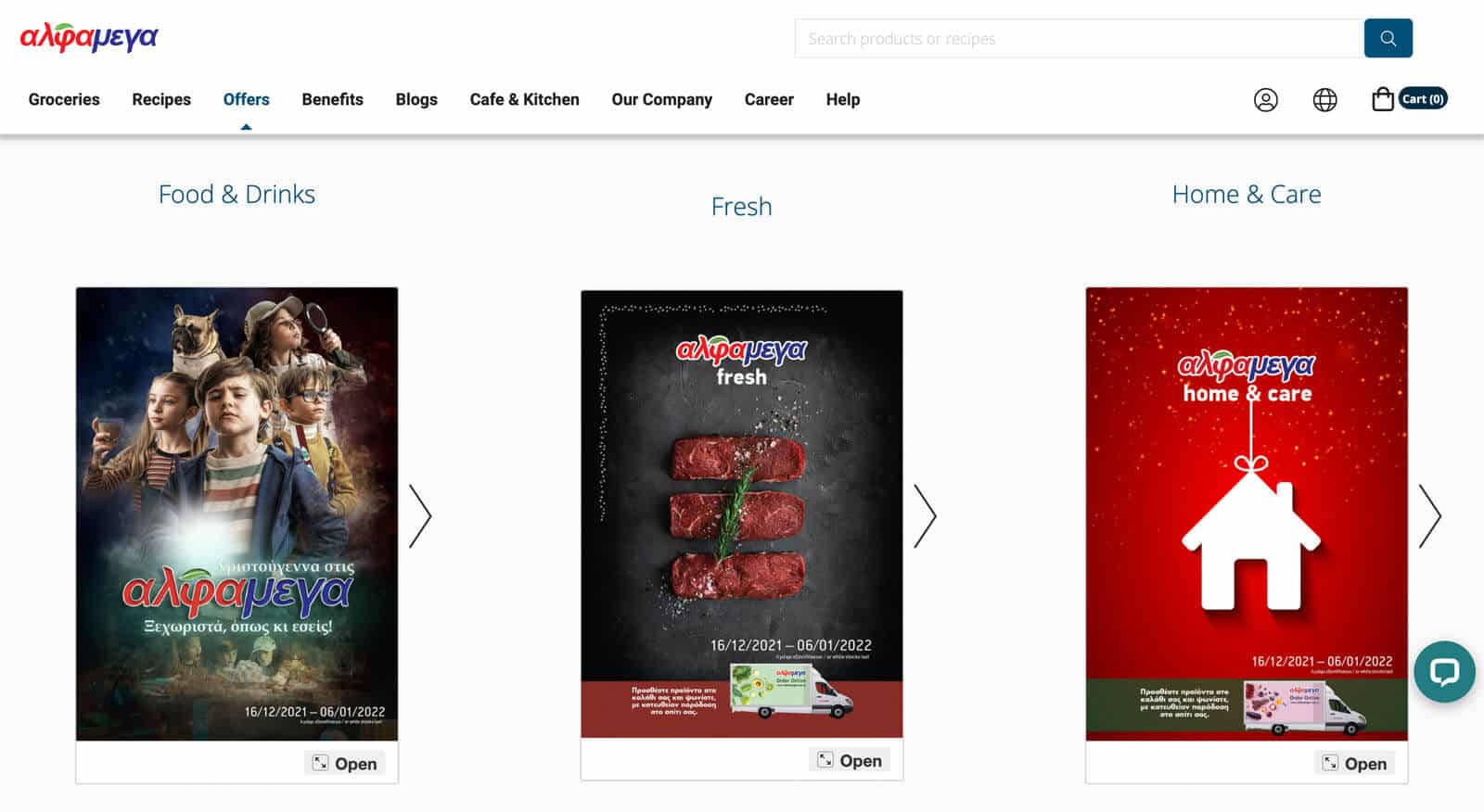 Shoppers looking for offers and inspiration from ALPHAMEGA can browse through a range of digital leaflets and deals flyers.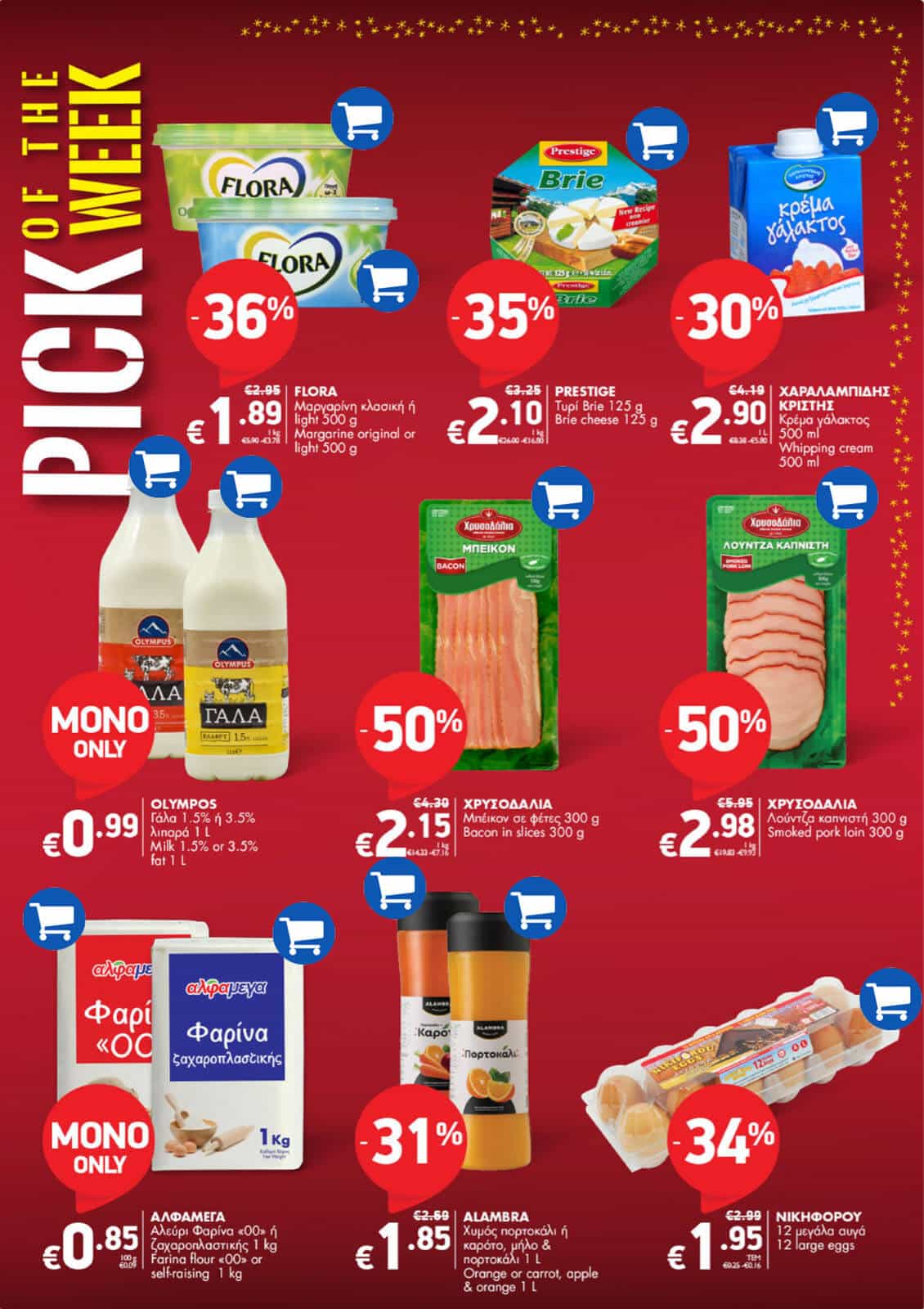 Like other supermarkets, ALPHAMEGA publishes flyers that allow browsers to shop directly from the content and add items to the cart.
Kruidvat
Digital flyers can also work well for other FMCG retailers, such as those which sell beauty, health, and cosmetics products.
Kruidvat, a Dutch retail pharmacy and drugstore chain specializing in health and beauty products, publishes its weekly deals and content inspirations on its website, and like grocery retailers, as part of a dedicated offer, gifts, or related content section.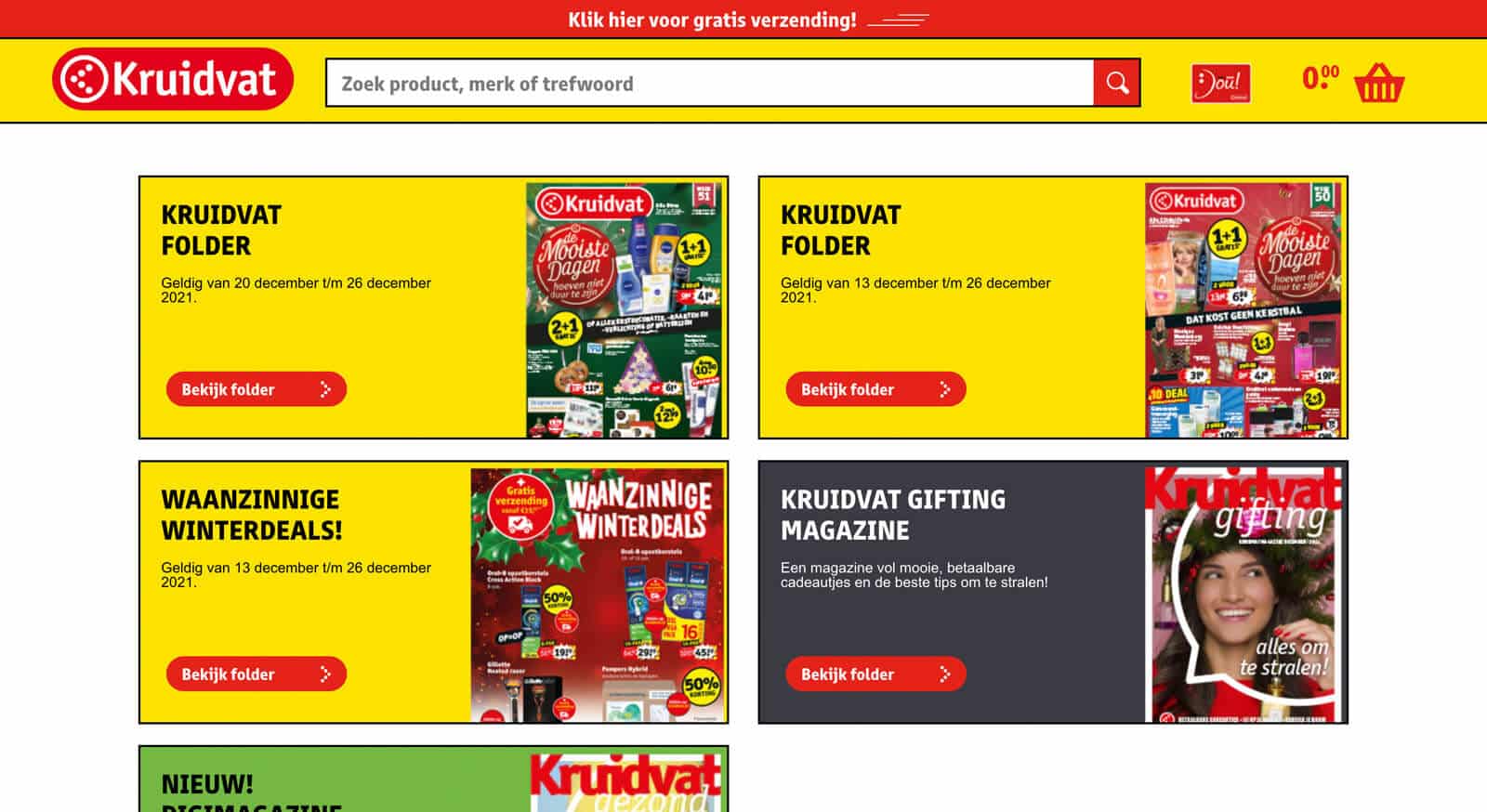 Online brochures or offer guides can inspire shoppers in the health, beauty, and cosmetics industries.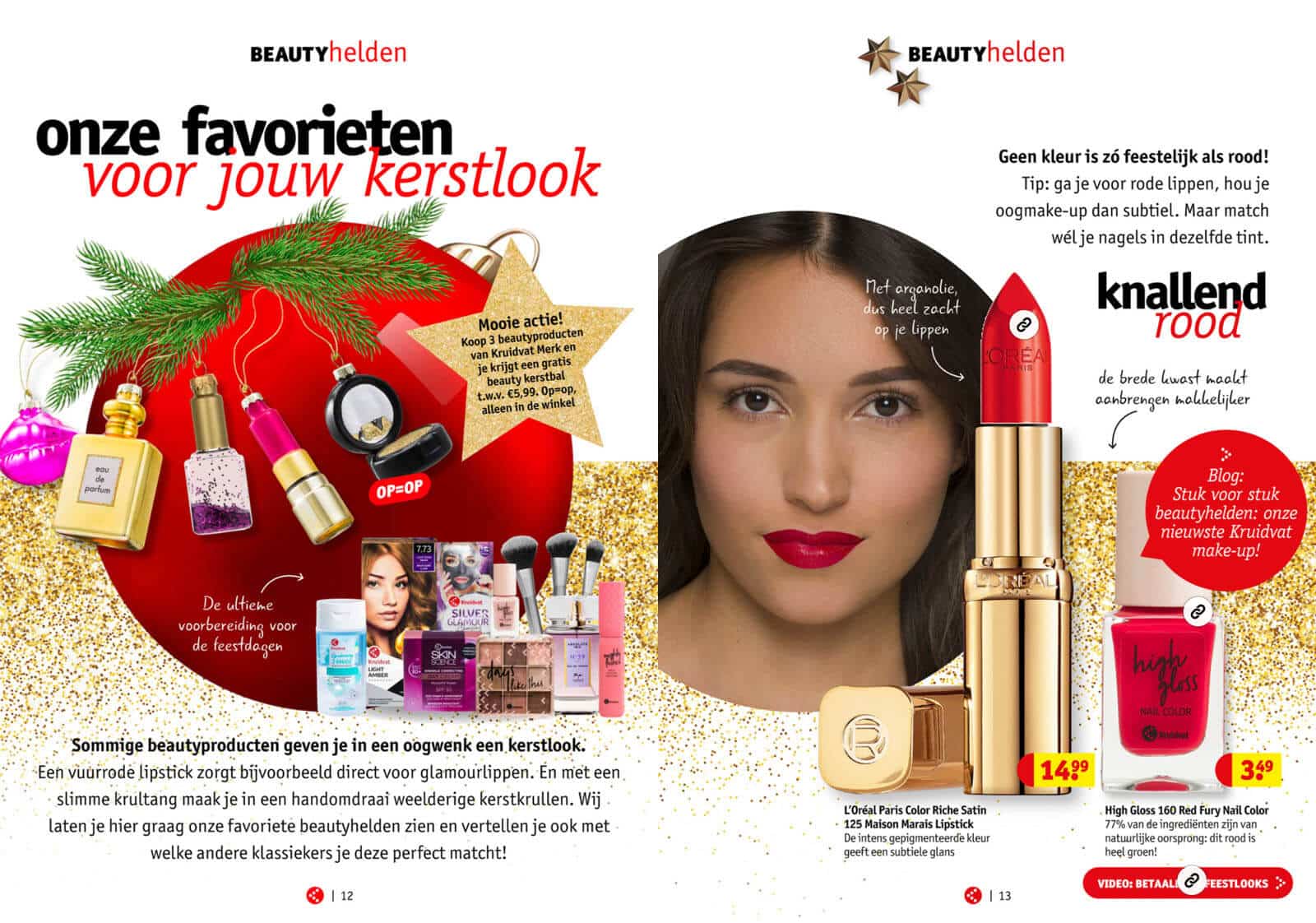 Kruidvat's gift flyer has a curated selection of health and beauty products, with tips and links to the product pages of the retailer's webshop.
In the same way that a paper-based leaflet can show a brand's latest offers and promotions, Kruidvat publishes its online flyers with offers such as BOGOF, 2 for 1, items at discount price, etc.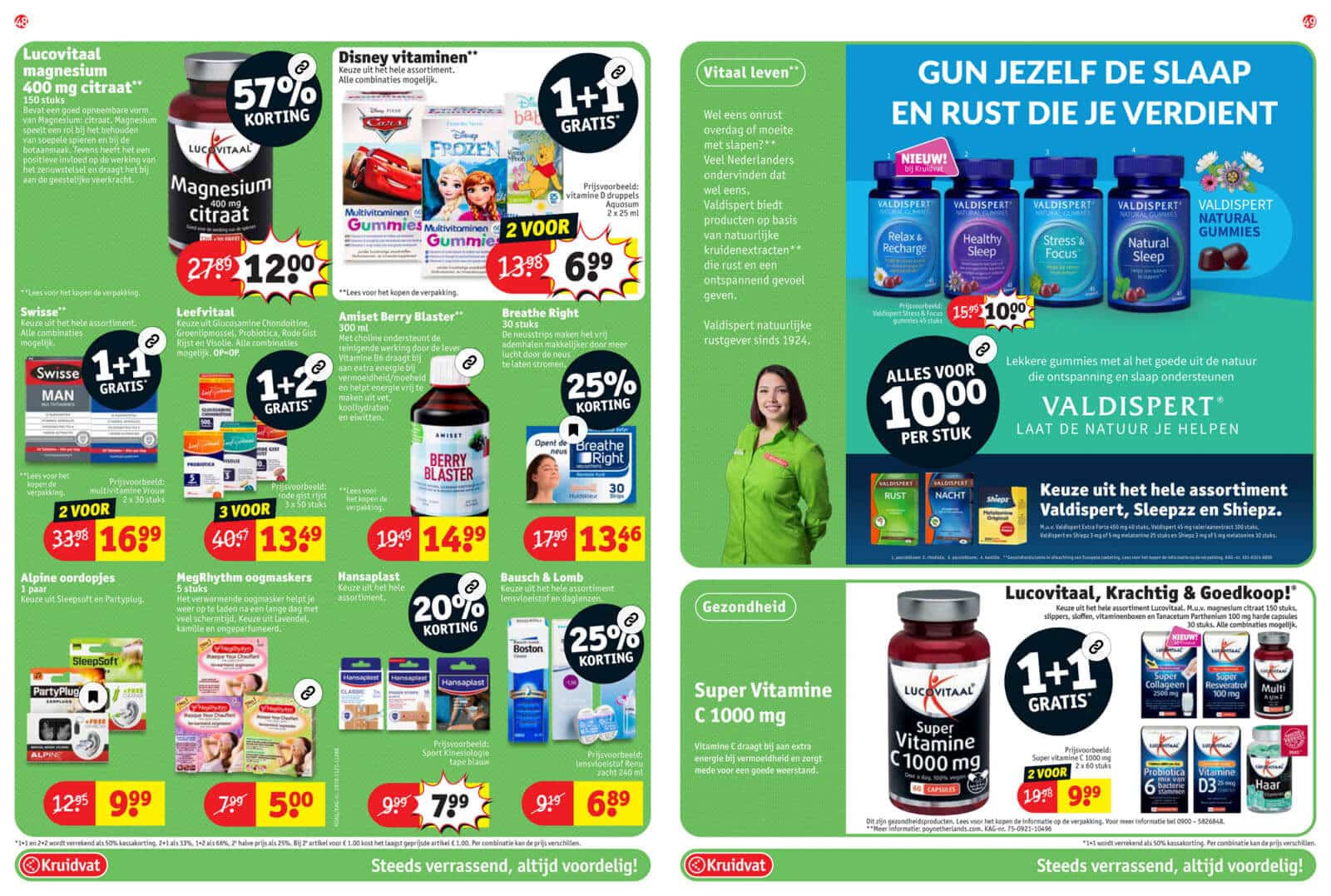 From supplements to toothpaste and soaps to children's toys, Kruidvat's digital publications display weekly offers for a wide variety of its product range.
Metro
German Cash & Carry wholesaler, Metro, publishes its weekly flyers in a section of its website in a similar fashion to other FMCG brands. Shoppers can find flyers for toys, tech, groceries, or inspirational Christmas recipes.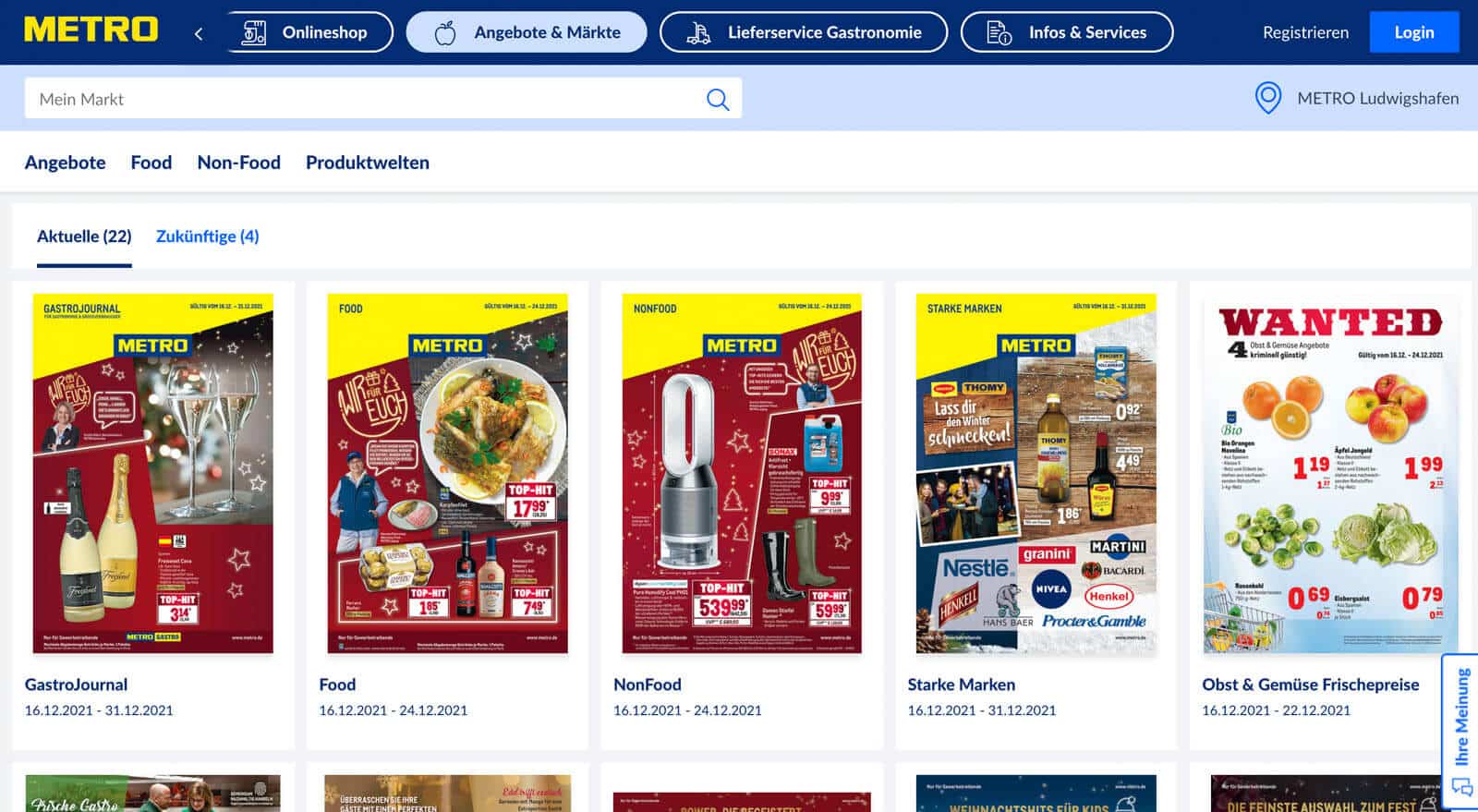 Metro currently has some two dozen brochures published on its webshop for browsers to look through and find the brand's latest offers and promotions.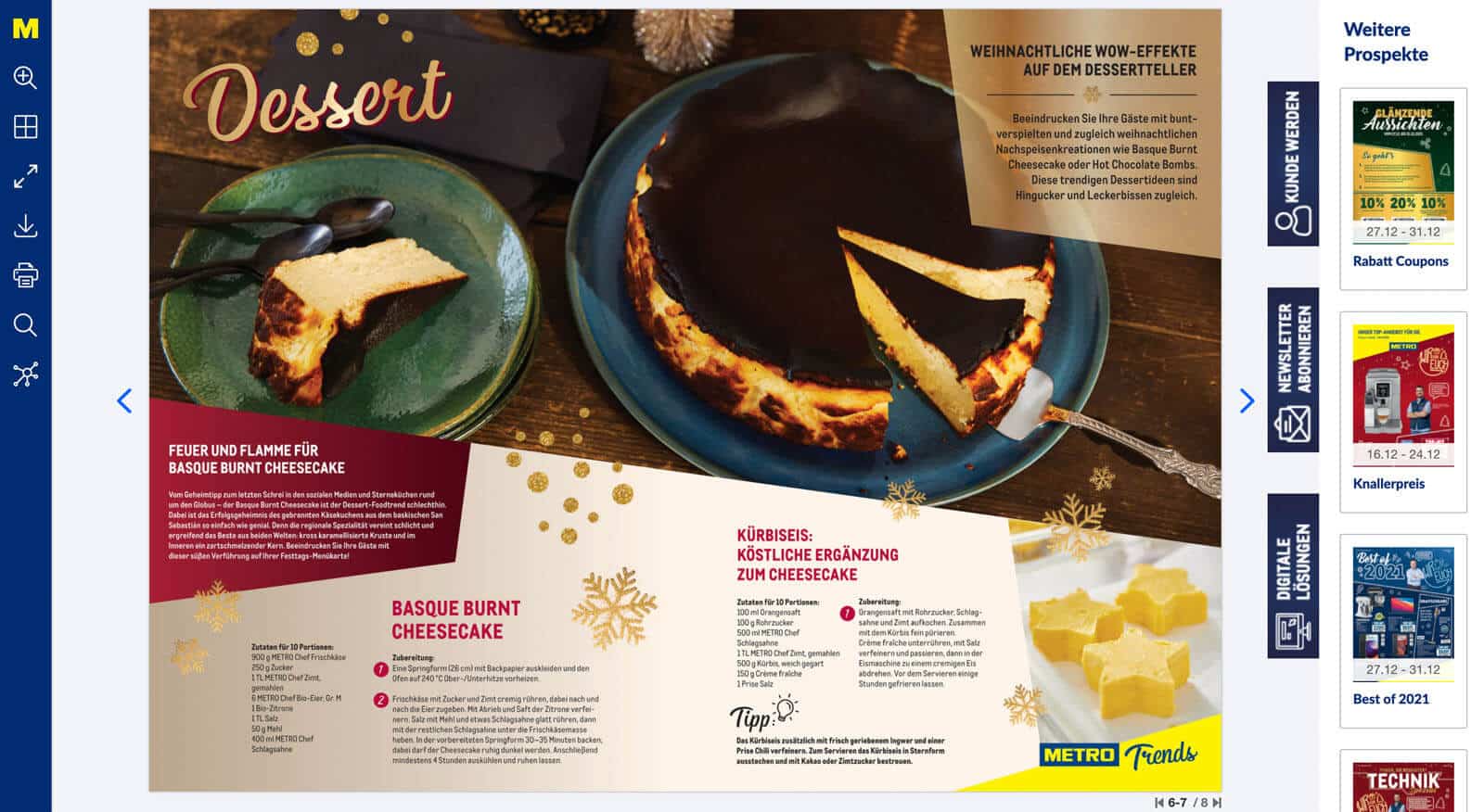 Metro's digital brochures and leaflets cater to different shoppers and customer segments, such as brand-conscious shoppers, gift shoppers, or those looking for deals on tech products.
Summary
More shoppers than ever are browsing online and looking for inspiration. For retailers of FMCG, online flyers or leaflets — containing a curated collection of items with the latest offers or deals — can be a powerful content marketing tool for capturing top-of-the-funnel shoppers.
As we've seen from our examples above, some of the biggest super- and hypermarket chains in Europe and the world regularly publish digital flyers and keep them on a dedicated page on their websites for shoppers to browse through.
Similar to how shoppers like to pick up a weekly magazine or brochure of deals in a physical store or look through ones pushed through their mailboxes, a digital flyer can become an online FMCG channel and a great source of inspiration.
Interested in publishing your own? Contact us, or sign up for our free 14-day trial here.