Ecommerce Trends: Last year, many of us were jolted into making our homes into high-functioning command centers and into places where we do almost everything. Whether that's working, working out, homeschooling, or doing our hobbies.
Perhaps you converted your dusty, empty spare bedroom into an office-cum-conference-room, kitting it out with a fancy new L-shaped desk and bookshelf. Or, you finally got round to renovating your basement and made it into a playroom-cum-classroom for the kids.
Whichever space in your home you're working from or relaxing in, you need it to be comfortable and fit-for-purpose.
For the home furnishing market, this necessity has almost normalized buying furniture online, spiking record-breaking sales revenues for direct-to-consumer (DTC) furniture retailers.
But not all home furniture retailers were ready, however. Retailers that already pooled resources into their online channels and were quick on their feet to adapt have leveraged content, technology, and omnichannel product discovery experiences to capture and funnel this surge in demand for home furniture and décor.
Demand for home furnishing goods in 2020
Struggling high street retailers, brick-and-mortar store opening hour restrictions, and a digital-first consumer mindset have opened up new opportunities for home furniture retailers.
Revenue projections for the online home furnishing market in 2020 reached over $92 billion, an increase of $15.50 billion from the market's pre-pandemic January 2020 forecast of $76.80.
A big chunk of that came from the revenues for eCommerce furniture and homeware sales, growing by 14.5% and reaching close to $53 billion in sales.
The home décor market is expected to reach record sales revenue levels of $182 billion by 2024 — a 20% increase from 2019.
So, if you're a home furniture or décor retailer looking at ways to get a slice of the pie, it's high time for you to adapt your online marketing strategy and look at some of the trends driving the bottom line for successful brands.
For the remainder of this post, we'll look at how successful home furnishing brands are exploiting the latest home furnishing eCommerce trends to build engagement and drive their conversion rates.
Product discovery and home furniture eCommerce
Around 50% of online shoppers know what they want. They'll search, select, and checkout. But the other 50% of shoppers don't know what they want — and they need something more inspirational or engaging before deciding to make a purchase.
Similar to what consumers like to see when shopping fashion online, visually stunning and inspiring content — which lets browsers see products in context — should be at the forefront of any home furnishing eCommerce marketing strategy.
Through content-rich discovery experiences and eCommerce technology — such as augmented reality (AR) — home furnishing retailers can help consumers get inspired and shop with fewer inhibitions.
A great example of a leading furniture retailer that inspires its customers online is IKEA. Their last catalog can be found online, providing its loyal customer base with a familiar and convenient discovery experience.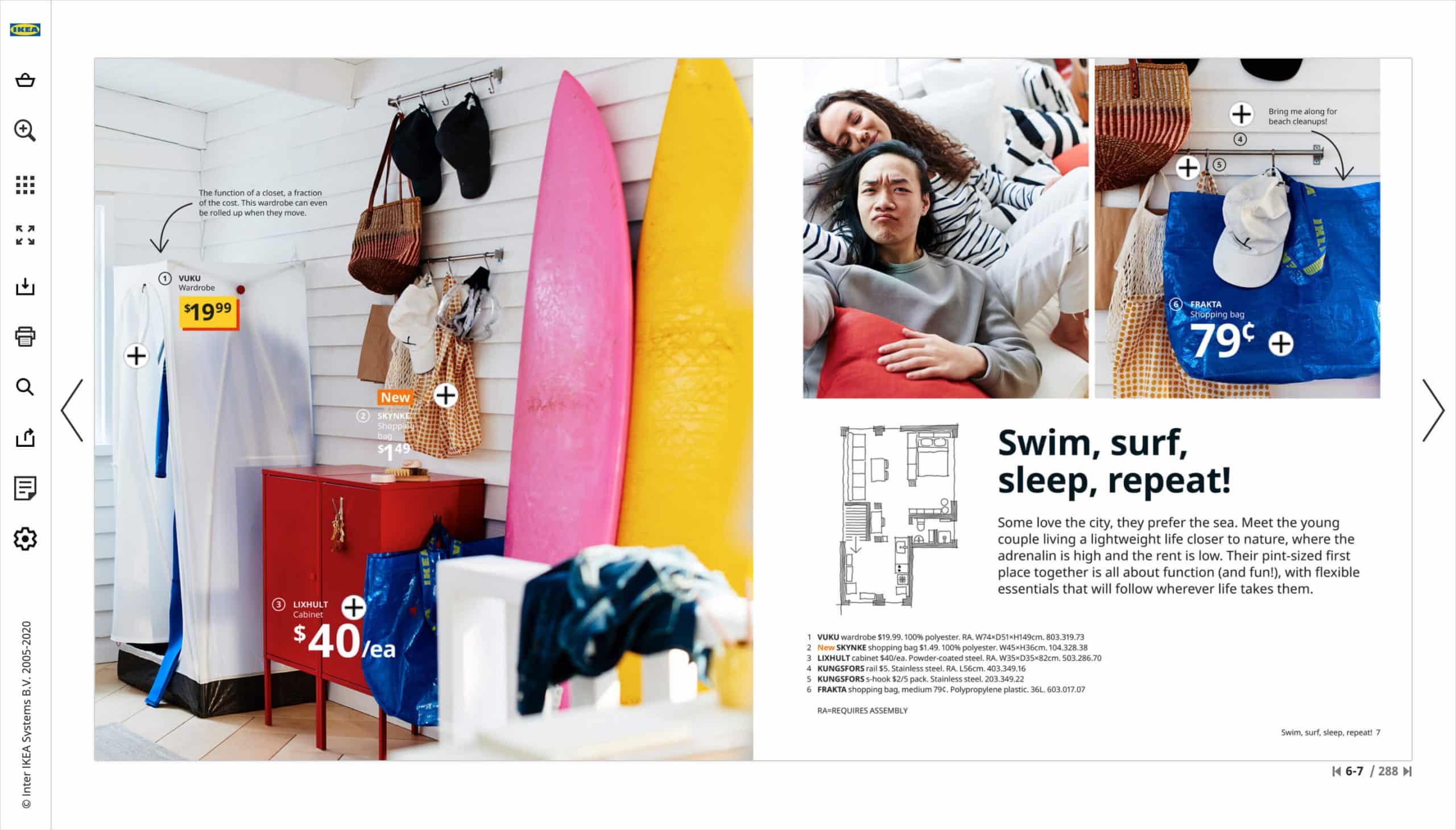 IKEA's latest catalog conveniently allows its customers to discover new products in context and shop directly from the catalog.
Brands that were early adopters of eCommerce shopping experiences and didn't just see it as an add-on for their brick-and-mortar store are now reaping the benefits from their eCommerce endeavors.
Williams-Sonoma, a US-based kitchen-ware and home furnishing retailer, hailed as one of the "pandemic winners", saw its investments into digital-first and eCommerce pay off last year. In 2019, 55% of its total sales were already coming from eCommerce. By 2020, that figure increased to 71%.
The home furniture eCommerce trends powering retailers' bottom lines
Often, many online stores are optimized for a transaction. On-site search, categories, filters, or free shipping will help you win over shoppers who know what they want, but for the ones who don't know what they want or who aren't sure — they need inspirational, content-rich experiences.
An online home furniture shopping experience needs to address the challenges consumers face when buying furniture online. They don't know if that bulky 3-seater will fit into their living room or if its color will match their wallpaper. Shoppers also want to get inspired by your content and furnishing looks.
You can hold their hand along their customer journey by leveraging social media, visual commerce, and technology, helping them to discover your furniture and make the right purchase for them.
Let's look at how these marketing techniques and trends are helping some of the top home furnishing brands stay ahead of their competition and convert online furniture shoppers.
Social marketing
Brands must have a strong presence on social media to reach consumers who are "just browsing" and to be able to inspire them to want to follow the brand and engage with its content.
On Instagram and Pinterest, brands can engage with their audience by posting shoppable, inspirational home furniture looks and trends. Or, they can encourage their audience to post user-generated content (UGC).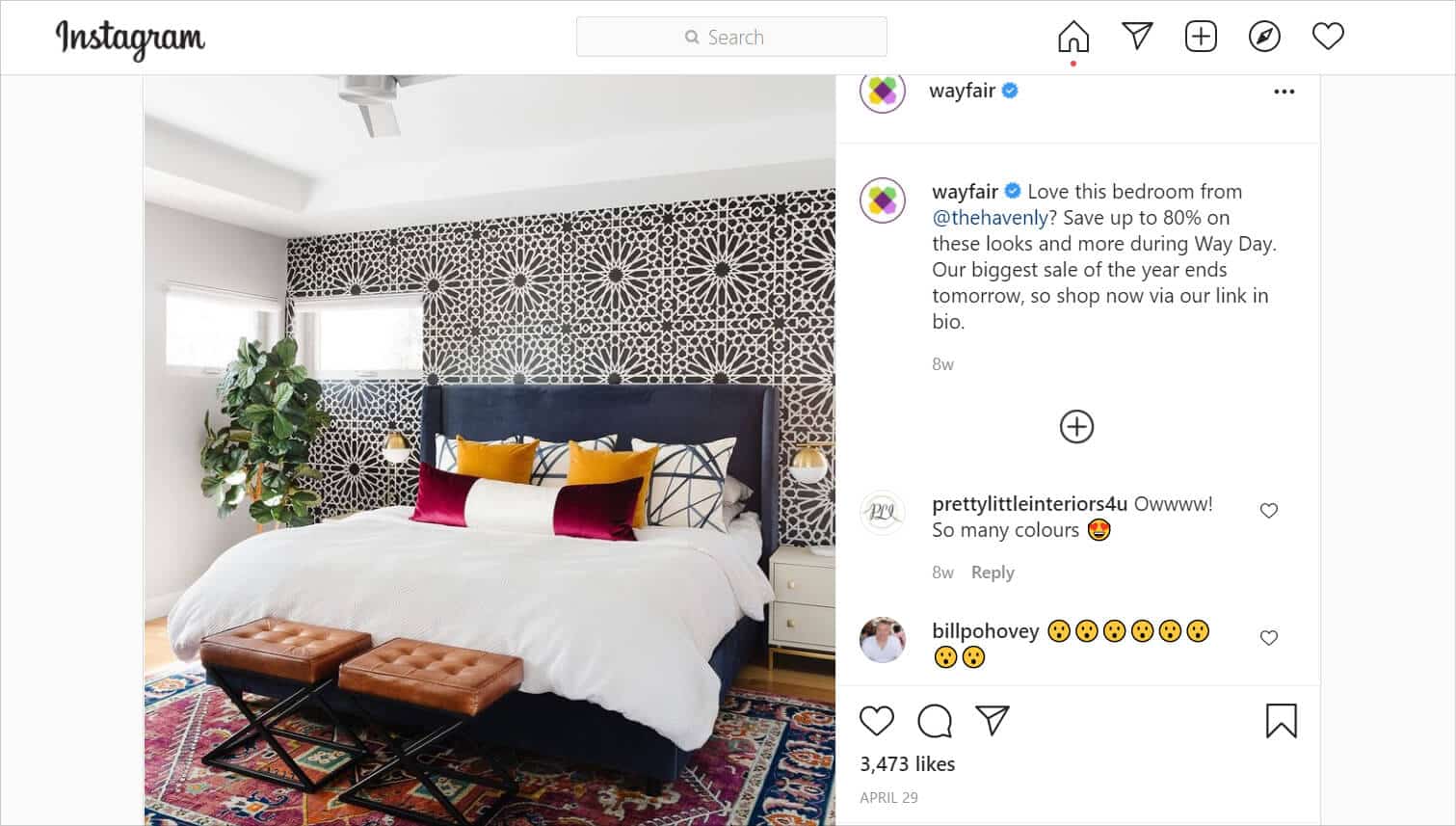 Wayfair uses Instagram to partner with influencers, celebrities, and complimentary home furniture brands to drive user engagement and inspire more browsers.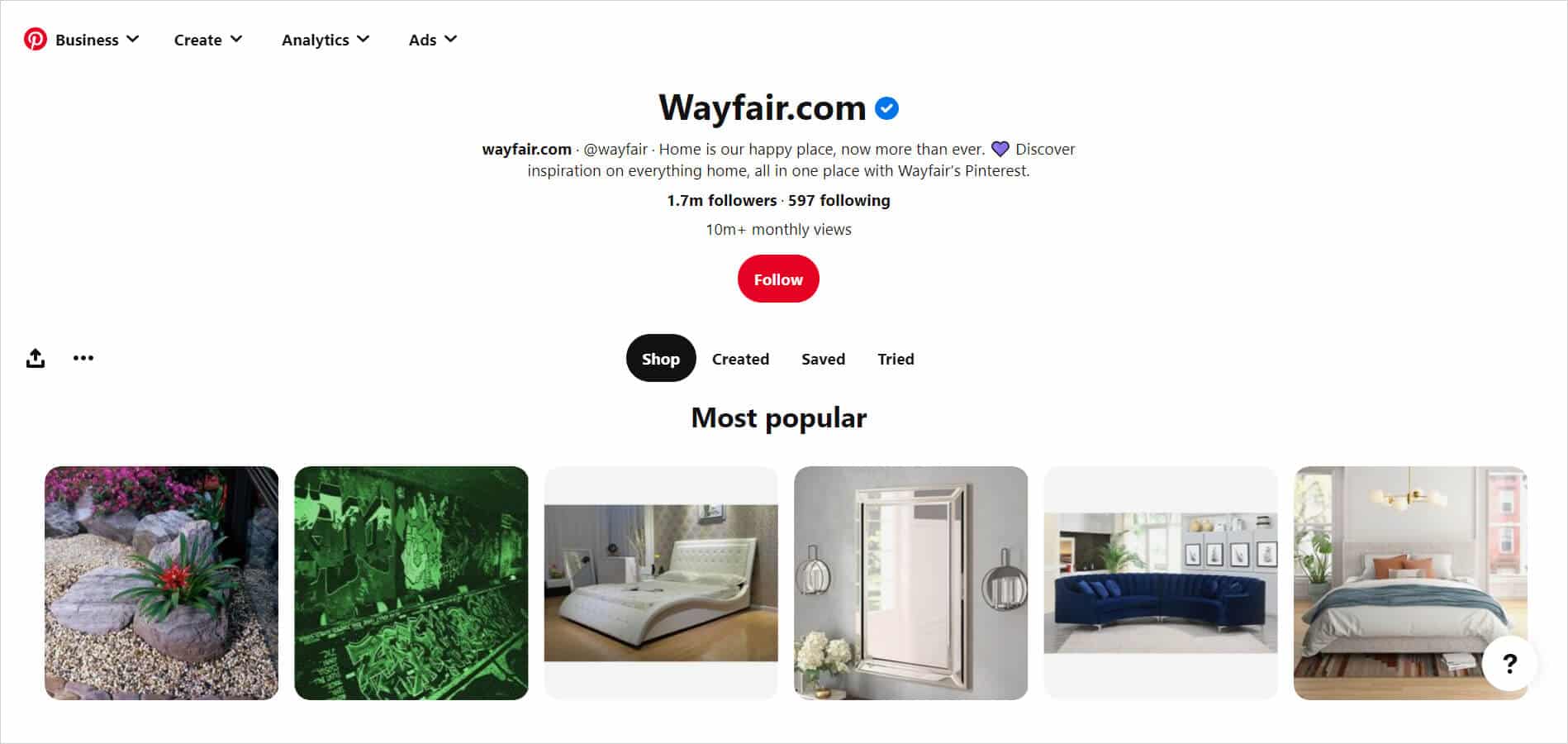 Wayfair has 1.7 million followers on Pinterest, where the brand pins shoppable product pins for browsers to buy from or save for later.
Consumers have an almost insatiable hunger for inspirational content. They want to be able to "shop the look". That means snapping, tapping, scrolling, and buying almost anything they see. And if they're browsing home furniture and décor on channels like Pinterest, it makes for an easy shopping experience, where they can shop directly from the content you post on there.
Shoppable content, a form of visual commerce, uses compelling imagery and looks tagged with actionable purchase points. Shoppers enjoy the convenience and ease at which they can buy from within the same online shopping experience.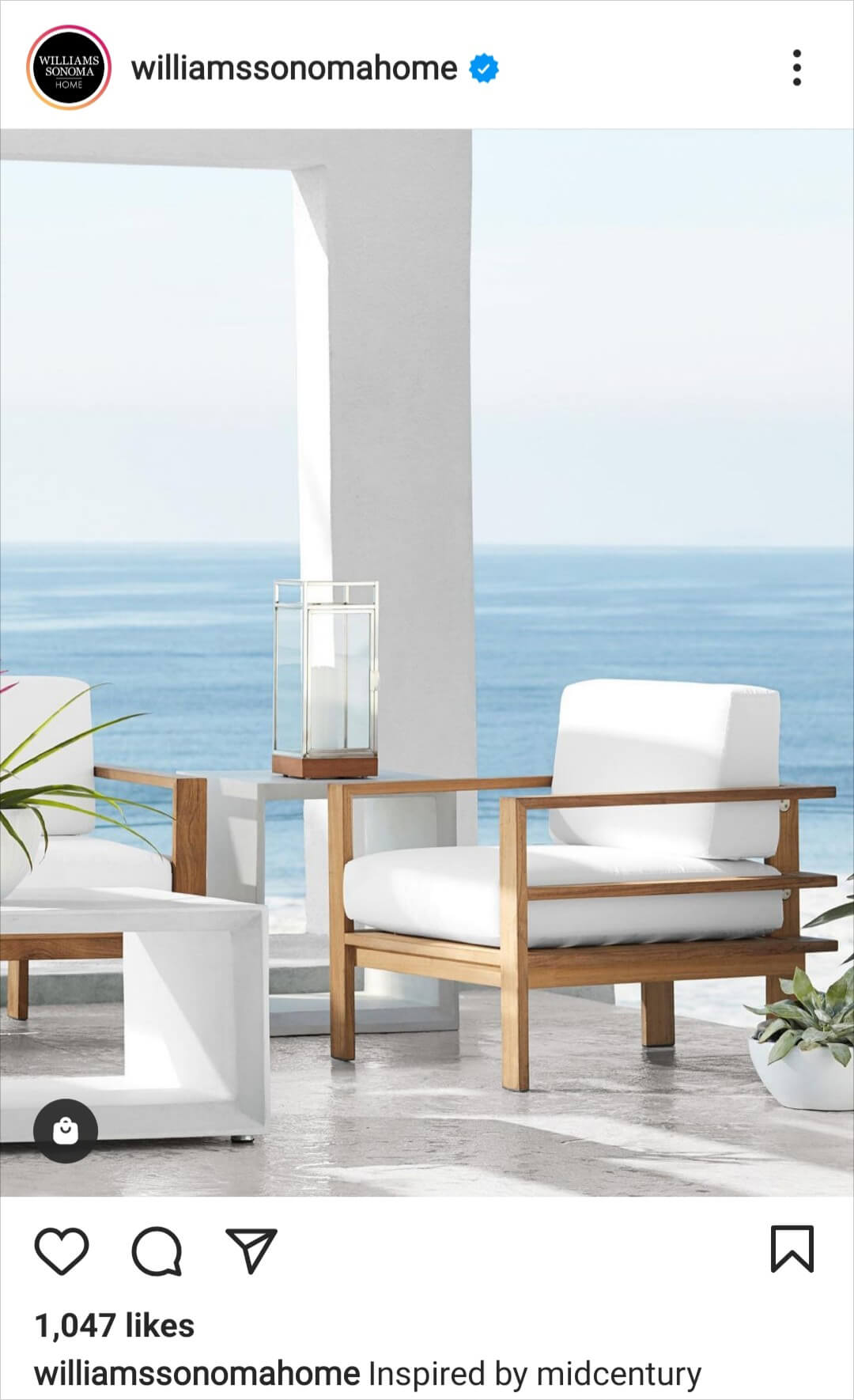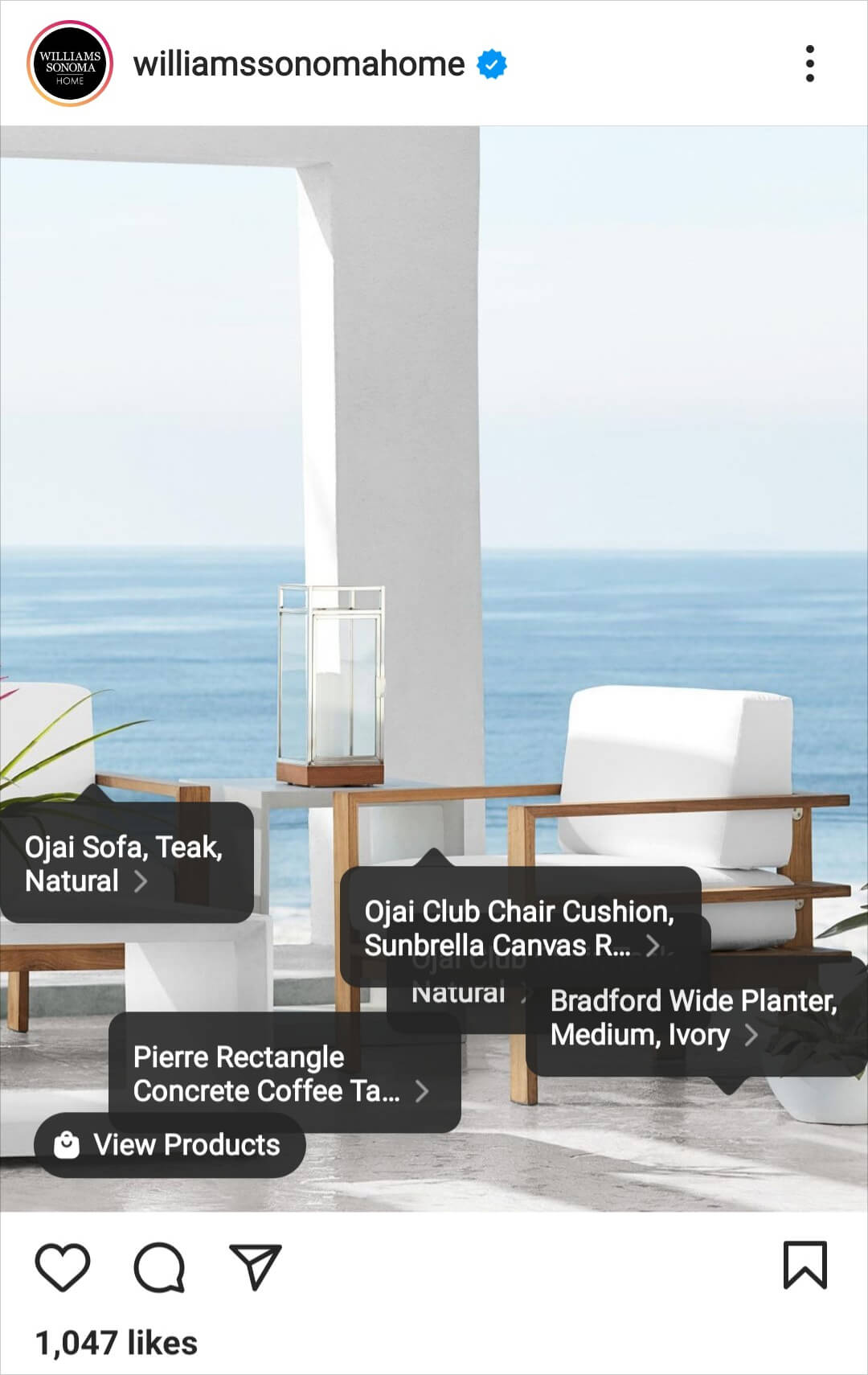 Williams-Sonoma home furnishings' Instagram profile allows shoppers to shop directly from the content.
User-generated content
UGC in the home furnishing eCommerce market is a cost-effective and powerful way for brands to gain greater levels of customer loyalty and generate more sales.
Channels like Instagram, or Pinterest, are the ideal places for passionate and loyal brand followers to post images of their furnishing purchases and where browsers can shop them directly.
There are several other benefits of UGC for shoppers and retailers:
It gives shoppers a better idea of how a piece of furniture would fit into their home and where it could go.
Furniture is as much about looks, tastes, and style as it is size. Shoppers can get a better visual representation in the form of social proof of how like-minded customers experienced their products of interest.
Authentic content posted by followers allows home furnishing brands to leverage content that's already been created, saving time, money, and resources.
Higher levels of browser engagement through likes, shares, hashtags, or shoppable UGC, will boost conversions and sales.
Kavehome, a home furnishing retailer headquartered in Spain, collaborates with influencers to drive its UGC and regularly updates its Instagram feed with new products.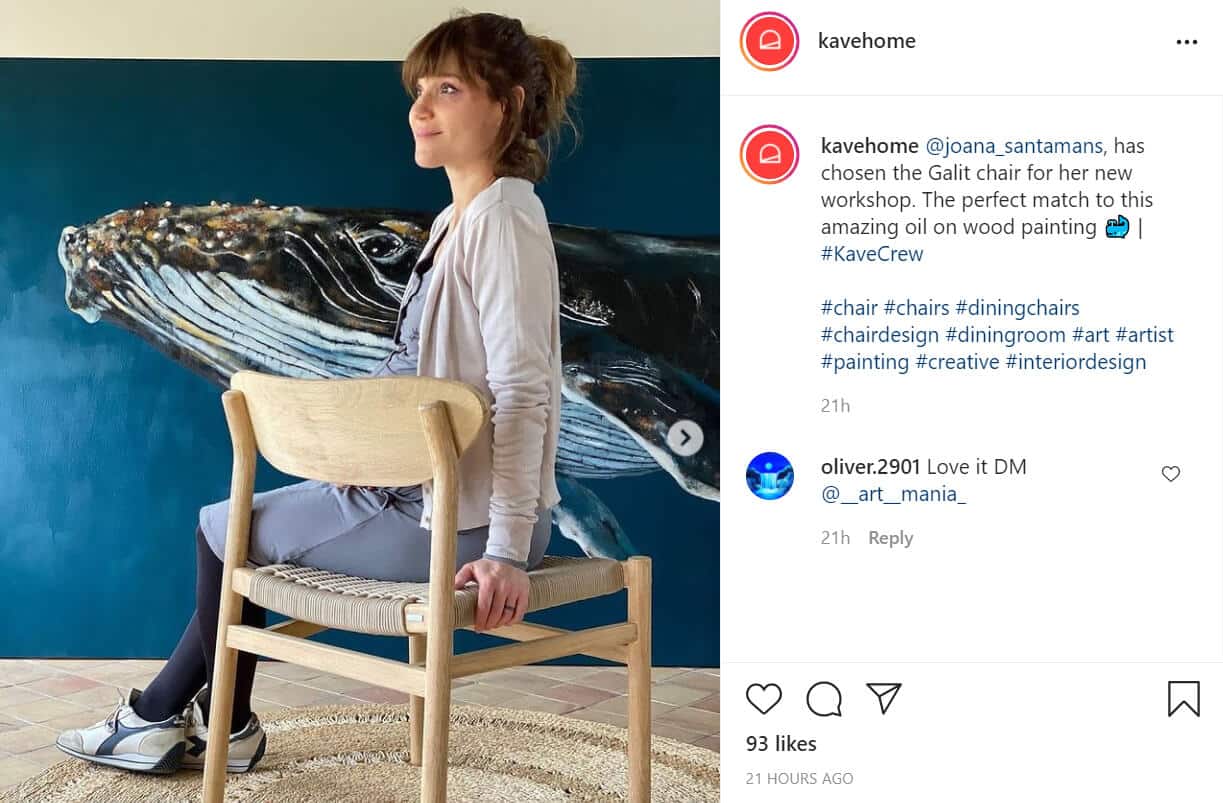 Kavehome partners with Instagram influencers that are passionate about home furniture looks and inspirations to drive its UGC.
Omnichannel and seamless customer experiences
Omnichannel customer experiences are about integrating the entire online and offline shopping experience. And it needs to be more than just a multi-channel strategy. The entire journey should be personalized and be reflected in the customer service you provide.
Home furnishing shoppers like to discover products online, visualize their customizations, and see how they might look in their homes with AR. If it's possible, they might want to see the furniture in your showroom, where they can get more of a sensory experience before finally making a purchase.
At the heart of an omnichannel home-furnishing shopping experience is a seamless and convenient journey. It should be easy for shoppers to discover your products, click and collect, or order them straight to their homes.
Giving shoppers the flexibility to shop from wherever they are — whether online to brick-and-mortar or brick-and-mortar to online — will create a relaxed experience free of pressure and ultimately increase a brand's bottom line.
Augmented reality
Smartphone technology has made AR the perfect complementary tool for consumers to buy furniture without visiting a showroom. Before, furniture shoppers had to measure up their rooms with a tape measure, or sometimes — rely on guesswork.
AR can also form part of the customer journey, where shoppers might use AR to see how their desired piece of furniture looks and fits before going to the showroom to make up their minds.
Many top furniture retailer brands have their own branded AR apps for shoppers to "try before they buy" and eliminate the risk of something not fitting into their home.
For furniture retailers, AR increases the average order value, reduces the chance of a return, and drives conversion rates.
Buying furniture online is no longer a risky endeavor
Even when brick-and-mortar stores are closed, consumers with more disposable income still have an appetite for home furniture. If they can't go to the high street for inspiration, they'll look online instead.
This change in consumer shopping behavior has meant that brands who build out their eCommerce stores with content-rich discovery experiences can capture and nurture more customers towards making a purchase.
Home-furnishing e-commerce experiences that reduce risk and make it more convenient to shop will ultimately result in more conversions. These experiences help move shoppers along your shopping funnel and build lasting, memorable connections, so you become the go-to channel for all home furniture needs.
Are you interested in setting up your catalog as an online product discovery channel for your shoppers? Contact us, or sign up for our free 14-day trial here.