The Festival of Lights, Diwali, is not just a time for joyous celebrations and deep-rooted traditions; it's also a golden opportunity for retailers to illuminate their sales charts.
With each passing year, Diwali has emerged as a retail powerhouse, and the potential revenue opportunity for Diwali 2023 is nothing short of dazzling. Last year, according to Criteo, retailers witnessed a remarkable 17% year-over-year sales growth, setting the stage for a prosperous holiday season.
Online Sales Ignite: A 30% Pre-Diwali Surge
The digital age has brought new dimensions to how we celebrate and shop for festivals. Last year, the online sales landscape preceding Diwali witnessed a staggering surge — according to Criteo, figures soared over 30% compared to early September.
This trend underscores the growing preference for online shopping, making it clear that businesses need to harness the power of e-commerce to cater to the evolving consumer landscape.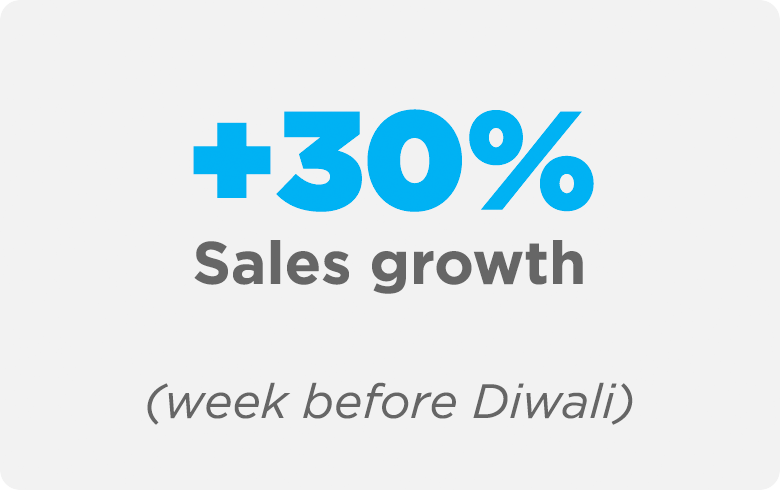 5 Days Of Diwali: Create A Shopping Journey using a Diwali Catalog
The five days of Diwali are marked by a fervor of shopping that's hard to match during any other time of the year. This 5-day tradition creates a golden opportunity to create a themed Digital Catalog by grouping sections of your products and taking your consumers on a 5-part journey that symbolizes the various purchasing needs for each separate celebration.
As described by the Patel Bros, the five days of Diwali can be broken down into the following categories:
Day 1 or Dhanteras: Jewelry, utensils and home decor
Day 2: New fashion items
Day 3: Food, fireworks & gifts
Day 4: Special meals and spouse gifts
Day 5: Traditional food & sweets
Tanishq's catalog is a fantastic example of how to showcase gifts such as jewelry:
Whether you are a home decor or jewelry business, fashion house, or grocery store, there are many opportunities to create an inspiring online customer journey using the many interactive features a Digital Catalog provides. Diwali's retail opportunities are best showcased using visual and engaging media. Ensure you are increasing your CTR wherever possible by using features such as:
Videos
GIFs
External Hotspots
Favorites list & social sharing
Dynamic catalogs with rules for days and products
Let's Dive Into Diwali's 2023 Top Sellers And Thriving Categories
According to Criteo, specific retail categories experienced impressive growth in 2022.
Food & Beverages increased by 36%, reflecting the importance of traditional sweets and feasting during Diwali.
Arts & Entertainment saw a remarkable 35% increase.
Home Decor, all important to Day 1 of Diwali, grew by 14%.
Reach as a retailer can be one of the biggest challenges in hitting revenue goals — an important holiday like Diwali that can boost your numbers by 14% is an opportunity not to be missed.
Home Box Store's Diwali Catalog does a great job of showcasing home decor products using both isolated product images and full home imagery. This allows customers to imagine what the products would look like in their own homes, creating inspiration and encouraging further engagement.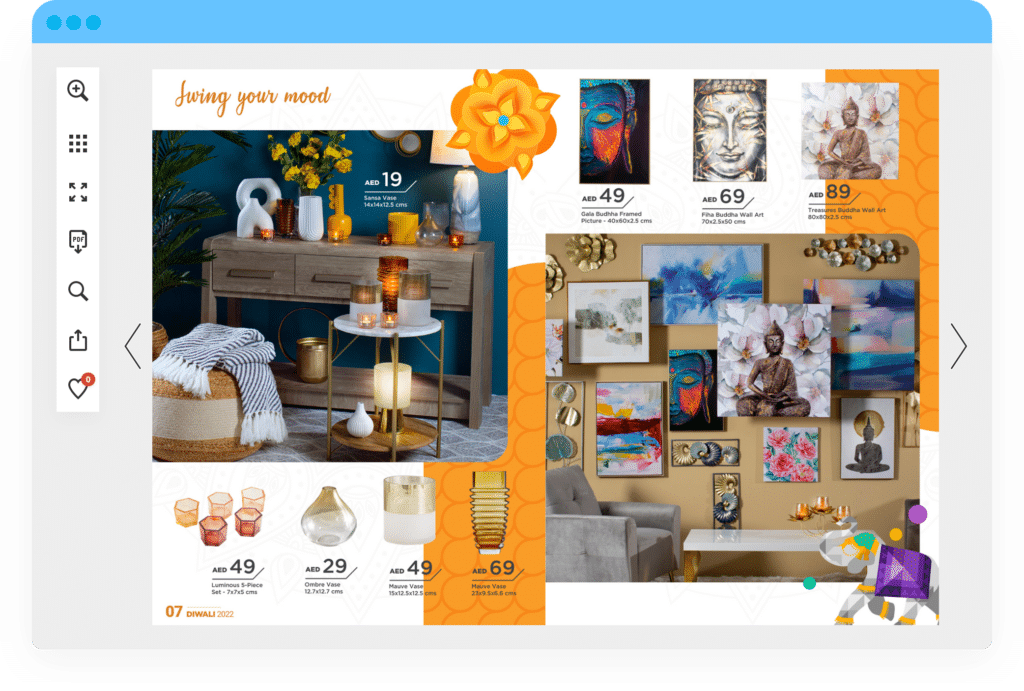 Illuminating Your Diwali Retail Strategy
In the ever-competitive retail landscape, standing out is key. Diwali provides the perfect backdrop to shine a spotlight on your promotions.
Pan Home created a Diwali-focused digital catalog showcasing their seasonal promotions — the setting of the visuals are eye-catching, and their promotional prices are clearly visible. This catalog allows their viewers to quickly determine what they have on sale and encourages them to explore the promotion further.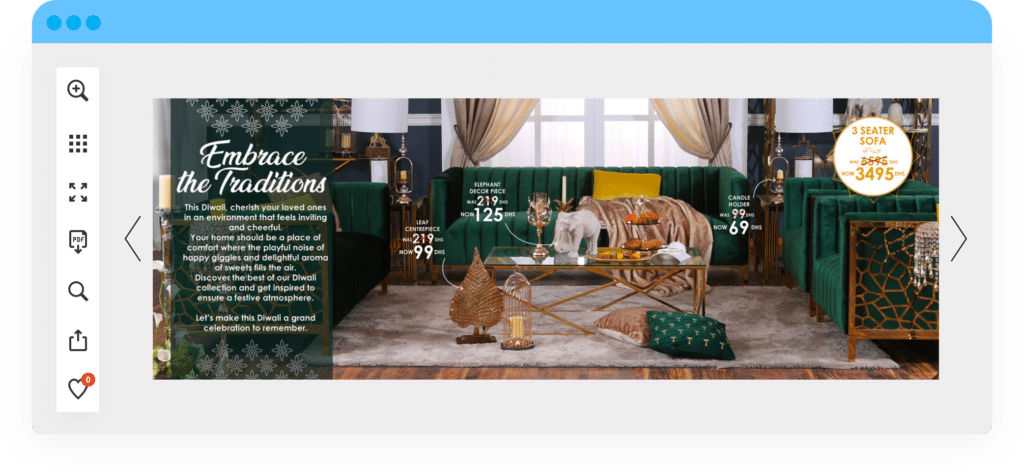 Adjust your pricing depending on the demand
Dynamic pricing ensures that your customers are always presented with the best deals, enhancing their shopping experience. Make your Diwali promotions unmissable, incorporating festive motifs, colors, and elements to create an emotional connection with your audience.
Dynamic capabilities mean your website or other marketing assets such as Digital Catalogs can be kept up to date using adaptive technology.
Curated gift offering
Diwali isn't just about buying; it's about giving. Gift-giving is an intrinsic part of the festivities, symbolizing love, respect, and blessings.
Craft a curated range of Diwali-themed gifts that resonate with the sentiment of the season. Personalized items, luxury hampers, and exclusive festive collections can work wonders in capturing the spirit of giving.
By creating ready-made hampers or Diwali-themed gift collections and placing them front and center on your website, social media channels, and digital catalogs, such as the example below, you can ensure you create a smooth customer journey from click to purchase.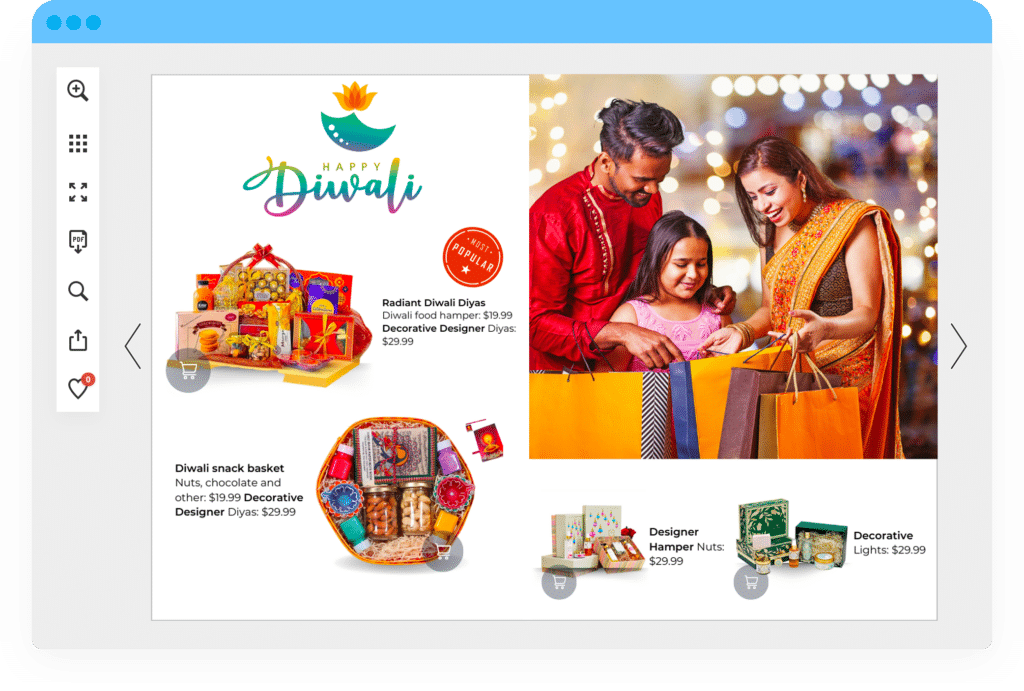 Light Up Your Diwali 2023 Promotions
The road to Diwali retail success is paved with promotions that shine bright. Utilize various channels to reach your audience – from traditional advertising to influencer collaborations. Leverage social media platforms to showcase your festive offerings and engage with potential buyers.
Use online flyers to highlight limited-time deals, bundle offers, and early bird discounts — using dynamic content tools within your flyers can help to ensure your stock is never out of date.
Don't let shipment disruptions or quick sellouts put your promotions to waste during this crucial retail season. With dynamic content, you can automatically replace out-of-stock products in your catalogs in real-time.
In conclusion, Diwali 2023 is not just a special festival; it's a golden opportunity for retailers to achieve growth, connect with consumers, and share in the joy of the season. With a strong online strategy, a focus on top-selling categories, and captivating promotions, this Diwali can be a revenue-building moment in your retail journey.
Ready to harness the power of a digital catalog to supercharge your revenue for this year's Diwali campaigns? Sign up for a free trial and test the results.