Back in December, we introduced hotspots with adjustable areas and icons. Speaking to our customers, it's become clear to us that many of them either don't know that it's possible to turn on personal hotspot icons, or they don't understand why they should turn icons on. If either of these is true for you, you should read this post.
How can I increase the visibility of my hotspots?
In case you missed the news and you're still wondering how to increase the visibility of your hotspots, we're here to let you know that you can use hotspot icons. Here's what they look like: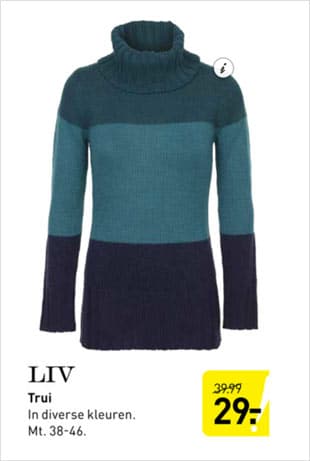 Hotspot icon in a digital magazine.
Whenever you create a new hotspot, icons will be turned on by default. If you don't want icons, you can untick the 'Show hotspot icon' box and Publitas will remember this setting for every hotspot you create thereafter.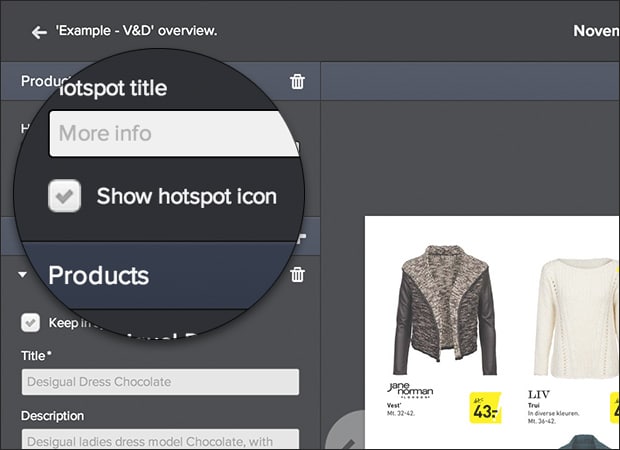 Turning on icon for a product hotspot.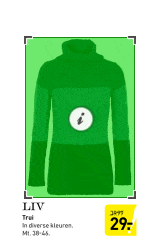 Changing the hotspot icon position
You can also change the icon's position inside the rectangle. Simply click on the icon and drag it to where you want the icon to appear.
Do I need to have icons enabled?
It depends on how you enrich your publications. Looking at our customers' publications, there are two ways to tag your publications with hotspots: consistently or inconsistently. So what does this mean?
Scenario 1: Your digital publications are consistently tagged with hotspots
Some of our customers tag all the products in their catalogs, magazines, or brochures. Here's an example from Leen Bakker with a very high hotspot shield interaction rate: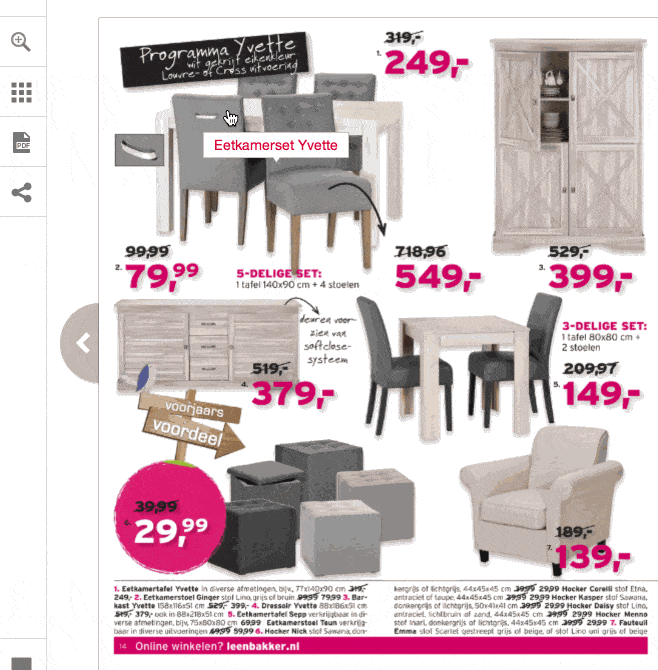 Hovering over product hotspots in a Leenbakker catalog.
As you can see, they don't use icons, and yet our data reveals that people are still finding and clicking on Leenbakker's hotspots. Our theory for why this happens is simple. The moment someone clicks on a product hotspot and sees a pop-up, they will expect the same behavior for the rest of your products. By consistently tagging all products in your catalogs, you will not break that user's expectations when they click on another product. As a result, they will simply learn that all products are clickable, in which case icons are no longer required.
In this case, we suspect that turning icons on won't drastically improve hotspot open rates. So if you feel that icons clutter the experience for your customers, you can turn them off as long as you consistently tag all of the products in your publications with hotspots.
Scenario 2: Your digital publications are inconsistently tagged with hotspots
There could be several reasons why some retailers don't consistently tag their products. For example, not all products may be available in the online store by the time they publish the digital publication, hence they don't tag these products with hotspots. But if some products are tagged with hotspots and others aren't, we believe it's really important to use icons when tagging products with hotspots.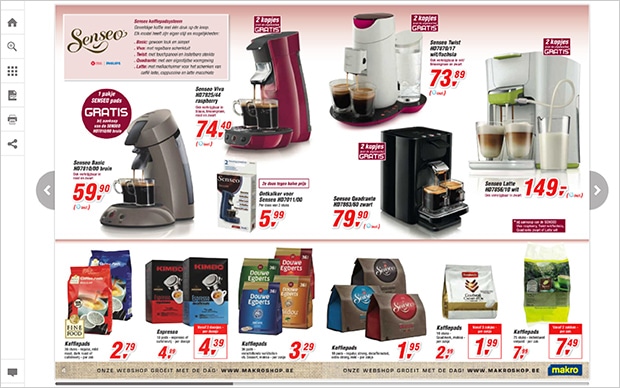 Example of a spread that has been inconsistently tagged with hotspots.
It turns out that the five coffee machines at the top are clickable, but the rest isn't. We imagine shoppers can have difficulties finding your hotspots in situations like this.
Imagine browsing through a digital catalog and having to hover over each product to find out which product is clickable. That's not exactly a great user experience. To make sure consumers can easily find your products, simply turn on the icons for your hotspots (especially when you haven't tagged all the products with hotspots).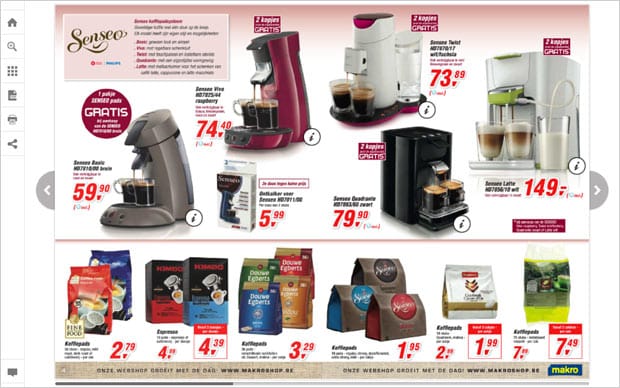 Increased hotspot visibility for the coffee machines by turning on icons.
Conclusion
To sum everything up in short:
If you tag all the products in your digital publications, it doesn't really matter if you turn icons on or off.
If you only tag some of the products in your digital publications, make sure you turn your icons on.
That's it for now. We hope this helps you to increase the visibility of your hotspots, and ultimately, to better serve your customers. Feel free to reach out to us if you have any questions about this topic.