Personalization, AI, and product discovery are hot topics in retail right now. The key question retailers are trying to answer is: how do I show the right products to my customers at the right time?
Complete the look fits right into the mix. Read on to learn what it is, and what best practices to keep in mind.
What is "complete the look" technology?
What's now a must-have for online fashion and furniture stores is complete the look or shop the look technology. Essentially, when people are looking at an item, they're shown whole outfits or designs, enabling them to buy the entire look in the picture, or they might choose to shop the look and purchase individual items from it.
Through a combination of great product images, highly sophisticated styling algorithms, user data, and human stylist expertise—complete the look technology works in sync with your product inventory. Fashion and furniture retailers can sell more items per visit when shoppers are better engaged with your brand and its personalized style suggestions.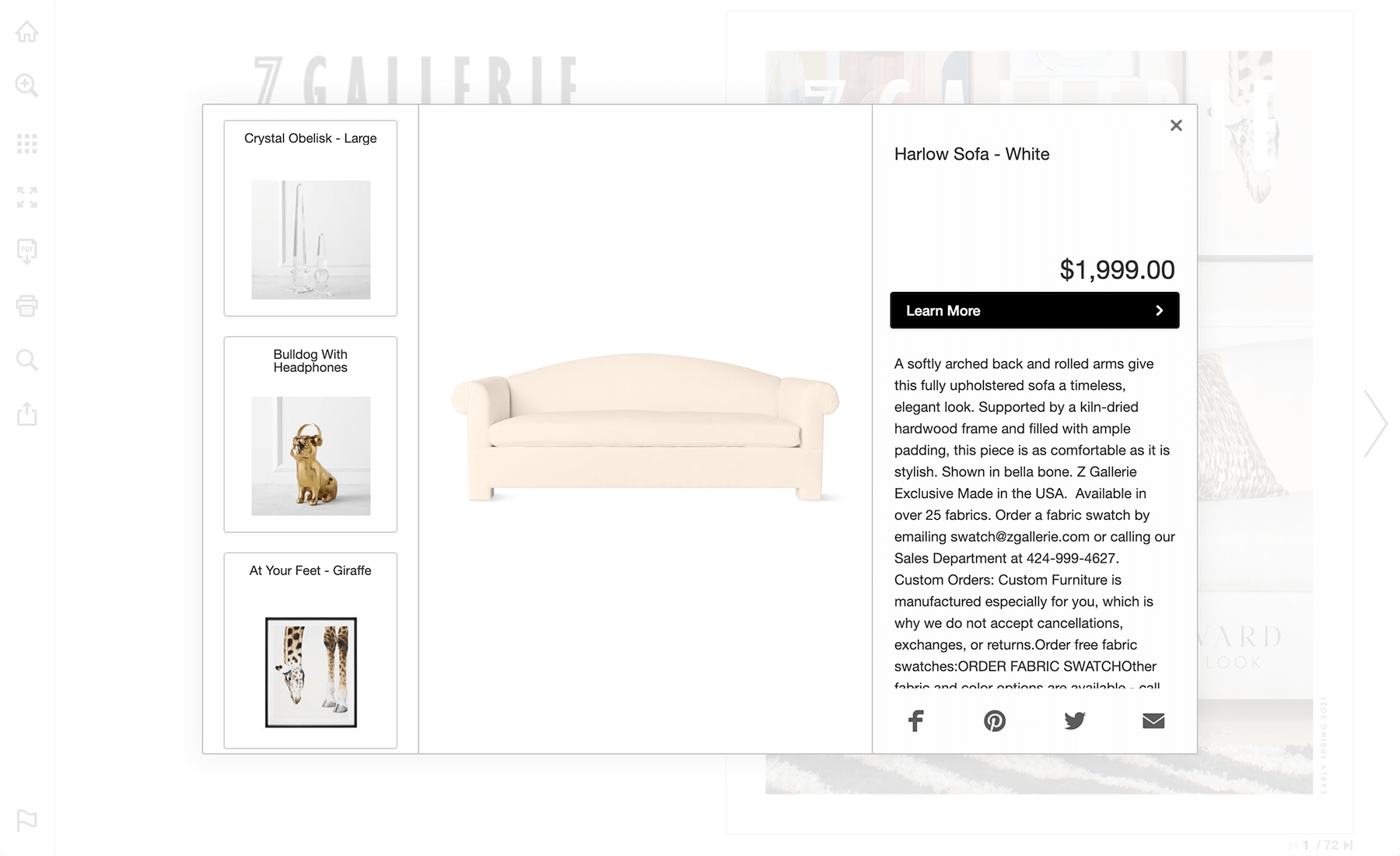 The carousel on the left contains products that "complete the look". AI and personalization can automate and optimize these suggestions.
While complete the look can automate the marketing of all of your content—saving you time and money—there are a number of things to keep in mind when you start using the tool.
In this post, we show you how shop the look technology can build brand loyalty and drive customer engagement, and how to optimize it so that it performs according to your individual branded needs.
How complete the look helps your shoppers
For you as the retailer, the obvious benefits are being able to increase the number of product sales per visit, but you can only achieve this if you provide your shoppers with the best shopping experience—and recommend them the right products, and at the right time.
For online shoppers, complete the look:
Enhances the online shopping experience of your store;
Builds trust and positions you as the fashion or design expert—your visitors will value your expert styling advice;
Helps shoppers to visualize the product and how it might look with other branded items.
While the most sophisticated ecommerce technology can't yet provide people with the same physical store experience (although, getting close!), complete the look technology offers an online shopping experience that resembles the in-store experience of being able to buy the items around them, or the outfits shown on mannequins.
Complete the Look automates the marketing of your content
If a fashion or furniture retailer wanted to collate and show high-quality images of their products, they would need to spend a big chunk of their budget on hiring models and photographers to do a photo shoot.
Even after what might be a series of shoots running over several days, the retailer may still only have a few hundred images of different outfits and designs.
For retailers, complete the look AI automates the marketing of personalized content for their products, and automatically curates thousands of different looks from your product inventory. Moreover, these looks can be personalized to each individual shopper.
The algorithm of shop the look technology even allows you to showcase seasonal or trending looks, and customize outfits and designs according to what you have or don't have in-stock.
More importantly, the retailer is in control. You can decide on what the algorithm should show according to your own unique brand style and guidelines. If there's something you don't like, or you want to implement your own style guidelines—you can have the flexibility to do all of this and more; you can remove outfits that don't fit your guidelines or quality expectations, or swap different items around to create the looks you want.
Good complete the look tools provide fashion and furniture brands with the flexibility to generate or edit looks according to their needs. It's helpful when you can choose between inputting your style guidelines, or the tool's ready-made configurations. Both of which can generate your outfits in just a few minutes.
Complete the look best practices

Even though Create the Look AI automates the production of your marketing content, as mentioned earlier, there are still a number of things that you and your team are in control of—and it's important to prioritize certain aspects of its setup.
We recommend:
Prioritizing the customer experience by showing personalized recommendations only
While complete the look technology can enhance the discovery experience of your brand, it's better to target your suggestions by only showing items that complement their main purchase—and not suggest so many items that they don't know what to choose.
By only recommending products or accessories that are personalized to each shopper, you build value into their individual online shopping experience. This provides you with the opportunity to build a curated discovery experience with your shoppable content.
Show what's hot and fashionable
When people shop for fashion or furniture, they want to be shown what's hot and what the latest branded looks and designs are. If you show popular products to your customers, you're positioning yourself as their personal stylist, while adding value to your brand.
As a result, you build up more trust and brand loyalty, making it more likely that they'll make additional purchases during their visit, or on their next one.
Make the experience as visual as possible with high-quality pictures
At the heart of shop the look technology is great visuals and images. If you show images of your outfits and designs that have been captured by the most skilful and experienced of photographers, you'll create visually stunning looks that your loyal customers and followers will want to buy.
Other complete the look best practices
Complete the look is a powerful and flexible tool that will help you to sell more items per visit, but there are are number of other things to bear in mind, such as:
Replace out of stock products with other recommendations. It helps if your product inventory can sync with your shop the look automation tool;
Recommend products of a similar price to the main purchase;
Suggest items or garments that complement the main purchase, and not ones which are of a different style;
Configure your complete the look tool to vary what's recommended to the shopper. Don't always suggest the same items.
Different shop the look tools may have different features, but generally you should have control over the above recommendations.
Where to show your looks
Aside from the obvious place of recommending products to customers when they're on a product page, there are a number of other engaging places you could show your outfits.
You might want to show your most popular outfits, or your featured looks:
In widget spaces on your store's website;
In your email marketing campaigns-and personalize it to what they've bought before and what data you have about them;
On your social media channels, where they can shop the look directly from the post.
In your brands' online magazine or catalog, where inspirational imagery is combined with AI-driven suggestions.
Summary
Shop the Look technology has become an invaluable shopping tool for fashion and furniture retailers to offer to their ecommerce store visitors. It empowers retailers to automate the delivery of personalized product recommendations, and for each and every one of their shoppers.
Within minutes, a retailer can generate thousands of branded looks from their product inventory.
Essentially, through higher levels of engagement and product discovery, an ecommerce store equipped with complete the look will be able to build higher levels of brand loyalty and trust by showing them their branded looks, and drive the number of items purchased per visit.

Interested in engaging your customers with an AI-powered discovery experience? Discuss the possibilities by contacting us here.