Ecommerce Brand: Around 50% of shoppers know what they want; they search, select, and checkout. The others? They like to browse, discover, and be inspired by content on other channels.
Knowing how and on which channels they do that on, will help you focus your marketing strategies and campaigns.
If you serve your target audiences with relevant, inspirational content that they enjoy engaging with, you stand a better chance of converting shoppers at a later point in their customer journey.
Which are the channels — or "online shopping malls" — that you might want to have a strong presence on to inspire more browsers? This post will show you five of the most common ones and how they drive product discovery for brands.
The benefits of better product discovery of eCommerce Brand
Search boxes, category pages, filters, and product lists can be obstacles for browsers who land on your eCommerce site and don't know what they want.
Additionally, ads on paid search often target specific products. And although your ad may trigger for unbranded keyword searches, there's a lower chance that you'll engage browsers who are at the top of your funnel with just a product landing page.
By taking a multi-channel approach to your marketing strategies — in combination with stunning visuals, user-generated content, or informative videos — you can warm and prime visitors to boost the chance of conversion at a later touchpoint along their journey.
Other benefits of enhanced product discovery are:
Seamless, multi-channel product discovery gives you the opportunity to expand the reach of your marketing campaigns;
Personalized product suggestions that match where a buyer is in the customer journey makes them feel valued and understood while encouraging spontaneous purchases;
The ease at which you can target shoppers' latent needs and sell them something they didn't know they wanted.
The channels you cannot afford to miss out on
You can expand the reach of your eCommerce store by marketing your brand on relevant channels — and with a big focus on social media. By having a solid presence on channels like Pinterest and Instagram, you can build a community of loyal followers around your brand and better engage with top-of-the-funnel browsers.
Let's see how these channels can significantly boost your product discovery, and take a look at how successful brands leverage them to win more customers.
1. Instagram
Every month, over 130 million users engage with posts related to shopping on Instagram.
Before Instagram shops, users were already searching on the platform for things to buy, and so, Instagram introduced shops to support this user behavior — rendering it the optimal platform for discovering some of the latest eCommerce trends while supercharging influencer marketing.
Visuals have always drawn in users who post their content about fashion, beauty, cuisine, or home décor and provided browsers with lots of inspirational content.
Brands have found that the user-generated content (UGC) that influencers create can be a highly effective marketing strategy for brands to align themselves with and exponentially expand their reach.
In July 2020, a new version of Instagram shops launched, which Techcrunch says "has been designed to encourage even more browsing and discovery of brands, creators and products."
Instagram's new shops achieve this by allowing browsers to shop directly from the content or buy from the brand's Instagram shop (currently US only), commonly known as shoppable content.
Shoppable content posted by influencers has been particularly effective with makeup brand Glossier — which leverages beauty influencers, who post content about achieving a specific look with the brand's products.
This form of social proof also serves as a form of creative expression — and turns marketing on its head, where instead of brands telling people what to wear, regular people are.
These clever and modern marketing techniques have hit the nail on the head with its largely millennial audience and helped the brand to become a multi-billion dollar beauty brand.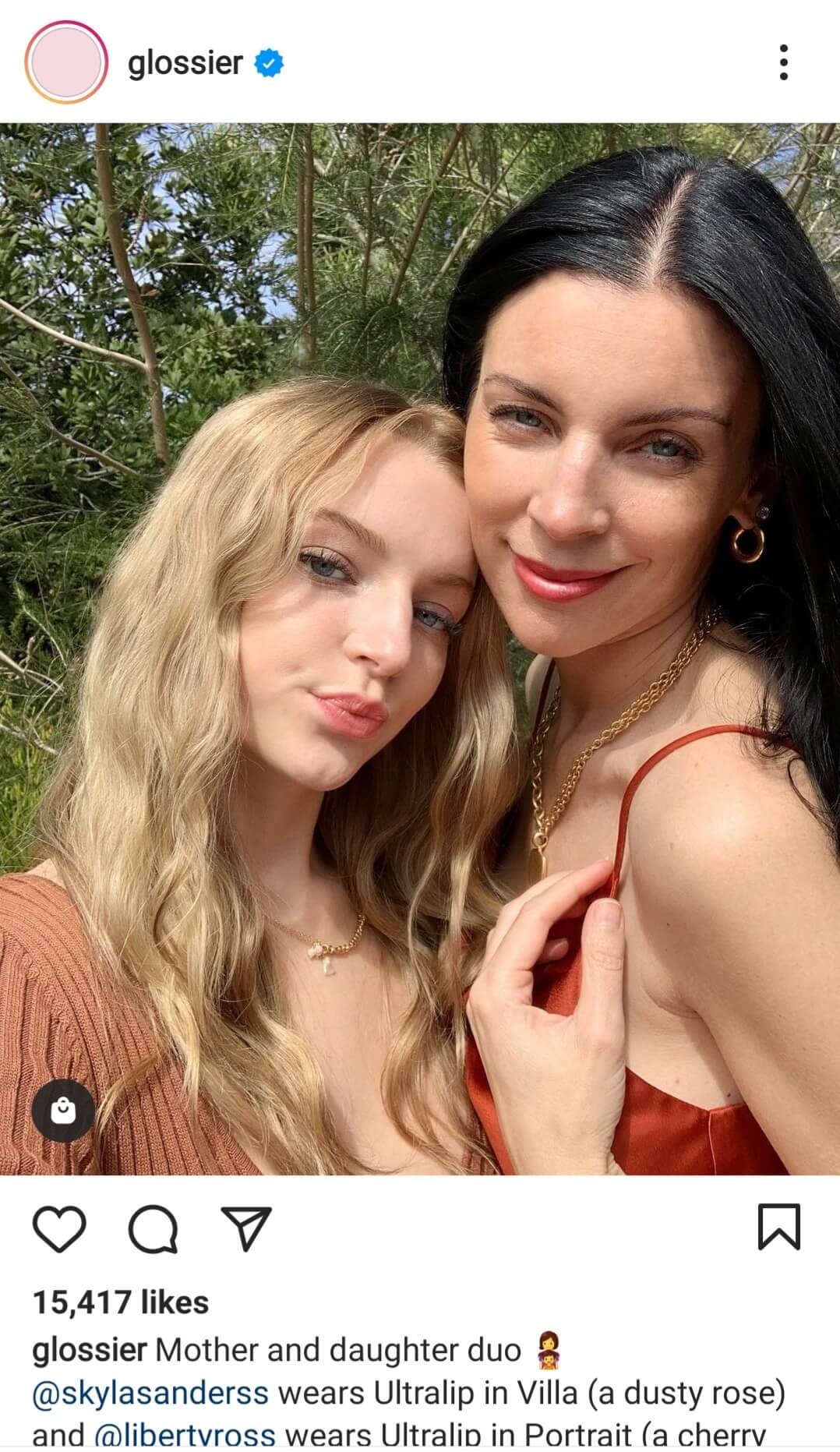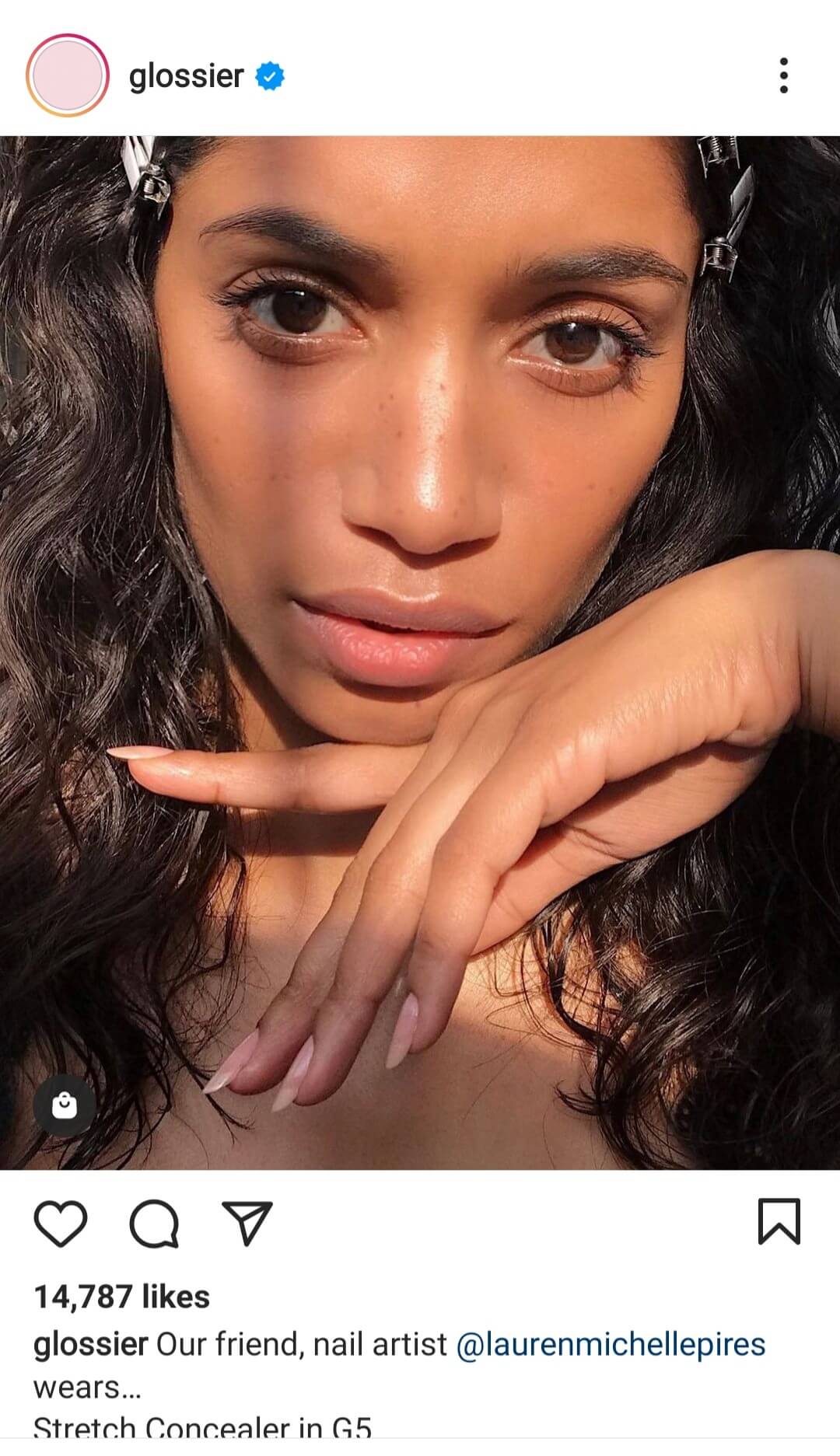 Brands like Glossier are redefining eCommerce, where instead of brands telling people what to buy, influencers are. This way, providing social proof of the brand's product quality.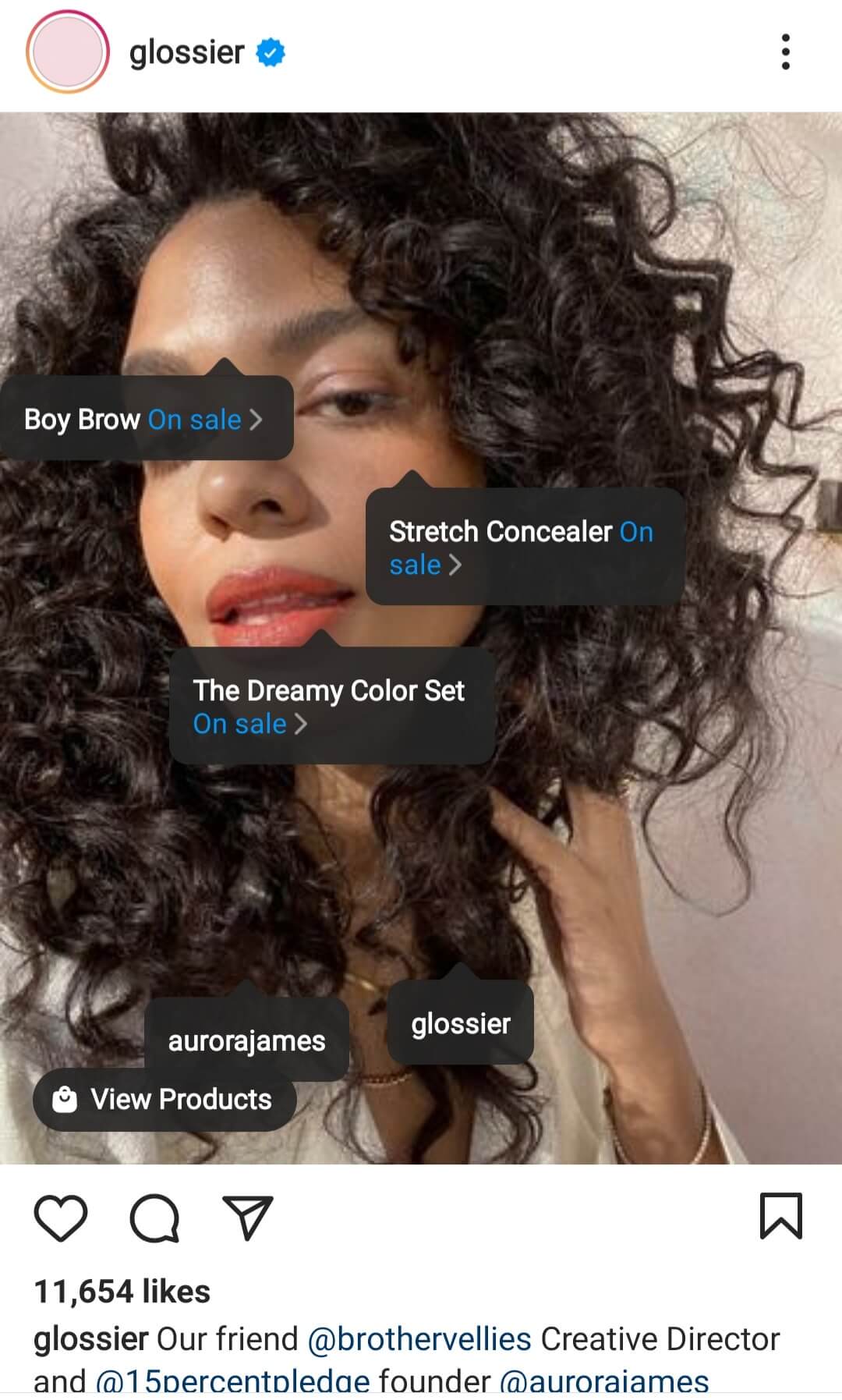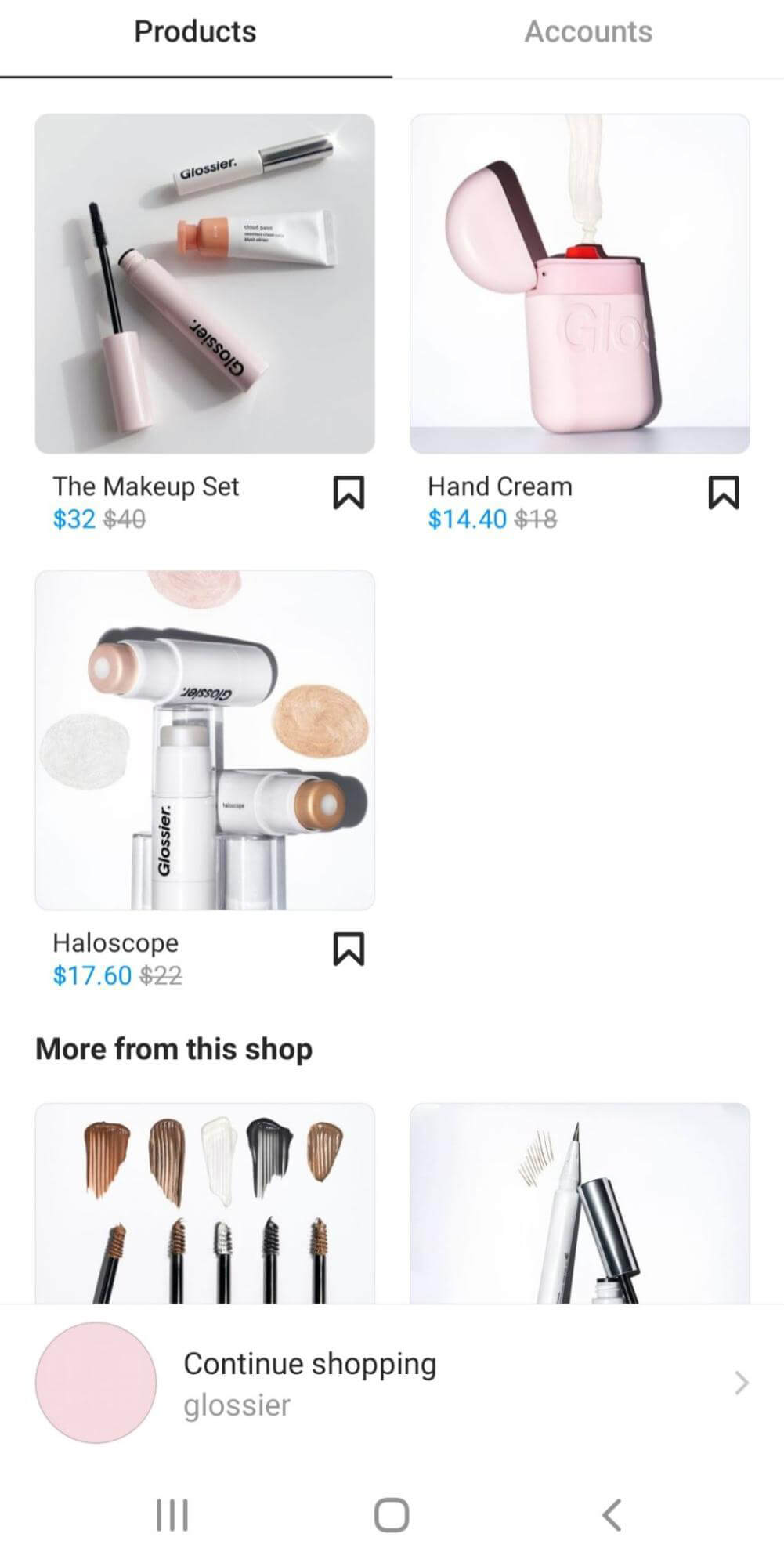 Influencers posting content of themselves using branded products allow users to shop directly from the content or within a brand's Instagram catalog.
2. Pinterest
Pinterest has shifted to become the go-to platform for lifestyle inspiration — such as for fitness, fashion, beauty, home decor, and DIY.
According to Pinterest Business, "97% of top searches on Pinterest are unbranded", allowing you to "reach your audience early, and before they've made up their mind". And it's this which makes the platform a must-have if you want to capture top-of-the-funnel browsers that are still in the discovery phase.
The power of Pinterest lies in the amount of community engagement you can generate by creating product pins while encouraging other Pinterest users to pin their expressions and inspirations of related content.
Boasting a visual search feature capable of identifying more than 2.5 billion household and fashion objects, brands can mark up their shoppable product pins and tag entire looks. Users can shop directly from the content.
3. Online catalogs
Channels like Pinterest and Instagram are great for product discovery, but you risk losing control over your brand expressions and the context you'd like to see them in.
An online catalog can be the optimal marketing channel for you to express your brand and its story. Good online catalogs update in real-time with your product inventory and allow you to fill it with contextualized images, videos, or stories about your brand.
Not only are digital catalogs the perfect alternative to your environmentally unfriendly, costly print catalog, but they can provide a much more inspirational and convenient shopping experience for your shoppers over your usual search-based eCommerce store.
The power of an online catalog comes from its capability to capture top-of-the-funnel browsers who need something more than just a transactional eCommerce store.
For example, Williams-Sonoma, a popular kitchenware and home furnishings retailer from the US, fuses delicious recipe ideas with its decorative and beautifully displayed products to create the perfect inspirational shopping experience.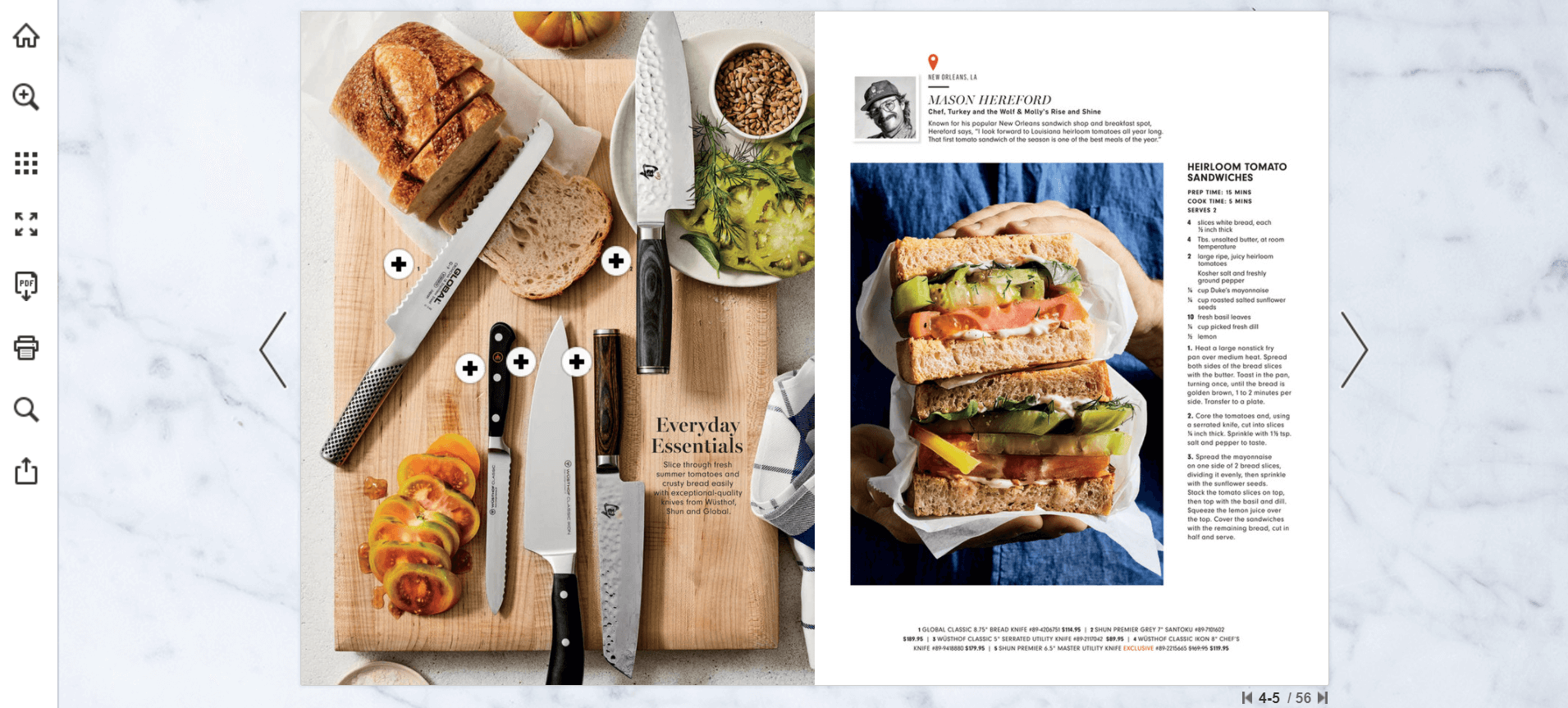 Williams-Sonoma's online catalog provides a contextualized and inspirational shopping experience to its viewers.
By the way, here at Publitas, we make online catalogs! Our customers have experienced higher conversion rates from their 'just browsing' users through online catalogs than other channels, from 40% to as high as 308%.
4. Email
For many brands, email marketing campaigns are paramount to their brand's reach, overall success, and sales volumes.
Email is a highly versatile marketing channel that 81% of small businesses rely on for their primary customer acquisition channel, which isn't surprising when 49% of consumers would like to receive promotional emails from their favorite brands.
Ecommerce brands can use email marketing to increase product discovery by:
Sending promotional emails for seasonal events or sales like Black Friday or Mother's Day;
Raise awareness for specific deals or to offer discounts;
Lifecycle, or "trigger" emails which are sent automatically depending on user action. E.g., a cart abandonment email.
Brands can also embed their online catalogs into their email outreach campaigns. For example, in a welcome email for users who have just subscribed to their mail list, where they can conveniently shop directly from the content.
5. YouTube
As of 2021, YouTube has 2.3 billion users worldwide, with Facebook only ranked as a more popular social network. It's also the second most popular search engine after Google, and 90% of people say they discover products on YouTube (Thinkwithgoogle, 2019).
Like Instagram or Pinterest, YouTube is beginning to move towards a platform for users to shop from. In May 2021, the video content platform announced it would be trialing automatic product detection in videos — which is set to have major implications for influencers, making it easier for them to share products and shopping content in their videos.
Ecommerce retailers and brands can use YouTube to:
Raise awareness about their products and popularize them;
Build engagement and a community around their niche;
Create how-to videos on topics related to their products;
Position their brand as an expert for a given topic.
All while having an active presence that engages users.
eCommerce Product discovery needs a multi-channel approach and a mix of social and brand-directed content
A targeted paid media ad might be great for shoppers who know what they want to buy, but to reach shoppers looking for inspiration, you must have a multi-channel marketing strategy. You can post content that inspires your viewers, so they want to engage, share, or contribute something about their own experience with your brand and its products.
Ecommerce marketing has shifted towards a customer-centric approach, where instead of brands telling people what to buy, real people on online channels are. The social proof which UGC provides can build stronger levels of trust and brand loyalty.
Conversely, user-generated social media posts give you less control over how you want your brand to be perceived. So by using other owned channels, like your online catalog, you can steer your audience towards what you think is the best way for your products to be enjoyed and have more control over your brand's overall image.
Interested in using your catalog as online discovery marketing? Contact us, or sign up for our free 14-day trial here.