A digital catalog containing the right combination of color, photography, copy, and design can enable brands to deliver the perfect, unadulterated spring shopping inspiration for their customers — and from where they can shop directly.
Whether it's washes of bright yellows, displays of ocean blue, forest green collections, or shots of chic and classic looks — we'll show you six examples of home décor and fashion brands that have published truly magnificent spring catalogs.
Digital home décor and furniture catalogs for spring 2022
In no particular order, for this category, we've selected the following brands to show you that have each published digital catalogs for the 2022 spring shopping season:
MoMA (Museum of Modern Art Design Store)
Crate & Barrel
Dekoria
For each brand, you'll see a few shots of what their catalog looks like and some of the features available when you publish a catalog online. There's also a link to each brand's online catalog.
The Museum of Modern Art (MoMA) Design Store
First up is MoMA, which has published a spring/summer digital catalog containing a curated selection of its products and collections for the shopping season ahead. While not strictly a home décor brand, we wanted to include it in this section as it contains many home products.
Art, style, and creativity
We're sure the brand's artistic and iconic use of color, style, and design won't go unnoticed when shoppers look through the catalog. We feel that this combination inspires shoppers to explore what's on offer and learn more about the brand.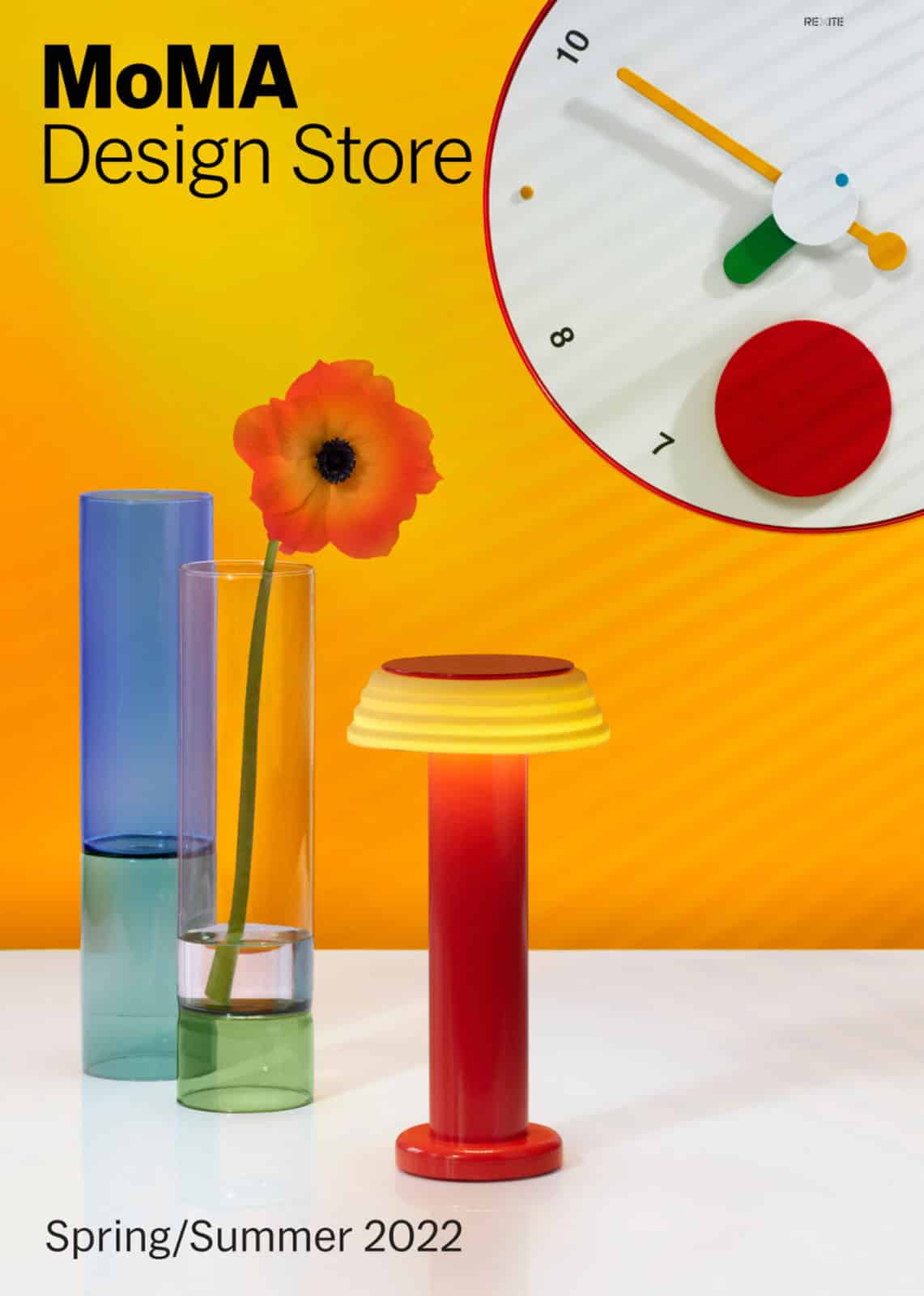 MoMA's spring 2022 digital catalog cover.
We particularly like how the brand features snippets of branded editorial throughout the catalog to elaborate on things like product background information or to offer design tips.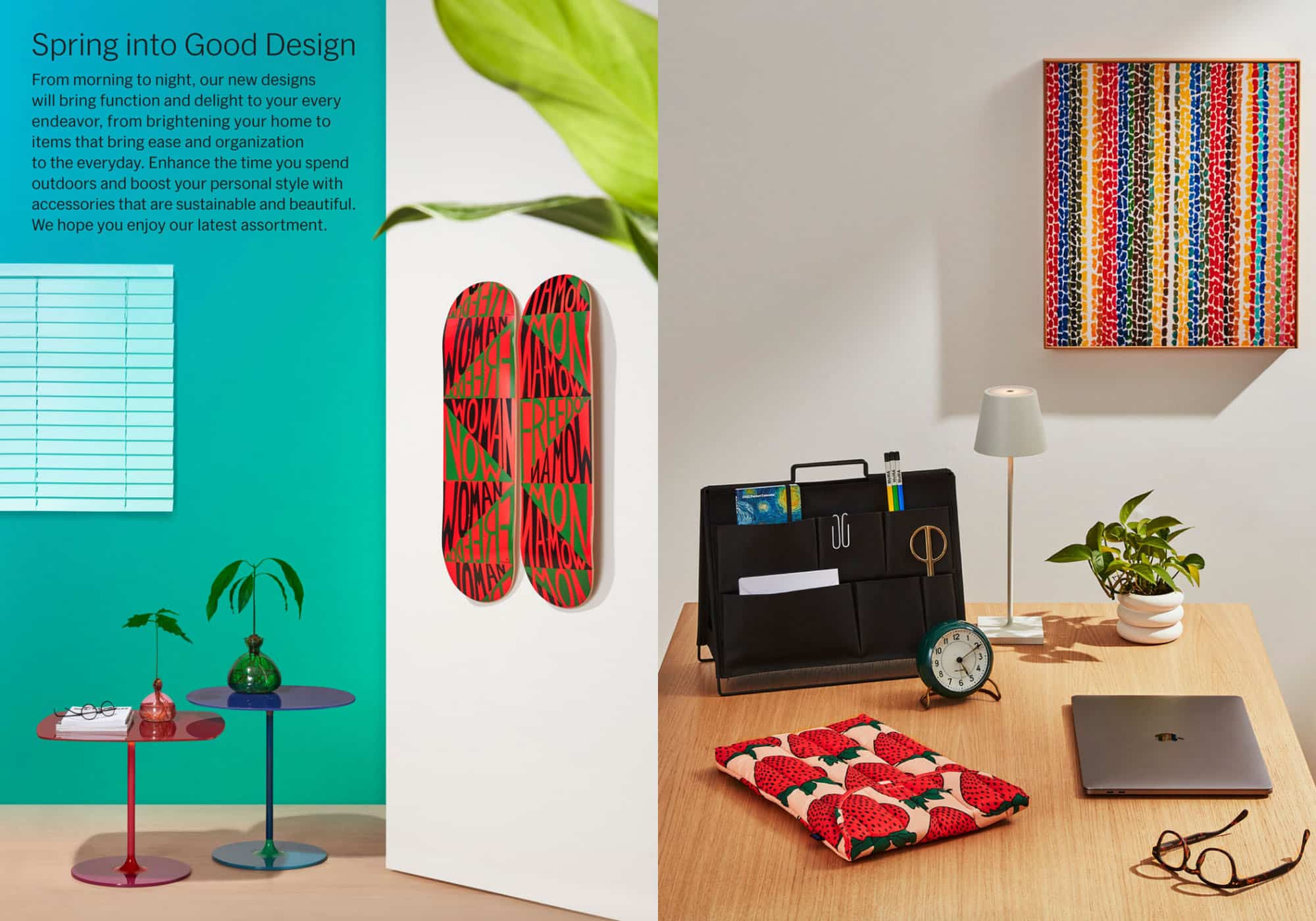 Spring 2022 home décor spread.
We also like how MoMA's spring/summer catalog delights browsers with a range of outdoor collections, giving shoppers a taste of the warmer weather that's just around the corner, and features a range of its modern product ranges for different rooms in the home.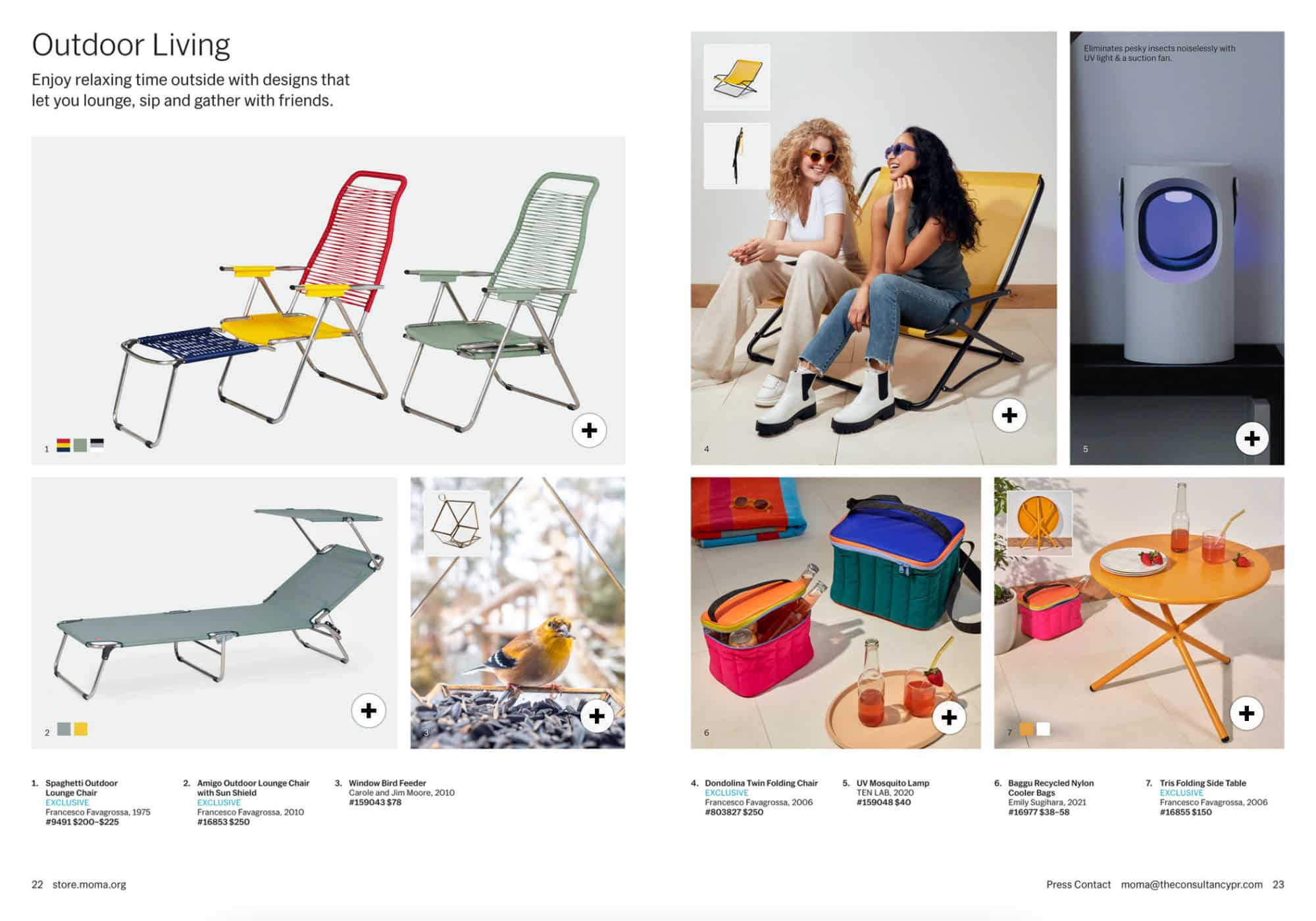 Spring 2022 outdoor collection.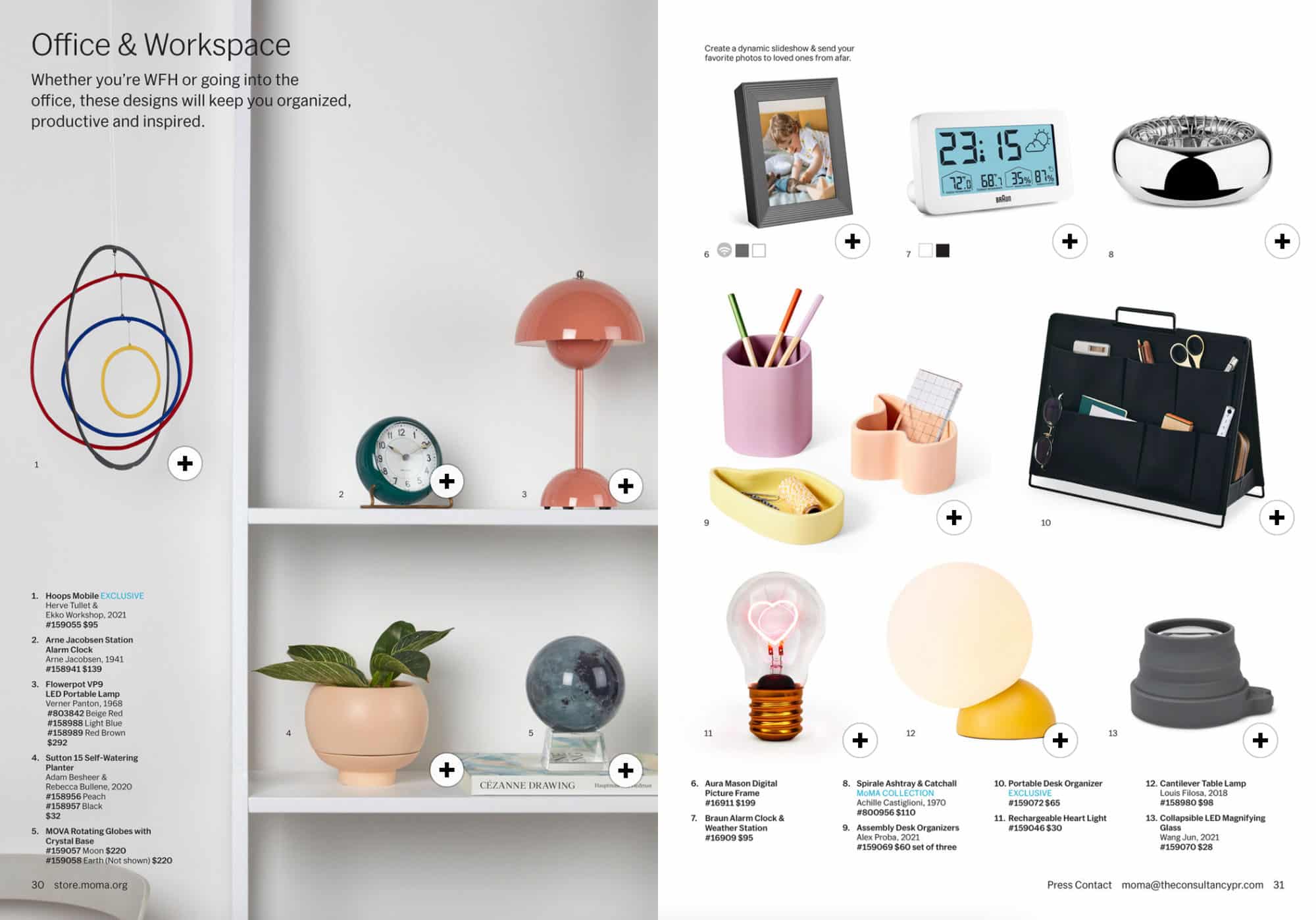 MoMA office and workspace products 2022.
Takeaways: We love how MoMA's vibrant palette of yellows, oranges, and reds on the front cover entices and gives us a taste of what's to come this summer. We like how the catalog unfolds into the brand's contemporary collections of Home Décor products. Shoppable product images with product overlays feature throughout.
Go here to see MoMA's Spring 2022 digital catalog.
Crate & Barrel
We think that Crate & Barrel's spring lookbook is a publication that makes for a truly unique collection of modern Home Décor and furniture products. Both photography and design are clean and curated.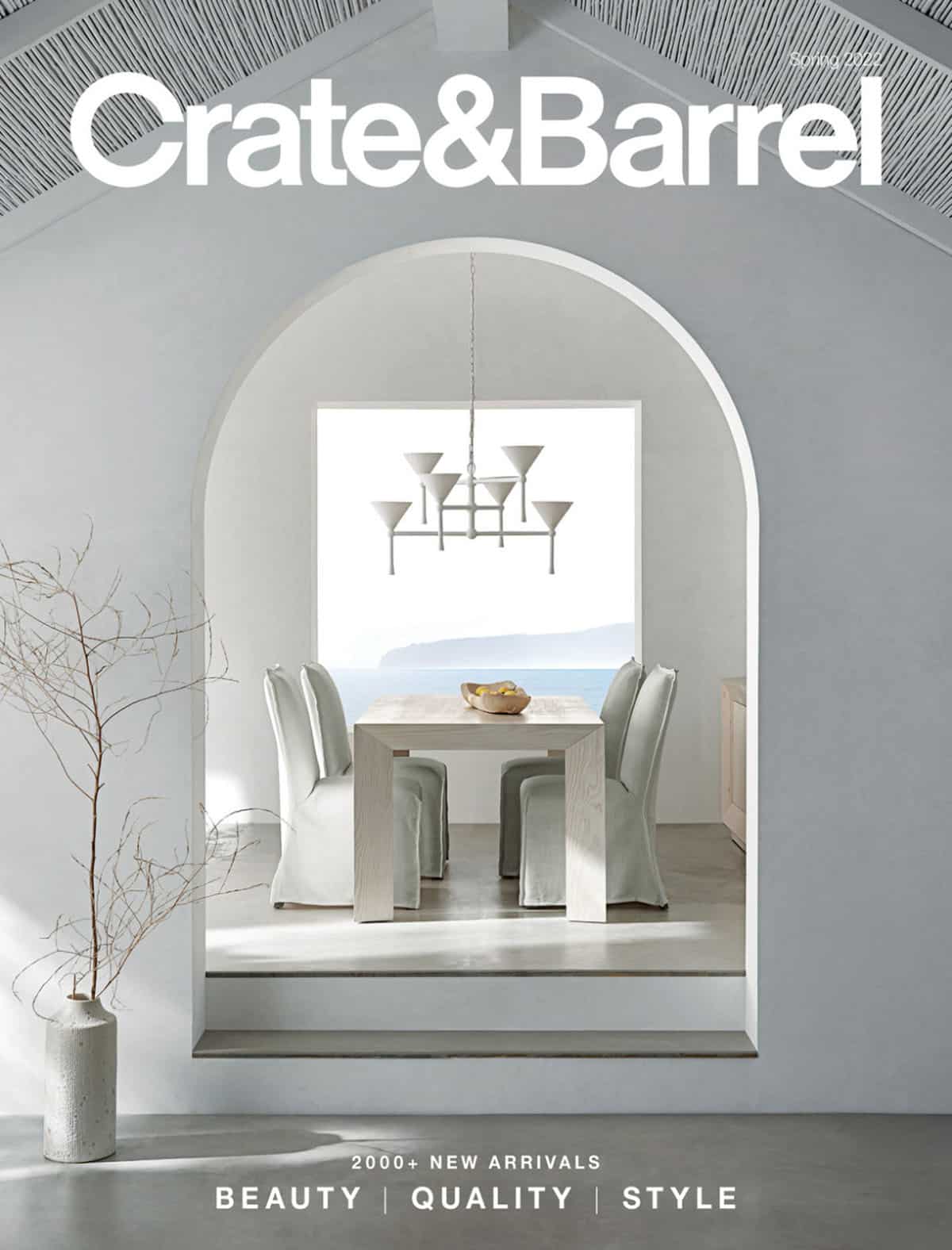 Crate & Barrel's online spring catalog cover.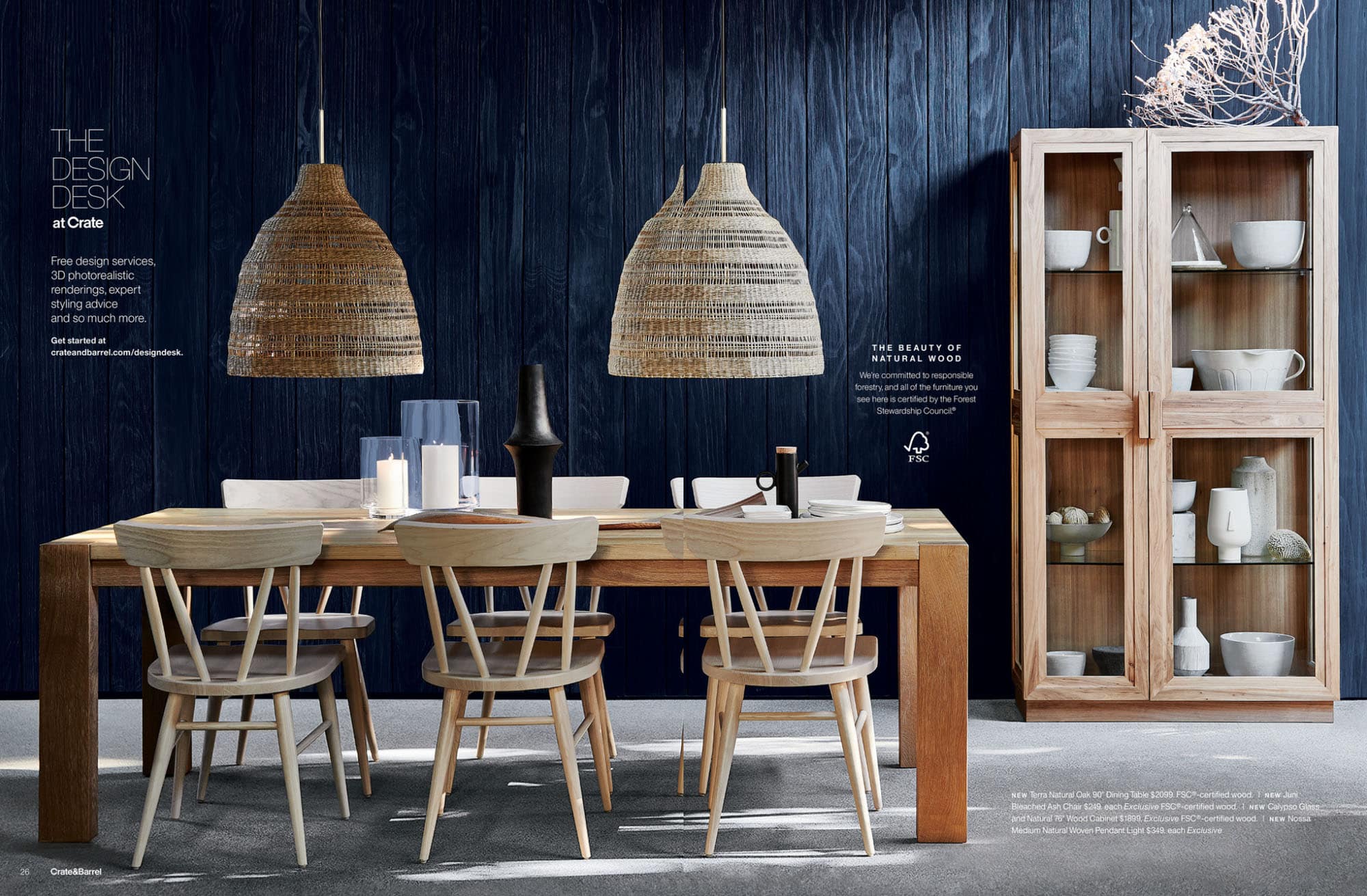 Spread from Crate & Barrel's spring 2022 catalog with home furniture collection.
QR codes
The brand's catalog features a QR code at the bottom of some product ranges and collections for shoppers to discover similar products or even to access recipes: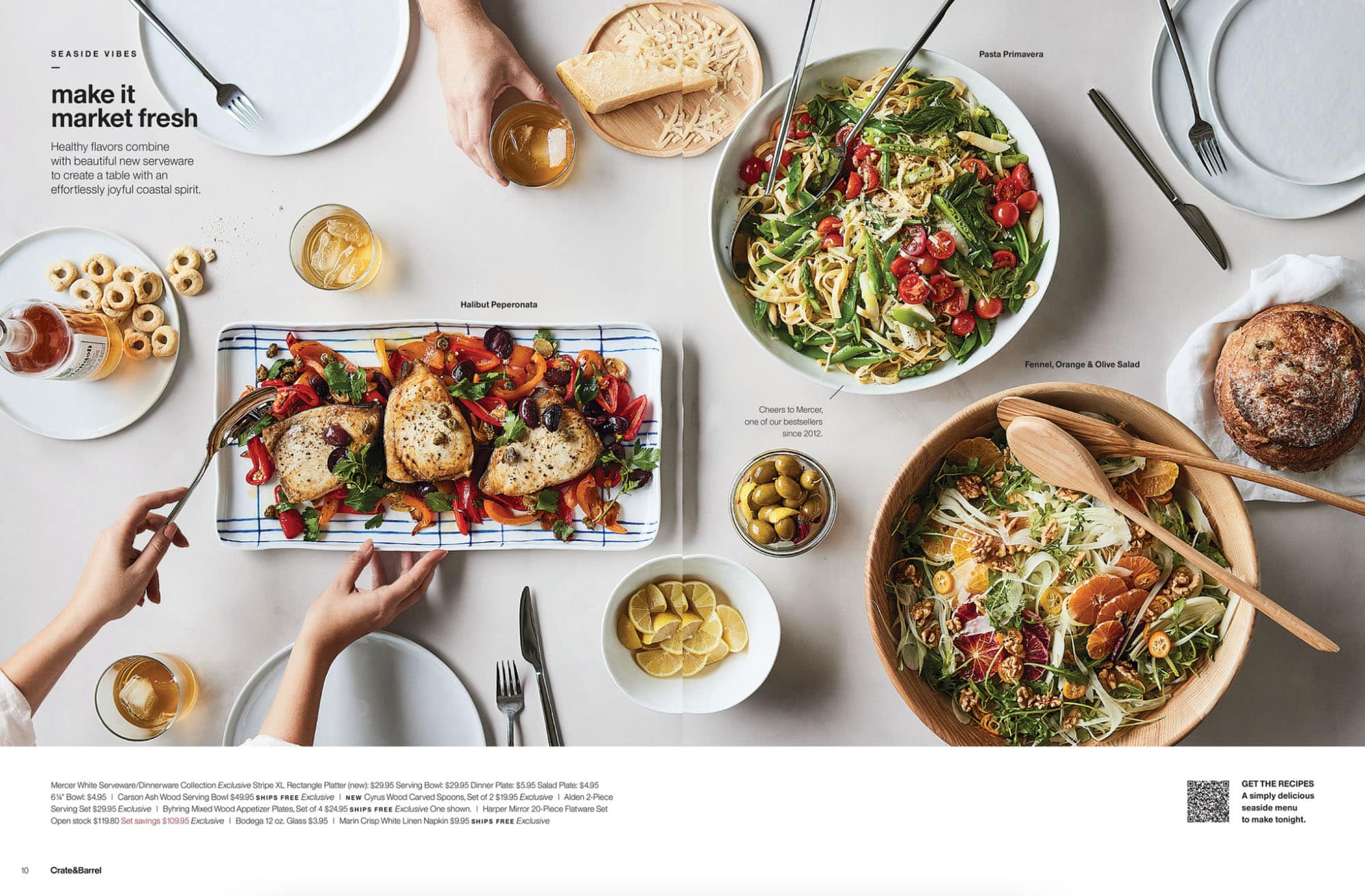 Spring 2022 home furniture collection with QR code.
We like how the catalog includes snippets of editorial alongside its collections or to show a customer review: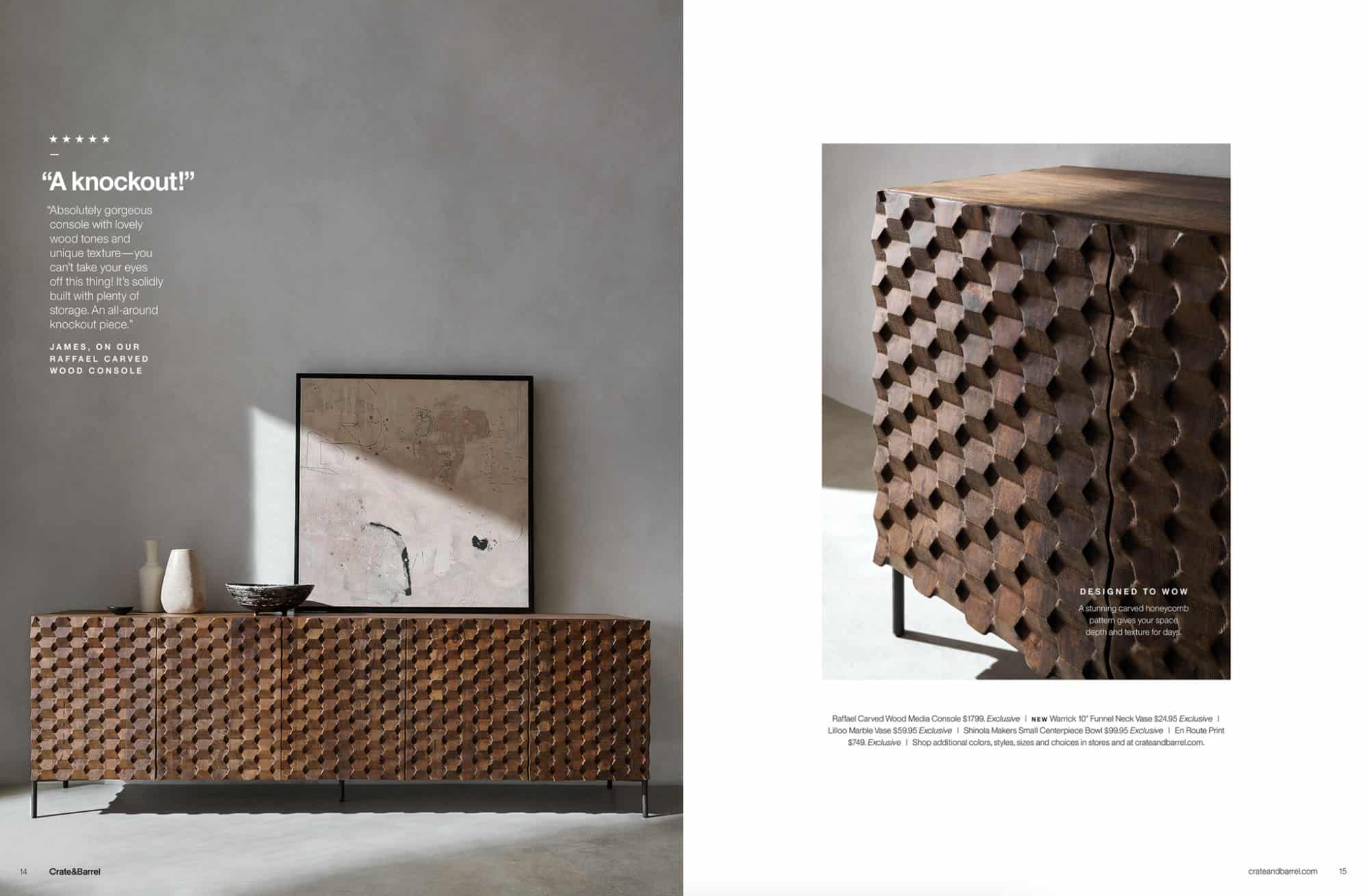 A customer review included as social proof for the product.
Takeaways: Crate & Barrel's clean but delicious combination of product, color, and design builds a truly holistic and inspirational spring lookbook for the modern home. The brand cleverly places QR codes for shoppers to conveniently discover more of what's in front of them.
You can see Crate & Barrel's spring lookbook here.
Dekoria
Last but certainly not least of the home furniture brands is Dekoria. We particularly like the displays of stylish and classic furniture collections combined with the ambiance of spring and the colors it brings to us.
Dekoria's spring catalog front cover.
We can't help but notice the photography featured throughout the brand's lookbook; it does an excellent job of showing you how entire collections look: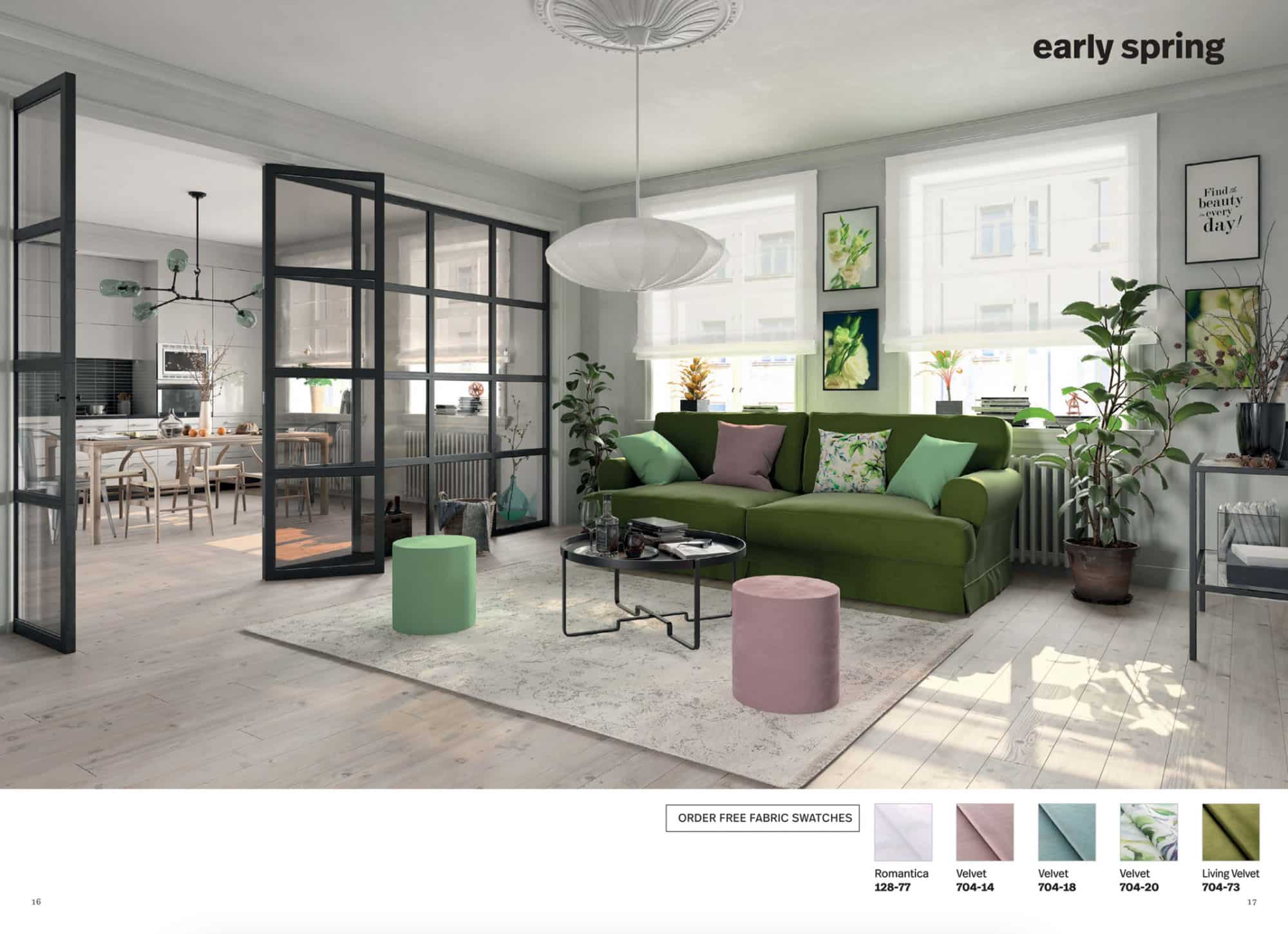 A collection from Dekoria's spring-summer catalog.
Dekoria's lookbook highlights the latest trends in the interior design and home furniture industry: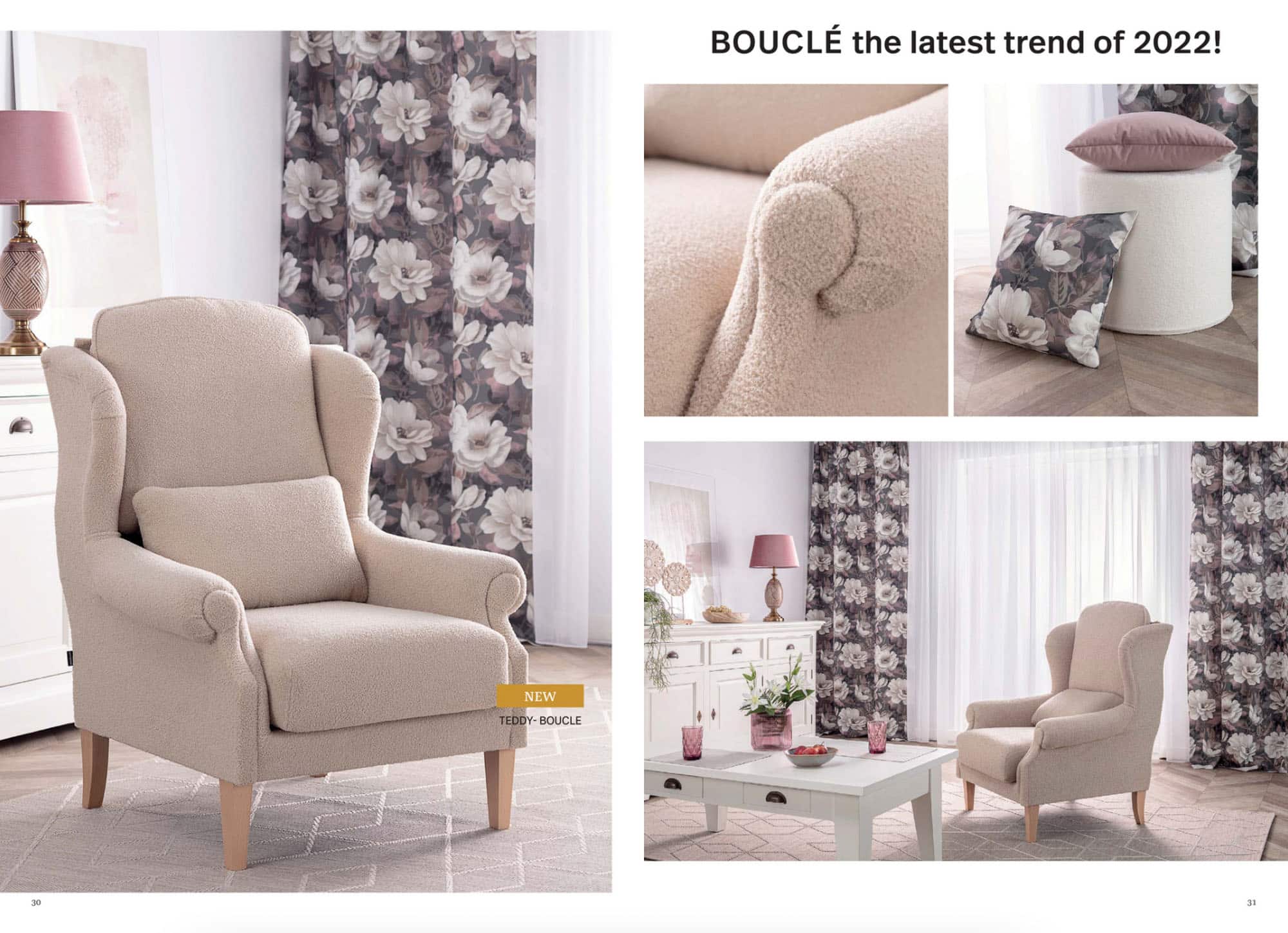 Latest trends included in Dekoria's catalog.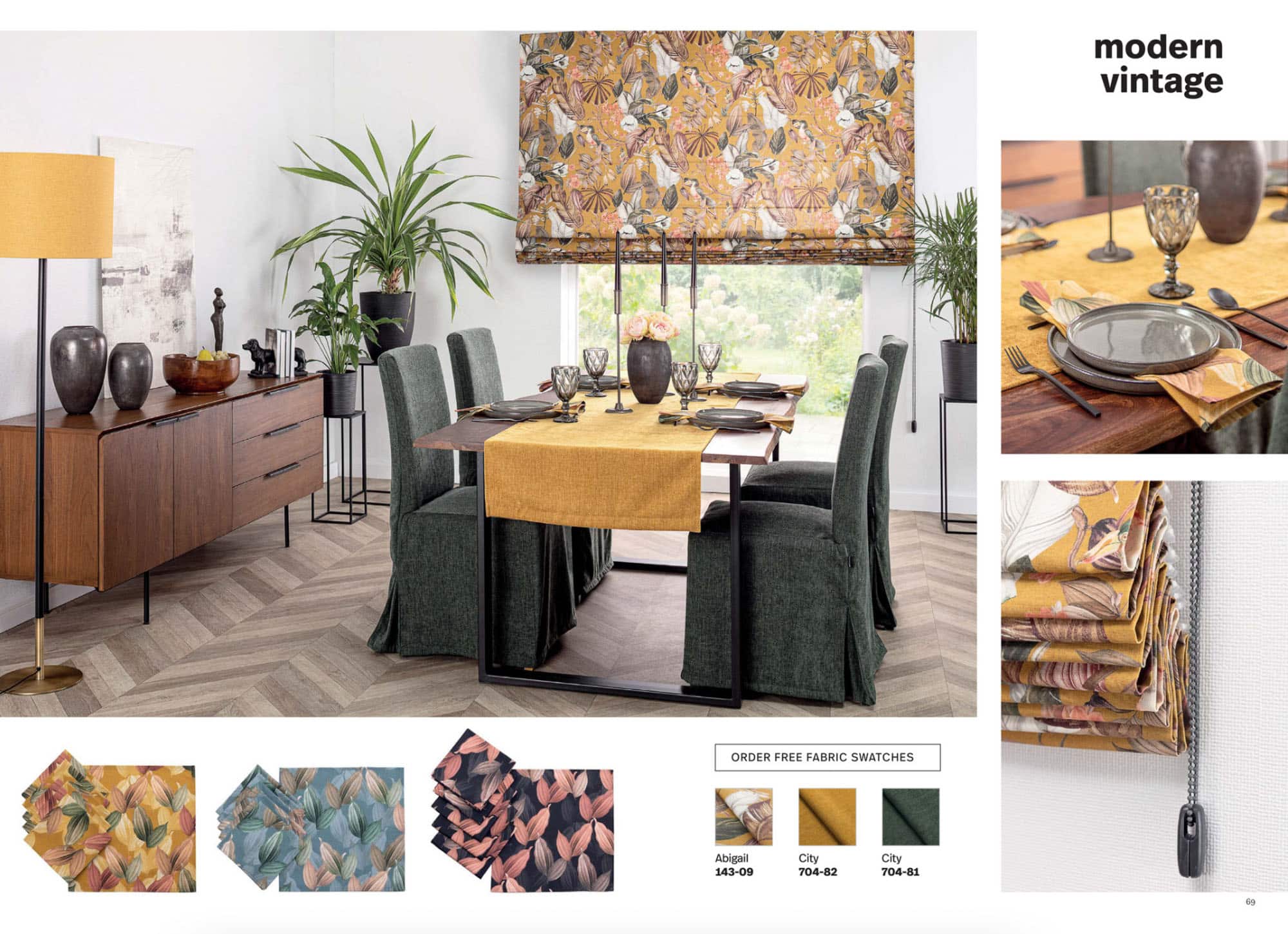 Another spread from Dekoria's catalog.
Main points: We feel that Dekoria brilliantly combines shots of individual product images alongside beautiful image displays of spring and chic collections. The brand's lookbook is full of trending and current home furniture displays.
Take a look at Dekoria's spring 2022 lookbook here.
Online catalogs and lookbooks published by fashion brands
For the fashion category, we've selected the following three brands that published a spring 2022 catalog (in no particular order):
Cuyana
Boggi milano
Bobby Jones
Cuyana
Cuyana is a women's premium apparel and accessories brand whose mission is 'to encourage shoppers to purchase fewer but better-quality pieces they will love and treasure for years to come.' And we really get the impression that their spring 2022 catalog beautifully encapsulates the brand's philosophy.
Cuyana's catalog engages customers from the very start with a shoppable cover, where browsers can click on the '+' icon to bring up more product details and shop the look.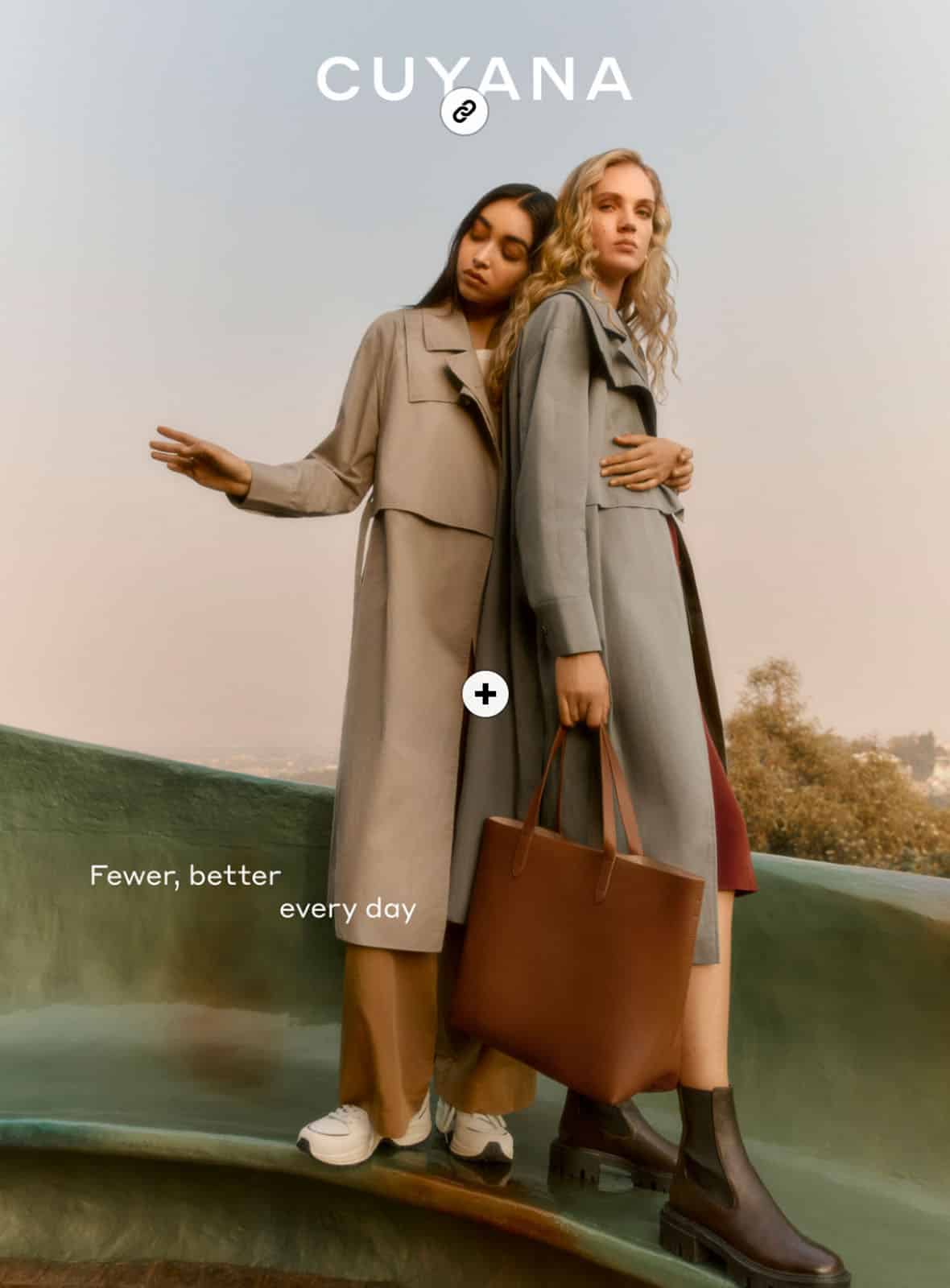 Cuyana's shoppable spring catalog cover.
With beautiful, shoppable looks and collections throughout and snippets of carefully crafted editorial, we feel that Cuyana's catalog superbly captivates the brand's image.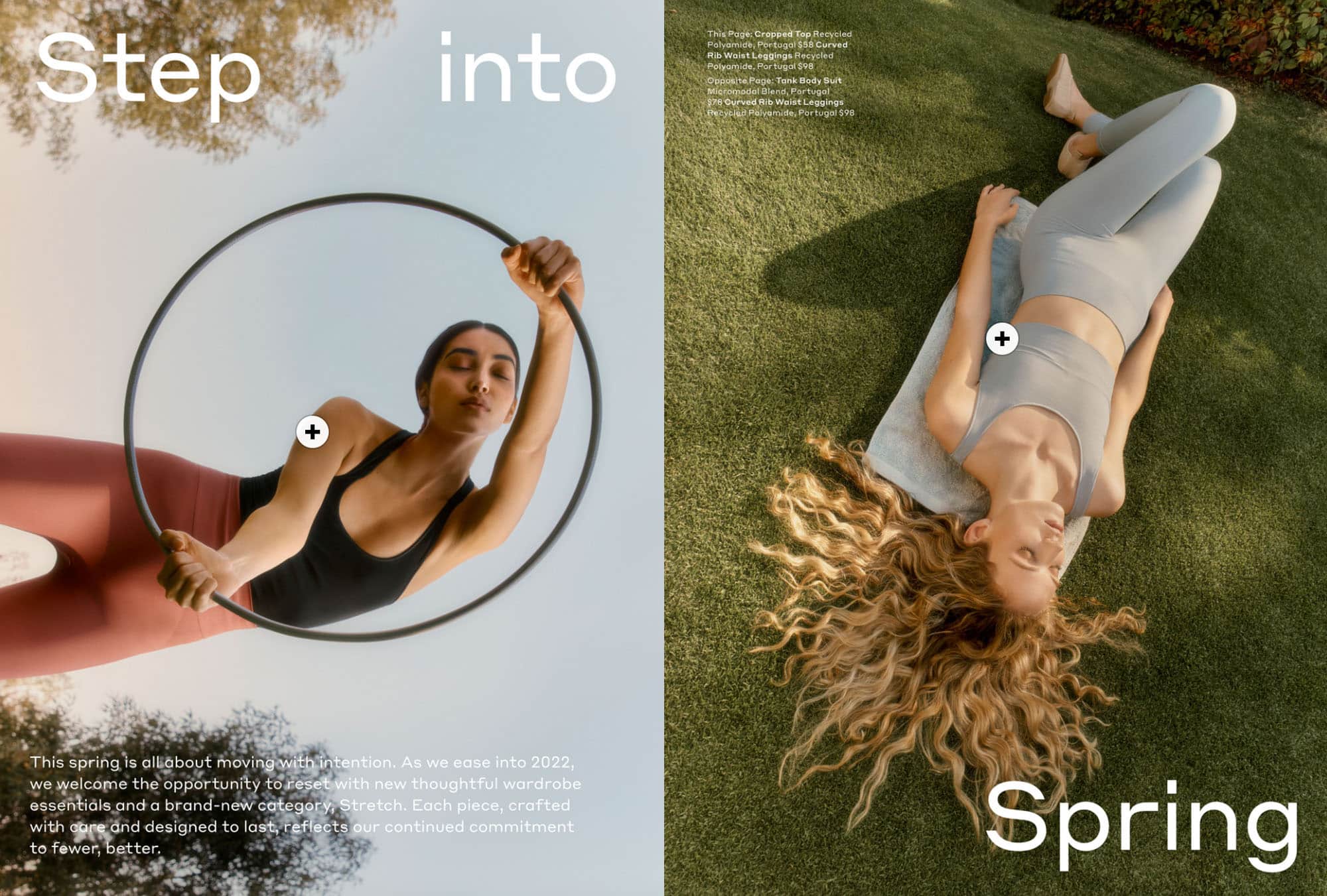 Spread from Cuyana's spring catalog.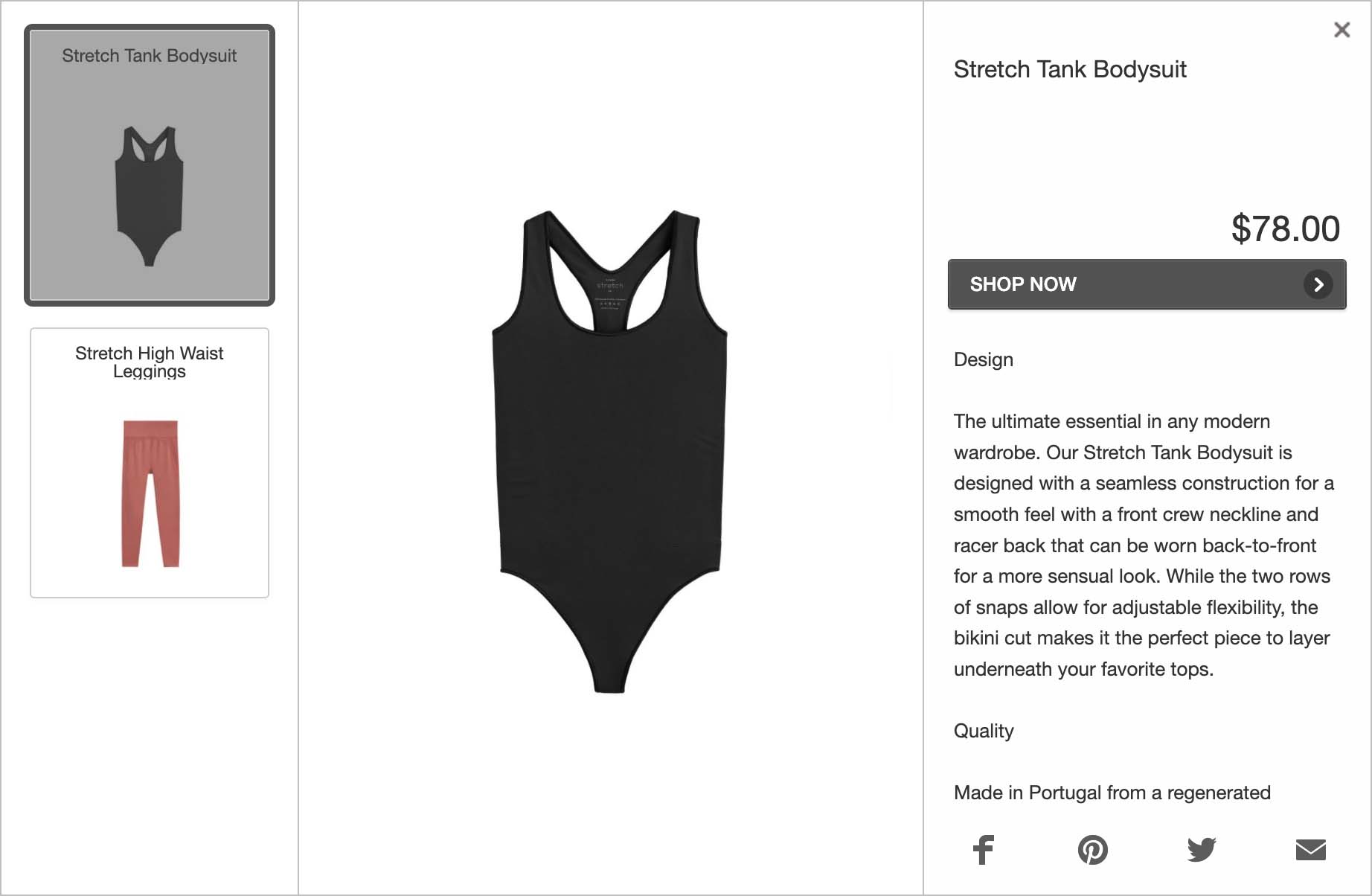 Starting from Publitas' Gold Plan, you can add product overlays to publications which are particularly useful for giving more product details, showing more images, complimentary items, or all products from an entire look.
Summary: We feel that Cuyana's catalog provides a seductive discovery shopping experience from start to finish. Each look is made shoppable with clickable product hotspots, which give more product details, show all items from the look, and direct customers to the brand's webshop.
Go here to look through Cuyana's spring catalog.
Boggi Milano
Next up is Italian menswear brand Boggi Milano, whose digital catalog includes a range of stylish spring collections for shoppers to browse through, such as 'Urban Hiking', 'The Green Soul', or 'Performance Attitude'. Their catalog also contains GIFs on some pages (below).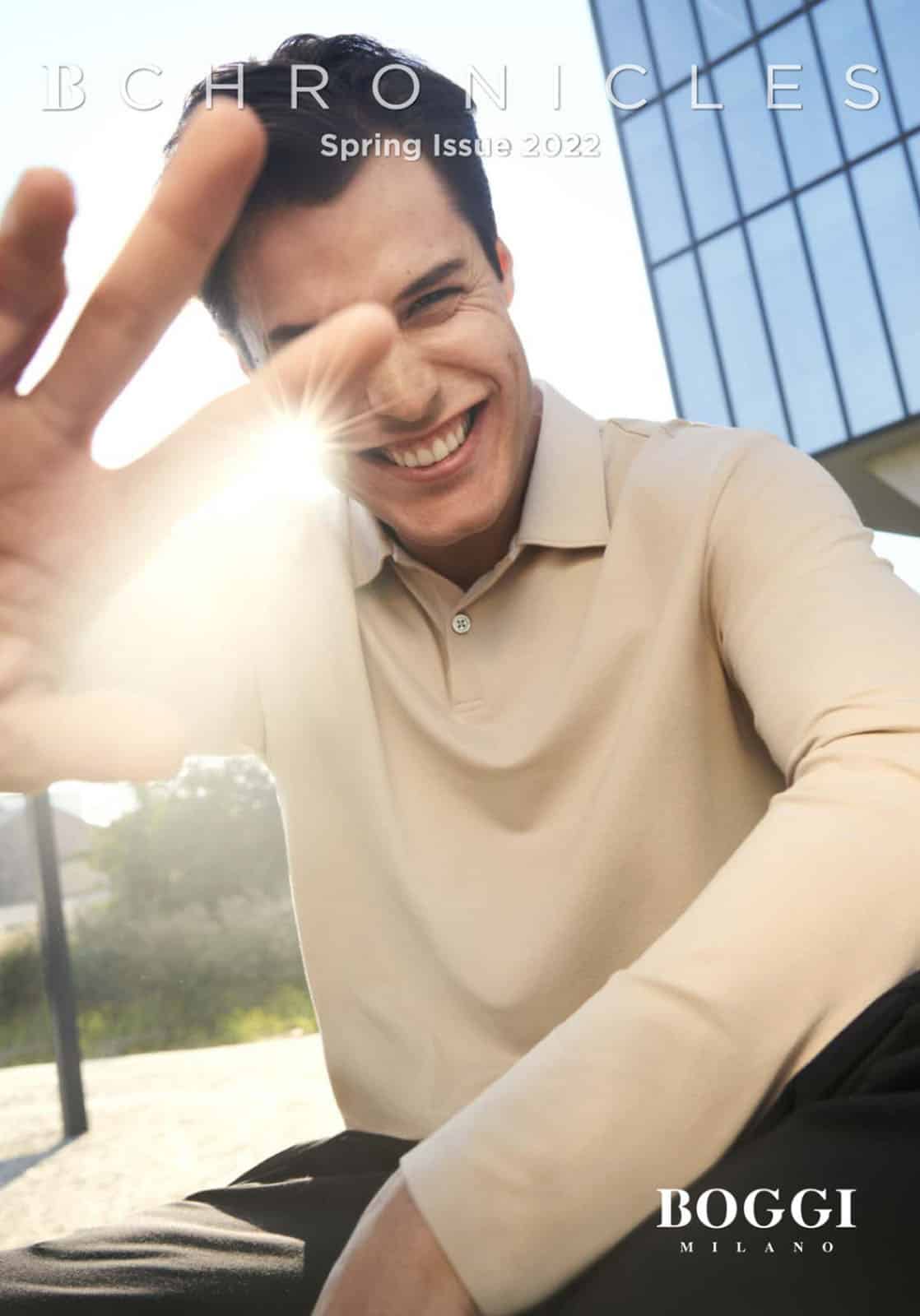 Boggi Milano's spring catalog cover.
Like many fashion labels that publish online catalogs, Boggi has included many shoppable images. Customers can click on the icons to see how each item looks from different angles or click the webshop link to buy items of interest.
GIFs
GIF included in Boggi Milano's Spring 2022 catalog to conveniently show more product suggestions.
Fashion labels might want to include GIFs in their digital publications to show different looks to shoppers without them having to experience the friction that navigating through filters or more pages often brings.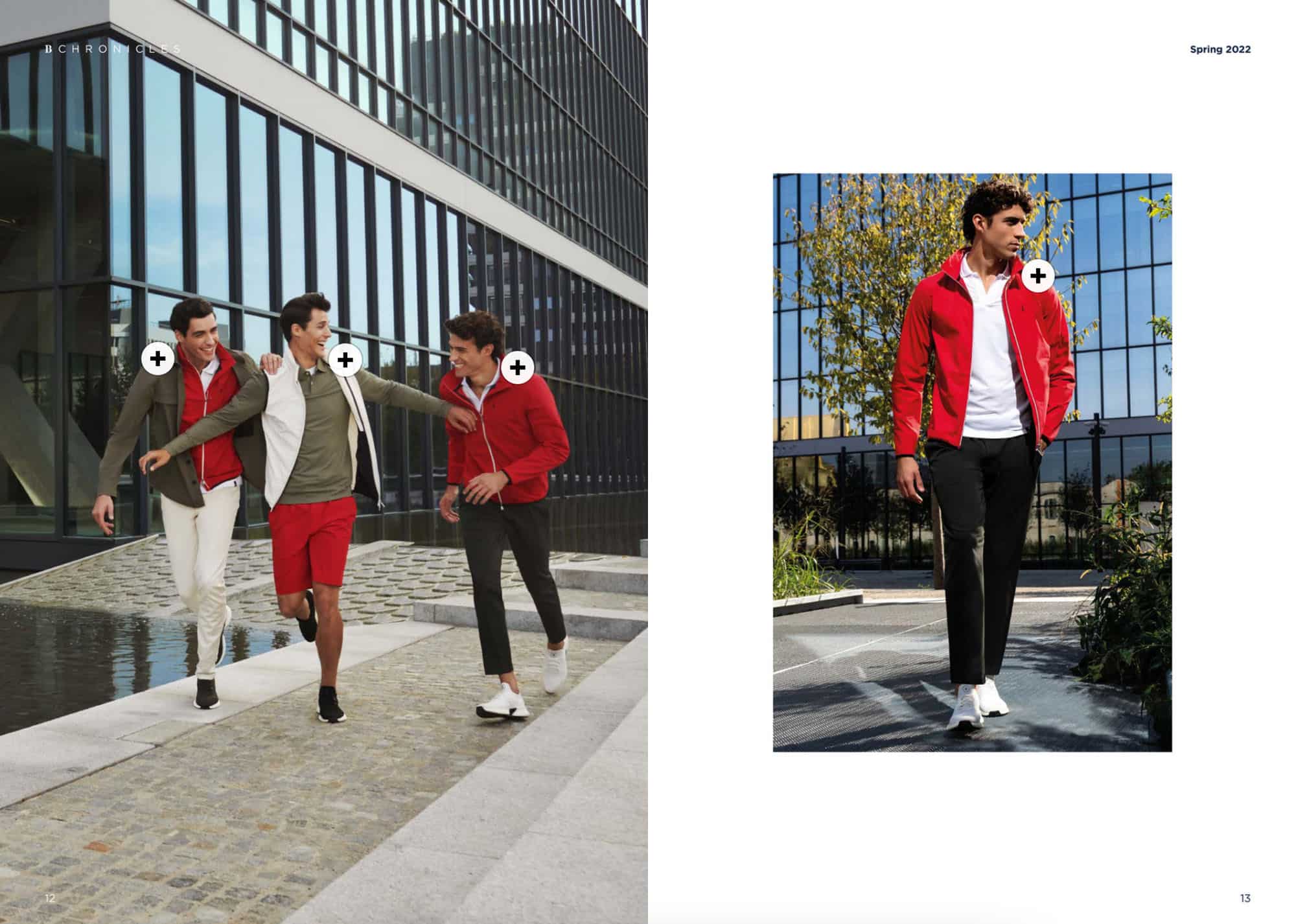 Boggi Milano spring 2022 shoppable content.
Boggi Milano's Spring catalog.
Things to note: Online catalogs like those we make here at Publitas can contain rich media content like GIFs, videos, and high-quality images. And for fashion labels, rich media can significantly enhance the customer browsing experience they get when looking through a digital catalog.
Bobby Jones
Lastly, we wanted to mention the high-quality golf clothing brand Bobby Jones and its spring 2022 catalog featuring its menswear collection.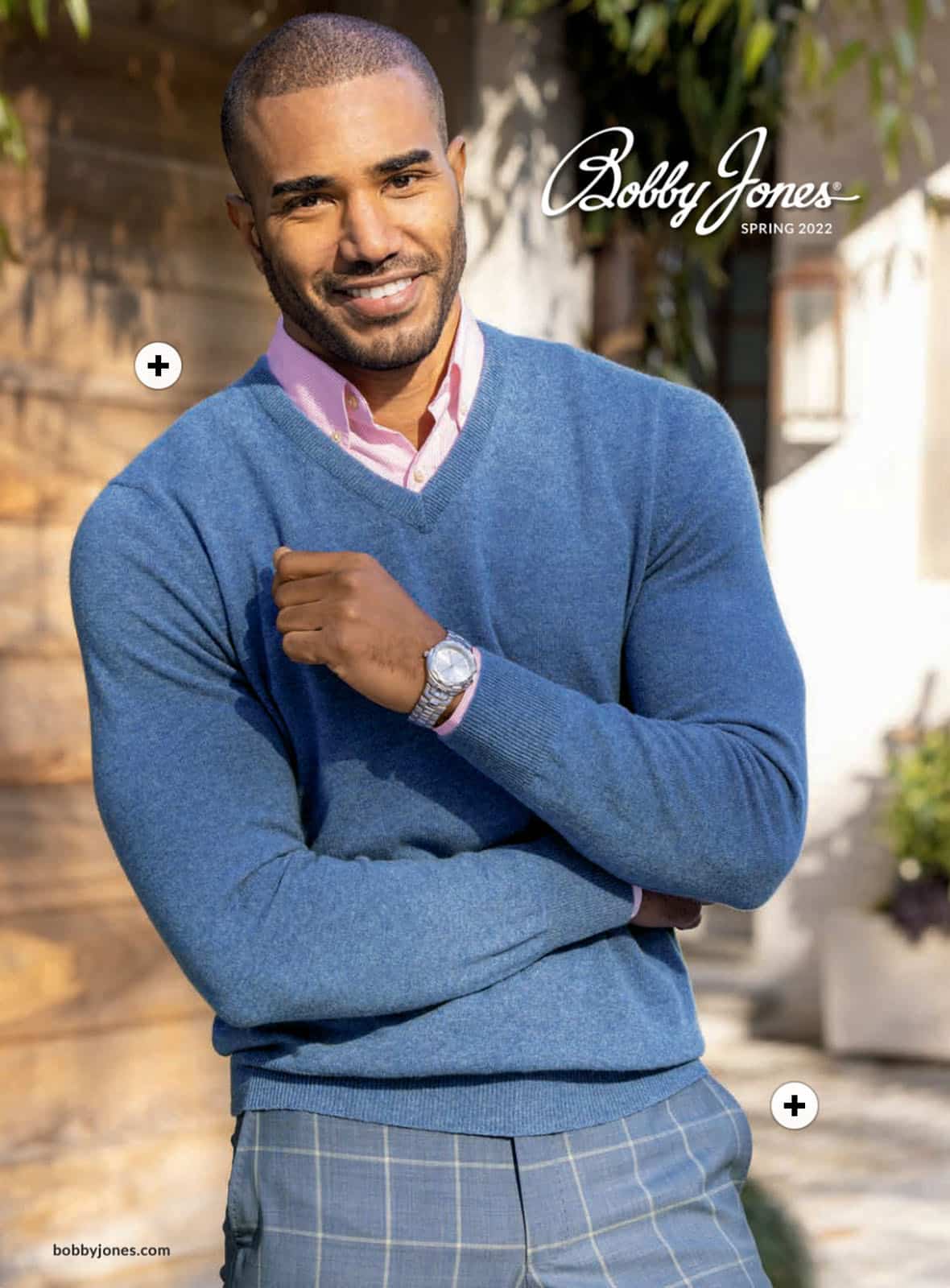 Bobby Jones' shoppable catalog cover.
We feel that Bobby Jones' catalog does an outstanding job cleanly showcasing its classic looks, placing clickable product icons near each item in the layout. It makes the catalog shopping experience easier, where shoppers can find more product details or be directed to make a purchase.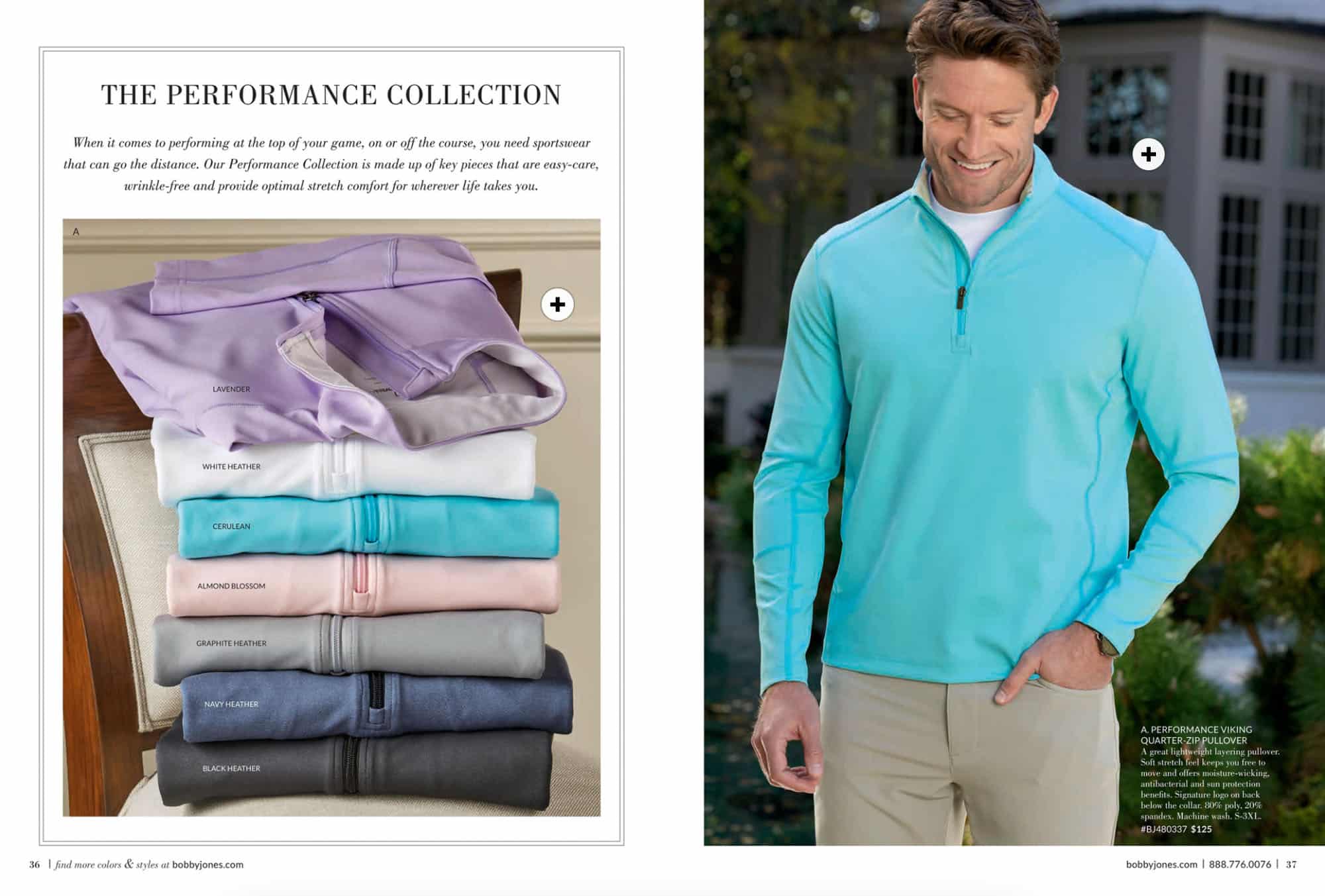 Bobby Jones' shoppable product collection.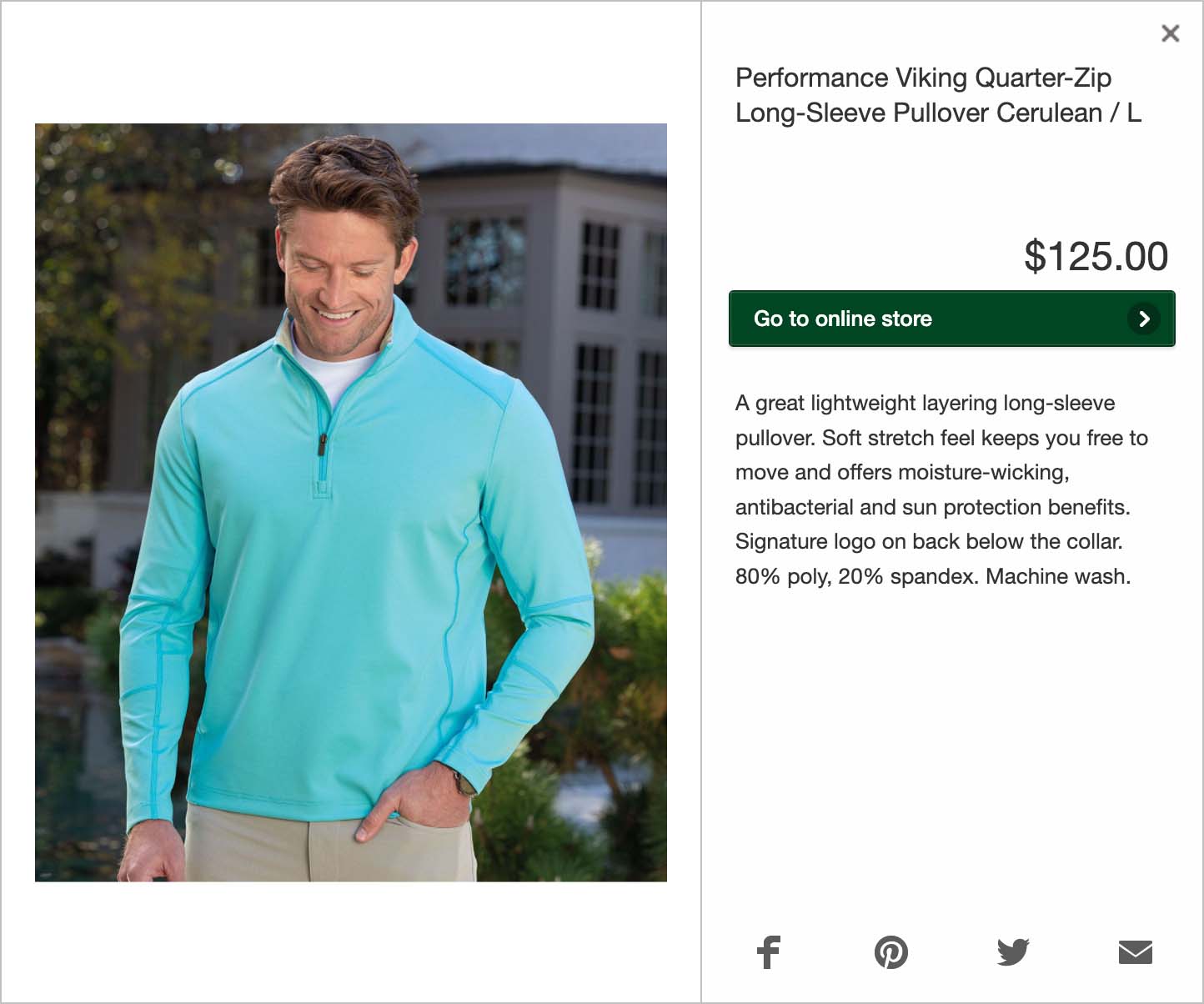 Bobby Jones – extra product info and link to purchase.
Takeaways: Clickable hotspot icons positioned near to or next to each item within a look make the catalog shopping experience easier; shoppers can effortlessly buy what they see without searching or going to another page.
Bobby Jones' 2022 spring catalog.
Summary
Digital publications can be truly inspirational, especially for shoppers who 'just want to have a look.' Shoppers can discover products, engage with the catalog's content, and shop directly from them.
Shoppable rich media — such as GIFs, videos, and high-quality product shots — combined with branded editorial, stories, or customer reviews can help you capture more of these shoppers who are just browsing and who want to look through an unadulterated brand expression.
Interested in publishing your own digital catalog? Contact us, or sign up for our free 14-day trial here.