As an online business, brand awareness is even more critical than it is for brick-and-mortar shops. It's much harder to connect with customers and build relationships over the internet than it is with in-person interactions.
One of the tried-and-true methods for establishing a loyal brand following for eCommerce stores is establishing an authority niche.
Whether you are a new eCommerce shop or have been around for some time and are looking to increase your traffic, creating an authority niche for your eCommerce content can help you attract new customers and expand your business. In this post, we'll talk more about what an authority niche is and offer guidance on how to create authoritative content to help you increase brand awareness and build a loyal following.
What Is an Authority Niche?
A content niche is comprised of multimedia content that is created with a very specific audience or corner of the market in mind. Most brands have some understanding of who their target audience is, but with niche marketing, you are narrowing that audience down even further to focus on a subgroup to meet their more individual and specialized wants and needs.
Authority Niche for Your eCommerce Content
Think of Glossier, for example. Their content marketing — like their online blog, Into The Gloss — quickly earned them a place on many beauty lovers' shelves. But they didn't just market themselves as a beauty brand. They narrowed down their focus to younger women between the ages of 16 and 25 who likely don't have a high budget but want high-quality products that make beauty effortless yet trendy.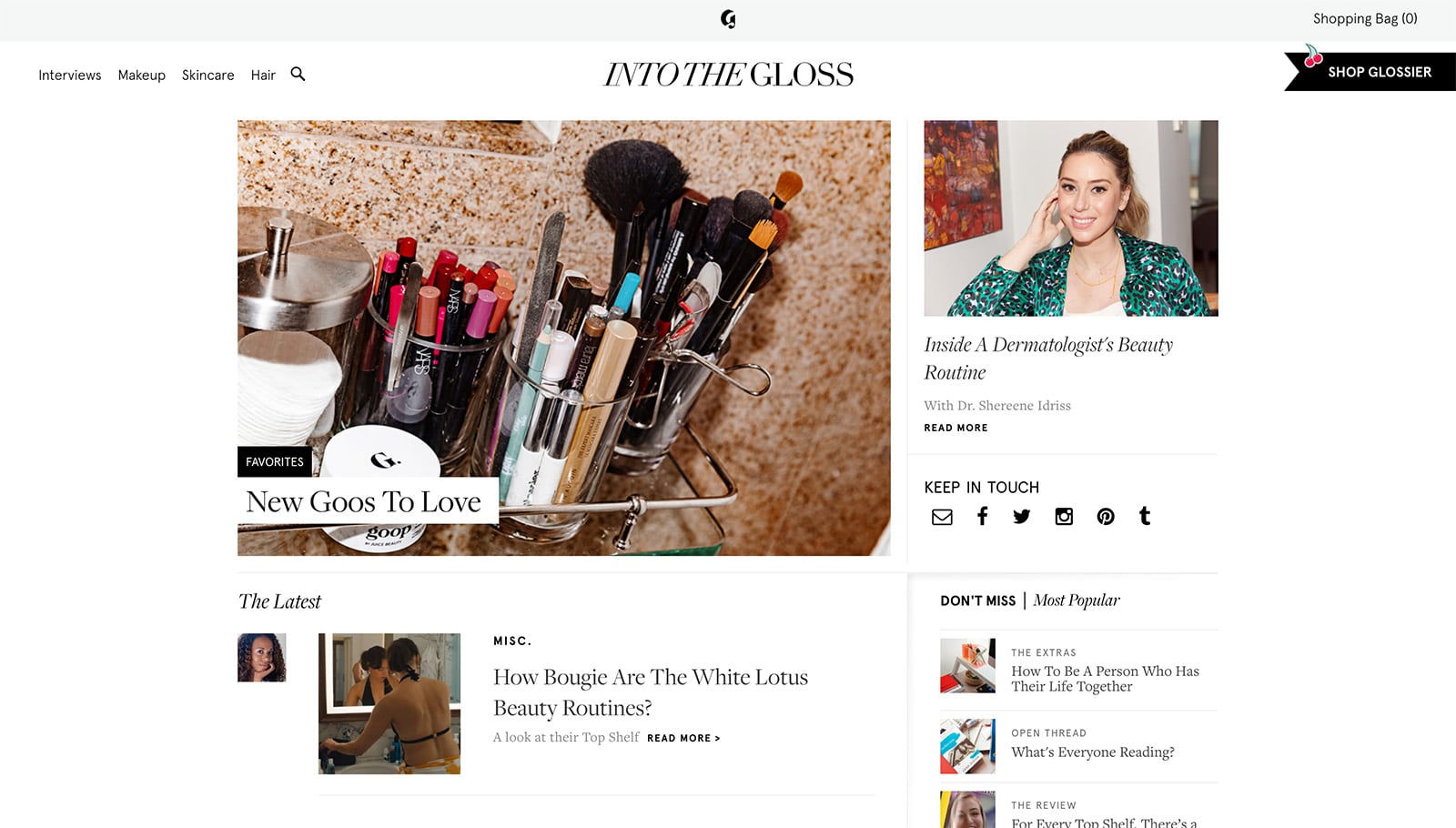 Into the Gloss; Glossier's online blog with beauty-related content.
Of course, their brand still appeals to a broader audience. However, by targeting a more niche audience, they were able to make a name for themselves and become the go-to brand for young women with a low budget. This created an obsession with an incredibly loyal following, which has ensured they will remain a beloved and popular brand for years to come.
An authority niche, then, is almost self-explanatory. By targeting a niche audience with niche content, you essentially establish yourself as the authority within that niche. When you corner a specific area of the market and build such a loyal following, everyone will naturally assume you are the authority because you are the go-to brand for that product or service. Establish your brand as the authority on the topic.
How To Create Authoritative Niche Content for Your eCommerce Site
The key to creating a niche authority is your content. Unfortunately, content is often neglected when it comes to eCommerce. Most eCommerce brands worry that too much content will distract from the overall shopping experience — and they aren't necessarily wrong.
Content that isn't well made and isn't used correctly (or when there is simply too much content) can overwhelm the customer and distract them from making a purchase. On the flip side, the right content can drive eCommerce and significantly improve the overall customer experience.
Figure out how to create a niche authority with your content to reap these benefits.
Know Your Audience
First, before you can do anything, you need to know who your target audience is. If you don't know your audience, you won't know what kind of content you need to create to attract them. You especially won't know how to narrow your focus to create content for a subgroup within that audience.
Before you start creating content, take some time to research and discover who your audience is. From there, you can narrow down your focus to a smaller, more segmented target group.
Identify Your Niche
Once you've discovered your niche audience, you will need to spend a lot of time getting to know them. Ask yourself questions geared toward understanding your unique topic and understanding your audience.
Ask yourself:
What is the thing that makes you unique?
What makes you stand out?
Who is your ideal customer?
What do they like?
What do they want?
What do they need?
What will appeal most to their unique sensibilities?
One great example of a brand that's identified its specific lane is TomboyX. Though they used to sell just t-shirts, this company now focuses on selling "underwear that any body could feel comfortable in, regardless of where they fell on the size or gender spectrum." — and while this might seem like a broad audience, TomboyX's content heavily features gender-fluid, asexual, and LGBTQ+ communities.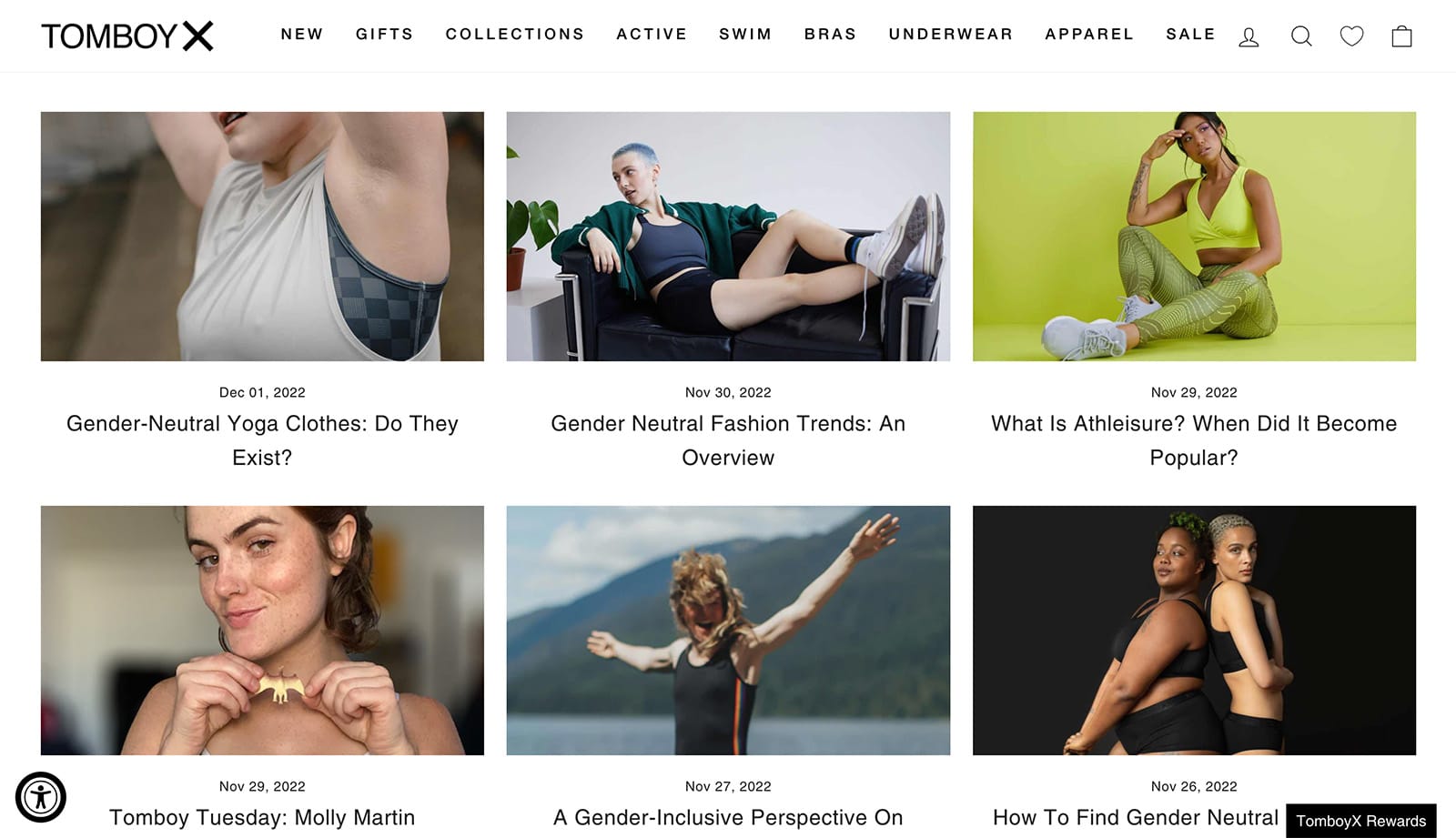 TomboyX features content with a focus on gender neutrality and models of all sizes.
Create Brand Awareness
Once you feel you have a comprehensive understanding of your niche, you can start creating content. Your initial focus, then, should be content that builds brand awareness.
This means creating content that tells your customers your story. It lets them know who you are and what your personality is so they can connect with your brand on a more personal level. This process can also include creating unique brand imagery and even a tagline if you don't have one.
The best-case scenario is your brand becoming synonymous with the product you sell. For example, when you think about coffee, or at least about coffee brands, Starbucks will probably pop up. That's because Starbucks has invested huge amounts into creating brand awareness around what they sell— so much so that many now consider them an authority on all things coffee.
Leverage Content Variety
When you first begin producing content, it is of the utmost importance that you make use of a wide variety of information in order to provide a more interesting and dynamic experience for the client. This may include the following
Videos: Video content is a great way to create more interactive and engaging content that breaks up all the text on your site. And there are so many different kinds of videos you can create to grab your customers' interest, such as tutorials, vlogs, and even podcasts.
Social media content: Social media content is essential because most consumers today are on social media. So you want to grab their attention on social media and then direct them to your eCommerce site.
Product reviews: Showing reviews of your products on your website is crucial because it creates transparency. It tells your customers that you have nothing to hide, and you want them to be honest about what they think.
An online catalog: Online publications are another excellent way to engage your customers. With an online catalog, there are numerous opportunities to show off your brand, your product, and your unique personality. Just make sure your digital catalog is mobile-friendly — a significant percentage of consumers today use their phones to shop online.
A blog: Blogs, like Glossier's 'Into the Gloss,' are another way to put a lot of content on your site that can attract and inform your customers. Blogs allow you to expand more on your knowledge and niche area of expertise to show your customers that you are an authority on the topic. It's also another way to have a bit of fun and show off your personality without overwhelming customers on the other pages on your site that are primarily for shopping.
Optimize Your Content With SEO
When creating your content, it's essential to keep SEO in mind. Doing SEO for a niche can be challenging due to the smaller search volume, but when done right can be an opportunity to target long-tail keywords with lower competition effectively.
However, you don't want only to create content that is engaging for your niche audience; you also want to create content that will rank higher in general search results to help drive traffic to your eCommerce site. You'll have to make a mix of specific and general content.
Search engine optimization (SEO) assures that Google will read your material in a manner that communicates to the search engine that both your site and its content are authoritative and relevant. Because of this, Google will choose your pages and rank them higher in the search results.
You can do this by using targeted keywords in your content, procuring and implementing authoritative links, and ensuring your content is accessible and free of grammatical errors.
Takeaway
The solution is to generate content that is authoritative in its particular field, targeted towards a certain audience, in order to raise awareness of your brand, drive traffic to your eCommerce website, and develop a devoted following of clients.
If you want to create experiences that will be memorable to your consumers and entice them to return more than once, you need specialised content that conveys to them who you are as a company and speaks to the specific interests they have.
Find your niche and stick with it. If you do, you will attract customers and a loyal following for years to come.
Article written by:
Katie Brenneman is a passionate writer specializing in lifestyle, mental health, education, and fitness-related content. When she isn't writing, you can find her with her nose buried in a book or hiking with her dog, Charlie. To connect with Katie, you can follow her on Twitter.