Content marketing constantly evolves as consumer preferences change and trends come and go. To stand out in the digital age, you need to stay up to speed with the latest content marketing trends.
In 2023, there are several new and emerging digital content trends to be aware of. In this guide, we'll look at the top 12 trends you should incorporate into your content strategy to better connect with your audience. Let's dive right in.
Diversity and inclusion (D&I)
More than ever, audiences need to see people like them in marketing. So, content marketers need to create content that speaks to a range of people. In 2023, there are several steps you can take to ensure diversity in your content, such as:
Working with and promoting diverse content creators.
Talking to consumers (for instance, through focus groups).
Performing regular content audits.
Checking for bias in keyword and topic exclusions.
Increasing the diversity of your workforce.
Authenticity is key here. For example, Domino's has allocated 4% of its 2023 media budget to diverse media companies and content creators. It's also launching Opening Shot, a program to promote D&I in the advertising industry.
Interactive media
Interactive content is a popular and engaging type of content, so it's a must for your 2023 content strategy. With interactive content, you can hold your target audience's attention for longer. You can also gain valuable insights into their behavior and preferences一for example, with fun quizzes. Consider looking into the different types of commonly used content creation tools for more examples of interactive content you can experiment with.
Look at ways to spice up your static content. For instance, if you're making a digital brochure, include interactive elements like clickable videos, GIFs, or pop-ups. You could also hold virtual events like Q&As and webinars to encourage engagement.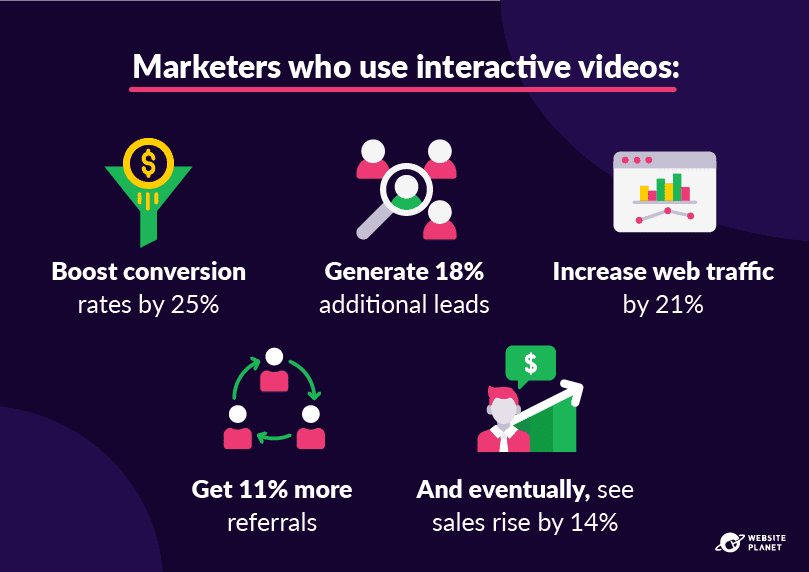 Image sourced from Website Planet
ChatGPT & other AI tools
ChatGPT, a language model that uses artificial intelligence to generate human-like responses, is another emerging digital content trend in 2023. As chatbots and virtual assistants become increasingly popular for customer support, ChatGPT is also being used by content marketers to engage with their audiences.
With its ability to generate personalized, human-like responses in real time, ChatGPT can be used to provide interactive content, such as personalized recommendations or virtual assistants, that can keep audiences engaged and satisfied. As more businesses embrace AI-powered solutions, ChatGPT is likely to become a prominent player in the content marketing landscape.
While AI-powered tools like ChatGPT are certainly changing the way we create and consume content, it's important to remember that they are not a replacement for human content managers. Rather, they can be seen as valuable aids that can help content managers create more insightful and engaging content. With the ability to analyze large amounts of data and generate personalized responses, AI tools like ChatGPT can provide content managers with valuable insights into their target audience's preferences and interests.
By working in collaboration with AI tools, content managers can create more effective and engaging content that resonates with their audience. As such, it's clear that AI tools are not going to replace content managers anytime soon, but rather will continue to serve as a valuable asset in the content creation process.
Blogs and long-form content
Long-form content like blogs, eBooks, whitepapers, and product catalogs is a great way to build your brand's authority. So, it's a must for 2023.
For example, high-quality blog posts are a popular way for people to learn about a topic, answer a question, or decide whether to buy your products. Digital product catalogs boost your conversion rate by explaining your product's features and how it solves people's pain points.
If you are starting a blog you may want to look into free Blog Maker software that helps to drive traffic and conversions to your website, without requiring any of the coding required to build it from scratch or the additional costs associated with connection and hosting.
Plus, evergreen content like eBooks and whitepapers can include original research. This not only builds your authority but also helps you secure valuable backlinks.
Sustainability
Many consumers now base their buying decisions on sustainability, and this is likely to continue in 2023. But it's not enough to offer sustainable products; consumers want brands to take action. As a result, many brands are now taking steps to highlight一and address一important issues.
For instance, in 2019, cat food brand Sheba launched Sheba Hope Reef, the world's largest program to restore coral reefs. To fund the ongoing campaign, they make videos about their work and use advertising revenue from YouTube.
If you do decide to champion a cause, you must make a genuine and long-term commitment. Otherwise, consumers will penalize you.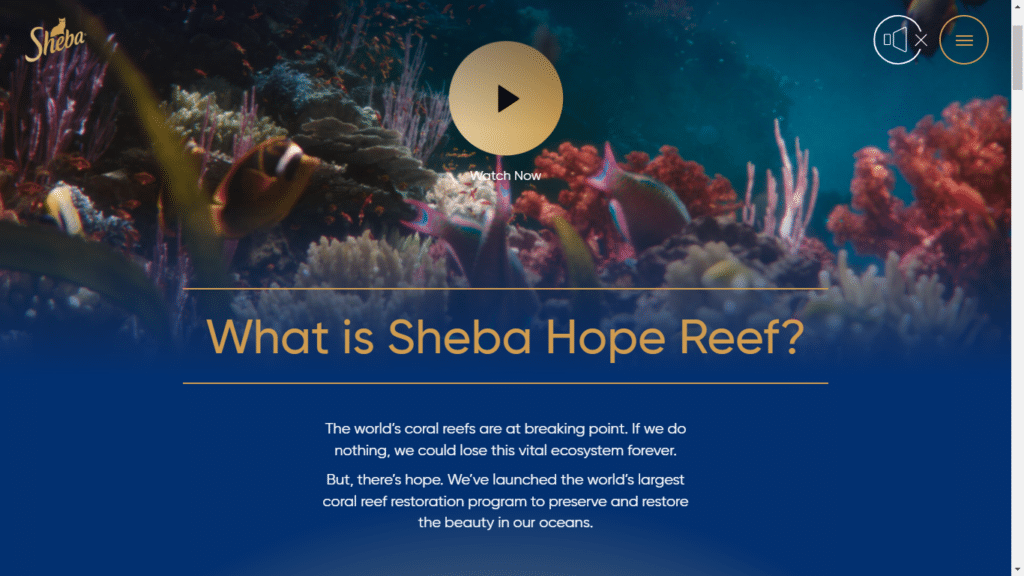 Screenshot taken from shebahopegrows.com
Search Engine Optimization (SEO)
Search engine optimization (SEO) should be integral to your digital content strategy. SEO ensures your content ranks highly on search engine results pages (SERPs). This makes it easier for people to find your website, increasing organic traffic and your potential for sales. To optimize your content, you should:
Research the latest recommendations from Google.
Include keywords relevant to your audience and their location.
Create original content that's high-quality and informative.
For instance, say you're a UCaaS provider trying to promote your new VoIP SMS feature. Your content should explain how this feature addresses people's pain points (for example, by allowing them to send messages at any time from any device).
Virtual Reality (VR)
Virtual Reality (VR) is another trend that's attracting a lot of attention and investment. For instance, McDonald's is currently planning virtual versions of their restaurants in the metaverse. What's more, customers who visit these virtual restaurants will be able to order real food that's delivered to their houses.
VR offers brands an opportunity to give customers a more dynamic, personalized experience. You can engage customers with rich storytelling and bring your products and services to life in a virtual environment. So, in 2023, it's worth looking at how you can incorporate VR into your content strategy.
Hyper-personalization
Today's customers expect personalized experiences from the brands they buy from. Most brands now offer a degree of personalization, such as using a customer's name in an email. But, in 2023, some brands are taking this a step further. The result? Hyper-personalization.
Hyper-personalization is a data-centric approach to content marketing. It uses AI, machine learning, automation, and analytics to create a unique experience for each customer. This allows brands to identify each customer's preferences and pain points and offer relevant content.
For instance, Netflix uses algorithms to personalize all aspects of the viewing experience. They offer personalized displays, video recommendations, messaging, and search capabilities to reflect and expand users' interests. This increases customer loyalty and engagement. So, consider hyper-personalization for your 2023 strategy.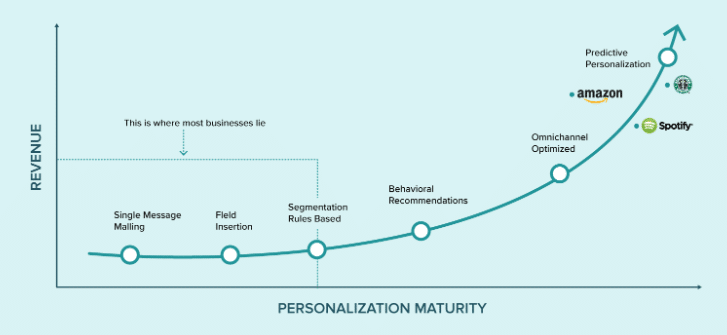 Image sourced from WebEngage
Humanization
Every year, content marketing moves closer to the two-way conversations customers want. In 2023, this trend of utilizing conversational marketing is likely to continue as brands make themselves more relatable (human). Humanizing your brand builds consumer trust and helps them make an emotional connection. This increases long-term loyalty.
A great example is the fast-food chain Wendy's. Wendy's has developed a reputation for sassiness across all its communication channels. Far from being offputting, this approach is hugely popular with customers. Why? Because it feels human and authentic.
Channels like social media, videos, and podcasts are ideal for humanizing your brand, as they let you speak directly to your customers through conversational marketing. So, find your brand's voice and embrace it. Also, avoid sounding overly promotional or detached.
For instance, say you offer hosted PBX in Canada. You could talk about how many people use your product and list all its features. Or, you could talk about the everyday issues your product solves, like helping people connect with their friends and work colleagues.
Short-form video content
Video's popularity is likely to grow even more—especially short-form video content. Short-form videos are attention-grabbing and immediately engaging, which is vital as people's attention spans shorten. And, with lots of free video software available, you don't need a big budget to produce them.
Short-form videos are quick and easy to make, and customers like that they get straight to the point. If you haven't incorporated them yet, short-form videos like TikTok, YouTube Shorts, and Instagram Reels should be part of your content strategy going forward. You may wish to look into these TikTok content ideas to give you some inspiration for your own short-form videos.
User experience (UX)
In 2023, consumer expectations of your brand's user experience (UX) will be higher than ever. Your content marketing strategies need to reflect that. A poor content experience can put off potential customers. So, make sure your content is easily discoverable, relatable, informative, and viewable on any device.
Also, think about the UX of your website. Does your website load quickly? Does it perform well on mobiles and tablets? Are your images well-placed and high-quality? These are all questions you should ask.
As part of your content strategy for the year, review the UX of your content and optimize your website accordingly. This doesn't have to break the bank; there's a range of free digital content tools to enhance your website's UX and generate valuable organic traffic.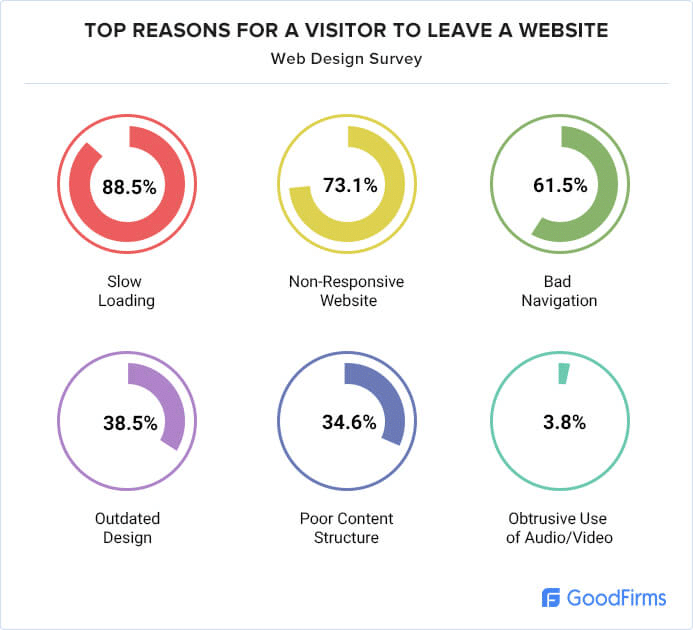 Image sourced from GoodFirms
Data-driven strategies
Our final digital content trend for 2023 is the growing emphasis on data. With so much misinformation online, consumers want well-researched content backed by the latest data. You can cite other companies' research, but it can be worth investing in your own.
Surveys, infographics, and whitepapers are effective ways to establish yourself as an authority in your industry. Plus, other websites will link to your research, boosting your SEO.
You should also collect and analyze data on your audience and content performance. This will generate valuable audience insights and help you refine your content strategy.
Kick-start your year with the latest digital content trends
Thanks for taking the time to read our guide to digital content trends in 2023. There are many new digital content trends, from sustainability to humanization to visual ecommerce. To stand out from the competition, you need to research these trends and adapt your content strategy accordingly. What new trends are you incorporating into your marketing strategy this year?
Remember, in 2023, people don't want to be marketed to一they want to connect. So, kick-start your year with the latest digital content trends and reach a wider audience today!

Written by:
Grace Lau – Director of Growth Content, Dialpad
Grace Lau is the Director of Growth Content at Dialpad, an AI-powered cloud communication platform and small business VoIP in Canada for better and easier team collaboration. She has over 10 years of experience in content writing and strategy. Currently, she is responsible for leading branded and editorial content strategies, partnering with SEO and Ops teams to build and nurture content. Visit Grace's LinkedIn.