eCommerce graphs has been growing steadily for decades. But with the current Covid-19 pandemic, eCommerce penetration has suddenly skyrocketed, raking in 10 years worth of growth over the past 3 months. That's remarkable!
Clearly, now is the time for marketers to take a good look at the state of the eCommerce market, to see where they can improve their digital offerings and eCommerce experience.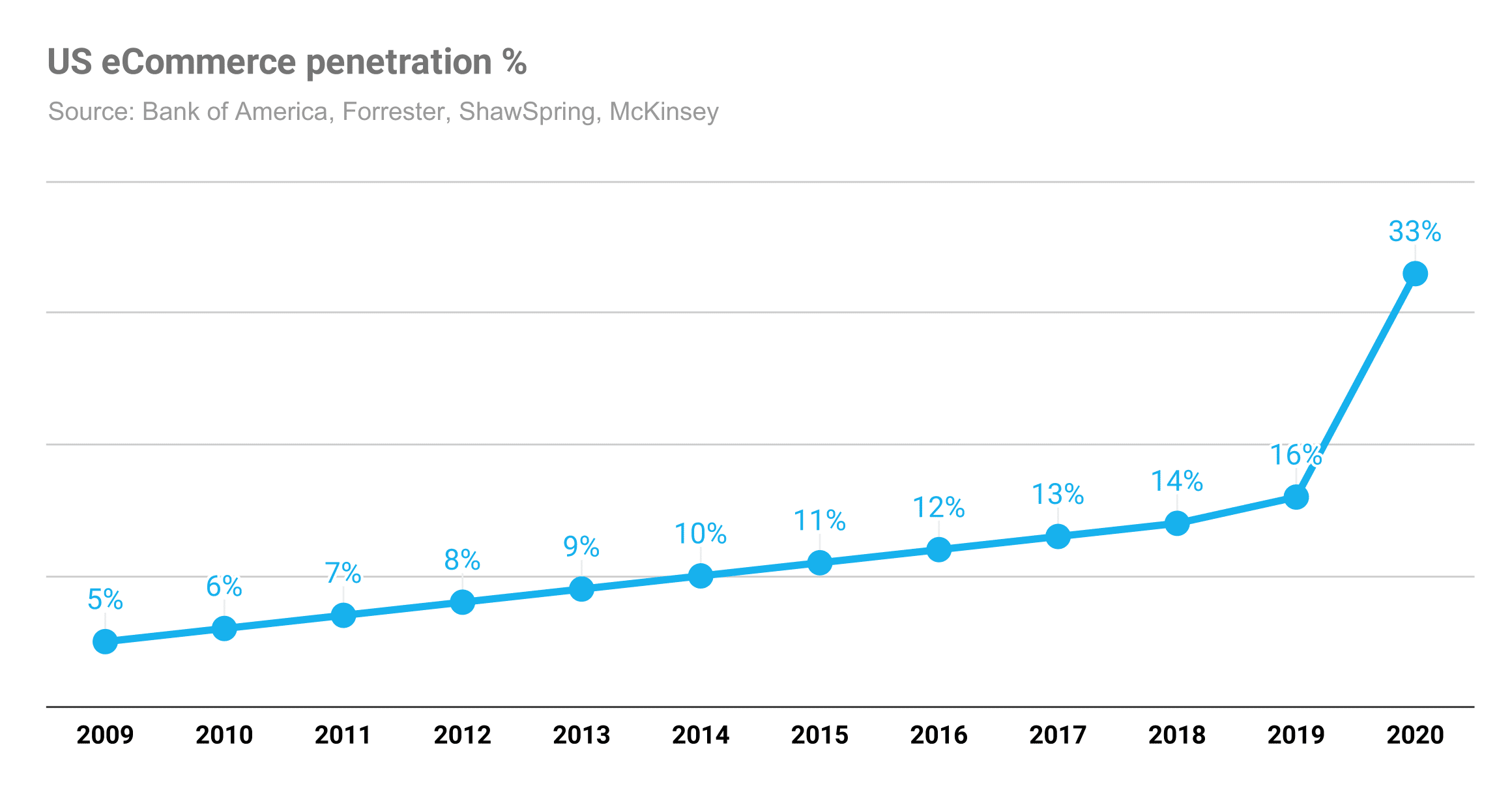 Maybe unsurprisingly, quite a few other companies came up with exactly that idea. 84% of companies are saying they're more open to new digital offerings introduced during the pandemic.
So where to start? According to statistics, areas where eCommerce can still improve is in facilitating repeat purchases, generating supremely relevant product recommendations, and making visuals more inviting than ever. Well, you guessed it, that's where online catalogs come in.
At Publitas, we've experienced numerous times how integrating shopping carts into e-publications can transform the shopping experience, and entire brands. But don't just take our word for it. We scoured the web for research reports that showcase the power of beautifully executed eCommerce offerings.
Take a few minutes to look at these graphs, and you'll know exactly what customers expect from their eCommerce shopping experience, and what companies can do to improve.
Ready, let's go! 10 Mind-Blowing eCommerce Graphs:
Where shoppers research and buy products
87% of shoppers start their product search online
53% prefer to buy at an online ecommerce store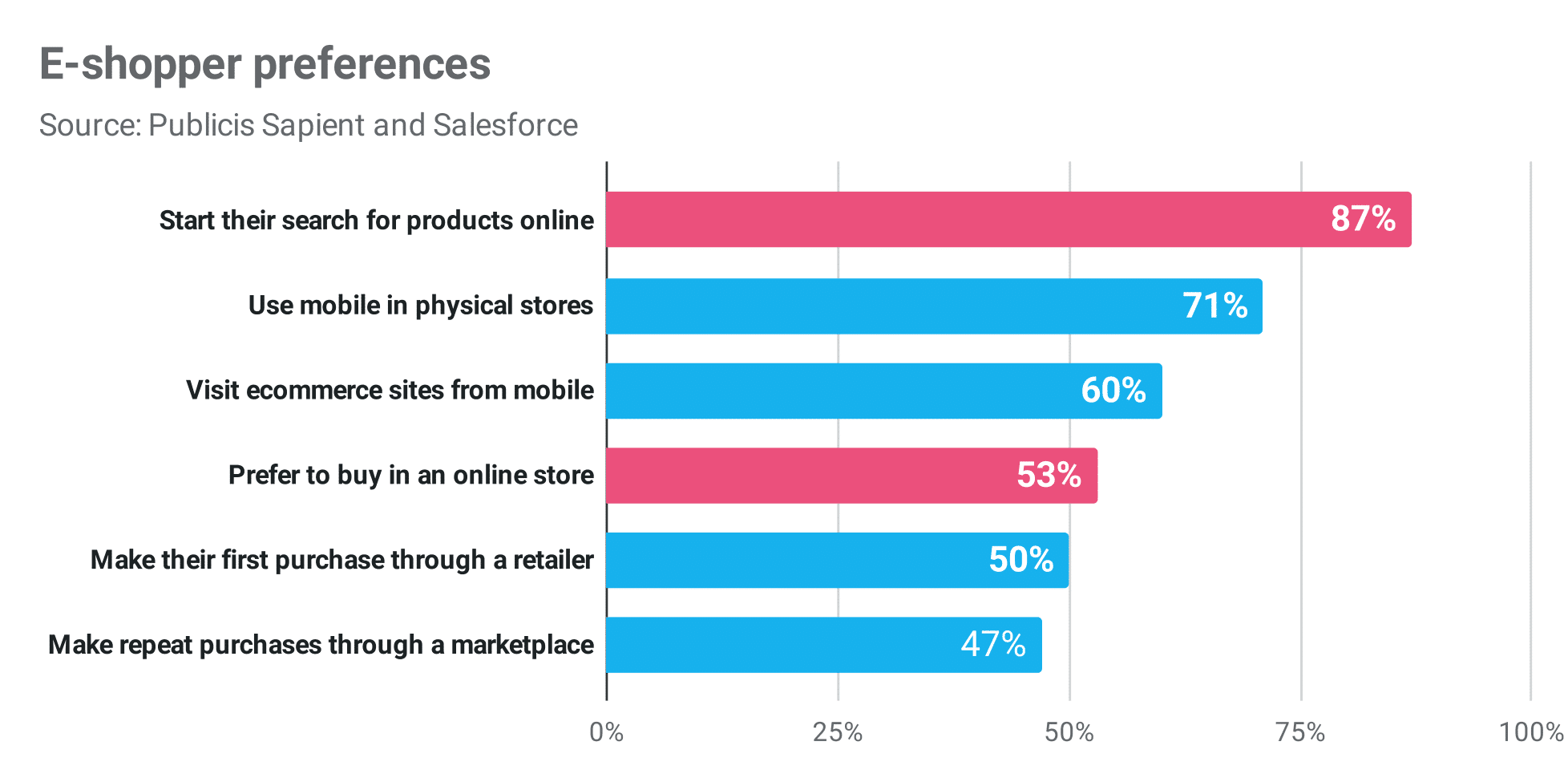 Who's doing the online shopping
47% of US millennials shop online at least once a week
36% of men in the US shop online at least weekly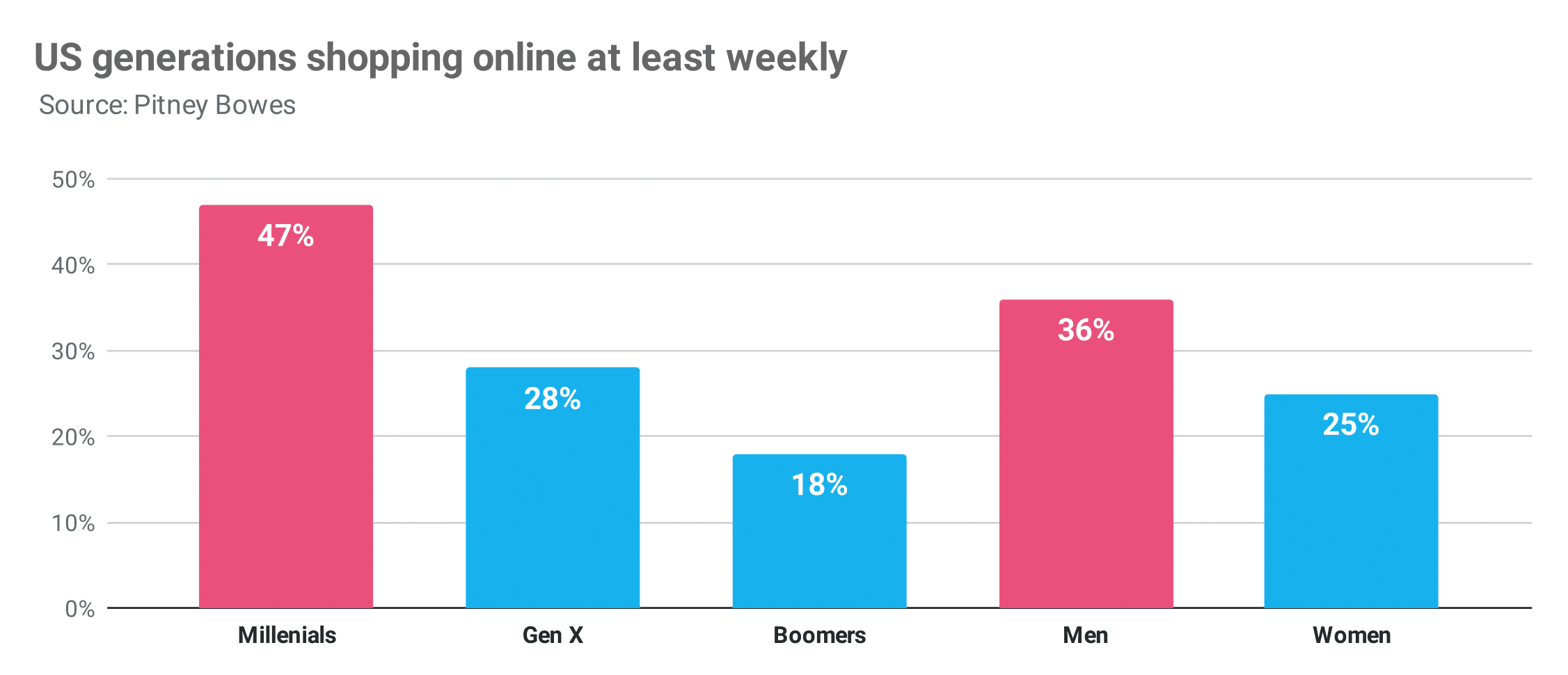 What shop-capabilities online shoppers look for
78% of people look for good product images in an online store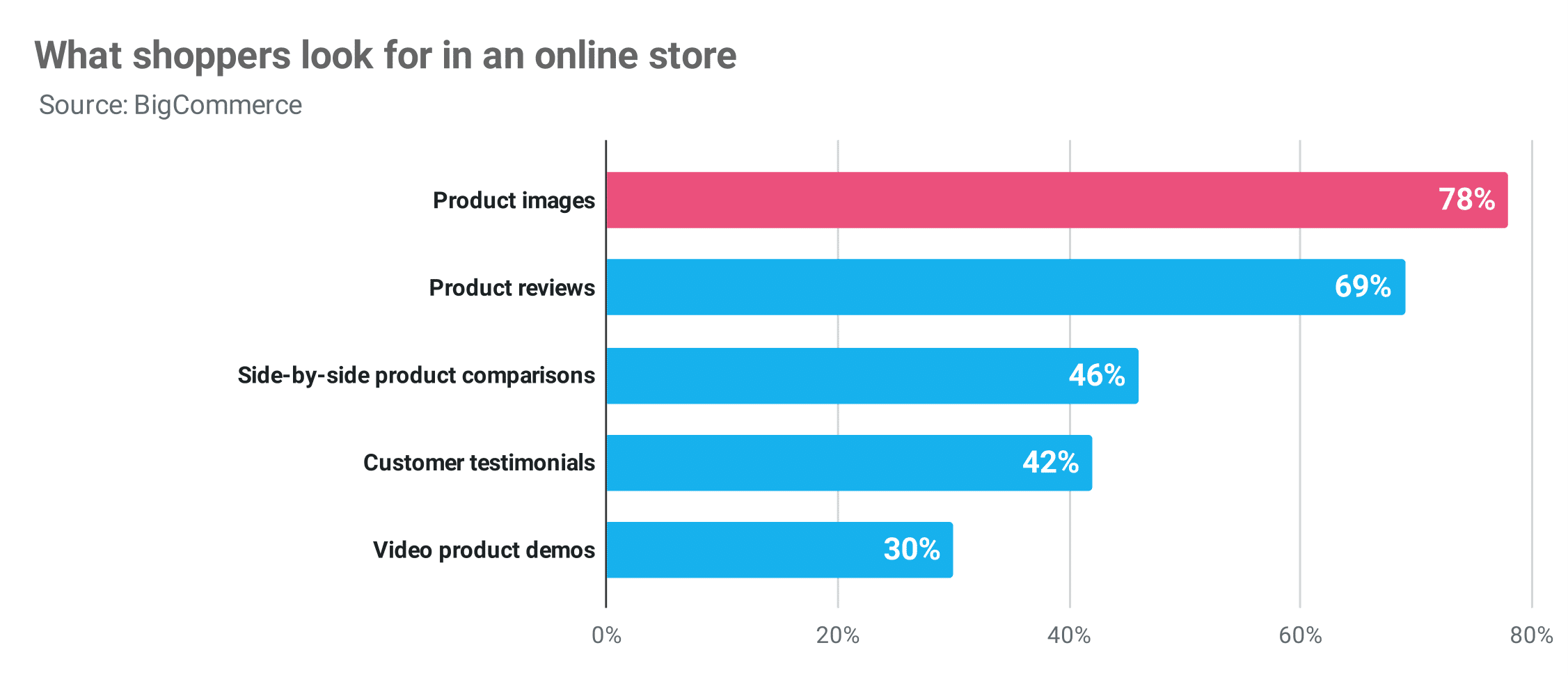 How detail pages influence purchases
83% of shoppers find product images on product detail pages are at least 'very influential'
82% of shoppers say product descriptions on product detail pages are very or extremely influential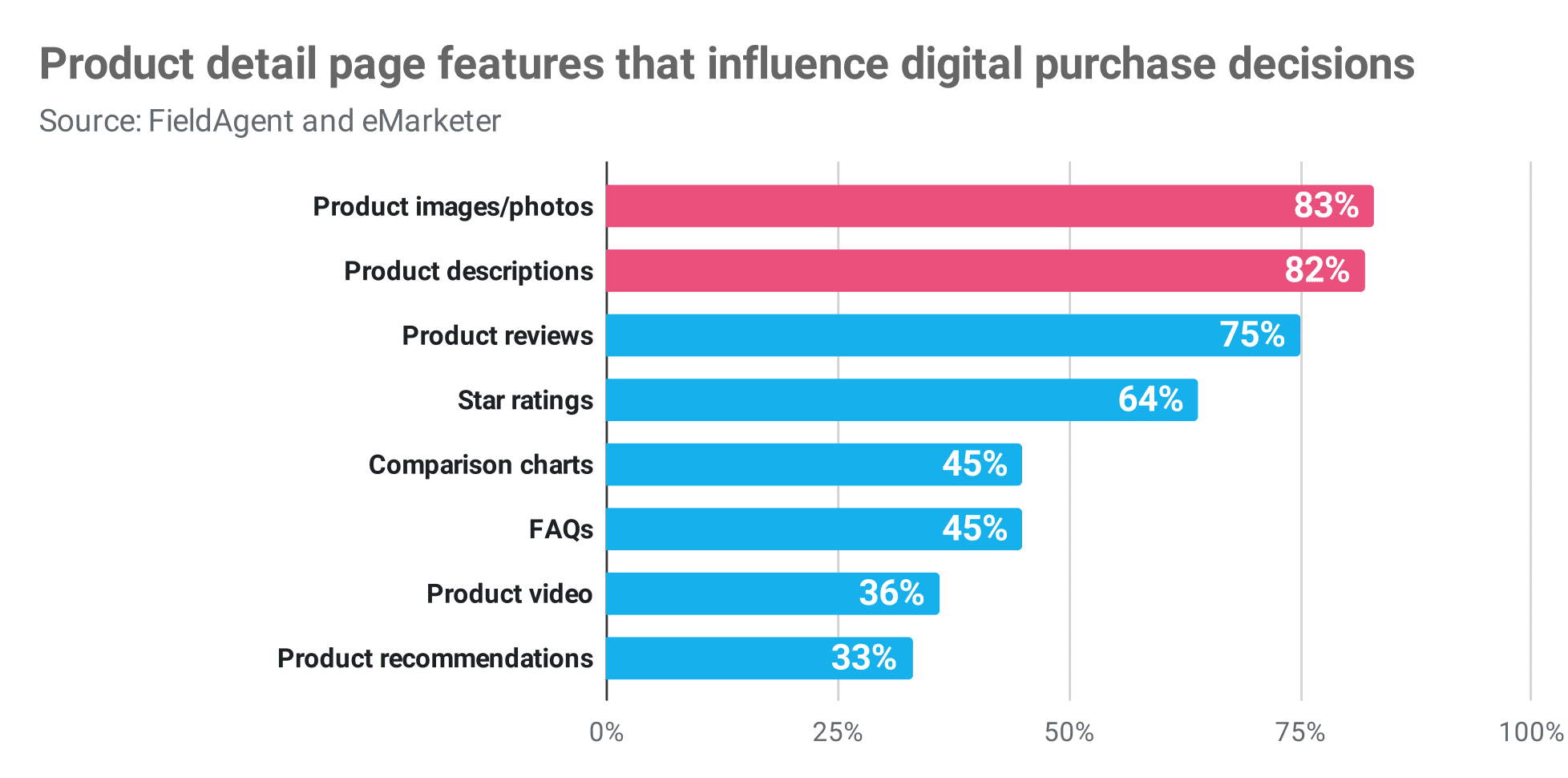 Where online shoppers make repeat purchases
47% of shoppers use marketplaces to do repeat purchases. 31% do their first purchase at a marketplace.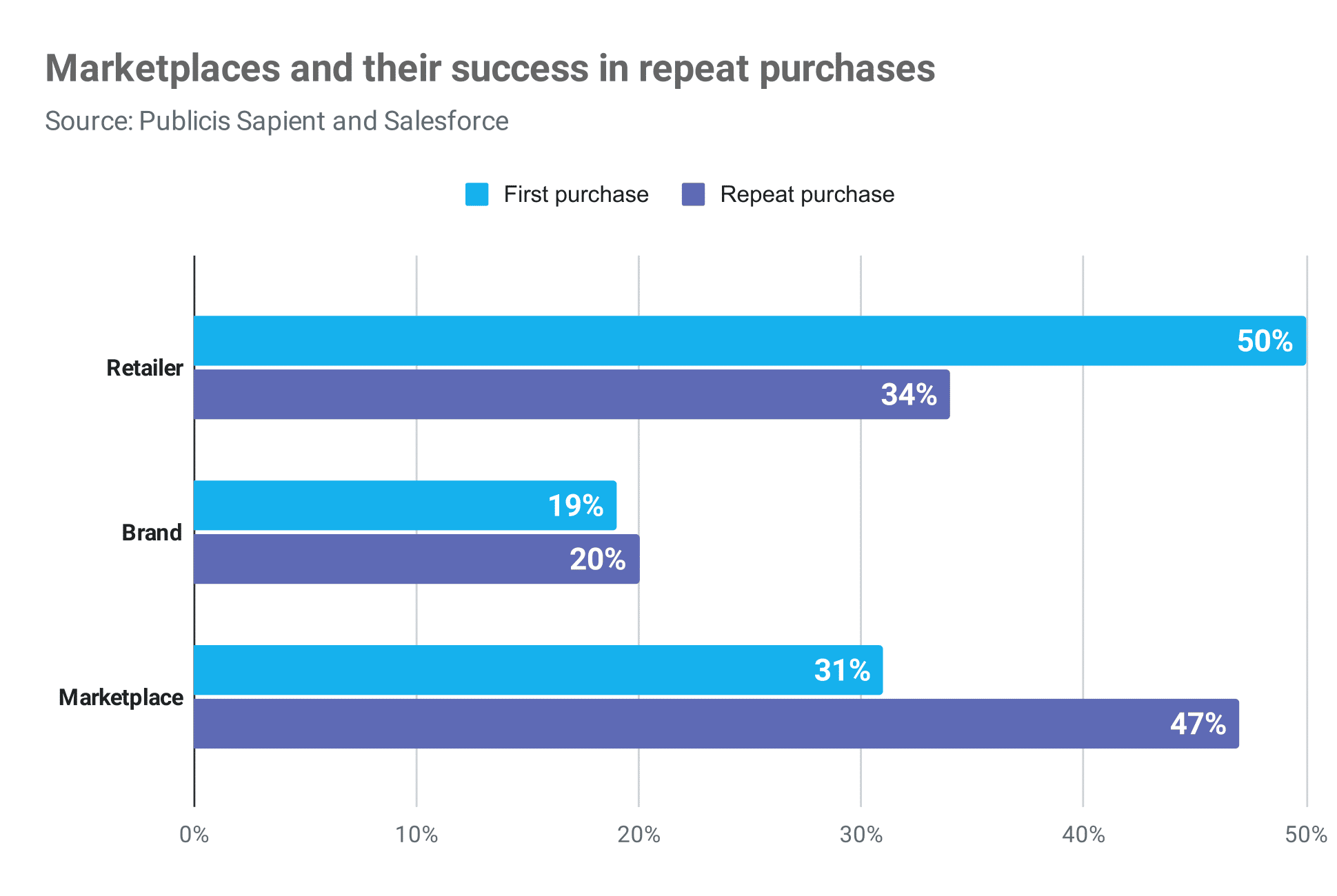 How effective AI shopping recommendations are
Visits with AI powered recommendations yield 6 times more revenue per visit
Purchase rate is 70% higher after product recommendations are clicked, rather than just viewed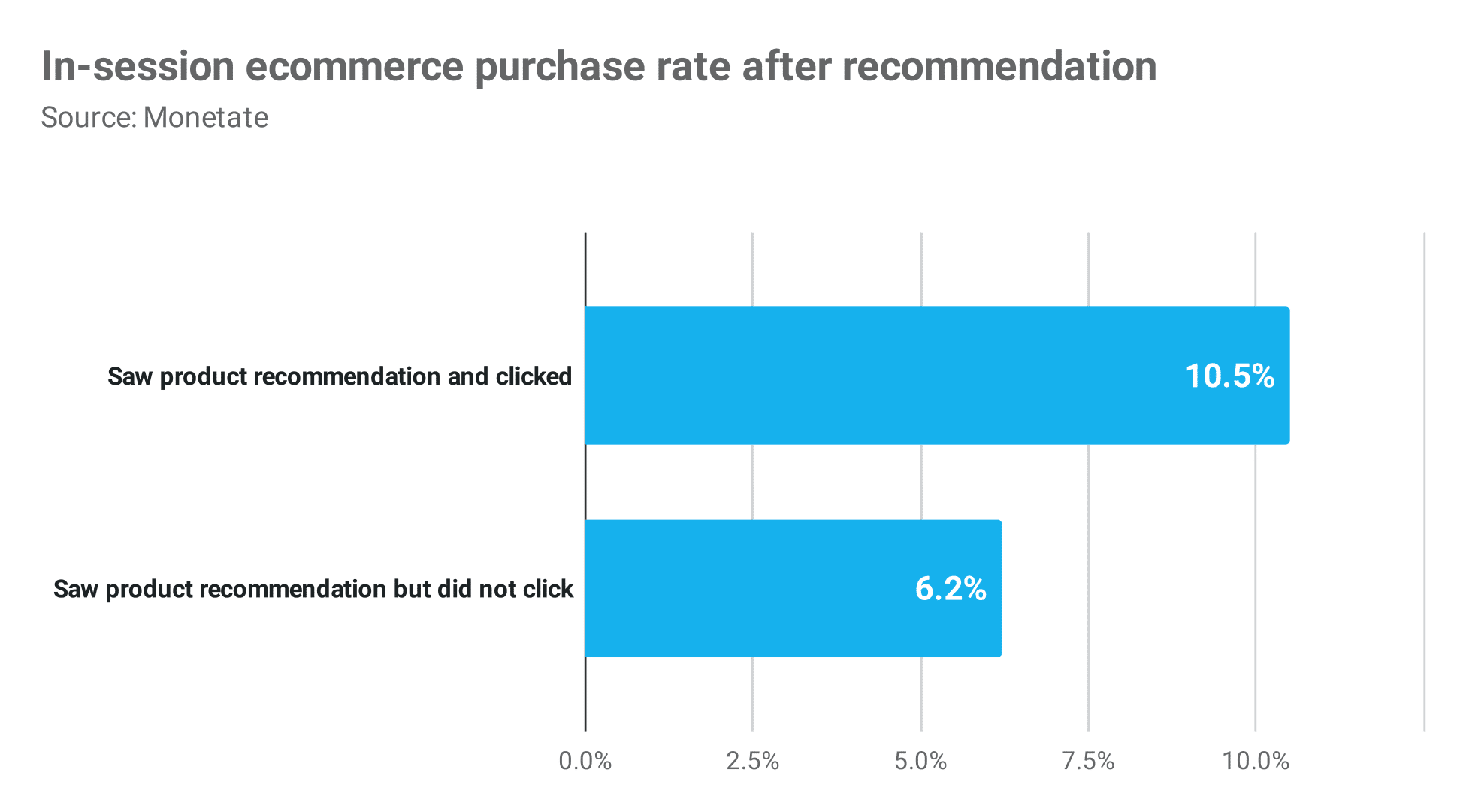 How shoppers value new product offerings
32% of products in a catalog will churn month-over-month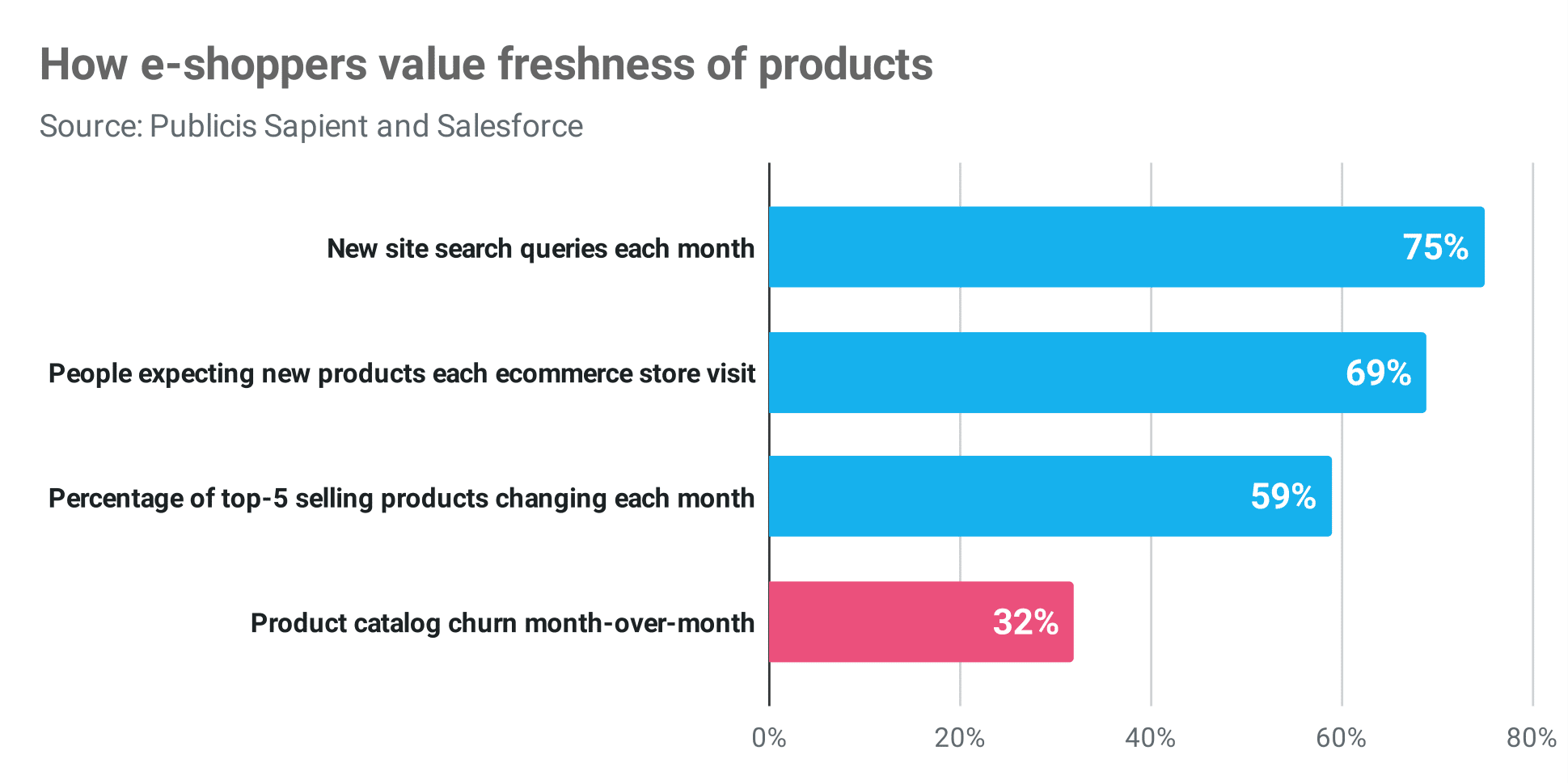 22% of shoppers have returned products because items weren't displayed accurately online. This emphasizes the need for catalog management
How shoppers decide to buy
46% of shoppers know which product and brand they want
16% of shoppers do NOT know which product or brand they are looking for
| How shoppers decide to buy | Brand conscious | Brand agnostic | |
| --- | --- | --- | --- |
| Know the product | 46% | 23% | 69% |
| Do not know product | 15% | 16% | 31% |
| | 61% | 39% | |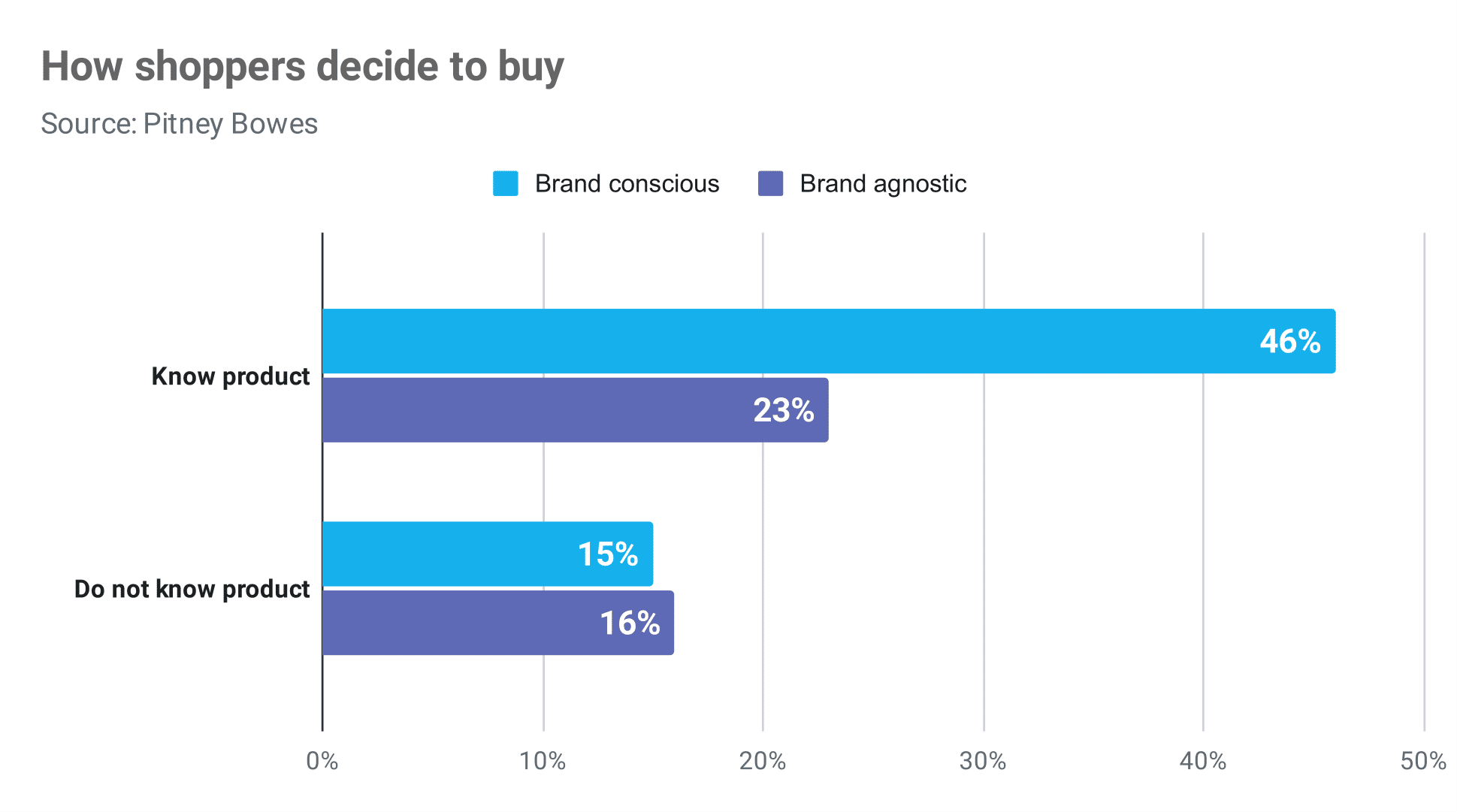 Where shoppers still desire more convenience
58% of online shoppers want more convenience finding deals and promotions
55% of eCommerce users want more convenient inventory checking capabilities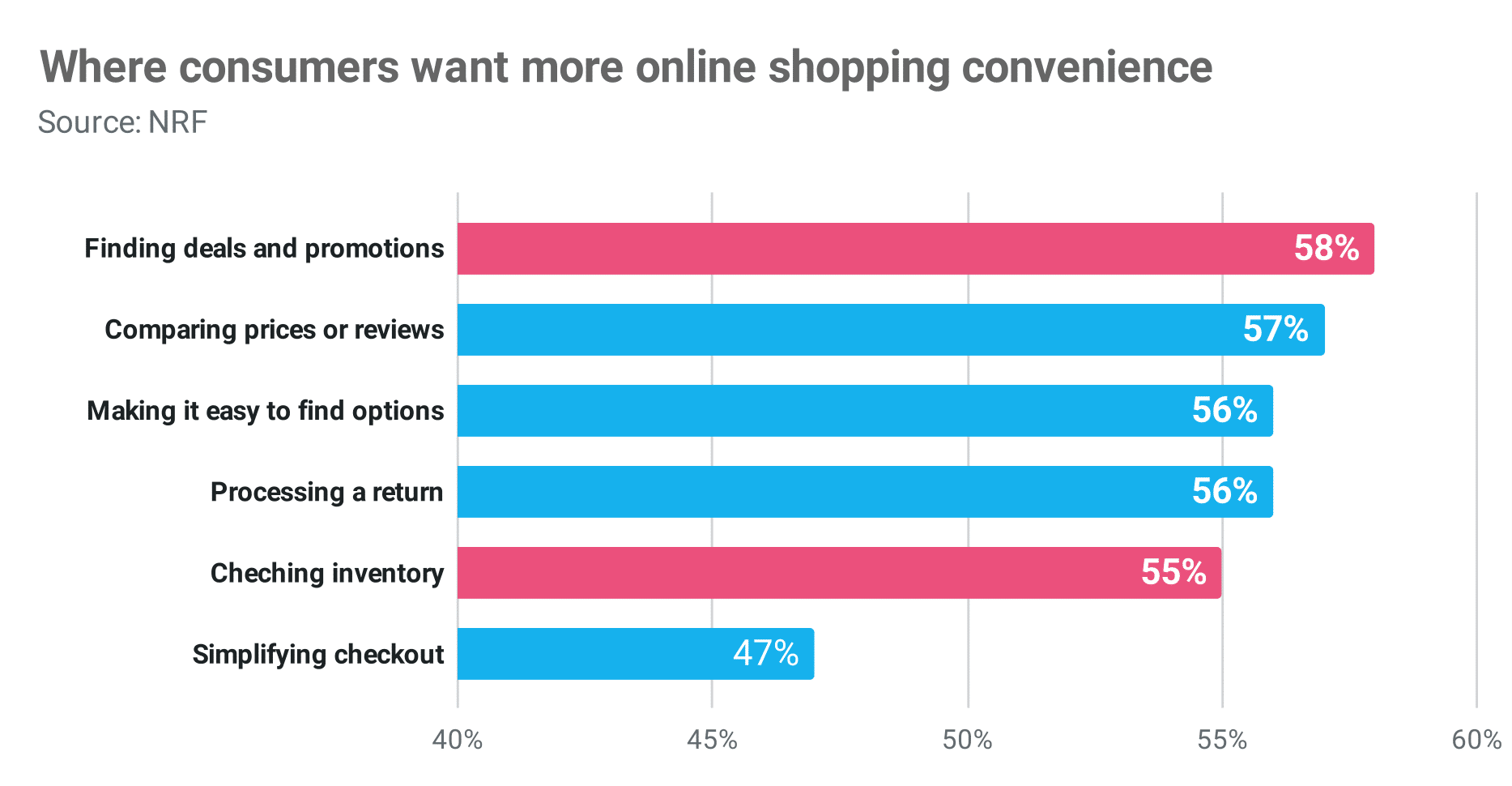 Well, now you know what eCommerce customers expect from their online shopping experience. And what shops are doing to meet customers' ever-increasing demands.
In summary, the stats show that:
Almost all shoppers go online to research their product.
Delighting customers with the right visuals undeniably makes or breaks the product discovery experience.
Personalized AI-generated product recommendations and discounts can then entice your customer to purchase, or even repeat purchase.
Keeping the product offering in your catalog or ecommerce store dynamic and freshly updated does the rest.
Can't wait to improve your company's eCommerce experience? Great! The best way to start is with an online catalog!
Here's a 14-day free trial. And of course, if you have any questions, feel free to reach out.